Lego 8 Stud Storage Brick from Bloomsbury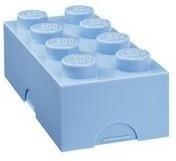 Make tidying up fun with these Lego 8 Stud Storage boxes from Bloomsbury. £24.95
I am fully aware you're not meant to blackmail children but I bet you know as much as I do, it works.
Not having offspring of my own, I love playing with other's but I am struck by how messy they are.
One of my favourites (yes, I know you're not supposed to have them) Lara loves showing me her jewellery and insists in tipping the lot on the floor every time.
If I suggest tidying them away so an already exhausted Mummy doesn't have to do it, I often get told "no" throw an ice-cream into the deal and surprisingly it's a "yes"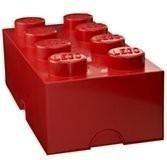 Which is why I think these Lego 8 Stud Storage Boxes from Bloomsbury are genius.
Available in five colours, they have been designed as exact replicas of Lego blocks, just a little bit bigger and can hold a multitude of clutter and can be stacked one on top of the other.
So, you can get your little ones to tidy up while you convince them they're actually playing. Conniving? Yes. Bit out of order? Yes. Tidy bedroom and you not having to do it? Yes. Sounds like a good idea doesn't it?