Chrysler Building Bookend from Utility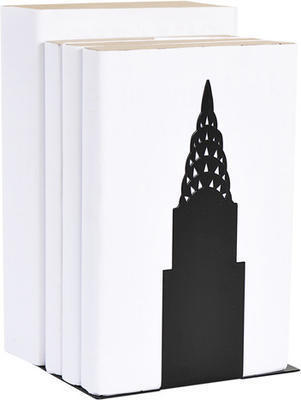 Add some New York style to your bookshelves with this Chrysler Building Bookend from Utility. £18
As I have mentioned before, while my heart most definitely belongs to London, I don't mind having the odd affair with New York.
I know everyone probably screams and squeals when they see the Empire State Building as did I, but the real treat for me was the Chrysler.
Staying just around the corner meant I got to see this amazing example of Art Deco architecture every single day. Top tip: it looks its best glistening in the Manhattan sunshine.
Short of being able to house a life-size replica, I am compromising and ordering a pair of these Chrysler Building Bookends from Utility.
Made from laser cut steel, they're sturdy enough to keep even the heftiest books in check.