Downpipe Sitting Hare Bookends from Bloomsbury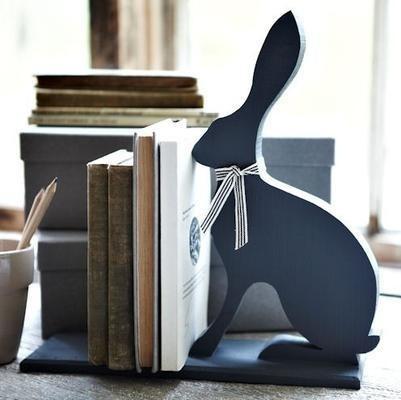 Keep your bookshelves neat and tidy with a pair of these Downpipe Sitting Hare Bookends from Bloomsbury. £45
After huffing and puffing (and I'm ashamed to say judging others a little) I have succumbed and now have a Kindle and while it'll never replace real books, I love it.
Someone asked me I'll miss real books and the answer is I won't because I'll never stop buying them. True, I probably won't buy novels as much but I will buy all those books that have made way for novels in the past.
Those great chunky architecture books, heavy books about my favourite designers, books about every chair in the world ever made.
Books that you don't carry about in your handbag but which you need sturdy shelves and gorgeous bookends for. Which leads me rather nicely to show you these Downpipe Sitting Hare Bookends from Bloomsbury.
A gorgeous silhouette, each one is hand crafted and comes with a stylish ribbon around the neck.
Perfect for keeping your books in check, they'll make the perfect addition to any home library.