Mummy and Daddy Rules Gift Cushions from Graham & Green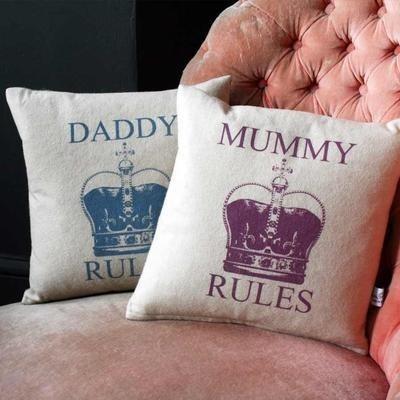 Lay down the law early on with these fun Mummy and Daddy Rules Gift Cushions from Graham & Green. £45
That new sofa is going to have to wait as it seems I'm spending all my money on new baby presents at the moment.
Yes, that's right, it seems my friends are all doing their best to increase the world population, with three new arrivals in March alone.
I'm delighted of course but shopping for babies becomes a little repetitive and there's only so many times you can coo over a babygrow.
However, it looks like I'll be reaching for my purse yet again but this time it's something for the proud parents.
These Mummy and Daddy Cushions from Graham & Green are the perfect gift for new parents and will make the little ones sure of who rules the roost. Having said that, I'm pretty sure that when the screaming starts, it's the other way round!