Quick Shop: Aprons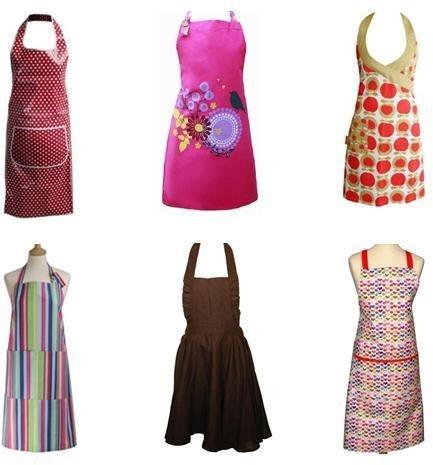 Keep your clothes clean with this selection of gorgeous aprons.
I love baking. In particular baking cakes. And, even if I say so myself, they normally taste pretty good.
However… they normally look pretty bad.
I just don't understand how people can make regular-shaped cakes, pipe beautifully, or make dainty decorations. My cakes tend to look as though a 5 year old made them (although my 5 year old makes a better job of it than I do!)
And if my cakes look a mess, you should see the state of me after baking, with flour and cake mix everywhere.
Fortunately, Furnish has some gorgeous aprons to help protect my clothes, and here is a selection of my faves.
Clockwise from top left: Retro spotted red apron from Lover's lounge, £13.50; Love Bird Apron from MoreVibrant, £14.99; Typhoon Apple Heart Apron from Red Candy, £11.50; Apron Sweetie Love by Ella Doran from Heal's, £25; Black Frilly Apron, Adult from Summerill & Bishop, £95; Brights Barcode Stripe Apron from Heal's, £18.