Magis Globo Wall Hook from A White Room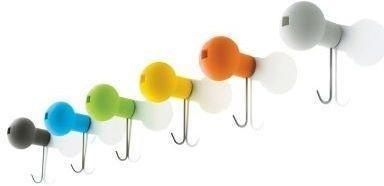 Keep your bits and pieces tidy with this Magis Globo Wall Hook from A White Room, £24.
Regular readers will know that I am Mum to a 5 year old boy, and getting him to keep his bedroom tidy is an uphill battle.
Cars and trains end up all over the floor, as do superheroes, dinosaurs and pants!
Definitely the best way to keep things in order is ensuring there is plenty of easy-to-use storage, so that when he does get to tidy up, he can easily find a home for everything. So… baskets and buckets and boxes for toys, a dirty laundry bag and a big bin.
One outstanding issue is getting him to hang up his hoodies and coats, and I think some of these funky Magis Globo Wall Hooks from A White Room are just what's needed. A few, at kiddie height, should be just the thing to encourage him to keep them organised. No?