Quick Shop: Office Accessories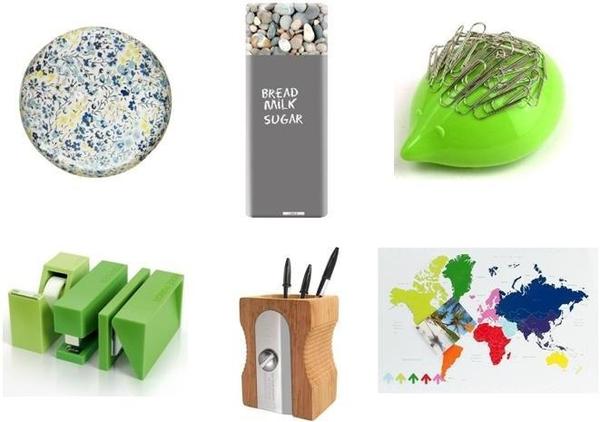 Get yourself organised with our pick of the best office accessories.
As we head towards the end of summer, and the end of the holidays, most people are back at work and for many that means being back in the office.
After being away for the hols, and hopefully coming back refreshed and raring to go, it's a great opportunity to give your office a bit of a refresh too, and there's a huge choice of fab office accessories available here at Furnish to help you better manage your working space.
These include the very cute Alessi Dozi Magnetic Paper Clip Holder and the fun Sharpener Desk Tidy, both ideal for helping you get your desk organised, whilst the extremely pretty Phoebe Liberty Print Paperweight will keep your papers under control.
Clockwise from top left: Phoebe Liberty Print Paperweight Liberty London from Liberty, £35; t2 Squared Pebbles Photo Chalk Board from A White Room, £24.99; Alessi Dozi Magnetic Paper Clip Holder from A White Room, £13; Coloured World Map Memo Board from Found Home Store, £54; Sharpener Desk Tidy from Folly, £15.95; Buro Craft Set by Lexon from Gifts with Style, £39.95.