Fonteyn Dressing Table, Walnut and Red from made.com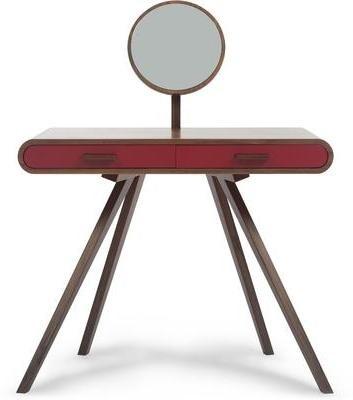 Keep things retro in the bedroom with this Fonteyn Dressing Table from made.com, £399.
I've always had a thing about dressing tables, even though I rarely have the time to sit at one, particularly during the week. My make-up is usually thrown on either in between checking emails and making the first coffee of the day, or on the train.
However, I would really love to have one to sit at and preen and pamper myself during the weekend.
Some are a little too girly for me but I adore this Fonteyn Dressing Table from made.com.
Created by design guru Steuart Padwick, the dressing table has been made using solid walnut and walnut veneer and is accented with a glossy red lacquer.
Being a lover of all things retro, this design is a real winner for me with its gently splayed legs and curved top. I also adore the attached vanity mirror which is both simple and clever all at the same time.