Fairest mirrors from Red Candy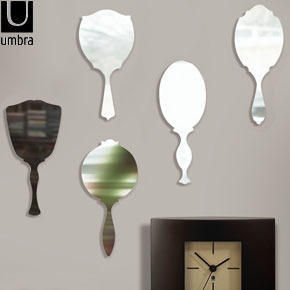 Bring some fairytale chic to your scheme with this set of five Fairest mirrors by Umbra from Red Candy. £26
Mirrors offer the perfect way to instantly brighten and bring a room to life.
I have plans to create a wall of mirrors in my living room with some stunning vintage finds but, if trawling second-hand shops and car boot sales is too time consuming for you, then Umbra has the perfect solution.
Available from Red Candy, this set of five Fairest mirrors consists of a group of five differently designed, vintage-style hand mirrors.
I absolutely adore them and can't wait to get them included in my wall of mirrors. Perfect for adding some interest to a plain wall in a bedroom, for maximum impact try using them above a dressing table.
Alternatively, brighten up a dull, narrow hallway by lining them up along one wall.