Features: December '09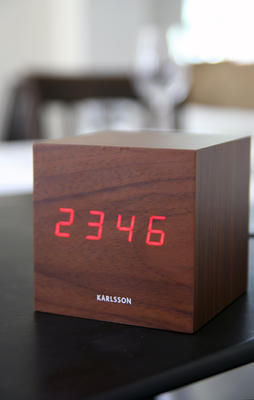 Make sure you never miss an important meeting again with this funky alarm clock from Rockett St George. £47.50
If one of your new year's resolutions is to stop missing the train, stop being late for work and actually get out of bed when the alarm goes off, then perhaps you need to invest in one of these.
The Digital cube alarm clock from Rockett St George is both stylish and practical and will make a welcome addition to your bedroom.
The wood effect casing and red LED display combine to make a cool retro design complete with a loud alarm to make sure you hear it through your deepest slumber.
My top tip for alarm clocks is to have them as far away from your bed as possible. That way you're forced to get out of bed to turn it off – well, it works in theory...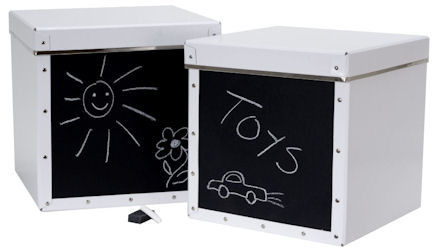 Turn your little ones into neat freaks with these quirky toy boxes from Store. £20
Getting kids to clear up after themselves can be a right chore. But this could be a thing of the past with these cool toy boxes we've found courtesy of storage experts Store.
On the face of it they look like normal storage boxes, but look a little closer and you'll see that one side is covered in chalkboard. Kids will love scribbling on the side and creating their very own work of art while you can bribe, ahem, I mean convince them that the storage boxes look even better full.
Just ensure you have lots of chalk on hand for them to create their masterpieces or you could always leave your own Tidy Up message to really hit home!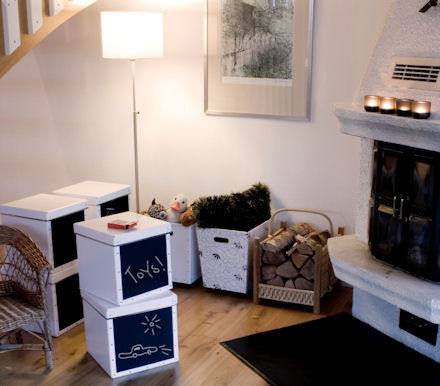 Use them in playrooms, bedrooms or anywhere there's kid-clutter and your house will soon be neat and tidy.
(We don't sell this product yet but sign up to our newsletter and we'll let you know if/when we do)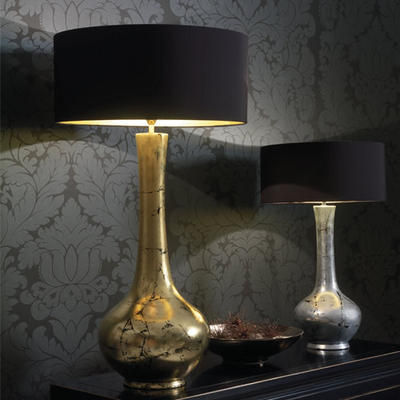 Inject some glamour into your lighting with these luxurious lamps from The French Bedroom Company. From £255.
When it comes to lighting, it's essential to use lots of different light sources. Table lamps are definitely the most versatile of all lighting sources as unlike ceiling pendants they can be moved around.
We see tonnes of table lamps every week, but these ones from The French Bedroom Company are without a doubt amongst some of our favourites.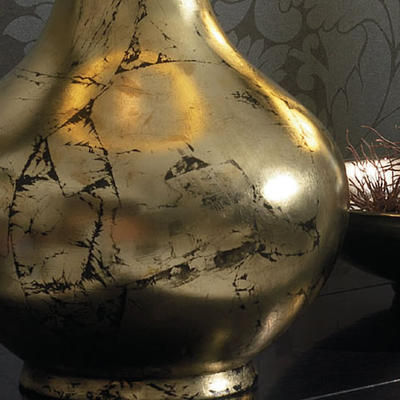 Available as a silver table lamp or a brass table lamp with a dramatic black shade, the Hermitage lamps are perfect for adding a touch of glamour to any room.
Use them on a side table in a living room, as your bedside lamp or on a console table to give your hallway a welcoming glow.
Add some charm to your Christmas tree with this sweet decoration from Jo Heckett. £11
Despite Christmas Day being long gone, it's still ok to keep the Christmas Tree up for a while to come – which means you have time to get your mitts on one of the fabulous porcelain decorations from Jo Heckett.
Jo creates an array of designs all handcrafted that will make your tree stand out this year. Our pick of the bunch is this sweet Dove bauble which also has a happy Christmas message. While other decorations will come and go, we guarantee you'll want to pass this beautiful creation down through generations of family.
Try teaming it with plain silver and white baubles for a super stylish Christmas display.
See this product at Jo Heckett...
(We don't sell this product yet but sign up to our newsletter and we'll let you know if/when we do)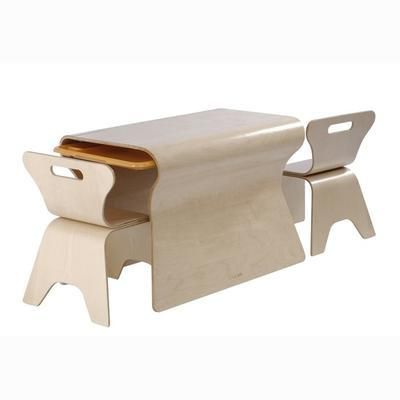 Let your little ones dine in style with this table and chairs set from Little Fashion Gallery. £286.94
We're all on holidays (well most of us are), which means it's time for inviting family over. And if you've invited one too many guests, then we think we've found the perfect solution. Why not create a special dining area for the little ones?
This table and chair set provides the perfect opportunity to do this and make more room on the grownups table.
This Otto table and chairs from The Little Fashion Gallery combines style and practicality and your little ones will feel super grown up.
And what's more when you've finished using it as a dining table it can be moved into a playroom or nursery.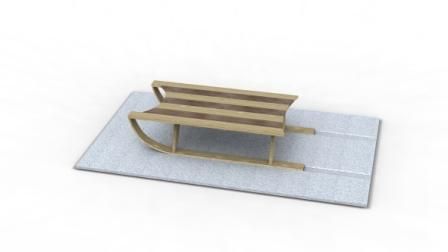 Have fun and be practical at the same time with this table and rug combo from Duffy London. £595
Well, we didn't get a white Christmas - all the snow is disappearing. Call me Bing, but nothing would have made me happier than waking up to a blanket of snow on the 25th. It's never happened to me, so I've got my eye on this quirky product.
The Sled table from Duffy London combines a wooden sledge-shaped coffee table complete with a snow white designer rug. Practical and fun at the same time, the rug even has two deep grooves in it to mimic the sleigh being dragged through the "snow" rug.
Made from FSC managed forests, it ticks the eco box too.
See this product at Duffy London...
(We don't sell this product yet but sign up to our newsletter and we'll let you know if/when we do)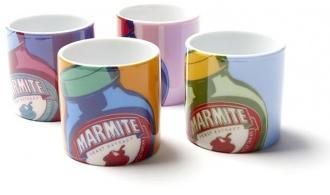 Brighten up the kitchen with these fun egg cups from Bloomsbury. £14.95 for a set of four.
They say you either love it or hate it (personally, I fall into the latter category) but if you know someone who loves it then these Marmite egg cups from Bloomsbury will make the perfect last minute gift idea.
Reminiscent of Warhol's famous Campbell's soup paintings, each egg cup has been given the pop art treatment and comes in a different colour.
They're great for brightening up the kitchen and adding a splash of colour to your daily egg and soldiers.
And if you know someone who is really Marmite nutty, then Bloomsbury also has matching biscuit tins, mugs and a canvas.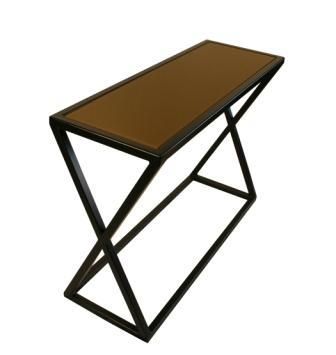 Add some colour to your home with these bright tables from David Seyfried. From £620.
Bringing colour into the home isn't solely the preserve of wallpaper or paint. Coloured furniture can make an instant splash in a neutral room.
Now while there's obviously lots of coloured furniture about, some if it is a bit, well, garish – and of course here at Furnish we love style and sophistication.
Which is why we love these Spectrum tables from David Seyfried. The elegant handmade frames are available in black or white and come complete with a coloured glass top and if you don't like either of the colours we've shown here, then don't worry as they come in over 200 choices.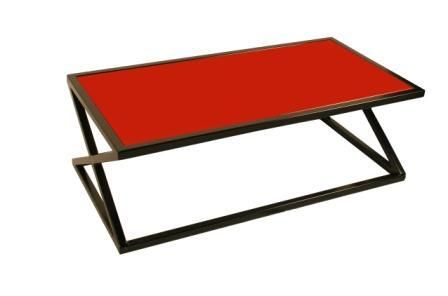 This Red retro coffee table will make a real statement in your living room, while the Walnut Brown console table will make a welcome addition to your hallway.
See this product at David Seyfried..
(We don't sell this product yet but sign up to our newsletter and we'll let you know if/when we do)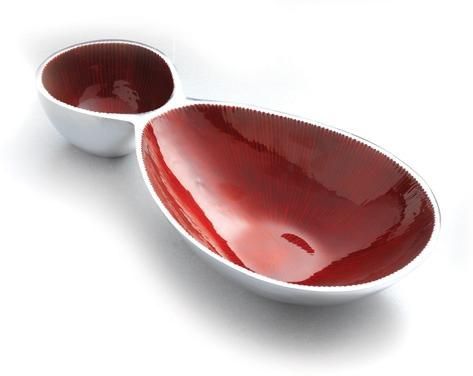 Serve up your nibbles the stylish way with this colourful serving bowl from Puji. £25
Ahh Christmas, the time for parties, eating, drinking and being merry.
If you're planning on throwing a bash then it's time to make sure you've got all you need. And while you might not exactly need this stylish chip and dip bowl from Puji, it will certainly look ultra stylish on your buffet table.
Made from aluminium, this festive red bowl has a handy compartment to hold your chips (well, actually we're British so we'll call them good old fashioned crisps!) and another one to house your dip.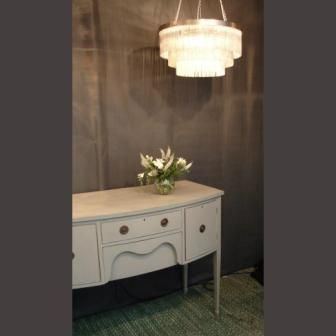 Add some drama with this impressive chandelier from Tigermoth Lighting. From £1,498.
Lighting on the whole is practical. We kinda need it otherwise we'd constantly walk around bumping into things – yes I know that's stating the bleedin' obvious.
But that doesn't mean lighting can't be beautiful as well.
There are lots of beautiful table lamps, pendants and wall lights about – a lot of them right here on Furnish - but we think we've fallen in love with Tigermoth Lighting. Their decadent and unusual range features beautiful pendants and chandeliers made from exquisite crystals that are guaranteed to create a show-stopping centrepiece in any room.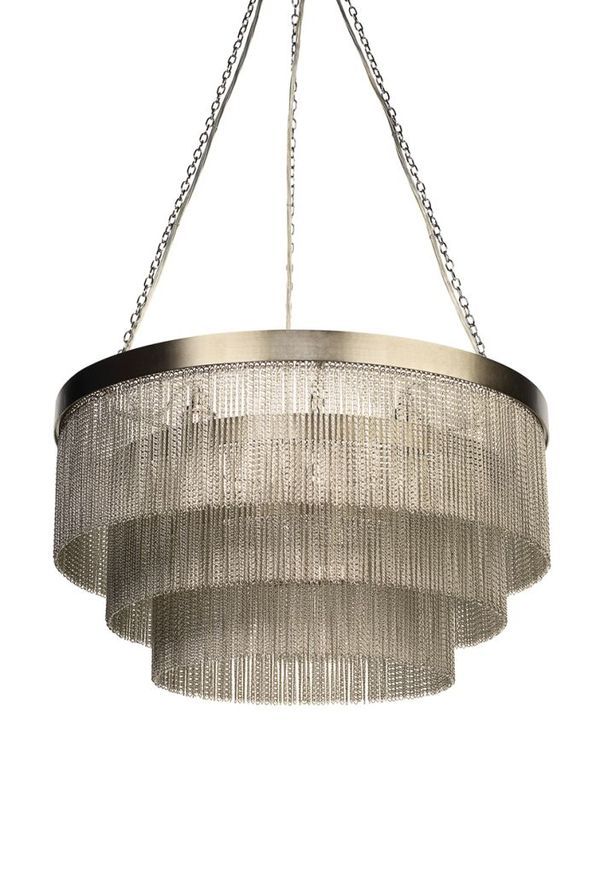 We're especially taken with the chain range which includes pendants and chandeliers made from long strands of black or silver chain as shown in this dramatic three-tier chandelier.
Perfect for use in any room, we think it would look fab in a hallway with a high ceiling to make a truly elegant entrance to your home.
See this product at Tigermoth Lighting...
(We don't sell this product yet but sign up to our newsletter and we'll let you know if/when we do)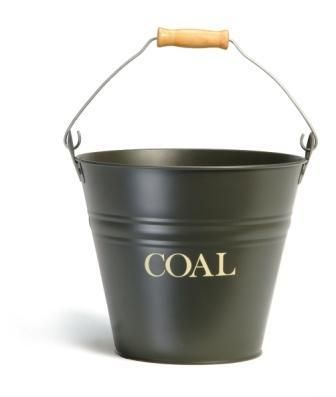 Keep the home fires burning with these stylish fireside accessories from The Contemporary Home. From £5
There's nothing like a real fire to create a warm atmosphere and at this time of year, with Christmas just around the corner, there really is nothing nicer.
Fireside accessories have traditionally been over ornate and totally over the top, but we've found some very chic designs both of which are definitely neither.
These wood and coal buckets are just the ticket – they're both practical and super stylish and will help your hearth looks its best this Christmas. Made from sturdy metal, these buckets make a great alternative to the usual coal scuttle or wood store.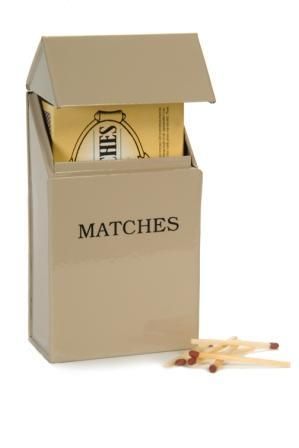 And it seems The Contemporary Home have thought of just about everything when it comes to fireside accessories, as there's even a coordinating match store available to ensure everything's close at hand.
So we suggest you turn off the TV, get out the marshmallows and toasting fork and have a night in front of the flames.
See this product at The Contemporary Home...
(We don't sell this product yet but sign up to our newsletter and we'll let you know if/when we do)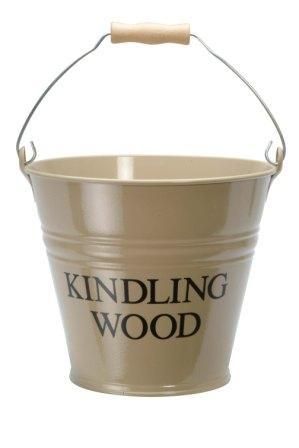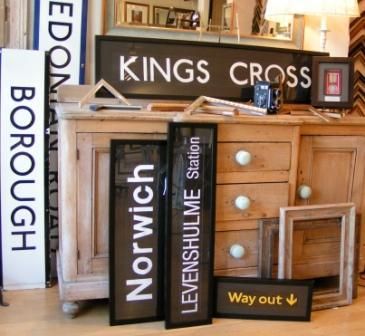 Take a trip down memory lane with these framed bus blinds from London Bus Blinds. From £189.
If, like me, you were slightly obsessed with the Routemaster bus (you remember, the iconic ones that used to whizz round London before the bendy buses that catch fire), then you'll love these framed destination blinds from London Bus Blinds.
Rather than being a print or copy of the blind, these are the genuine article taken from decommissioned buses up and down the country.
Now, we've seen these before but we've never seen a collection as big as the one London Bus Blinds has, which means you can get destinations or stops that have special connotations to you or a loved one.
They're great as an alternative to your bog standard print and will make the perfect Christmas gift for someone who has an passion for vintage transport.
See this product at London Bus Blinds...
(We don't sell this product but sign up to our newsletter and we'll let you know if/when we do)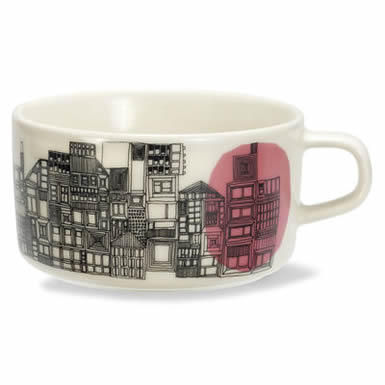 Make time for a relaxing spot of afternoon tea with this graphic china from The Lollipop Shoppe. From £14
Everyone loves a good cup of tea but we think how your tea cup and pots look is just as important as what goes in them.
Like most home products, there's lots of teaware to choose from. Some pretty and romantic, some contemporary and quirky (remember the Shatter ones we showed you a few months back from Umbra). Well, we think we've found a happy medium in between the two.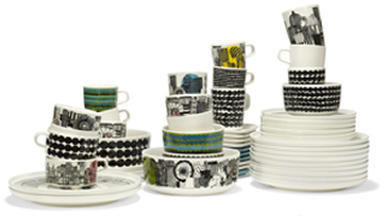 The In Good Company range from Marimekko (available at The Lollipop Shoppe) features an eclectic graphic print that is sure to brighten up your daily (or hourly!) cuppa.
And if you happen to know someone who can't get through the morning without several cups of Rosy Lee, then this will make the perfect gift for them under the Christmas tree this year.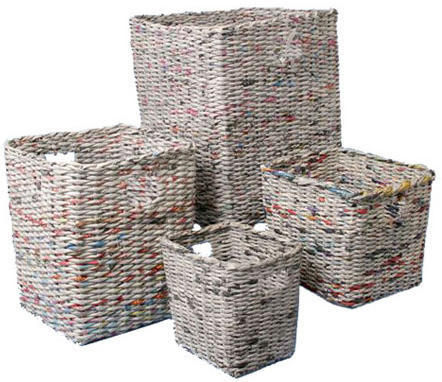 Go green in the home with these recycled newspaper accessories from Oliver Bonas. From £9.50
Everyone knows that we're all meant to be greener these days from getting the bus instead of driving to recycling everything in our homes from newspapers to food containers.
Well, if you haven't been keeping up your end of the bargain by recycling every last scrap of paper in your home, here's a way to make amends and do your bit for the planet.
This stylish bin and storage boxes are made entirely from twisted, recycled newspapers – meaning you can feel completely guilt free about having them in your home. The bin, obviously acts as a great, erm bin – that will look fab in any room, while the storage baskets are available in four different sizes and are perfect for stashing away everything from back issues of magazines and toiletries to accessories and jewellery.
They'll also make a perfect Christmas gift for someone who cares about the environment and loves stylish interiors products too.
They say today's newspaper is tomorrow's chip wrapping, well in this instance it's actually some rather stylish accessories.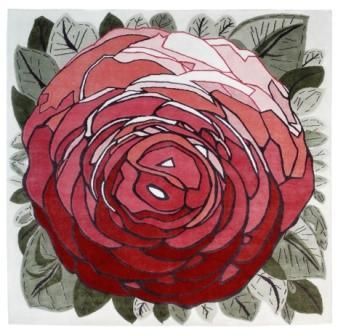 Give your floor the floral treatment with this stunning rug from Jocelyn Warner. £1,810
We're getting bolder with the pattern choices we make for our walls, so why shouldn't we with our floors?
Jocelyn Warner is a well renowned rug and wallpaper designer, with her stunning creations taking their inspiration from nature.
And we love this designer rug, which provides the perfect excuse to add some much-needed colour and pattern to neutral floors.
Called Bloom, its design is an intricate replication of a rose head in all its glory.
Made from 100% hand knotted wool, this rug will look fantastic in any room but we think it will make a great addition to a romantic bedroom.
See this product at Jocelyn Warner...
(We don't sell this product yet but sign up to our newsletter and we'll let you know if/when we do)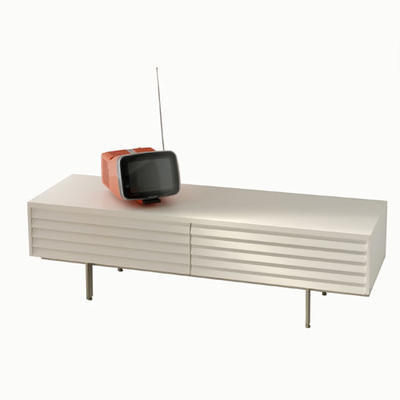 Keep your TV looking stylish with this cabinet from Utility. From £1,442
TV at Christmas is just as important as the tinsel and turkey, but just for a moment forget about arguing about who wants to watch what and concentrate on how good your TV can look.
Let's face it, unless you've splashed out on the latest Bang & Olufsen, TVs aren't the most stylish things in the world and that's without even thinking about all the DVDs and games consoles that sit alongside them.
Which is why we think it's a good idea to invest in one of these TV cabinets from Utility. Designed by Terrance Woodgate, the Sussex TV cabinet is sleek, stylish and possible most importantly, super practical.
As well as providing plenty of room for you to display your TV, this cabinet also has plenty of room to stash away DVDs, videos (go, on we know some of you still have them...), games and anything else you might not want on display.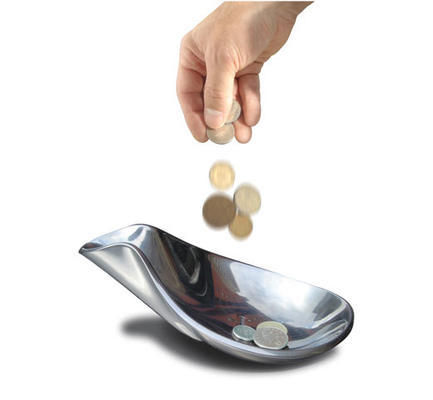 Keep loose change close at hand with this clever dish from Black+Blum. £22.50
Look after the pennies and the pounds will look after themselves – or so the saying goes...
So if your loose change always seems to end up all over the floor, then we think we've found the perfect solution and it's not keeping your pennies in a manky old jam jar.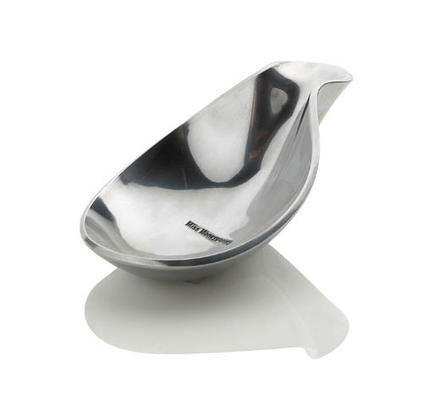 The Miss Moneypenny dish from Black+Blum is great for keeping your change safe; why not keep it on your hallway console table so it's close at hand when you're dashing out the door?
In fact, it's also super handy for keeping any keys or other small items safe.
And if you know someone who loves spending money more than saving it, you could always wrap it up and stick under the Christmas tree for them.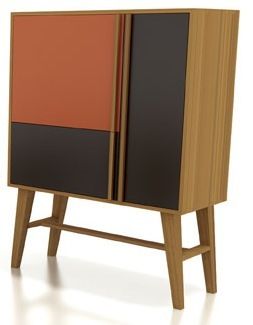 Hide your clutter the stylish way with this quirky dresser from & Then Design.
With Crimbo just around the corner, it's time to make sure your home looks its best. For those who are expecting guests that always seem to "accidentally" stumble across your junk drawer or worse still room (and we all have one), then you better had think about getting your storage sorted.
We fully admit that storage is one of those necessary but dull things in the home – I mean who exactly gets excited about under bed drawers and hanging racks?!
Well, fellow design addicts, thanks to & Then Design, dull storage is a thing of the past. One of the coolest furniture companies around, & Then Design has created a range of storage furniture. The Leigh collection includes a dresser, sideboard and side cabinet (which can be used as bedside table or will also look good beside a sofa) all of which have been given the colour treatment.
We love the Leigh dresser, which is the perfect piece of furniture to have in your living or dining room. And, because it looks great as well as being super practical, it will keep sticky beak visitors guessing where you keep all your clutter...
See this product at & Then Design...
(We don't sell this product yet but sign up to our newsletter and we'll let you know if/when we do)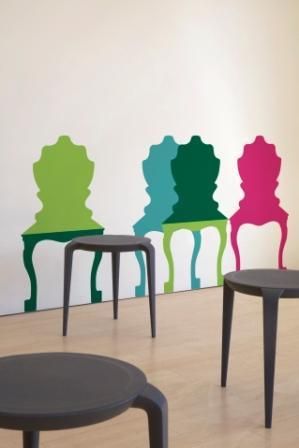 Create a chair of your own or jazz up an existing one with these super cool stickers from Supernice. From £32 for a pack of stickers.
Wall stickers have been around for quite some time and have proved to be ultra popular with those who are a little bit wary of using wallpaper or paint to add colour and pattern to their homes.
We agree that they are indeed a brilliant way of jazzing up your home without the hassle of having to get out your paint brush or wallpapering table.
However, we have found something just as exciting; these super cool chair stickers.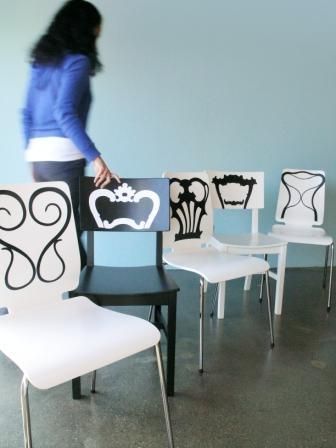 The Classic Chair Back stickers allow you to jazz up an existing chair without the hassle of having to paint or reupholster it, while the Mix A Lot stickers feature silhouette chairs in a range of colours which are great for adding colour to a plain wall.
We love them both and are currently working out which of our chairs to update them with.
See this product at Supernice...
(We don't sell this product yet but sign up to our newsletter and we'll let you know if/when we do)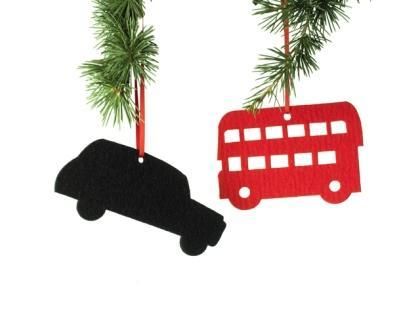 Liven up your Christmas tree with these cute felt decorations from Michelle Mason. £11.99
I've finally succumbed to the fact Christmas is indeed just around the corner and that I really should think about how I'm going to decorate my tree this year.
I'm usually a silver and white kinda gal, anything else seems to stand out like a sore thumb in my neutral flat and there's definitely not a whiff of tinsel or novelty baubles when it comes to my tree.
This year however, I'm breaking with tradition as I just simply must have these gorgeous felt transport-inspired decs from Michelle Mason. As someone who's more than familiar with London's transport system, I adore this black cab decoration and the iconic Routemaster design definitely gets my vote.
Just cute enough without being naff, these baubles are also super stylish and an absolute must for anyone that wants a cool tree this year.
See this product at Michelle Mason...
(We don't sell this product yet but sign up to our newsletter and we'll let you know if/when we do)