Features: June '09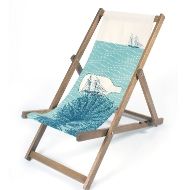 Breathe new life into a summer favourite with a quirky print. £114.50
The sun is shining (well, for now at least), the flowers have bloomed and al fresco living has arrived. So what better excuse do you need to invest in some garden furniture?
Everyone has a nostalgic love for deckchairs, so we were really pleased to come across these new designs from Thornback & Peel.
Forget classic stripes, these deckchairs with whimsical prints are perfect for brightening up your garden and of course giving you somewhere to relax and enjoy the sun.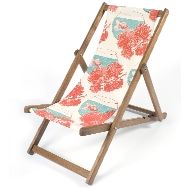 The deckchairs are available in a range of designs but we're very taken with the nautical themed design and the Goldfish one too.
See this product at Thornback & Peel...
(We don't sell this product at the moment but sign up to our newsletter and we'll let you know when we do)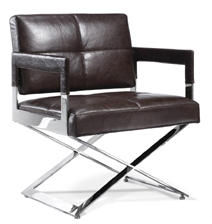 Create a movie feel in your home with this Director's chair available from furnish.co.uk. Buy it from Origins Designs for £1,530.
We've gone a bit topical at furnish.co.uk and what with the Cannes festival behind us would like to present for your viewing this rather stunning director's chair from Origins Designs.
We're really taken with this statement chair but then again frankly ("my dear I couldn't give a damn" – sorry couldn't resist) what's not to love about it? From its sleek chrome frame to its gorgeous leather upholstery, it's a winner all round. It will look great in your living room as an occasional chair or in a bedroom to create a masculine, sleek look.
Wherever you put it, we haven't seen an item of furniture with a nod to the silver screen as stunning as this since Charles and Ray Eames designed the Lounge chair for Billy Wilder.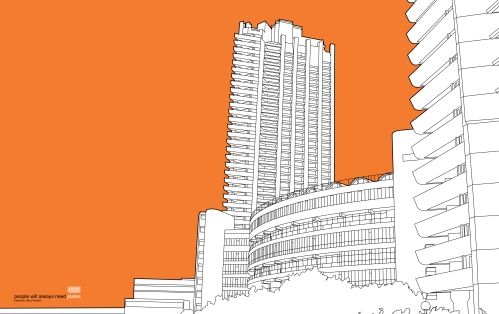 Who wants boring tea towels? Give your kitchen a quirky twist with these graphic-print towels. £8.50 each
Apart from their über-cool and factually very true name, People Will Always Need Plates are an amazing design company producing thought provoking designs on everything from plates (no surprise there) to cushions.
We love their range collection of tea towels featuring iconic London landmarks and buildings such as The Barbican and Trellick Tower.
Available in show-stopping, bold colour ways, we think they're far too good to dry the dishes with, so why not try using simple surrounds to frame them and add colour and interest to a plain wall.
See this product at People Will Always Need Plates...
(We don't sell these fab towels yet but subscribe to our newsletter to find out when we do)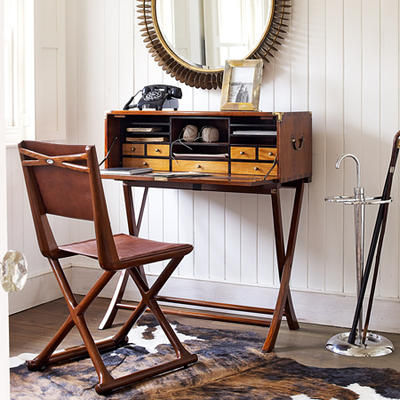 Indulge in spot of letter writing with this elegant Indochine Rosewood Writing Chest now at furnish.co.uk. Buy it from Graham & Green for £1,256.50.
Most of us communicate through texts, Twitter, Facebook and Skype but do you remember the last time you actually sat down to write a letter? You know pen in one hand, paper in the other, no? Us neither, but then again perhaps that's because we haven't got one of these beautiful chests from Graham & Green.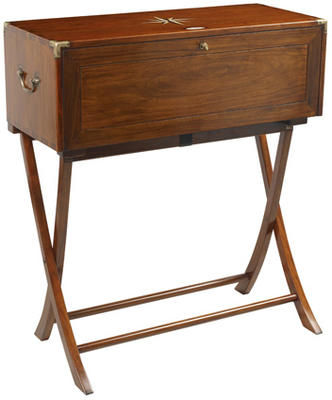 The Indochine Rosewood Writing Chest is a true mark of craftsmanship and it reminds us a romantic past, when letter writing was an art form. Just look at its secret drawers and compartments, perfect for stashing away the odd secret love letter or two.
So if you're feeling particularly nostalgic invest in this future heirloom and put down the Blackberry, get your address book out (we mean the paper one!) and write Granny a thank you letter for the hideous jumper she bought you at Christmas.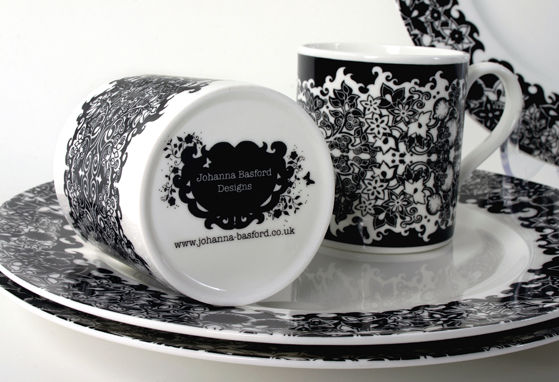 Go for a monochrome scheme in the dining room with this striking collection of chinaware. From £10 for a mug.
We're all for supporting up and coming designers here at Furnish, after all they're the future. So we just had to share with you, the work of Johanna Basford.
More of an illustrator than a designer, Johanna's intricate etchings are found on bespoke wallpaper (yes it's pricey, but think of it as art rather than just a wall covering) and this whimsical set of china.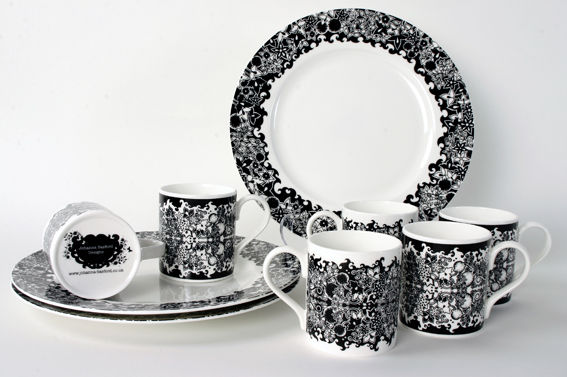 We think it will look great used as it was intended at an elegant dinner party or decadent afternoon tea but why not turn it into a work of art too by displaying the plates on a wall or a whole set, complete with matching mugs on a sleek, contemporary sideboard?
See this product here at johannabasford.com.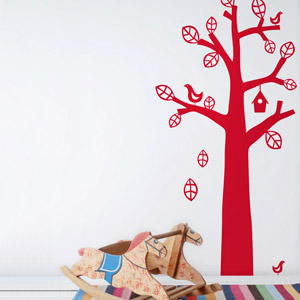 Brighten up your little one's room with this great sticker available at furnish.co.uk. Buy it from 95 Percent Danish for £63.50.
If you've got kids, you probably spend a lot of time telling them not to stick things on walls and that permanent markers and your new Cole & Son wallpaper definitely do not mix.
But we've found an exception to the rule, because we love this Bird Tree Wall Sticker from 95 Percent Danish.
It's perfect for brightening up a little one's room and we think it's better than those naff Jungle Book murals too –particularly if you want to start your offspring's obsession with stylish interiors at an early age.
So it's probably best you put this wall sticker up when they're at school or after they've gone to bed..., well practise what you preach after all.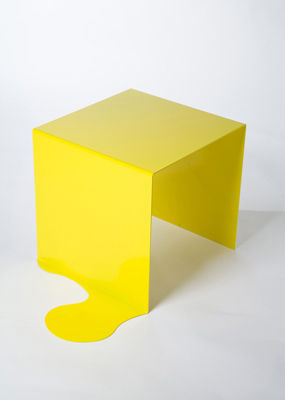 Add some humour to a contemporary living room with this bright side table. £150
Swine flu, the credit-crunch turning in to a recession and MPs fiddling (sorry, of course legitimately claiming for items such as bath plugs) their expenses, we could all do with a little colour and laughter in the home; which is why we're championing the Puddle Table by Susan Bradley.
Susan isn't new to the interiors market, in fact her creations have been pleasing the design glitterati for years (and she's got the awards to prove it) but we love her work and think this laser-cut, metal Puddle table available in a selection of "colours" including this yellow "custard" choice is just the sort of cheering up our homes need.
See this product at Susan Bradley
(We don't sell this fun table yet but subscribe to our newsletter to find out when we do)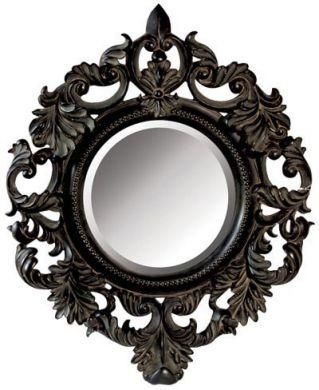 This stunning floral etch mirror has arrived at furnish.co.uk. Buy it from Lover's lounge for £99.99
Mirror, mirror on the wall, who's the fairest of them all? Everyone knows a mirror adds something to a room, not least, if you're living in shall we say a slightly compact space, then a mirror can instantly increase light and size.
Now we're over the science bit, time for the pretty bit. Of course, mirrors come in many different styles, sizes, colours and shapes but we think you'll be hard pressed to find one as glamorous as this.
This floral etch mirror puts a new spin on the continuing trend for Venetian-style furniture and accessories by using black and we love its gothic style and dramatic presence that is sure to create a statement in any room.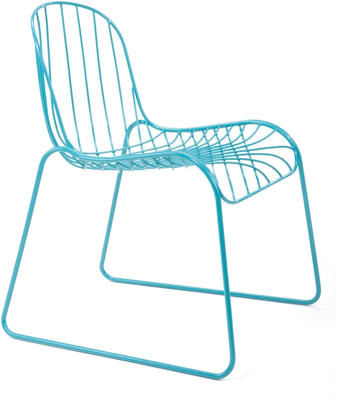 The award-winning Net chair comes to furnish.co.uk. Buy it from MARK Product for £289.
At 100% Design, the Net Chair designed by Sam Johnson was awarded Blueprint Best New Interior Product. Inspired by fishing nets left to dry in the sun, each net chair is made from 39 pieces – each one with a different shape the Net chair is, as described by the Telegraph "simply glorious".
And the company behind it, MARK product, has been shortlisted by Elle Decoration for the British Design Awards, Best new brand, that recognises brands that have wowed them this year.
We love it.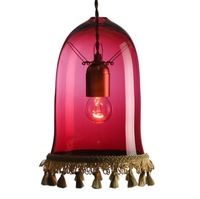 Victorian decadence is here in bundles with the new tasselled lighting collection. From £230.
Rothschild & Bickers offer bespoke lighting products designed and manufactured exclusively on behalf of clients, but they have recently also launched a new range of signature lights which are more affordable.
This range includes the Tassel Light, a design inspired by Victorian decadence, but given a contemporary twist with the use of free blown coloured glass. This combination fits well with the 1960s aesthetic of combining vintage with the modern.
We don't sell this item yet, but we hope to soon. Subscribe to our newsletter and we'll let you know!