Features: August '09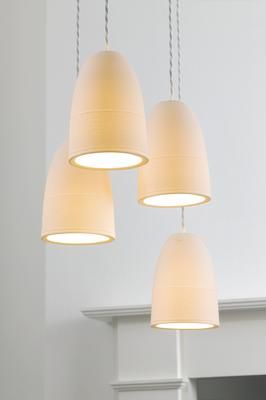 Create a sleek lighting scheme with these elegant shades. Buy one now for £64.23.
We just can't enough of Diffuse Lighting's beautifully simple wall lights and pendants.
Made from porcelain, they are the perfect choice to use in any room, whatever your style. We're particularly taken with these Small pendant shades. We love their simple design and elegant shape.
Use them to make a real statement by grouping several together (try hanging them at different levels) or to create a really dramatic dining room, use them to create a line above your dining table.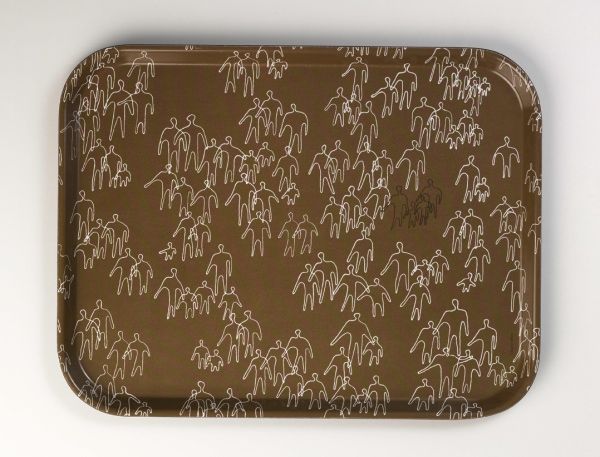 These could be works of art but they're not, they are in fact trays! £44
Oh how we love The Lollipop Shoppe, not just because of its fantastic name, but because they stock some of the coolest interiors products around.
New to their collection are these fabulous trays from Vitra. We love The Family design by Charles and Ray Eames (quite possibly our favourite designers ever!) and China Shop by George Nelson.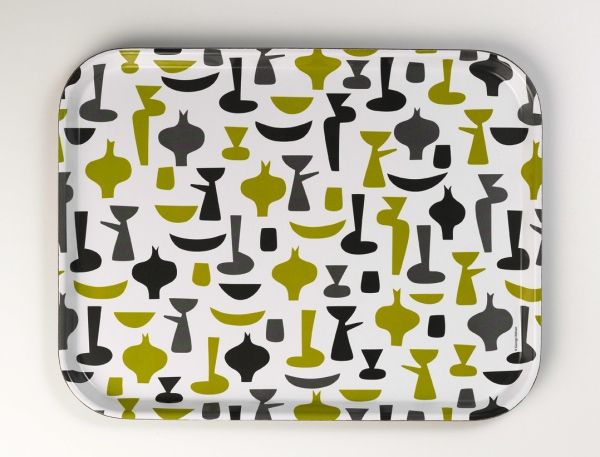 Obviously, they're really practical for, erm, you know, carrying stuff from room to room or for a really naughty TV dinner but we think they're far too gorgeous for that. So, we suggest you display them and turn them into a real work of art.
See this product at The Lollipop Shoppe...
(We don't sell this product yet but sign up to our newsletter and we'll let you know if/when we do)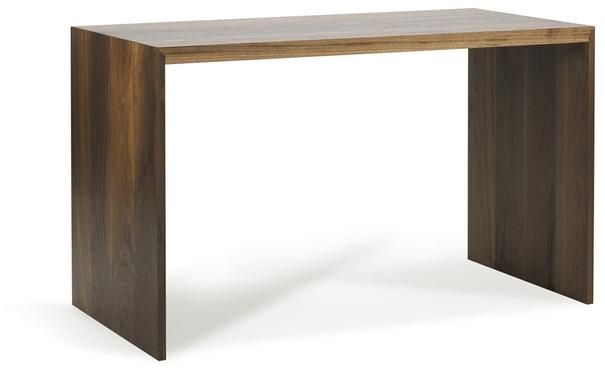 Make working from home more fun with this ultra-modern desk. Buy it now – prices start from £875
More and more people are working from home, if you're one of them and you're still precariously balancing your laptop, notebook and phone or working from the dining table, now's the time to mend your ways.
When you're working from home, it's essential to have a proper office space – that way, in theory at least, you won't get too distracted.
We think this desk from Crane Designs ticks all the boxes. It's beautifully made and available in five different woods, very sleek and stylish and is also available in three sizes, so one is bound to fit in your office, no matter how small or large.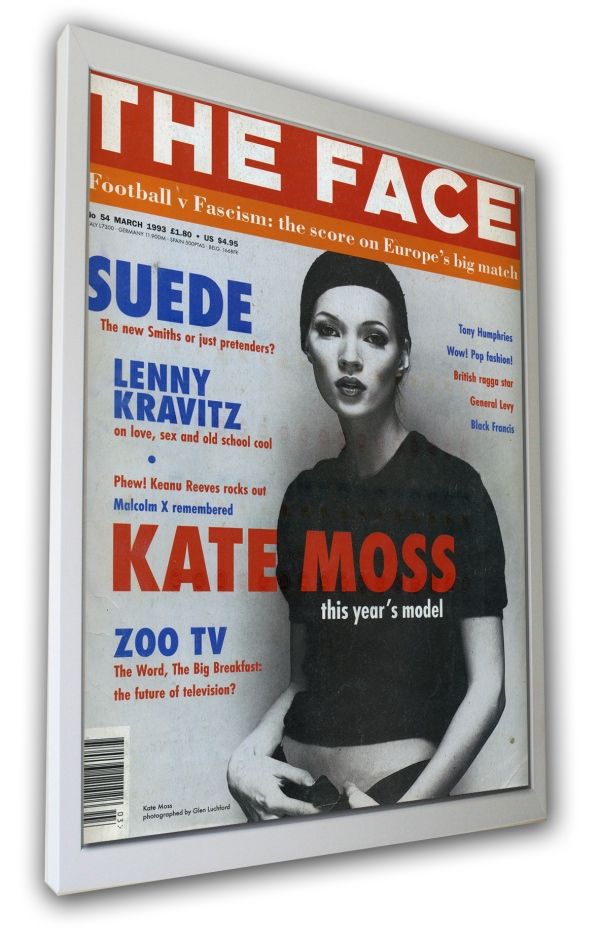 Relive the past with these stunning magazine cover prints. From £45.
Do you ever get the desire for a nostalgic flick through a copy of The Face? We know we do and some people are still in shock that the seminal mag closed in 2004. Well, that's progress and the power of the internet for you.
Anyway, all is not lost. You might not be able to read The Face anymore but you can certainly use it to decorate your room.
We found these really cool prints of magazine covers at 55 Max. Choose from a whole host of stars to grace your walls including Kate Moss, Liam Gallagher and even Neneh Cherry (remember her?!)
That's not all 55 Max do though, as well as their amazing collection of prints and canvasses, they can also put your pictures on canvasses, create montages (perfect for a birthday present) or even put your snaps on roller blinds.
We suggest you get searching through those photo albums...
(We don't sell this product yet but sign up to our newsletter and we'll let you know if/when we do)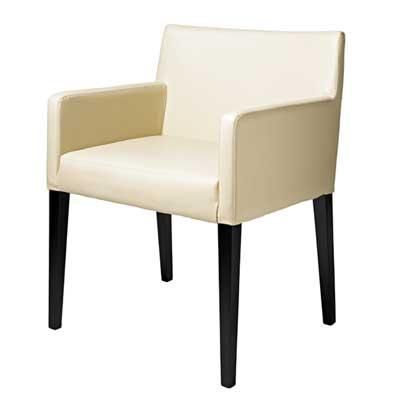 Breathe new life into your dining room with these elegant dining chairs. Buy one now from Puji for £259.
With staying in being the new going out, we know you want your homes to look stunning and stylish. Which is why it really pays to invest in good quality furniture that will wow your guests and ensure you love your home.
However, we know times are tough so we're letting you in on a revamping idea that's guaranteed to make you happy.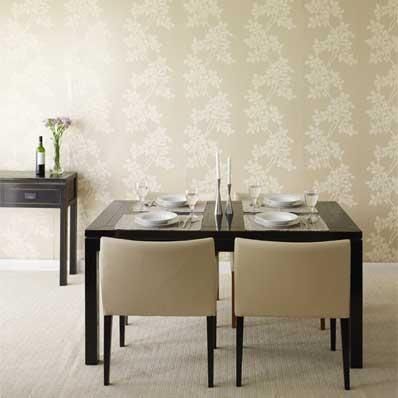 Can't afford a whole new dining set but desperate to give your dining room a makeover? Then there's a simple solution: just buy new chairs. They're perfect for giving your room a new look without having to fork out for a table too.
Our pick of the bunch are these Milano modern dining chairs in leather from Puji. They're ultra sleek and will look great in both classic and contemporary schemes.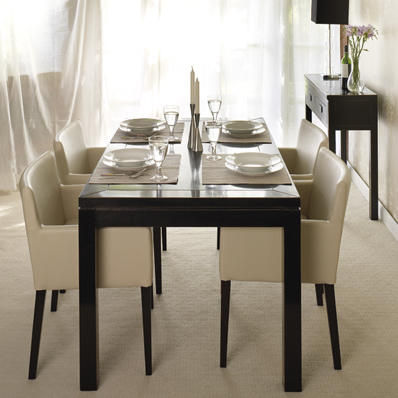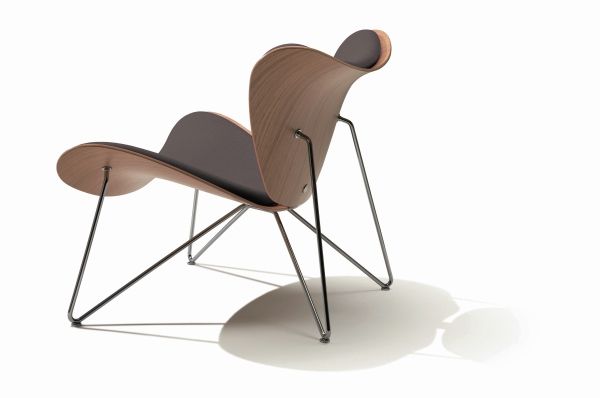 Create a real statement with this designer chair. £2,286
We're all for discovering new products at Furnish. In fact, nothing gets us more excited than stumbling across a new designer.
So, we were beside ourselves with excitement when we got a tip off about 100% Norway. They champion all design things Norwegian from ceramics to furniture and everything in between.
Which was lucky because without them, we might never have happened across this Copenhagen chair by Lars Tornøe for Fora Form. Put simply, we love this chair. We love its curves, we love the legs, and we love the wood. Oh we just love it and it's jumped right up to the top of that ever growing wish list (Ed - erm, exactly how are we going to afford all this stuff?!)
Ok, so it's not exactly cheap but it's beautiful and it's a keeper and this is definitely is one item of furniture that will never find its way to the skip or junk shop.
See this product at 100% Norway...
(We don't sell this product yet but sign up to our newsletter and we'll let you know when we do)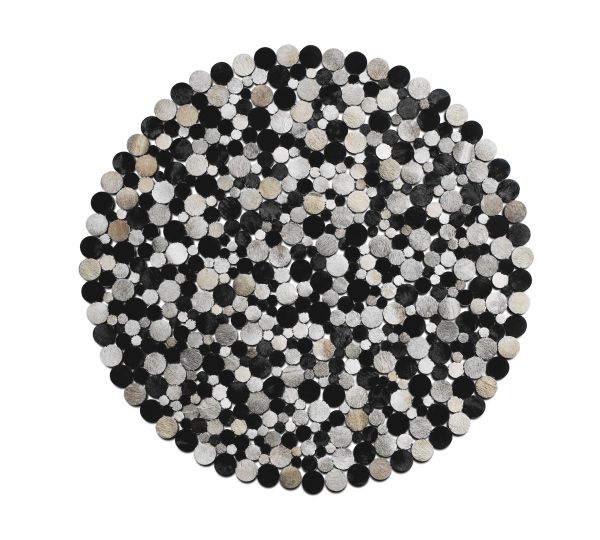 Add texture and interest with this gorgeous rug. From £439.
It might be a bit premature, but after doing the rounds at all the AW09 press shows, we're starting to turn out attention to Autumn. Which leads us nicely to something that will definitely help you cosy up your home for the colder months.
We just simply adore this Rondo rug from Swedish design company Bo Concept. The rug is a brilliant twist on the usual hide designs and is made up of small circles in varying colours stitched together to form one large piece.
It's perfect for adding texture and warmth to a wooden floor and will really make a statement when used in a neutral scheme.
See this product at Bo Concept...
(We don't sell this product yet but sign up to our newsletter and we'll let you know when we do)
Create a corner of calm with this intricate screen available at furnish.co.uk. Buy it now from Lombok for £265.
Open plan living is all very well and good but what do you do when you want a bit of privacy? The answer: Invest in a screen. Yes, we know they seem a little old fashioned but we think they're great and are tipping them to make a comeback.
Perfect for shielding off a corner of a room or making your open plan space feel a little cosier, they work well in all rooms.
We've got a great selection at Furnish, from ultra modern designs by MARK Product to this intricately carved design by Lombok.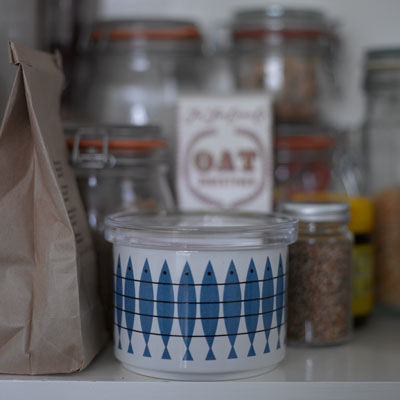 Add some Scandi-style with this retro print storage jar. £19.
Sometimes, we're a nostalgic lot at Furnish.co.uk, especially when it comes to vintage textiles and prints.
So, we were delighted to stumble across the home wares range at New House Textiles. Their Scandinavian designs are truly beautiful with a 70s twist and feature on a range of products from tablecloths and melamine trays to cushions.
However, in a bid to make our kitchens as gorgeous as possible, we're rather taken with this Herring storage jar. Perfect for tea and coffee, we think this little fella is perfect for brining a touch of colour and Swedish chic to your kitchen units.
Also available in the print are tea towels, pot stands and a chopping board.
See this product at New House Textiles...
(We don't sell this product yet but sign up to our newsletter and we'll let you know when we do)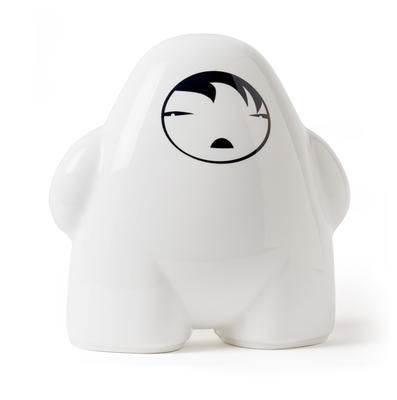 Add a touch of humour to your home with these modern gnomes. Buy one now from Vitamin for £49.50.
Every self-respecting design addict knows that garden gnomes are a definite no no. Yet still people insist on putting them in their gardens (they obviously haven't come across Furnish yet...) So, you can excuse us for being a little dubious when we heard the words "cool" and "gnome" in the same sentence, but that's exactly what these little fellas from Vitamin are.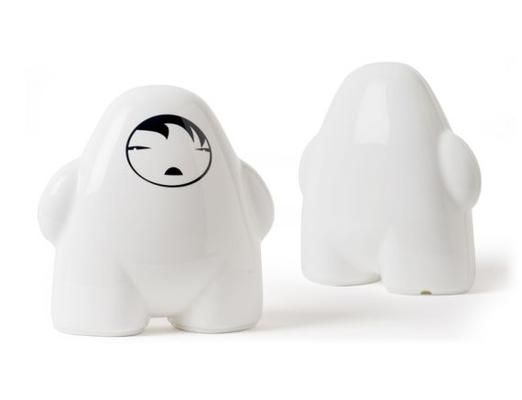 A great alternative to your usual ornament, these small bone china gnomes are available in a variety of styles and characters and are suitable for use both inside and out.
We love the Eskimo design, because it's really cute and is guaranteed to raise a smile from guests.

Invest in ultra stylish storage with this sleek bookcase. From £1800
Storage can be one of the trickiest elements to get right in the home.
Do you go for bespoke, built-in cupboards or freestanding units? Then of course, there's the dilemma about how much storage to incorporate into your scheme – too little and you've not solved your clutter problem, too much and you could risk having your living room resembling a warehouse.
Lordy, it's enough to make our heads hurt, which is why we're really pleased that Tom Schneider have taken the hassle out of it with a range of storage options that are stylish to boot.
Shelving, shoe storage, sideboards, wine racks – you name they do it but what we just simply adore is the DNA collection of shelving units.
Our pick is the Single Strand unit, which as well being extremely practical to stash books on, is a work of art in its own right.
See this product at Tom Schneider...
(We don't sell this product yet but sign up to our newsletter and we'll let you know when we do)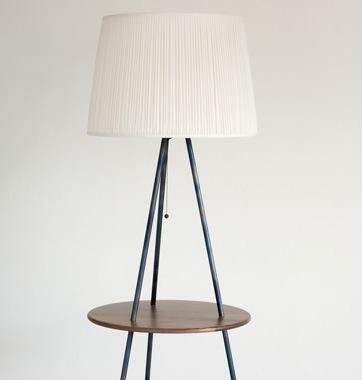 Get ready for darker days with this clever lamp and table combo. Buy it now from Benchmark for £778
Everyone knows that Terence Conran is the godfather of design. After all, he's the man who bought us Habitat and what would we have done without that? Doesn't bear thinking about...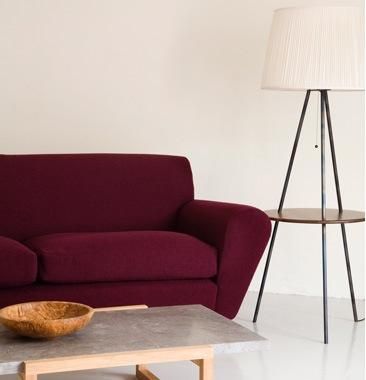 He's also one of the founders of Benchmark, an amazing design company that has created so many beautiful pieces of furniture, that there's almost too many to mention.
Top of our "We want it now" list (which by the way, is ever growing) is the Leading Light designed by the great man himself.
At first glance, it's a beautifully simple floor lamp but when you look a little closer, it incorporates a side table too, proving that design can be both functional and stylish.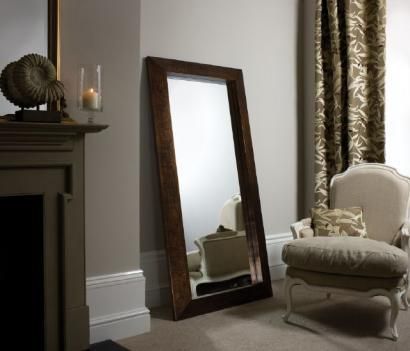 Create a real statement with this elegant mirror available from furnish.co.uk. Buy it now from Puji for £345.
We all know mirrors can instantly lift a room. They make any space look and feel bigger, are great for adding light and let's face it we all quite like to see ourselves once in a while.
Puji has a great selection of mirrors, from quirky designs right through to simple and elegant – there's something for everyone.
We are particularly taken with this Bronze-finish design (which is bang on-trend for Autumn/Winter 09). Its huge dimensions will be sure to create a statement in any room and we love the bronze finish which makes a welcome change to usual silver or gold.
And the simple design means it will work well in both contemporary and classic schemes.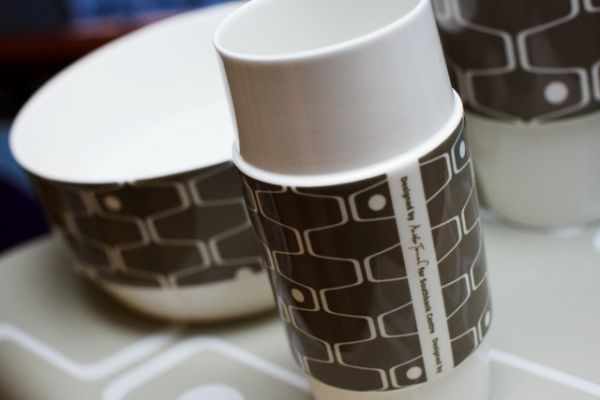 Bring home a piece of history with this gorgeous bowl and vase. From £24.
Love it or loathe it, for years The Southbank Centre in London has brought dance, culture, music and drama to the masses.
Personally, I love the concrete blocks that grace the south side of London so much that being within touching distance gets me excited. And now you can have a piece of the The Royal Festival Hall in your own home with this Net & Ball bowl and vase, which was designed by Andrew Tanner.
Andrew took his inspiration from the original Festival of Britain carpet that graced The Royal Festival Hall's floors.
We love the retro design, colour and shape of these pieces so much that our Features Editor is seen on a regular basis holding them in the shop and cooing over them like some people do a small baby.
Image: Photo by Sam Peach www.sampeach.com courtesy of Southbank Centre
See this product at Andrew Tanner Design...
(We don't sell this product yet but sign up to our newsletter and we'll let you know when we do)
Keep your wine in check with this nifty bottle holder. Buy it now from Black + Blum for £30
Where do you keep your wine? Stashed somewhere in the dining room? In your bespoke, vintage filled cellar? Or perhaps a bottle of wine doesn't last long enough to be stored in your house...
But if it does, this is a great way to keep your plonk close at hand and neatly stored. We've long been fans of Black + Blum at Furnish and are delighted to have them on board, they've got a great selection of products but one of our favourites is undoubtedly the Flow wine rack.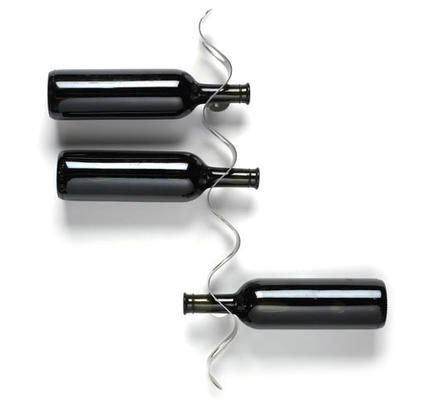 The wine rack is wall mounted (excellent news if you're short on space) and can hold up to eight bottles (even more excellent!)
And apart from its storage credentials, we bet it will prove a great talking point amongst guests – if you can keep them from drinking the contents that is...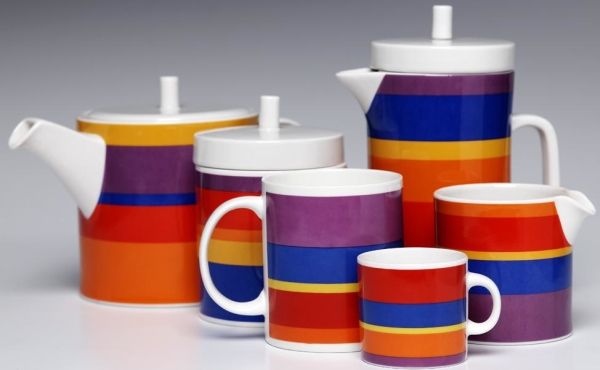 Brighten up your dining table with this funky tableware. From £9 for a mug.
Remember how much of a storm the Pantone® mugs caused when they launched? It seemed every art director and design aficionado in the land had to have one sitting on their desk.
Well, the clever people at W2 Products have done it again with their gorgeous Stripe china. The range consists of a cafitiere, teapot, sugar pot, mugs and espresso cups – perfect for an on-trend tea party. We love the bold colours (the perfect antidote to all the doom and gloom around at the moment) and let's face it stripes are always in.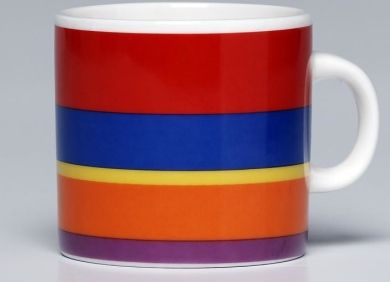 But if a complete set is a little too much for you, try creating your own eclectic collection by mixing in a couple of white pieces.
This china is definitely on our shopping list and we reckon it should be on yours too.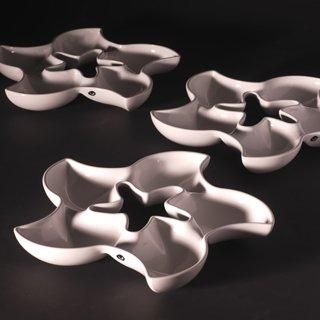 Update your ceramic collection with these ocean-inspired dishes. Buy one now from Ulrika Jarl for £45.
A recent trip to Oxford's Art in Action saw me in utter awe at how creative people can be. Sure, in my career I've been surrounded by people that can turn simplicity into beauty but to see so many talented designers in one place was rather humbling.
I feel the same way when I look at Ulrika Jarl's products. How does she create something so elegant and fragile when if I was given the same task I dread to think what the result would be... Her delightful Stardishes have particularly caught my eye. She has managed to capture the spirit of the star fish and they are simply beautiful.
Perfect for nibbles, candles, or just on their own – they're sure to make a welcome addition to your home.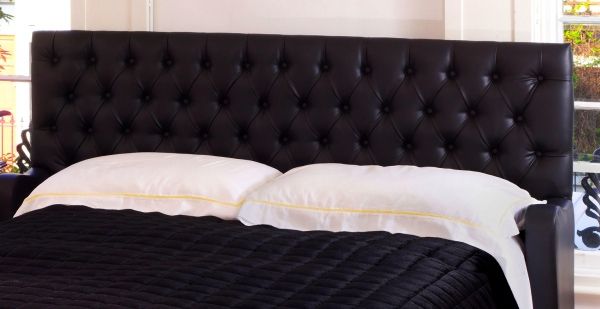 Sleep in comfort with this stunning headboard. From £396.
Sleep is a precious commodity, which is why it pays to have a comfy bed. However, not everyone has the room (or the cash) for that dream bed, so we've found the perfect way to jazz up the humblest of divans.
Sheer Home has created a range of classic and contemporary headboards available in a wide range of fabrics that will add instant oomph to your bedroom.
We've got our eyes on this Chesterfield design (taking its inspiration from the ubiquitous Chesterfield sofa) and we think it ticks all the right boxes, masculine and sturdy enough to please the boys, comfortable and classic enough to satisfy the girls.
What's more, the headboard is available in a whopping 24 different fabrics and if you still can't find one you like (you fussy lot!) Sheer Home can use your own fabric and you get 10% off too.
Now, were not ones to condone sleeping on the job but we think if we had one of these little beauties we'd be more than inclined to indulge in a cat nap...
See this product at Sheer Home...
(We don't sell this product yet but sign up to our newsletter and we'll let you know when we do)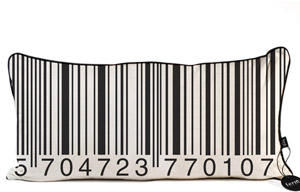 Go monochrome with these great cushions now available. Buy them now from 95% Danish for £59.95.
Ah cushions, so many to choose from and so little time. On an aesthetic note, stylish ones are brilliant at adding interest to and brightening up your home. On a practical note, they make everything, well just a little bit more comfy.
We love these cushions on offer from 95% Danish; choose from the barcode, fashion or world map designs – all in glorious monochrome and just the ticket for a contemporary living space or bedroom.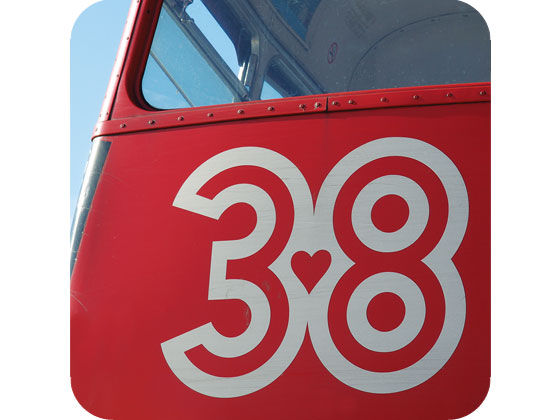 Add some nostalgic fun to your tabletop with these bus-inspired coasters. £15 for a set of four.
Anyone who has lived in London or even visited will be familiar with the sight of the iconic Routemaster bus, well that is you would have been until they were scrapped.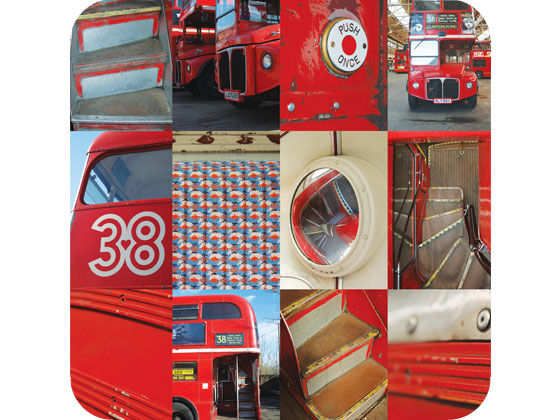 However, their memory lives on through these amusing coasters from Ella Doran. There are four in the set, and if you really miss the Routemasters making their slightly jolting way through London, there's also a tray available in the same design.
Ding, ding – hold tight! (Sorry we couldn't resist)
See this product at Ella Doran...
(We don't sell this product yet but sign up to our newsletter and we'll let you know when we do)