Features: April '10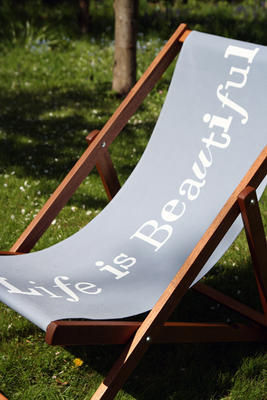 Believe what you read with and relax in style with this Life Is Beautiful deckchair from Rockett St Geroge. £145
There's something wonderfully nostalgic about a deckchair, don't you think?
Whenever I think of them ,I always imagine them lined up on a pebbly beach, their beautiful candy stripes as evocative of British summer time as 99s and Kiss Me Quick hats.
And while I love a traditional deckchair, I have been on the lookout for something a little more up-to-date and on trend.
And I have found just the thing courtesy of Rockett St George. This gorgeous Life Is Beautiful deckchair is just the ticket for those who want a fresh take on an old favourite.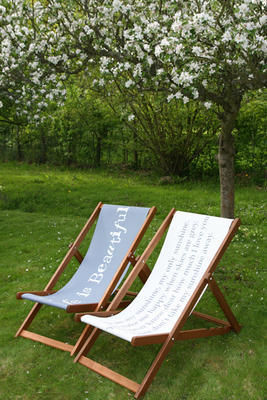 Plus the thought provoking slogan will ensure you have something to contemplate while soaking up the sun's rays.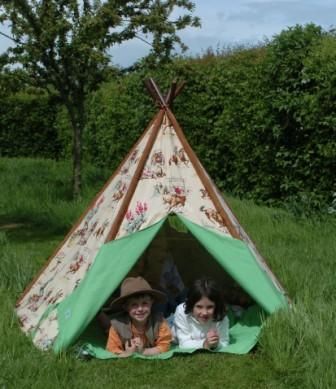 Make sure your little people are entertained for hours with this fun wigwam from The Gifted Penguin £79.99
Summer holidays are without a doubt one of the most stressful times for parents. What on earth do you do with hyperactive children for six weeks?
Well, short of packing them off to retired relatives you could try getting your hands on one of these super cool wigwams from The Gifted Penguin.
This sturdy wigwam is covered in retro cowboys and Indians; it's the perfect play partner for long summer days.
See this product at The Gifted Penguin...
(We don't sell this product yet but sign up to our newsletter and we'll let you know if/when we do)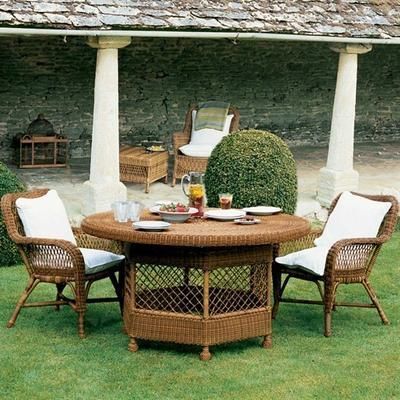 Give your garden a classic style injection with this Shalfleet table from OKA. £650
Modern garden furniture is all very well and good, but what if you want something a little more classic to grace your outdoor space this summer?
We've found the answer and it comes in the shape of this beautifully crafted Shalfleet table from OKA.
This woven, colonial-style table is made from synthetic rattan which means it can be left in your garden all year round – perfect if you're short on storage space. Great for afternoon teas, the table is available in three classic colours; Storm Brown, Storm Grey and Sage Green.
Best of all the Shalfleet also includes matching chairs, which are gently slanted making them the perfect choice to sit back and relax in.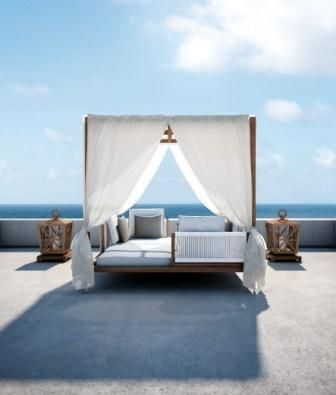 Play millionaire with this stunning Amalfi Gazebo from Go Modern. £7,500
Think of gazebos and you probably envisage slightly naff put-it-up yourself things from a well-known high street retailer. Or perhaps trampled contraptions that have been discarded at one of the summer festivals.
Well, this gazebo, my friends, couldn't be further removed from that if it tried.
I warn you the Amalfi gazebo from Go Modern isn't cheap, in fact it costs about the same most people would fork out for a more than suitable second hand car.
But oh my, is it beautiful. In fact, it's probably the most beautiful gazebo I have ever seen.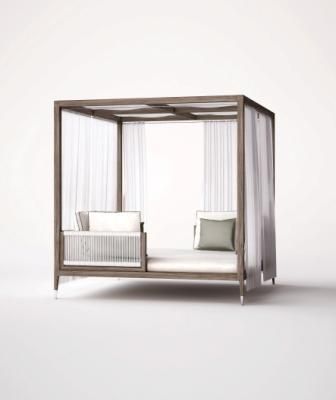 So if you have the time to laze around this summer and few spare grand lying around, I suggest you invest immediately.
See this product at Go Modern...
(We don't sell this product yet but sign up to our newsletter and we'll let you know if/when we do)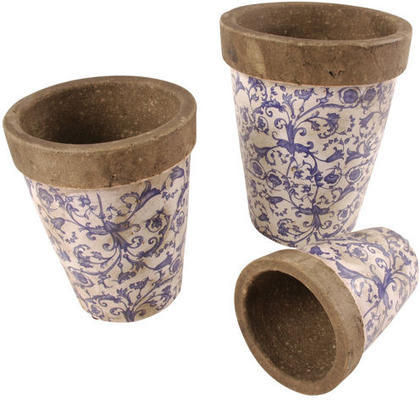 Pretty up your garden with these Blue and White plant pots from The Orchard. £28.50 for a set of three
I've mentioned before how I'm not exactly green fingered (in fact a cacti would do well to survive in my care), but that doesn't stop me wanting a super pretty garden this summer.
I'll just let someone else do all the hard work while I pick the accessories.
Top of my shopping list are these Mediterranean-style blue and white flower pots from The Orchard.
Delicately aged, they're just the ticket for giving your garden a vintage feel.
And if you want to give your garden a uniform look, the good news is there are also matching square pots and wall planters available in the collection.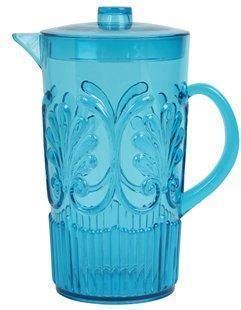 Embrace the trend for summer cocktails with this pretty turquoise jug from The Contemporary Home. £19.99
You always know summer has truly arrived when people start talking about Pimms. Rejecting your usual tipple for this dangerously addictive cocktail goes hand in hand with flip flops, sweltering on public transport and sunbathing in over-crowded parks.
Of course, you don't want to risk your finest glass jug in the garden or with friends who have had one glass of the good stuff too many, which is why you need to invest in something a bit sturdier.
This acrylic jug from The Contemporary Home is the perfect choice. I love the intricate carving which definitely has a Moroccan feel and the beautiful turquoise colour which will bring a splash of the Mediterranean to any garden party.
Also available in zingy lime, the range features plates, wine glasses and tumblers – everything you need for an outdoor shindig without risking smashed plates and glasses.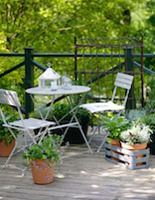 Grow a garden good enough to eat with this ready-made Large Edible Garden from The Balcony Gardener. £295
It's all very well these celeb chefs telling us to grow out own herbs rather than pick them up from the local supermarket, but frankly who has the time to faff about tending to a tricky Basil or temperamental thyme?
I know I certainly don't, which is why I was really pleased to come across The Balcony Gardener.
One of those simple yet truly genius ideas, The Balcony Gardener creates gardens for people that don't have the time.
Filled planters and troughs are delivered to your door and all you have to do is put them where you want, water as necessary and enjoy the fruits of your not so hard labour. You can choose from a variety of gardens and window boxes, but it was the Edible Garden that caught our eye, available in three sizes and containing a plethora of herbs.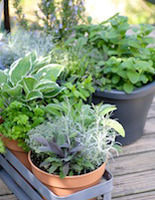 So, the next time you're guiltily reaching for the dried herbs that have been in your cupboard since god knows when, don't and invest in one of these instead.
See this product at The Balcony Gardener...
(We don't sell this item yet but sign up to our newsletter and we'll let you know if/when we do)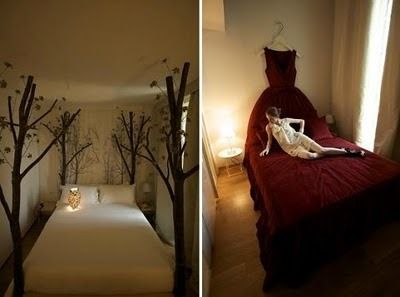 Time for one of my favourite times of the week as we share some of the hottest blogs around to feed your appetite for interiors.
It's always reassuring to know that people are just as nuts about interiors as us so if you have a blog no matter how simple or grand, let us know and if we love it we'll feature it too. So, here goes with this week's round up.
First up is former Guardian journalist Huma Quereshi's blog Her Little Place. We love reading it for inspiration and also to look at really pretty things which let's face it makes life a whole lot better sometimes. Perfect for an escapist read, we loved Huma showing us round the latest hip hotel in Milan, Maison Moschino. Huma also has an online boutique selling the cutest greetings cards and more importantly cookies. Definitely one to watch, Her Little Place could easily be the next Design*Sponge of the blog world. Just remember you heard it here first.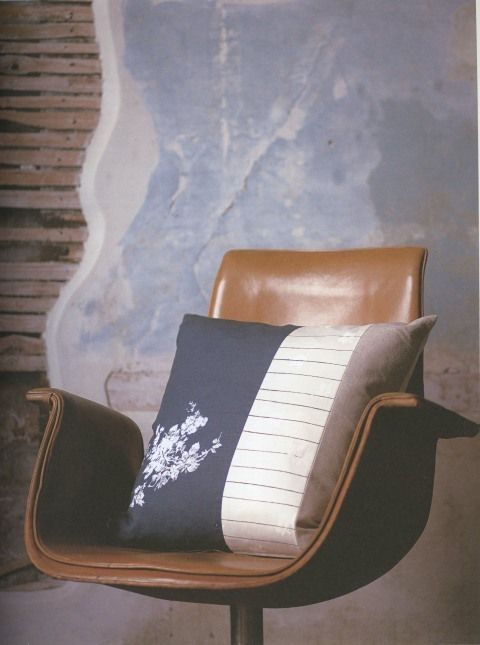 Home Shopping Spy is penned by the journalists of Ideal Home and proves that being mainstream doesn't mean being dull or straight. In fact, we could all learn something from the people behind the UK's best selling homes magazine. Covering everything from the latest homes accessories to this post showcasing Lisa Stickley's new book, it's a must-read for anyone who loves their home.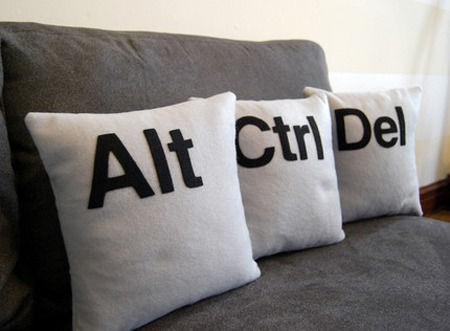 I like being eco-friendly as much as the next person (that's not strictly true as I'm rubbish at recycling, leave my Sky+ box on standby daily and my flat often resembles Blackpool Illuminations) but am not keen on hemp and recycling tyres into pasta bowls which is why I was delighted to come across Design Squish. This blog is heavy on eco but also heavy on style too as this post about recycled felt cushions proves.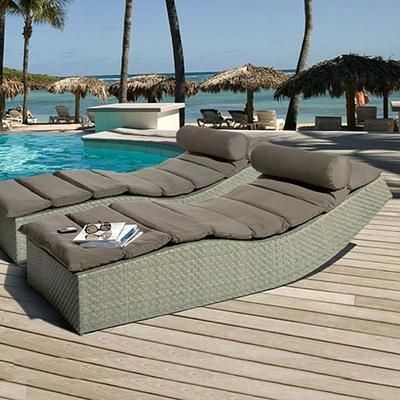 Create a luxurious garden with this super stylish Bikeezy Flow lounger from Occa Home. £1,210
If you're having a staycation this year, then you'll be needing your luxury hotel fix and while I can't find you an infinity pool for your garden, tropical climes or a beach side villa, this piece of furniture will make you feel a little better.
The Bikeezy Flow lounger from Occa Home screams 5 star hotel just without the staff to pander to your every whim*
Made from weaved metal and topped with a sink-into cushion, it's just the thing for a spot of sunbathing (if we get any that is) and relaxing away those weekday blues.
And while it's not exactly cheap, it utterly gorgeous and indulgent – so chuck away that plastic sunbed that's been languishing in your garden shed and celebrate lying around with nothing to do.
(* you could always try bribing children/other halves into being your personal butler and if you find a way how please let me know!)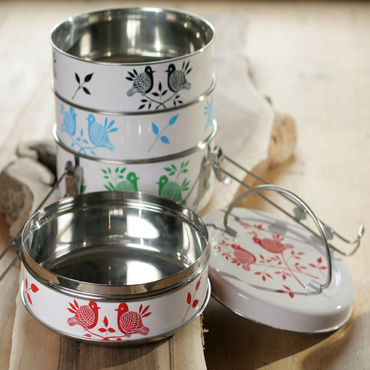 Add some colour to your picnic with this bird-illustrated Tiffin tin from Nkuku. £64.95
With picnic season almost here, it's time to make sure you've got all the necessary equipment to make dining in the park a success.
Well, I have news for you, fellow interiors buffs, hampers are out and Tiffin tins are most definitely in.
Why? Because lugging a weighty, basket-woven suitcase on a mile-long hike while searching for the perfect spot just isn't fun, but swinging a brightly coloured stack of tins is.
Our pick of the bunch is this Lolita design from Nkuku – hand painted with a pretty bird illustration, the Lolita Tiffin Tin comprises of four generously sized containers, perfect for packing your salads, anti-pasti and cheeses in.
And best of all, when you're not picnicking, the tins can be used to store cakes and other goodies in the kitchen.
I can't wait to get my hands on one, stuff it full of delicious food and head to a quiet spot.
(We don't sell this product yet but sign up to our newsletter and we'll let you know if/when we do)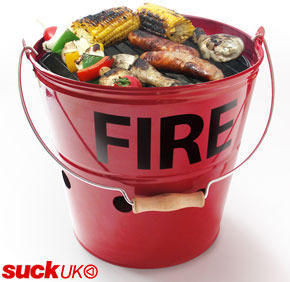 Throw on a banger or two and get ready for the only way to dine in summer with this Fire Bucket Barbecue from Red Candy. £33
Firing up the barbecue is as synonymous with summer as rainy festivals, flower shows and the holy grail of those two weeks off work.
Rather stereotypically, I never look after the barbecue at our summer parties. Too much smoke and far too much pressure not to give your nearest and dearest food poisoning.
However, I might be persuaded to rethink my al fresco cooking practices and it's all down to this cute-as-a-button Fire Bucket Barbecue from Red Candy. Designed to look like, yep you've guessed it, a fire bucket and it's big enough to cook up a storm without dragging out an all-singing, dancing gas-fuelled beast.
So this year, I'll be in charge of the barbie. Now, how would you like your burger? Well done, rare or cremated?...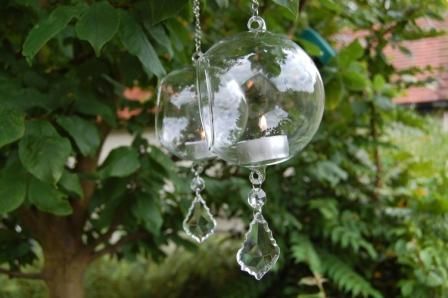 Create an atmospheric glow with these glass tea light holders from Velvet Brown. £9.95 for a pair.
If you're planning on using your garden all day every day this summer (that's assuming the weather people are right and it's going to be a hot one) then you should definitely invest in some lighting for your outdoor space.
If you can't be bothered to faff about with electricity in the garden and solar lighting just doesn't do it for you, then we've found the perfect solution.
These hanging glass tea light holders from Velvet Brown look fabulous when hung from tree's branches. Buy them in bulk and hand en masse to create a really dramatic atmosphere.
And best of all, when the colder months set in, you can use them inside too.
View this item at Velvet Brown...
(We don't sell this product but sign up to our newsletter and we'll let you know if/when we do)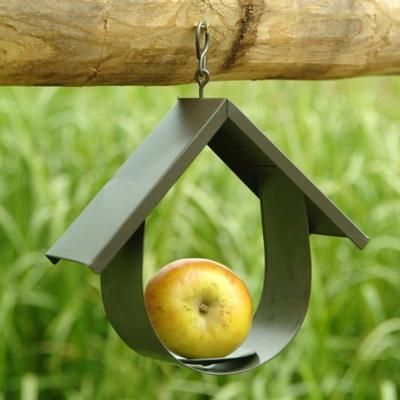 Keep your feathered friends well fed with this cute House Bird Feeder from The Contemporary Home. £12.99
When I first moved into my garden flat, my boyfriend and I hung a bird feeder complete with nuts on out tree.
Imagine our delight when waking the next morning all the nuts were gone, giving ourselves a congratulatory pat on the back for being so kind to the local wildlife, we discovered that the feeder had in fact been knocked the ground and one of the local rogue squirrels had scoffed the lot.
If you want to escape a similar fate then look no further than this sweet house-shaped bird feeder from The Contemporary Home.
Made from metal, the feeder is designed to hold an apple during the summer months and a fat ball when things get a little bit colder.
Best of all, it's far too dainty for a squirrel to attack, so you can guarantee your feathered visitors will get the feast they deserve in peace.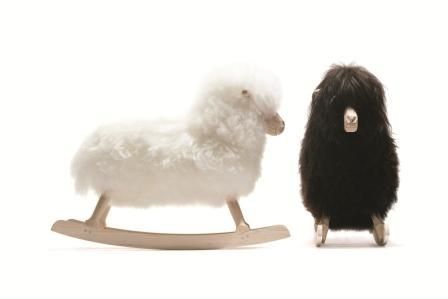 Add some farmyard chic to a little ones room with this sweet White Rocking Sheep from Whippet Grey. £225
A lot of people I know think rocking horses are a bit spooky, but to me they have always been truly magical and beautiful.
I never had one myself (it's ok, I'm not getting the violin out as I had probably too much as a child) but I used to have to be prised from the one in my nursery school.
But I think I could have been swayed from all things equestrian, had this been in my bedroom when I was a little girl.
The White Rocking Sheep from Whippet Grey (incidentally, one of my favourite interiors websites for a long time) is a wonderful find. A great alternative to a rocking horse, this will look fabulous in a playroom or nursery and best of all keeps your little ones quiet.
See this product at Whippet Grey...
(We don't list this product but sign up to our newsletter and we'll let you know if/when we do)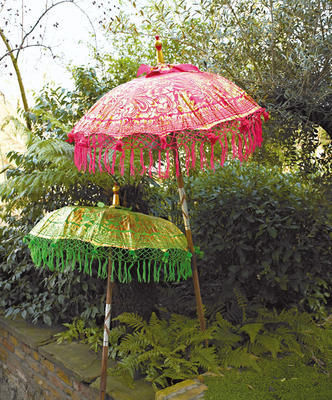 Why be boring with your choice of parasol when you can have one of these colourful Ajanta designs from Plumo? £59
I'm being a total optimist about the weather this summer; after the dire rain-drenched one we experienced last year and a truly miserable winter, I've somehow managed to convince myself that this year the UK will bask in tropical sunshine.
Which means I'll be heading out to my tiny outdoor space to catch some rays at every availability opportunity, but if you're fair of skin, then chances are you'll prefer to be shielding yourself from the sun.
Which is where these gorgeous Ajanta parasols from Plumo come in. Far more glamorous than any other parasol I've ever seen, they're made from chintz fabric and embellished with tassels making them perfect for adding a splash of colour to your garden.
Try using them with discreet wooden furniture to make a real style statement that will see you through all summer long.
So let's all keep our fingers crossed for a summer of warm, hazy days and balmy nights or on the other hand, if the weather does a complete U turn, these parasols will look equally as pretty inside.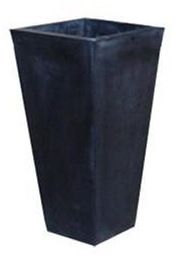 Add some contemporary style with these Zinc planters from The Chelsea Gardener. From £14.10
When it comes to selecting pots and planters for your garden or balcony, the choice is mind boggling. Looking for some to pick and show you, I was presented with plastic ones, terracotta and stone ones, concrete ones, metal and china ones and that's even before I got to style, colour and size.
After a fairly exhausting virtual trawl, I came across these from The Chelsea Gardener.
Made from Zinc, the planters are available finished either in black or titanium or in a variety of shapes and sizes.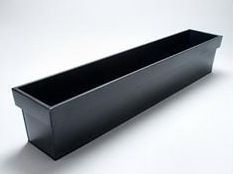 Not being the green-fingered type, I will be using these to house ready potted plants and dotting them around my patio.
And if you too aren't Alan Titchmarsh's doppelganger, then I suggest you do the same!
See this product at The Chelsea Gardener...
(We don't sell this product but sign up to our newsletter and we'll let you know if/when we do)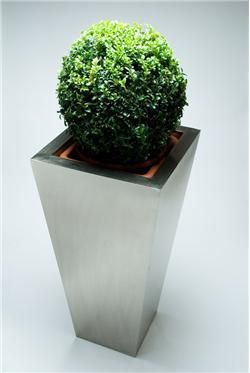 Brighten up a little ones room with this super cute penguin print from Hunkydory Home. £20
By a long way, penguins are without a doubt my favourite animals; I absolutely adore everything about them. From their stylish, monochrome "outfits" (they know black and white never goes out of fashion) to how they huddle with each other for warmth.
I am a bit reluctant to admit this however, because they are usually seen for one reason or another as being a favourite of children (you only have to visit London Zoo at penguin feeding time to know what I'm on about).
That aside, I adore this print from Hunkydory Home and would have it my bedroom in a heartbeat.
If you're not a penguin-phile like me, then you may want to consider it for a little ones room. I also love the owl print and alphabet prints too which are ideal for adding a splash of colour and helping your little Einstein on his or her way.
It's time for our weekly fix of interiors blogs, where we share some of the best with you to feed your interiors obsession even more.
Another trip stateside with our first choice; Apartment Therapy. Having access to Apartment Therapy is like having a free pass across all the major US cities. A friend introduced me to AP a while back when we should have been reading proofs for a magazine. Full of super useful advice and gorgeous products, we love the way you can flick between East and West coast and back again. One of our fave recent posts is this one about a mid-century modern armoire which we found in "New York" and because we're really nosey we love the house tours too. Well, who wouldn't?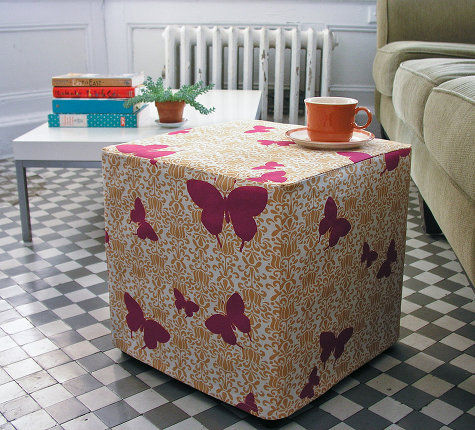 Design*Sponge is like the Godfather of interior and design blogs, the Marlon Brando if you will; head honcho: The Boss - ok I think you get the impression. Grace Bonney started Design*Sponge way back in 2004 and since then it's gained a loyal following of dedicated readers. We love the DIY section which is far more craft fair than B&Q and our pick of these gorgeous makes is the Ottoman Slip Cover project which offers the perfect way to update an old footstool.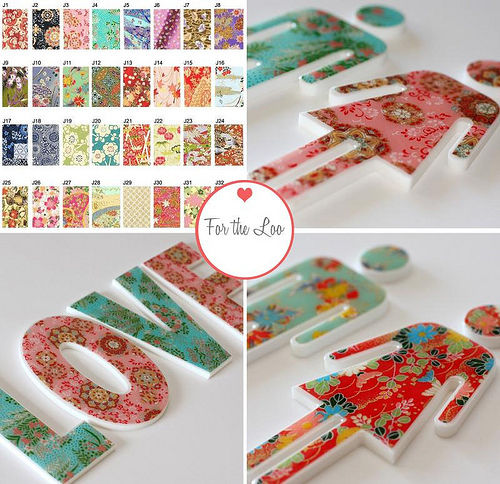 Decor8 is another one of those blogs that you could spend hours browsing just for the gorgeous design alone, but thankfully the content is spot on too. We were super pleased to find these cute bathroom signs and love the Etsy Take Five Tuesdays for finding beautifully made homewares and other accessories that you can guarantee will get your friends saying "oooh where did you find that?"
As always let us know what you think and even better if you write your own blog, get in touch and tell us about it.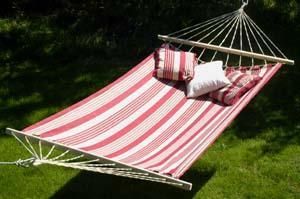 Who needs a tropical isle when you can have this striking Sobrini hammock from Handmade Hammocks in your garden? £69
Of course we all dream of living on a tropical island. I mean who wouldn't swap the daily 9-5 urban grind for golden beaches, blue sea and sky and not having to do anything all day?
Unfortunately, that's not much of a reality for most of us, so failing to achieve this way of life, I've decided to opt for the next best thing. A hammock.
Ok, so I don't have two coconut trees to tie it between, but I'm glossing over that fact so I can have this gorgeous Sobrini hammock in my garden this summer. And it won't be a problem either as Handmade Hammocks also sell FSC wooden hammock stands.
The Sobrini hammock is available in a wide range of colourful, striped fabrics that will instantly bring a touch of colour to your garden.
So all that's left to do is swing around, relax and soak up the sun, that's if we get any more...
See this product at Handmade Hammocks...
(We don't sell this product yet but sign up to our newsletter and we'll let you know if/when we do)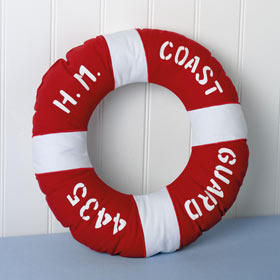 It'll be bedtime stories of pirates and the high seas with this fun nautical cushion from Great Little Trading Company. £15.50
I've mentioned before that the nautical trend is huge this season. Everything from fabrics to accessories has been given a seaside feel with striped cushions everywhere you look.
And now it seems the little ones are getting in on the act as I seem to have seen about a million (ok, possibly a slight exaggeration) nautical-themed kids products in the last week.
One of my favourites without a doubt is this super cute life saver cushion from Great Little Trading Company.
Made from soft cotton, it's the perfect thing for adding some seafaring charm to a little person's nursery or playroom.