Features: August '10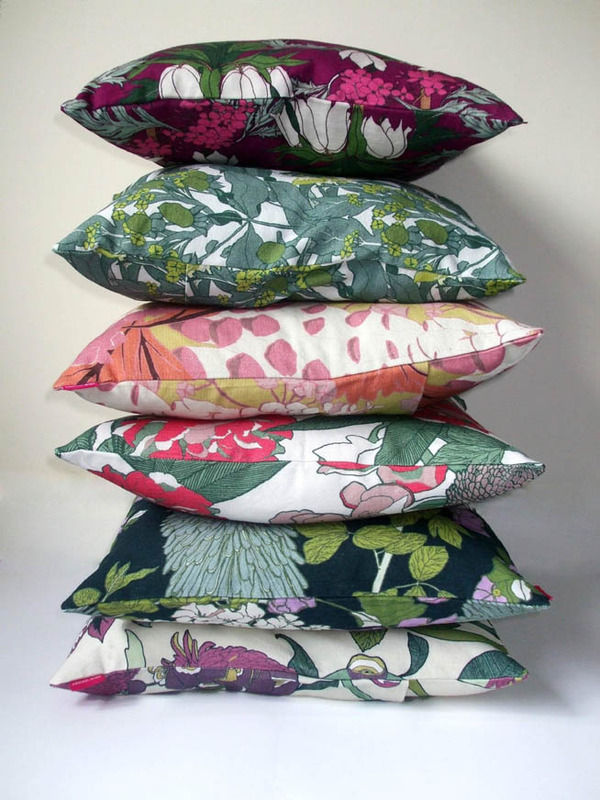 Award-winning surface designer Abigail Borg tells all.
Abigail Borg has taken the world of interiors by storm since graduating from Leeds College of Art in 2008 with a First in Printed Textiles & Surface Pattern Design. Picked out from thousands of graduates, she was named 'New Designer of Year 2008' and went on to set up on her own in January 2009. She's continued to wow industry professionals and interiors obsessives alike with her beguiling floral prints, and was short-listed by Elle Decoration at the British Design Awards 2009. We caught up with Abigail to have a bit of a gossip.
How would you describe the Abigail Borg style?
All of my work begins with hours of hand drawing – an integral part of my style. I see it as a fading craft, and there is no comparison to a hand drawn illustration against something that has been knocked up in a few minutes on a computer screen.
I have then chosen to digitally print my wallpapers and fabrics, as I don't have to compromise on colour or levels of details that I perhaps would if screen printing. If I could sum it up I'd say: 'Hand drawn; Vintage Inspired; Contemporary.'
What's your personal style at home?
I love going to car boots, charity shops and buying things off eBay, so there's lots of knick-knacks: battered picture frames and prints, scuffed storage boxes and jars, old textiles, fabrics, and so on. I'd much rather buy an old chest of draws that's been used constantly for 50 years, than a shiny, chip-free one. I also love being in the garden and spend lots of time planting and growing different flowers to photograph and draw, so there are lots of dried flowers about.
Your wallpapers and fabrics have a William Morris feel to them. What draws you to the Arts and Crafts movement and do you have any other favourite eras of interior design?
I love vintage design, particularly from the late Victorian period right up until the 1960's – lots of patterns, hand drawing, colour and craftsmanship. I enjoy looking at styles from each period and incorporating them into my own style.
As an illustrator, are there particular artists that have influenced your work?
Designers such as CFA Voysey and Walter Crane, and companies such as F. Steiner & Co and the Calico Printers Association all influence me – I love the daring use of colour and the bold lines and pattern.
You have a very distinctive colour palette. How do you put together your colour schemes and what comes first – pattern or colour?
I generally hand draw and put together a pattern, and decide from there what sort of colour palette I'd like to incorporate. As always, I'll look at archival patterns, as well as dipping into current colour trends to come up with something that has a good balance of the old and the new.
Why do you think florals work so well in interior design?
Florals have played a major part in interior design and decoration for centuries, starting off as tapestries, mural paintings and textiles, moving into the high fashion, modern settings of today. I think it's because of this that floral patterns never date and will always work well in an interior setting. Wallpapers designed by Morris and Voysey during the late 1800s could easily be applied to a room today and not look out of place. I think the basis of good design is being able to apply a product into a setting from any era and it still looking bang up to date.
How is new technology and traditional handcraft combined in your work? What is the aesthetic result of this approach?
I love to hand draw as the level of detail and the slight imperfections are so much nicer to see that a perfected and pruned computer file. I experimented with screen printing a lot whilst at art school, and found that I had to alter the detail and reduce the amount of colours. From then on I started digitally printing, as this allowed me to have as much detail and colour as I like, resulting in designs that had both bold colours and intricate, contemporary patterns.
As well as producing your wallpaper and fabric collections, you work with clients on bespoke commissions. What has been your favourite project?
I love working on all commissions as each one is a new challenge, and no matter what the end product is you learn so much along the way. I really liked working with Johnson & Johnson on illustrations for some of their products. It's nice to work on a brief together with an art director – and to think my drawings are in hundreds of bathroom cabinets makes me smile.
What's your favourite high-street and high-end home furnishing brand/store?
Topshop! It's affordable, with higher end pieces if you're wanting to splash out, as well as having a bit of vintage in there.
And Liberty – there's so much in there and every time I visit there's always something new to look at. Plus the tea room is nice for a little sit down.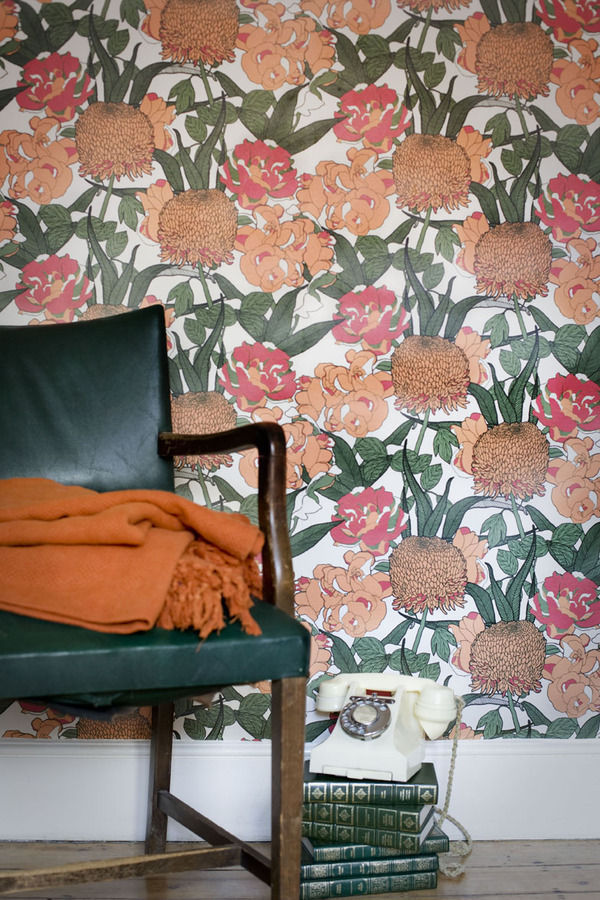 What's been your best interiors bargain?
This isn't so much a bargain, but salvage. My parents were cleaning out the loft of their house a few years ago, and on the 'take to the tip' pile was a shiny brown object. When I had a look it was a Guzzini mushroom ceiling light, which had been left there by the previous owner. They were going to throw it away as it was 'ugly and dated', so I immediately claimed it as my own!
Which three objects would you save if your house was on fire?
The Singer 3004; my mom bought it 27 years ago and it's the best sewing machine I've ever used. A box I keep lots of photos, cards, notes etc in from friends and lastly my collection of design books, journals, bibles which I'd hate to lose.
What do think will be the next big trends in interiors?
From a wallpaper point of view, perhaps some new finishes or printing methods with larger scale patterns, particularly florals.
What's next for Abigail Borg?
I'll be moving into a studio space by the end of the year, with new products and lines in the new year. I'll also be releasing a series of letter pressed Christmas cards in the next few months, as well as working on commissions for interior fabrics.
Find out more and buy online at www.abigailborg.com.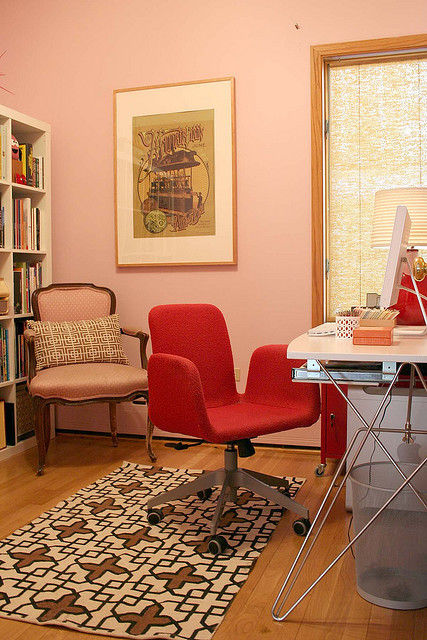 This week we check out three home renovation projects.
Making it Lovely follows Nicole Balch and family as they transform a 'so-so' century old house into a lovely home. Nicole posts the pictures of her home renovation handy-work in a photo gallery; and there's plenty more inspiration in the form of product reviews and fabulous finds, craft projects, lifestyle stories and interiors advice. She regularly puts together a collage of home furnishings 'chosen' by James and Eugenia, a 'fictional couple with exceptionally good taste in furniture'. But if you need reminding that it's Nicole who's got the great taste, just take a look at her house.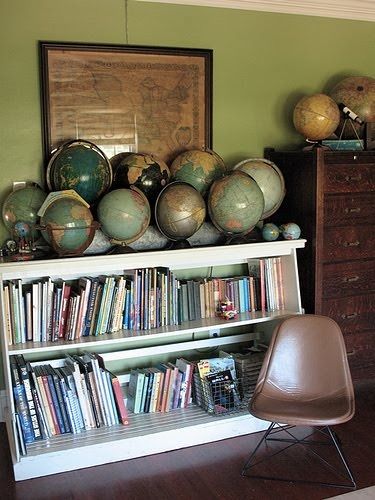 The Rambling Renovators are a couple of design-loving DIYers who invite you to tag along as they revamp their home, room by room. It's another chance to be nosy and have a good old snoop around somebody else's stylish home. As well as the customary 'before and after' photos you can expect loads of lifestyle images, plenty of vintage finds, product reviews and a whole lot of interiors ideas. From mock-ups and mood-boards, to DIY tips and decorating dilemmas this blog's great if you're thinking about renovating. And if you live anywhere nearby, the Christie Antiques Show in southern Ontario looks absolutely amazing.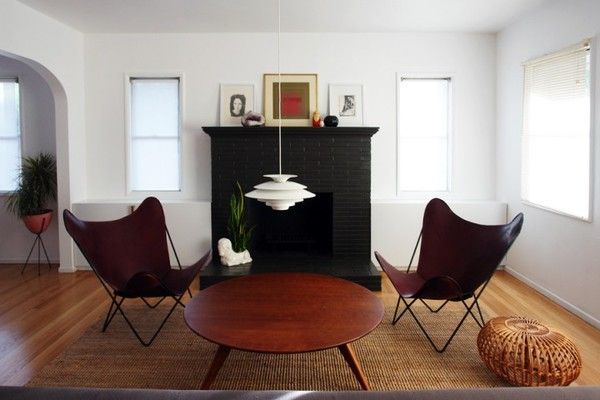 The Brick House is right up my alley (in terms of style, that is; the house is in California). Originally built in the 1950s, this super stylish bungalow is being restored to its former glory, complete with mid-century modern furnishings. Shaking off any lingering associations with retirement villages, it'll change your mind about bungalows in an instant. The photographs look like something straight off the pages of Elle Decoration or The World of Interiors. Draw dropping stuff. There's not one thing I don't like about it; although I really hope they're keeping the pink and black tiles in the original bathroom. The tiles alone would have made me buy the place. The Brick House is a must-see for any mid-century modern fans and a lesson in sympathetic restoration. Perfection.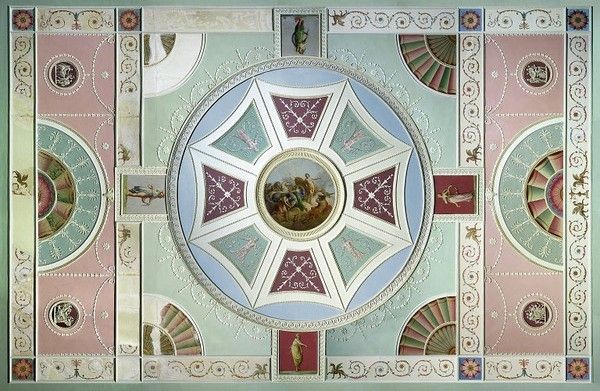 Elegant and evocative, neoclassical style has timeless appeal. Check out our period style guide and get the look at home.
Elegant and evocative, neoclassical style has timeless appeal. Check out our period style guide and get the look at home. Inspired by the ancient world, and fuelled by a spirit of adventurism, neoclassical architects transformed British design. Initially confined to handful of wealthy patrons and collectors, neoclassical style became hugely popular in the 18th century and remains an enduring influence today.
Neoclassicism emerged in Britain and France as a coherent style in the 1750s. Known to contemporaries as the 'antique manner', it flourished into the early years of the 19th century. Inspired by a resurgence of interest in ancient Greek and Roman design, the new style was fuelled by archaeological discoveries such as at Herculaneum and Pompeii in Italy, and Palmyra in Syria. Several publications celebrated ancient art and design, cataloguing archaeological finds and illustrating antique ornament and sculpture. This was the great era of the European Grand Tour; wealthy adventurers, architects and collectors travelled to the sites of antiquity, studying (and systematically plundering) the remains of the classical past. Architects pioneering the neoclassical style in Britain were James 'Athenian' Stuart and Robert Adam, both of whom had studied in Rome. These designers sought to create a distinctively modern yet eternally valid 'true style', arising from the ruins of the ancient world.
Completed by Robert Adam, Kedleston Hall in Derbyshire is a fabulous example of neoclassical architecture and interior design. The magnificence of the exterior, with its columned portico surmounted by three classical figures, stone carved roundels and niches for sculptures, is matched by the evocative interiors. The Marble Hall features twenty enormous Corinthian columns, friezes depicting ancient scenes and wall and ceiling decorations depicting classical and mythological creatures, swags and festoons. Adam's dining room at Kedleston Hall is a characteristically unified scheme, incorporating neoclassical furniture, utensils and decoration, all of which he designed. He sought to suggest the rooms of the ancients adapted to modern usage, and created a highly distinctive decorative style. Walls and ceilings (as well as floors in the form of patterned carpets and inlays) were decorated with plasterwork tablets and small-scale plaster ornament, distilled from ancient and Renaissance sources. It was Adam's skill as a colourist that set him apart from anything that had gone before. Inspired by the use of colour in ancient interiors, his patterned ceilings in particular were brought to life with highly pigmented hues: shades of pink and green, turquoise and blue were classic Adam choices. He was also a prolific self-publicist. Printed catalogues of Adam's designs popularised the neoclassical style and had a lasting influence on British architecture and interiors.
The decorative vocabulary of neoclassicism was expressed across the entire visual arts, from architecture and interiors, to ornamental and useful objects of all kinds. Symbolic of the ancient world, the vase was a dominant feature of neoclassical decoration. An absolute mania for vases and urns spread rapidly in the second half of the 18th century. Josiah Wedgwood is synonymous with exploiting this insatiable market, plundering sources ranging from printed catalogues to excavated pottery, and producing a vast array of neoclassical ceramics at his Staffordshire factory (aptly named Etruria). Neoclassical designers also used the iconic vase shape for a variety of practical objects such as sugar bowls, plate warmers and stoves as well as a design motif for surface decoration.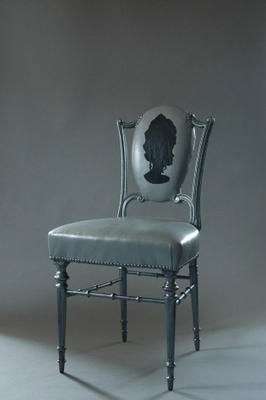 The classical figures depicted in ancient Greek and Roman art provided 18th century designers with sources of both subject matter and style. Again associated with Wedgwood pottery, classical figures were used to decorate all sorts of objects, as well as walls, ceilings and the facades of buildings. The cameo format was especially popular and figures in cameo were applied to objects ranging from chimneypieces and furniture to jewellery. Real animals as well as creatures of mythology were also fashionable decorative devices. Dolphins, lions, sphinxes, griffins and satyrs often formed the bases or handles of neoclassical objects.
Ornamental plasterwork as well as inlaid, engraved and relief decoration on all manner of objects often took the form of swags, tassels and festoons. These hanging garlands of fabric, ribbons, flowers and scrolling foliage were based on Roman ornament. Lines of small beads were another characteristic neoclassical motif. While beading was a feature of classical architecture, it was adapted in the 18th century for use as decoration on small-scale objects. This is just one example of the way in which neoclassical designers experimented with and moved beyond the ancient models that inspired them. This imaginative response to the antique, focussing on evocative visual and scenic effects rather than strict rules of architectural logic, is typical of neoclassical design.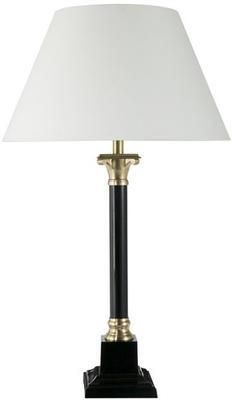 It's this freedom of interpretation and expression that makes neoclassical design so enduring and also easily combined with other styles. For example, Greek, Roman and Egyptian motifs were taken up by Art Deco designers in the 1920s and 30s. Lamps are a simple way to introduce neoclassical accents to a room. The classical urn shape forms the base of Occa Home's Cavendish table lamp, The French Bedroom Company's Claridges lamp and OKA's quirky Silhouette lamp. Roman columns inspire the Athena and Artemis lamp bases, also from OKA. Mirrors are another simple way to achieve an elegant neoclassical look. The French Bedroom Company's Burnished Beauty mirror features Adam-style decoration including swags and beading. The Nordic Grey mirror from Sweetpea & Willow has simple yet striking architectural detailing and the Large Oval mirror is a typical neoclassical design. Ghost Furniture offers a playful take on neoclassical themes with its footstool adorned with a Roman plaster foot and Marie Antoinette chair with a cameo profile backrest. Sweetpea & Willow's elegant Fig Leaf chair features the Greek key pattern, neoclassical beading and leaf details, with calico upholstery and a black ebonised frame. The monochrome Roman Console from Benchmark is a fabulous contemporary take on neoclassicism and reminiscent of Art Deco interpretations of the style. For a more traditional look, try the silver beaded console from Brissi.
Add a touch of elegance to any room with neoclassical accents.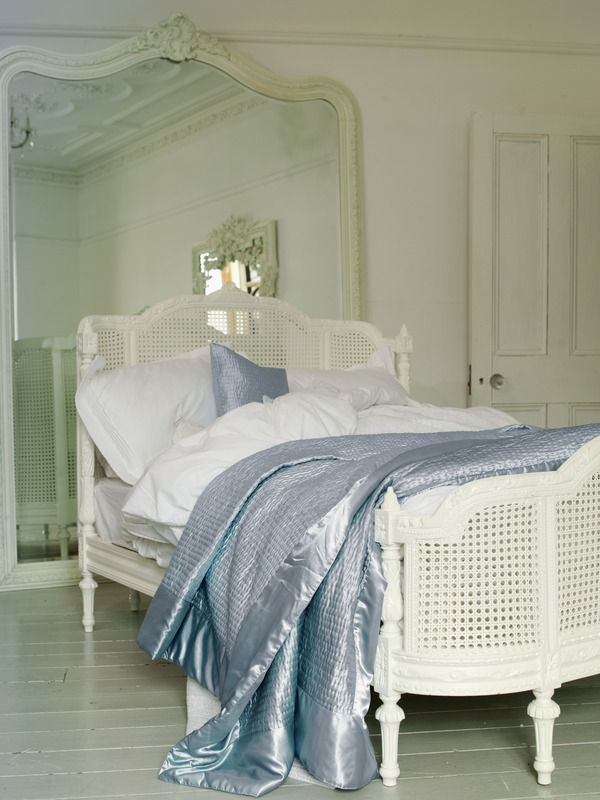 We shine the spotlight on The French Bedroom Company and uncover their elegant designs.
This week we're saying 'Oh là là' as we discover sassy designs that you won't find anywhere else. Read on as we uncover the chic and feminine style of The French Bedroom's collection.
Online boutique, The French Bedroom Company, was created in May 2006 by Georgia Metcalfe after she realised that there was a gap in the market for elegant and affordable French style furniture. The company's aim is to find adorable, unique furnishings that they can share with people who want to bring some glamour to their homes.
The French Bedroom Company's collection is an array of bedroom furniture and linen, seating, storage, tables, lighting, mirrors and screens. With its beautifully curved mahogany and cane head and footboards, it's little wonder the Lit Lit bed is one of the company's hero products. Available in angelic white or glamorous gold, the bed is guaranteed to be the star of any boudoir.
The Provencal 3-drawer chest is part of a collection which includes products that are carved from mahogany and inspired by classic French provincial elegance. The chest is hand-finished in antique white which gives it a modest beauty. It would fit perfectly in a country-inspired home because it gives a rustic and a charming appeal; combined with the Madeleine chandelier and you'll add instant chateau chic to your room.
To give a bedroom a traditional and opulent feel, the antiqued gilt mahogany of the Versailles 2-drawer bedside table would be an ideal furniture piece. The distinctive cabriole legs and subtle hand carvings in the wood represent the ornate style associated with the Louis XV period. The Versailles collection also boasts an adorable petit bedroom chair, a damask stool, and a stunning mirror-fronted armoire.
My favourite piece is the Octavia mirror which stands grandly on the floor, or can be mounted on a wall in a majestic hallway or bedroom. It has an egg-and-dart style frame surround which was commonly used in eighteenth century neoclassical design. The bold detailed carved emblem is an additional embellishment, and the jet black colour of the mirror brings a modern twist to such a refined piece.
One of The French Bedroom Company's newest products is the white cowhide which is made from organic British cows; the cowhides are tanned in the UK which ensures that there's a low carbon footprint. Its pure white colour gives it an extremely high-shine coat, and with thick skin and fluffy hair it means that it will last twice as long as a standard hide.
We are excited to hear that The French Bedroom Company's 2011 brochure will be launched next month. And why not take a peek inside their showroom at Apsley House, based in West Sussex, to discover the eight beautifully decorated rooms featuring their products.
The French Bedroom Company's products are available on furnish.co.uk so why not take a look...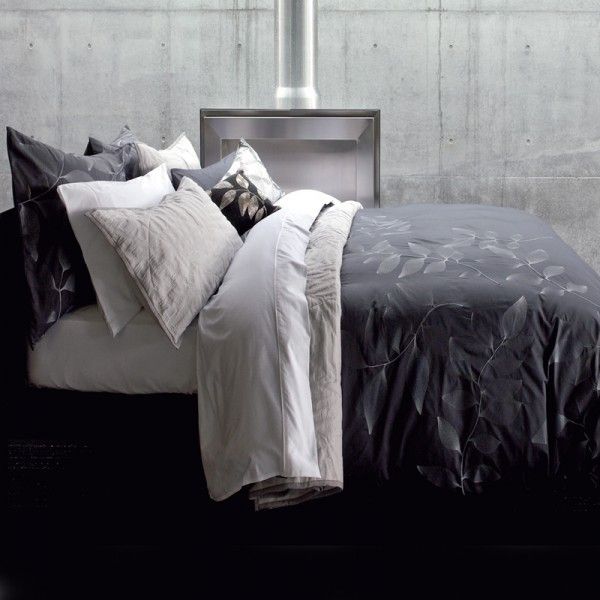 Put some swagger in your style with our tips on how to decorate a bachelor pad.
Boys will be boys... we look at how to decorate a stylish and modern masculine bedroom fit for any man.
Colour scheme
A masculine palette craves colour that invokes feelings of strength and power; colour blocking with black, white, grey, blue, green or purple will give a modern and striking look. A bold monochrome scheme will maintain a fuss-free style that limits you to two colours; however, you can keep a white and blue scheme looking fresh, for example, by bringing in boyish navy blue or grey tones in your fabrics and accessories.
Mocha browns can be enriched by cream shades or dark indigos that are accented with warmer ochre tones. Avoid pastel hues because they have a softer and more feminine feel that will contradict and confuse the look.
Wall coverings
Wallpaper, for example the Ribbed wallpaper or Monroe Special Surface, both from 95% Danish, will add texture and drama to your room. The geometric pattern in the Monroe wallpaper is in keeping with the colour block trend and shows how pattern can be incorporated into masculine style. To keep the look minimalist, try wallpaper on a feature wall behind the bed to draw attention and create impact.
Wall art is a great expression of personality as well as a form of escapism. Choose from a selection of exciting prints from 55Max available on Furnish, including images of favourite football memories and iconic film shots.
Bed linen
Don't overdress the bed, this isn't the time to go for hundreds of cushions and throws. Choose a matching duvet set and either use a solid colourway or go for plain stripes in dark colours. Pick either a lighter or darker shade of the colour you have on your walls and use this in your bedding to indulge in a cohesive look that isn't fussy or high maintenance. The Lavina king size duvet cover from Coco Male, tailored in a deep charcoal, gives a luxurious look that any man would be proud to show off.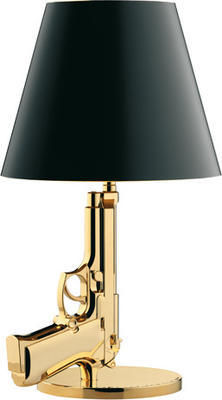 Lighting
In a masculine bedroom you can't go wrong with functional lighting that offers a quirky and innovative style. The Foscarini Diesel fork table lamp from Utility is a unique design, and the anodised metal base has the flexibility to allow the head to turn 360 degrees for directional or general ambient lighting. Or choose the Flos Gun bedside table lamp, also from Utility, which was designed by Philippe Stark who based his idea on a Baretta pistol hand gun. This feature piece instantly conjures up connotations with James Bond: how could any man resist?!
Furniture and storage
Opt for black or natural wood tones for a contemporary look. The black-antiqued lacquered finish of the Oriental Shanxi wardrobe from Puji will be set off by the earthy tones of your colour scheme. With a drawer, an internal shelf and a hanging rail, this should provide sufficient space for work suits, shirts and shoes.
The Nest bed range from Heal's is upholstered in fabric with a padded pillow-style headboard. It has a mechanism which allows the mattress to lift to reveal storage space which is perfect for all those manly keepsakes that would otherwise clutter the room.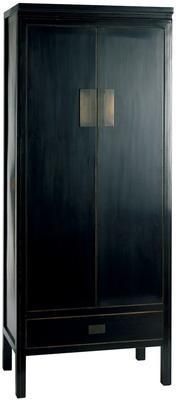 Flooring
For a simplistic look choose natural wood flooring in dark tones such as teak and walnut that will give a practical and contemporary feel. Rugs, such as the Sable green rug from Puji, will soften and bring texture and warmth to wood flooring. Or bring out a man's wild and adventurous nature with some animal prints; try the Zebra print cowhide from The French Bedroom Company to match your monochrome look and add visual interest to your floor.
Accessories
A restrained masculine style is uncomplicated so accessorising will involve sticking to the essentials. The Eclipse mirror from Tom Schneider is available in a selection of wood finishes, which will make a dark room feel lighter and more spacious.
Finally, if cushions are a must then the Etch baguette cushion from Margo Selby combines black, silver and cream colours in a woven fabric giving a 3-dimension feel that will give depth to a monochrome scheme and is suitably manly.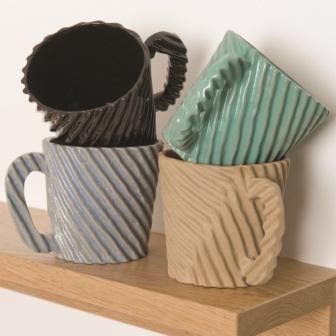 Find a new way to enjoy your afternoon cuppa with these corrugated mugs from Adra. £12
Perusing my mug collection the other day, I found that while it's a pleasing assortment of all the right kinds (the ubiquitous Pantone and Penguin Classics feature heavily) nothing really matches.
Not that it worries me a great deal but I thought it might be quite nice to have a matching set.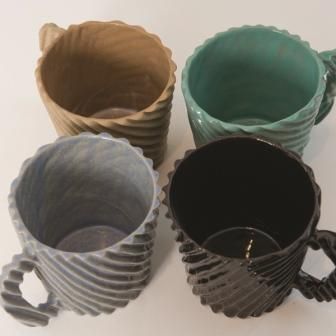 My online travels took me in the direction of Adra, a delightful interiors website based in Wales, which is where I found these corrugated mugs by Tom Gloster. Designed to look like corrugated cardboard, I love the lines and chunkiness of these tea-drinking vessels.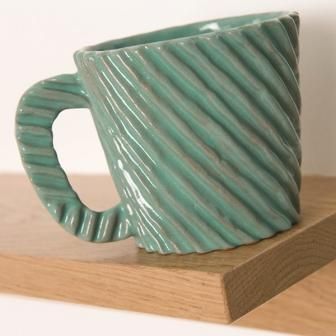 Available in four different colours and of generous size, these are perfect for adding a splash of colour to your kitchen and of course for drinking out of!
(We don't list this product yet but sign up to our newsletter and we'll let you know if/when we do)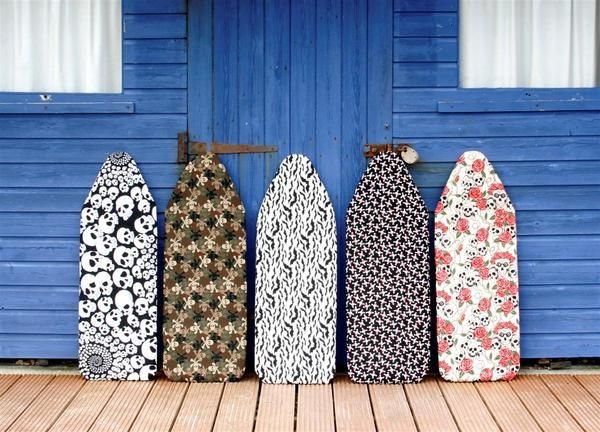 Add a new a lease of life to your ironing with these funky ironing board covers from Bombarock. From £19
Of all household chores, ironing is one of my least favourites – in fact, I'll let you into a secret, I don't iron anything until needs must.
An admission that would surely shock my Grandmother, who, rumour has it was so fanatical about everything being crease-free, used to even iron flannels. Yes, that's right, flannels! Needless to say this is one trait that hasn't passed down the through the generations.
However, as dull as I find standing for hours on end at an ironing board, I do rather like these ironing board covers from Bombarock. Available in a variety of designs and sizes, they're perfect for adding some colour and pattern to that most laborious of tasks.
And while I can't guarantee that it will make me get the ironing board out more often, it will certainly make it look prettier when it's folded up in the corner.
See this product at Bombarock...
(We don't list this product yet but sign up to our newsletter and we'll let you know if/when we do)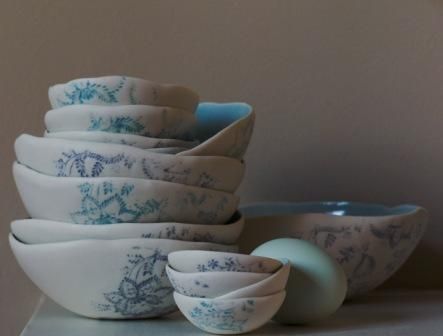 Spruce up your dining table with these wobbly bowls from Roost Living. From £12
Now that summer has almost disappeared, it's time to put away the melamine and picnic ware for another year.
Which means you'll be turning your attention to your inside dining table.
While it's true you can't beat a beautifully table laid with crisp white linen and exquisite china, sometimes a relaxed supper with friends calls for something a little more informal.
That's why I just adore these Wobbly bowls from Roost Living. Available in a variety of sizes, they're ideal for everything from dipping sauces to hearty soups and pastas.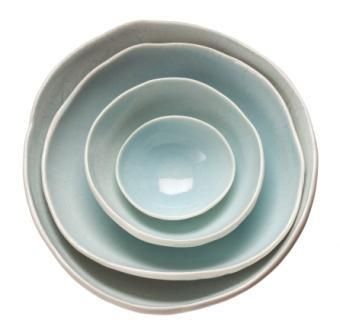 I love their irregular shape which gives them a handmade feel and the delicate floral design is just pretty enough without being over fussy or too cute.
I don't know about you but these bowls will definitely be making an appearance on my autumn table.
See this product at Roost Living...
(We don't list this product yet but sign up to our newsletter and we'll let you know if/when we do)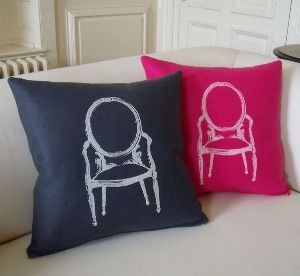 Smarten up a plain sofa or chair with this Louis cushion from Raw Xclusive. £69
I love cushions and chairs so much, that one day I hope I have a house big enough to squeeze in every one I have ever wanted.
Gorgeous vintage Eames loungers would sit alongside the latest designs from Established & Sons, softened by gorgeous cushions from every designer imaginable.
Well, that's just a dream for now, which is why I love this cushion from Raw Xclusive as it kills two bird with one stone.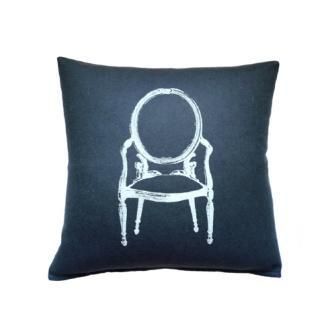 You see these rather gorgeous cushions each feature a classic Louis chair. Available in Grey, Dark Grey, Cream and Purple, one of these cushions is just what you need to brighten up a neutral sofa or chair.
Better still, try using one on a Louis chair for a little bit of tongue-in-cheek interior design fun.
See this product at Raw Xclusive...
(We don't list this product yet but sign up to our newsletter and we'll let you know if/when we do)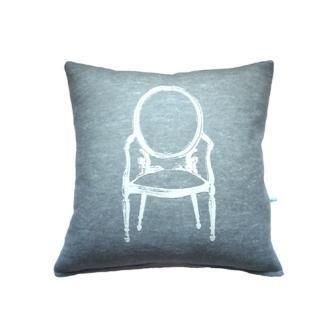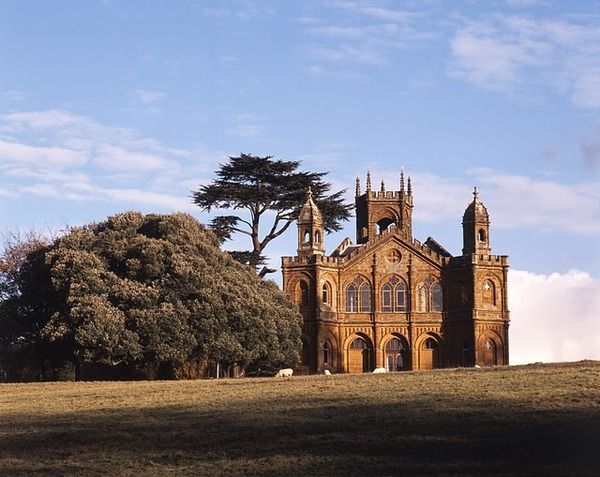 Sneak a peak behind closed doors.
Heritage Open Days celebrates England's architectural and cultural history by throwing open the doors to interesting properties either normally closed to the public or normally charging an entrance fee. Every year on four days in September visitors can satisfy their nosey inclinations for free, peaking into properties ranging from castles to factories, town halls to tithe barns, Buddhist temples to Masonic lodges, mines, windmills and private homes. Coordinated by English Heritage it's a once yearly chance to discover hidden architectural gems and enjoy a range of tours, talks and activities bringing local history and culture to life. Simon Thurley, English Heritage Chief Executive says: 'Heritage Open Days is about people and places; it celebrates community and reflects the importance of the built environment in our lives and to our quality of life. It is organised by local people who dedicate their spare time to opening properties and staging activities, and it is their knowledge and enthusiasm that makes Heritage Open Days happen.' The Event Directory has just been launched and allows you to search more than 4,000 buildings of every style, period and function, to find out what's on in your area.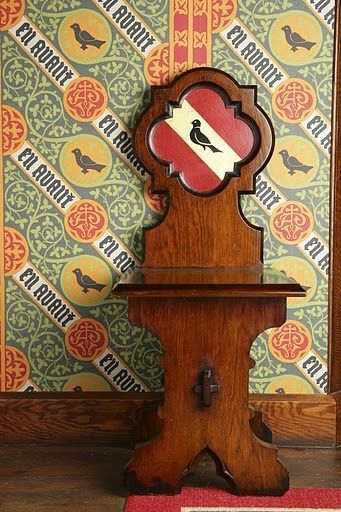 Highlights this year include Bentley Priory in Stanmore, Hertfordshire, the Battle of Britain Command centre which has been closed to the general public during its 70 years as an RAF base. The Second World War Beacon Hill Radar Tower at Harwich, Essex, and the Royal Air Force College in Cranwell, Lincolnshire are also well worth a snoop. The 18th century ironstone Gothic Temple at Stowe, Buckinghamshire will also open its doors, with its wonderful circular domed vault and magnificent views over the Stowe Landscape Gardens. Built in 1845 in the Gothic Revival style, The Grange in Ramsgate, Kent is well worth exploring as the former home of Augustus Pugin, oddball architect of the Houses of Parliament.
In Bristol, the Aardman Animation headquarters offers a glimpse of a cutting-edge sustainable building, home to the creators of Wallace and Gromit. A pioneering example of energy conscious design, Norman Foster's kidney shaped, glass sheathed office block, the Willis Building in Ipswich, Suffolk, is the youngest building to receive grade I listed status. Completed in 1975 it's a must-see for modern design devotees. Anderton House in Barnstaple, Devon is another exceptional example of 1970s design, still furnished with contemporary curtains, furniture, ceramics and paintings. And a quintessential Modernist home, The Concrete House in Bristol, was built in 1934 and designed by Basil Ward of architectural firm Connell, Ward and Lucas.
Romantics and music lovers will enjoy the honeymoon destination of composer Edward Elgar, No.3 Alexandra Gardens in Ventnor on the Isle of Wight, one of eight grand Victorian villas overlooking the Isle's south coast. Heritage Open Days properties associated with the arts also include the former home of Jane Austen's brother, Chawton House in Hampshire, and the Elizabethan North Lees Hall in the Peak District National Park: said to be the inspiration for Charlotte Bronte's description of Mr Rochester's House, Thornfield Hall in Jane Eyre.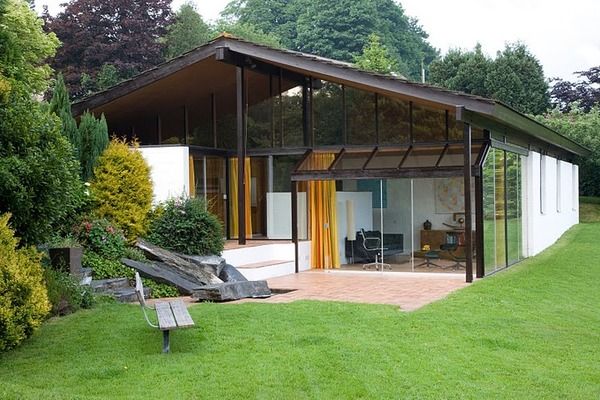 An interesting historical curiosity, The Fisherman's Hospital in Great Yarmouth, Norfolk, was founded in 1702 to provide housing for old or 'decayed' fishermen who could no longer support themselves. There are charming ornamental details and Saint Peter, patron saint of fishermen, stands proud on the roof of the brick building. Staying on the English coast, one of Hastings' intriguing net shops in East Sussex, built in 1835 to store fishermen's equipment, will reveal its old nets, ropes, corks and sails, all evoking salty sea dogs and the perilous high seas.
Up North, some of England's great Victorian theatres open their doors with special backstage tours of both The Journal Tyne Theatre and The Theatre Royal in Newcastle and Leeds' Grand Theatre & Opera House. And for sports fans, there'll be tours of the Victorian Jesmond Dene Real Tennis Club in Newcastle, Chester Racecourse, the country's oldest racecourse dating to the early 16th century, and Molineux Stadium, home to Wolverhampton Wanderers since 1889. Dip your toes into local history at Georgian swimming pool, The Cleveland Pools in Bath, Somerset and 1930s lidos including Broomhill Pool in Ipswich, Suffolk and Sandford Parks Lido in Cheltenham, Gloucestershire.
Heritage Open Days is England's contribution to European Heritage Days, in which 49 countries now participate. In the UK, four other schemes open doors in September: Open House London, Doors Open Days in Scotland, Open Doors Days in Wales and European Heritage Days in Northern Ireland.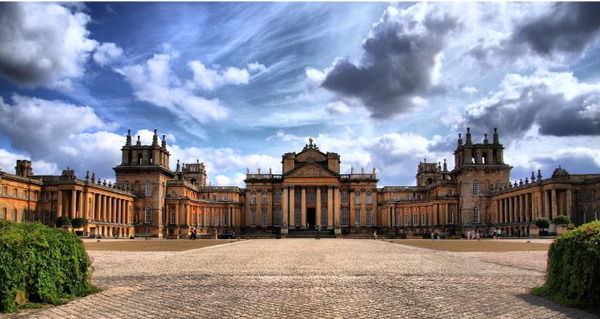 In the first of our new series, looking at design through the ages, we visit the wonderful world of Baroque.
Baroque your world…
Big, bold, and to modern eyes somewhat brash; Baroque is an architecture of imposing scale and exuberant detailing, a theatrical performance of mass and volume. Originating in Italy and taken up with gusto by the French monarchy, England witnessed a late blooming of Baroque style in the late 17th and early 18th centuries. Perhaps the most well known expression of English Baroque is the monumental St Paul's Cathedral (1675-1709), designed by Sir Christopher Wren. St Paul's epitomises Baroque handling of architectural form in a direct assault on the emotions: the vastness of scale, prodigious use of classical architectural language, and intensity of detail. Magnificent examples of English Baroque in domestic architecture, though hardly on a domestic scale, are Blenheim Palace in Oxfordshire and Castle Howard in Yorkshire; John Vanburgh and Nicholas Hawksmoor built both in the early decades of the 18th century. This was an age of palaces and era of architectural extravagance.
Intended as a monument to British military prowess, Blenheim Palace arrests the spectator the moment its fantastic roofline comes into view: a play of piers and pinnacles on a multitude of towers. Up close the awesome vastness of the classical exterior is overwhelming, with its giant order of columns and pilasters and relationships of massing that change as the spectator moves. At Castle Howard an enormous dome crowns the central block, bathing the Great Hall below it with light. The dramatic performance of mass and volume is combined in Baroque architecture with complex detailing and a sculptural attitude to the façade. Along with columns and pilasters, pediments and porticos, architectural modelling included figure sculpture; allegorical and armorial friezes; animal masks and grotesques; scrolling foliage and festoons of fruit and flowers.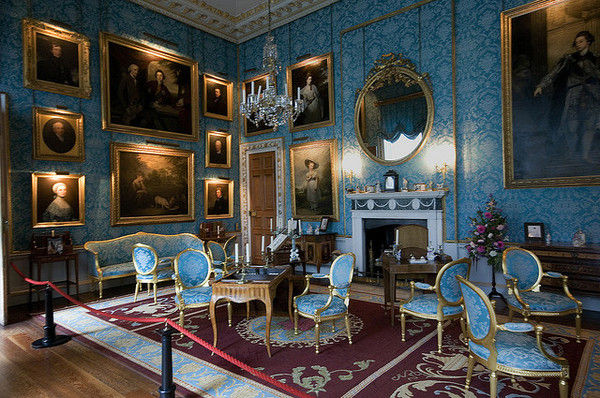 Sculptural exuberance continued in Baroque interiors. Elaborate doorcases and chimneypieces, interior columns and pilasters, were meticulously stone carved. Embellished with botanical scrolling ornament, deeply projecting plasterwork on the ceilings was matched by complex three-dimensional carved wood and plaster decoration to the walls. In a play of recession and relief, illusionistic frescoes were painted within the projecting ornamental borders; these large-scale wall paintings depicted fantasy landscapes populated with biblical and mythological figures. Wall treatments also included lacquering and embossed leather, rich tapestries and damask wallpaper. Seat furniture was luxuriously upholstered, gilt-wood furniture imitated gold, and four-poster beds were swathed in sumptuous embroidered fabrics. Intense jewel colours such as crimson, emerald green and gold enhanced the splendour of Baroque interiors. Silverware took on extravagant sculptural forms, with botanical, mythological and figurative detailing. Mirrors featured carved and moulded surrounds or were overlaid with brightly painted borders depicting chubby putti, classical architectural motifs and scrolling foliage.
Decoration, furniture and furnishings were stylistically unified in Baroque interiors. This level of stylistic coordination, the 'more is more' attitude, and the monstrous scale of Baroque design would look spectacularly odd if replicated at home; but the spirit of Baroque, the sense of drama, richness of materials and profusion of ornament that characterised the style, can be introduced though accent pieces in modern settings. The exaggeration of architectural details and a sense of theatricality are classic Baroque hallmarks. A bold Baroque-inspired accent piece is a nod to this spirit. It'll create a strong focal point, evoking the opulence of the era without overpowering the whole room. You can find the best of Baroque style on Furnish; just don't go for a full on pastiche by cramming it all in one space.
Barneby Gates' Deer Damask wallpaper is a contemporary take on sumptuous Baroque wall coverings. In rich claret and gold, stag horns and thistles are arranged in a damask style repeat. If you're inspired by Baroque frescos, Surface View creates bespoke wall coverings with exclusive rights to reproduce narrative, landscape and early religious masterpieces held in the National Gallery. Mirrors are a great way to introduce Baroque detailing at home without sacrificing on space. Graham & Green's gold over-mantle mirror with shell carving and Sweetpea & Willow's gilt-wood mirror with scrolling foliage are fabulous statement pieces for the living room or entrance hall. Perfect for the bedroom in antique white, the bevelled mirror from Oliver Bonas has an intricately carved three-dimensional surround featuring botanical ornament.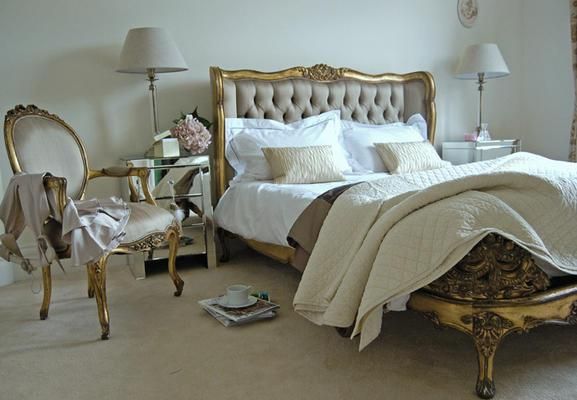 Directly influencing the development of English Baroque, the ornate furnishing style of the court of Louis XIV is emulated in the Versailles furniture range from the French Bedroom Company. Highlights include the gilt-wood and raw silk chaise, the silk damask bench and the marble topped console table. The Twilight bed from Sweetpea & Willow has four twisting pillars, reminiscent of the lathe-turned spirally twisted legs characteristic of Baroque furniture. An equally dramatic centrepiece for the bedroom, Sweetpea & Willow's Gilt Gold bed features virtuoso gilt-wood carving and grey-gold raw silk upholstery. If you're looking for something less overtly ornate, the high-backed sofa upholstered in black velvet from Rose & Grey captures the opulent spirit of Baroque in a simple but striking piece of furniture. And for a truly contemporary interpretation of Baroque exuberance, check out the stunning Fin chair from BODIE and FOU, upholstered in turquoise velvet and adorned with feathers.
Go bold and beautiful with Baroque-inspired style.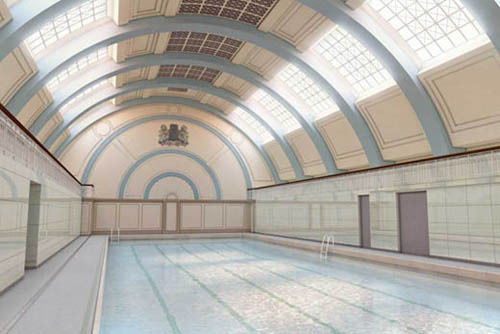 Dive into an Art Deco dream...
After a £25m regeneration project and more than a decade on the English Heritage 'Buildings at Risk' register, the iconic Marshall Street Baths in the heart of Soho has reopened to the public. The first public baths on the site were built in 1850 and the present Grade II listed building first opened in 1931 as The Westminster Public Baths. With a stunning barrel vaulted roof, white Sicilian marble-lined pool and green Swedish marble-clad walls, it's an Art Deco masterpiece.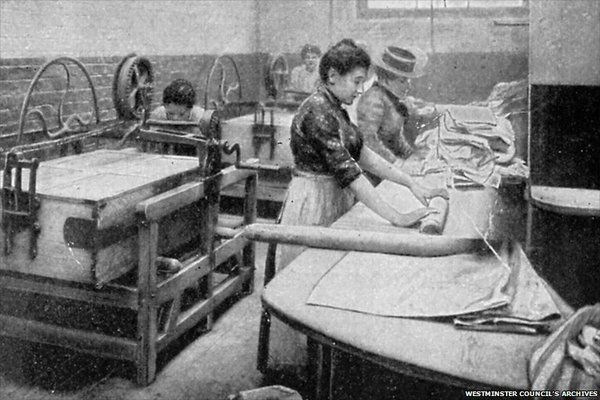 Originally built with public funds for the health and wellbeing of local people, the baths included a first and second class swimming pool, a child welfare centre, a public laundry and washing facilities. As well as retaining many of the period details such as the 30s ticket booth, gilt finials on the staircase, and a bronze fountain featuring a frolicking merchild and two dolphins, the regeneration project has maintained the public spirited ethos of the original baths.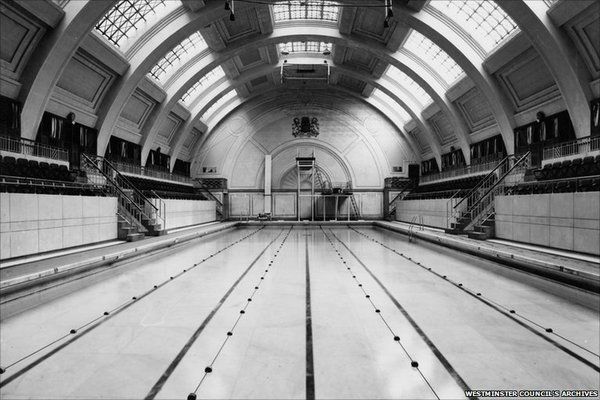 Westminster Council carried out the restoration with its development partner, Marshall Street Regeneration, and with the support of local groups such as the Friends of Marshall Street. The restored pool is the centrepiece of a new public leisure centre on the site, including a gym, sauna, and dance and exercise studios. The wider regeneration programme includes 52 new homes, 15 of which are part of an affordable housing scheme. A new street cleaning depo has also been built as part of the project.
Restored to its former glory, the stunning pool is well worth a visit. And it's not often you get to enjoy such fabulous facilities at council prices. I recommend a bit of sedate sculling: to make the most of that fantastic vaulted roof.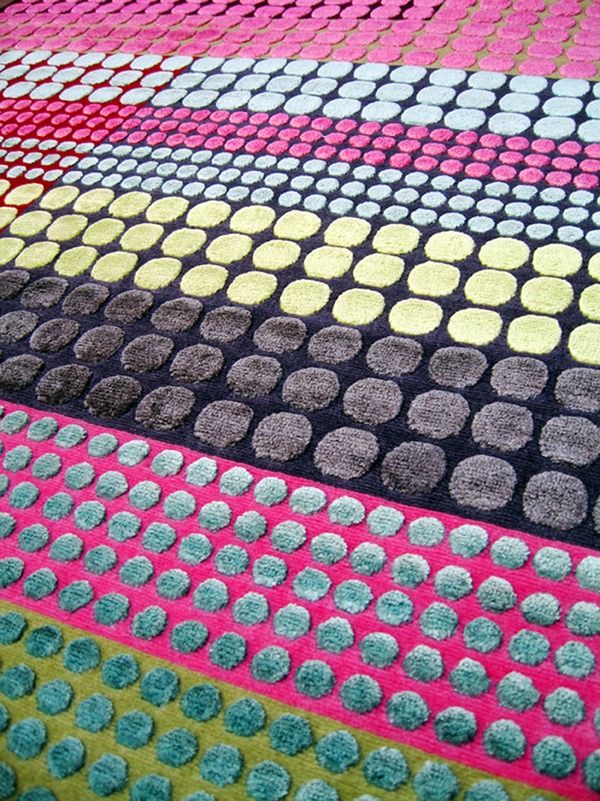 We delve into Margo Selby's vibrant world of woven textiles.
Margo Selby is a woven textile designer with a passion for design, colour and textiles. Since launching her first collection in 2003, with the help of a development award from The Crafts Council and with the success of her business, she has been able to showcase her beautiful designs in her own shop. The stylish design store opened in central London in November 2007.
Through her contribution to interior design, Margo has collected various craft and design awards and has been involved with high profile design projects including Hidden Art Select, Eureka and Design Nation. Her patterns and hand woven textiles have quickly become household favourites, and they are sold in many shops and galleries all over the world.
Margo's collection optimises her love of colour and displays her skill in working with woven textiles. Margo trained at Chelsea College of Art and Design where she gained valuable experience in knitting, printing and weaving before going on to gain a postgraduate degree from the Royal College of Art. Following on from this she spent eighteen months at The Ann Sutton Foundation where she explored using industrial machinery to manufacture her unique, trademark 3-dimensional fabrics. Margo was influenced by a family tradition of cross-stitching and crochet knitting and she developed a love for making things from textiles and any other fabrics she could get her hands on. Her collection demonstrates all of her skill and passion for textile design in a selection of fabrics, cushions, throws and wallpaper that are full of vibrant colours and patterns that instantly catch the eye.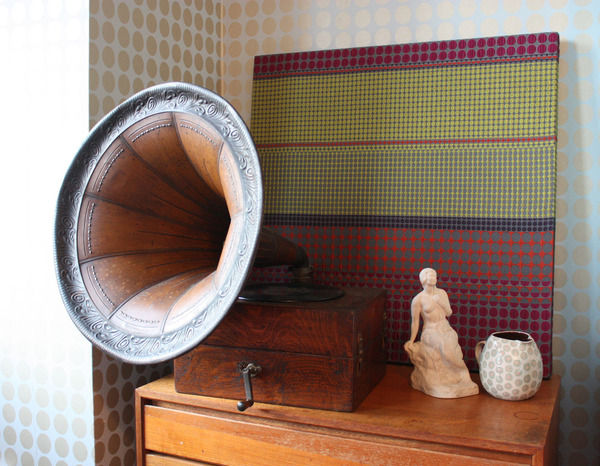 Earlier this year Margo took part in the BBC series of 'Mastercrafts' which saw her mentor three craft enthusiasts and teach them how to weave. This involved going behind the scenes of Margo's studio where there is a 24-shaft dobby loom that is used to develop fabrics for future production. The hand-woven step in the design process allows for the experimentation of structure and fibre combinations. It is obvious that great care is taken throughout the design and manufacturing processes to guarantee that all products are made to the highest quality.
Margo's bespoke fabrics are made from luxurious silk and Lycra fibres and woven in a double cloth structure to create a 3-dimensional quality.
Margo's hand knotted rugs are luxurious and encompass her signature style by using colour and geometric pattern to create aesthetically pleasing designs. The bespoke range was launched in 2008 and allows customers to choose rugs in all colours, sizes and patterns. Each one is made with a combination of wool, silk, and banana silk which is a sustainable and luxurious yarn made from the fibre of a banana tree. It's clear why these are Margo's hero products, achieving the 'Best Surfaces and Finishes Product' in the Grand Designs Awards, 2009, and they're a great example of how sustainable materials can be used in interior design to make stylish and durable products.
Bringing another dimension to the world of interior design, Margo's unique upholstered panels are a fabulous way to add interest and texture to your walls. They're carefully designed and can be made to match your colour scheme.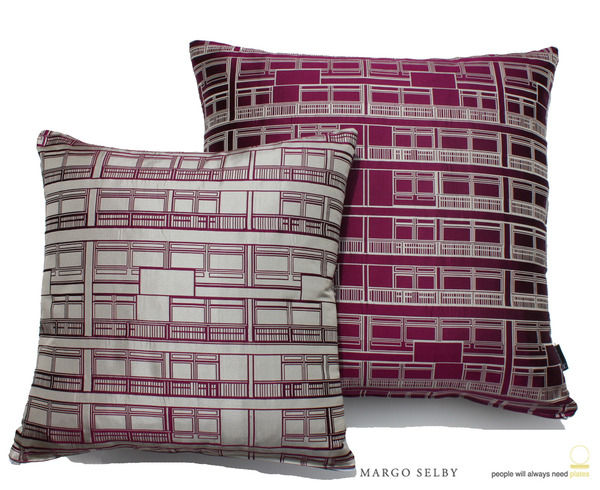 Collaborations
For her first collaboration, Margo teamed up with 'People Will Always Need Plates,' which saw a fusion of Margo's unique and structural approach to weaving with their architectural inspiration and graphic drawing style. The project named 'Trellick Tower' includes a range of textiles and lifestyle products from floor cushions to wall panels, and it has gained a vast amount of interest since its launch at 100% Design 2009. The Trellick fabric marked the beginning of an ongoing relationship between both companies; in fact, Margo is currently working on another collaborative project with them for an iconic London-based company. This will involve new woven fabrics being developed to incorporate graphics designed by 'People Will Always Need Plates'.
Also, we are eagerly anticipating Margo Selby's new interiors range which is currently being developed; this will include a collection of upholstery fabrics, and this is due to be launched within the next year.
Visit Margo Selby on Furnish for more information about all the products, and to buy online.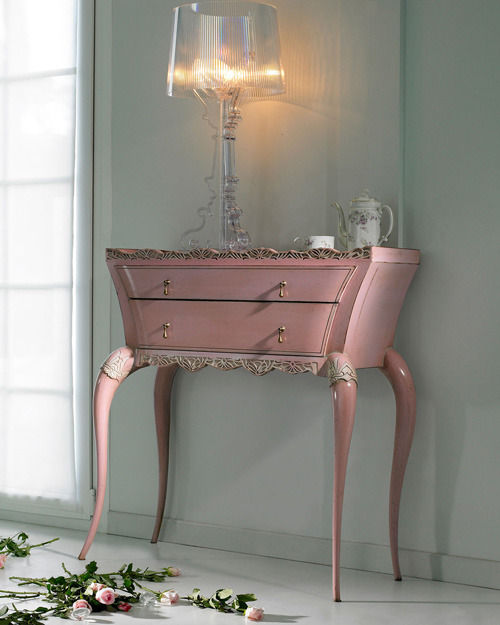 Make your home blossom in pink.
A typically feminine colour, reminiscent of little girls bedrooms and roses, we take a look at how pink can work in the home.
Choosing the right pink:
As pink is not a primary colour, it is important to consider mixing various shades and tones to provide a balanced colour scheme. Its versatility makes it an easy colour to decorate with, and we think it's time you discovered the decorative opportunities that pink has to offer. 'Shocking pink' was fashion designer, Elsa Schiaparelli's signature colour and she described it as: "life-giving, like all the light and the birds and the fish in the world put together, a colour of China and Peru but not of the West."
Subtlety is a key element because sweet candy shades can turn sickly, so keep your pinks sweet and innocent and play around with various tones to create a balanced colour scheme. Take your testers home and check how pink looks on your walls depending on the light; choose pinks with a warm undertone to give your room a blushing look and use pale, pastel pinks as base colours and as backdrops on walls. For a living area or bedroom, brighter and deeper shades of pink look dramatic and sharp, invoking drama and excitement. Or for a chic home office or study, add the vibrant, fuchsia pink French Kiss armchair from Sweetpea & Willow to remind you that life is not all about hard work.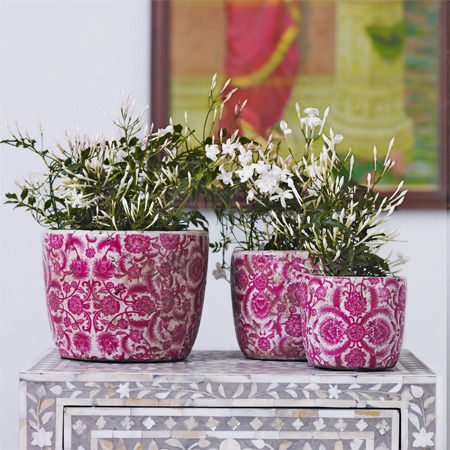 Tonal scheme
Hot pinks work well with white and grey in a monochromatic scheme because when combined they give a sophisticated look and enhance the calming tones of pink. Generous amounts of white will keep your room feeling fresh and airy, whilst adding grey will give a more masculine feel. If you want to give a cool or dark room warmth, burnt oranges and reds work particularly well with magenta pinks on rich textures and fabrics, for example, try the Clarissa Hulse patchwork cushion from Heal's which combines the rich colours on this silk, cotton and velvet cushion cover. These are considered to be warm tones but too much of them in a room can create an uneasy ambience, so restrict these colours to highlight feature pieces and they will look fabulous.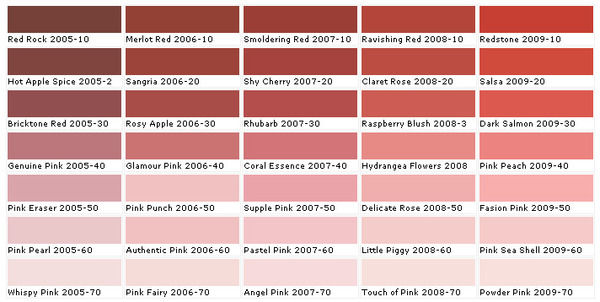 Complementary scheme
Green complements pink because it gives a stark contrast, and you may not normally think of using these colours together; however they provide a fresh and natural look that will never look outdated. For a modern look choose a pastel palette of pink and green that will give your home a fresh spring look throughout the year. Think of pink flowers in nature combined with the beautiful green foliage, and you will have instant inspiration to start accessorising with flowers and vases. Go for the Vintage ceramic rose plant pots from Graham & Green to give your room some character and choose floral wallpaper or fabrics to marry your theme together; the Rose-print cushions from Graham & Green, for example, will highlight blush pinks shades in your room to give your home a retro, period look.
Accents
Using pink as an accent offers the perfect way to inject some colour into your scheme without going over the top. Try adding a few cushions to a neutral sofa or a mixture of different shaped and textured vases along a mantelpiece. Stick to one shade of pink throughout the room for a cohesive look that will work well alongside a base shade.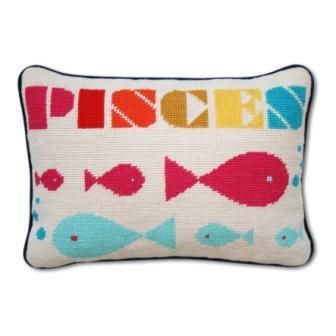 Help predict the future with these Zodiac cushions by Jonathan Adler from Supernice. £70
Star signs are funny things aren't they? Some people live their lives by them and others poo poo them as utter rubbish.
My Mum swears blind that she's never surprised to learn of someone's star sign while my OH think they're complete claptrap.
Me, I'm a Pisces, which means, if you believe all that stuff, that I am prone to daydream, am fairly physical and have a fierce temper. Hate to admit it but those are fairly true.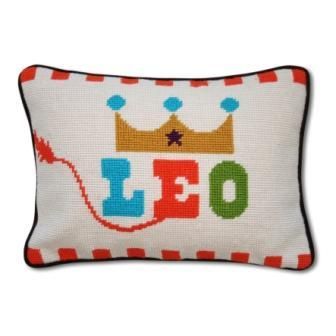 Still, while I'm not going to start checking my horoscope on a daily basis with the hope of winning the lottery or travelling to a far flung destination, I do rather like these new cushions by Jonathan Adler from Supernice.
Depicting all twelve signs of the Zodiac, they are made from brightly coloured needlepoint and offer a witty way to brighten up a plain sofa.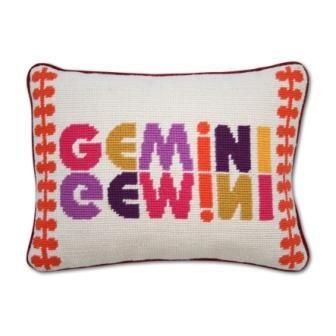 Of course, I will be buying the fishy-inspired Pisces one but I reckon they'll make a fun present for even the most sceptical of non-believers.
See this product at Supernice...
We don't list this product yet but sign up to our newsletter and we'll let you know if/when we do)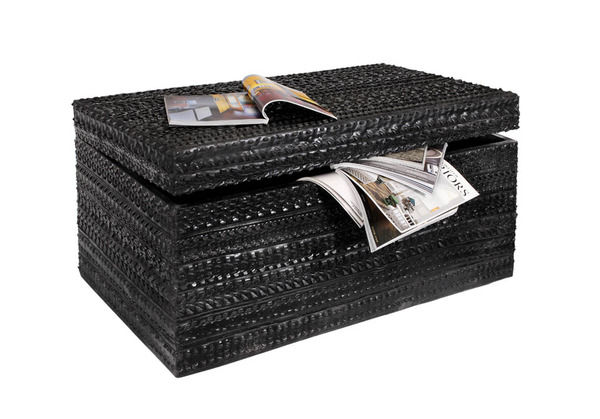 Be eco chic with this Recycled Tyre Trunk from Tread. £250
We are so far along from eco interiors meaning a hemp cushion or a ridiculously expensive throw and nowadays it seems everyone has at least one "eco" product in their collection. My favourite eco company of the moment is Tread. These clever peeps take old tyre treads and turn them into everything from picture frames to planters.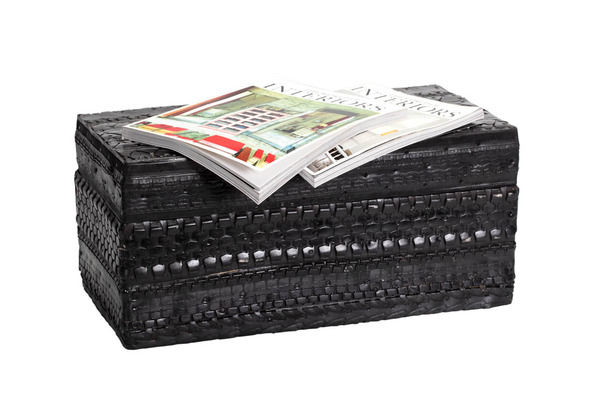 My pick of the bunch is the storage trunks, available in small, medium and large. Just the thing for stashing everything from towels to out of season clothing, each trunk is handmade and because each one is created from a plethora of tyre treads, no two are the same.
(We don't list this product yet but sign up to our newsletter and we'll let you know if/when we do)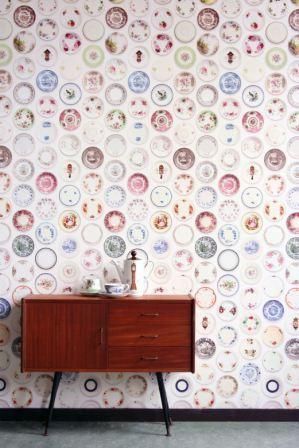 Jazz up your walls with this quirky Porcelain wallpaper from Catkin Collection. £120 a roll
There's lots of beautiful wallpaper out there, but my favourite at the moment is this Porcelain design from Catkin Collection.
Inspired by a collection of vintage plates found in antique markets, this design is truly eclectic and very pretty wallpaper.
The perfect choice for a dining room, try using this wallpaper in a couple of alcoves or use it to line the doors of a retro sideboard.
And Catkin Collection hasn't stopped at using plates as inspiration for wallpaper; their Vintage Ribbons design is equally as gorgeous and ideal for those who want to add some stripes to their scheme.
See this product at Catkin Collection...
(We don't list this product yet but sign up to our newsletter and we'll let you know if/when we do)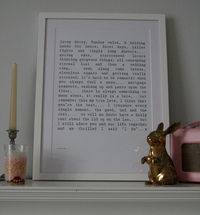 Go all romantic with this warming Married Life print from Pearl & Earl. £25
Because I am getting married next year, I have naturally become a tad obsessed with everything to do with weddings.
With the venue chosen and the date booked, there's now the dress, cars, cake and invitations to consider. The list goes on and on and I now know why weddings take a year to plan. One of the things top of my list is wedding readings, since it will be a civil ceremony and it's really important to me. Nothing too slushy but equally not too serious, which is how I stumbled across this Married Life poem print from Pearl & Earl.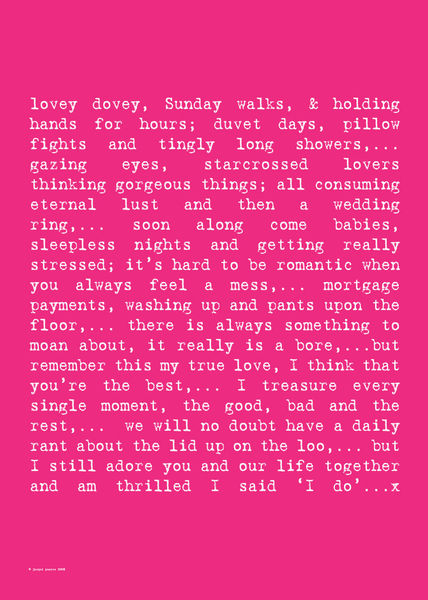 The poem was written by Jacquie Pearce, owner of Pearl & Earl as an anniversary present for her husband.
The perfect wedding gift for a future spouse or even friends and family, the print can be customised to include the date of your wedding or anniversary.
Now I promise this will be the only wedding-inspired Fab Find, trust me, I'm not a Bridezilla... yet...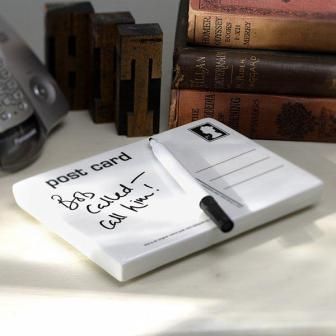 Find a new way to leave notes with this quirky ceramic postcard from Bob By Post. £12.95
There's something really wonderful about receiving a postcard, tales from friends in far flung destinations, squeezing their news into the tiniest of spaces and signing off with a "Wish You Were Here" flourish.
Which is why I have fallen for this ceramic postcard from my favourite new online find, Bob By Post.
You can hang it on the wall or better still leave it on a console table in a hallway for members of your family to jot down notes to each other.
Much more personable than a text or one of those 02 family calendar thingys (did that ever take off by the way?) it comes with its own dry wipe marker.
And its eco friendly too – just think what how many Post It notes you'll save.
See this product at Bob By Post...
(We don't list this product yet but sign up to our newsletter and we'll let you know if/when we do)
Follow us to blogland and the wonderful world of interiors

Housemartin is brought to you from Portand Oregon, the work of a fashion industry textile designer turned interior decorator and shop owner. The shop, Ink & Peat, is an eclectic mix of vintage and modern homeware, handmade goods and floral design, while the blog offers daily inspiration in the same vein. It's a great place to pick up on new designers and especially crafty people working in ceramics, printmaking and textiles. If you're into handmade, vintage and quirky design, this is definitely a blog worth visiting. Named after the little house-proud bird, this blogger's more of a beady-eyed magpie. The eclectic posts always unearth something beautiful.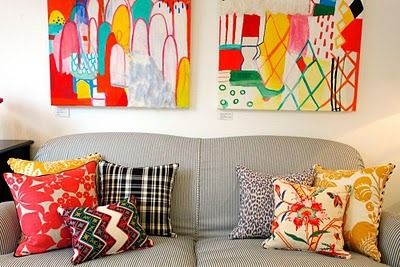 You can guess what you'll find on Absolutely Beautiful Things. Brisbane-based interior designer Anna Spiro began the blog as a record of beautiful pieces that inspire her on a daily basis. And along with posts highlighting great new interiors products, you'll find posts on Anna's design projects and photos of the displays in her shop, Black & Spiro. Black & Spiro offers a mix of vintage treasures and modern pieces and there are some great posts on junk shopping and flea market finds. She's also got a passion for colour, which makes the blog a really uplifting read (love the rose pink background).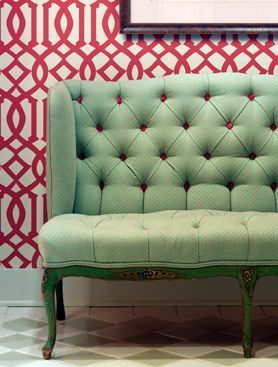 Described as a 'passport to stylish living' Ronda Carman's All The Best is an insider's guide to what's hot in the world of design. Ronda appears to have a bulging little black book: the blog's chock full of interviews with industry big wigs, interior designers, artists and other interesting types. Just a few of the brains she's picked are India Hicks, Jonathan Adler, Rita Konig, and Christopher and Suzanne Sharp (of The Rug Company fame). So you get the picture that it's a pretty big-hitting blog. Interesting and inspirational, it's all very slick; you won't see any flea market finds on here. But if you want to know what makes design stars tick, and what 'global tastemakers' are making us think, then this is the blog to visit.
As always, get in touch if you want us to feature your blog next time round.