Features: February '11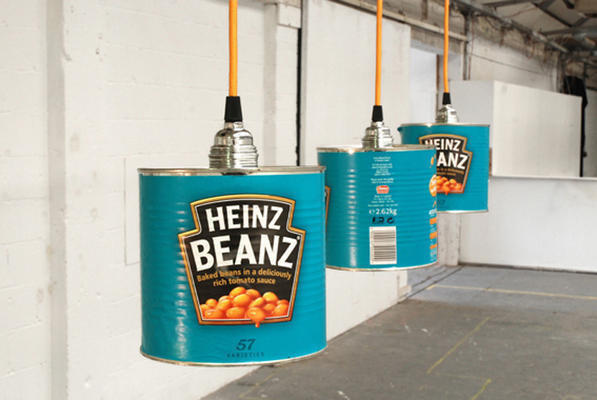 Have some fun with your lighting with these Heinz Beanz Can lights from FUSE Interiors. £60
When you spend as much time as I do looking at interiors, you often find that the simplest ideas are the cleverest.
This couldn't be more true of these Heinz Beanz Can lights from FUSE Interiors.
Designer Willem Heeffer has used industrial-sized baked bean cans and turned them into pendant lights.
As well as being eco-friendly, the end result is a fun, quirky way to light your home and the lights even comes with a bean-coloured cable.
Perfect for a kitchen or kitchen/diner, these lights would also look fabulous in an office.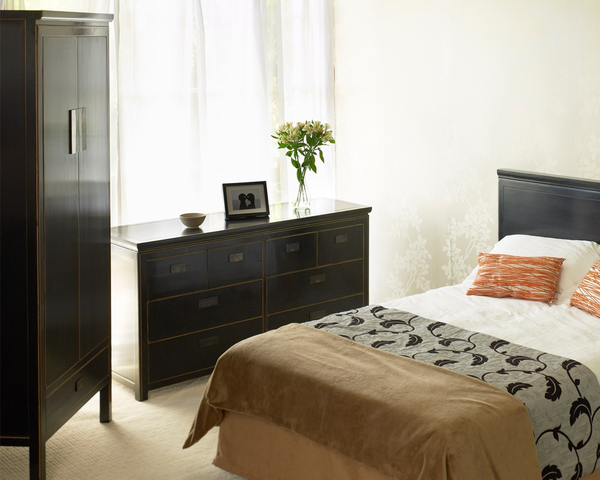 We've put together a handy guide of all the best wardrobe ideas for your home.
Wardrobes often act as one of the primary storage spaces in a home, and choosing a new one can be daunting. This handy guide covers all the important factors to consider when deciding on a wardrobe; from choosing the right style for your room to more practical elements such as the amount of hanging space.
Fitted wardrobes
Fitted wardrobes are often a popular choice in rooms which need a large amount of storage, or where the furniture is likely to stay in the same place. It is important to be entirely happy with the placement of the wardrobes as once they are fitted, the space for other furniture becomes less flexible. There are plenty of furniture, and interior design, companies that will design and install custom fitted wardrobes to your personal specification. Alternatively, for a fitted look without the permanence you could opt for a three or four door wardrobe. This beautifully solid Georgian wardrobe from Sweetpea and Willow has plenty of storage space, with two full length hanging sections, a shelved section and two drawers.
Freestanding wardrobes
The distinct advantage of a freestanding wardrobe is that you are able to move it easily around a room, making it a flexible addition to your furniture collection. The majority of ready to buy wardrobes on the market fall within this category, and it is important to take measurements correctly to ensure that your new addition will fit well within your space. This oak wardrobe from John Lewis would make a solid addition to most bedrooms. Despite the simple design, this wardrobe demonstrates an exceptional level of craftsmanship; with a shelf and plenty of hanging space inside, as well as three external drawers, this double wardrobe will have room for all your belongings.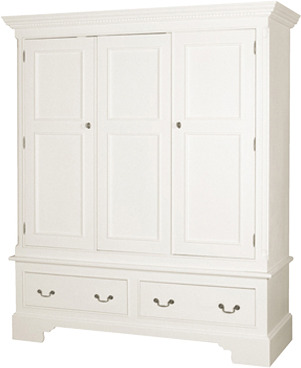 Appearance
There are plenty of gorgeous wardrobes about at the moment, with companies such as The French Bedroom Company and Sweetpea and Willow offering a huge array of classically designed investment pieces. Mirrors are known for their ability to create a feeling of extra space within a room which provides an excellent reason for choosing a wardrobe with mirrored doors. This striking black mirrored armoire from The French Bedroom Company might not be to everyone's taste but it's bold colour is a quirky twist on French chic, and certainly makes a statement. This opulent <a href-" http://furnish.co.uk/items/172853-cleopatra-mirrored-wardrobe">Cleopatra mirrored wardrobe from Lover's Lounge would also add a luxurious touch to any boudoir.
For those of you with love of traditional simplicity in their interiors, this oriental wardrobe from Puji combines practical details, such as the large drawer for bulkier items, with a high quality finish. The sleek finish gives the wardrobe a contemporary feel, whilst retaining other conventional features like the beautiful antique finish.
Shelves and rails
As storage is the main function of a wardrobe, and despite the importance of aesthetics when choosing one, it is crucial to find a piece that will meet your storage needs. Almost all wardrobes will have an internal rail where you can hang up all of your clothes, but shelves also prove useful for folding and storing bulkier items. Self-assembly wardrobes are often great places to start if you are looking for multiple storage options, as they often offer a freedom to decide on the number of shelves you require as well as their placement within the wardrobe. This wardrobe kit from Habitat offers a pack of four shelves and a hanging rail for use within their RADIUS wardrobe ,meaning you can effectively construct the wardrobe's interior according to your specific needs.
This gorgeous oriental inspired wardrobe from Shimu offers similar benefits, but with a bespoke finish; you can request other colours and sizes to order. This solid wardrobe has two removable shelves, as well as a unique pull out hanging role to allow for easy access to your clothes.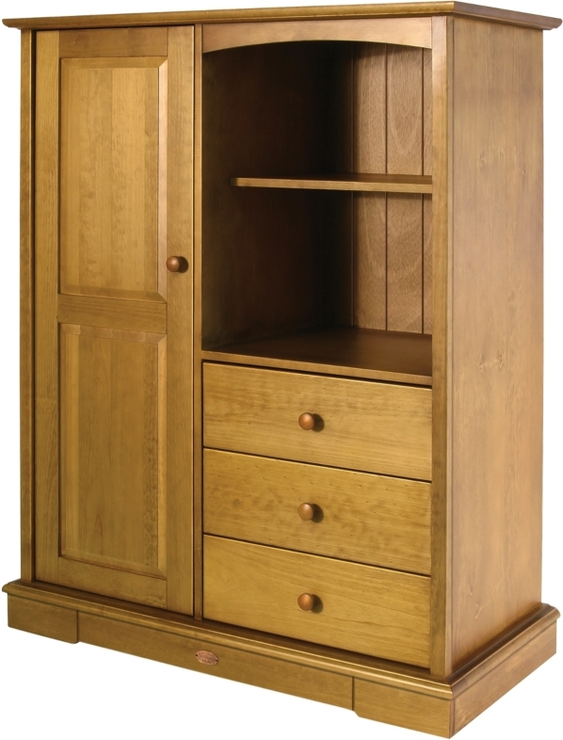 Drawers
Drawers also provide an excellent extra storage space within a wardrobe, and are often a good idea if you don't have the space for a separate chest of drawers in your room. This timeless timber wardrobe from John Lewis has three built in drawers, as well as internal and external shelving for a hugely practical storage unit. For a less bulky alternative, this sleek bamboo wardrobe from Coco Male offers designer levels of sophistication, with the two discreet drawers blending into the neutral design.
Hanging storage
Ample hanging space within a wardrobe is key when making a decision. This full hanging wardrobe from Puji offers plenty of height for hanging longer length items, and a sophisticated wooden exterior. For wardrobes which only offer a hanging rail, and no drawers or shelves, it is also possible to purchase lightweight canvas shelves which hang down from the rail to provide extra storage for bulkier items.
There are a huge array of wardrobes on the market to suit a variety of budgets and interiors, and to ensure that your clothes have a place to hang in style.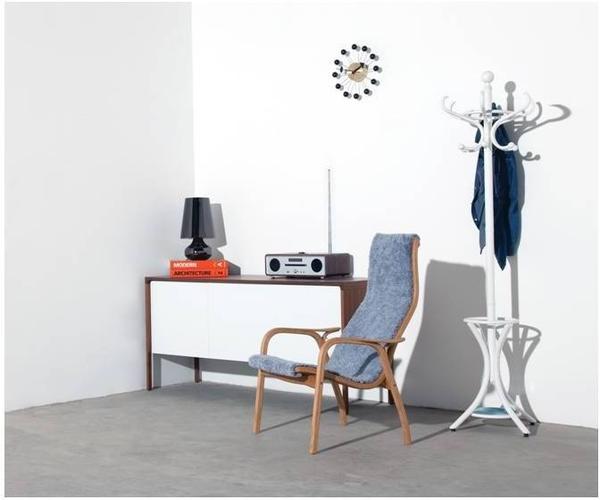 We catch up with Dick Mawdsley of Utility, recently awarded the Telegraph Magazine's Best Small Shop Award by the queen of retail Mary Portas.
You recently won the Telegraph Magazine's Best Small Shop Award, chosen by none other than Mary Portas. Why do you think small shops are so important?
Small shops can be more creative in their approach to retailing so it's possible to do things that are more locally orientated than a multiple. For example, our store in Liverpool One benefits from high tourist footfall and we have geared part of the merchandise to that specific market. It's also possible to take a few more risks when it comes to buying which the multiples would be loath to do. Good small shops can be exciting places to visit, and are often what helps locations stand out from the norm.
Do you think that in these difficult economic times, consumers want to step away from the corporate big brands and move towards a company like yours?
I think that in modern retailing, things move very quickly, so there's definitely a trend to look to new and smaller niche companies who do something unique; there has been a small but noticeable change towards products that are hand-crafted or made in the UK. I think smaller retailers like us can excel at customer service in a way that large corporate companies can't, and that is how you can help create a strong point of difference when combined with good-looking store environments and great products.
When you source products to sell, what do you look for?
We look for things that are either useful, beautiful or just fun – or a combination of all three. In addition, we try to find things that are not too widely available, yet are commercial. If products are too experimental or extreme then customers won't buy them. Plain and simple. We often find that we are first in finding products only for the multiple and department stores to pick them up a couple of years later.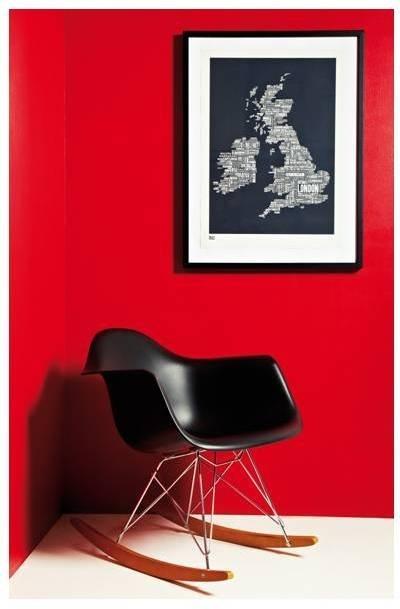 Describe Utility's ethos in three words.
Clean, contemporary – but fun.
What is your vision for Utility? Where do you want to be in five years time?
We'd like more stores in various cities across the UK; we believe there is room for a small chain of design-led stores which doesn't exist currently here. In addition, we'd like our website to continue to be at the forefront of modern design retailing.
What inspires Utility?
Our sector is exciting and there is a wealth of design talent out there waiting to be tapped. We'd like to bring some of our own products to market using some of the new young designers who are producing great things, or who are still studying. With that in mind, we have just teamed up with Liverpool John Moores University (LJMU) to set a project for the 2nd year product-design students to design something for Utility. We hope it's the start of further collaborations with LJMU, which will produce some exciting results.
What do you feel makes Utility stand out against other interior-design shops?
We don't try to be elitist and we do sell products which are commercial; this is simply good business sense. We're not afraid of colour and trying to inject a bit of fun or humour into things. Our stores will never be a homage to all things beige. Some of the things that we sell are undoubtedly expensive and we make no apology for this; we only sell original design products. We will not sell fakes, as we feel it undermines both the original product and the designer. If people who made copies invested the money in new design instead of plagiarising originals, just think how much more great products there would be out there!
What is your best-selling product, and why do you think this is?
Best-selling products change all the time – but currently our best-selling chair, for example, is the Wishbone Chair by Hans Wegner for Carl Hansen. It's a truly beautiful piece of heritage furniture that will be passed on.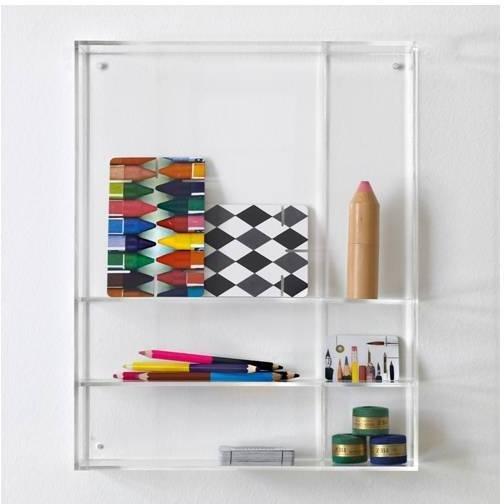 What led to the creation of the Utility Boutique?
The gift boutique format is a way of presenting the beautiful gift ranges that we sell in a smaller format store, and allows us to expand our customer reach as not everyone buys furniture or lighting everyday – but most people have something or someone to celebrate every month.
How do you ensure that your products have a contemporary edge?
This comes down to sourcing. We always try to be mindful of existing products that we sell. Regarding furniture, we have noticed a trend away from the sleek contemporary modular look towards a more eclectic, considered look which is more evolved than 'interior-designed'. We constantly edit our collections and look for new products or manufacturers and designers that we can represent in one of our stores.
What's next for Utility?
We are looking for new stores at the moment (location is a secret though!). In addition, our website is undergoing some major changes, so watch this space.
What's your favourite product?
The Lamino Chair in sheepskin (at the moment). But, because we sell great things and have access to so many amazing products my favourite does change!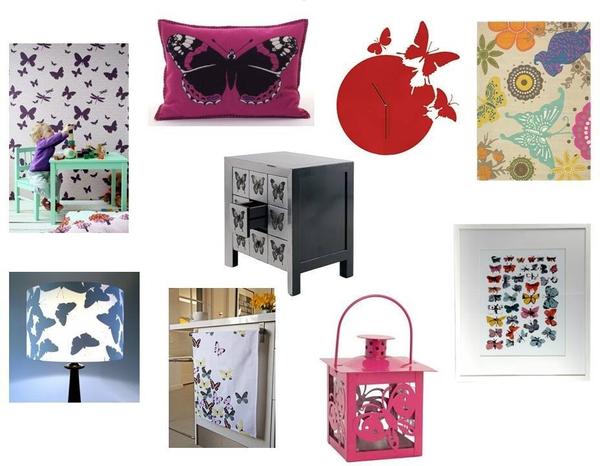 Butterflies are everywhere this season - we show you how to make the trend work in your home
With the wet weather set to continue, we can only dream of long sunny days and picnics in the park. But, with these quirky butterfly accessories, you can transform your home into a beautifully bright summer's garden, without a flower in sight. With a flutter of wings you can add a pop of colour to any room, even when it's grey outside.
Clockwise from left: Butterflies Wallpaper from Lover's Lounge, £59. Jan Constantine Red Admiral Butterfly Cushion from Occa Home, £85. Madame Butterfly Mini Silver Chest from The French Bedroom Company, £410. Butterfly Clock Red from Red Candy, £120. Brink & Campman Butterfly Natural/Multi Colour Rug from Heal's, £435. Andy Warhol Butterflies Print from Heal's, £105. Butterfly Garden Lantern Fuchsia from Bombay Duck, £6.25. Butterfly Tea Towel from Rockett St George, £6. Silhouette Butterfly Lampshade (white) from Duffy London, £45.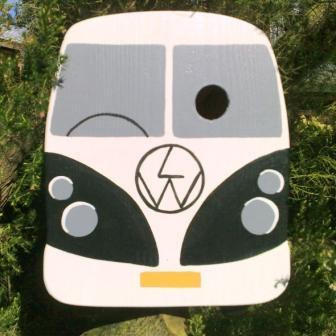 Treat your feathered friends with this Handmade Camper Van Bird Box from Lindley Wood. £57
With all this cold weather, ask yourself a question; have you really been looking after your feathered friends?
Answer: Probably not. However, you can make up for it now with these fabulous Camper Van Bird Boxes from Lindley Wood.
These delightful bird boxes, which are replicas of a very famous camper van, are hand made and available in nine colours from classic black to bright pink and you can even have the number plate personalised.
Perfect for adding a quirky touch to any garden, we think they're the most original bird boxes we've seen for a long time.
See this product at Lindleywood…
(We don't list this product yet but sign up to our newsletter and we'll let you know if/when we do)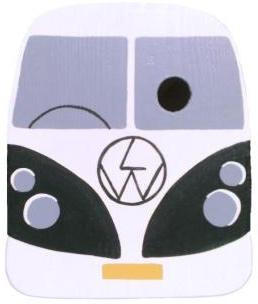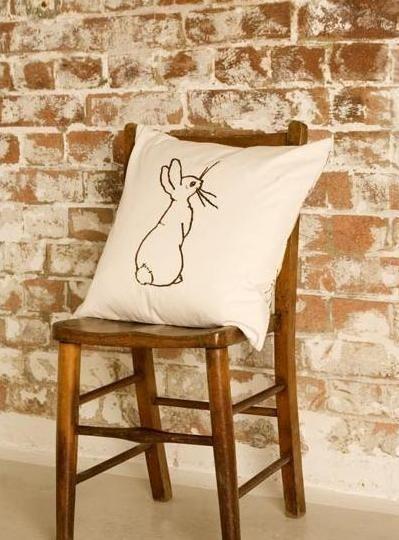 Add some charm to a little ones bedroom with this Boo cushion from Belle & Boo. £43
Belle & Boo is one of my latest favourite finds; they sell the sweetest of children's accessories which are guaranteed to start your little ones obsession with interiors off on the right foot.
Nestled among mugs and wall stickers is this Boo cushion which features a delicate illustration of a happy bunnies.
The hand-embroidered front shows a wistful looking rabbit while the back is screen printed back has a repeat bunny design.
Perfect for the nursery or a small child's playroom we're actually that taken with this cushion that we want to keep it all to ourselves.
See this product at Belle & Boo…
(We don't list this item yet but sign up to our newsletter and we'll let you know if/when we do)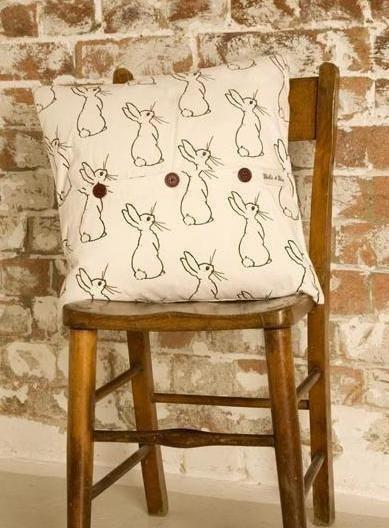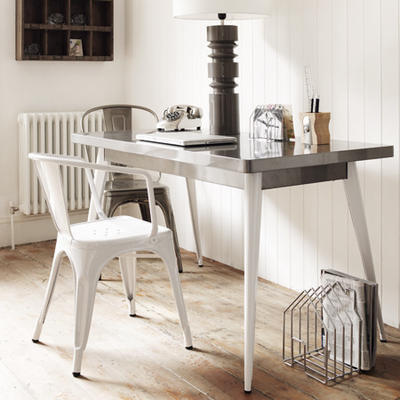 Add some industrial chic to your home with this Tolix Table from Graham & Green. £650
Being a fan of the industrial look, I have long lusted after Tolix chairs and stools so imagine my delight when I came across this Tolix table from Graham & Green.
After a pretty hard Monday, I actually squealed and started planning ways I could add this super-cool table to my home.
It has the same angular legs associated with the chairs and stools and makes the perfect choice for a kitchen/diner.
Try teaming it with Tolix chair for a uniform look or chunky, wooden reclaimed ones for an eclectic mix.
Failing that, it will add some utilitarian coolness to a bedroom if used as a dressing table.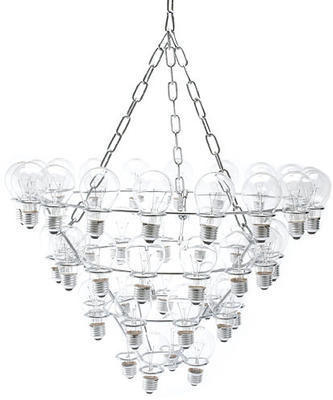 Make an impressive statement with this Turn Me On Chandelier from The French Bedroom Company. £295
I have always deliberated when it comes to chandeliers. I think they gorgeous and impressive (hell, I'm getting married in a room full of the things) but sometimes they're a little too "over done" for me, a bit too glamorous.
But I think I may have found just the one for me at The French Bedroom Company.
Turn Me On is less a chandelier more a lighting design statement that is guaranteed to wow visitors.
It's constructed from 47 light bulbs which are fixed to a chrome-plated frame and the result is simple yet oh-so-effective.
And before you get all eco on me, don't worry because the light bulbs don't all light up, you simply hang this over a singular bulb which glows through the chandelier.
Impressive over a dining table or in a hallway, this chandelier has just jumped right to the top of my wish list.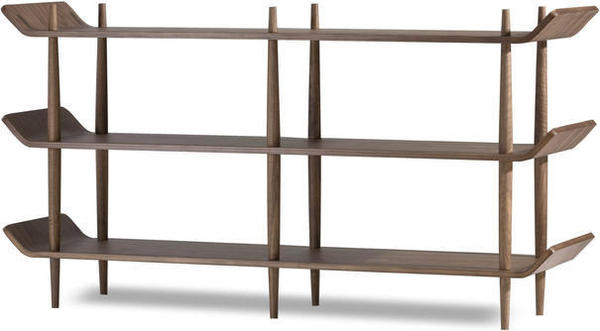 Keep your books neat and tidy with these fabulous Bentwood Shelves from Fashion 4 Home. From £199
You'll know by now that I am a bit of a book worm and currently I am avoiding everyone's obsession with Kindles.
People tell me getting one will mean I'll read more but for me you can't beat a good old-fashioned book.
Yes, I know the Kindle is fabulous, I appreciate the technology and applaud Amazon for its ingenuity but I also love my ever growing library of paperback and coffee-table books and nothing will make me give them up.
However, I have a problem in that at the moment I have more books than shelf space which means my treasured pages of fiction and non-fiction are in danger of getting damaged.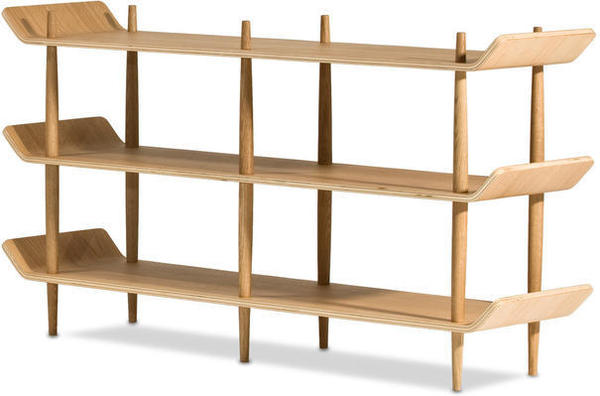 Well, that was until I discovered these rather fantastic Bentwood Shelves from Fashion 4 Home.
Designed by American designer Sean Dix, they're available in either Walnut or White Oak and will make a welcome addition to any room which needs some extra storage.
I love their retro styling and bentwood products have always fascinated me – a love affair which started with my parents Thonet chair.
And as an added bonus, these shelves mean I can resist the temptation to go all 21st century with my books for a little longer.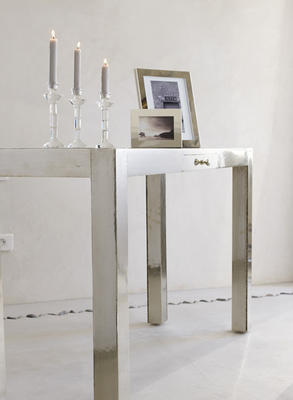 Give your hallway some sparkle with this Soho Console Table from Brissi. £1,250
Having one of the narrowest hallways in the world (I kid you not, I can touch both walls with my arms outstretched) means I don't have room for a console table.
But if I did, you can rest assured it would be this Soho one from Brissi.
Crafted from silver-wrapped wood, this glamorous piece of furniture oozes style and sophistication.
It's the perfect choice for adding a touch of glamour to your hallway without being too over the top.
And if like me, you have the tiniest of hallways too then why not try using it as a decadent dressing table of behind a sofa. It will add a decadent touch wherever you choose to use it in the home.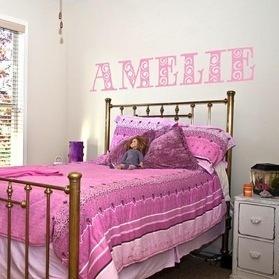 Want that unique look? Going bespoke needn't break the bank, we show you how.
Bespoke is all the rage at the moment and it might seem like a unique look or piece is going to cost a lot more than something from a regular retailer, but just a few small personal touches can show off your personality and make the difference in your home.
Wall stickers are fabulous place to start.
These name letters are great, particularly for a child's room. They can brighten up a plain wall and add real character, and come in various colours. No doubt your son or daughter would be pleased having their name up above their bed! Or for a kooky spin, you could spell out KITCHEN, LIVING ROOM, BEDROOM in each appropriate room to create a personal, playful feel.
Personalise your bed with a bespoke headboard.
The French Bedroom Company make bespoke headboards from £300 right up to £1295 depending on what you're looking for, and these range from contemporary brights to boudoir luxury. They'll make any bedroom feel original and lavish, additionally the excellent quality means they're a great investment piece.
Want to design your own piece of furniture?
London Cows has an excellent range of bespoke furniture including chaise, chairs and footstools. Here you can choose your hide (own fabric, natural cow hide or zebra hide) as well as the furniture design (size and leg style). Prices for their bespoke range start at just £200. The unconventional cowhide and zebra print really would create an unusual, eccentric look.
Rocomara also make unique bespoke pieces. They produce their bespoke console tablein different colours and finishes at request, as well as the pricier bespoke coffee table, bespoke screen and bespoke turquoise side board.
Take it one step further by designing your own sofa or bed.
Sofa.com lets you do exactly that. From armchairs and the classic L shape, to divans and button headboards you can choose a style and fabric to suit you. Want more? They even let you choose your own fabric and offer customised extras on request. Prices start at £600.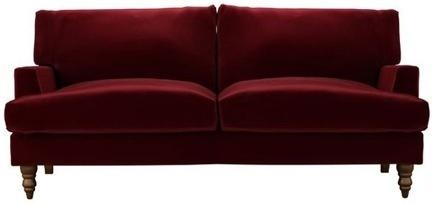 Looking to jazz up your floor?
Crucial Trading, who specialise in natural flooring, offer a great bespoke rug service. On their website they have a tool where you are able to choose the size, pick the weave and fabric of the rug centre, as well as the optional inner border and outer border. You can even choose a background floor colour to see what your chosen design would look like on your floor. Great for those who want a long lasting piece, which suits your personality as well as your room!
Not an artist, but want a unique canvas?
55 Max offer a bespoke service where you can create single image or photomontage canvases which start at just £79. You can choose the images and submit them and they then come back to you with a design. 55 Max also create personalised roller blinds starting at £109 as well as bespoke wallpaper and fabric (starting at £45 per square metre).
Rockett St George also produce two bespoke canvases bespoke Name Tattoo Canvas and bespoke Name Bird Tattoo Canvas which are quirky and cost just £55 each.
For distinctive curtains and blinds go to The Natural Curtain Company. They make bespoke curtains, roman blinds and roller blinds. When choosing curtains (Starting at £52 for 1m x 1m) you choose the fabric (they send out free samples), heading, lining and any extra details, then simply pay. Roman blinds start at £148 and roller blinds at £125. It's incredibly quick and easy. You can even use your own fabric if you want a really personalised pair of curtains or blinds. You can even order cushions and bedspreads to match or clash depending on your taste!
Feeling Inspired?
Fantastic! Get painting, designing, browsing and buying to create your very own bespoke home. Whether it's a unique photomontage wall or a vintage piece of furniture found at your local car boot sale you've re-upholstered, be proud of who you are and show off your personal style in your home.
For stylish working-from-home
The home office is for many people an integral part of life. So, as it's a room that we're going to spend a lot of time in (no matter how much we promised ourselves that we would switch off the damn Blackberry when we left work for the evening), it's crucial that the environment is a pleasing one, with no strip lighting or foam ceiling tiles anywhere in sight. Our Get the Look guide showcases the very best in contemporary home office furniture, for a stylish and sophisticated feel. Now, where are those tax returns?
Clockwise from left: Original Green Anglepoise Desk Lamp by Kenneth Grange from Heals, £154. Lloyd Three Drawer Filing Cabinet, from John Lewis, £369. Tidy Desktop Organiser from Mocha, £6.99. Kartell Mr Impossible Chair from Utility, £230. Content by Conran Balance Tall Shelving Unit from John Lewis, £595. Desk Dots from Mocha, £12.99. Trent A Frame Glass Top Desk from Alexander and Pearl, £1,165. Foscarini Twiggy Desk Lamp from Utility, £364. Side Book Shelves from Metal Design Furniture, £369.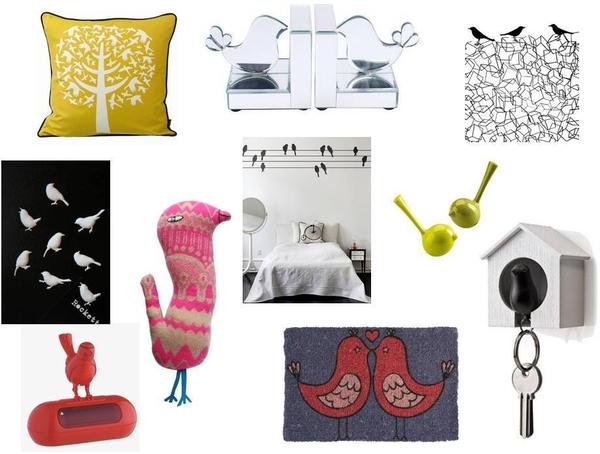 Bye Bye Birdie
After a long, dull and difficult day, we all feel like we want to just spread our metaphorical wings and fly away – preferably somewhere warm. But, even if you can't hop on a plane to Barbados on a whim, it is possible to infuse your home with a sense of escapism with one of our beautiful bird-themed accessories. Sweet, stylish and undeniably cheeky, these little birdies are guaranteed to bring a smile, even on a dreary Monday morning.
Clockwise from left: Bird Leaves Cushion from 95% Danish, £59.95. Venetian Glass Bookends from Bombay Duck, £29.50. Bird Box Tea Towel from Soulful Toaster, £9.50. Blackbird Keyring and House Set from Rockett St George, £12.50. Koziol Pip Bird Salt and Pepper Set from Heals, £26. Love Birds Doormat from Bombay Duck, £22.50. Birds on a Wire Wallsticker from Rose and Grey, £69. Donna Wilson Rosie Bird Cushion from John Lewis, £39.95. OKKO Bird LED Alarm Clock from Habitat, £28. White Bird Fridge Magnets, Set of 8 from Rockett St George, £9.99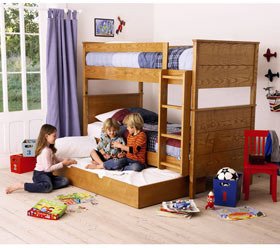 We show you how to create the ideal space for your children to enjoy
Creating a fun yet practical room for your child to spend time in can be tricky and time consuming. Especially when you've already got your hands full looking after them! So we've put together a handy guide full of exciting ideas for your child's room.
Furniture
There is a huge array of furniture available for your child's room, depending on the kind of space you wish to create. This
Finding a good wardrobe is also important as this can provide valuable extra storage space in a small room. This junior wardrobe from Found Home Store has adjustable shelving as well as plenty of hanging space.
As your child grows up you might also want to consider adding a desk to the bedroom, to create an organised space for them to do their homework. This vintage inspired school desk from Ghost Furniture has space to store books inside, and one lid doubles up as a blackboard; perfect for keeping younger children entertained.
Storage
A bookcase is an ideal place for your child to store and display all of their books and toys. This eye catching doll's house unit from Great Little Trading Company is sure to brighten up any little girls' bedroom.
Alternatively, a toy box is the perfect solution for hiding away those piles of teddy bears and games. This chunky wooden toy box from John Lewis provides plenty of storage space, and comes in three different finishes to suit every interior.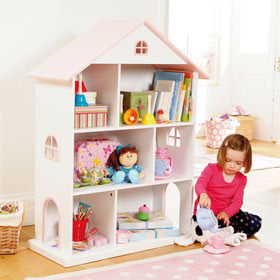 Textiles
The perfect time to get creative with your kids room is when choosing bedding and curtains. Textiles can be used to brighten up simple surroundings, and can be easily updated as your child grows. The Pole House has a wide selection of beautiful bedding in bold colours that children will love, such as this pink animal baby blanket.
Buying children's bedding doesn't mean compromising on quality either, as this luxurious organic cotton duvet cover from The Fine Cotton Company proves. The blue stars and moons design provides a perfect bed time theme, and with a 200 thread count you can rest assured that your child will have a comfortable night's sleep.
Cushions are great for adding a cosy finishing touch to a child's bed. These cute character cushions from BODIE and FOU, will add a splash of contemporary colour to the room as well as being perfect for cuddling!
Wallpaper and Wall Stickers
Prints and wall stickers will help to add the fun factor to a child's room. This striking animal tower wall sticker from 95% Danish is perfect for animal mad kids, whilst these psychedelic fairground stickers from BODIE and FOU will make an exciting feature of a plain wall.
This funky penguin print wallpaper from Caroline McGrath will give a modern yet practical lift to a bedroom; its wipe clean surface makes it a perfect choice for a room full of sticky fingers!
Children love to put their own stamp on their bedroom and this bold multi frame from Oliver Bonas will offer them an opportunity to get creative. Let your kids pick their favourite photos to add to the 28 frames; you could even add old postcards and drawings for a homely touch.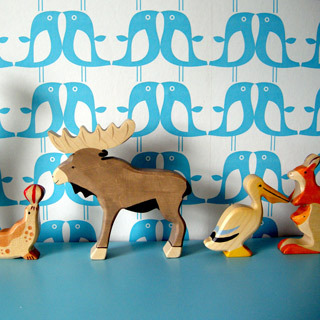 Flooring
Placing a rug on the floor of your child's room can make the space feel warm and inviting, and there are plenty of fun options available at the moment to help add a colour statement to the space. This cloud shaped rug from Heal's doubles as a play mat, and the bold helicopter and plane motif is sure to capture a child's imagination.
BODIE and FOU offer more contemporary flooring options, whilst still using cute designs that children will love. This apple rug has been designed by Michele Masson for the range, and will add a bright quirky touch to a kids' bedroom.
Lighting
Adding an eye catching lampshade to the ceiling, or a lamp to your child's desk provides a lovely finishing touch to the bedroom. Hunkydory Home have a gorgeous selection of lampshades in different prints. This magic jungle lampshade will add some fun colour to a younger child's bedroom, and is also available in a matching cushion, whilst this red gingham shade offers a more classic lighting solution.
Night lights are also a great idea if your little ones have trouble getting to sleep. These cute magic lanterns from Great Little Trading Company give out a gentle glow as the pictures slowly rotate for a soothing effect.
Your child will spend plenty of time in their bedroom as they grow up, making it important to create a bright and beautiful space for them to enjoy. Hopefully the ideas above will help you to create a multi-functional room where they will be able to play, learn and sleep.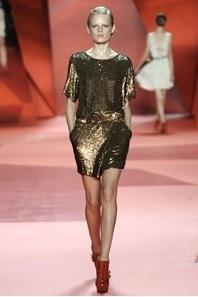 Metallics are big news on the catwalk again this season, we show you how to make them shine in your home.
Metallics have been on the catwalk for a few years now, and the good news is they are still bang on trend. During 2010 there was a distinct focus on reflective sequins as seen at Phillip Lim and Balmain, but for Spring/Summer 2011 we have seen the emergence of a more delicate, soft, metallic look. From the flowing shimmer maxi dresses seen at Jenny Packham and Victoria Beckham to textured metallic bags with a hint of a sparkle at Mulberry.
On first thought, metallics in the home may seem sterile and space-age, however, the metallic trend can easily be integrated into any home, maintaining a relaxed yet modern feel. The contrast of soft furnishings and strong metallic lines can create a really interesting look in any room, so get creative and start experimenting!
If you're looking to make a drastic change, apply Barneby Gates All Star Gun Metal Wallpaper - Gun Metal to one wall, and apply silver shimmer paint to the rest of the room. This Wilderness White Gold Wallpaper from Danish is delicate and elegant, perfect for smaller rooms wishing to go for a metallic wall without it being too overpowering.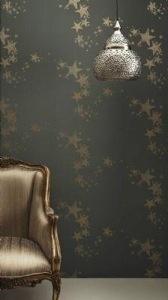 Mirrors are great way to make rooms look more spacious and fit in perfectly with this trend. Looking for a round mirror? Check out the Lombok Metal Plated Round Mirror and Silver Swirl Mirror from Alexander and Pearl. The Lombok Metal Plated Mirror is a fabulous full length option. Other metallic inspired pieces such as Medina Metal Stool from Coco Male and Lombok Walton Table Lamp would add to the look. The textured finish of these pieces make them less severe and both would add a touch of luxury and sparkle to any room.
For a hint of the trend add metallic accessories such as Lombok Decorative Stainless Steel Leaves. These beautiful metal leaves look great placed on a plain surface or in a vase. Metal Wall Art is another way to embrace the trend and Garden and Beet do some great pieces, such as Metal Wall Art Wild Flower. Looking for something a little bit more unique? Check out Chrome Dreyfuss Telephone from Oliver Bonas and Aluminium Greyhound Bookends from Sweetpea and Willow.
For an instant injection of the metallic trend, incorporate a feature piece such as this Chrome Silver Embossed Large Chest from The Orchard. With a unique look and texture, this attention-grabbing chest pays homage to the decadence of the catwalk. This Chrome Embossed White Metal Coffee Table from Graham & Green is a perfect example of a metallic piece which stands out yet remains stylised and homely. Compliment with Chrome Moroccan Metallic Fabric Pouffe from Coco Male for an ethnic feel.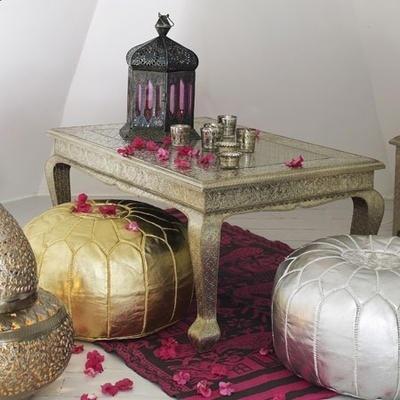 The trend could also be introduced into your home with a gorgeous metallic rug and Heal's have both gold and silver rugs to choose from. The Mercury Silver Shaggy Rug is more of a statement piece whilst the Metallics Gold Rug is more subtle, leaving people guessing what you've changed without being too obvious. Slightly more expensive, either of these would work as an investment piece, fitting in with various colour schemes for many years to come.
So, step away from the space age, but embrace 2011 by integrating unique metallic pieces into your home. These shimmering tones will make it feel unique, trendy and comfortable.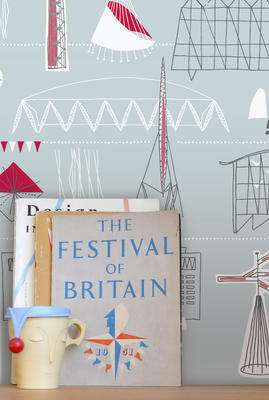 Pay homage to the Festival of Britain with this Festival wallpaper from Mini Moderns. £50
It's been an amazing 60 years since the Festival of Britain and interiors is paying homage to this defining moment in time by creating a range of products.
One of my favourites is the Festival collection of wallpapers from Mini Moderns.
Synonymous will cool design, the clever peeps at Mini Moderns have captured the mood and architecture of the festival brilliantly, which features the iconic Skylon and Royal Festival Hall.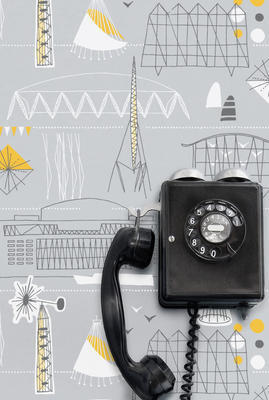 Available in three colourways, Stone, Concrete and Blue and Red Bunting, the wallpaper is a great way to celebrate the anniversary.
The festival was all about iconic British design and how it should be celebrated and Mini Moderns is testament to the fact that us Brits are still producing great design 60 years on.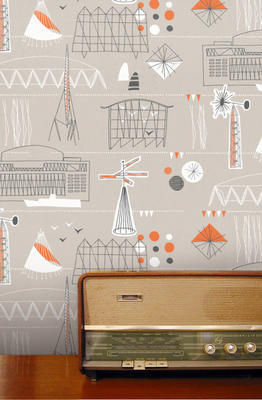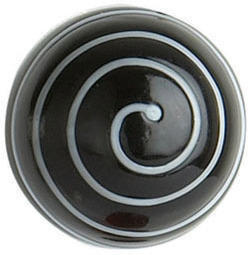 Spruce up a chest or wardrobe with these opaque glass door knobs from Bombay Duck. £5.95
As an editorial assistant one of my first features was to call in a heap of door knobs to be shot for a shopping page.
You can manage the hilarity this caused my family and friends as well as me; trying to professionally stifle laughter when the person on the other end of the phone would ask if I'd like small, medium or large.
Cheeky I know, but when you're searching for your 50th door knob, you need a bit of humour to see you through.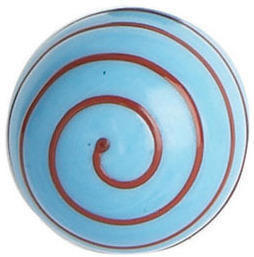 In all seriousness, replacing knobs and handles on a chest of drawers, wardrobe or kitchen units is a great way of giving your furniture a new look without breaking the bank.
I love these Opaque Glass designs from Bombay Duck. Available in three colour combinations, they'll make even the most tired piece of furniture feel brand new.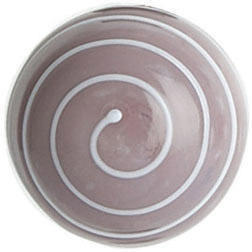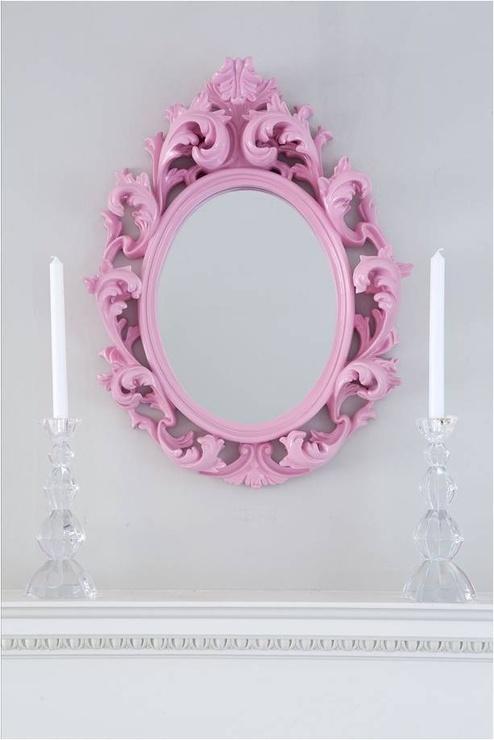 We catch up with Georgia Metcalfe at The French Bedroom Company for the lowdown on everything ooh la la...
What inspired you to start The French Bedroom Company? Pictures, films, experiences?
The French have a knack of getting things right in the creative department – cooking, fashion, art, ballet, interiors; they have a deep-rooted history of visual appreciation. After many years of family holidays to France I developed a real passion for French design – the rococo swirls, the carvings, the femininity of the designs and the soft muted tones – ivory, creams, pale blues. For my 30th birthday, I wanted to treat myself to a gorgeous upholstered French bed but couldn't find the right one – and so The French Bedroom Company was born!
What do you love about the French look?
I love the sophisticated Parisian furniture, designed for the kings (the most well-known are Louis XIV, XV and XVI), the aristocrats and the rich bourgeoisie with its really over-the-top, flamboyant designs with touches of gold, ebony, ivory, marble and tortoiseshell. But, I also love the less glamorous French provincial furniture made in the towns and cities during the 1700s. It has a more distinct artisanal edge and an element of rural chic, made from woods and painted in a more rustic finish; the tables and chairs just seem to have been made purely for lolling about on lazy sunny afternoons drinking wine with the scent of lavender in the air!
Do you feel your products reflect a French way of life?
The French are synonymous with glamour and high-style. And, recently, French style has become about combining the most glamorous elements of historic and traditional designs with modern high-style. So, a traditionally-shaped French Bedroom Chair with signature French cabriole style legs and carvings is finished in a black velvet with a high gloss black frame, like the Sassy Boo Lady's Chair, or a traditional shaped mirror is finished in a pale pink gloss, like the Bubblegum Mirror, or a bright purple and silver, such as the Passion Mirror. This mixing of style is reflected in French clothing, food and also architecture.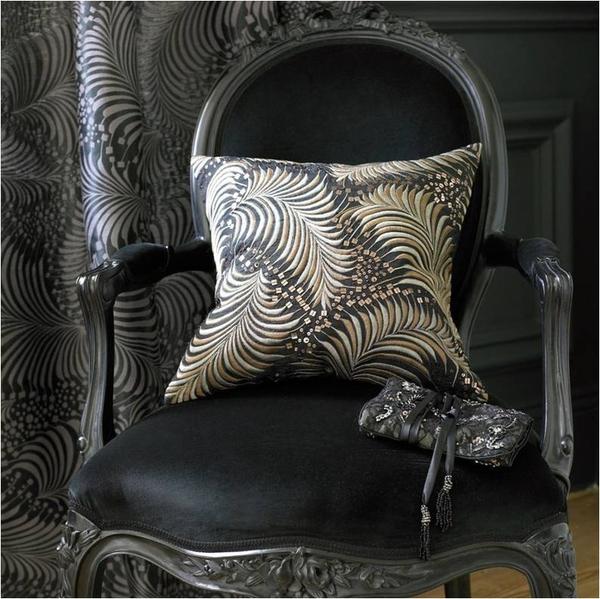 Which elements of French culture can be seen in your products?
The French have a reputation for the love of fine materials: silks, marbles, precious woods, and classic design that with stands the test of time and stands well above the crowd. A Chanel jacket or a demi-lune console table; both items will look lovely for decades to come and be enjoyed your children and your children's children. French style and culture is about buying precious things that are to be treasured, and are built to last – in both the style and the heirloom stakes.
What is your best-selling product, and why do you think it is a bestseller?
Our best-selling item is our Versailles Upholstered Bed. We love this item because it's the height of decadence, and a real statement piece, but at the same time it doesn't scream "Look at me!" The muted tone of the beige silk sits beautifully against the antiquated gold frame. It's such a good seller because it sits so well in almost any room scheme – so it's great in a traditional room with carpets and swagged curtains, and also wonderful in a more 'loft style' room scheme with painted floorboards and blinds.
Where do you see your company in five years time?
We like to think we really push the boundaries of design. The mix of modern and traditional antique styles is a current trend, but we intend to explore this even further by working with suppliers to develop furniture, lighting and mirrors with quirky colours and finishes. Without giving too much away, we are working with a supplier on a new plastic which contains hundreds of LED lights – so your bed can light up! On a more traditional note, one of our favourite pieces we sell is the Waterloo Chair – a French antique chair upholstered in vintage Union Jack Flag fabric for the perfect mix of French and British! It's these sorts of pieces that we want to source and design to give our company a quirky and fun edge.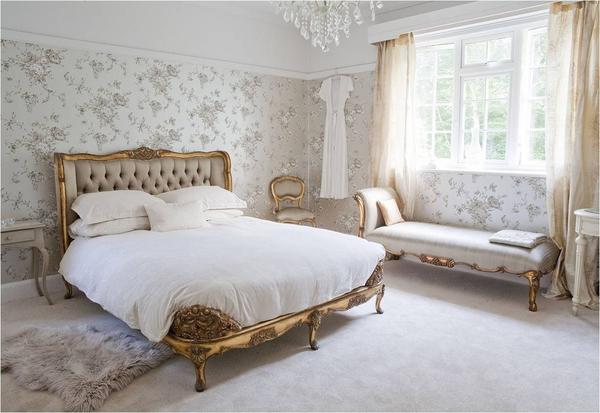 Where is your favourite place in France?
The Hotel Costes for its unashamed love of luxury. It has been a den of decadence for decades for the French aristocracy, the bourgeoisie, fashionistas and celebrities. The furniture, lighting, fabrics, and ambience all create a very debauched and self-indulgent venue where you can almost hear the adulterous whisperings of the past behind Louis XV sofas – and they serve the most delicious afternoon tea too!
If you could describe The French Bedroom Company's ethos in 3 words, what would they be?
Inspirational, aspirational and timeless.
How do you ensure that your products have a unique edge?
We choose our suppliers really carefully. When we look to work with a new supplier we don't just look at their product range; we also look at their quality of products, the ethics behind their furniture production (our largest furniture supplier is a big family business who only make furniture from wood from sustainable forests), their flexibility (we like to offer items in alternative sizes and colours where possible) and also their delivery timings (we know that when our customers want their new furniture they want it asap). We work with over 30 suppliers to offer a really comprehensive and also unique range of items that perfectly complement each other. All of our staff have interior-design training and backgrounds, to offer help and advice to customers. We aim to take the hassle out of choosing furniture, so all that's left is the fun!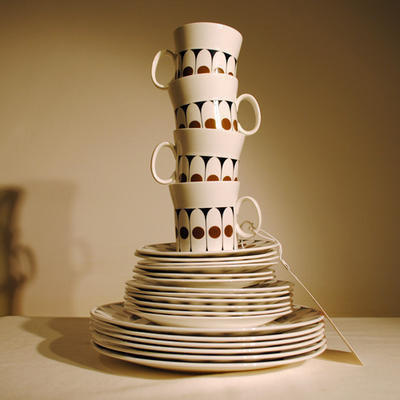 Give your table a retro feel with this 50s dinner service from Serendipity Street. £60
One of my passions when it comes to interior is 50s ceramics and glass. There's just something about the patterns, cuts and shapes that were used over half a century ago which I adore.
Which means that while I'm busy saving for my wedding, I need to steer clear of Serendipity Street as they stock one of the best vintage collections I've seen for a long time.
Czech glass sits alongside retro coffee pots and the sweetest of floral teacups.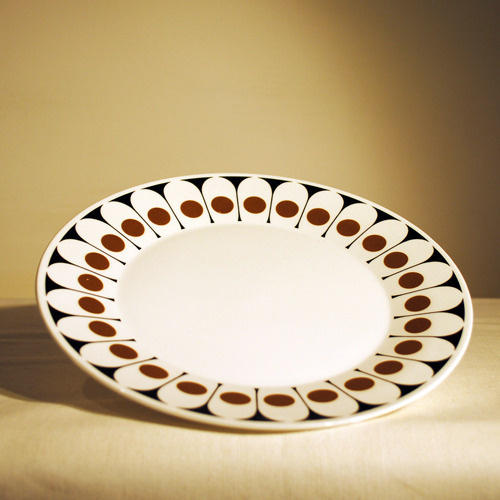 But what really caught my eye is this 50s dinner service.
Consisting of six dinner plates, side plates and teacups and saucers, what attracted me to this dinner service it its bold black and red pattern.
With no cracks or chips, it proves that it was designed to last having made it through over half a century but if you don't want to risk it getting broken it would great displayed in a 50s dresser.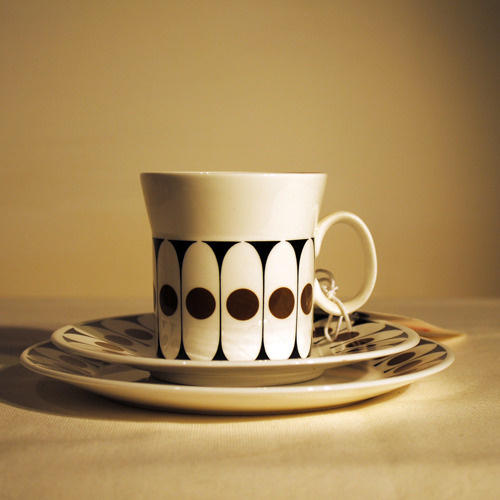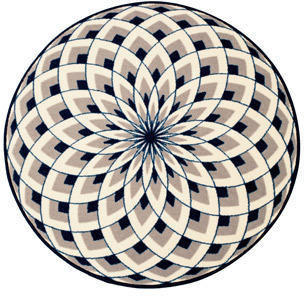 Brighten up your floors with these bold Dahlia rugs from Caroline McGrath. From £219
With spring almost on the horizon (surely there's only so many more dark and chilly days we can take?) and bold florals big news both on the catwalk and in the home, it's time to blow away those winter cobwebs and let the new season in.
These Dahlia rugs from Caroline McGrath are the perfect way to do just that.
Available in three sizes and three colourways, these gorgeous rugs are made from 100% wool and depict the head of a Dahlia.
Perfect for brining the outdoors in, these rugs will suit any room and any style of home.
To make a real impact in a large room, try using all three sizes in one colour and turn your floor into the focal point of your scheme.