Features: March '11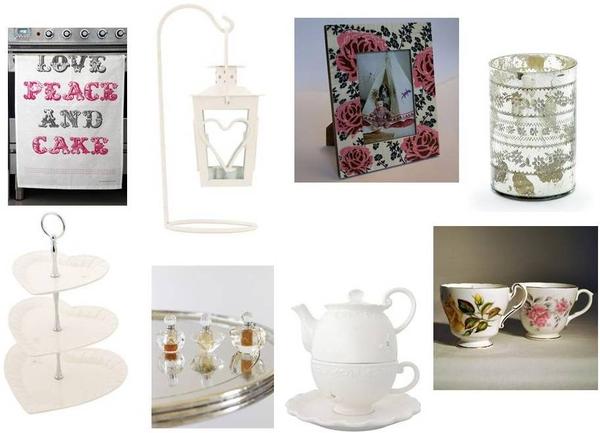 Treat your mum to something special this Mother's Day, with our selection of gorgeous gift ideas.
Forget the usual bunch of flowers, or box of chocolates; we've put together some of our prettiest products to spoil your mum with this Mother's Day! From classic perfume bottles that you can fill with her favourite scent to quirky tea cup candles, that are just too cute to hide away in the kitchen, you're sure to find the perfect gift here.
Clockwise from left: Love, Peace and Cake Tea Towel from Rockett St George, £10. Garden Lantern with Stand Cream from Bombay Duck, £4.95. Roses and Black Flower Photo Frame from Graham & Green, £27.95. Ella Cut Glass Vase from ALSO Home, £22. 2 Rose Tea Cup Candles from Serendipity Street, £11. All of a Flutter Diamante Butterfly Tea for One Set Cream from Bombay Duck, £18. Allegra Perfume Bottle from Brissi, £12. All of a Flutter Diamante Butterfly 3 Tier Cake Stand Cream from Bombay Duck, £29.50.

Sit back and relax with this Dowel Three Seat Sofa from fashion4home. £849
When I've stopped saving my hard earned pennies for my wedding (which at the moment seems a long way off) I have a list of stuff I'm treating myself to.
The first one is a Marc Jacobs handbag and the second is a, possibly more practical and certainly less selfish, sofa.
As unfortunately, my gorgeous leather one has finally seen better days. Far too many parties and over night guests means its seen better days – so it's off to the skip with the old and hello to the new.
Naturally, the wish list grows longer everyday and coming in at Number 1 at the moment is this Dowel sofa from fashion4homes.

Available in classic Black and a muted sage green, I adore this sofa's retro styling which has a definite nod to the 1960s.
It will look absolutely fabulous in my living room with my retro G Plan furniture and I can't wait to get my hands on it.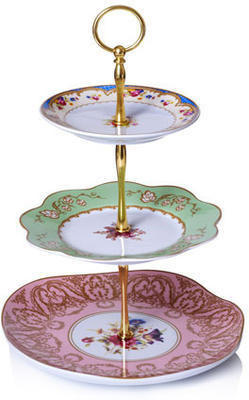 Treat your Mum to afternoon tea in style with this Regency Cake Stand from Oliver Bonas. £29
With Mother's Day just around the corner (it's Sunday 3rd April for anyone who doesn't know) what better way to treat your Mum than with a special afternoon tea.
Forget fancy hotels and cafes, a far better idea is to put some effort in and make the cakes and sandwiches yourself.
And what prettier way to display them than on this Regency Cake Stand from Oliver Bonas.
The cake stand comprises of three vintage-style patterned tiers which will give your afternoon a touch of the Ritz without having to even leave your dining room.
p.s Don't forget to check out our fabulous guide to presents for Mother's Day later in the week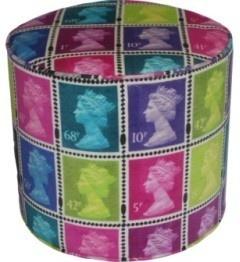 Regally rest weary feet with this Royal Mail Postage Stamp Pouffe from Rocking Pony. £269
With the Royal Wedding imminent, you can expect to see lots Royal-inspired products about.
From tea towels to teapots we can expect to see lots of products with the faces of the happy couple beaming at us.
Some, it's fair to say will be completely naff, others not so but having a teacup with Kate and Wills on isn't the only way to inject some regal charm to your interior.
This Royal Mail Postage Stamp Pouffe is a perfect alternative and is guaranteed to add a splash of colour your living room.
Crafted in the UK, the pouffe is covered in a multi-coloured postage stamp printed velvet and is truly gorgeous.
Use it to rest your feet while watching the wedding (we know even those who say they don't care less won't be able to resist a peek) or as an extra seat.
See this product at Rocking Pony…
(We don't list this product yet but sign up to our newsletter and we'll let you know if/when we do)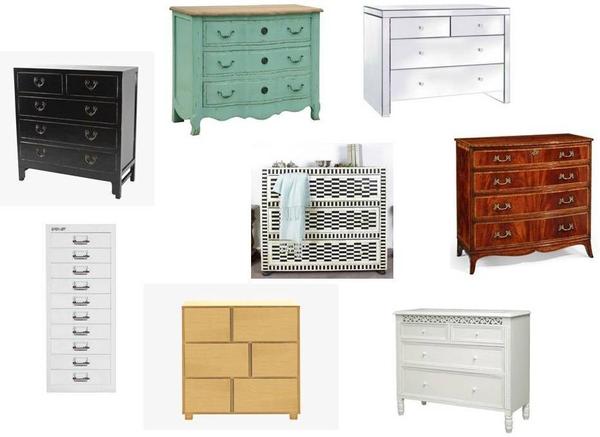 Take a look at our great selection of drawers, from vintage inspired designs to chic mirrored finishes.
The perfect chest of drawers can provides useful storage space in a cluttered room or an eye catching finishing touch to a well organised one. We've selected some of the most stylish options, to take the hassle out of finding your perfect design. From rustic wooden finishes to art deco inspired designs, in all shapes and sizes, you're sure to find the ideal chest of drawers for your home.
Clockwise from left: Oriental Black Lacquer 5 Drawer Chest from Alexander and Pearl, £795. Etienne 3 Drawer Chest from Rose & Grey, £465. Venetian mirrored chest of drawers from Lover's lounge, £385. Bisley 10 Drawer Cabinet – Chalk from Heal's, £125. Chest Of Drawers from Pavilion Broadway, £2,702. Traditional 2 Over 2 Chest Of Drawers from The Orchard, £159.50. MINI HANA chest of drawers from Habitat, £400. Chess bone inlay chest of drawers from Rocomara, £1,535.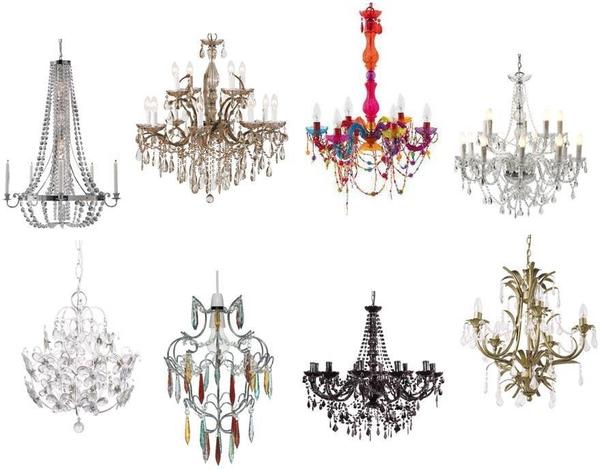 From classic to contemporary, we've selected the best chandeliers for every home.
Chandeliers are a classic choice when it comes to lighting your home, helping to bring a touch of elegance and sophistication to your surroundings, but their increasing popularity means that there are now hundreds of options to choose from. We've put together a great selection of chandeliers so that whether you like classically ornate designs that ooze chic style or prefer a more contemporary option with a colourful twist, there is something for every taste.
Clockwise from left: Juliette Crystal Candle Chandelier from Alexander and Pearl, £750. Ballroom Chandelier from The French Bedroom Company, £495. Medium Ornate Gypsy Multicoloured Chandelier from The Contemporary Home, £89.99. Jet Clear 14 Arm Chandelier from Heal's, £975. SPW Kew 5 Arm Chandelier [French rustic gold finish] from Sweetpea and Willow, £150. Buttress Black Chandelier from The French Bedroom Company, £185 – £515. Aimbry Multi Colour Glass Droplet Chandelier 150/MULTI from The Pole House, £50. Vintage Butterfly Chandelier from Bombay Duck, £195.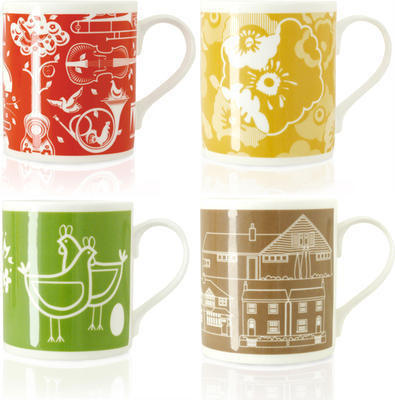 Add some pattern and colour to your kitchen with this Set of Four Assorted Mugs from Mini Moderns. £26
If you're looking for a bright and easy way to add a splash of colour to your kitchen then look no further than these mugs from Mini Moderns.
Available as a set of four or individually (although you'd be mad not to buy the set as you save £6 if you do) they feature Mini Moderns iconic prints. Alice in Mustard, Pet Sounds in Red, Town in Milk Chocolate and Six of One in Green.
They'll look great displayed in a row on a shelf and are guaranteed to cheer everyone who drinks from them. And if you're not a fan of tea or coffee, then they also make rather snazzy pen pots for your desk.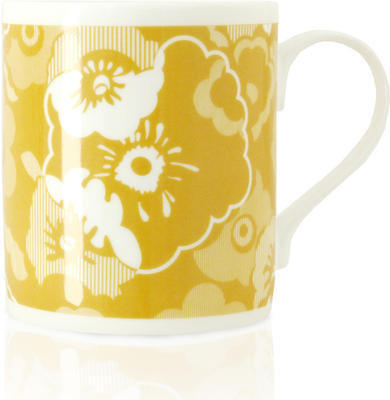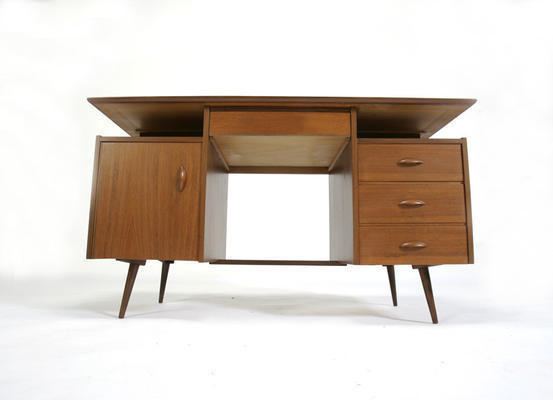 Relive the past in style with this 1950s Writing Desk from FUSE. £595
With the anniversary of the Festival of Britain just around the corner, it's no surprise that everyone has gone mad for vintage.
Whether it's the real deal or a faithful reproduction, everyone in interiors seems to be taking their inspiration from the 1950s.
I personally love the old stuff, it's so nice to have a sense of history about something you own, wondering who had it before and what they used it for.
Which is why I love FUSE who track down some of the best vintage furniture on offer.
One of my favourite pieces is this 1950s Writing Desk. Crafted from teak, I adore shape and style and can imagine it belonged to someone rather important given the size of it.
Sadly, I don't have the room for it at the moment, so I can only gaze at it in admiration, but if you have the room then hurry up and buy it – it's a one-off and won't be around forever.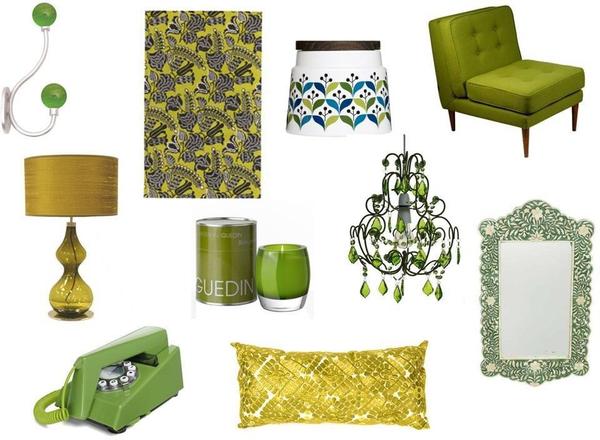 Spring Greening
We've slowly but heroically limped to the end of yet another grim British winter. The sun is starting to shine, the daffodils and snowdrops are out to play, we can go outside without wearing 7,000 layers, and it's putting us all in a bit of a lovely mood. Bring the seasonal spring in your step into your home with our selection of lush, spring-green goodies; they're too gorgeous to miss out on.
CLOCKWISE FROM LEFT: Double Door Hooks with Green Glass Balls from Bombay Duck, £18. Designers Guild Coconut Grove Acacia Lime Rug from Heal's, £650. Retro Storage Container from Soulful Toaster, £12.50. Aimbry 5 Arm Desired Flocked Pendant in Green 187/GR from The Pole Home, £40. Orla Kiely Cork Chair from Heal's, £995 – £1,995. Scalloped Mirror with Bone Inlay from Graham and Green, £225. Green Moroccan Embroidered Rectangular Cushion from Lemonlu London, £94.95. Maison Guedin Luxury Scented Candle in Precious Wood from Occa Home, £35. Retro Trim Phone from The Contemporary Home, £34.99. Thai Green Monza from Decolight, £409.50.
Turn the clocks forward in style with this Vitra Polygon Clock from Utility. £318
This is one of my favourite times of year, the mornings are lighter, the birds seem to have found their voices and the its stopped getting dark by 4pm.
The clocks go back this weekend, so what better way to celebrate than treating yourself to a new timepiece?
One of my favourites is the Vitra Polygon Clock from Utility.
A George Nelson design from 1961 which was reissued by Vitra last year, this clock is the perfect way to tap into the retro trend which is so popular at the moment.
Made from lacquered walnut, this clock is a real style statement which will look fabulous above a mantelpiece.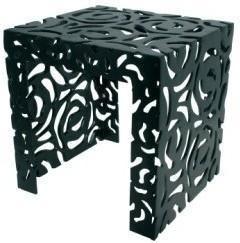 Get ready for some al fresco living with these Floral Stools from Garden Beet. £130
With the weather getting warmer, well I saw the sun today and at the weekend for the first time in ages, I've been thinking about my little garden.
Having a garden is London is an exception to the rule, some would even call in a privilege so I am determined to spend as much time in mine this summer.
Having a nose around for some new garden furniture, I came across these really pretty floral stools from Garden Beet.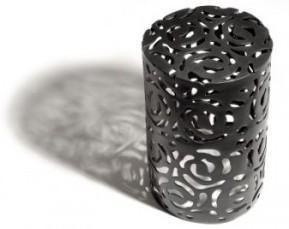 Available in round and square, the stools are made from aluminium and have a cut-out floral design.
Use them as extra seating or as occasional tables for your garden and I| guarantee you'll use them all summer long.
We explore the beautiful arts and crafts movement, which marked a return to handcrafted design in 19th century England.
The arts and crafts design movement originated in England around 1880, with its popular ideals later spreading across to Europe and America. Formed by English writers and designers, most notably being William Morris, the movement was formed in protest to industrialisation and the growing popularity of mass produced designs. The members set up their own companies to sell handcrafted, high quality goods and designs.
In terms of style the movement was inspired by a wide range of influences, from Gothic medieval to Japanese art and the Orient. Furniture would be of an exceptionally high finish, often made with natural woods and metals such as copper or pewter, and handcrafted with a focus on the quality rather than excessive decoration. Colour was an important part of the movement; rich tones and bright shades were incorporated through wallpapers, tiles and soft furnishings.
Colours
To create and arts and crafts feel in your home, you should opt for warm rich tones on the walls and in soft furnishings; deep reds and blues, mustard yellow and olive greens will all create a sophisticated finish when complemented by natural shades of cream and terracotta.
Wallpaper is key to this look and the most instantly recognizable option would be the William Morris patterns, which are still being manufactured today in original prints. This classic William Morris Wallpaper from John Lewis, features a classic print of deep purple thistles on a taupe coloured background. Cover all the walls with a boldly patterned wallpaper for a traditional arts and crafts finish, or just use the large scale prints to make a feature of one wall for a more contemporary take on the style.
Another great way of adding colour is through tiles, which were widely used at the time. Choose bright jewel tones in turquoise blues, greens and reds to brighten up the kitchen or bathroom. Stained glass was also popular due to its medieval origins but, if you don't want to splash out on new windows, a tiffany style lamp would add a subtle touch of colour.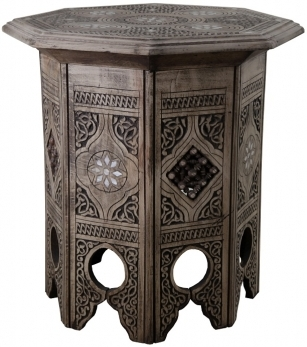 Furniture
For this look most pieces of furniture should be wooden to create a handcrafted feel. Custom made pieces are ideal, but it is possible to find options that give a similar unique look. This oak coffee table from Rocomara features cut out detail, which was popular at the time, and reflects Oriental influences. Although it is slightly more ornate than would have been usual at the time of the arts and crafts movement, the dark oak means that it would still sit comfortably within the style for an eye catching addition to the living room.
Chairs should have leather or woven seats, although vintage style fabric covered chairs work equally well. This floral club chair from Puji has been designed in classic shape with a subtle pattern that would work well in contrast to a bold wall print. The delicate cream colour also provides the perfect complement to rich coloured accessories.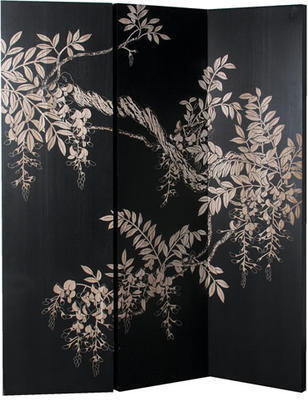 Accessories
Choosing accessories for this style provides the opportunity to add hints of colour, and style touches influenced by Oriental trends. This stunning wool rug from OKA blends perfectly with the arts and crafts colour palette, and would look stunning set against stained wooden floors.
Screen dividers are a great way of splitting up space in open plan rooms to create a more intimate space, and there are many Oriental inspired options that would look great when creating an arts and crafts feel. This < a href= "http://furnish.co.uk/items/30583-chinois-screen">chinois screen from The French Bedroom Company has a striking black lacquered finish with a gorgeous contrasting floral print.
Choose soft furnishings in natural materials like cotton and wool, and in rich colours or patterns inspired by William Morris. This leaf print cushion from Heal's has a beautiful muted colour palette and the Sanderson print blends perfectly with the style; Sanderson are the company which bought all of the William Morris printing blocks when the company closed down.
The arts and crafts movement is a style that translates easily to contemporary interior design, as its blend of influences and the rich colour palette means there is something to cater to everyone's tastes. The prints of William Morris are timeless, and look just as good in a fully wallpapered room as they do hung in a frame as a piece of art. The focus on quality pieces of furniture is as relevant today, in our highly mass produced culture, as it was hundreds of years ago and makes for a quirky and eclectic interior style.
The ethos of arts and crafts is best summed up in the words of William Morris himself, who believed you should "have nothing in your houses that you do not know to be useful or believe to be beautiful". Essentially, this is a style that allows you the freedom to create a unique living space that is beautiful to you.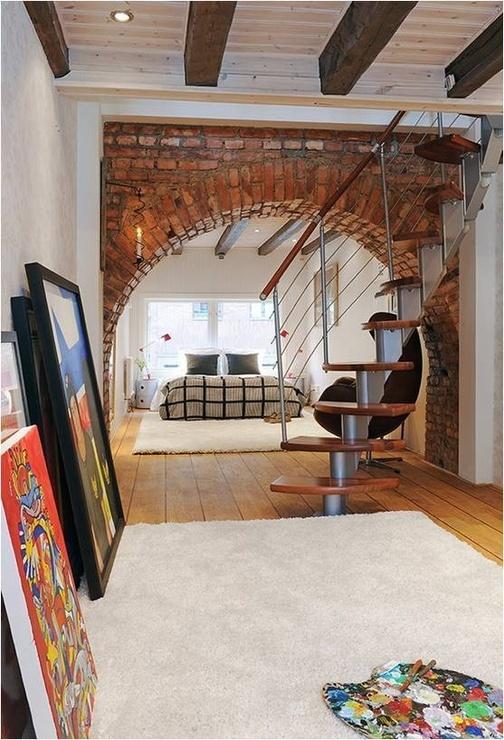 The Blog Beautiful
We've got two fabulous US-based blogs for you this week, along with a little treasure from Romania. Enjoy the international vibe, and get ready to be inspired!
Freshome
Freshome is dedicated to showcasing the latest trends in cutting-edge modern architecture, interior-design and furniture. The brain-child of the precocious Micle Mihai-Cristian, a 24 year-old Romanian living in Timisoara, Freshome has a chic, urban European aesthetic to it, and aims to inspire you to create the home you've always wanted. I love the fantastic 'Best Of' section, especially the 'Most Popular Projects in February 2011' post. It features amazing architectural projects from around the world - and whilst most of us can only dream of living in such incredible places, they are certainly awe-inducing. The 'Ideas' section is great, too: an eclectic mish-mash of tips for the home and interviews with innovative designers. For example, the work of eco-artist Tammy Roe, who takes scrap metal and fuses it into beautiful home accessories is feautured. It's work like this that ensures that Freshome stands as out as the blog to go to for contemporary style-inspiration.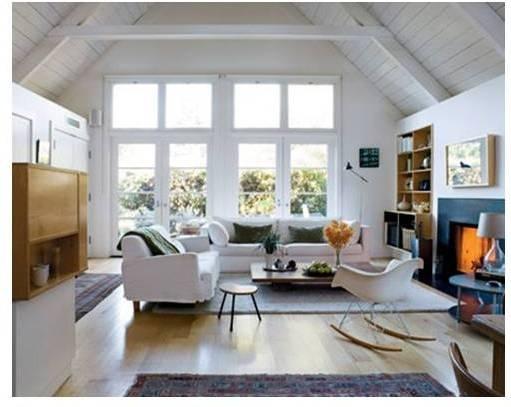 Remodelista
The exquisite Remodelista is dubbed as 'The Sourcebook for the Considered Home' - undoubtedly the perfect description. The blog's sleek, neutral colour-palette reflects its aim to feature the best in streamlined interiors, with an emphasis on "classic and liveable over trendy and transient". Remodelista focuses on quality, investment and thoughtful design instead of faddy trends and mass-marketed goods. However, despite their firm stance on quality, there is no snobbery here: Redmodelista believe that "a mix of high and low - and of vintage and new - animates a space". The style-savvy women behind Remodelista are all friends, which explains the blog's very personal feel; you can even peek into the homes of the team to see what makes them tick. They've also got a 'Design Files' section, making a visit to Remodelista a truly involving experience. Through the 'Design Files', you can save your picks from Remodelista's stunning collection of products and inspiring ideas posts, ensuring that you're well-informed when remodelling your own home. Redmodelista is classy, chic and grown-up, yet still remains accessible to all. It should be the first port of call for classic and simple tastes: an online muse for beautiful interior-design inspiration.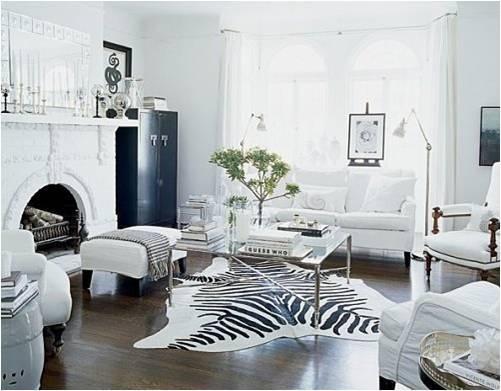 ChicTip
ChicTip is one of the best daily design blogs around: "your ticket to stylish living." It's an online Aladdin's cave, heaving with interior-design treasures and teeming with excellent design tips; and, the huge wealth of resources and content on the blog means there's something for everyone, no matter what your budget, style , or interior-design project might be. The excellent 'Inspiration Albums' do exactly as they say - inspire. Divided into separate rooms (kitchen, bathroom, living-room, dining-room ), each album features alluring snapshots of extraordinary interiors, all of which seem to have the common trait of being beautiful and eclectic, yet highly functional, too. Michelle and Keren, the design-duo behind ChicTip, are keen to emphasise that the blog is a community for "like-minded people", a place to share ideas and tips and generally have a good old discussion with others who are passionate about design. The blog also looks beyond the home for inspiration; there's features on shops, hotels, and restaurant designs, as well as artists and trends-in-the-making. If you're planning on having a peek at ChicTip, I recommend you clear your diary. You will undoubtedly be on the computer for a long, long time.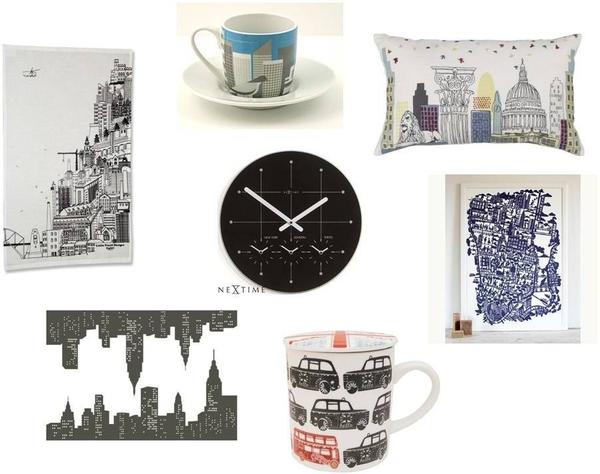 Love the city look? We choose some of the hottest city-inspired products around.
London, New York, Paris, Milan, Berlin – whichever metropolis you might inhabit, it's hard not to admit that the buzz and beat of the big city gets under your skin and stays there. Celebrate your chosen city with some city-themed and very chic home-accessories; perhaps a funky cityscape wall-sticker, or a cheerful mug depicting the iconic London bus to drink your morning coffee from before hopping on the Tube. Remember why you love your city, even when you're stuck in rush hour.
Clockwise from left: City Break Tea Towel from Hunkydory Home, £9. Fuff City Expresso Cup from Fuff Stuff, £12. Little City Cushion from John Lewis, £35. New York City Map Print in Mulberry from Caroline McGrath, £38. Disaster Designs Pretty City Mug from John Lewis. £6.50. Nextime Big City Wall Clock from Red Candy, £49.50. Living in the City Wall Stickers from John Lewis, £25.
Add some knitted chic to your floors with these Fairisle Rugs by Donna Wilson from Heals from £895
Rugs are the perfect way to add warmth and brighten up your floors without going to the hassle of replacing carpet.
My favourite at the moment is from the ever-talented Donna Wilson and her gorgeous collection of Fairisle rugs at Heal's.
The rug is designed with a chunky weave and zigzag design to resemble a giant Fairisle jumper and is available in three gorgeous colourways.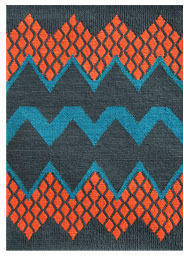 Ideal for creating a cosy atmosphere in your bedroom or living room. this rug is sure to become a firm favourite season after season.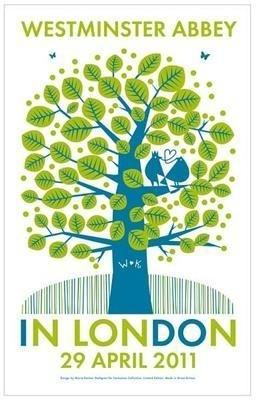 Give your kitchen the royal treatment with this Royal Wedding Tea Towel from Hunkydory Home. £12
Assuming you haven't had your head stuck in a dustbin for the last few months, then you'll know there's a rather important wedding taking place this year.
All over the world people are speculating what the bride will wear, who will be invited and where the couple will go on honeymoon.
No silly, not mine, but the Royal wedding.
Of course, the excitement has seen souvenir makers go into free fall with everything from the traditional mugs and teapots to wardrobe doors with Kate and Wills on – yes, really! To say some of the stuff is tacky is an understatement.
However, tacky this tea towel from Hunkydory Home is not – in fact it's probably the most stylish piece of memorabilia around.
So whether your a Royalist or not, this tea towel offers the perfect way to mark the happy occasion.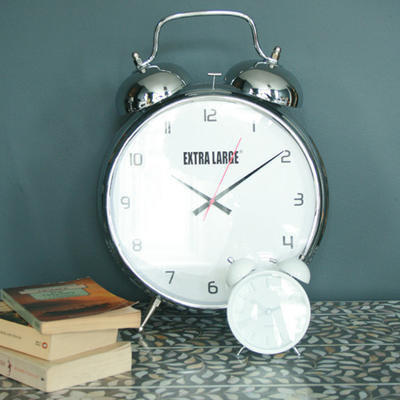 Make sure you never sleep in again with this Extra Large Alarm Clock from Graham & Green. £66.50
I usually have absolutely no problem getting out of bed, however, the other day was definitely an exception to the rule.
Fast asleep and dreaming of wedding dresses, honeymoons and what to have for my breakfast, I was suddenly aware it was a lot lighter in my boudoir.
That's not so odd, I thought to myself, it's getting lighter everyday but as my eye caught my alarm clock, I let out a scream. It was 8.30am which meant I'd overslept by an hour. The alarm had not gone off!
Running around like a headless chicken, while cursing my useless alarm clock, I vowed that a new one was long overdue.
So, I'm getting rid of my rubbish one and investing in this Extra Large Alarm Clock from Graham & Green.
Made from stainless steel, I love the traditional style and the giant twin bells which hopefully means I'll never oversleep again.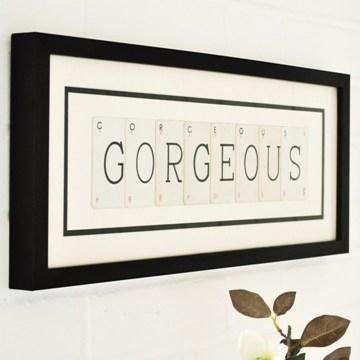 Add some vintage charm to your walls with these Vintage Playing Card Frames from Primrose & Plum. From £39
I am always on the search for new ways to add interest to my very plain walls.
I spent ages looking for something for my bedroom which needed to be subtle yet stylish, interesting yet not too brash and of course not cost a fortune.
If you're having the same wall art dilemmas, then you're in luck as I think I've found just the thing at Primrose & Plum.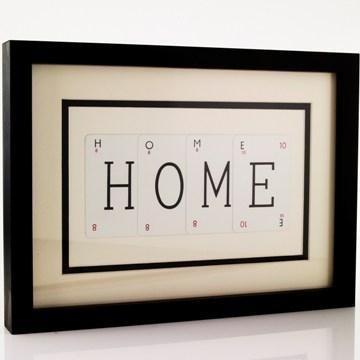 They have taken vintage playing cards from a 1930s spelling game and arranged them to spell out GORGEOUS and HOME.
The cards have been framed in sleek box frames with a stylish mount and will make the perfect addition to any room's wall.
And, if you're really house proud, why not tell it like it is and invest in both!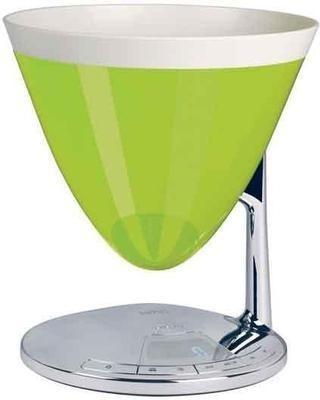 Add some style to your kitchen with this Bugatti Uma Kitchen Scale from WhereDidYouBuyThat. £117.44
Let's face it, kitchen scales aren't exactly the most stylish or cool things in the world.
And in all fairness, they're their to do a job not look pretty. but who says they can't do both?
Well, certainly not the designers who have created the rather awesome Uma Kitchen Scale which is a work of art for your worktop.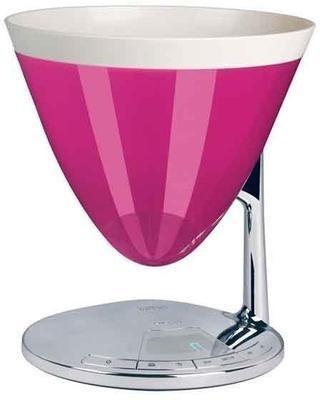 Available in a fabulous seven colours from cool white to zesty lime, the weighing cup is large enough to accommodate even the weightiest of ingredients and it's the perfect thing for adding a touch of colour to your kitchen.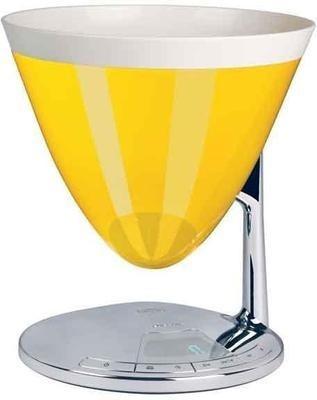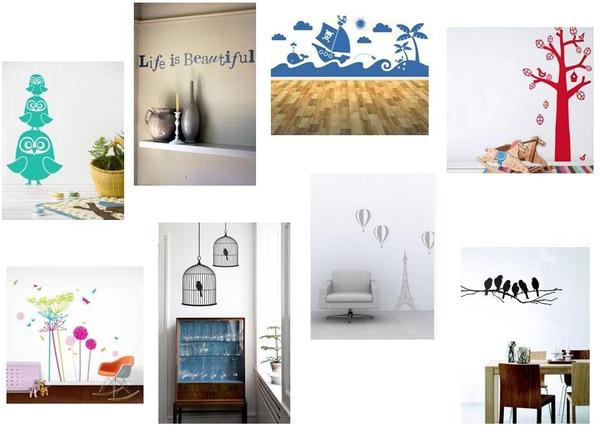 We've put together a great selection of stickers to brighten your walls with.
Wall stickers are a great way of brightening up a room, and giving your walls an instant lift, without having to completely redecorate. No longer just for kids rooms, although we have selected a few fun items that little ones are sure to love, wall stickers can add a sophisticated touch to plain rooms; transporting you to Paris or a bird filled forest without having to leave home.
Clockwise from left: Owls Wallsticker for kids from Rose & Grey, £38. 'Life is Beautiful' Wall Sticker from Rockett St George, £36. Sea Mural Sticker – Spin Wall Stickers from Spin Collective, £35. Bird Tree Wall Sticker from 95% Danish, £69.95. Lovebirds wall stickers from Lover's lounge, £47.50. Paris Balloon Wall Graphics (20 colours) from Caroline McGrath, £32. Bird Cage Wall Stickers from Rockett St George, £34. Fluoro Dandelions & Cow Parsley wall stickers from BODIE and FOU, £81.70.