Features: April '11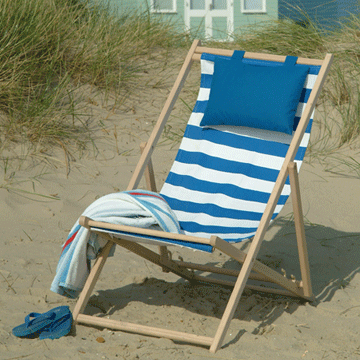 Add some British charm to your garden with this fabric deckchair and windbreak set from Garden Trading. £100
I know they're not the most comfortable choice when it comes to garden seating but I have a very romantic notion about deckchairs.
Maybe it's because they look so lovely, lined up in London parks or because they give a definite nod to times of old but I just adore them.
This stripy blue design from Garden Trading is certainly one of the nicest I've seen and is a great way to tap into the nautical trend too.
I love the bold blue and white stripes and the addition of a comfy head cushion.
Now all I need is a glass of Pimms, a good book and a sunny day. Bliss.
Give your space some capital style with these Vintaged Wooden London Street Signs from Rockett St George. £69
When I was growing up, the house we lived on had a street sign on the front garden wall. I thought this made us very important and was immensely proud that we, the Tosos, had been chosen to let everyone know what street they were on.
When my parents moved, I urged them to take it with them, as having spent nearly 30 years there, it felt like it belonged to us more than the council. Of course, they refused, although in a rebellious act, my Dad did paint in dark green and cream to match the house instead of the standard issue black and white.
Of course, I don't in any way condone stealing from the council, so if you're like me and partial to a street sign, then I've found the perfect thing at Rockett St George.
These vintaged street signs are crafted from wood and then aged to give them a vintage feel.
Available in a variety of famous London street names such as Carnaby Street and Hoxton Square, they're the perfect gift for a London-phile and make a great addition to any wall.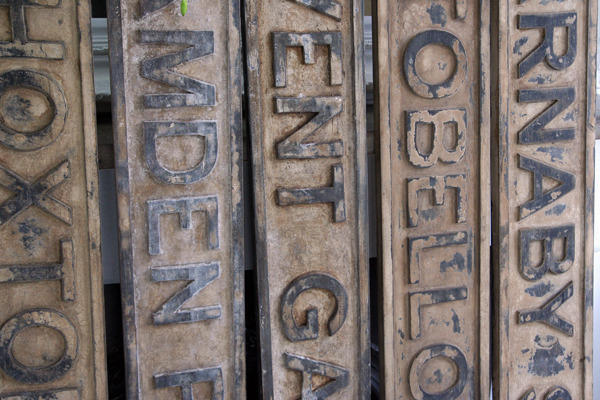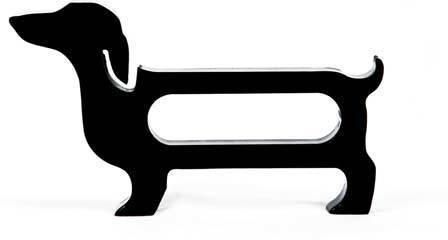 Add some canine charm to your dining table with these Happy Hot Dog Napkin Rings from Hunkydory Home. £24 for six
It will come as no surprise that I let out a little squeal of delight when I came across these Happy Hot Dog Napkin Rings from Hunkydory Home.
Regular readers will know I am utterly obsessed with dogs. Fat ones, thin ones (ok, not thin ones so much as they're not very cuddly), short ones, tall ones, pedigrees and mongrels, show me a cute dog and I'll coo over it more than the cutest baby.
If you too are a massive canine fan, then these napkin rings are just the thing you need to add a touch of quirkiness to your dining table.
And if you don't like dogs then please explain why and I will convince you otherwise…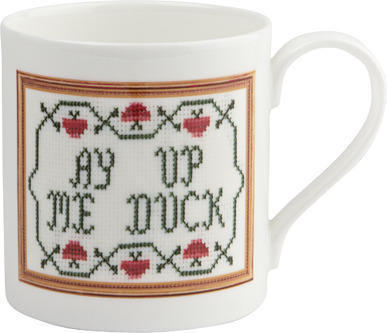 Tell it like it is with these Sayings In Stitch Mugs from Designed In England. £11.50
Once the preserve of grannies and people with far too much time on their hands, tapestry and cross-stitch is becoming a super trendy pastime.
However, what makes it so cool is that there's not a pastoral scene or twee house in sight, oh no; tapestry has been brought bang-up-to-date with quirky sayings and strong designs.
These Sayings In Stitch mugs from Designed In England which come with familiar slang sayings are a prime example.
A great gift for a tea lover who can't resist a bit of tongue-in-cheek, they'll also look fab displayed on a kitchen shelf.
They're almost enough to make me want to take up tapestry, almost…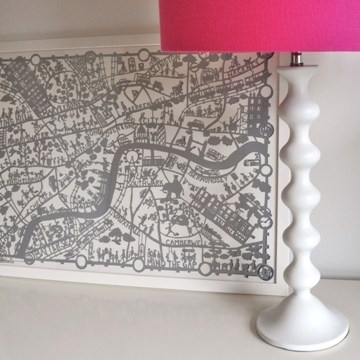 This week we take a closer look at the beautiful home accessory offerings of Primrose & Plum.
Primrose & Plum was set up by friends Selina and Lisa, when they started to gather suppliers of all things lovely to produce a beautifully curated selection of high quality home accessories and gifts. Their collection offers an eclectic mix of old and new, contemporary and classic, in a range of neutral alongside bold colours.
A small independent business, Primrose & Plum pride themselves on their attention to the details that make a difference and there is even a real human voice at the end of the phone! Furthermore, they promise, should a problem arise, to try to sort it out quickly and without a fuss.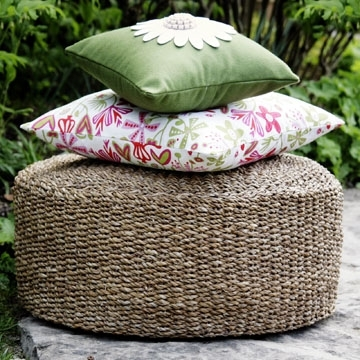 Their beautiful items make me long for an airy cottage surrounded by birch trees, but for the time being I'll be trying to inject the look into my distinctly less whimsical east London abode, with their Large Jute Basket. These huge, hardwearing baskets are ethically sourced and made by Fair Trade co-operatives in Bangladesh, so you can assuage your conscience as well as your household clutter – perfect if you're planning a spring clean this Bank Holiday. They would make chic storage for toys or linen, but I think they'd be perfect to store my ever-expanding collection of fashion and design magazines that I can't bear to recycle.
Primrose & Plum make the everyday just that little bit more chic, as demonstrated by their charming Retro Glass Bottles. With cream ceramic stoppers, they are ideal for milk or juice, or dispose of the clutter of plastic bottles in the bathroom and decant bath salt or soak.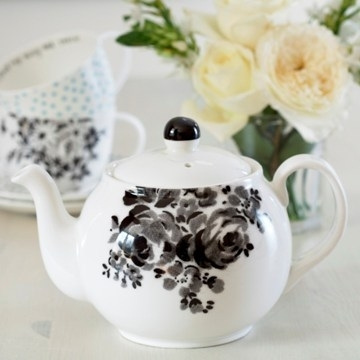 Fresh in for spring, Primrose & Plum have a beautiful range of Lisa Stickley tableware, as well as a fabulous collection of soft throws, luxurious bedspreads and decorative cushions to brighten up even the saddest of bedrooms. If you're planning a spot of Easter baking, have a look at their kitchen linens and kitchenware, like the beautiful Hammered Heart Cake Stand.
With so much choice these days, it is wonderful to see such carefully selected and highly appealing items gathered together in one place. Primrose & Plum will certainly be my first stop next time I'm searching for that perfect gift for a birthday or wedding!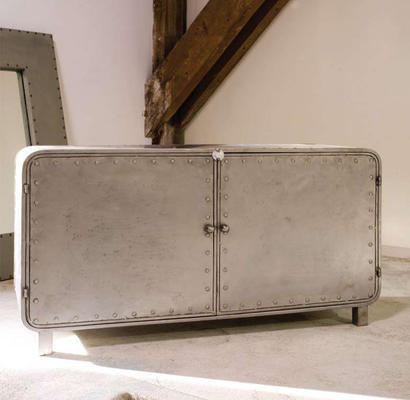 Add a touch of industrial chic to your space with this Chloe Metal Sideboard from Love Your Home For Less. £595
I absolutely adore sideboards and while you'd struggle to part me from my 60s G Plan beauty, you might just about be able to convince me with this little gem from Love Your Home For Less.
The Chloe Metal Sideboard offers the perfect way to tap into the industrial trend without making your interior look too austere.
Made from distressed metal, I adore its retro shape and simple styling.
The generous size means it's big enough to stash away all your stuff and will become a truly useful piece of furniture.
Try using in the dining room to stash crockery and table linen or your living room for magazines and other bits and bobs you want to keep out of sight.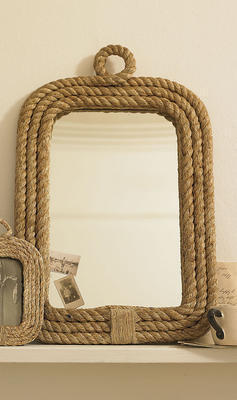 Add a touch of nautical style to your home with this Rope Mirror from Plumo. £109
Unless you've been walking around with your eyes closed for the last few months, you'll notice that that nautical is one of the hottest trends around.
From French Riviera chic to Cornish charm, the world of interiors has gone crazy for everything seaside inspired.
If you don't want to go stripe mad, I've found the perfect way to tap into this trend in a subtle way.
The Rope Mirror from Plumo has a gorgeous natural rope border and will look fabulous in any room. It will create a fantastic focal point above any mantelpiece and give your home a touch of seaside chic.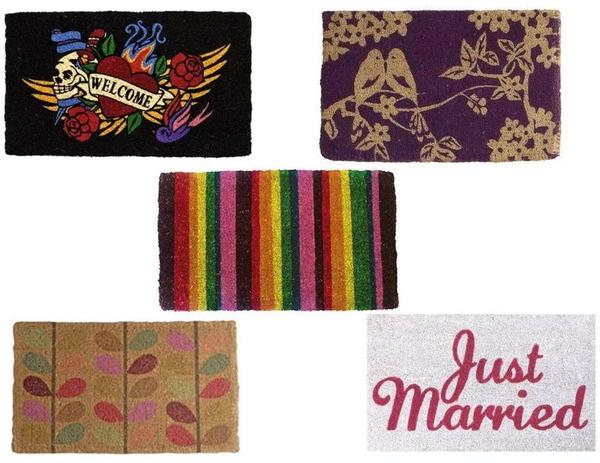 Give your guests a warm welcome with our pick of the best doormats
Everyone knows that first impressions last so what better way to welcome your guests to your home than with a gorgeous doormat?
Long gone are the days of a doormat just being there to wipe your feet on, they are the perfect way to give the entrance of your home a warm, colourful and welcoming feel.
We have everything from dramatic tattoos and pretty birds to a very romantic slogan, so whatever your style, there's bound to be something that will fit your home perfectly.
Left to right: Welcome Tattoo Doormat, £25, Utility; Birds Kissing In The Tree Doormat, £22.50, Bombay Duck;Multi Colour Coir Doormat, £17.50, Oliver Bonas; Orla Kiely Stem Print Doormat, £30, Heal's; Just Married Doormat, £22.99, The Contemporary Home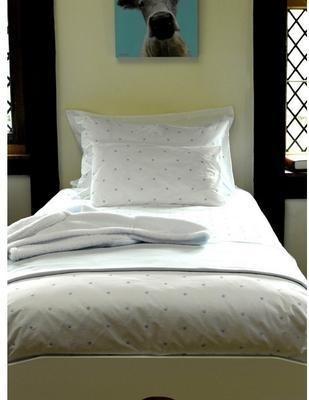 Go dotty for spots in your home with our fabulous guide!
Spots are the perfect pattern for bringing a touch of playfulness and fun to your home. Cute polka dot crockery is great for adding some 1950's kitsch to the kitchen, whilst vibrant spots in vivid colours are sure to brighten up any room in the home. We show you how to make this brilliant pattern work beautifully in your space.
Fabric
A new set of bedding can instantly transform a bedroom, and is therefore an ideal place to start when considering introducing a new print to your home. This blue spot duvet cover from The Fine Cotton Company has a very subtle spot pattern that will look equally as gorgeous in a child's nursery as it will in a teen bedroom; we're sure the luxurious 200 thread count organic cotton will ensure that you sleep like a baby whatever your age!
This gorgeous throw from Occa Home will add a lovely finishing touch to your bed, or a cosy addition to your sofa, and is made of extra soft lamb's wool for long lasting quality.
This lovely aqua coloured shower curtain from John Lewis will add a touch of the ocean to a boring bathroom, with a mosaic inspired pattern of cream and turquoise dots.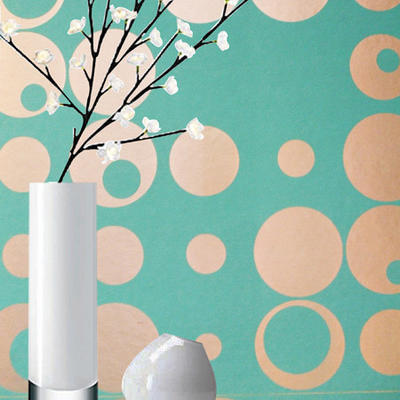 Wallpaper
Have fun with your walls with a boldly printed wallpaper. This retro circles wallpaper from Oliver Bonas has an almost psychedelic 1960's feel to it with the bold turquoise and silver print. For those of you wary about incorporating such an eye catching pattern into your home, try just wallpapering the main wall of your room then using a plain complementary colour on the remaining walls.
Wall stickers are another great way of introducing a hint of pattern to the home. These circle tile stickers from Spin Collective are a quick and easy way of adding a touch of excitement to the tiles in your kitchen or bathroom, and can even be used inside your shower cubicle.
Furniture
A quirky way of reflecting spots in your furniture, rather than choosing pieces that are plastered in pattern, is to select round items that will be complemented by the round spots on your soft furnishings or walls. A round coffee table is a great place to start as there are lots to choose from, and a round bed might be a step too far in the retro direction! This <a href= "http://furnish.co.uk/items/109464-deco-mirrored-venetian-round-coffee-table">mirrored coffee table from Alexander and Pearl will add an extravagantly chic touch to a living room.
For those of you that prefer your furniture choices to be more subtle, or who simply love spending time relaxing in the garden, this metal outdoor chair from John Lewis has a lovely ring design moulded into the back of the chair.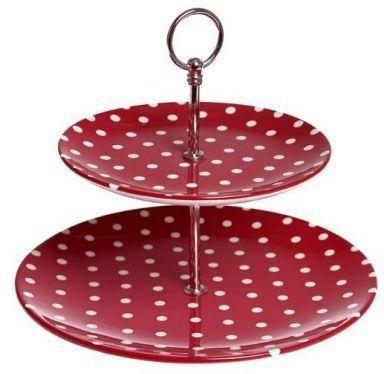 Accessories
With the shabby chic look still hugely popular within interior design, there is a wide range of retro polka dot accessories available for your home. For any avid bakers, or avid cupcake eaters, this spotted cake stand from Lover's Lounge is perfect for displaying yummy treats for afternoon tea. For other matching accessories, check out the rest of the Lover's Lounge range.
For a more contemporary accessory, and a very stylish alternative to the standing coat rack, this <a href="http://furnish.co.uk/items/14315-multi-spot-coat-rack"multi-spot coat peg from Rockett St George has five hangers made up of multi-coloured spots, to brighten up the hallway.
Flooring
A great way to brighten up your flooring with ease is to add a patterned rug. This sorbet spot rug from Great Little Trading Company will add a pretty touch to a little girl's bedroom, and is made from 100% wool to ensure durability so the little one's can play for hours on it.
This fun fun door mat uses bright circus colours in blue, red, green and yellow for a bold and colourful entrance to the home!
If you're looking for a way to liven up your home, then spots could be the perfect choice. Whether you like bold multi-coloured prints inspired by the playground, cute and kitsch polka dots, or psychedelic circles, there is a great range of spot print products to choose from. Have fun introducing them to your home!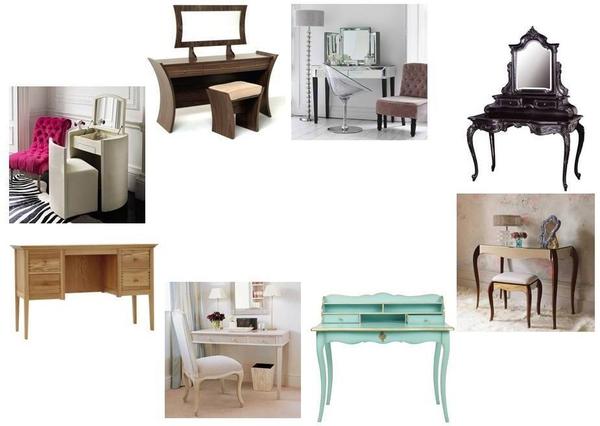 Pamper yourself in style with this selection of stunning dressing tables.
Add a touch of glamour to another dreary Monday morning, by preparing for the week in style with a gorgeous dressing table! This luxurious selection is sure to transform an everyday bedroom into a glamorous boudoir; making getting ready a truly pampering experience. From classic oak designs, with enough draw space for your other half's grooming products, to seductive black mahogany tables that are sure to make a statement, there's sure to be the perfect dressing table for your home so go ahead and spoil yourself!
Clockwise from left: Round Faux Dressing Table & Stool from Graham & Green, £675. Embrace desk/ dressing table from Tom Schneider, from £1,598. 50's Style Mirrored Dressing Table from Graham & Green, £300. Sassy Boo Grande Black Dressing Table from The French Bedroom Company, £735. Amelie Dressing Table from Graham & Green, £425. La Table de Rouen from The French Bedroom Company, £495. Malmo Dressing Table from OKA, £499. Esprit Dressing Table from John Lewis, £499.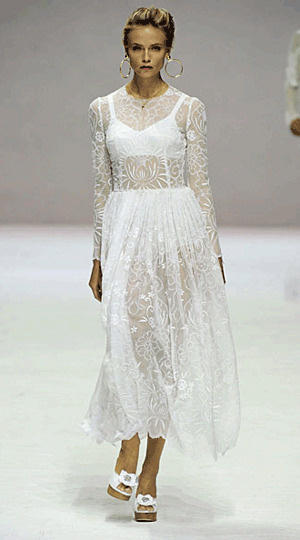 Lace is set to be huge this Summer, so add a touch of romance to your interior with delicate frills.
Lace looks set to be hanging around for another season but, unlike many of the Winter collections, this time around it's less gothic and more Little House on the Prairie; think soft colours, floating fabrics and feminine shapes. Luckily, for those of us who don't feel entirely happy about the prospect of leaving the house in such delicate garments, lace is a trend that translates beautifully to interiors!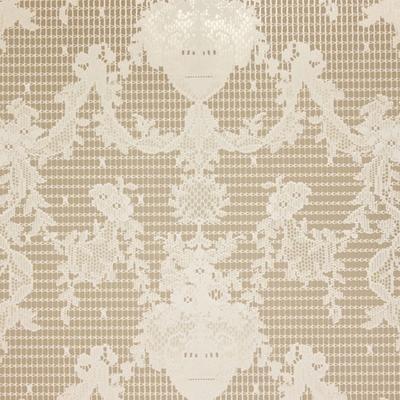 Lace wallpaper makes an eye catching feature of otherwise boring walls, and can transform a bedroom into a girly boudoir or a living room into a luxuriously grown-up space. This lace wallpaper from Occa Home is beautifully chic, and comes in a variety of colours. For those of you that prefer an even more dramatic look, their embossed vinyl version is a darker, even more sophisticated, version and featured in Carrie's apartment in Sex and the City 2!
Curtains are also a great way of making an impact, and help to add some excitement to your windows. Traditional net curtains are widely available on the high street in a variety of lace designs, and are great for adding a delicate vintage touch to your home. Rockett St George has taken inspiration from those classic designs, and created a stunning range of lace curtains with a contemporary twist. Available in a variety of colours, including hot pink, aubergine, blue and ivory, these antique style curtains are sure to create a beautiful effect at any window.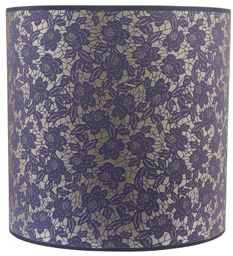 If you're not feeling brave enough to embrace a full-on lace print wall, there are plenty of lace inspired accessories to add a touch of the trend to your home. This indigo lace lampshade from Heal's has delicate lace cutwork that will add a feminine touch to any room of the house. For a more quirky way to light the room, this lace pendant lamp from Occa Home uses bold cut out effects, with a an unusual lace-up detail at the side.
For those of you searching for a unique take on the trend, or for those that simply like to have something cute to snuggle under during the cold evening, this lace felt throw from Room39 uses a precision die cut lace pattern for a geometric approach to lace.
Whatever your taste, be sure to embrace your feminine side this season to enjoy a chic summer at home.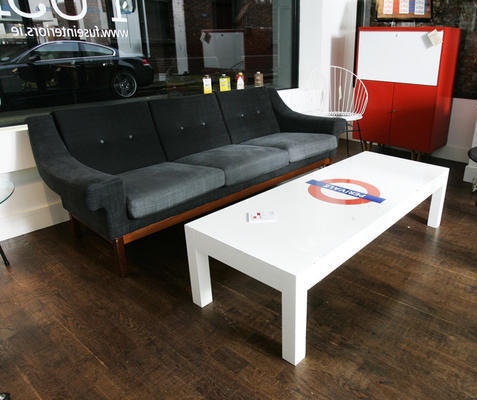 Love the capital with this London Underground Coffee Table from FUSE Interiors. £595
With the Royal Wedding less than a fortnight away and with just over a year to go to the Olympics, the world has somewhat turned its attention to London.
Being a proud Londoner (and a slightly biased one at that) I can't wait for everyone else to find out what I've known for years. London simply is the best city in the world.
And you can keep your Milan and Paris too as London is starting to be recognised as a hotbed of talent when it comes to interior design.
Take FUSE Interiors for example who are based in North London, they take vintage finds and turn them into exquisite pieces for the home.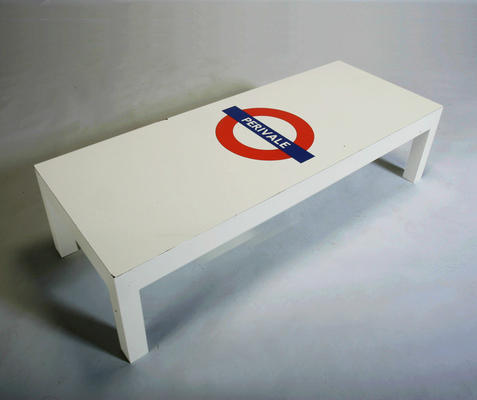 My favourite is this London Underground Coffee Table which is perfect for adding some capital chic to your living room.
The table is made from a reclaimed London Underground enamel sign which has been added to a wooden base painted white.
It's sure to be a real talking point not least because city centre dwellers will be scratching their heads wondering where Perivale is (it's in Ealing and on the Central line incidentally) but remember all the products from FUSE are one-offs, so if you want it, you better be quick.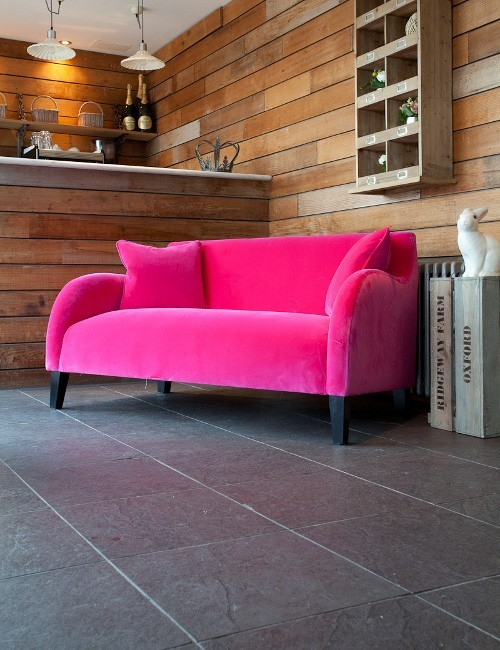 Buying a sofa can seem a little daunting so we've put together a handy guide to help you find your perfect match.
Buying a sofa can seem a little daunting; with a constantly expanding choice of styles, fabric, filling and function the combinations are practically endless. We've put together a handy guide to help you find your perfect sofa.
Planning
Sofas aren't cheap but if properly maintained a good quality sofa will last for decades, so take some time to plan how to make the most of your investment. How will the sofa need to function? Do you have kids or pets that may alter your fabric choice?
It may seem obvious but be precise with your measurements. We have heard a surprising number of tales from design aficionados who found the sofa of their dreams, the perfect size for their space, only to get it home and discover it will not fit through the doorframe. A narrow hallway or doorframe may limit your options unless the sofa can be dismantled or you have another access route.
Many suppliers recommend laying out the space that your chosen sofa will occupy with sheets of newspaper to get an idea of how it will function with other pieces of furniture. In a spacious room, a grand sofa can act as a focal point as well as a functional item of furniture, but it is worth considering two smaller sofas if your living room is smaller as this can provide the illusion of more space.
Sofas, like mattresses, have a range of fillings and firmness. If you like to curl up on the sofa, consider feather-wrapped foam cushions, which are soft and comfortable. Foam filling is generally firmer but will maintain its appearance and shape to give a more tailored look than feather cushions. It is worth bearing in mind that foam is also ideal if you have allergy sufferers in your family. Fibre, or foam with a fibre wrap, may be the perfect compromise for your home, providing a softer look but with the durability of foam.
As well as the dizzying choice of fillings, there is also the task of fabric choice for your sofa: tightly woven fabrics will wear best, leather is durable and available in a number of finishes, Alcantara is an easily maintainable man-made microfibre and perfect for busy households. Do be aware that direct sunlight can cause sofas to fade and appear worn, so avoid darker colours if you can't avoid positioning your sofa in sunlight.

Corner sofas
If you want to make the best use of your available space, you might want to consider a corner sofa. Also referred to as modular sofas, many suppliers offer a range of seating combinations to suit your lifestyle and maximise corner space that may otherwise be wasted.
A simple, timeless corner sofa like the Hay Mags Modular Sofa from Utility, is perfect for those who like to stretch out. The sofa has no detachable cushions, making it supremely flexible as cushions and blankets can be moved around and changed to freshen up the look.
Contemporary sofas
Contemporary sofas are perfect for smaller spaces as they often have narrower arms, to give the illusion of a more compact piece, and one or two cushions provide a clean, modern look.
A modern sofa is the perfect canvas to inject a burst of colour into a space. Alternatively the clean lines of a contemporary sofa, such as Madame Coco from Sofa Workshop, is ideal to showcase a quirky pattern.
Nod to mid-century design by choosing a sofa with simple legs, such as the Barbican Medium Sofa from John Lewis.

Classic sofas
Classic sofas are perfect for adding a touch of functional luxury to a room. They generally command a larger space than more contemporary styles due to traditional design features such as three seat cushions and rolled arms. However don't let this put you off, as classic sofas are often analogous with comfort and look good in just about any space. Two smaller classic sofas may provide more flexibility in a smaller space, such as the Miss Firefly sofa from Sofa Workshop which is available in over 2200 fabric and leather choices and, helpfully, has removable arms for delivery.
If you're really pushed for space, or need a small but exceptionally comfortable sofa for a study, consider the Louis Compact sofa from Habitat.
Iconic Chesterfield styles make an extra impact when given a fresh twist with bright or luxurious fabrics, such as the Lush Black Velvet 3 Seater Chesterfield from Sweetpea and Willow. Alternatively try a classic French style, such as the Parisian French Settee from Alexander and Pearl, which looks chic but unfussy in hardwearing linen, perfect for a neutral bedroom.
Sofa beds
If you need a sofa that really justifies the space it occupies, opt for a sofa bed. Ideal for studies or spare rooms sofa beds have come a long way since the days of creaky, lumpy contraptions that sprung startlingly from not particularly comfortable sofas.
It is worth considering how much the sofa bed will need be used for either function. Sofa beds predominantly come in either hinged foam, for lighter use, or mattresses, which may be more suitable for a sofa that may be used more often as a guest bed.
For a small space, such as a study, the Louis Compact Sofa bed from Habitat has a 15cm mattress suitable for everyday use as well as being a supremely comfortable reading chair.
With such an extensive choice of sofas, in a cacophony of styles, upholstery and colours, you are sure to find one to suit you.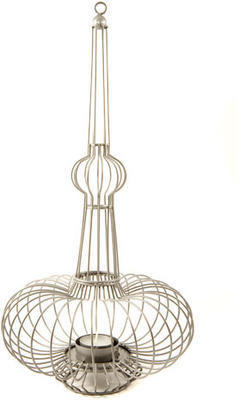 Add some drama to your garden with this Small Silver Tealight & Candle Cage from Lemonlu London. £21.50
Once my lovely little garden is back to looking it's best, I'm planning lots and lots of garden parties – weather permitting of course.
And because I want my garden parties to go long on after the sun has said goodbye for the day, it's essential I get my garden lighting right.
Top of my list is this Small Silver Tealight &Candle Cage from Lemonlu London.
You simply slot a tealight or candle into the base of the cage and hang from a tree or fence post to add some atmospheric light to your outdoor space.
I'm going to invest in a few and hang them from my cherry tree to create a real focal point in the garden. Where will you hang yours?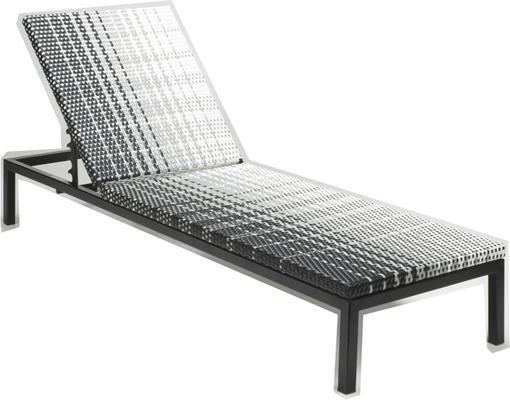 Sit back and relax in retro style with this Gradient Garden Furniture from John Lewis. From £399
We don't usually shout about the big boys in our Fab Finds. We figure they're well enough known and that this is the space for designers and products you might not normally see or know about.
However, when we saw the simply amazing Gradient garden furniture from John Lewis, we had to bend the rules slightly.
You see, we love this range of furniture so much, we just simply had to share it with you.
When a friend showed me snaps of the collection, I promise, hand on heart, I asked if they'd be to TENT London because I assumed it was by some up and coming designer.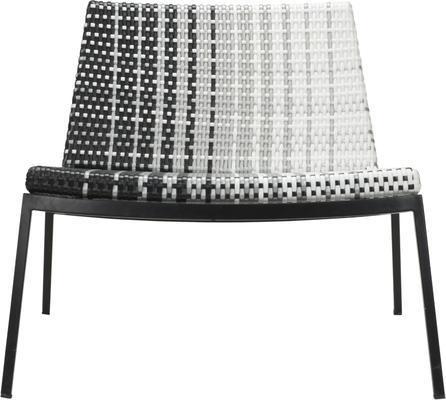 This fabulously retro collection consists of three pieces; a sunlounger, two seater sun lounger and a lounging chair. Crafted from woven polyethylene, these monochrome beauties start off black before becoming white, hence the name Gradient.
All of the pieces are low slung, with the emphasis very firmly on lounging and soaking up the sun's rays.
If you hadn't gathered already, I absolutely adore it and think it will be turn even the smallest of outdoor spaces into a designer garden.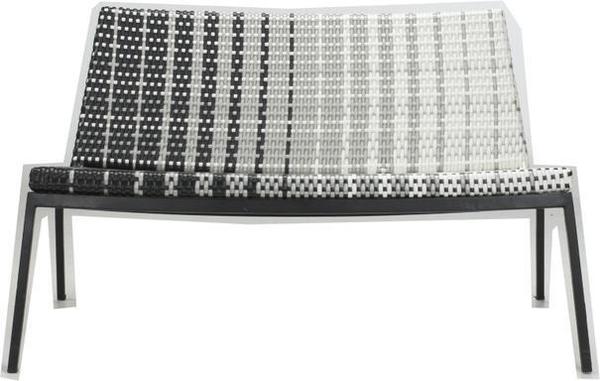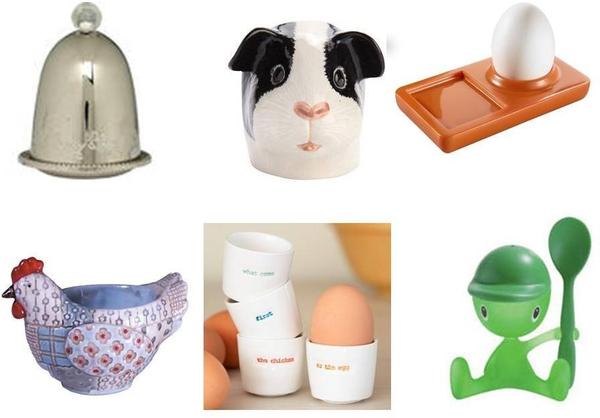 With Easter less than a week away, we show your our pick of the best eggs cups around
So Easter is almost upon us which means it's time to stuff your face with chocolate eggs and bemoan the over indulgence when you survey all the empty wrappers and boxes.
Easter can be a mean time for those watching their waist line so as we don't actually have an chocolate Easter eggs here on Furnish, we've decided to show you our pick of the best egg cups.
Whether you like yours soft boiled or as hard as nails, there's an egg cup for you. From stylish silver and quirky animal faces to designer options, there's something for everyone.
From left to right: Silver Plated Egg Cup With Lid from Oliver Bonas, £13; Guinea Pig Face Egg Cup Quail from Liberty, £10.95; eiPott Plastic Egg Cup by Koziol from Pelican Pear, £7.20; Patchwork Chicken Egg Cup from The Contemporary Home, £5.99; 'What Came First' Egg Cups – Set of 4 from Primrose & Plum, £15; Alessi Cico Egg Cup & Spoon Green from Heal's, £10.50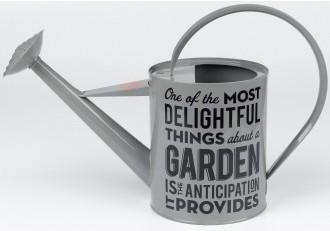 Water your garden the stylish way with this Thoughtful Gardener Watering Can from Bloomsbury. £34.95
Since my Dad retired nearly five years ago, he's become a gardening nut.
Our conversations in the summer are mostly made up of how well the azaleas are doing and if a picture message from him pops up on my phone, I can almost guarantee it's a picture of a plant.
This is in stark contrast to someone who when working the rat race used to poo poo the benefits of gardening – how times change.
So, it's no surprise that I'm always on the hunt for quirky gardening gifts for him.
This Thoughtful Gardener Watering Can from Bloomsbury is just the ticket. Large enough to water masses of blooms at a time, it's super stylish too and come with a very insightful message.
Also available is the matching String In A Tin Holder which keeps string neat and tidy and to hand.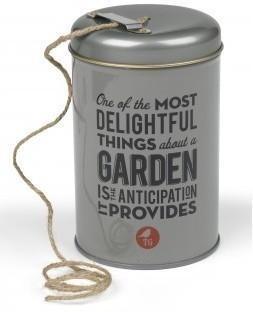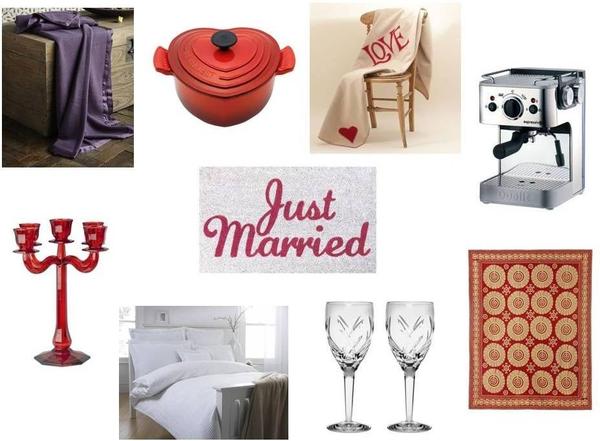 With the Royal Wedding nearly upon us, we've selected some gorgeous gifts for the happy couple!
Weddings are joyous occasions, and the joining of two individuals in matrimony is certainly a cause for celebration. However, finding the perfect wedding gift for the happy couple can be anything but blissful! To take the stress out of the wonderful event we've selected some lavish gifts, that we're sure even Kate and Will would be pleased with! From luxurious cashmere throws to elegant crystal wine glasses, these gifts are the perfect way to say congratulations.
Clockwise from left: Lombok Cashmere Throw In Mulberry from Lombok, £165. Le Creuset Cast Iron Heart Shaped Casserole Dish 18cm Red from Heal's, £99. Jan Constantine Love Throw – cream from Occa Home, £117. Dualit Espressivo Espresso Machine Range from Heal's, £180. Cimkent Rug (244×305cm) from OKA, £1,125. Waterford Crystal John Rocha Signature Small Wine Glass from John Lewis, £75. Richmond Organic Cotton Pleated Duvet Cover from The Fine Cotton Company, £100. Riedel Ravello Red 5 Arm Crystal Candelabra from Heal's, £325. Just Married Doormat from The Contemporary Home, £22.99.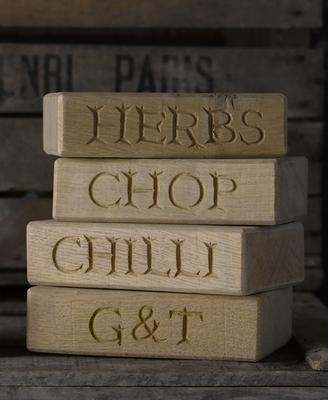 Chopping won't be a chore with these cute Mini Chopping Boards from Also Home. £32
It's often the simplest of ideas that are the best as these Mini Chopping Boards from Also Home adequately prove.
I can't be the only one who nearly breaks their arm hauling out a massive wooden chopping board so these Mini Chopping Boards from Also Home are just the thing for me.
Made from sustainably sourced Oak, they come in five variates, designed for chopping everything from garlic to chilli.
I particularly love the G&T one…wonder why that is…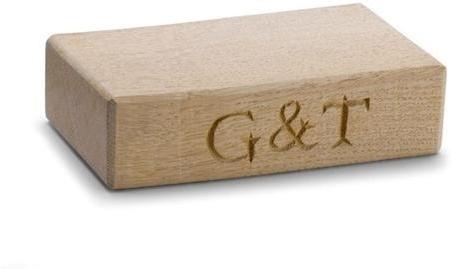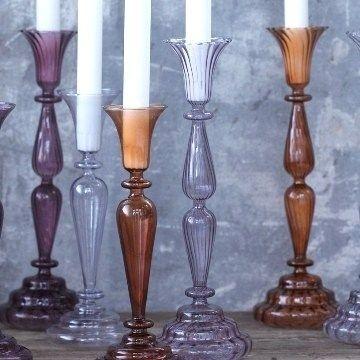 Add some style and colour to your mantelpiece with these Ribbed Coloured Glass Candlesticks from Primrose & Plum. £14
I have a thing about candlesticks, much like I have a thing for cushions, chairs, rugs….
…oh ok, we all know by now I'm an interiors nut but I really do love candlesticks.
My favourite one is a gorgeous, twisted iron one that's been handed down through the generations in my other half's family. It now takes pride of place on our dining room table.
I also love these Ribbed Coloured Glass Candlesticks from Primrose & Plum. Available in Amber, Lavender and Damson, they're just the thing to bring some style and colour to your scheme.
Line them up on a mantelpiece or group several of them together on a dining table for an instant touch of chicness.