Features: May '11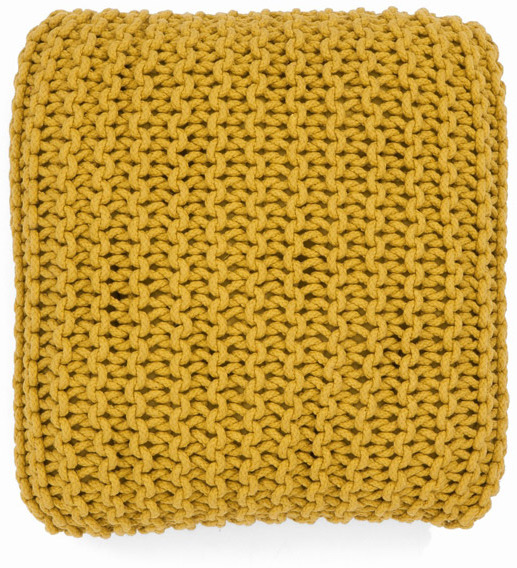 Get comfy on a Knitted Floor Cushion from 95% Danish
There is something enduringly charming about this particular, rather retro and librarianesque, shade of mustard yellow. It manages to be bright and cheery without being gaudy, and what's more it looks fantastic with a host of colours from charcoal grey to cobalt blue.
Coupled with a chunky knit, these floor cushions from 95% Danish are endearing yet still 100% stylish. They'd be just perfect stacked up in a corner of the living room for added comfort or impromptu casual seating.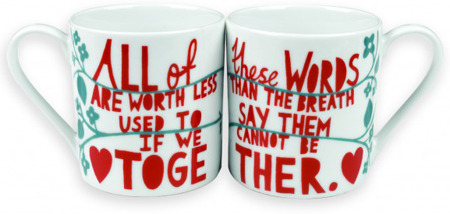 Toast the happy couple with these adorable Rob Ryan Mugs
Living round the corner from Rob Ryan's studio and only stand-alone shop it's been wonderful to see his uniquely beautiful paper cut work becoming more widely available and, even better, reworked onto functional everyday products.
With wedding season truly upon us, what better small gesture for the happy couple than these gorgeous Rob Ryan His 'n' Her Mugs from Graham & Green. Between them, the mugs spell out 'All these words are worth less than the breath used to say them if we cannot be together'. Aww.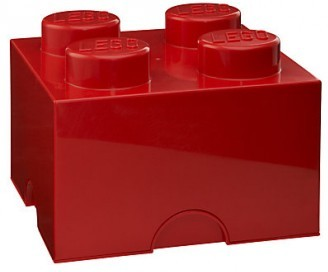 Indulge in a little nostalgia with the Lego 4 Stud Storage Box from Bloomsbury. £14.95
I have fond memories of playing with Lego as a child; in fact it was one of the few toys that received more attention than its cardboard box on Christmas and birthdays.
However, as an adult, my contact with those little plastic bricks has largely been confined to painful experiences of stepping barefoot on stray pieces that my little nephew seems to scatter around the place when he visits.
These chunky Lego storage boxes from Bloomsbury are a perfect way to bring this Danish icon into your home in a perfectly grownup way. Of course you could use it to store the kid's toys, but we think they'd make colourful storage for a contemporary study. What's more they come in a range of sizes that can be stacked, or built, as you please.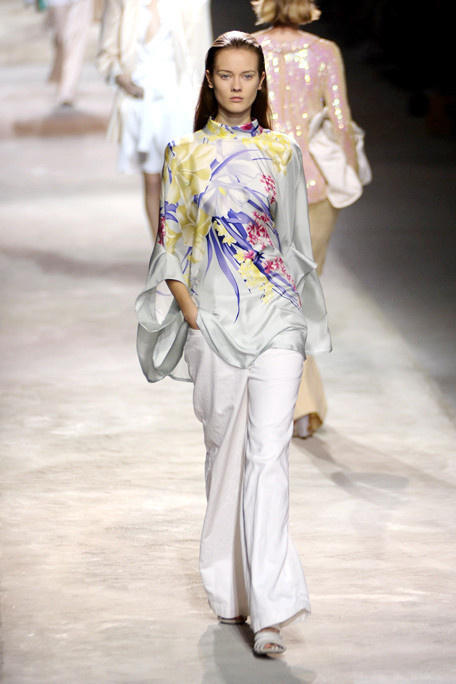 Infuse your home with Eastern influence by channelling the Oriental trend.
Forget gaudy combinations of red and gold often associated with questionable Chinese restaurants; these days the Oriental trend draws influence from a range of sources to give stylish and workable interiors inspiration. Comprising Japanese, Chinese, Vietnamese and Korean traditions, amongst others, Asian style has been identifiable as an influence of Western décor for centuries. The ball and claw foot, for example, was inspired by a Chinese motif, and small touches like this are ideal for adding subtle Oriental references to your home.
Asian design has a heavy focus on texture and is often either smooth and shiny, for example lacquered wood, or highly tactile like bamboo, raw silk, paper and jute. This striking set of Rectangular Lacquer Boxes from OKA make a perfect Oriental inspired storage solution, and are a great contrast against rougher textures and muted colours. Plus red is the colour of good luck and happiness in China!
Cushions are perfect for adding an Eastern feel to a bedroom or living room. Opt for luxurious silks hand printed using traditional techniques for an opulent feel, such as Clarrisa Hulse's Potentilla Chilli and Zinc Silk Cushion from Heal's. Alternatively try this ginkgo leaf inspired Florence Broadhurst Japanese Floral Cushion from John Lewis.
Whilst sumptuous silks may not be appropriate for the floor, there are plenty of Asian inspired rugs. This Calvin Klein Lustre Wash Rug from John Lewis, has a special lustre wash that gives it an subtle patina reminiscent of Oriental watercolours, and is handcrafted from soft New Zealand lambswool.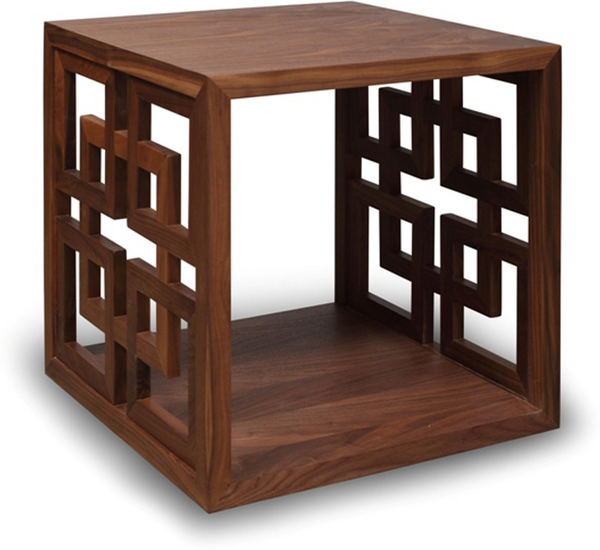 Orchid Furniture is a fantastic place to look for Eastern inspired contemporary furniture. They stock a wide range of dark wood furniture with simple lines and an uncluttered appearance, such as this Bedside Cabinet, constructed from mid-brow American walnut for an elegant appearance. Another contemporary take on the Oriental trend comes in the form of the Vitra Butterfly Stool from Utility. Designed by Sori Yanagi, the Butterfly Stool blends Eastern shapes with the plywood shaping technique developed by Charles and Ray Eames and comes in two finishes – Maple plywood or Palisander plywood.
Whilst black and red are synonymous with Oriental décor, the look can be achieved more subtly through the use of neutrals and muted Asian inspired paint colours, such as jade greens and bluish greys. These colours provide a more modern feel and create striking contrast against dark wood or lacquered furniture. Screens elaborately painted with Chinese inspired scenes are another way to bring Eastern inspiration to wall spaces, but a more minimalist effect can be achieved with this Cocostick Screen from Puji. Beautiful as well as functional, it can be used as a room divider or to add interest to a drab corner of the room.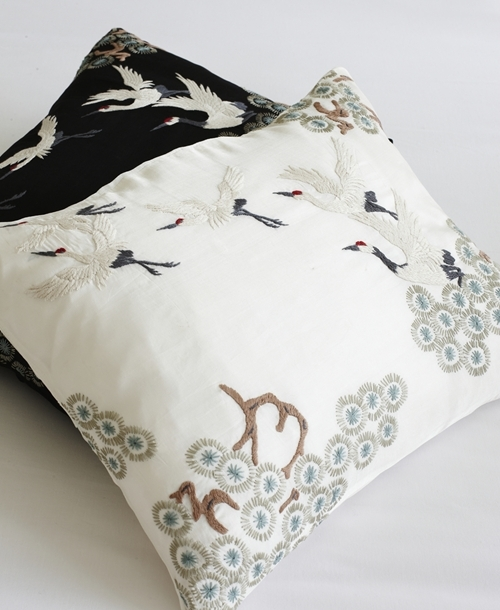 Perhaps the easiest way to add an Oriental feel to your home is through accessories. Lanterns are synonymous with Eastern culture, but this Chinoiserie Lampshade from OKA, hand painted with antiqued Chinese scenes on a dark background, is an understated way to channel the trend in just about any setting. Alternatively opt for traditional Oriental materials, with contemporary functional uses, such as this Bamboo Hang On Magnetic Memo Board from Heal's. Tea is an ancient Eastern tradition, so naturally kitchenware is also an ideal way to add some Oriental influence. Japanese porcelain has been imported into Europe for centuries, much of which came from Arita/Imari, in Nagasaki. We love this Small Japanese Porcelain Teapot and Set of 4 Japanese Porcelain Tea Cups, from Lemonlu London. This range of porcelain comes from nearby Hasami and the designs are taken from Edo-Komon, elaborately dyed kimono fabric.
With any luck this selection of Eastern influenced products will have provided some ideas about how the Oriental trend can be worked into your home in a subtle and stylish way. So even if you don't have a luxury holiday to Asia booked this summer, you can still be surrounded by the opulent simplicity of Oriental décor in your own home.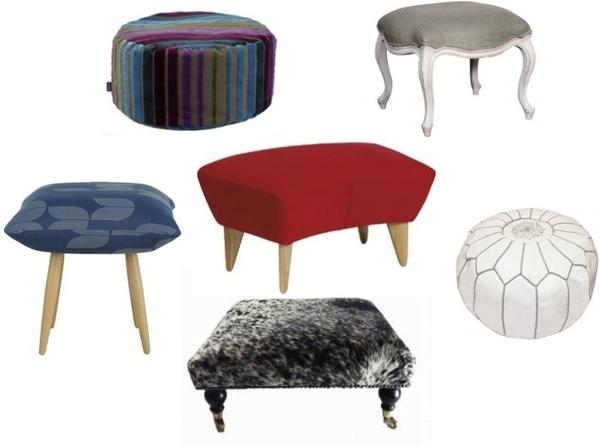 Put your feet up with our pick of the best ottomans.
No matter how comfortable your sofa or armchair, there are very few living rooms that can't be improved by the addition of an ottoman; nothing beats properly putting your feet up at the end of a long day. Perfect for relaxing, footstools can also make nifty extra seating when you have a full house.
They needn't be an exact match to your existing furniture. Try opting for either a similar style with a contrasting fabric or a contrasting style with a coordinating fabric for a quirky yet considered look.
Clockwise from left: NAOKO Footstool, £160, from Habitat, Designers Guild Moyka Pink/Turquoise Stripe Bean Drum, £150, from Heal's, Chateau Linen Footstool, £194.50, from The Orchard, Moroccan Leather Pouffe, £105, from Coco Male, Black &Grey 2ft x 2ft Footstool, £250, from London Cows, Content by Conran Matador Footstool, £345, from A White Room.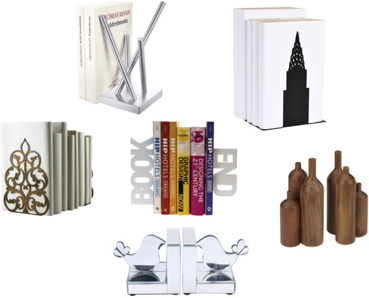 Check out our pick of the best bookends!
Bookends are perfect for keeping books tidy whilst adding interest and character to your bookshelves. They also make the perfect gift for the bibliophile in your life!
Try using them to display your favourite design books separate from other the books on your shelf. Alternatively, use bookends to make use of spare surface space - ideal if you want to finally get around to reading that book that has been sitting on your bookshelf for months.
Clockwise from left: Brass Bookends, £69, from OKA, Single Atlas Bookend by Zack, £42, from Heal's, Chrysler Building Bookend, £18, from Utility, Botella Bookends, £112, from Utility, Venetian Glass Bird Bookends, £29.50, from Bombay Duck, Book-End, £19.99, from Soulful Toaster.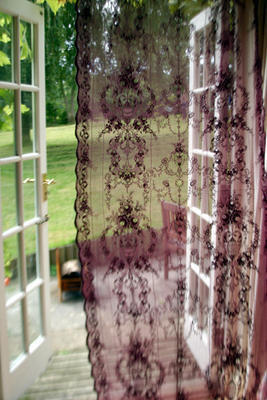 Add style to your windows with these Vintage Inspired Lace Curtains from Rockett St George. £130
I hate net curtains and when I say hate, I mean despise them that much I won't allow them in my home.
However, without them opening curtains in a bedroom at the front of my flat is a bit of a no no, which means I've been on the hunt for an alternative for quite sometime.
And luckily for me and any one in the same predicament, I think I may have found just the thing.
These Vintage Inspired Lace Curtains come in an array of colours, feature a pretty vintage design and scalloped edge and make the perfect alternative to boring net curtains.
For a really bold statement, try layering different colours at your window.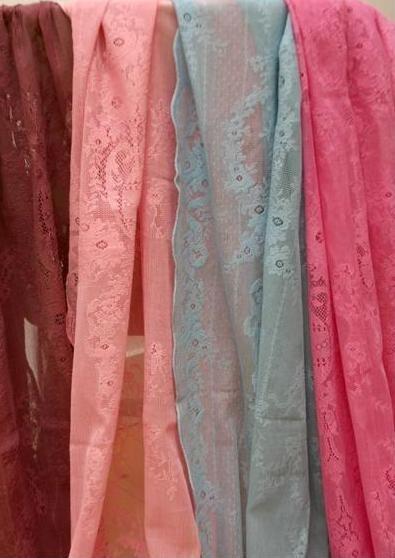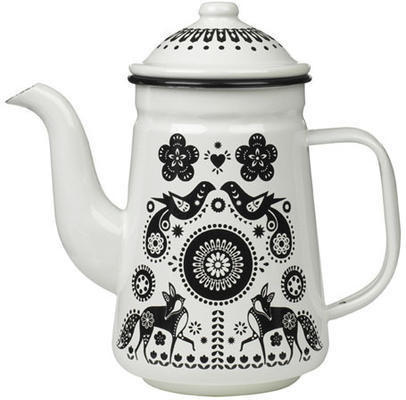 Tap into one of the hottest trends around with this Folklore Tea/Coffee Pot from Hunkydory Home. £14.95
A backlash to the austere and contemporary, Folk has well and truly staked its claim as one of the hottest trends of 2011.
Forget bland and parred back, it's time to let colourful, clashing patterns and patchwork into your life.
This Folklore Tea/Coffee pot from Hunkydory Home offers the perfect way to tap into the trend without breaking the bank.
Featuring a traditional folk design, I love its traditional shape. Not a tea or coffee drinker? Then just remove the lid and use it as a vase for wild flowers.
I also love the fact its made from enamel makes it the perfect partner for a camping trip, just don't forget your stove!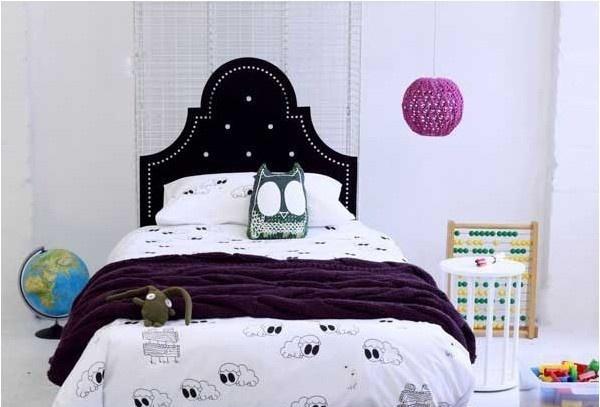 Colour sheep in instead of counting them with this Sheep Colour-in Bedlinen from Room39.From £35
Counting sheep has long been a traditional pastime for insomniacs but those clever peeps at Room39 have devised a far better way of visiting the land of nod.
This Sheep Colour-in Bedlinen is made from high quality cotton and features a delightful sheep cartoon design.
Cute enough you'd think but the set also comes complete with four fabric pens which allows the owner to colour in the design to create a truly bespoke bedlinen set.
Perfect for persuading little ones it really is bedtime, they can colour the sheep until their hearts content and they've finally nodded off.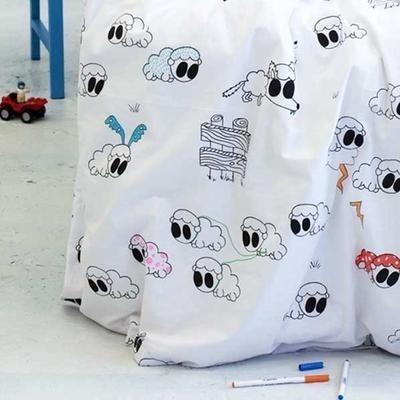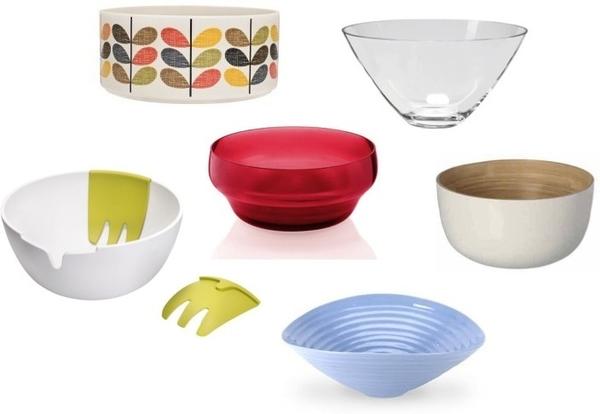 Seize the salad days with our pick of the best salad bowls.
Salad bowls are perfect for indoor or outdoor eating and are also fantastic for serving pasta salads. For real practicality and space saving, try Joseph Joseph's Hands On Salad Bowl, which comes with salad servers niftily molded into the shape of the bowl so they're always ready to be used.
If the weather turns, and the dream of long alfresco dinners turns out to be a rather damp one, then they also make stylish fruit bowls!
Clockwise from top left: Joseph Joseph Hands On Salad Bowl and Servers from John Lewis, £27. Orla Kiely Medium Salad Bowl from Bloomsbury, £26.95.LSA Iona Salad Bowl from Occa Home, £39.50. Bamboo White Salad Bowl from Coco Male, £23.50. Forgetmenot Portmeirion Large Salad Bowl by Sophie Conran from Heal's, £32.50. Guzzini Gemme Salad Bowl from Red Candy, £19.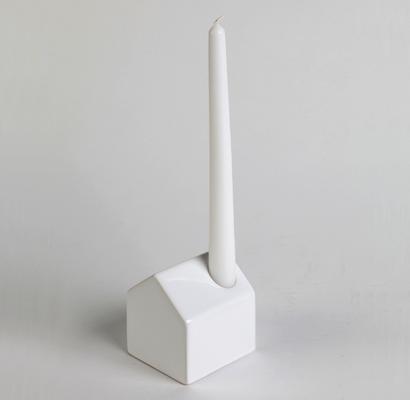 Add an atmospheric glow with this House Candle Holder from Gifts With Style. £14.95
Sure there are is a plethora of candle holders available but these House Candle Holders from Gifts With Style are some of the nicest I've seen for a long time.
These simple ceramic little houses hold a single candle which will instantly add some atmospheric charm to a mantelpiece or dining table.
Try using one on its own for a "detached" look or line them up to create your very own "terrace" which will make a stunning yet simple centrepiece.
They also make the perfect housewarming gift.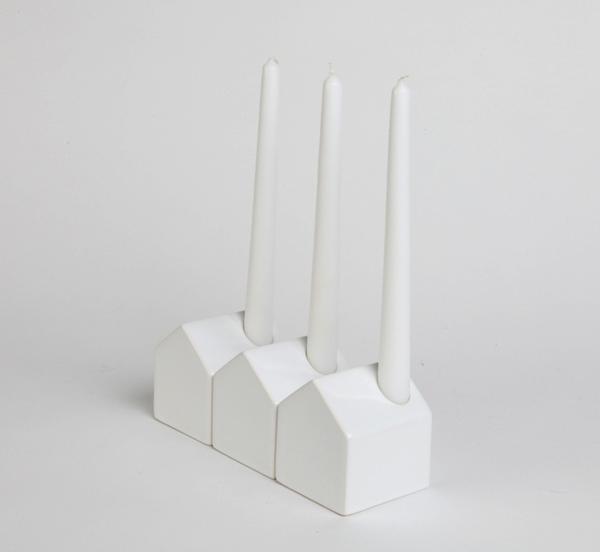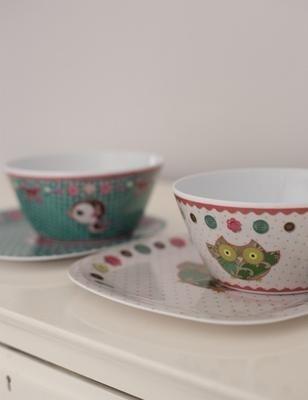 Treat your little ones to a stylish supper with this Childrens Melamine Dinnerware from Rose & Grey. £3.25 each
It's strange the things you don't think about when you don't have little ones of your own.
My friend gave me a distinctly odd look when she asked for a bowl for her little girl to eat from and I handed her a china one. I got "your clearly not a parent" and "hope you don't like that bowl too much because it could end up smashed" looks.
In hindsight it was, for want of a better word, a bit thick to assume a china bowl was the ideal choice for a two-year old. Bearing this in mind, I made myself a promise that the next time my little guest dines with us, she'll have something more practical to eat from.
This Childrens Melamine Dinnerware from Rose & Grey is just the ticket.
Available in two designs, owls or birds, and is available as a plate or bowl, it's stylish without being fancy and practical without being dull.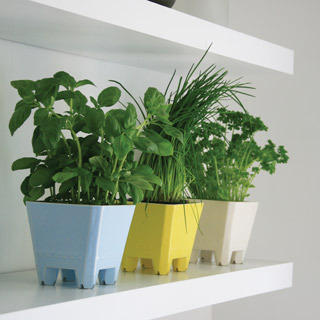 Add a touch of seaside chic to your home with these Sandcastle Bowls from Caroline McGrath. £21
Ah summer, time to spend long, hazy days in the garden or even better at the beach.
It would seem none of us grow out of building sandcastles, even me! Much to my other half's dismay, each holiday I ask for a bucket and spade, a request that's usually met with a large sigh and the promise of a handbag instead.
This year that doesn't matter as instead of plotting intricate castles and moats a princess would be proud of, I can indulge my love of buildings made from sand with these Sandcastle Bowls from Caroline McGrath.
Made from porcelain and available in blue, white and yellow, these bowls are perfect for adding a touch of the seaside to your home.
I'm going to use mine to serve individual salads in but they also make the ideal place to store fruit or pot herbs.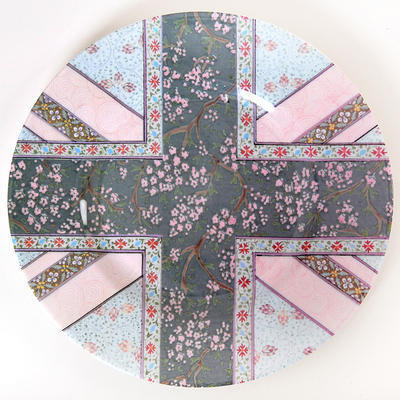 Fly the flag in style with these Union Jack Plates from Lifestyle Bazaar
Is it just me or is there a distinct feeling of patriotism in the air at the moment? It started with the Royal Wedding when even the most hardened Republican's I know couldn't deny that "she" looked stunning and that "we" do all the pomp and circumstance rather well.
It looks set to continue too, with the Olympics around the corner and her Maj celebrating 60 years on the throne next year.
Love it or loathe it, you can't deny that it's had an effect on interiors.
These Snowden Flood Union Jack plates from Lifestyle Bazaar offer the perfect way to indulge without being over the top.
The famous flag has been given a makeover swapping bright for subtle and block colour for a delightful mix of vintage-inspired patterns.
Of course they're the perfect thing to serve cucumber sandwiches and delicate cakes on but will look equally fabulous displayed on a plain wall.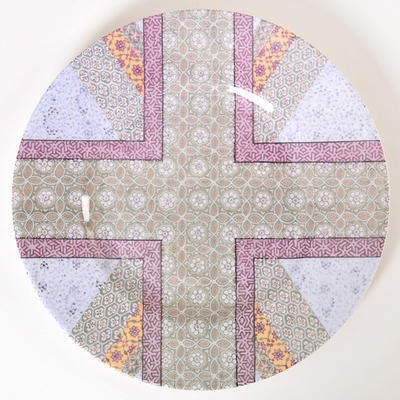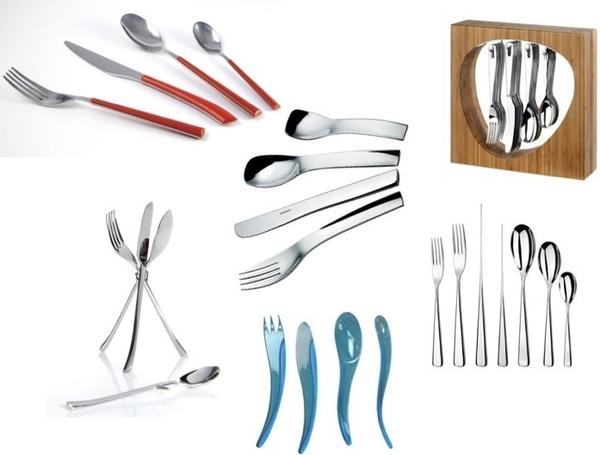 Bring style to the dinner table with our pick of cutlery
If there is one piece of tableware that is worth investing in then it's cutlery – after all it gets used everyday! Quality cutlery sets speak for themselves as they often feel noticeably more weighty and balanced in the hand.
Opt for something that complements your lifestyle but that is also clean lined, as these styles are least likely to go out of fashion and will prolong your investment. Don't worry about whose turn it is to wash up as many sets are crafted from stainless steel they are also dishwasher safe, so practical as well as beautiful!
Clockwise from left: Bugatti Red Cutlery Set from Gifts with Style, £74.95, Studio William Mango 24 Piece Cutlery Set from Heal's, £95. Studio William Karri 7 Piece Boxed Place Setting from Heal's, £40.50. Alessi Zlin Blue Cutlery Set from Heal's, £7. iD by Bow-Wow from Lifestyle Bazaar, £59.95. Guzzini Groove Cutlery Set from Occa Home, £161.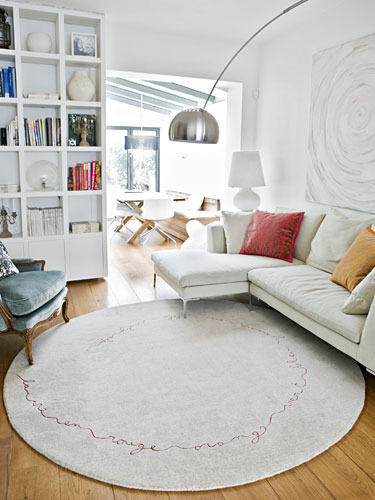 We interview interior architect, designer and owner of Alp, Annick L Petersen.
Swiss born interior architect, Annick L Petersen, runs design studio Alp from her base in London. Having worked in residential, hotel and furniture design for more than 15 years, Annick now designs a contemporary range of furniture and accessories that combine functionality and classic style as well as offering a full interior design service.
We caught up with Annick to find out the inspiration behind Alp, and what's next for the studio…
What made you decide to create the brand and what was your first design?
It started when I was looking for a coffee table for our living room and couldn't find what I was looking for, so decided to design one and my husband and I built it. It was the rectangle coffee table with storage for remote controls and magazines.
Where do you take influence from when designing your range?
I mainly design for myself, create furniture, lighting, rugs, etc that I would like to have in my home. I also love Indian design and patterns. I have recently visited Rajasthan and the architecture of forts and Maharaja's palaces were the most beautiful. The intricate marble or wood carvings, patterns, fabric and colours were just amazing. I get inspired by these patterns for my cushion designs at the moment.
Do your Swiss roots have a part to play in the functional and contemporary style of the range?
I am not sure if it is due to my Swiss roots, but I do like simple lines for furniture and if possible some sort of storage. I suppose the Villa Le Lac by Le Corbusier and Jeanneret in Vevey where I grew up was an early influence for me as I visited it a few times. It is a small and simple house that Le Corbusier built for his parents in 1924.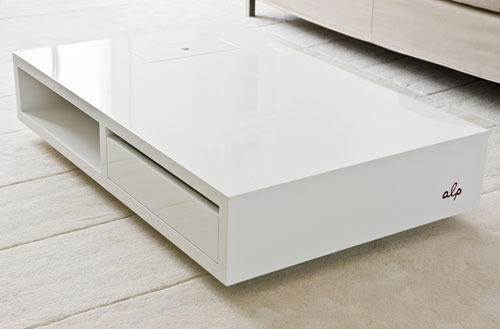 You use fairly ornate prints on your soft furnishings. How do you feel this works within the simplicity of the Alp range?
I love intricate patterns and calligraphy for small items like cushions. I think it gives a good balance with the simple lines of the rest of the range. It is good to mix different styles together.
How does Alp fit in with today's style obsession with shabby chic furnishing, and a more is more approach to accessorising?
Alp has a wide range of cushions, with new designs coming soon inspired by my trip to India.
What draws you to contemporary/minimal interior design?
It is peaceful on the eye and the mind and you don't tire of it. I enjoy simple lines in interiors but also mixed with different styles. I don't think it should all be minimal as it would create quite a sterile environment.
Where does your passion for interior design come from?
I wanted to do something creative from a young age, hesitating between graphic design and interior design. I loved the idea of creating new spaces and making people happy in their environment, being at home, work or travelling.
What do you enjoy about designing interiors for other people's homes?
You have to listen to your client's needs and then suggest ideas, which they might not have thought of. When the project is done, seeing your client enjoying their new environment, is very satisfying.
What is your thought process when creating a space for others?
Take into consideration all your clients' needs and requests and then come up with a solution that will satisfy them and yourself too.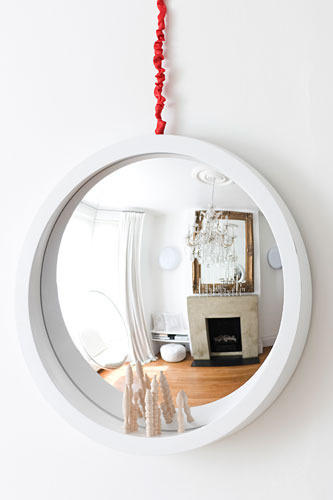 How do you work with your clients to ensure you are creating a space they will enjoy?
It is a close relationship between the client and myself with a lot of meetings and discussions.
Do you prefer designing your product range or designing interiors?
I really enjoy doing both, they both bring me a lot of fulfilment.
What current home interior trends are you inspired by?/What is your favourite home furnishing brand?
I really enjoy the mixture of natural wood finish and lacquer finish as used in my console tables and I have a new product coming up soon following that style. I like Tom Dixon's work, we have his Jack Light, which I still love after all these years. He is always coming up with interesting new designs and materials. I also like the Bouroullec brothers, we have their Algue which has a great 3 dimensional texture. Their designs have beautiful shapes.
What is your personal style at home?
At home, I have a mixture of my pieces, a few designer items, some finds from our travels and markets, some pieces from my grandparents house in Switzerland, so it is very relevant to me and my family.
How would you sum up the Alp style?
The alp style is contemporary, elegant and functional with a bit of fun.
What plans do you have to develop the brand in future?
We have just opened a showroom in Camden, which is great to view the alp range. I am working on new projects for furniture, rugs, soft furnishing, which should be ready soon.
You can find out more about Alp, including the range and Annick's services, by visiting www.alp-design.co.uk.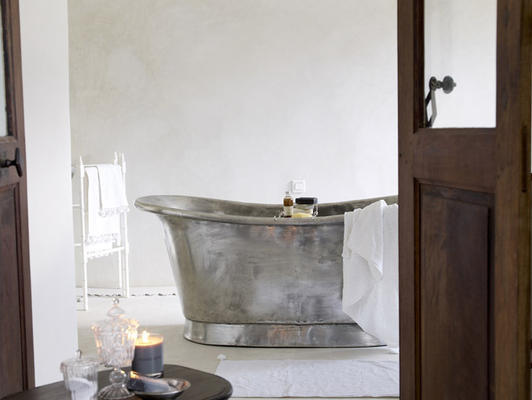 Bathe in luxury with this Free Standing Bath from Brissi. £3,950
Personally, I'm more of a shower kinda gal – I like the idea of baths and all but become bored after about five minutes and find that the water always goes cold quickly.
Of course, showering is more environmentally friendly too but if you refuse to give up your baths then I have found something that will make them all the more luxurious.
Made from copper and finished in tin, this Free Standing Bath from Brissi is a modern interpretation of French bateau baths.
Elegant, sophisticated and show stopping, this bath is a must if you want to create a truly decadent bathroom.
And even I, a resolute quick shower girl could be persuaded to change my habits with one of these.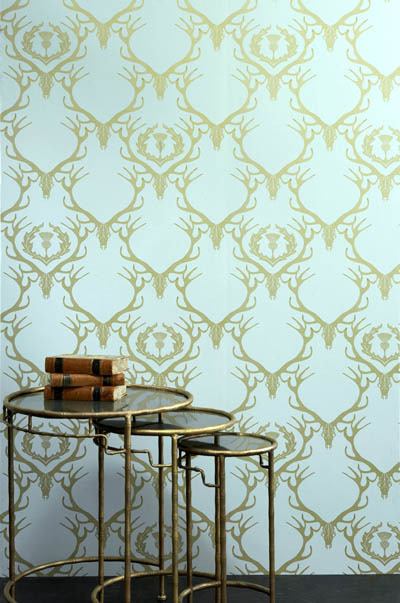 Brighten up your walls with this fabulous guide to using wallpaper in your home.
Planning
Before you begin to wallpaper, it is important that you take accurate measurements of the walls you want to paper to work out how much you will need. It's also a good idea to check that the batch numbers or codes on each role are the same, as there can be slight variations in shades and patterns depending on the time of manufacturing.
Once you're ready to begin make sure that all furniture is removed from the room, of course this is not always possible but it will make your job a lot easier when manoeuvring on a ladder, and spread dustsheets over the floor to protect them. If you are wallpapering the ceiling then it is also advisable to remove any light fittings which might cause an obstacle. Finally, if there is existing wallpaper on your walls then this must be removed using warm water and a scraping knife to strip the wallpaper away; alternatively, buy or hire a steamer which will do most of the hard work for you! If there are any holes on the surface of the wall then use some plaster filler to create a smooth surface.
Installing it
Learning to wallpaper can seem like a daunting task but if you perfect the skill of hanging then you can create a professional finish easily, without the cost of hiring in an expert to do the work for you. To work out how long you should cut each piece of wallpaper, measure the height of your wall and then add on four or five extra inches. This way you can neatly trim the bottom of the wallpaper as it reaches the skirting board for tidy finish. Mix your wallpaper paste following the manufacturer's instructions and coat the strips of paper evenly and generously to prevent peeling; you will need a pasting table to do this.
Carefully fold the piece of wallpaper, concertina style, to make it easier to handle when hanging up. Generally, it is best to hang the first piece in the corner of a room where joining seams will be less noticeable. Hang the paper from the top of the wall and use a paste brush from the centre of the piece towards the edge to prevent bubbles from forming. Don't rush; if you have soaked the wallpaper well then there is plenty of time to work on each piece and prevent mistakes. Repeat this process, considering that you will need to match the pattern with the previous piece depending on your choice of wallpaper.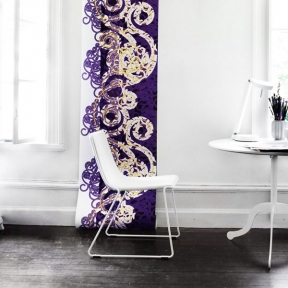 Pattern
Wallpaper is a quick and easy way of adding pattern into your home, and with so many patterns, colours and textures to choose from there is sure to be something for everyone's tastes. This gorgeously luxurious damask wallpaper from Barneby Gates, uses a gold stag skull and thistle pattern on a duck egg blue background for a contemporary twist on the traditional damask style pattern. Similarly, this stunning westwood wallpaper from Bodie and Fou uses a baroque inspired serpentine design with a colourful punk inspired twist.
Patterned wallpaper is also a great idea for children, as it can add some real excitement to their bedroom. 95% Danish have some great options that are extremely durable with a wipe clean surface; perfect for sticky fingers!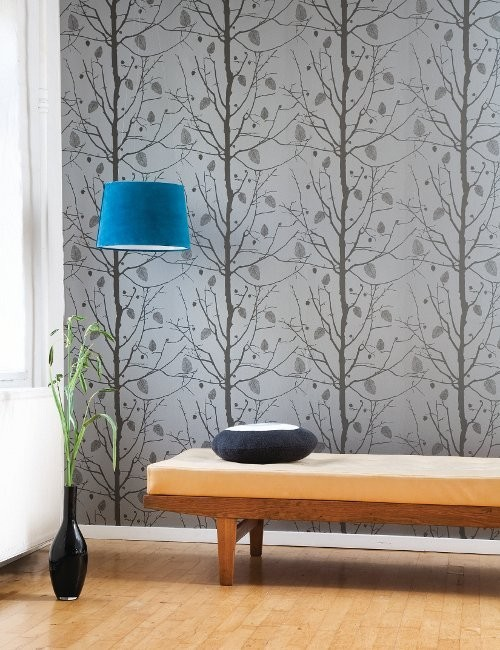 Using two wallpapers together
By mixing and matching two wallpapers within the same room it is possible to create a range of stunning effects; if you're feeling brave then mix two clashing patterns for a bold statement, or if you prefer a more subtle finish then choose a daring print for one key wall and a wallpaper with a smaller intricate pattern to complement.
This striking tree print wallpaper from Rose & Grey has a wonderfully quirky feel that would look great hung on a feature wall with a plain or embossed wallpaper to complement it. If you prefer a more retro inspired look to your interiors then why not try clashing two bold prints. This kitsch floral wallpaper from Rose & Grey takes its inspiration from the print of a vintage fabric, and the mustard yellow base harks back to the 1960's. Clash with another floral print, or another bold colour like this retro turquoise wallpaper from Oliver Bonas.
Wallpaper is an incredibly versatile and stylish way of updating your home and creating an impact. Although the techniques needed for a professional finish are often perceived as being fiddly and, let's face it, a bit too much like hard work; our handy tips should help to take the hassle out of hanging and have you wallpapering like a pro in no time!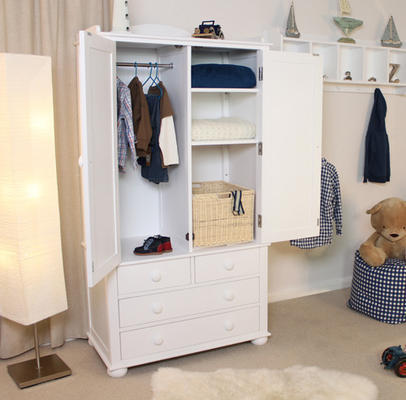 Ensure your little one's room is neat and tidy with this Nutkin Childrens Double Wardrobe from Oak & Ash Furniture. £529
It's a problem I hear from friends with little ones time and time again; where can they find attractive children's furniture that is well-made and not covered in Disney characters.
I understand their sentiment, after all, who wants to splash out on furniture that isn't going to last?
This Nutkin Double Wardrobe from Oak & Ash Furniture is a perfect example. Made from high quality ash, the wardrobe has four drawers, shelves and ample storage space for even the most fashion conscious of little ones.
Finished in white, it will effortlessly fit into any child's room and will look fabulous for years to come.
Also available in the collection is a bed, cot and smaller wardrobe.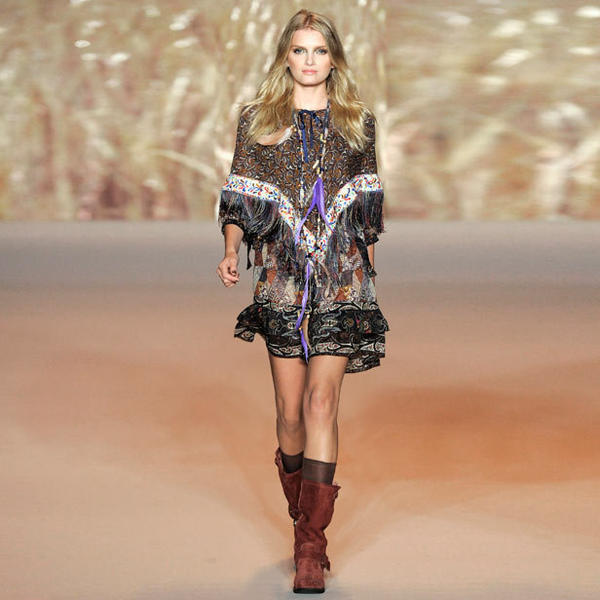 Get your home ready for festival season with a touch of folk.
With Summer feeling like its already arrived, it's time to dig out those ditsy floral print dresses, dishevelled denim waistcoats and cosy fringed ponchos ready for festival season! But, if spending the weekend up to your knees in mud and sleeping in a damp tent isn't your idea of fun then worry not as this trend can work just as well in your home. Think fringed throws, embroidered rugs and colourful lanterns for adding that touch of folk to your interior.
Look for throws in deep autumnal colours to scatter across armchairs, or drape at the foot of the bed, to create a laid back bohemian feel. This gorgeous paisley throw from OKA uses lovely rustic colours for a vintage inspired finish, and it's made from 100% wool; perfect for snuggling under when the summer nights turn chilly!
This lovely lambswool folk blanket from Primrose & Plum also follows the vintage theme with the lovely border detail inspired by traditional Swedish carvings. In keeping with the eco-friendly folk ethos, the blanket has also been responsibly sourced and produced with care for the environment by not using any harsh pesticides or harmful chemicals.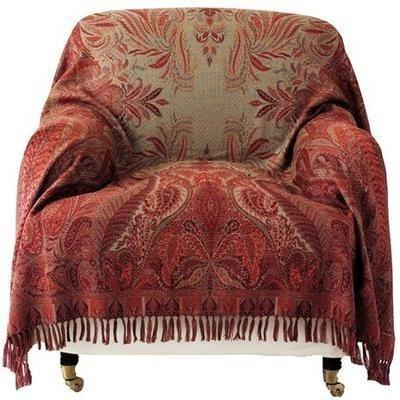 Stripped floorboards work really well within the home when creating a folk inspired look, but it's lovely to introduce some colour to your flooring with the addition of a rug. This quirky ribbon rug from Plumo is made from woven recycled ribbon strips for a beautiful mix of colours, and has lovely tassel detailing along the edge for a real arts and crafts feel. Plumo can also customise rugs to your specific colour preferences.
OKA is a great brand to consider if you are looking for a high quality rug with an antique feel, as they have a great range of colours and styles available. This cimkent rug from OKA is made from 100% wool for long lasting quality, and the deep earthy red colour gives it a timeless quality that is sure to look stunning in any setting.
Mixing and matching different colours and textures is the best way to create an authentic folk feel in your home. If you have selected a fairly rich colour palette for your rugs and throws then a great way of lifting the trend is to add a colourful selection of cushions. These mexican bird cushions from Plumo are beautifully bright, using lovely embroidered patterns of birds and flowers with colourful fringing and tassels for a lovely handcrafted feel.
Choosing cushions with embroidered patterns really helps to add a vintage feel to your soft furnishings, and helps to make your home feel unique. The bright colours of this embroidered folk cushion really add a contemporary twist to the style, and contrasts beautifully with the very traditional pattern of the stitched detail.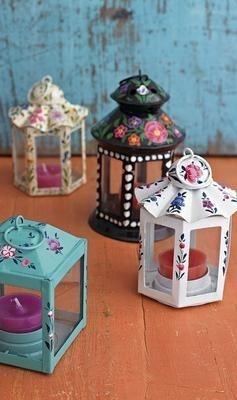 Don't forget accessories for adding the perfect finishing touches to this trend. Candles and lanterns are the perfect folk accessory as they help to recreate the warm glow of a bonfire inside your living room. These Fairtrade painted lanterns from Plumo come in an assortment of gorgeous colours with a variety of pretty floral detailing. Add tealights and dot them around your home, or even in the garden for your own mini festival! This candle lantern from Habitat is another great lighting option, and uses a wire frame wrapped in recycled magazine paper for an unusual design feature.
Finally, we couldn't resist taking a look at this stunning pitcher and mug duo from Plumo, which would add an authentically rustic feel to your kitchen. The red clay tableware is made by local artisans using traditional methods, and is glazed in traditional Romanian folk patterns; a genuine touch of folk.
Hopefully, this fabulous selection of products has provided you with the inspiration to mix and match the accessories in your home this season for a wonderfully authentic take on the folk trend; and with a few cosy throws and some twinkling lanterns you can enjoy watching the festival coverage from the comfort of your sofa!