Features: June '11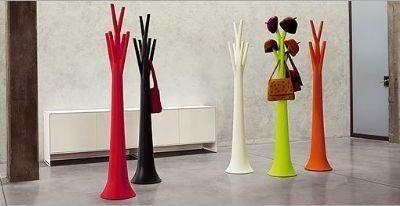 Keep your space neat and tidy with this Bonaldo Tree Clothes Hanger from A White Room. £250
Call us neat freaks, but here at Furnish, we're always on the hunt for innovative and stylish storage products to keep our homes neat and tidy.
Our new favourites are these Bonaldo Tree Clothes Hangers from A White Room.
Made from polyethylene and available in a range of bright colours, the "branches" of these trees can hold everything from handbags and coats to umbrellas and even jewellery.
We love the fact they're slimline making the perfect for those short on space and that they'll work everywhere in the home from hallways to kid's bedrooms.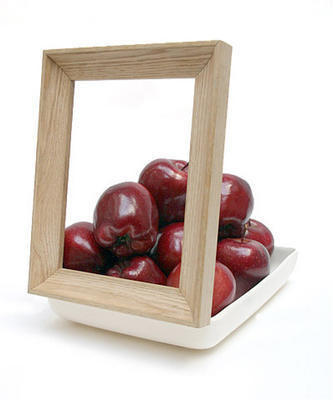 Make getting your 5-a-day more interesting with this Still Life Fruit Bowl from Lifestyle Bazaar. £59
We all know we should be eating more fruit and vegetables but how can we make it more interesting?
Of course you can make soups and smoothies but what we're really on about is ways to make storing all that fresh produce a little more stylish.
We love this quirky and innovative Still Life Fruit Bow from Lifestyle Bazaar.
The bowl bit is a simple white ceramic dish but it's the framed front that's got us chuckling. You simply create an interesting display using your fruit and it's beautifully framed.
Great for adding some humour to your dining room or kitchen, it might just make you eat that extra bit of fruit.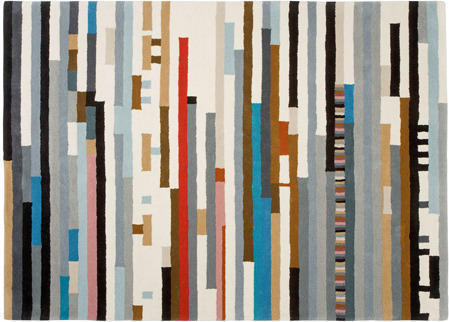 Add some pattern and colour to your floor with this Lepark rug from Utility. £1,320
Rugs are a great way of introducing colour and pattern to your scheme and giving your room a fresh look.
Naturally, there are tonnes around but our favourite one at the moment is this Lepark design from Utility.
Woven from 100% wool, its a riot of colour and we love its irregular stripes. But it's not just its design we love, this rug is Good Weave certified which means its not made using child labour.
Perfect for brining a plain wood floor to life, our top tip is to use one of the shades as an accent colour to pull your scheme together.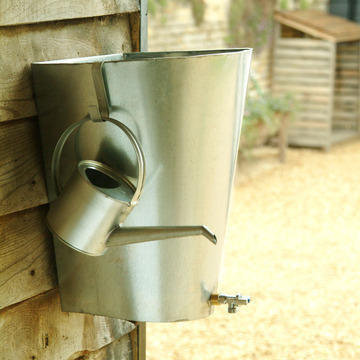 Do your bit for the environment with this Water Butt and Watering Can from Garden Trading. £66
With all the rain we've had of late the word drought seems a little bizarre.
However, the powers that be tell us that one is imminent which means no hose pipe watering.
Let's face it, they're not very eco-friendly anyway are they so a far better option is to get collecting rain water to replenish your blooms.
We're not, of course, suggesting you stand in the latest downpour holding a bucket but instead invest in this rather stylish Water Butt and Watering Can combo from Garden Trading.
Made from galvanised steel, the large water butt collects the rain water and has a nifty tap so you can fill the watering can.
Far more stylish than plastic models, you can rest assured you're doing your bit for the environment without compromising on style.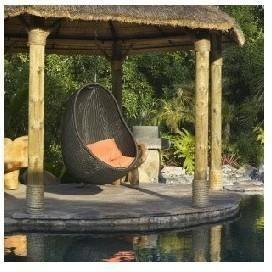 Dream of lazy, hazy sunshine-filled days with this Cove Urban Hanging Chair from Garden Beet. £1,699
We have a theory here at Furnish; it's rained that much in the last few weeks that surely we are due a bit of sunshine sometime soon.
Which means it's time to grab a beer, hit the garden and make the most of summer.
We could dust off our deckchairs and old garden furniture but that just doesn't seem, well, glamorous enough for us.
We'd much prefer to be lazing around in the Cove Urban Balance Hanging Chair from Garden Beet.
The ultimate in luxurious lounging, it may be a tad expensive but as it's made from all-weather wicker, it's guaranteed to last the test of time.
All that's need now is some sun…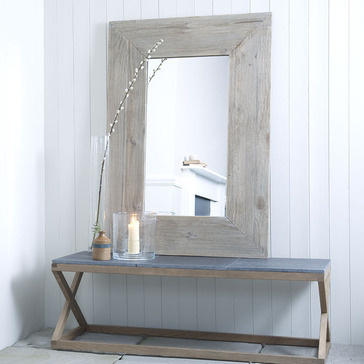 Add some industrial chic to your home with this Grove Slate Top Table from Rowen & Wren. £539
Rowen & Wren are one of our new favourite finds and who can blame us?
They split their collection into three distinctive looks with each one containing products that have got us reaching for the credit card and begging our bank manager for an overdraft extension.
One of our favourite buys is this Grove Slate Top Table.
Elegant, understated and simply divine, the table has a simple oak trestle base topped with a satisfying slab of slate.
The perfect coffee table, it also makes a rather gorgeous bench and will effortlessly fit in with any scheme.
We're tipping Rowen & Wren as one to watch, so when you start filling your homes with their gorgeous collections, don't forget who told you about them first!
See this product at Rowen & Wren…
(We don't list this item yet but sign up to our newsletter and we'll let you know if/when we do)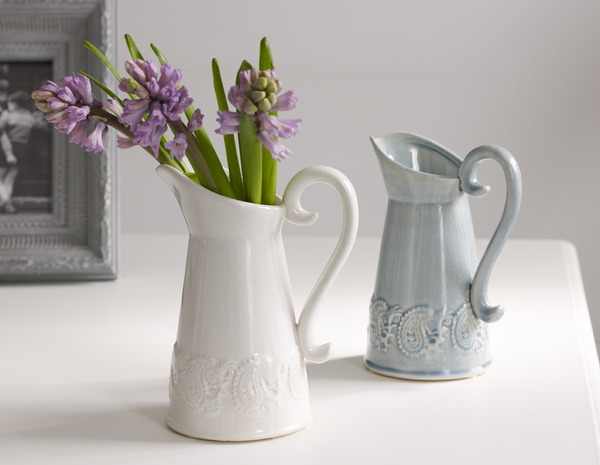 A rich history and unisex appeal; this week we focus on paisley.
There's something about paisley; that botanical teardrop-shaped design is instantly recognisable. The whole pattern is infused with a rich history, from ancient Persia to dapper British gents, lending it a familiar yet mysterious appeal. Whilst it is often found on silk scarves and ties, don't let paisley be confined to attire. This classic print is popping up everywhere and makes a pretty addition to any home.
Fabric
Paisley can be found in both woven and printed forms, so there is plenty of choice when it comes to fabric. Liberty has a fantastic collection of paisley fabrics to choose from, such as the more traditional, archive Bourton print, which was produced on dress fabrics in the 1960s. Alternatively try Liberty's Mark print, a vibrant contemporary take on paisley, which is perfect for introducing the pattern into a relaxed living room or children's bedroom.
OKA stocks a range of products in a beautiful Indian-inspired wool paisley fabric available in Peacock Blue and Rust Red. The subtler blue version is available as an elegant set of cotton-lined curtains, making it super simple to bring a hint paisley into a drawing room or bedroom. For a flexible, folky take on the pattern, throw OKA's Reversible Paisley Throw over a solid coloured sofa or armchair.
Furniture
Paisley risks looking a little too psychedelic on large pieces of furniture, so take inspiration from this stunning Horchow Paisley Settee and have a loveseat or armchair upholstered in a bold paisley print for a contemporary interpretation of the paisley pattern.
The historical characteristics of paisley are offset by clean, modern lines in this one-off Paisley Armchair from Lockwood Design. Upholstered with glamorous woven gold paisley fabric on tubular steel legs, it would look fantastic in a contemporary bedroom.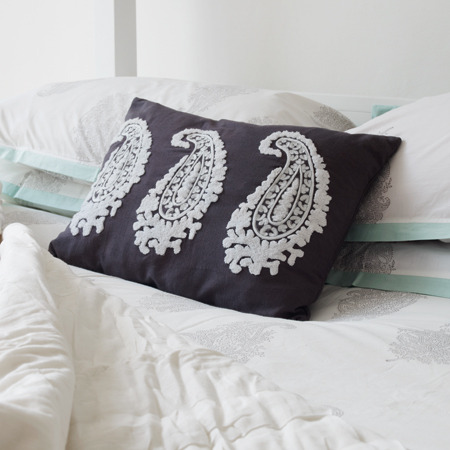 Flooring
Avoid the hotel lobby feel by steering clear of paisley patterned carpets, instead try layering pre-existing neutral carpets or floorboards with a contemporary paisley rug. We love the bold colours of this Paul Smith Paisley Aubergine Rug, which is made to order.
For a softer mix of colour, try this Brink and Campman Kodari Paisley Rug. Hand knotted in Nepal it is available in 5 rectangular sizes or alternatively can be created to a custom size, making it ideal for awkward sized spaces.
Wallpaper
Like most bold patterns, paisley wallcoverings are best confined to smaller spaces such as alcoves or feature walls. However we love the unexpected visual impact of ceilings wallpapered with paisley. Whilst it's a bold move, this is a great way to introduce pattern to wall space and perfect for achieving more proportion in high ceilinged rooms. Just ensure you choose wall paper with a pale coloured base to avoid making your space feel heavy.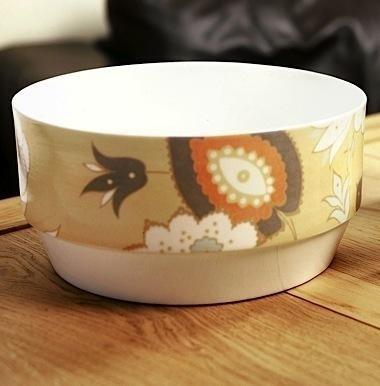 Accessories
We love the use of paisley in the Off the Wall Paisley Flower vase and bowl collection from Designed in England. Making a refreshing change from polka dotted or striped tableware, the collection was designed to celebrate the wallcoverings of Cole & Son and the use of oranges and browns gives the whole collection a delightful retro appeal. Shortlisted for the Homes and Gardens award, each piece is part of a limited collection of just 250 units per style – so be quick!
Sofas and beds look fantastic scattered with a coordinating mixture of solid coloured and paisley cushions; we love this Cream & Taupe Paisley Cushion from Primrose & Plum. Embroidered with taupe stitching and silver beading with a fluffy feather pad, this cushion is a luxurious take on paisley.
These cute set of 4 Fairtrade Paisley Boxes from Plumo are perfect as gift boxes or to store knick knacks and jewellery. With embroidered lids and opulent jewel colours they lend an exotic, well-travelled look to your dressing table.
So whether you want traditional and masculine or opulent and exotic, paisley could be just the thing.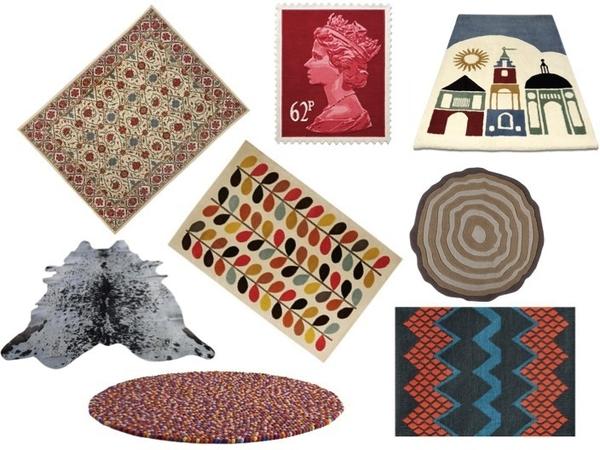 Add colour and comfort underfoot with our quick shop of rugs.
Beautiful polished wood floors are all very well, but sometimes it's nice to have something soft (and warm!) underfoot. However they needn't just be practical; a quality rug can be an artwork for your floor, whether you want contemporary or traditional.
The perfect way to add colour and interest to a space, try rejuvenating your living room with a large, boldly patterned rug or unearth a luxurious landing spot for your feet in the morning with a quirky small bedside rug.
Clockwise from top left: Bishkek Rug, £1125, from OKA, Stamp Rug 62p, £695, from Rockett St George, Campanile Rug, £495, from Mini Moderns, Against the Grain Rug, £250, from Designed in England, Small Orange/Peacock Fairisle Rug by Donna Wilson, £895, from Heal's, Pinnocchio Rug, £3140, from Utility, Cowhide Rug – E9, £200, from London Cows, Orla Kiely Multi Stem Rug, £770, from Heal's.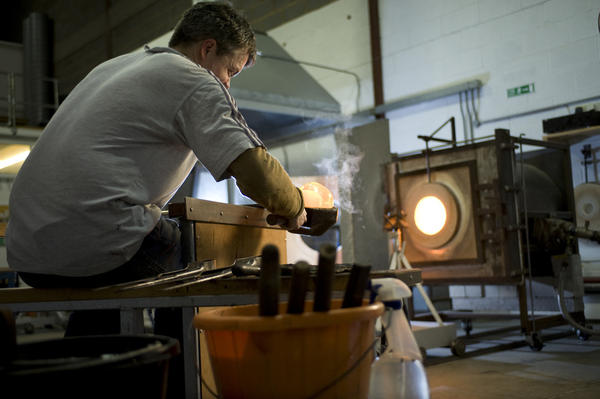 Furnish visits the London Glassworks for tea with Rothschild & Bickers
On an unassuming industrial estate in North London something quite magical is afoot. Unit 15 houses one of the last glassworks in the UK, and is home to Rothschild & Bickers. Known for their sophisticated and opulent glass lighting, Victoria Rothschild and Mark Bickers invited us in for mug of tea and a snoop around. After sharing a studio at the Royal College of Art and working together on bespoke commissions, the pair decided to create their own range of signature pieces. Produced in batches, each shade is skilfully free blown and hand-finished. 'Everything we do is hand-made', says Vicki. Moulds are used to shape the surface of the molten glass, which is then blown out and modelled to create the form. The process is almost hypnotic to watch, and Mark underlines the level of concentration needed to get it right: 'you have to keep focussed, and you can't just stop half-way through; because the glass won't'.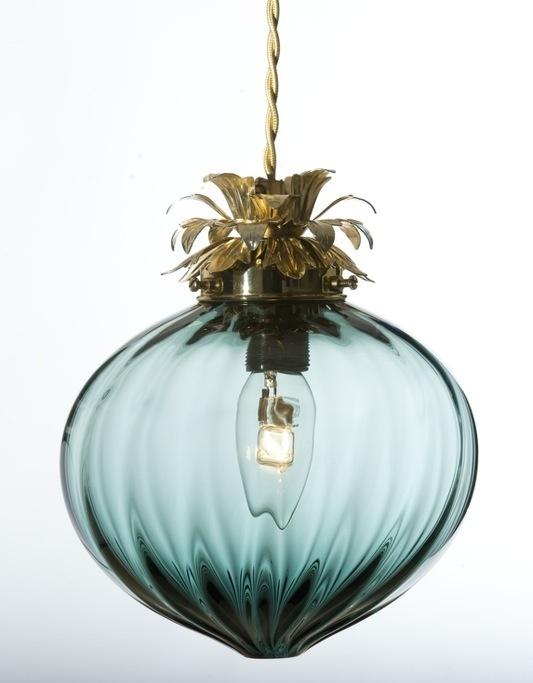 A lot of experimentation goes into the design process and a love of making as well as a respect for their material shines through on our visit. 'We could never be paper-based designers', says Mark: 'it's not that we render something on the computer and send it off to be made into a mould; we tweak, we edit as we go along.' 'We blow something we like the shape of', says Vicki, 'and then we'll re-make it and change it a little bit. That's what I love about the hand-made part of it. Being able to have the thing in front of you and knock another one out if you don't like the first.' Once the final form is decided, 'you've then got the challenge of being able to reproduce it in batches by hand'.
Many of the designs are worked up with a particular interior in mind. The clean lines of the architectural Tiered Light would complement an elegant Art Deco style interior for example. Yet, while the lights often reference historical styles – the Tassel Light evoking Victorian grandeur or the Arts & Crafts style Flora Pendant – they're never slavish imitations. 'We're always quite subtle about how we take elements from the past, whether it's the fringing or the metalwork, they're always touches', says Mark. Likewise, while they might be designed towards a particular style of interior, the lights stand alone as decorative objects and could be put almost anywhere, says Mark, 'either complementing or contrasting with what else is going on'. It's the effect of the material as much as the form that contributes to the lights' decorative appeal. 'A lot of ours cast either colour or pattern', says Mark, 'so the effect is much bigger than the pendant itself'.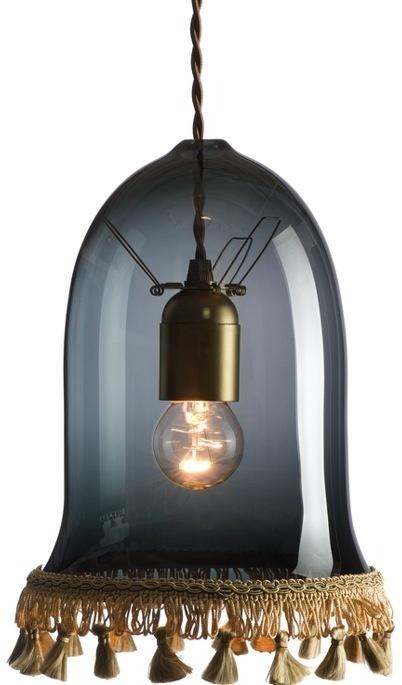 The heritage of glassblowing in England and the traditional skills involved in handmade glass production are central to Rothschild & Bickers' work. 'We're using skills that might otherwise be lost' says Vicki. 'We did a lot of research on different shapes and forms and how people made things'. The moulds used for the different surface finishes and the techniques of blowing and finishing would have been the same in Victorian factories. It's looking back at these older manufacturing methods that contributes to Rothschild & Bickers distinctive style and that Vicki sees as helping to set their work apart from modern mass-produced glassware. It's a labour intensive process that results in astonishingly beautiful pieces with all the natural variation that marks them as handmade.
Rothschild & Bickers will be showcasing some new pieces at 100% Design in September and a bigger website is due to be launched within the next year. To find out more and order online, visit rothschildbickers.com. And if you fancy having a go at glassblowing, the London Glassworks offers one-day courses.
Declare your love with this Love Wooden Wall Sign from Primrose & Plum. £39
Wedding season is well and truly upon us and if you want to buy something more original than a toaster then we have found just the thing.
Primrose & Plum stocks a wide range of products that make perfect gifts for newly-weds but our pick of the bunch is this Love Wooden Wall Sign.
Featuring the iconic words of the Fab Four's hit Love Is All You Need, the sign is made from four aged wooden panels.
Of course, you don't have to give it as a wedding gift, you could keep it for yourself!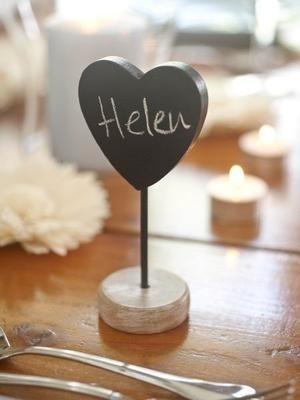 Finish your dining table in style with these Blackboard Heart Name Place Holders from Nordic House. £15 for a set of four
Maybe we've watched far too many episodes of Come Dine With Me but we're obsessed with making our dining tables look gorgeous.
Which is why we just had to share these super sweet Blackboard Heart Name Place Holders from Nordic House with you.
Simple yet oh-so-effective, you simply scribble your guests name on the heart-shaped blackboards. Far more practical than those flimsy paper place cards, you can use these ones over and over again.
They also have a little peg at the back which means you can use them to hold pictures.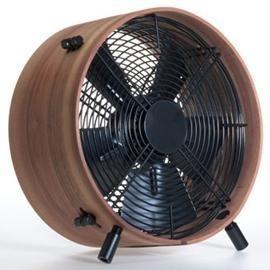 Keep cool when the temperatures rise with this Otto Fan by Carlo Borer from Heal's. £225
While you could be forgiven for thinking we're never going to see the sun again, it is meant to be June which in turn means we'd hope it get a little bit warmer soon.
As much as we all moan about the rain, you can bet your bottom dollar that when the mercury rises, we'll all be complaining it's too hot!
Fans offer the perfect way to keep cool but why have a cheap, plastic one when you can have this beauty?
The Otto Fan by Carlo Borer from Heal's is made from solid wood and has a fantastic retro feel. On a practical side, it has three speed settings and adjustable feet to ensure you stay cool all summer long.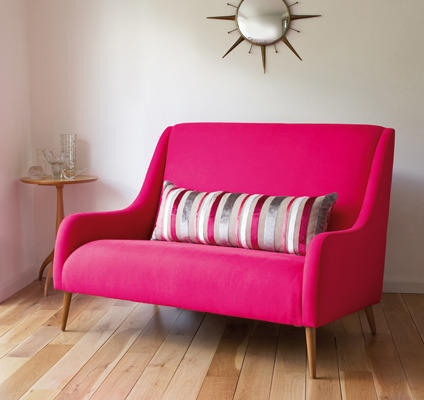 Add some colour to your scheme with this Miss Behaving sofa from Sofa Workshop
When choosing a new sofa most of us stay safe and go for a neutral colour which will stand the test of time and fit in with any scheme.
Well, it's time to ditch the boring and go for something a little more colourful with this Miss Behaving sofa from Sofa Workshop.
We adore the vintage shape but what we love most of all is the vibrant pink fabric which is far from girly and just the ticket if you want to give your living room a pop of colour.
However if you're not feeling brave but love the design you'll be pleased to know that Miss Behaving can be covered in over 2200 fabrics instead.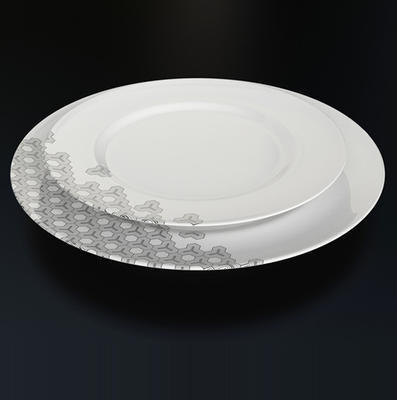 Add some geometric charm to your dining table with these Hex Plates - Drift Large from Vitamin. From £15
Vitamin's collection of gnomes have become highly collectable and now this innovative design company has launched a collection of plates.
Available in several designs and two sizes, we love the Drift Large Hex plates which feature a hexagon design.
Perfect for adding a touch of geometric design to your dining table, we think they'd look equally fabulous displayed on a wall.
And we predict that they will become just as iconic and collectable as those famous little gnomes.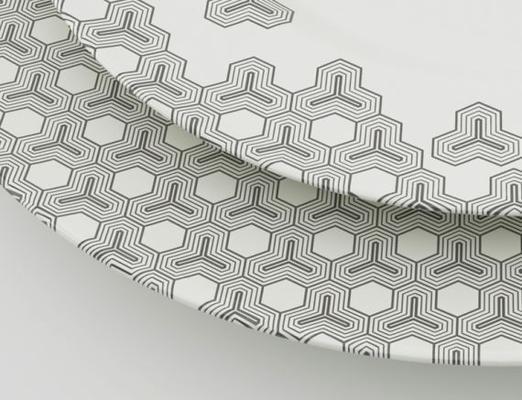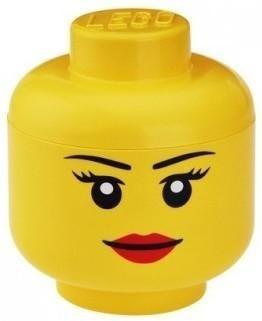 Make tidying up fun with this Lego Storage Head from Bloomsbury. £14.95
We think everyone would agree, tidying up is dull. Given that we spend all week working hard, the last thing most of want to do come the weekend is spend hours tidying our homes.
So, here at Furnish, we've been on the hunt to make keeping our abodes clutter free a little more fun.
And we've found just the thing in the shape of this Lego Storage Head from Bloomsbury.
Fun AND practical, this yellow Lego head provides the perfect place to stash away your clutter.
We think it's the perfect alternative to normal, boring storage boxes and is an ideal way to encourage kids to be tidy too.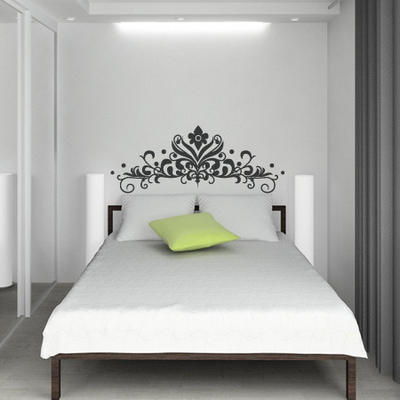 Add some grandeur to your bedroom with this Baroque Headboard Sticker from Spin Collective. £36
Not everyone has room or the budget for a headboard but if you want to add a touch of glamour to your bedroom then Spin Collective has the perfect thing.
Known for an array of wall stickers, it also stocks a range of stickers designed to mimic headboards.
We love the Baroque design which is sure to add some grandeur to any boudoir.
Shown here in classic black, the stickers are available in 20 colours so there really is something for everyone.
And if you don't want to use the sticker as a headboard, we think it would look rather fabulous above a mantelpiece.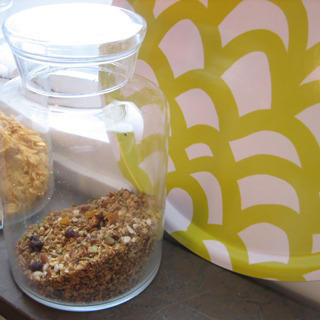 Add some pattern to your kitchen with these Sea Trays from Caroline McGrath. From £33
Trays after often underrated accessories, deemed for nothing better than carrying stuff to and fro.
Of course they serve a practical purpose but we think there's no harm in them being decorative too.
Our favourites at the moment are these Sea Trays from Caroline McGrath.
Available in sunny Yellow or stylish Ink and in two sizes, these trays feature a delicate wave pattern which has been printed on laminated birchwood.
Ideal for serving everything from afternoon tea to cocktails, they'll also instantly brighten up a plain kitchen.
So, chuck out your boring, plain old trays and bag yourself one of these instead.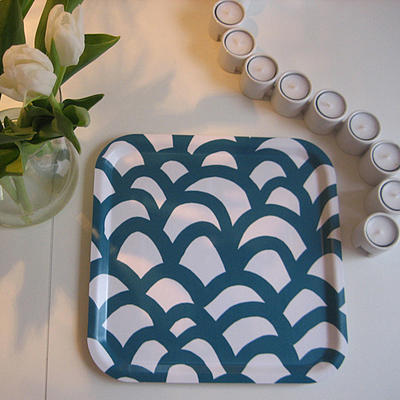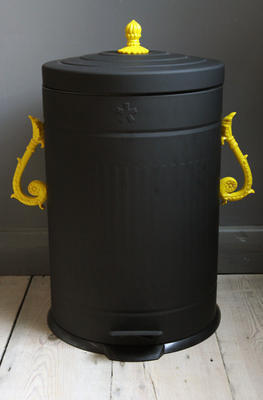 Thought rubbish couldn't be stylish? Think again with this Trash Chic Pedal Bin from Rockett St George. £110
Following a rather threatening letter from Lambeth Council about my lack of recycling activity (yes, yes I know, slapped wrists all round) I have decided that we need a normal kitchen bin and one for recycling.
Trouble is all the ones I'd seen, while being very practical, were also very dull.
Nice to see that the Trash Chic Pedal Bin from Rockett St George is bucking the trend.
It couldn't be further from dull and with its bright yellow handles and finial on the lid it won't come as a surprise that it hails from those clever peeps at Seletti.
It will soon be taking pride of place in my kitchen as I'm sure neither me or the other half will forget to recycle with this around!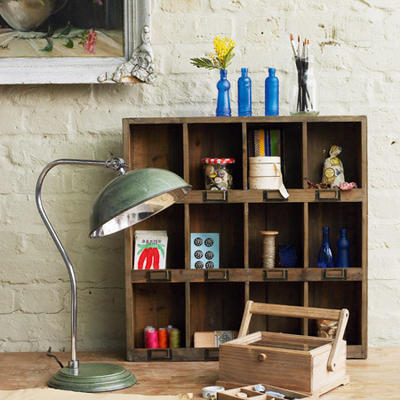 Get organised with this Pigeon Hole Wall Shelf Unit from Graham & Green. £68
Nowadays it's more than likely you do everything online. From paying utility bills or ordering the weekly shop.
However, we haven't heard of many people who are completely paper-free yet and we know were certainly not!
So, if like us, you still need somewhere to stash your paperwork, we think this Pigeon Hole Wall Shelf is just the ticket.
Made from wood, it has 12 compartments to stash away everything from bills to craft materials without taking up too much room.
Achieve modern opulence with our guide to making damask work in your home
Damask fabric was named after Syria's capital, Damascus, where it originated in the early middle ages. However by the fourteenth century damask had spread across Western Europe and became synonymous with luxury though its popularity in the royal courts of Europe. Since then damask has been reinterpreted into all kinds of linens, furniture and even wallpaper, making it an easy way to bring a touch of opulence to your home.
Fabric
Traditionally a woven fabric, it's not hard to find damask fabrics in all incarnations around the home. John Lewis stocks a beautifully tactile Veneto Damask Fabric that is suitable for curtains, bedcovers and upholstery. Available in a range of colours, we think the Citrine option is perfect to lend a zesty and modern twist to traditional damask.
Alternatively, try transforming your bedroom with a damask duvet cover. This Damask Jacquard bed linen from John Lewis features a weave of leaves, scrolls and flowers in muted brown tones making it a tranquil and understated option. Better still the cotton is fully organic and certified in accordance with international Fairtrade standards, so you can rest even easier.
Furniture
Furniture upholstered with damask fabrics offers a very regal feel to the room, but can sometimes feel a bit formal. Avoid this by introducing one bold damask upholstered piece alongside plainer, solid colours. Make an impact in an otherwise pared down room with this Gold Gilt Damask Nursing Armchair from The Orchard. Offset the opulent greens and golds with muted neutrals for a more contemporary feel in a living room or bedroom.
Alternatively this Versailles Foot End from The French Bedroom Company, upholstered in a French silk damask, is an elegant yet useful piece. Try positioning it at the foot of the bed or under a window as somewhere stylish to sit when dressing in the morning.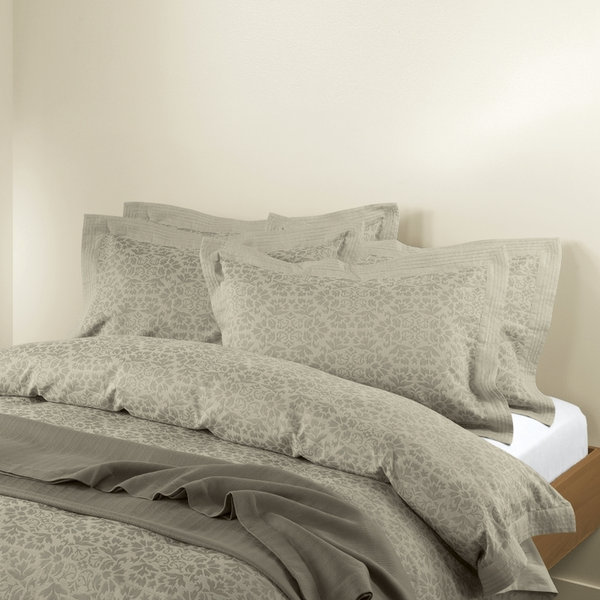 Flooring
The floor is the perfect place to start when introducing damask to your home. Try a doormat rejuvenated in a bold damask prints such as this coconut fibre Black & White damask Print Doormat from Mollie & Fred.
For greater impact, a large damask print rug looks striking against plain wood floorboards. The rich plum colours of this large, wool rich Damask Rug from Habitat would lend an opulent feel to any living space.
Wallpaper
There are a whole host of options when it comes to damask wallpaper but some designs can sometimes feel a little imposing and formal. Instead try a contemporary twist on the traditional for a fresh and quirky appeal. The Barneby Gates Deer Damask Wallpaper from Rockett St George, blends a vibrant duck egg blue background with an antique gold stag skull and thistle damask style pattern.
For a smaller wall space, such as an alcove or chimney breast try this Ribbon Damask Paper Lace-Embossed Vinyl Wallcovering from Occa Home. Created in collaboration with Timorous Beasties, the wallcovering is inspired by vintage 1920's cotton lace fabric, combining two patterns in one.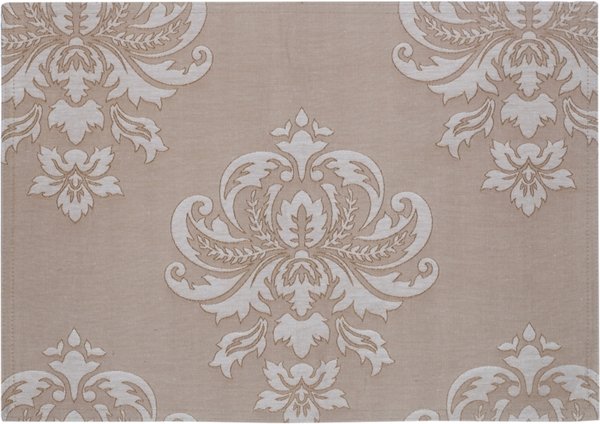 Accessories
For an opulent finishing touch in your home, or just a simple way to introduce the pattern try adding some damask accessories. The Dizzy Lamp Damask from Decolight features a modern trumpet shaped lamp base with a hand-made black silk damask shade. For an even more contemporary take on the damask pattern, try the inntermost acid damask shade from A White Room. Designed by Timorous Beasties, the shade features a pink/red interior, meaning the white cotton outer diffuses the damask print giving it a thoroughly fresh appeal. The lampshade is also highly versatile as the three available sizes can be hung as a pendant or mounted on lamp bases.
Table linens are true to the roots of damask fabric as a luxurious weave and are certain to add glamour to any place setting. The Deco Damask Napkin from John Lewis feature a classic damask design and are a perfect accompaniment to crisp linens and sparkling tableware. Soft furnishings are also a fantastic way to introduce the pattern. Add a little luxury and colour to the bathroom with the Lime/Steel Monaco Damask Towels from John Lewis. Alternatively scatter the sofa with damask cushions, such as the Osborne & Little Radnor Damask Cushion from Heal's, which is made from pure silk in a vibrant purple pattern.
Damask patterns needn't be limited to their traditional capacity; they can provide a sumptuous feel to just about any contemporary space. What's more there so many ways to introduce damask, whether wallpapering a feature wall or opting for something less permanent, such as bed linen, there is an option for just about all tastes and budgets. So, don't be afraid to bring this beautiful pattern into your home!