Features: August '11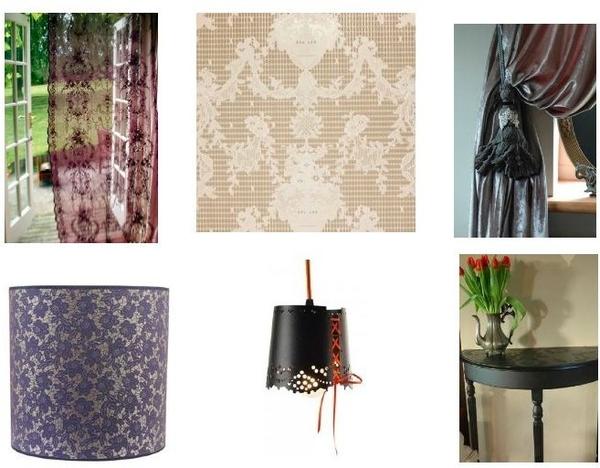 Add a romantic feel to your home by adding a touch of lace
Lace has yet again been a popular choice on the catwalk and this look transcends into the home perfectly. Feminine and delicate, lace can work well in all areas in the home but particularly suits the bedroom.
We love the Vintage Inspired Lace curtains from Rockett St George which are far more sophisticated than the traditional lace curtain. Try layering them to create an impressive look in the boudoir.
Walls aren't forgotten either with this Ribbon Lace Wallpaper from Occa Home. Decadent and sophisticated, it's the perfect choice for creating a feature wall or if you're feeling daring try using it on all four walls.
However you embrace lace, we predict this is one trend which will be around for a good while yet.
(Clockwise from left) Vintage Inspired Lace Curtains, £130, from Rockett St George, Ribbon Damask Paper Lace – Coated Paper Wallpaper, £74, from Occa Home, Lace and Velvet Concrete Tassel Tieback, £210, from Ghost Furniture, Indigo Lace Drum Lampshade, £62, from Heal's, Pulpo Little Lace Pendant Lamp, £61, from Occa Home, Black Lace Console Table, £250, from Ghost Furniture.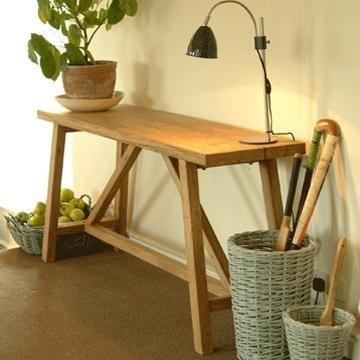 Add a touch of nature to your home with this Reclaimed Elm Side Table from Garden Trading. £440
I'm obsessed with occasional furniture and I know exactly who to blame; my Mother.
This is a woman who collects occasional tables like other people collect key rings. I kid you not that the last count in her living room was five, however she somehow makes it work and as well as looking fabulous, they're rather handy too.
Which may be why I've got the hots for this Reclaimed Elm Side Table from Garden Trading. As well as doing its bit for the environment, this is a seriously good looking table.
I adore the trestle-esque legs and sleek lines and the fact it will work well in every home from the very classic to the ultra contemporary.
Use it as a desk, use it as a console table or even in the bedroom as a simple yet effective dressing table.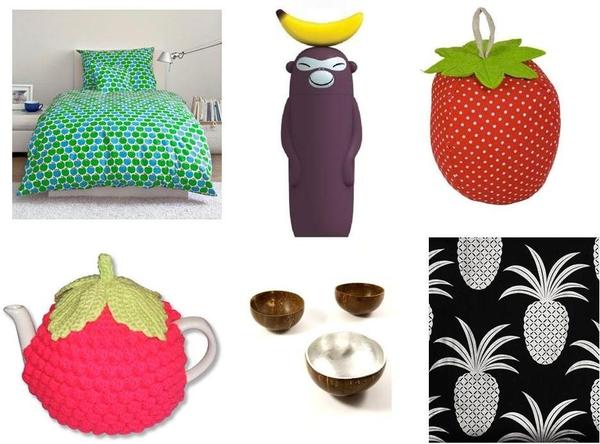 Add a touch of fruity style to your home with these fun buys.
We all need our five a day, so take your pick from our favourite fruit-influenced goodies to give your home a healthy feel.
From kitchen and bedroom, fruit is one of the hottest trends this season. Whether you opt for the much-loved English strawberry or more exotic pineapples, we show you how to make your home a riot of fruity goodness.
Give your boudoir a health kick with this Apple bed linen from by Graziela, add a touch of drama to your walls with Meg Matthews' Pineapple wallpaper from Liberty or keep your teapot warm in style with this funky raspberry tea cosy from Hunkydory Home.
Whatever fruity goodness you decide to furnish your home with this is one trend that's perfect for brightening up any dreary day.
(Clockwise from top) Apple bedding set (Blue/Green), from Graziela £62.90, Alessi Banana King, from A White Room £34, Strawberry doorstop, from The Contemporary Home £12.99, Pineapple wallpaper Meg Mathews, from Liberty £89, Silver lead lacquered & natural coconut bowl set, from LemonLu London £20.50, Raspberry tea cosy, from Hunkydory Home £15.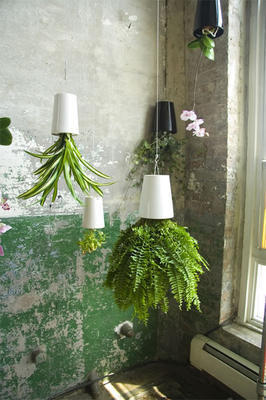 Create an unusual way to display plants with this Ceramic Sky Planter from Rockett St George. £59
When it comes to plants, I am definitely not green fingered. I forget to water them, don't really look after them and then am utterly surprised when they die.
I have never tried but I'm sure I couldn't even keep a cacti alive.
However, I adore these Ceramic Sky Planters from Rockett St George and it would appear they're the perfect fit for me.
These rather nifty pots hang from the ceiling which allows you to create a real statement in the home.
Hang several with different plant types together to create a focal point or use them to hold herbs in the kitchen.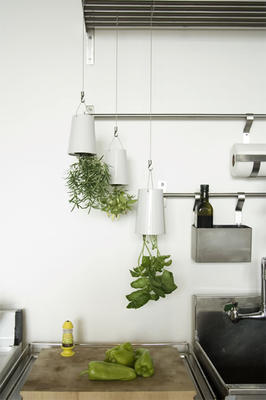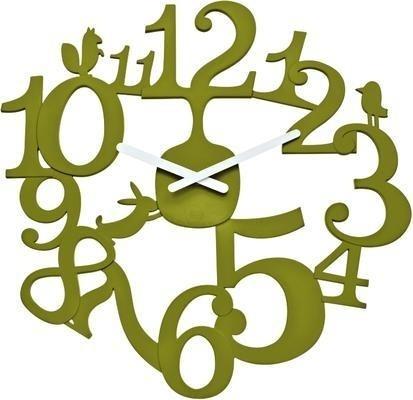 Tell the time in style with this Pip Green Clock from Gifts With Style. £33
A few weeks ago, for no apparent reason, my favourite clock jumped off the wall and smashed to the floor.
Actually, thinking about it, it was probably due to my slightly dodgy Victorian walls which are covered in patched up nail holes – anyone with Victorian walls will empathise I'm sure.
So, I need a replacement and what could be better than this Pip Green Clock from Gifts With Style.
Made from vibrant, green moulded plastic, I love the random design of the numbers and the cute addition of the animals.
So, that's my clock problem solved but the question is, what do I do about my walls…
Getting lighting right in the home can be tricky. Pendant lights are a quick and easy update that work well in any space. Here's our pick of the best
The days will soon be getting shorter, so why not indulge in one of these gorgeous pendant lights for your home? Whether you're looking for something feminine and delicate or want a quirky statement piece, there's something for everyone from eccentric bowler hats to elegant glass shades.
(Clockwise from left) Moooi Lolita Pendant Light, £316.84, from Utility, Jeeves Pendant Light £150, from The French Bedroom Company, Vino Small Pendant £183.60, from Decolight, FLOS Zeppelin Pendant Light, £6,552.65, from Utility, Hand Blown Glass Pendant Light – Double Retro Shade Sky Blue & Grey, £495, from Rockett St George, Aimbry Souk Metal Pendant Black 138/BLK, £57, from The Pole House.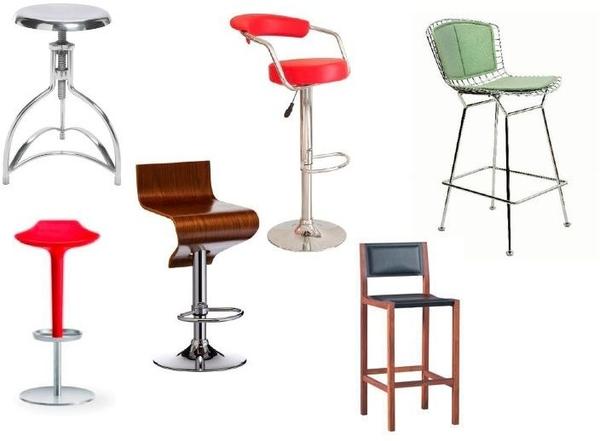 Stylish and funky, create instant impact in your home with a colourful bar stool
Break the mould within your home with one of these ultra chic bar stools. Perfect for creating an eating area within your kitchen or as a quick fix style update for your bar, these quirky stools will add an instant splash of colour to your space.
Whether you're looking to splash out in red retro funkiness or make a statement with modern elegance, they're sure to impress. Who says they only needn't belong in a cocktail bar?
(Clockwise from left) Aly Alluminium Adjustable Bar Stool, £159, from Love Your Home For Less, BE362 Bar Stool, £87, from The Pole House, KNOLL Bertoia Bar Stool With Seat & Back Pad, from Utility, Arper Babar Stool With Backrest, £438, from A White Room, Stokey Walnut Bar Stool, £145, from Alexander & Pearl, Lucido Bar Stool Range, £375, from Heal's.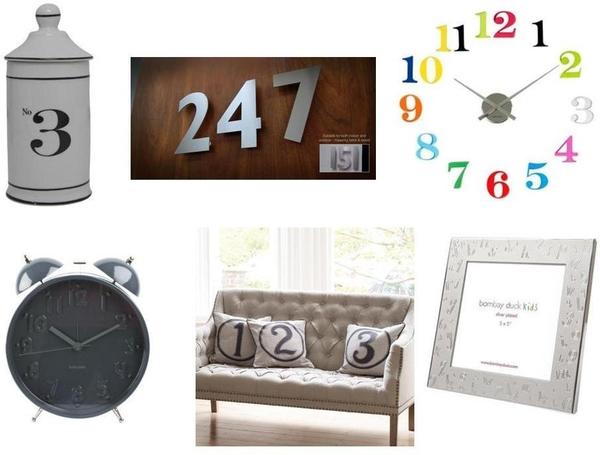 Give your home some numerical fun with this pick of the best number products around.
Not all of us are gifted when it comes to numbers, but your home doesn't have to convey your numerical woes. With our pick of these numbered goodies, your home is sure to look 1,000,000 times more stylish.
If you decide a subtle and simple hint of numbered furnishings is for you, the DIY Grand Numbers Wall Clock from Oliver Bonas would be a perfect yet practical way to bring colour and interest to a room. Or maybe you fancy something a little more eccentric such as these fabulous, numerical cushions from Graham and Green – a sure way to display a mathematical influence in a room, whether you're gifted or not!
(Clockwise from top) No.3 numbered jar twos, from Liberty £21, Designer house numbers, from Signs for Homes £20, DIY grand numbers wall clock, from Oliver Bonas £8.70, Silverplate photo frames alphabet and numbers 5×5, from Bombay Duck £18, Numerical cushions, from Graham & Green £30, Twin bell large nude numbers black, from Heal's £38.50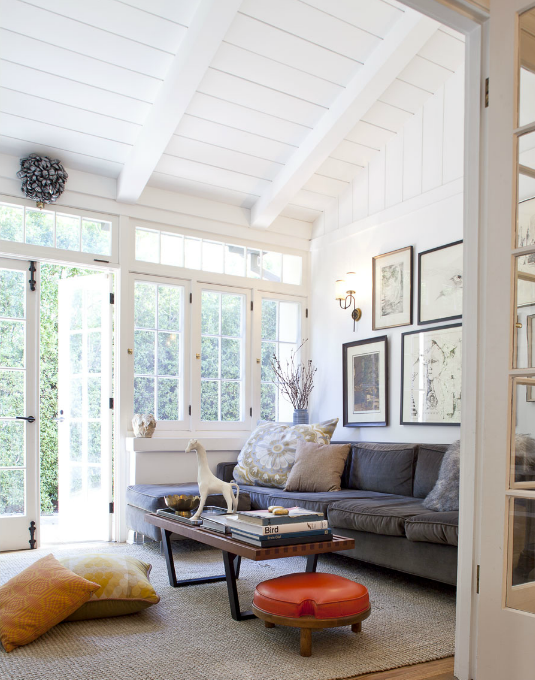 Here's our pick of the blogs that have had us hooked this week.
See Saw is a gorgeous blog written by three ladies working at a creative studio in Arizona. The blog brings together their collective design inspiration and showcases everything from textile design to jewellery.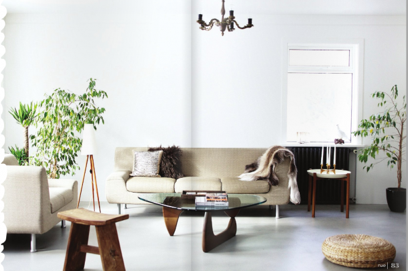 Another stateside blog we've loves this week is Simply Grove, written by Kirsten Grove, an interior decorator from Idaho. The blog is frequently updated with great features such as house tours, spend/steals and new designers alongside little snippets from Kirsten's life.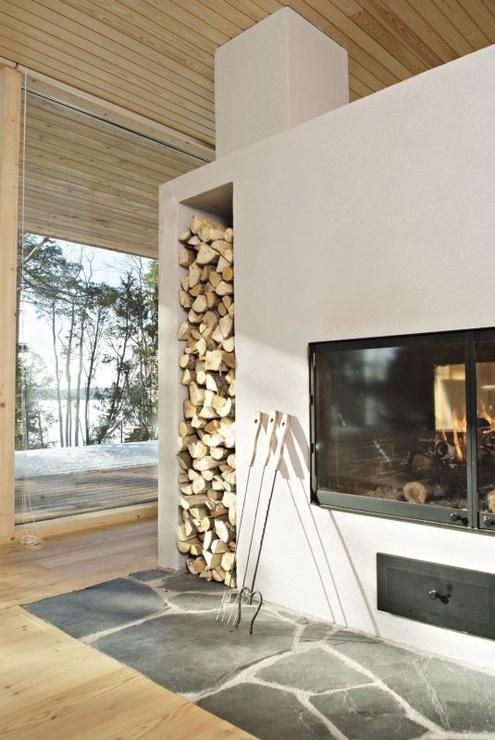 Finally this week is My Scandinavian Retreat. This blog is awash with enviable Scandinavian homes, the inspiration for blogger Vilde whilst decorating her small summerhouse on the Norwiegan coast. Perfect if you're looking to introduce some warm yet minimalist décor to your home.
As always, get in touch if you want us to feature your blog next time round.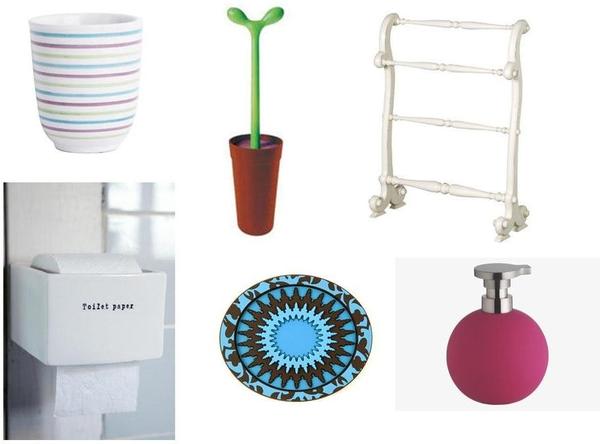 Create a sanctuary to be proud of with our pick of useful bathroom accessories.
A bathroom should be a haven of everything cleansing and relaxing but it also needs essential furnishings to aid you when you're indulging in your daily beauty regime. From soap dishes to loo roll holders, we've put together the essential bathroom kit to add a bit of style to your bathroom, whether it's big or small.
No bathroom can be without a toothbrush holder, so why not make it a stylish one such as the classic, ceramic toothbrush tumbler with blue stripes from Bombay Duck. Or why not make the undignified toilet brush look a little less sordid in its duty, with the plant-like, Alessi Merdolino toilet brush from Heal's.
Whatever bathroom piece takes your fancy, you'll be sure to rub-a-dub in style with this selection of bathroom goodies.
(Clockwise from top) Ceramic toothbrush tumbler blue stripes, from Bombay Duck £9.50, Alessi Merdolino toilet brush, from Heal's £31, Chateau towel rail, from The Orchard £69.50, LIMA round soap dispenser, from Habitat £12, Mosaic blue soap dish, from Lemonlu London £9.95, Ceramic toilet paper holder, from Rockett St George £19.95.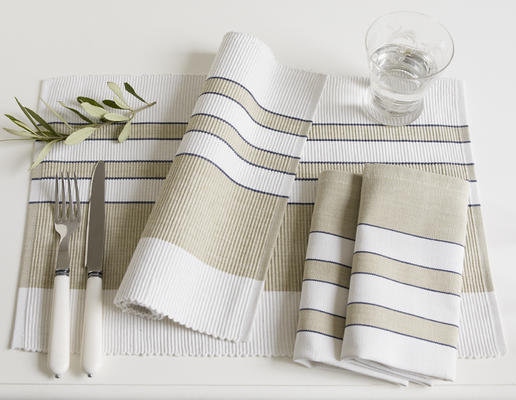 Create the perfect dining table with these Biarritz Napkins from Brissi. From £9
Given that I am fastidious about most things to do with the home, you'll be shocked (I know I am) to hear I don't have linen napkins.
It's not like I hand my dinner guests kitchen roll (God forbid) but I do end up forking out for nice disposable napkins, which less face it isn't very cost effective or eco friendly.
Which is why I'm putting these Biarritz napkins from Brissi to the top of my shopping list.
I love the simple yet oh-so-stylish striped design which will work well on all dining tables from the contemporary to the classic.
Embrace colour and pattern this summer with our pick of the best tropical print buys around
Think beautiful, idyllic beaches with the hot sun shining down, a magnificent array of bright colours (and of course a cocktail!) Now you can capture all this within your own home. This summer's trend of tropical prints is a great way to introduce vivid colour and pattern into your home, brightening up any dull space.
So to really brighten up your room why not try adding a few statement pieces? We love these fabulously bright Tropical Burst Cushions from John Lewis, they're totally gorgeous and will give an instant 'tropical burst' to any living room. Or if you're looking for a complete look, then why not add the wonderfully vivid Sanderson Wallpaper to really make a bright statement.
Whatever you go for, you can guarantee this is one trend which us sure to brighten up even the dullest of days.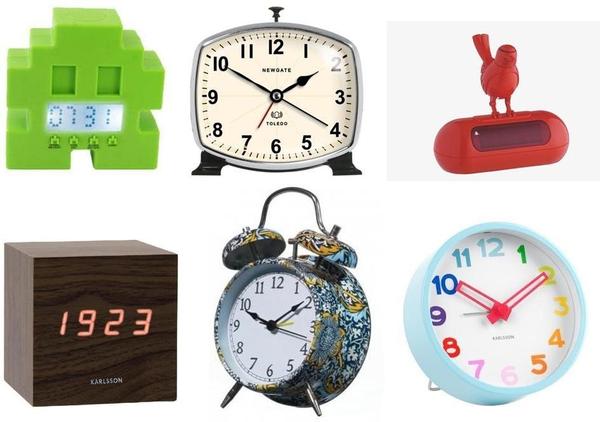 Wake up in style with our pick of eccentric alarm clocks.
Nobody enjoys the sound of their alarm ringing and destroying their slumber, so why not make your morning wake up call a little less painful with some of these eccentric alarm clocks.
The traditional, bell alarm clock is always successful in waking. We love the V&A Kennet Alarm Clock from Bloomsbury, and it looks fabulous on a bedside table with its gorgeous, floral designs. The fun Blue space invader alarm clock from Heal's is perfect if you want something a little more quirky for your mornings.
Whatever your wake up call, these alarm clocks will be sure to start your day in style.
(Clockwise from top) Space Invader alarm clock, from Heal's £18, Newgate Toledo alarm clock with snooze, from John Lewis £38, OKKO bird led alarm clock, from Habitat £28, Tiny Splash Over The Rainbow alarm clock, from The Contemporary Home £7.99, V&A Kennet alarm clock Wild and Wold, from Bloomsbury £17.95, Walnut alarm clock led, from Soulful Toaster £42.50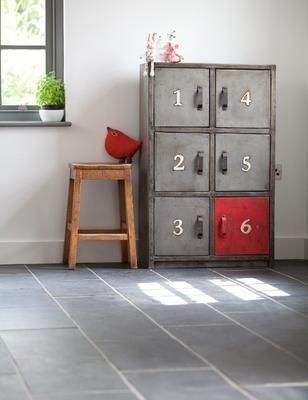 Add some industrial chic to your space with this 6 Door Industrial Locker Unit from Rose & Grey. £385
Industrial chic has been a big trend this year and I, for one, love it.
There's something reassuringly classic about having industrial design in the home and if you're careful, this look is far from stark or cold.
A perfect example is this rather special 6 Door Industrial Locker Unit from Rose & Grey.
Designed to look like school lockers, I love the addition of the red door which adds a much needed splash of colour.
Suitable for every room in the house from the kitchen to the bathroom, it's perfect for keeping your space clutter free.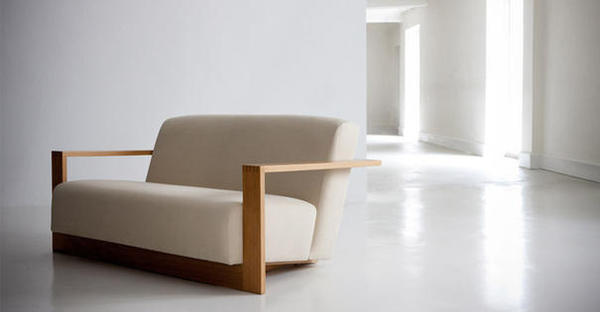 Create a style statement with this Alvis sofa from Benchmark. From £2,240
When I've stopped saving for my wedding (which is soon – hooray!) the first thing I'm heading out to buy is a new sofa.
It would appear my much-loved existing one has had it; it's seen far too many parties and had far too many overnight guests and is saggy, not as gorgeous as it was and it's time for us both to move on.
It to the skip and me to this gorgeous Alvis design from Benchmark.
I adore the combination of the sleek, angular armrests and the retro shape.
Available in a range of fabrics and leathers, you can even have it upholstered in your own fabric.
I fancy it in a really bold, retro pattern – what will you have yours upholstered in?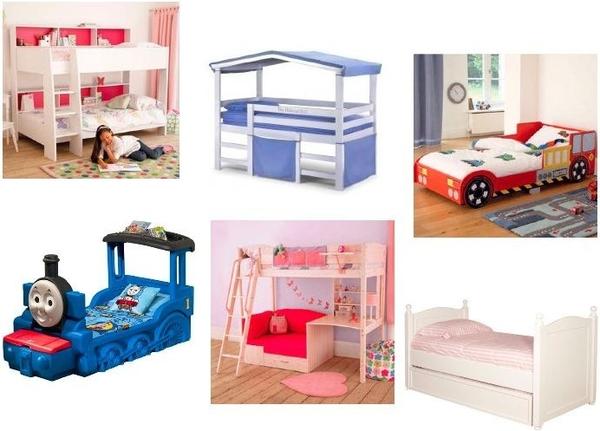 Delight your little ones and make bedtime more fun with one of these playful beds
Keep your child's bedroom fun and carefree with an adorably cute bed. Whether your little one is a girly princess or a Thomas The Tank lover, we have lots of lovely beds, which are full of fun.
Practical solutions include the White Childs Truckle bed from Sweetpea and Willow which is perfect for a sleepover, while the Vista Bunk Bed will have little ones debating who gets the top bunk.
Whatever you choose you can guarantee bedtime stories will be all the more fun.
(Clockwise from left) Vista Bunk Bed – Pink or Blue, £431.10, from The Great Little Trading Company, Hideout Children's Bed, £339.99, from Love Furniture, Fire Engine Toddler Bed, £108.00, from The Great Little Trading Company, Little Tikes Thomas The Tank Engine Bed, £279.95, from John Lewis, Nordic Style High Sleeper Bed Whitewash, £702.00, from The Great Litter Trading Company, White Childs Truckle Bed, £625.00, from Sweetpea and Willow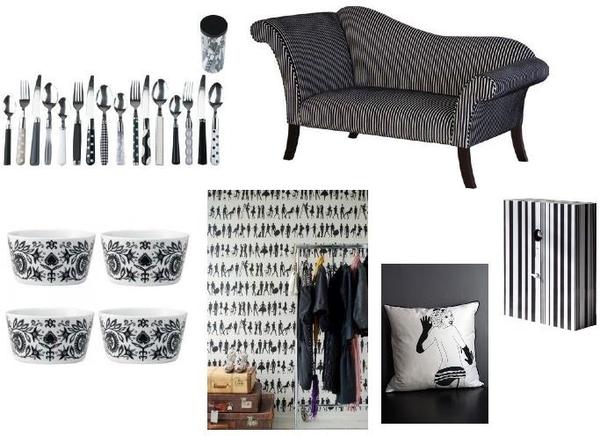 Monochrome never goes out of fashion, we show you how to make this classic colour combination work in your home
Do you ever find yourself stuck over what colour to chose and trying to figure out what matches what? Then the answer to your problem may lie within the contemporary and wonderfully striking style of monochrome. Here at Furnish we have a great selection of monochrome pieces to bring some style to your home.
Why not accessorize your room by adding some key pieces; we love the eye catching and delightfully bold wallpaper Fashion Wallpaper from Lover's Lounge. Team it against bright colours to make a striking feature wall for that truly unique and ultra contemporary look. If you prefer monochrome in smaller doses, try adding pieces such as the LSA Ania Bowls which are very chic and guaranteed to bring style your dining table.
(Clockwise from left) Eclectic Cutlery Set – Monochrome, £29.99, from The Contemporary Home, Groovy Black & White Striped 2 Seater Sofa, £665, from Sweetpea and Willow, LSA Ania Bowl Black & White – Set Of 4 Bowls, £38.50, from Occa Home, Fashion Wallpaper, £59, from Lover's Lounge, Handmade Burlesque Black & White Cushion, £50, Rockett St George, Arcioris Cucu' Clock Black & White, £195, from Occa Home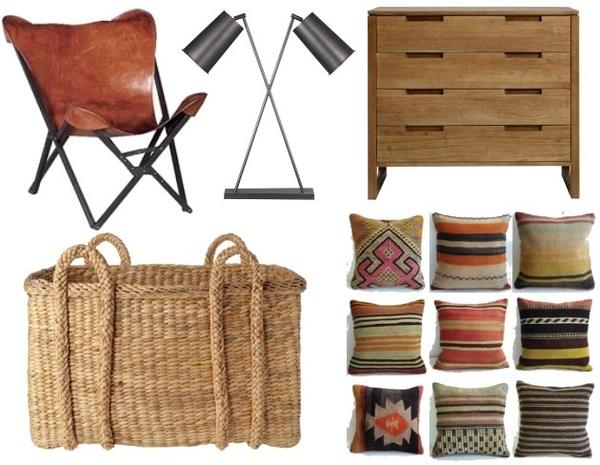 Here's our pick of the blogs that have had us hooked this week.
Coco + Kelley offers inspiration for interior design and beyond, offering everything from catwalk inspired rooms to wedding décor ideas. Edited by Cassandra Lavalle alongside six contributors, Coco + Kelley brings a daily dose of interiors with a touch of glamour.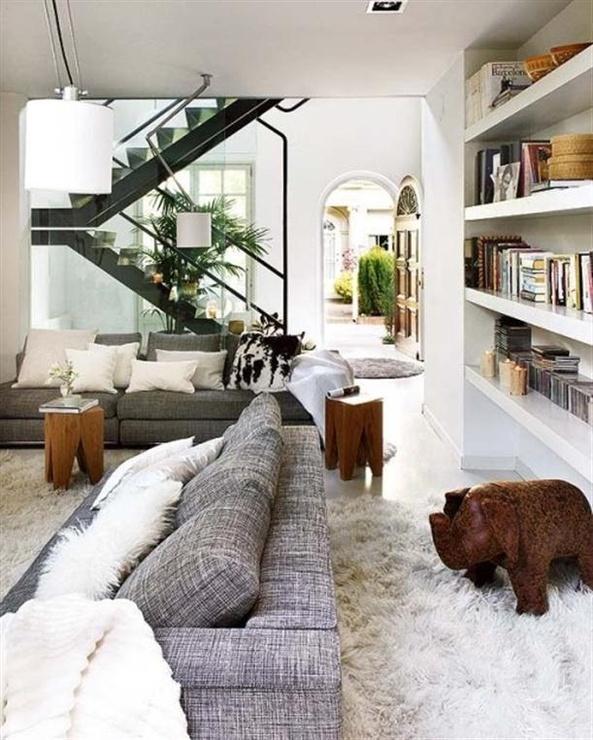 The Decorista is a glossy, distinctly stateside blog is written by Ashlina and brings you fashion inspired interior design, conveniently organised by space from the office to the kitchen, and quirky ideas for the home…outdoor mirrors anyone?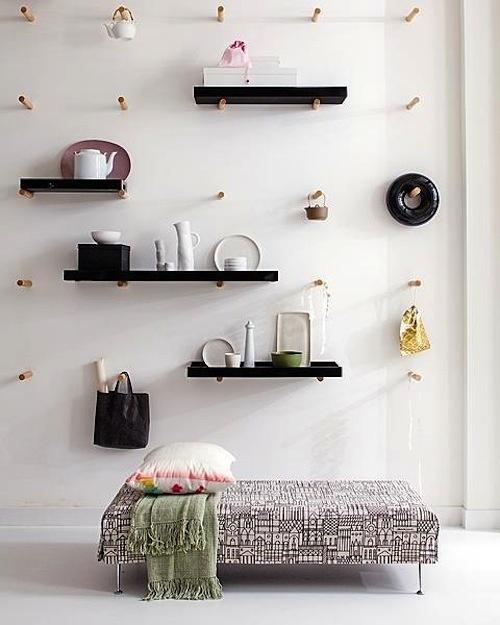 April and May is a diary of inspiration for its stylist author. With a distinctly Japanese feel, April and May features all things clean and simple, without any of the potential coldness of minimalist style.
As always, get in touch if you want us to feature your blog next time round.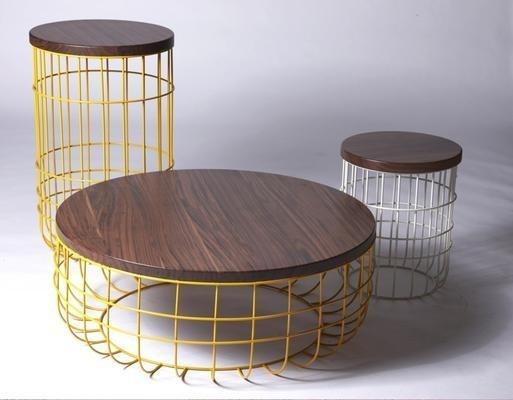 We caught up with Sean Dare, designer at Dare Studios, to find out what's in store.
Furnish.co.uk recently spoke to award winning designer Sean Dare, the man behind Dare Studios, to find out more about the brand and what we can expect to see in the future. Dare Studios produces innovative, contemporary furniture, combining specialist techniques and materials, and championing the skills of local craftsmen.
How would you describe Dare Studios in three words?
Contemporary, classic, future heirlooms…that's four, sorry!
Do you have an all time favourite designer or design?
I think that would be Vladimir Kagan.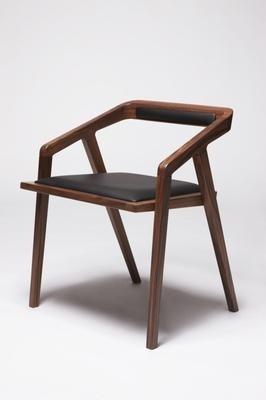 Dare Studios was established in 2009, was it difficult to get your products noticed in such a difficult economic climate?
Surprisingly not! I think we came out with the right designs at the right time.
What do you think contributed to the success of the brand, leading your products to be stocked at iconic stores such as Liberty and the Conran Shop?
The contemporary market is notoriously fickle so we tried to produce contemporary classics. Our designs aren't youthful as such. They are quite reminiscent of old designs but with a distinctly contemporary function.
What is the most ambitious bespoke project you have undertaken so far?
Probably the time we were commissioned to make some rosewood cabinets for a private client in Dulwich. We'd never used rosewood in the studio before and so we weren't aware that certain batches of rosewood timber could cause allergies…until it brought down three of our workshop staff with allergic reactions!
What has been the bestselling piece at Dare Studios, and why do you think this is?
Definitely our Katakana Writing/Laptop desk. I think it's partly because it is designed to be such a contemporary classic, but also because so many people are working from home these days so are more willing to invest in a good design. Again we seemed to hit upon the right design at the right time!
What can we expect to see from Dare Studios in the near future?
We're very busy at the moment preparing for the launch of our new designs this coming September. Look out for our take on upholstery and the addition of dining tables and dining chairs to the range.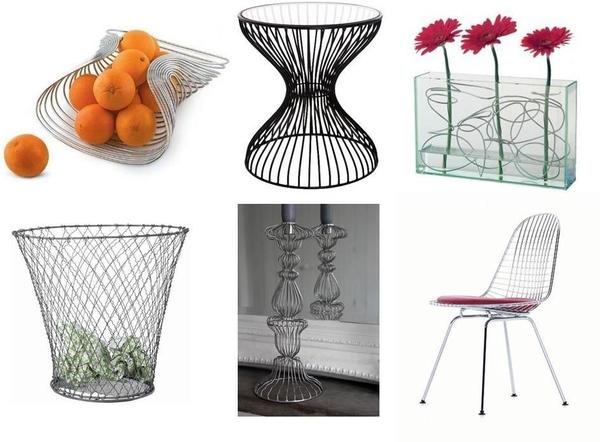 Embrace this structural trend with our pick of the best wire buys around.
Wire may not be for everyone, with its edgy feel and futuristic design it may feel a little out there. However, that doesn't mean it has to be stark or cold.
The classic Vitra Eames DKX wire Chair from Utility will bring a touch of designer chic to any room. If you want something a little smaller, replace the traditional, dull fruit bowl in your kitchen with something a bit more interesting, such as the Alessi Marli wire fruit bowl from A White Room.
Whatever you choose to indulge in, wire is a stylish and structural way to bring your home into this century.
(Clockwise from top) Wire design candle stick, from Rockett St George £16, Alessi Marli wire fruit bowl, from a White Room £89, Content by Conran curved wire side table, from John Lewis £199, Wire waste paper bin, from Summerill & Bishop £23.50, Philippi wire box vase, from Occa Home £53, Vitra Eames DKX wire chair, from Utility £338.40.