Features: September '11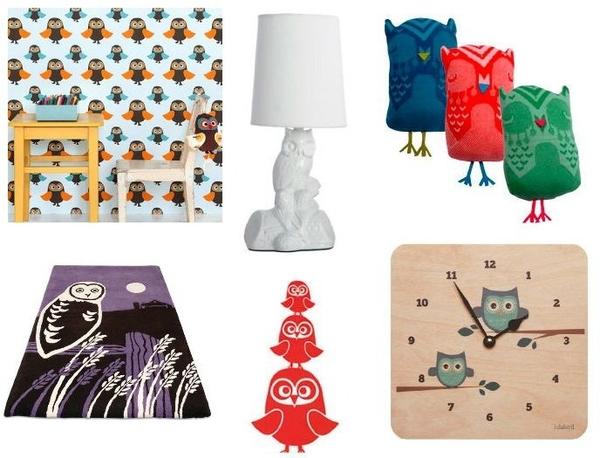 Cute and delightful, owls are a big trend this season and one you'll definitely want to hoot about
Originally known to represent wisdom and mystery, the latest owl trend is most certainly one to be wise about.
Everything from cushions to rugs has been given the owl treatment, so why not bring a bit of charm into your home with some of our favourite buys.
If you're into cute and quirky then go for the Owl Cushion by Donna Wilson from Heal's. Truly unique and extremely adorable, it's guaranteed to bring some enchantment into your room. If this doesn't cut if for you, then why not try the gorgeous Ceramic Owl Lamp from BODIE and FOU. It will add a touch of elegance that will enhance any table it sits on, making a beautiful centerpiece in any room.
Whatever you choose, this latest trend is most definitely a wise choice!
(Clockwise from left) Owl Wallpaper, £59.95, from 95% Danish, Ceramic Owl Lamp By House Doctor DK, £75, from BODIE and FOU, Heal's 2010 Unitted Owl Cushions By Donna Wilson, £42, from Heal's, Owl Rug, £495, from Mini Moderns, Ferm Living Children's Three Owls Wall Sticker, £35, from Heal's, Lula Owl Clock, £30, from Hunkydory Home.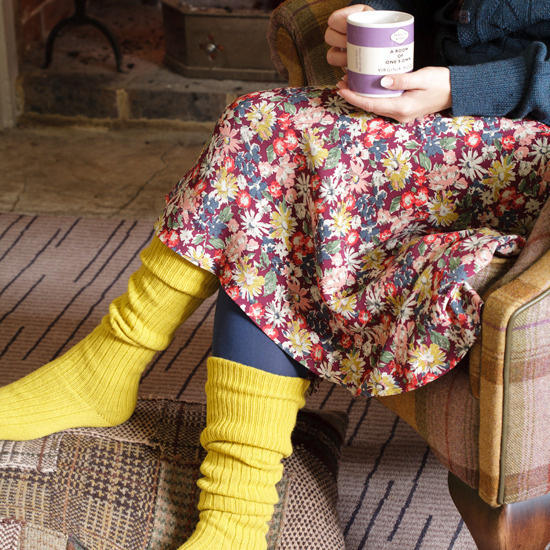 We've put together some ideas to make your autumn extra cosy
The subtle chill in the air may not be a cause for celebration for those who like to hang on to the last rays of summer, but autumn is the perfect excuse to think about making your home cosier. Whether you're returning rosy cheeked from a brisk walk in russet-leafed countryside or bedraggled from an impromptu monsoon on the way home from work, it's always nice to return to a home that feels warm and welcoming. But with the ever-increasing cost of energy bills, we aren't suggesting you turn the heating up to full whack!
Whilst autumnal browns and oranges are an obvious choice to create a feeling of warmth in your space, you needn't change your existing colour scheme. Instead try layering textures that match your existing colour scheme to add depth and warmth to your home without overhauling your décor. Opt for chunky knits, rugged tweeds and opulent velvets; use in combination, scattering sofas and beds with a selection of cushions, throws and bedspreads.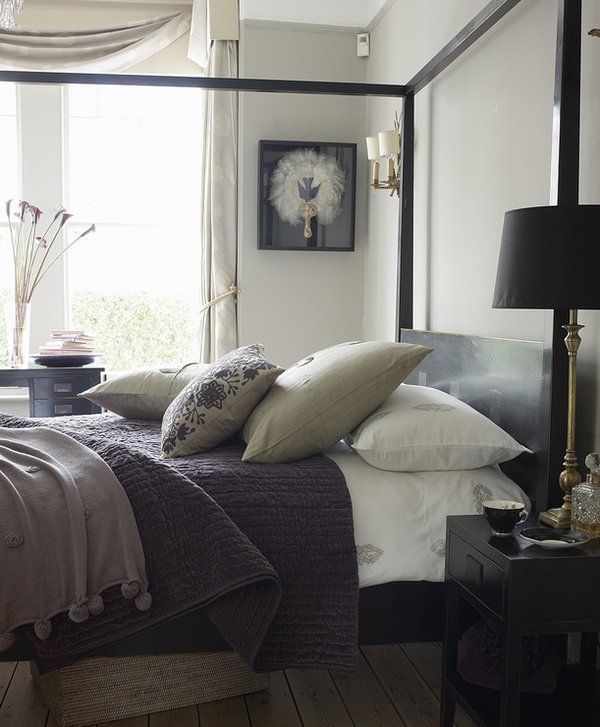 Whilst wooden floors are always appealing, autumn is the perfect time to invest in a rug to take the chill of bare floors. Look for deep pile rugs, which will add comfort and warmth even on top of carpeted floors. A small bedside rug makes a welcoming landing spot for cold toes on chilly mornings and rugs with bright accents are a perfect way to add colour to drab autumn days.
Deep cushioned armchairs and sofas are the perfect place to curl up with a hot drink and a book when the nights start drawing in. Feather wrapped foam cushions, such as the Windsor Armchair from Graham and Green, make for an extra cosy seat.
Swapping existing voile curtains for heavier fabrics is also a great way to add a feeling of cosiness to your home, as well as helping to trap heat when drawn.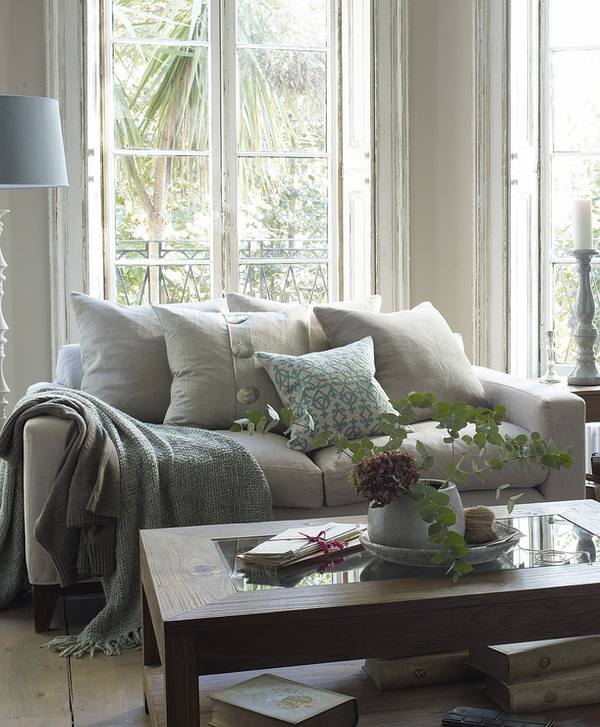 Finally, why not invest in some new mugs to help fight the impending winter blues. We love the chirpy classic print of this Orla Kiely Red Abacus Flower Mug from Heal's and the iconic bright designs of these Classic Penguin Story Mugs. Don't forget to make sure your teapot stays toasty this autumn too with a retro tea cosy, such as this super quirky Blackberry Tea Cosy from Hunkydory Home or this Union Jack design from The Orchard.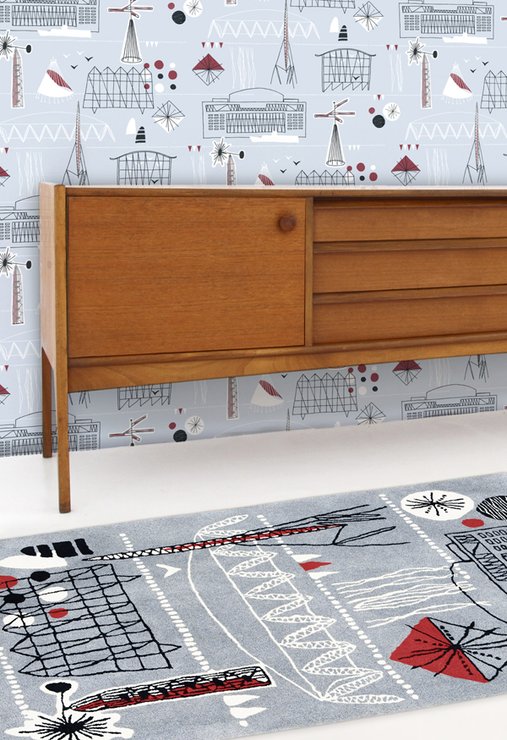 We preview Tent London, one of the most diverse events of the London Design Festival
Now in its fifth year in the Old Truman Brewery in Brick Lane, Tent London is most diverse and must-see event of the London Design Festival. ?Visit London's ground-breaking design show and see over 200 companies, manufacturers, designers and design collectives from more than 18 countries; presenting the cutting-edge contemporary interiors products and digital installations.
This year Tent will expand, with four new venues outside of the main building – including a paper installation by paper manufacturer Arjowiggins and an installation by the Slovenian Embassy, Presented by the Museum of Architecture and Design called Silent Revolutions, looking at a set of innovations and designs from the country.
Exhibiting at Tent London this year is a cross section of all that is great and good about international design. Alongside classic brands, such as Ercol, is the cutting edge of new design talent. Kingston University's faculty of Art, Design & Architecture will be displaying the work of this year's MA graduates.
We've picked out a few brands we think are must-sees at Tent London this year.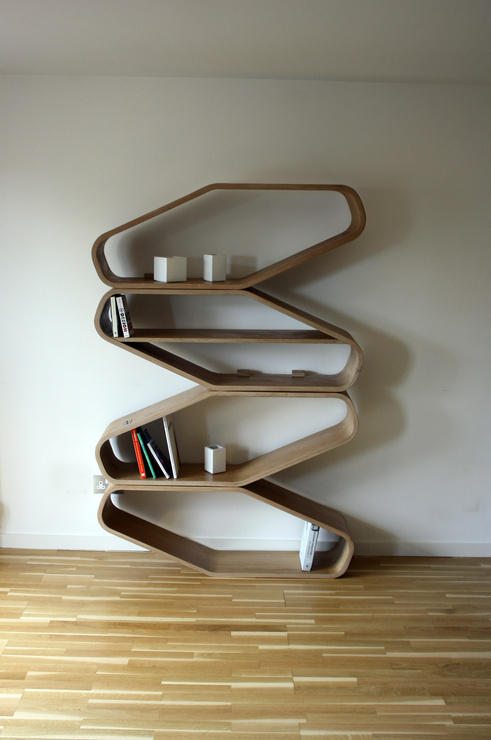 Mini Moderns
Exciting Furnish.co.uk featured brand Mini Moderns will be displaying their wares at Tent London this year. A range of interiors products designed and produced by London based design and branding agency, Absolute Zero Degrees, Mini Moderns is a print driven collection that includes wallpaper, textiles and home accessories for 'kids (and kidults!) and design conscious families'. Their influences range from 1950's textile designs to vintage toys and games. The brand operate a predominantly 'Made in the UK' policy, supporting both the environment, through a reduction of carbon emissions, and local businesses. We love their 'Festival' porcelain tableware, the perfect souvenir from the London Design Festival!
Stand No F15 Hall T1
Andy Murray Design
Andy Murray hails from Scotland…and no, he doesn't play tennis. He is, in fact, an award-winning product and furniture designer.
We love the concept of his Sea Defence collection, which 'brings together the sculptural, strong and iconic nature of sea defences, creating elegant, usable functional pieces of furniture.' The free standing Sea Defence Shelves are hand crafted in Scotland from layered birch, which is pressed into the sculptural shape and finished by hand.
Stand No E17 Hall T1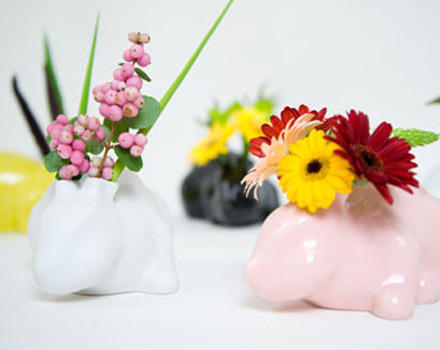 furnish
This namesake brand will be exhibiting at Tent London all the way from Japan. Formed in 2005, furnish is a Tokyo-based designer unit consisting of Satoshi Yoshikawa, Bungo Komuro and Marie Hontoku. The designers aim to take an ordinary item and transform it into something that is not only practical, but also fun to use. All products produced by furnish are made in Japan utilizing traditional local manufacturers in the Adachi-ward suburbs where furnish are based.
Stand No F24 Hall T1
We hope we've convinced you to visit the London Design Festival this year, and do let us know if you uncover any upcoming design gems!
22 September – 25 September
Opening times: Thurs: 10am-8pm, Fri: 10am-7pm, Sat: 10am-8pm, Sun: 11am-6pm
Tickets: £10/£8 (Adult), £5 (Child 5-16)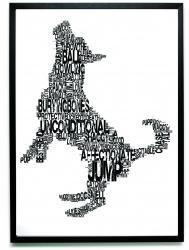 Give your walls some canine charm with this Happy Dog print from Bodie and Fou. £42
Last week I read a series of reports that stray dogs being on the increase and more than ever being abandoned.
Being a dog lover, I was of course distraught – it's always amazed me how there aren't more vigilant checks on those allowed to have pets.
A quick scan of Battersea Dogs Home's website (I know, I was clearly on a downer) and I came face to face with Moo. Moo is a gorgeous, black Staffordshire Bull Terrier abandoned at 2 months. How? Why?
Alas, my mean landlord won't let me have a dog so Moo won't be coming to live with me.
So, I will have to console myself with this Happy Dog print from Bodie and Fou.
Featuring a happy, bouncy canine – the print is made up of words and phrases associated with dogs such as JUMP, BONES and BALL.
A great way to add some sophisticated fun to your walls, I'm buying it in the hope that one day it will be replaced with a picture of my very own dog.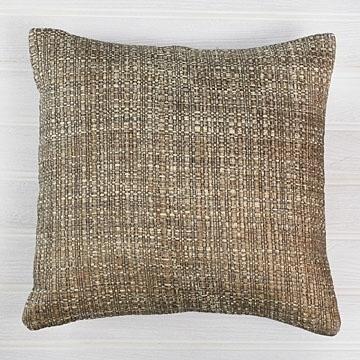 Give your home a touch of eco with this Textured Woven Bamboo Cushion from Primrose & Plum. £18
With more of us trying to be eco concious and do our bit for the planet, we're all trying to know a little bit more about where things come from and how they're made.
Sustainability has also been a massive buzzword for the last few years and bamboo is one of the most sustainable fibres around.
A versatile plant, it can be woven into everything from flooring (which incidentally is very durable) to bathroom accessories.
And although it's not usually a product you'd associate with soft furnishings, this Textured Woven Bamboo Cushion from Primrose & Plum somehow works.
Try using alongside plain and metallic cushions to create an eclectic display on a sofa, bed or armchair.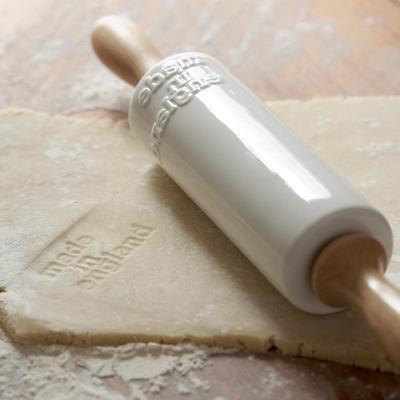 Add some patriotism to your baking with this Made In England Rolling Pin from Designed in England. £39
I've never been one for baking and my pastry is especially rubbish – must be because my hands aren't could enough.
One Christmas, I made mince pies for my family's traditional Boxing Day lunch. They were that atrocious that my Mum handed me a some money and ordered me to the shop to buy some.
However, I could be tempted to try my hand at baking again because it means I get to use this rather fabulous Made In England Rolling Pin from Designed in England,
Made in bone china, it has raised lettering that prints into your pastry, perfect for adding a patriotic touch your pies, it's also a great gift for any domestic goddess or god.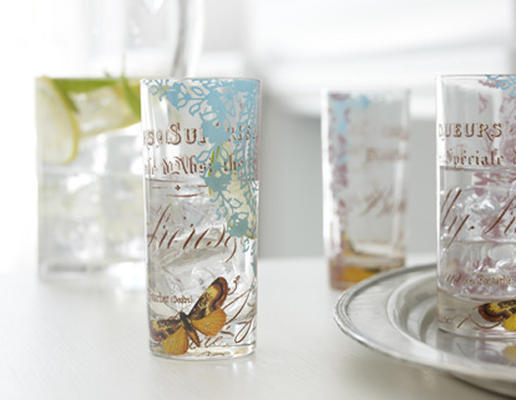 Add some French style to your table with these Pigalle Tumblers from Brissi. £10
Some say, that when it comes to style, the French do it best.
Personally, I feel that us Brits are currently giving our neighbours across the Channel a run for their money when it comes to design for the home.
However, Brissi remain one of my favourites when it comes to interiors.
I adore their latest offerings, which include these gorgeous Pigalle Tumblers.
Perfect for swigging a Pernod from (well, if I could stand aniseed that is), they look more like a Parisian flea market find than something brand new.
And if you don't want to drink from them, why not add a tealight and dot a row of them along a mantelpiece?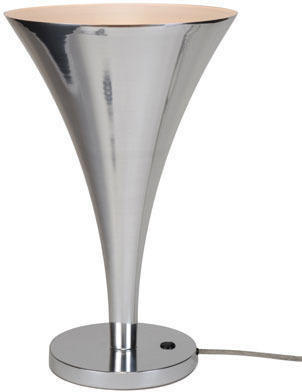 Add some decadent styling with this Trump Table Light from Original BTC. £141.59
We're big fans of Original BTC here from their quirky teapot light to their industrial, factory-style pendants, we think they're one of the most innovative lighting design companies around.
Our latest crush is their Trump Table Light which oozes style and sophistication.
A classic 60s shape, this gorgeous lamp is available in brushed or polished aluminium and will look stunning on a bedside table, in a living room or even on a hallway console table.
And if you love the design, you'll be pleased to know, like us, that there's also a matching pendant and floor lamp available.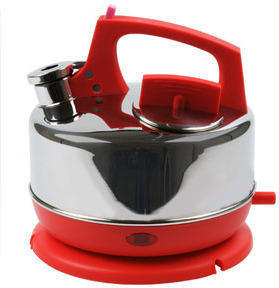 Take some time out for a cuppa with this Revival Electric Water Kettle from Red Candy. £68
I had to buy a new kettle the other day (I know – fascinating…) but unable to afford a Siemens Porsche model, I had to opt for a bog standard design.
I wasn't being totally stingy, it was that I just couldn't find anything worth parting with my hard earned cash for.
And that's probably because I hadn't seen this Revival Electric Water Kettle from Red Candy.
Ticking every single retro box, this delightfully kitsch design reminds me a of a kettle my Nan had in the early 80s. Made by Swan, I believe, it was decorated with wheat sheafs – this however, is far most tasteful.
The perfect addition for a retro style kitchen, it's also ideal if you want to add a splash of colour.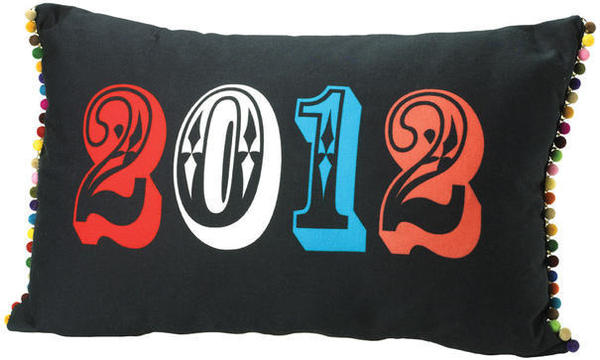 Get ready for next year in style with this 2012 Cushion from Lifestyle Bazaar. £55
Everyone I speak to questions just how fast this year has gone. "Hasn't it flown?" they say, "don't know where the time goes" others comment.
Tell me about it I think. Not only have I been trying to plan a wedding and work at the same time but an unfortunate spell in hospital meant I felt like I completely missed out on summer.
It's true what people say: when you were little, a week seemed like an eternity, now I find myself begging people to stop time on a Thursday so I can eke out a few more hours at my desk.
So, it seemed highly appropriate to show you this 2012 cushion from Lifestyle Bazaar.
The design is courtesy of the very talented Michelle Mason and given next year is a pretty busy one what with the Olympics and The Queen's Diamond Jubilee, it's set to be one to remember.
So, get ahead of the crowd and bag yourself one of these cushions now.
Make your walls come life with this Our Adventure Is About To Begin Wallpaper from Mini Moderns. £50
If, like me, you're trying to keep up with Mini Moderns at the moment then you're probably out of breath.
Not only are they up for an Elle Deco British Design Award (we've got our fingers crossed but we don't think we need to) but they've also just hooked up with man-of-the-moment Rob Ryan to create a brand new wallpaper.
Our Adventure Is About To Begin is a classic Ryan and features flocks of birds who have been freed from open cages. Add to that Mini Moderns wallpaper and colouring expertise and you have a rather amazing wallpaper.
Our favourite is Afternoon Green, a gorgeous 50s hue which will work well in bedrooms and living spaces alike. There are also two other colours, Chalky Violet and Sky Blue.
Whatever colour you go for, we bet you'll love this design as much as us.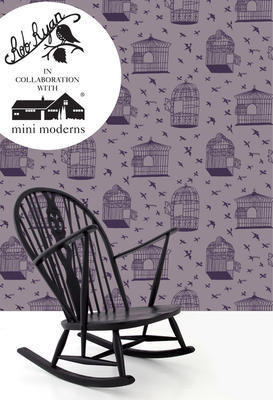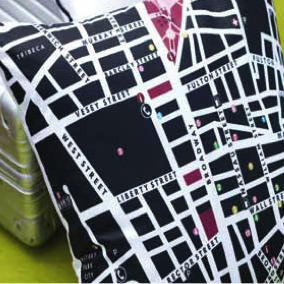 Embrace New York City with this NY Street Map Deluxe Cushion from Coco Male. £52
Without a doubt, my hometown London is my favourite city in the world, after that comes New York City.
I first went to this fabulous city five years ago, and just like everyone told me I would, I fell in love at first sight.
Some would be daunted by the hustle and bustle, the lack of sky thanks to the huge buildings and the noise but not me. I'm a city girl through and through and while my heart will always belong to London, my mistress is most definitely NYC.
Which is why I love this NY Street Map Deluxe Cushion from Coco Male.
A fashionable mix of black, white and pink, it shows the streets of downtown Manhattan.
Perfect for adding instant style to a chair or sofa, this gorgeous cushion is an ideal way to add a touch of New York to your home without having to cross the pond.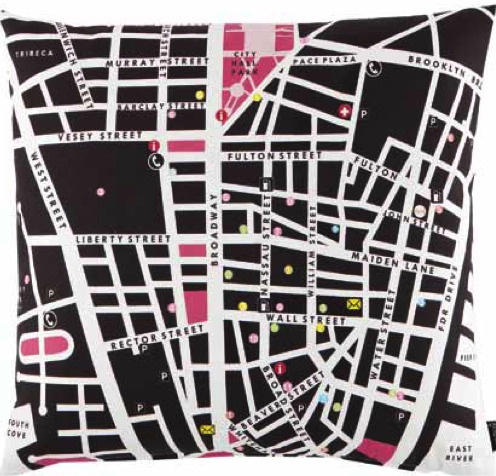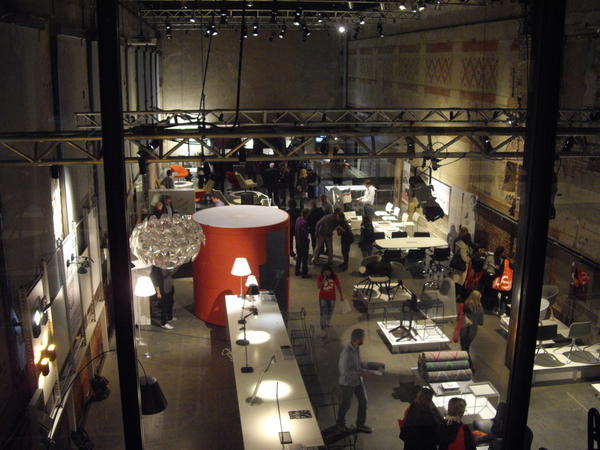 Furnish.co.uk's Aimie goes on tour to the design capital Oslo for Designers Saturday. Read on to see what we found.
In the heart of one of the most awe inspiring cities Oslo, the infamous Designers Saturday marked its 25th anniversary delivering an unforgettable and inspirational show. Norway, renowned for its cutting edge Scandinavian design, displayed the latest on-trend products ranging from contemporary high-end furniture to quaint and nostalgic textiles. In addition to this, some of the best up and coming designers and architects given recognition in the 'Saturday Awards' showcased some truly inspiring interiors and furniture.
Its safe to say that this event was by no means your average conventional interiors show. The term traditional exhibition was truly broken by 37 unique showrooms all exhibiting within different parts of the city. With free bus rides (only in Norway!) I went around various locations, soaking up all the Scandinavian magnificence on my way, on board with the help and company of my Norwegian friend and of course, translator.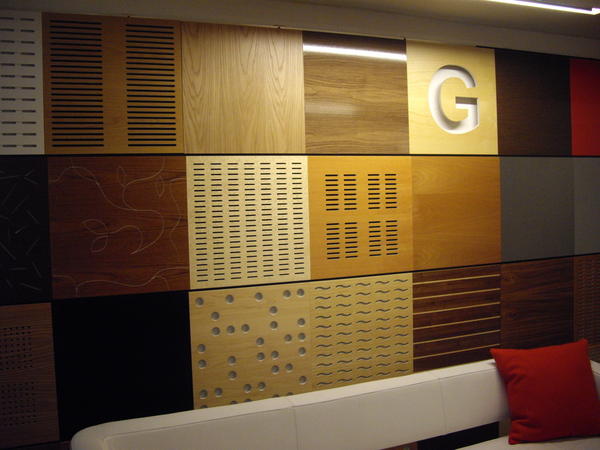 One particular design that caught my eye was the latest collection from Bruhl. 'Love and good design' is their motto and this was truly reflected. Their latest furniture collection based upon the design of flowers, 'Morning Dew' originally inspired by the 'Light in filigree daintiness', it defines the ultimate romance between green living and floral elegance. Each chair is complimented in pastel colours and are each beautiful unique pieces of art work. Inspired by nature was a theme consistently throughout many of the designs, especially within the furniture. Gently woven into the curvature shapes, the Scandinavian designers really showed how form definitely meets function.
After slowly winding my way around the city centre I came to a showroom exhibiting carpets called Interfaceflor. A truly alternative and unconventional exhibition, which involved people dressed up in traditional folk fairy tale garb with an accordion player to help set the scene! The collection drew upon various fairy tales, with each one telling a story and setting a rather unique assortment of the carpets within the collection.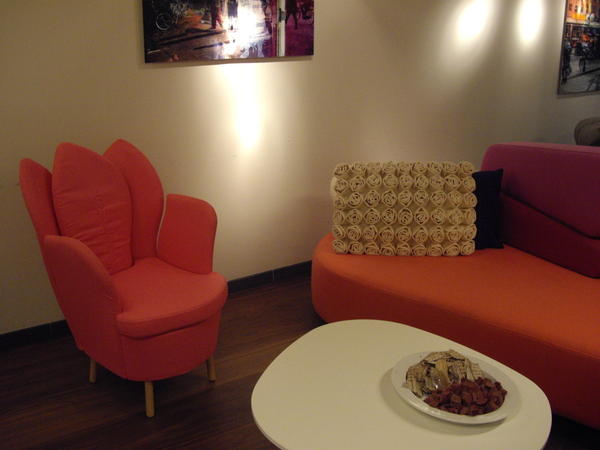 As predicted at the event, the furniture design did not disappoint. Leading edge and so typically Scandinavian, they are set to become the latest trend setters. The soft furnishings and textiles were surprisingly traditional in comparison. Natural and mostly made from raw or recycled materials, the Norwegian brand Pa Fjellet pride themselves on exactly this and delivered an outstanding array of beautifully nostalgic hand woven pieces.
It seemed that the Norwegians know how to impress with both the latest cutting edge designs and also the nationalistic pride and heritage which was greatly felt throughout the entirety of Designers Saturday.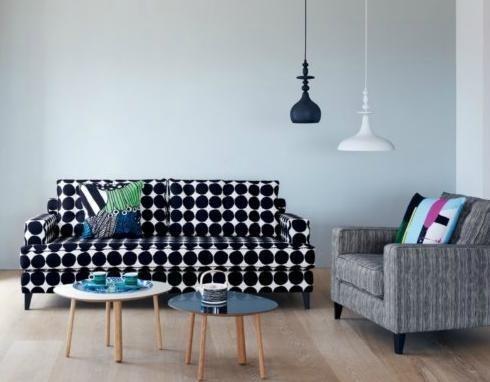 Get ready for the most important month in the design calendar with our guide to what's hot at London Design Festival.
London Design Festival means only one thing; hundreds of fabulous and anticipated events all squeezed into nine days celebrating the wonder of design and contemporary treats. So before you start pounding the streets of the capital, make sure you've read our guide to the must-see events.
Heal's celebrates 60 years of Marimekko
To celebrate Scandinavian design, Heal's are opening a pop-up shop housing everything Marimekko. Featuring limited edition Heal's furniture upholstered in Marimekko fabrics, you'll find out just why Scandinavian design continues to be the envy of the world.
There will also be an in-store talk by Henrietta Thompson entitled, 'Why blondes have more fun: 60 years of Scandinavian Design.' This is a ticket only event so make sure you grab one sooner rather than later.
Heal's, 1st floor 196 Tottenham Court Road W1, Until 25th September.
New cutlery launch and exhibition – David Mellor Design
If you're interested in how designers develop their products, take a look at the David Mellor cutlery launch. This offers a chance to see exactly what design processes, drawings and elements go into the development of a new range of product design from this great British designer.
David Mellor, 4 Sloane Square SW1, Until 25th September.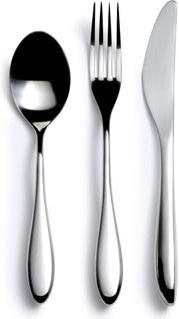 Faye Toogood Assemblage 3: Delicate Interference
One of the most important names in interiors today, Faye Toogood launches her third furniture collection this year during London Design Festival exclusively with Phillips De Pury. Her collection includes all her work from previous launches and is all available to buy from the store. We recommend taking your credit card and having your bank manager on speed dial so you can bag a future classic.
Phillips De Pury & Company at Claridge's 45-47 Brook Street W1, Until 4th October
Case Furniture
One of the most important furniture design companies in the world, Case display their new range of furniture in their Clapham-based showroom.
It will feature pieces from their designers Knole and Sissinghurst, Matthew Hilton and Marks Barfield Architects. So charge your Oyster card, head south and soak up some innovative design.
Case Furniture showroom, 189 Stonhouse Street SW, Until 25th September.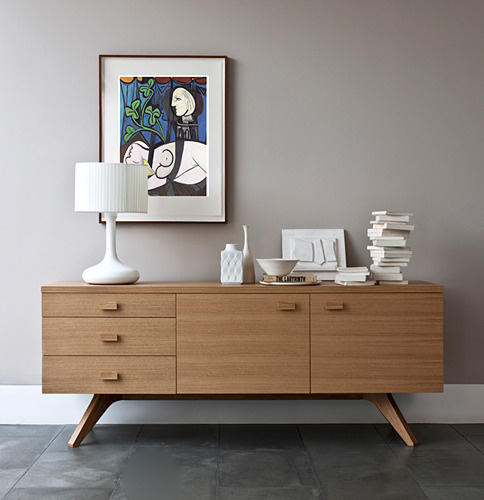 Dedar new showroom
Dedar is opening a brand new showroom at the Chelsea Harbour Design Centre.
It will include a presentation of all the Dedar fabrics and wallpapers, as well as an exclusive look at the first collection of Hermes fabrics and wallpapers so it's well worth a look for key inspiration for colour and warm textiles. Plus you'll get to hobnob with ladies who lunch and the Chelsea elite, if that's your thing.
Dedar UK LD, The Chambers Unit C7 Ground Floor Chelsea Harbour SW, Until 28th September.
Beau McClellan Design
If lighting's your thing then make sure you head along to Beau McClellan Design. They'll be exhibiting their latest collection alongside a large-scale, breath-taking chandelier that reacts magically to movement and sound!
Their collection of high-end lighting products which uses LED in an innovative way will all be unveiled at the exhibit.
Beau McClellan Design, Victoria House Basement 37-63 Southampton Row WC, Until 25th September.
And if you're not totally exhausted after all that, remember there's 100% Design and TENT London to enjoy. We'd love to hear what's exciting you about LDF 2011 so make sure you drop us a line and let us know.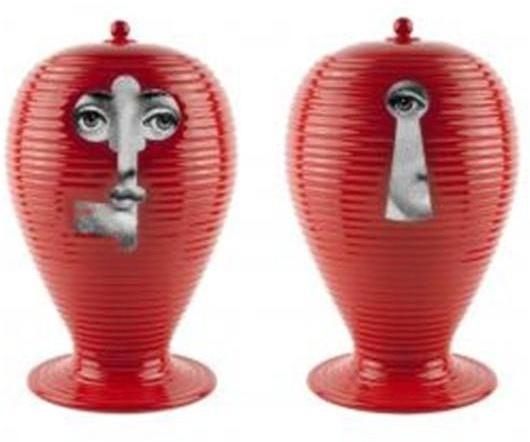 Get ready for the most important month in the design calendar with our guide to what's hot at London Design Festival.
London Design Festival means only one thing; hundreds of fabulous and anticipated events all squeezed into nine days celebrating the wonder of design and contemporary treats. So before you start pounding the streets of the capital, make sure you've read our guide to the must-see events.
Through the keyhole at Milk – Fornasetti vase collection 2011
Milk invites anybody with a taste for style to their journey through the timeless and quirky work of Fornasetti. The new launch of limited edition vases by Barnada Fornasetti are an array of textures and feature the distinctive imagery of Fornasetti, If you're expecting traditional vases, think again – these pieces are works of art in their own right.
Milk Concept Boutique, The Clerk's House 118 ½ Shoreditch High Street E1, until 25th September.
British-ish
Explore the work of Giles Deacon and work from upcoming future designers as recent graduates from the University of the Arts London showcase their distinctive designs. This is what's great about British design today so make sure you pay a visit to show your support.
The V&A, Galleries 118-125 British Galleries level 4 Cromwell Road SW7, Until 25th September.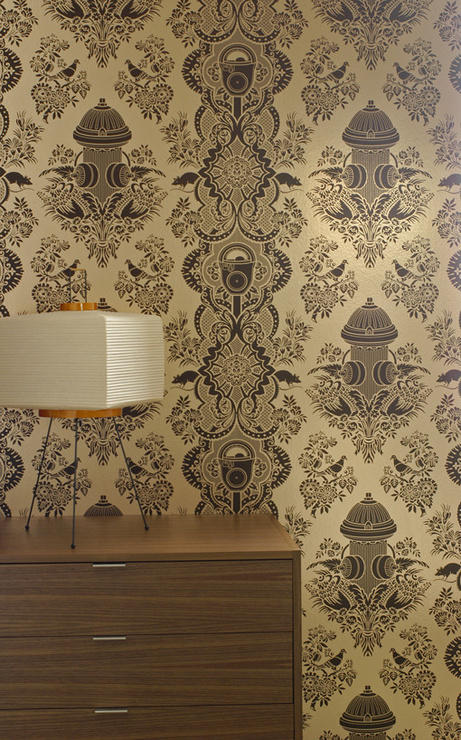 Habitat
One of the most iconic home furnishing companies, Habitat has been supplying the demand for a stylish home since 1964, when the godfather of design, Sir Terence Conran started showing us Brits how to be stylish in the home. Habitat will be displaying their Best of British designs within their iconic Tottenham Court Road store.
Habitat, 196-199 Tottenham Court Road W1T, Until 25th September.
"Love'in" stitch workshop with Fine Cell Work
Fine Cell Work show that needlework isn't just for the over 80's with their edgy Love, Hate, Life collection of embroidery made by UK prisoners.
Have a go at your own piece of work by making a 'love' inspired pin cushion, whilst being mentored by an ex offender demonstrating the intricate skill of embroidery.
Tom Dixon Shop, Wharf Building Portobello Dock 344 Ladbroke Grove W10, Until 25th September.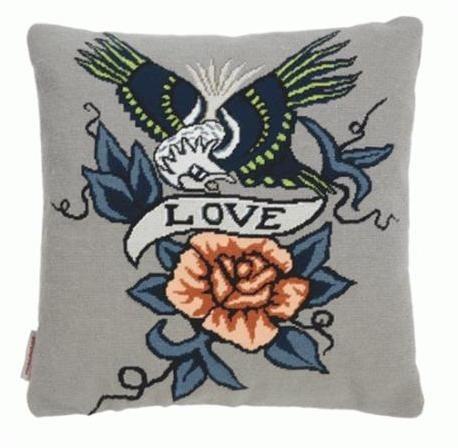 Crest Living Mad Hatters tea party
Crest will be showcasing new, exciting and thought-provoking designs from Thonet including pieces by designer Claudio Bellini. Crest will also be featuring a few surprise products from top manufacturers, so keep your eyes peeled and make sure you see them first. Even if you can't attend the tea party, pop in to the Crest Living store as they're open 7 days a week.
Crest Living, Downstairs at Few and Fair 242 Brompton Road SW3, Until 20th September.
Flavor Paper
TENT London is one of the hottest events in the calendar. If you're looking for a variety of wallpaper ideas to decorate your home, Flavor Paper are displaying plenty of hand screened and digital wallpapers in their Flavor booth for the first time ever in the UK so take a look for some creative ideas.
Flavor Paper, Tent London Old Truman Brewery Brick Lane E1, Until 25th September.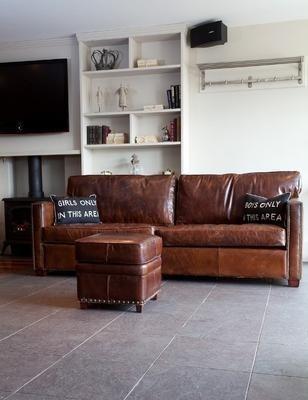 Curl up in style with this Vintage Leather Greenwich Sofa from Rose & Grey. £950
Seeing though I'm getting married in Greenwich, love leather sofas and can't resist a bit of vintage style, it's no surprise that this Vintage Leather Greenwich sofa from Rose & Grey caught my eye.
Large enough for a Saturday afternoon snooze (oh come on we know you have one), it's been covered in gorgeous brown distressed leather.
Perfect for classic and contemporary schemes, this is bound to become a much loved piece of furniture that you'll have for many years to come.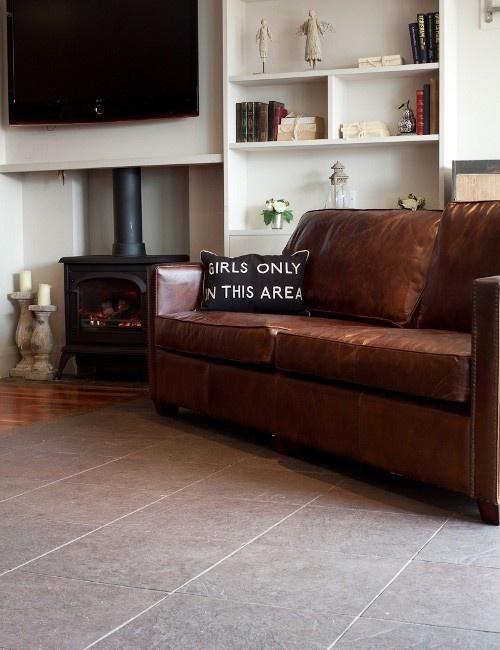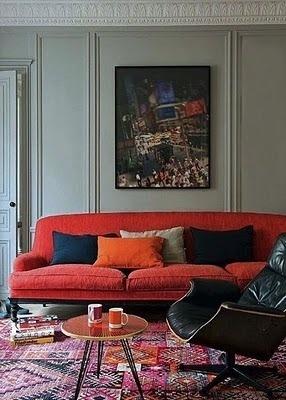 Here's our pick of the blogs that have had us hooked this week.
I always feel it makes me seem like I have a rather 'Eeyore' character to admit it, but my favourite colour is grey…thick grey felt, softest grey marl, even the occasional brooding grey sky; it's just a very appealing colour to me. So I was tickled to come across A Perfect Gray, a blog named after the author's search for the perfect grey wall colour. With helpful advice on finding the 'right' grey for your space, A Perfect Gray is also jam packed with images of beautiful antiques, décor inspiration and features on talented artists. Grey makes a fantastic foil for colourful interiors, so give this blog a visit for interior décor ideas.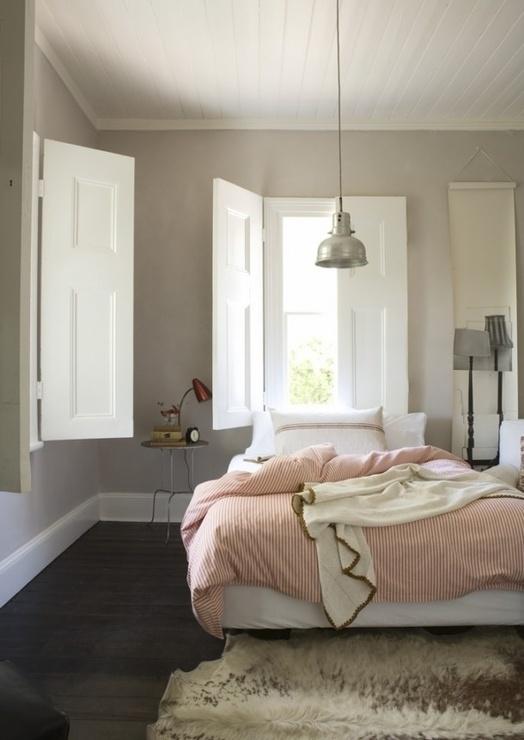 Following the Scandinavian theme running through our blog features in the past weeks (I see a trend here, do you?), we'd like to introduce you to Splendid Willow. A native of Sweden, Monika describes her blog as 'edgy classic with a Swedish twist'. Here she collects her thoughts and ideas and features brilliant design from across the globe. You can also expect lots of lovely photographs of house tours and room makeovers. A perfect lazy afternoon read.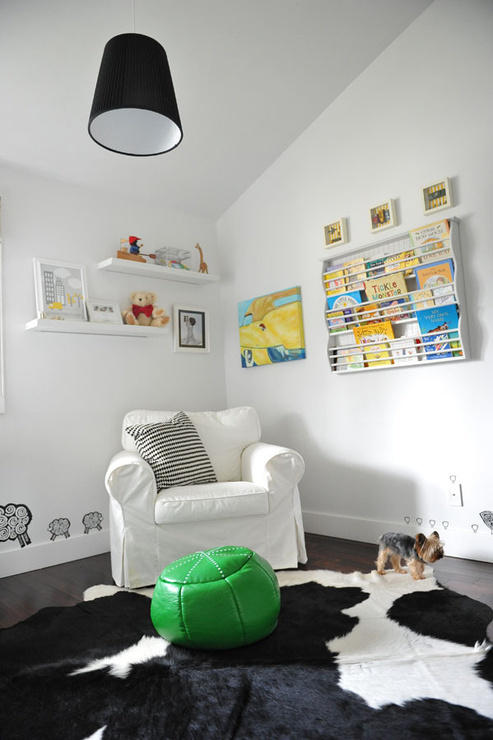 Here's our pick of the blogs that have had us hooked this week.
The first blog we've been loving this week is something a little different – a design blog dedicated entirely to children. Little Moth brings you décor inspiration to get your little ones on the right track design-wise. The blog is full of inspiring photographs of brilliant contemporary nurseries, with décor schemes that will grow with your child and ingenious ideas that are child friendly yet consistent with the other stylish rooms of your home. And as an interior designer and single mother to five boys, this blog also has a comforting dose of practical experience to balance out the dreamy images of pristine rooms!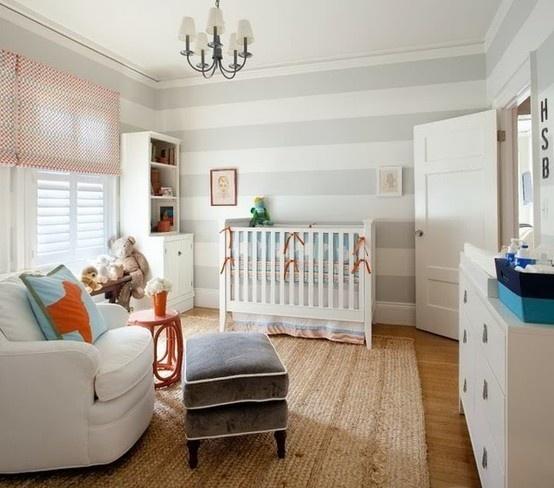 Our second featured blog this week is Honey + Fitz, is also rich with décor inspiration for the bedrooms of little ones. However it also offers plenty more – such as posts concentrating on working individual trends into your space. Written by Dina, a Bostonian living in North Carolina, Honey + Fitz chronicles everything from flea market finds to organizational ideas – all in a beautifully presented and helpfully categorized setting.
As always, get in touch if you'd like us to feature your blog next time!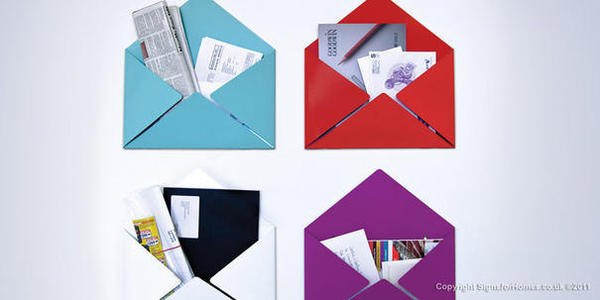 Keep your mail and paper work in check with these stylish Envelope Mail Boxes from Signs For Homes. £34.95
If you're like me then keeping your post and paperwork in check is a daily nightmare.
I've tried shelves, baskets, boxes – you name it but when it comes to keeping my home clutter free I seem to fail on a colossal scale. Even if i get all my stuff into boxes and baskets, my home then just becomes full of boxes and baskets!
Which is why I love this idea from Signs For Homes. The Envelope Mail Box is made from bent metal which has been shaped to look like an envelope.
Available in a selection of four colours, it's wall-mountable and has been designed to hold everything from post to paperwork.
Try using all four in your home office to add some colour and provide some much needed storage.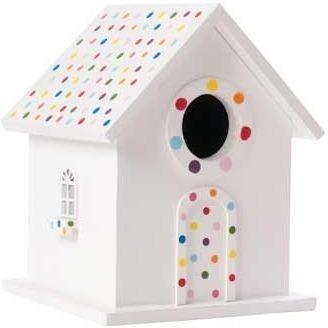 Give your feathered friends a very fashionable home with this Cottage Spotty Birdhouse from Bombay Duck. £16
Polka dots are very now at the moment so what better way tap into this trend than with the Cottage Spotty Birdhouse from Bombay Duck.
This delightful birdhouse is shaped like a traditional cottage complete with window and door and finished with a brightly coloured, vintage polka dot pattern.
Perfect for encouraging birds to visit your garden, your feather friends are guaranteed to have the best accommodation in town.