Features: January '12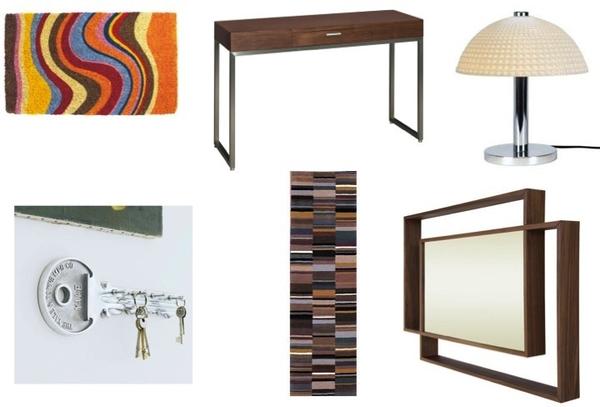 Welcome your guests into your home with these fabulous hallway buys.
First impressions are always important, so why not make a great one with Furnish's pick of the best hallway accessories.
For a bright and friendly welcome, the Curvy Stripe Doormat from Utility is perfect for keeping your carpets clean. Keep your space clutter free with the Steel Frame Console Table from Dwell, its handy drawers are ideal for post and you'll never forget your keys again with this Yale Key Rack from Graham & Green.
(Clockwise from top) Doormat – curvy stripe, from Utility £25, Steel frame console table, from Dwell £199, Cosmo dimpled table lamp, from Original BTC £284.40, Gemini mirror, from Fashion for Home £199, Runner multi brown kaleidoscope rug, from Heal's £230, Yale key rack, from Graham and Green £19.95.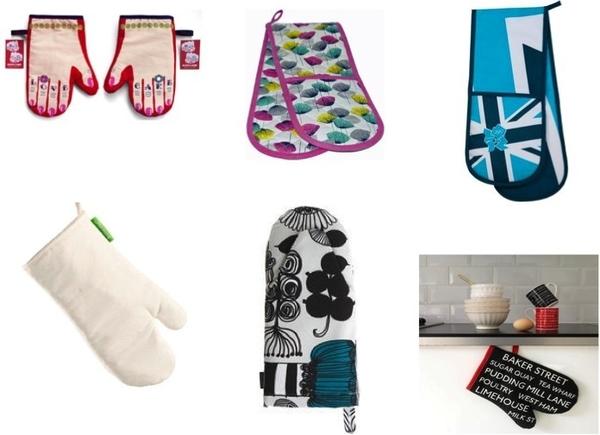 Bake in style this season with our fantastic range of oven gloves
Kitchen essentials tend to be more about practicality then style, but this needn't be the case!
Choose from our range of our trendy and chic oven gloves that are sure to add a bit of colour and style to any bland kitchen. The gorgeous Marimekko Gardeners Best Oven Mitt from Heal's with its retro design is perfect for pattern lovers while the Baker Street Oven Mitt from Lifestyle Bazaar is just the ticket for those that want to add some capital style.
Glove & Cake Oven Gloves, £25, from Hunky Dory Home, Dandelion Double Oven Glove, £10, from Heal's, London 2012 Olympic Games Union Jack Oven Gloves, £12, from John Lewis, Endeavour Oven Glove, £11.40, from 95% Danish, Marimekko Gardeners Best Oven Mitt, £20, from Heal's, Baker Street Oven Mitt, £16.95, from Lifestyle Bazaar.
Add colour to your scheme your way with one of these Bespoke Technicolour Cushions from Room39. £65
I'm a big fan of bespoke products as I love the way they let you put your own stamp on a product.
However, bespoke often means expensive but not so with these Bespoke Technicolour Cushions from Room39.
You simply choose square or oblong and then choose three colours from White, Jade, Tangerine, Cyan Blue and fuchsia to create a unique colour combination.
The geometric pattern is bang on-trend and guaranteed to spruce up a tired old sofa or chair.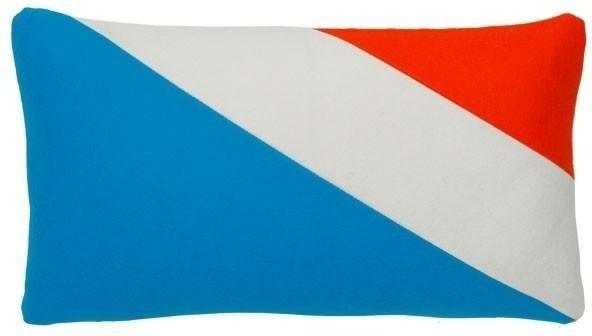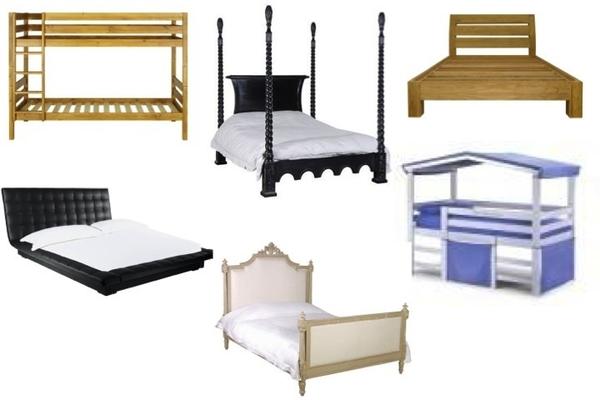 Relax and recline with our pick of the most stylish beds for young and old.
Nothing feels better than snuggling under the duvet after a long day, so make your bedtime special with these fabulously designed beds.
The Moulin noir 4 poster bed from Lovers Lounge is perfectly romantic and a great statement that'll compliment any bedroom. If you're looking for something for the kids, the Hideout children's bed – pink or blue from Lover Furniture is a great way of putting fun into bedtime, as well as keeping toys and clutter hidden away.
(Clockwise from top) John Lewis Somerset bunk bed, from John Lewis £399, Moulin Noir 4 poster bed, from Lover's Lounge £1565, Henry natural arc bed, from Puji £965, Hideout children's bed – pink or blue, from Lover's Lounge £339.99, Normandy upholstered bed, from the French Bedroom Company £1195-£1799, Kingsley padded bed double black, from Dwell £699.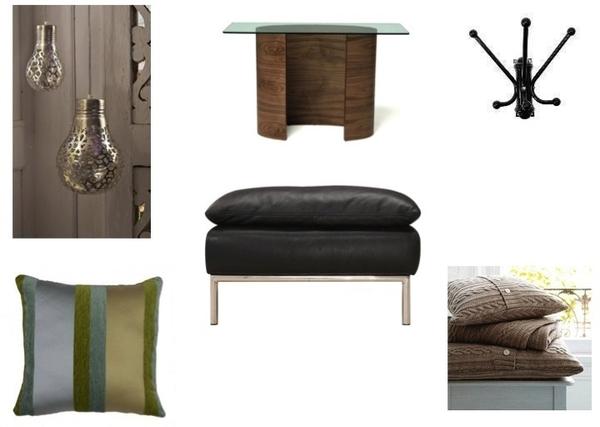 Discover a bargain in our latest seasonal sale
If you're looking for some new inspiration for your home, but don't want to break the bank, we have a fantastic range of items for you to choose from in our sale.
The gorgeous Arquette Lamps from Plumo are a great way of updating your home without the stress or expense and this Blue/Green Stripe Cushion from Puji will instantly add some colour to a chair or sofa.
Arquette Lamps, was £139 now £75, from Plumo, Eclipse Console Table, was £900 now £765, from Tom Schneider, Funky Coat Hooks Black, was £49.99 now £19.99, from The Contemporary Home, Blue/Green Stripe Cushion, was £22 now £15.40, from Puji, Larsen Footstool, was £499 now £250, from John Lewis, Somerton Throw, was £110 now £79, from The White Company.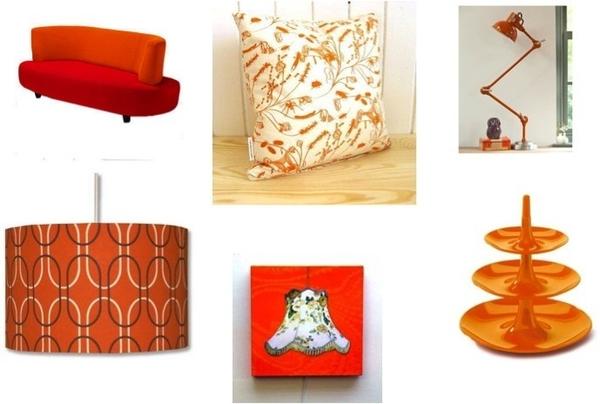 Orange is set to be a big colour in the home this year so add some to your scheme now and be way ahead of the interiors pack.
From bright tangerine to burnt copper, orange is a super versatile colour that is perfect for banishing those late winter blues and brightening up the greyest of days.
The best way to tap into this trend is to do it in small doses. This Flipside Cushion from Showpony will look great teamed with a grey throw on a simple sofa, while the Koziol Babell Three Tiered Cake Stand from Pelican Pear will give your kitchen a much needed post-Christmas colour boost.
If you really want to go the whole hog then this Flow Sofa by Kay+Stemmer for Heal's will create a show-stopping centre piece.
Flow Sofa by Kay+Stemmer, £2595, from Heal's Flipside Cushion – Insect Soup Orange, £33, from Showpony, Multiangle Lamp – Orange, £195, from Rose & Grey, Morph, £36, from Hunkydory Home, Vintage Shade Mini Glo – Canvas, £50, from Duffy London, Koziol Babell Three Tiered Cake Stand, £17.90, from Pelican Pear.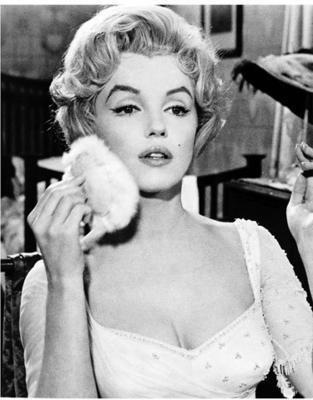 Pay homage to one of the silvers screen's biggest stars with this Marilyn Monroe Art Print from 55 Max. From £120
Everywhere you look at the moment Marilyn Monroe seems to be smiling back at you – or more often than not giving you that vacant look.
It is of course due to the film My Week With Marilyn but it will also be 50 years since she died this year.
Having read the book, which is excellent by the way, I am ever more mystified by this glamorous woman who was, it would appear, one of the loneliest and saddest films stars to ever have graced our cinemas.
My Mum is a massive MM fan, so I grew up watching classics such as Some Like It Hot – which is my personal favourite.
This Marilyn Monroe print from 55 Max is the perfect way to salute the great lady and this still is taken from The Prince & The Showgirl – which the making of My Week With Marilyn is about
As well as quite wanting it for myself, I think I have just found my Mum's birthday present.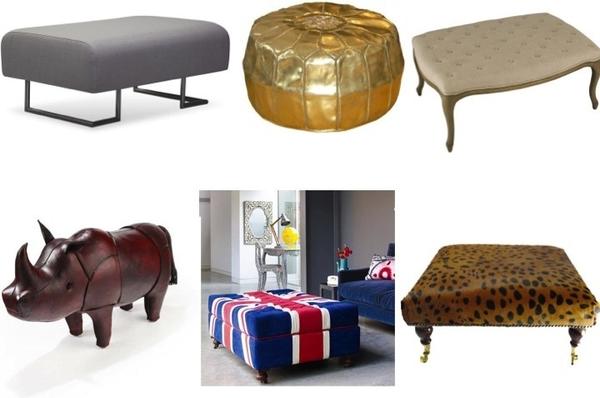 Put your feet up and have a well-deserved rest with our pick of the best ottomans around.
Every sophisticated lounge wouldn't be complete without a classic ottoman, so make your restful nights in front of the telly even more satisfying with a stylish ottoman.
Add a patriotic touch with the Union Jack Ottoman from Graham & Green, it is the perfect statement piece and the lid lifts up to reveal a generous storage space which is perfect for stashing books, magazines and spare cushions and throws.
If you fancy adding a quirky touch then look no further than this Leather Rhino Footstool from Liberty. Simply sit back and relax with your legs up on the rhino's back – something you'd never risk in the wild!
(Clockwise from top) Camden sand ottoman, from Fashion for Home £129, Moroccan Leather pouffe – metallic gold, from Coco Male £114, Lara ottoman, from OKA £669, Leopard print 2ftx2ft cowhide footstall, from London Cows £365, Union Jack ottoman, from Graham & Green £995, Leather rhino footstall, from Liberty £495.

Keep your coats neat and tidy with this Tree Coat Stand in Walnut from Dwell. £149
Another year and still the hunt for my dream coat stand goes on.
Given the narrowness of my hallway and the post-Christmas squeeze on my bank balance, every one I see is either too expensive or too big.
However, this Tree Coat Stand from Dwell certainly ticks the boxes.
Narrow enough to be unobtrusive, it's still generous enough to hold all my coats and is well within budget.
So, I think it's fair to say that this forest-inspired fella will soon be making its way into my home.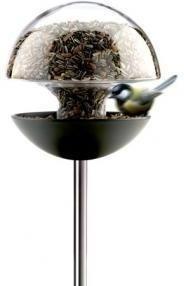 Let your feather friends dine in style with this Eva Solo Bird Table from Bodie and Fou. £89
Most bird tables tend to be a bit twee, especially for urban gardens but this Eva Solo Bird Table from Bodie and Fou will have birds flocking in their dozens to dine in style.
Made from glass and steel, it's specially designed for smaller birds (so step away hungry pigeons) where they can dine at leisure.
And it's great for birds who are watching their weight (ok, I know birds don't really watch their weight) as the food is dispensed on a need-to-eat basis.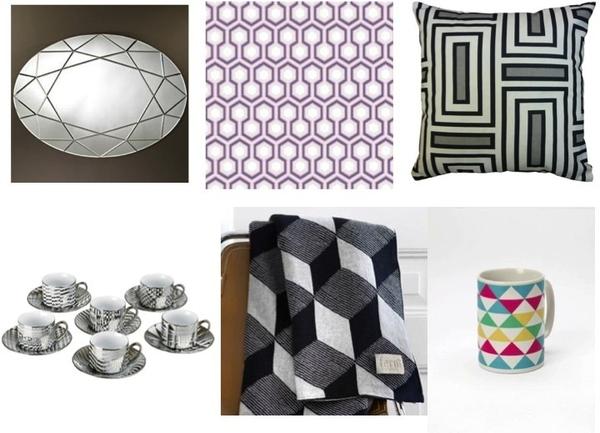 Give your home an angular and modern feel with these geometric prints.
Whether you prefer the smoothness of circular designs or the quirkiness of symmetrical patterns, Furnish has something to cater to all tastes.
The knitted squares blanket from 95% Danish is a perfect way of injecting a 70's vibe into your home. Or maybe you fancy the geometric cushion from Dwell, great for jazzing up any sofa.
(Clockwise from top) Deknudt decora geometric lined oval mirror, from Heal's £384, Cole and Son Hicks hexagon wallpaper by David Hicks, from Heal's £64, Geometric cushion from Dwell, £19.95, Triangular mugs, from Sonodesign £7.99, Knitted square blanket, from 95% Danish £99.95, Geometric espresso set of 6, from Dwell £39.95.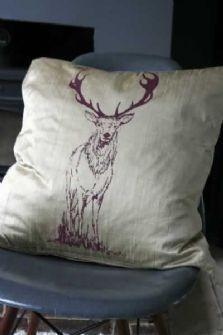 Add some animal charm with this Stanley The Stag cushion from Rockett St George. £47.50
The stag trend is refusing to die, so instead of fighting it, perhaps it's time to embrace it – if you haven't already.
This Stanley The Stag Cushion from Rockett St George is a nice change to the ubiquitous faux stag heads that seem to be adorning everyone's walls.
Hand-printed onto luxurious silk, Stanley cuts a rather cutting figure and will make a welcome addition to any plain sofa or armchair.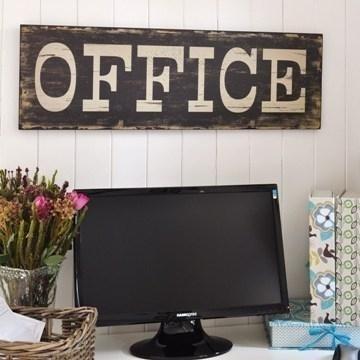 Define your workspace with this Rustic Wooden Office Wall Sign from Prmrose & Plum. £24.50
As someone who has worked from home, I know how tricky it is to stay focused.
You sit at your laptop with every intention of getting that important piece of work finished and all of a sudden you glance down at the washing basket do some washing and hunt for that missing top. Wander into the kitchen and you see the hob needs cleaning.
You get my drift, before you know it three hours have gone past and that important piece of work still hasn't been done.
This Rustic Wooden Office Wall Sign from Primrose & Plum is not only rather stylish but it will help define your work space.
After all, what will make sure you get that work done more than a sign that reads OFFICE?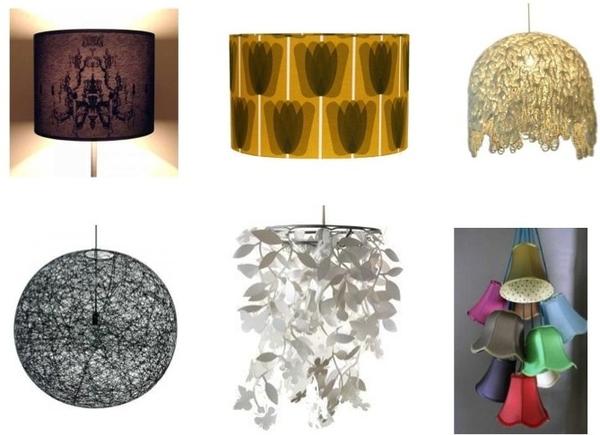 Add that wow factor to your home with a stylish lampshade
Trying to perfect lighting in a room can be tedious. But if you're looking for that finishing touch to add some style to your home then investing in a trendy lampshade can be a great solution.
Ranging from beautifully intricate to cool and ecletic, you are sure to find the right style for you.
Why not opt for the gorgeous Traditional Lampshade Cluster Light from Rockett St George?
Colourful and stylish, it's sure to be the talking point of any room. Or add a touch of romance to your bedroom with the White Leafy Pendant Lampshade from The Contemporary Home. Whatever you choose, you can guarantee your lighting will be far from dull.
Sillhouette Chandelier Lampshade (black), £45, from Duffy London, Orla Kiely Tulip Print Drum Lampshade Olive, £88, from Heal's, Innermost Marble Felt Pendant Shade, £175, from Found Home Store, Moooi Random Black Pendant Lampshade, £432, from Occa Home, White Leafy Pendant Lampshade, £23.99, from The Contemporary Home, Traditional Lampshade Cluster Light – 9 Lamp Shades, £275, from Rockett St George.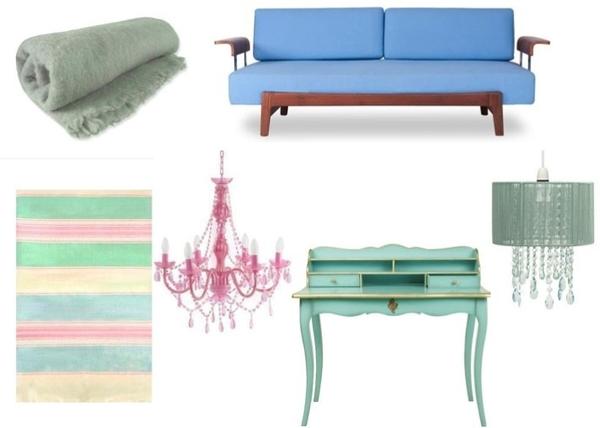 Copy the catwalks of Milan, London and Paris by adding some subtle pastel shades to your home this season
Ranging from soft powered blues to almost there pink to delicate, chalky sage, pastels are big news this season when it comes to decorating the home.
This luxurious Pastel Green Throw, from Cocomale is sure to ward off the last days of winter while the divine Pink Gypsy Chandelier from The Contemporary Home is girly enough without being too over the top.
Pastel Green/Grey Luxury Mohair Throw, £75, from Cocomale, Casatuna Light Blue Sofa, £1,199, from Fashion For Home, Pastels Silk Throw, £90, from Rocomara, Large Ornate Baby Pink Gypsy Chandelier, £429.99, from The Contemporary Home, La Table De Rouen, £495, from The French Bedroom Company, Hales Small Pendant Shade Duck Egg, £78, from Heal's.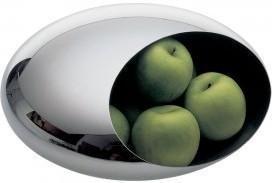 Get your 5-a-day in style with this Philippi Cocoon Fruit Bowl from Occa-Home. £109
Everyone I know, including me, starts the New Year with a health kick.
Half-empty wine bottles are drained, the leftover sweets given away or thrown in the bin and that piece of cheese that's been languishing at the back of the fridge since Boxing Day, given to the dog.
By the time the 10th January comes round, everyone I know, including me, has failed miserably.
However, this year I was determined not to so went out and bought myself a swanky fruit bowl to encourage me to eat my 5-a-day.
This Philippi Cocoon Fruit Bowl from Occa-Home will do the trick for you if you're also struggling.
Made from stainless steel, its super sleek and looks good even when it's not full of juicy pieces of fruit.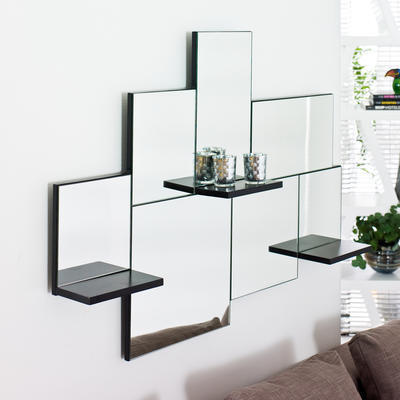 Jazz up a plain wall with this Triple Shelf Wall Mirror from Dwell. £129
Mirrors are the perfect way to increase the feeling of light and space in a room, which is particularly handy if you're short on natural light.
We love this Triple Shelf Mirror from Dwell which is made up of numerous mirrored squares.
That's not all though because as its name suggests, it also comes complete with three handy shelves.
Perfect for the bedroom or bathroom, this is sure to add some style to even the plainest of walls.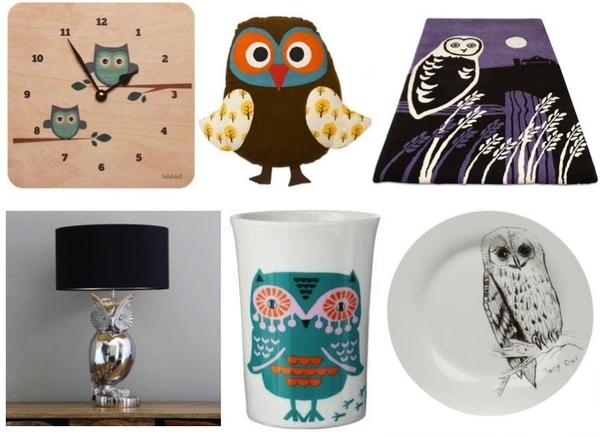 Give your home some unique charm with these owl accessories.
This quirky, bird of prey is perfect for accessorising any room to create a cute, vintage feel.
Brighten up a wooden floor with this fabulous, Owl rug, from Mini Moderns.
Or maybe you fancy a subtle owl design gracing your table, such as the Tawny Owl dinner plate from Liberty; a great talking point at any dinner party.
(Clockwise from top) Lula owl clock, from Hunkydory Home £30, Owl cushion multi, from 95% Danish £39.95, Owl rug, from Mini Moderns £495, Tawny owl dinner plate, from Liberty £23.50, Donna Wilson Owl beaker, from Heal's £12, The Fraser owl lamp base, from Graham & Green £160.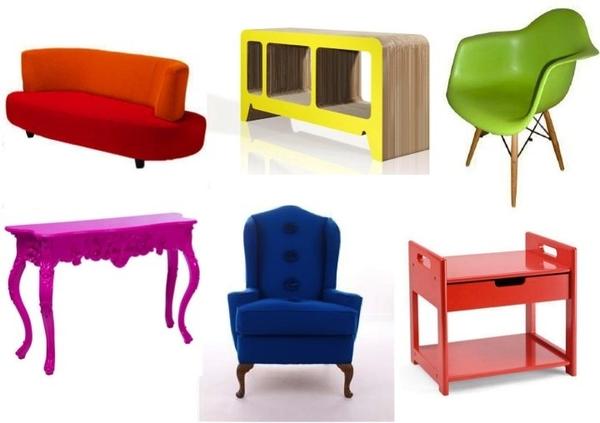 Brighten up your home with some coloured furniture.
Why restrict colour in your home to accessories when you can experiment with colourful furniture? Here at Furnish, we've picked the best, brightly coloured furniture that is sure to make a bold impression in your home.
The Gaga Pink Console Table from The French Bedroom Company, is great for injecting some feminine fun into any room. Or maybe you fancy a pop of colour in your living room, with this 2010 Flow Sofa by Kay + Stemmer from Heal's. Whatever you choose, your home is sure to be bright and welcoming with these vivid furnishings.
(Clockwise from top) 2010 Flow sofa by Kay + Stemmer, from Heal's £2595, Georgia yellow cardboard sideboard, from Fashion for Home £149, Eames style daw chair, green, from Zazous £79.99, Toddler bedside table – jolly red, from Great Little Trading Company £36, Armstrong sofa, from Lockwood Design £1900, Gaga pink console table, from The French Bedroom Company £445-£495.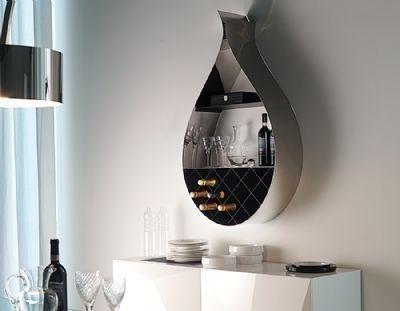 Stash your wine in style with this Cattelan Italia Drop Wine Rack from A White Room. £936
To be perfectly honest, a bottle of wine never lasts long enough in my house to be put in a rack.
However, this Cattelan Italia Drop Wine Rack from A White Room might convince me to change my mind.
Made from steel it has a sturdy rack to hold your finest bottles of wine and two shelves to store glasses, corkscrews and other wine paraphernalia.