Features: October '12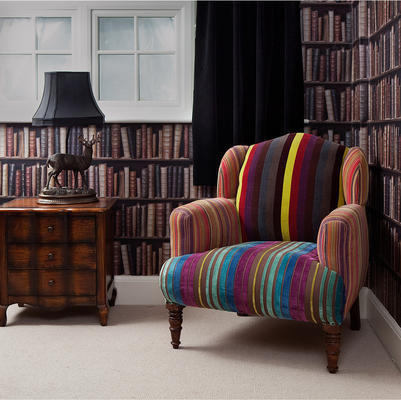 Stripes are the new spots with this Dandy-Days Stripey Armchair from The French Bedroom Company, £595.
If you are on the lookout for an armchair with the ol' wow factor, this is definitely the one for you. Beautifully covered in striking, striped velvet it brings armfuls of colour and glamour to your home.
As does this equally gorgeous matching footstool.
Spot on!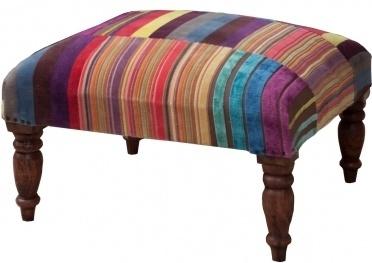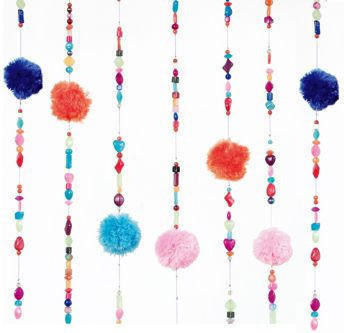 Let's hear a cheer for the Pom Pom Door Curtain from Found Home Store, £18.
Beaded door curtains are brilliant when used as a screen within your home, whether it's to casually block off a particular room or to hide an unattractive door.
And the Pom Pom Door Curtain from Found Home Store manages to bring a touch of fun and frivolity to the job in hand.
Made with coloured beads and pompoms, it's ideal for kids' bedrooms or playrooms, and will give any space an informal feel.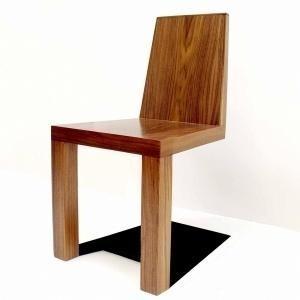 Defy gravity beautifully with the Shadow Chair (Walnut) from Duffy London, £995.
Here's a chair with a difference.
This gorgeous Walnut Shadow Chair from Duffy London appears to stand upright with only two legs, while casting a shadow behind.
But how?
It turns out it's all just an illusion as the shadow is, in fact, joined to the chair, providing the balance required.
Clever as well as good looking.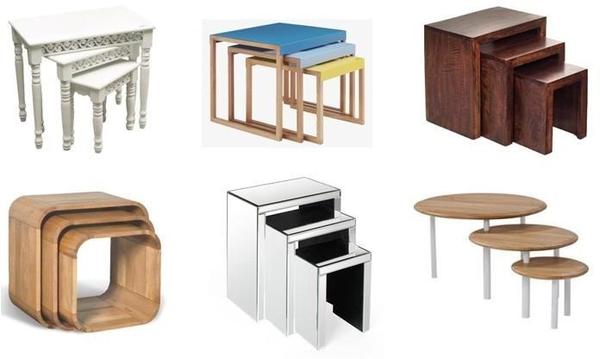 Find the perfect home for your cuppa with this selection of stylish nesting tables.
We always seem to have a problem when guests come round and I've welcomed them with a nice hot cup of tea or coffee, in that we don't have enough space for their cups and saucers. They either get put on the floor (and then knocked over) or rested on a chair arm (and then knocked off).
Always practical, being popped away when not required, nesting tables are a useful addition to any living space.
I particularly like the Mirrored Nest Of Tables Corinne from Out There Interiors for lightening and brightening the smallest of rooms, and the Nest of 3 tables from Habitat which manages to do so whilst also adding a lovely hit of colour.
Clockwise from top left: Traditional Nest Of Tables from The Orchard, £88.50; Nest of 3 tables from Habitat, £70; Toko Mango Nest of 3 Tables from Verty furniture, £99; Heal's Discovers Twist Nest of Tables from Heal's, £795; Mirrored Nest Of Tables Corinne from Out There Interiors, £215; Retro Curve Oak Nest Of Cube Tables from Alexander and Pearl, £425.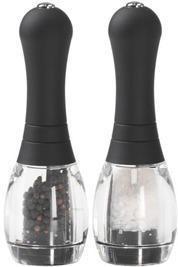 Strike it lucky with the Skittles Salt & Pepper Mills Gift Set from Heal's, £26.
My son and I had a great day yesterday, going bowling with a couple of his school friends.
But I am feeling rather guilty as, despite playing against three 5 year olds, I was my normal competitive self, actually winning both games. (In my defence, they had the barriers up and it was kinda hard to miss!)
So, with a nod to our ten pin fun, here we have a set of funky skittle-shaped salt and pepper mills from Heal's.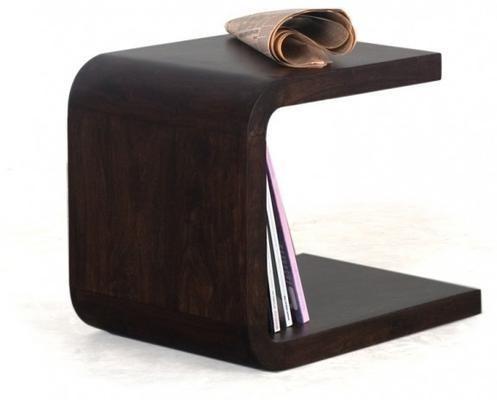 Add simple and stylish storage to your living room with the Manhattan Side Table from Coco Male, £190.
The simplicity of this Manhattan Side Table from Coco Male is what makes it work so well.
It is made in a chunky C shape, combining easy, open storage with great looks.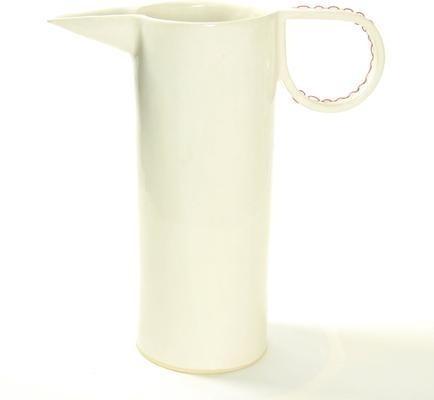 Add some tabletop splendour with the Stitched Table Jug from Delve, £52.
Sometimes you come across an item which truly stands out from the crowd. And this Stitched Table Jug from Delve does that in spades.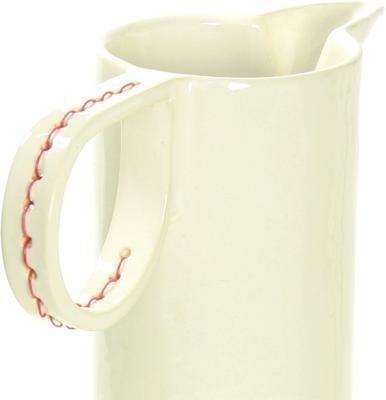 Tall and slim, with a bird-like spout, it would look beautiful on any table, whilst the handle features an unusual red wire stitch, which finishes it off perfectly.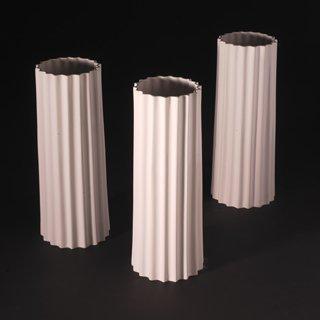 Display your blooms in style with the CEL vase from Ulrika Jarl, £50.
I love having flowers around the house. Sometimes it's nice to have a large bouquet or a knock-out selection of blooms. But sometimes you feel like keeping things subtle and simple.
This earthenware vase from Ulrika Jarl does just that, and is perfect for making any flowers look their best.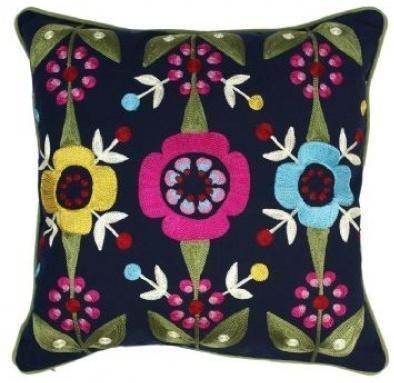 Enjoy bright and beautiful flowers with the Embroidered Flower Cushion Cover from Fields of Blue, £29.95.
I love flowers in bright and beautiful colours. And I particularly love the bright and beautiful flowers on this Embroidered Flower Cushion Cover from Fields of Blue.
Seriously striking in gorgeous shades of pink, gold and blue, it would bring colour and interest to any room.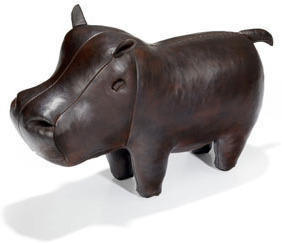 Cheer up your working hours with the Mini Leather Hippo Desktop Accessory Omersa from Liberty, £175.
Can you believe it – half term is here (or almost here depending on where you live).
After just a few short weeks of school, the kids are off and it's time again to organise playdates, days out, and find other ways to keep the little 'uns busy.
So, we already have pencilled in our diary… model village (for the little trains), natural history museum (for the big dinos) and the zoo (animals, train and soft play all in one convenient, if rather over-crowded, spot).
Whilst my favourites at the zoo are the elephants, and my son's faves are the spiders and reptiles, we both love the hippos.
Not the big, lazy, wallowing hippos, but the cute and relatively lively pygmy hippos which always make me smile.
As does this equally cute desktop version from Liberty.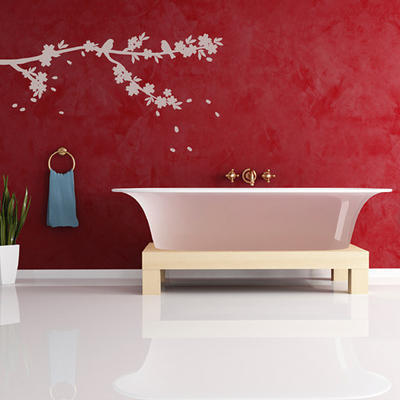 Liven up your walls with the Sakura Tree Blossom Wall Sticker from Spin Collective, £22.
Wall stickers are fab at livening up otherwise plain walls. And don't make the mistake of thinking that they're just for children's rooms.
Here at Furnish, we have hundreds of wall stickers to choose from and, whilst there are of course dinosaurs, robots and trains for your little ones' rooms, we also have lots which work perfectly in more grown up living spaces.
I particularly like the various tree and flower stickers from Spin Collective, most of which are available in a range of 20 colours, such as this pretty Sakura Tree Blossom sticker, which would look lovely in a bedroom or guest room.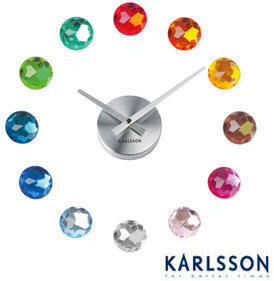 Enjoy 'do it yourself' with a difference with the Karlsson Diamond DIY Multi Coloured Clock from Red Candy, £46.80.
Normally, the very thought of DIY sends shivers down my spine.
My failed attempts have included scorching a door whilst trying to strip paint off it, putting up a shelf so wonkily that a tealight holder slid right off, and getting so much paint on the ceiling when painting a wall, that the whole ceiling needed to be painted again afterwards.
My track record does mean, though, that my husband won't allow me anywhere near our current DIY projects, which is a definite bonus.
This DIY, however, I could manage.
The gorgeous, bejewelled Karlsson Diamond DIY Multi Coloured Clock includes a stylish clock face together with 12 coloured plastic diamonds to be placed as you wish. Which means that no matter how wonky the end result, you can tell the world that was exactly how it was meant to be!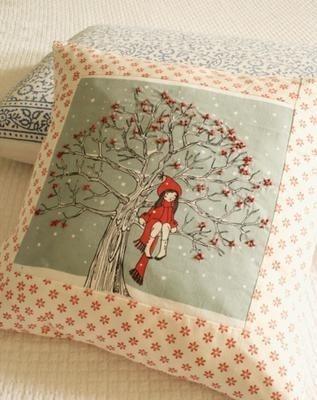 Cuddle up with this oh so pretty Belle And Boo 'My Favourite Spot In Winter' Cushion from Folly, £42.95.
I just love this Belle And Boo cushion from Folly.
Everything about it is perfect, from the patterned surround, to the beautiful red additions to the tree, to the little girl herself.
Ideal for any little (or not so little) girl's bedroom.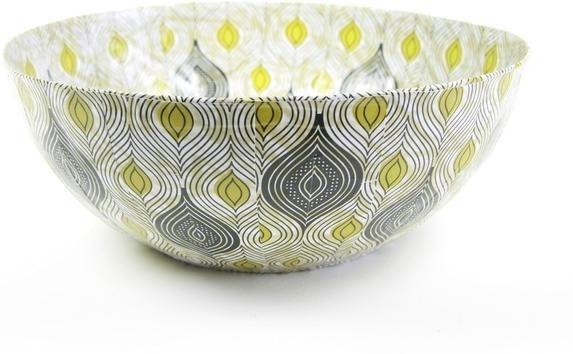 Take your pick of these three lovely Papier Mâché Print Bowls from Delve, £8 each.
It's always lovely finding beautiful items for the home. But here, with these Papier Mâché Print Bowls from Delve, we have not one, not two, but three gorgeous pieces to choose from.
The only problem is which one to go for: the African Eye Print Bowl above…
or the Shields Print Bowl…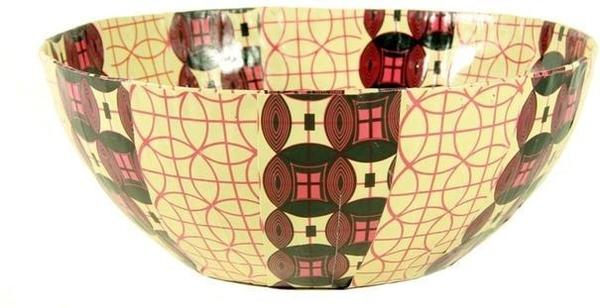 or the Pineapple Print Bowl?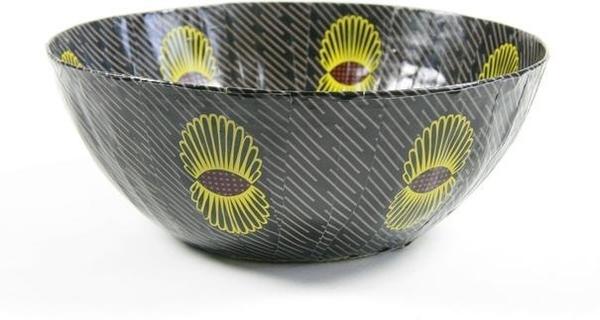 Although, at only £8 each, you could always go for the whole set!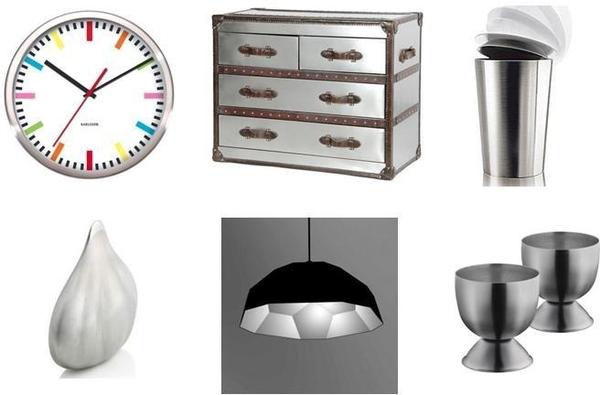 Steel yourself to be delighted by our gorgeous stainless steel home furnishings.
Over the last few years, the number of home furnishings items which are made out of stainless steel has just grown and grown.
Here at Furnish we have many sleek and sophisticated stainless steel goodies, including clocks, mirrors and fruit bowls, tables, lights and stools.
My particular faves are the Geo Shade, a gorgeous lampshade from Duffy London, and the Alessi Savon du Chef Stainless Steel Soap which, rather cleverly, is designed to remove odours from your hands.
Clockwise from top left: Karlsson Rainbow Wall Clock Steel White from Heal's, £36; Trunk Style Stainless Steel Chest Of Drawers from Alexander and Pearl, £895; Eva Solo Stainless Steel Waste Bin from Red Candy, £95; John Lewis Stainless Steel Egg Cups from John Lewis, £6; Geo Shade Stainless Steel from Duffy London, £895; Alessi Savon du Chef Stainless Steel Soap from A White Room, £14.50.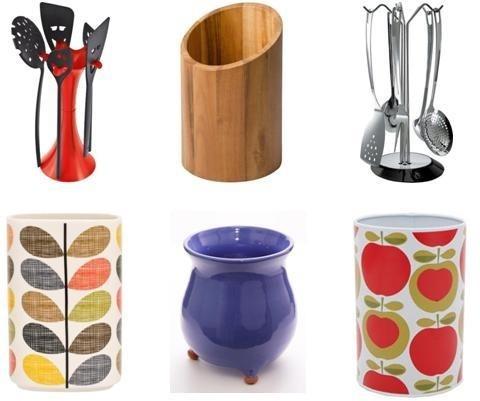 Be whisked away with our pick of the best Utensil Sets and Holders.
Not known for being the most exciting things in the kitchen, utensils are, however, necessary to help us whip up our culinary delights. As, of course, is somewhere gorgeous to store them.
Here we have two sets of utensils with stands: the smiley Koziol Utensil Stand and the Bugatti Black Utensil Set, both from Gifts with Style, and four stylish holders.
Clockwise from top left: Koziol Utensil Stand from Gifts with Style, £31.95; Raymond Blanc by Anolon Utensil Pot from John Lewis, £12.50; Bugatti Black Utensil Set from Gifts with Style, £84.95; Typhoon Apple Heart Utensil Pot from Red Candy, £9.90; Azur Earthenware Kitchen Utensil Pot from JasmineWay, £30; Orla Kiely Utensils Pot from Graham & Green, £20.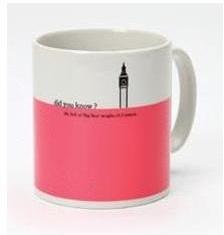 Enjoy trivia with your tea with the Didyouknowbuildings Mug from Sonodesign, £7.99.
There are all sorts of gorgeous mugs available nowadays: plain, patterned and floral; witty, cute and downright silly.
But that's not all. Now we have educational too!
In addition to looking fab, every Didyouknowbuildings Mug from Sonodesign is printed with an interesting fact, such as "How many people have fallen off The Leaning Tower Of Pisa?"
Alternatively, if buildings aren't your thing, a Didyouknowanimals Mug is also available.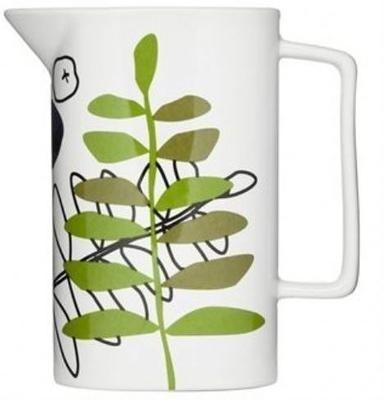 No doubt you'll fall for this striking Sagaform Season Jug from A White Room, £17.95.
Autumn is with us. And whether walking in the woods, or simply driving along the street, it's impossible not to notice that the leaves are turning the most beautiful colours.
Trees are no longer green, but are covered in leaves of burgundy, burnt orange and gold.
This Season Jug is one of a range of leafy glazed stoneware pieces by Sagaform from The White Room, decorated on one side with gorgeous green leaves and on the other with equally gorgeous bright colours.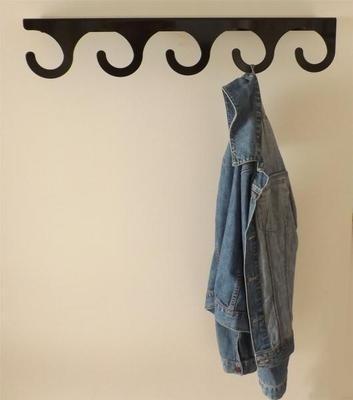 Wave goodbye to clutter with the Big Wave coat rack from The Metal House, £49.99.
With a 5 year old son who would prefer to simply drop his coat on the floor when he gets home and a husband who seems to think his jacket belongs on my favourite armchair, I am definitely on the lookout for a new coat rack.
And this Big Wave coat rack from The Metal House could be just the one for me.
With its stylish design and big, easily accessible hooks, it could help keep our coats neat and tidy, and free up the armchair for me!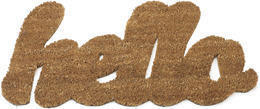 Say hello to this welcoming Umbra Hello Doormat from Heal's, £70.
After a hard day's work (or shopping), it's nice to come home to a friendly "Hello". And that's exactly what you get from this welcoming Umbra Hello Doormat from Heal's.