Features: June '12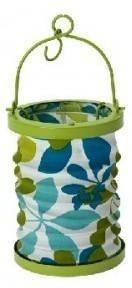 Enjoy twinkly evenings in the garden with the Monsoon Tea Light Holder from Garden Beet, currently £4.99.
On a warm summer's evening, there's nothing I like more than sitting in the garden with a cold G&T.
And to make it feel extra special and twinkly, I always like to have some candles flickering alongside.
This Monsoon Tea Light Holder is ideal (although it can also be used indoors), and can be placed on a table or hung decoratively in trees.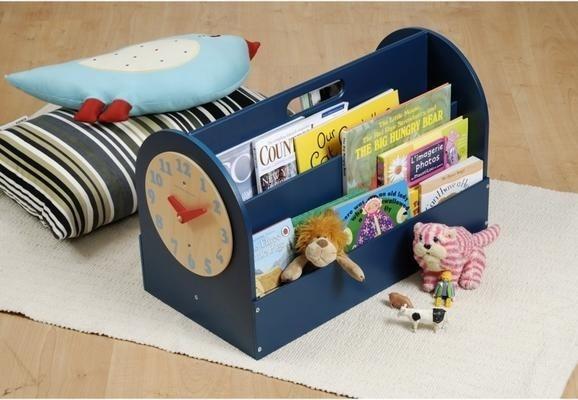 Keep your kids' books tidy with the Tidy Books Tidy Box from John Lewis, £69.
As Mum to a 5 year old boy I know just how difficult it can be to get the little darlings to keep their bedrooms tidy.
I seem to spend ages putting trains, cars, dinosaurs, books and Spiderman away, just to have to do it all again the next day. So anything which makes it easier for kiddies to keep their things tidy is good by me.
Which is why The Tidy Books Tidy Box is definitely on my wish list. It can easily be carried where needed, ready to take up to 40 books.
Now I just need to teach him to Hoover and we'll be sorted.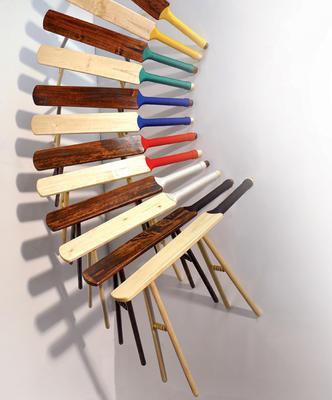 You'll be bowled over by these Cricket Stools: Large from Mocha, £180
After yesterday's tennis theme, today we move onto cricket.
Not really my thing cricket. To me, it seems like hours and hours with very little happening, just the odd jog in between wickets.
These stools, however, I do like.
Made from cricket bats and wickets, they definitely (sorry!) bowl this maiden over.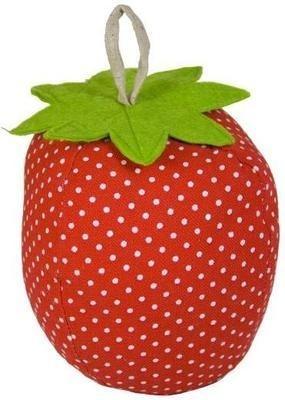 Serve up a treat with this Strawberry Doorstop from The Contemporary Home, sale price - £4.99
It's that time of year again when talk turns from goal differences and penalties (missed or otherwise!) to aces, drop shots and ladies grunting.
Yes. Wimbledon is in full swing.
I've never been but, given that I adore tennis, Pimms and strawberries, I would really love to.
Until then (and for less than a punnet in SW19), I will have to make do with this fun and fruity Strawberry Doorstop from The Contemporary Home. Beautifully red and plump, it certainly serves up a treat.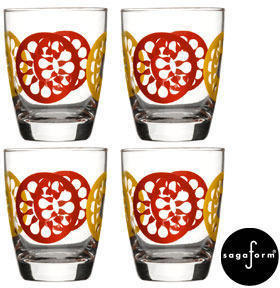 Get that fruity feeling with these Juicy Glasses 4 Pack from Red Candy, £14
When you scour the shelves in your local greengrocer nowadays, the variety of fruit is astounding.
No longer are you restricted to apples, pears and strawberries. (Or even passion fruit, star fruit and ugli fruit.)
But if tucking in doesn't satisfy your fruit craving, these bright and fun glasses are decorated with fruit slices, and are perfect for serving up a refreshing glass of whatever you fancy.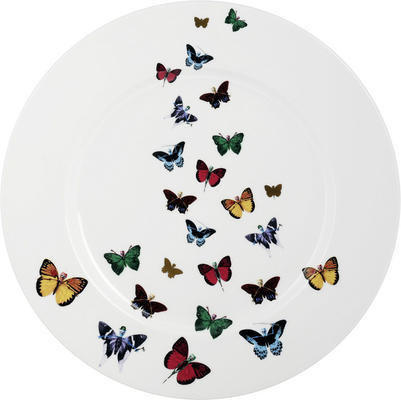 Enjoy butterflies with a difference with the Lepidoptera Maximus Platter from Lifestyle Bazaar, £175.
Butterflies have long featured heavily in home furnishings, and Furnish offers lampshades and clocks, tealight holders and cushions, mirrors and wallpaper all decorated with them.
However, the Lepidoptera Maximus platter is a class above.
Designed by Maxim – lead singer of The Prodigy – this limited edition is exquisitely made from bone china with hand applied lithographs of colourful (if rather macabre) butterflies.
And if this leaves you wanting more, matching cups and saucers, and cake plates are also available.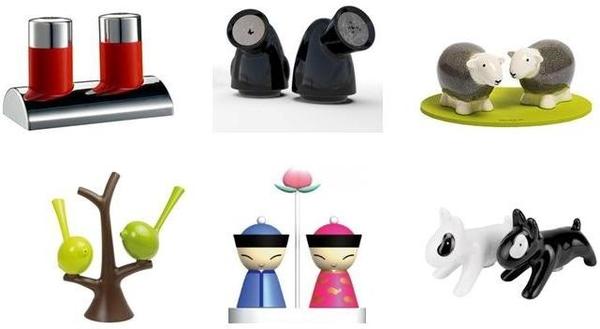 Let's talk about salt and pepper sets.
Salt and pepper pots have come a long way since the old glass and chrome topped variety (although those still hold quite a charm).
Now there are colourful pots, cute pots, and even cupcake-shaped pots.
There are those that look like animals, such as the adorable Terrier Salt and Pepper Set, and I love the whole Hoodies range from Vitamin which also features skeletons and hexagons.
(Clockwise from top) Wesco Pepper & Salt Set from Red Candy, £38, Hoodies Floral – Black from Vitamin, £22, Herdy Salt and Pepper Grey from Heal's, £20, Terrier Salt and Pepper Set from Dwell, £9.95, Alessi Mr and Mrs Chin Salt and Pepper Set from A White Room, £31, Koziol Pip Salt & Pepper Set with Tree from Gifts with Style, £24.95.
Brighten up alfresco dining with this Set of 4 Rainbow Coloured Melamine Flower Plates from Rockett St George, £24
Our family loves a picnic.
On sunny days (remember them?) we can usually be found at the park, by the river or on the beach with picnic hamper, blanket and wine cooler in hand.
Some days we favour a more traditional spread, with sandwiches and sausages rolls; sometimes we go oriental with sushi and edamame; and every now and then we give Caribbean food a whirl with jerk chicken and rice and beans.
But whatever is on the menu, part of the fun is in using plastic plates, glasses and cutlery, only brought out for such an occasion.
The latest picnicware to catch my eye is this set of colourful Rainbow Coloured Melamine Flower Plates. In bold colours with even bolder flowers, they are just perfect for serving up your alfresco nibbles. Whatever they may be…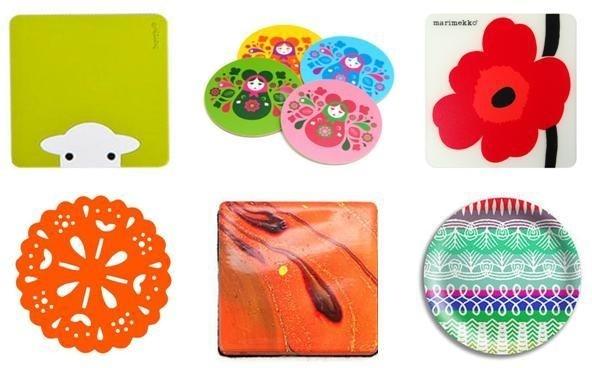 Keep your furniture looking spick and span with these fabulous, colourful coasters.
I love that, whilst providing a useful service protecting your furniture and keeping it free of mug rings, coasters are often in fun and funky colourful designs.
My favourite is the adorable Herdy Peep Coaster from Heal's which always brings a smile (especially at only £3), while the Donna Wilson Snowflake Coasters from John Lewis are available in grey, jade and orange and come in a set of 4.
(Clockwise from top) Herdy Peep Coaster from Heal's, £3, Matryoshka Coasters from Hunkydory Home, £15, Marimekko Unikko Coasters Set of Four from Heal's, £23.50, Folk Stripe Coasters from Lifestyle Bazaar, £21, Coasters (Orchid2863) from Orchid Furniture, £35, Donna Wilson Snowflake Coasters from John Lewis, £15.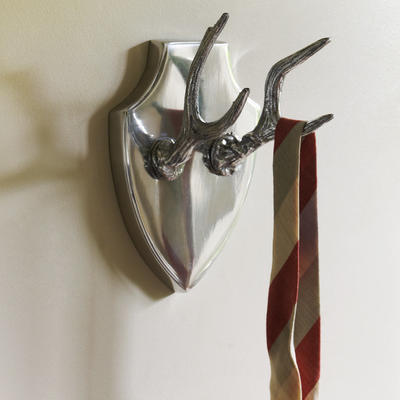 Keep your coats in check with this Aluminium Antlers Coat Hook from Graham & Green. £25
As regular readers will know, I have a constant battle with storing my coats.
But, for any newbies, a very narrow hallway means there's no room for a coat stand and as such my coats usually get thrown on the dining room sofa.
Therefore, I am always on the hunt for new and interesting coat hooks.
With the stag/antler trend showing no sign of abating, this Aluminium Antlers Coat Hook from Graham & Green has just jumped to the top of my wish list.
Super stylish, it has two elegant hooks, I mean antlers, to keep my coats neat and tidy, and stop my dining room looking like a dumping ground.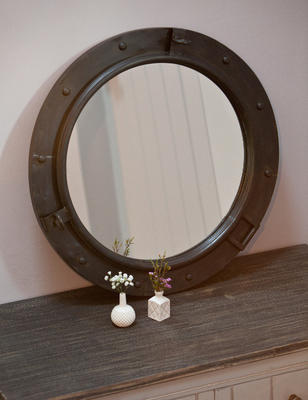 Give your home a nautical feel with this Porthole Mirror from Rose & Grey. £65
Having lived by sea for three years, I have a love of everything nautical.
When I say nautical, I mean subtle, sophisticated nautical not tonnes of shells and random bits of rope and driftwood.
Which is why I adore this Porthole Mirror from Rose & Grey.
Made from weathered metal, it offers the perfect way to embrace some nautical style without going overboard.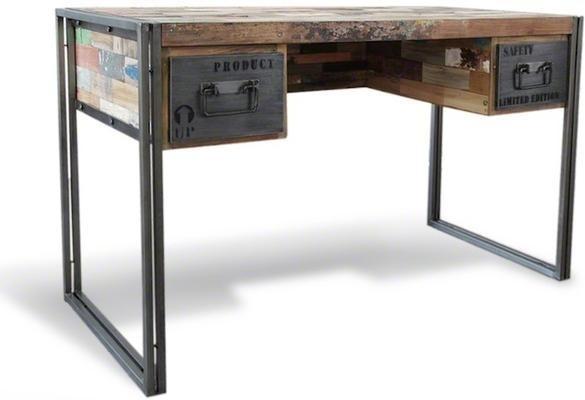 Add a touch of industrial style to your home with this Brooklyn Industrial Desk with Drawers from Alexander and Pearl. £795
As regular readers will know, I am a massive fan of the industrial trend that looks like it's going to stick around for a good time yet.
From reclaimed factory lights to distressed metal shelving units, I love the lot.
And this Brooklyn Industrial Desk with Drawers from Alexander and Pearl is top of my industrial shopping list.
Super stylish, each one is made from reclaimed ship timbers which means no two are completely the same.
As well as being stylish, it's practical too, with two handy drawers and a large enough top to hold all your paraphernalia.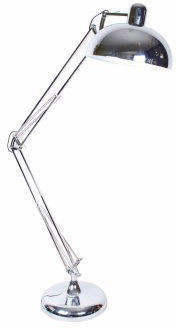 Get your lighting sorted with this Anglepoise Chrome Floor Lamp from Alexander and Pearl. £150
I'm so obsessed with my Kindle that I can't not read a few "pages" before I go to sleep each night.
However, without room for a proper bedside table and hence a table lamp, my other half usually finds me asleep, Kindle in hand, with the main light on.
However, I think I may have found the solution to my night time reading woes in the shape of this Anglepoise Chrome Floor Lamp from Alexander and Pearl.
Based on the classic anglepoise design, I adore the fact that it's easy to angle which means my night time reading will hopefully be a little more enjoyable.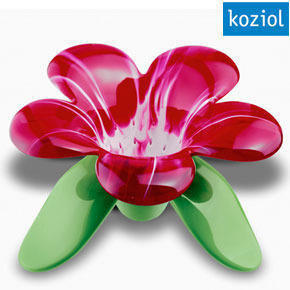 Have a tea party of your own with the Koziol Audrey Murano Tea Strainer from Red Candy, £13.
If you think making a cup of tea is a bit of a bore, think again.
The absolutely fabulously floral Koziol Audrey Murano Tea Strainer turns the straightforward act of tea-making into a rather colourful event.
Simply fill the (plastic but Murano glass-style) flower with tea leaves, brew and then replace in its leafy home to keep your worktop drip free.
Just my cup of tea!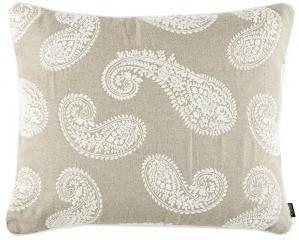 Give your home a touch of classic pattern with this Paisley Cushion from Occa Home. £60
Paisley has made a comeback on the catwalk and I, for one, am very pleased as I've always had a soft spot for this pattern.
The good news is paisley works well in the home too, with a whole host of products being on offer from throws and bed linen to wallpaper and rugs.
My particular favourite at the moment is this Paisley Cushion from Occa Home.
I love the subtle colour scheme and giant paisley pattern, plus it's a perfect match for my favourite armchair.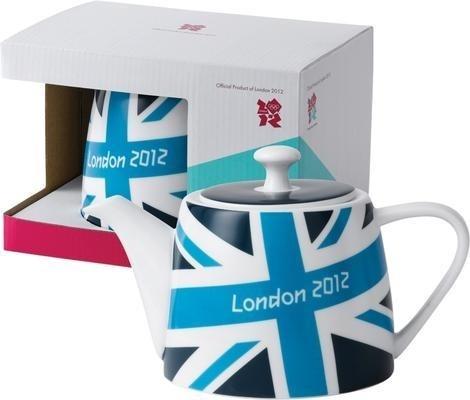 Get ready for the big event with a cup of tea from this London 2012 Olympic Games Union Jack Teapot from John Lewis. £16
With the Jubilee out of the way, the next big event in the calendar is the London 2012 Olympics.
While I know some people think we should never have been hosting it and that it's a waste of money, as a very proud Londoner, I am super excited.
I've even made a pledge to myself that I won't moan about getting around London during the games. (Hmmm, we'll see how long that lasts!)
Naturally, every man and his dog (and retailer) has jumped on the Olympic bandwagon and you can expect to see loads of memorabilia around.
Some of it naturally will be awful, but some of it, such as this London 2012 Olympic Games Union Jack Teapot from John Lewis, is rather nice.
And let's face it, what could be more British than to enjoy a cup of tea while watching the Olympics?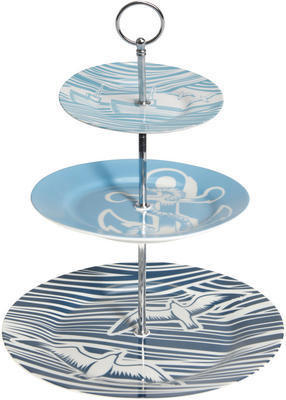 Bring back holiday memories with the Whitby Porcelain - Cake Stand from Mini Moderns, £30.
When I was growing up, our family summer holiday was the highlight of my year. (Except for my birthday party perhaps … or maybe Christmas morning.)
We would get up and head off very, very early when it was still dark, (the most exciting thing ever) to ensure that we arrived at our holiday hotspot in time for breakfast by the beach.
This Whitby Porcelain – Cake Stand from Mini Moderns is decorated with seagulls, boats and anchors in perfect seaside shades of blue, and takes me straight back to those fun-filled days by the shore.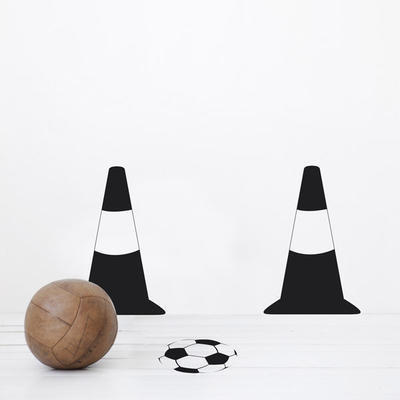 Get active without going outside with this Kids Football Game Wall Sticker from 95% Danish. £34.95
Unless you've had your head stuck down a mine lately, you've probably noticed there's a rather important football tournament taking place.
Whether you love or hate the beautiful game – personally, I fall in the former category – it's hard not to get swept up by the excitement.
This Kids Football Game Wall Sticker from 95% Danish is the perfect way to get involved and is ideal for big and little kids alike.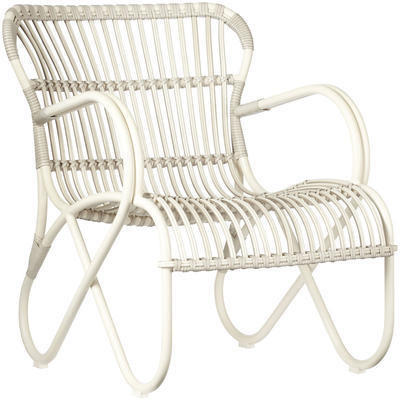 Create an elegant exterior with this Melrose Weatherproof Outdoor Chair from OKA. £340
Despite the appalling weather of late, I'm still optimistic that summer will make an appearance before the season is out.
Which is why I'm getting very strange looks from my neighbours as I dust down the garden furniture despite the looming dark clouds.
And while I'm making the most of last year's purchase, I don't think I'll be able to resist investing in a few of these Melrose Weatherproof Outdoor Chairs from OKA.
Beautifully elegant, these chairs remind me of furniture you see in films set in the Deep South of America.
Made from plastic coated metal, the chairs are available in either crisp white or a gorgeous blue. There's also a matching footstool, coffee table and bench available.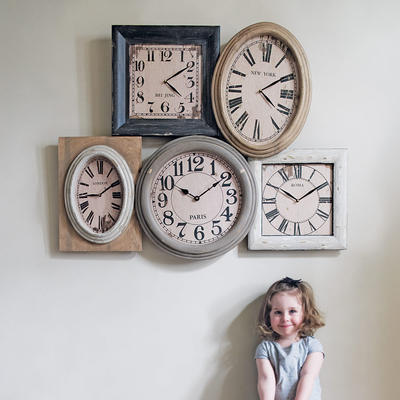 Travel the world from your living room with this Wooden Five City Wall Clock from Graham & Green. £235
Most people who knew me when I was little would testify I was a bit of an odd child.
Asked to choose a book from my parents' friend's library, I chose a book on flags – still, if a flag question comes up in a pub quiz, believe me you want me on your team.
I was also obsessed with time zones and used to love turning my little watch forward as we landed in the Mediterranean for our annual family holiday.
As such, I have always been rather taken with those clocks, most commonly found in offices, which depict various time zones across the globe.
Which is why I'm rather taken with this Wooden Five City Wall Clock from Graham & Green. A great statement piece, these five different shaped clocks have been fused together to create a giant timepiece.
Perfect for jazzing up the plainest of walls, it will give your home a subtle international feel too.