Features: August '12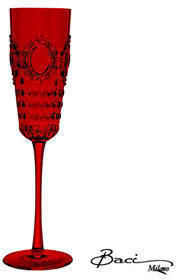 Enjoy the last of the summer champagne with the Baroque & Rock Champagne Flute from Red Candy, £6.30.
Summer (such as it's been) is definitely coming to an end. The last few days are here, and they're getting noticeably shorter.
But if you want to send summer off in style, you need one (or more) of these striking acrylic Baroque & Rock Champagne Flutes, perfect for enjoying some outdoor bubbly.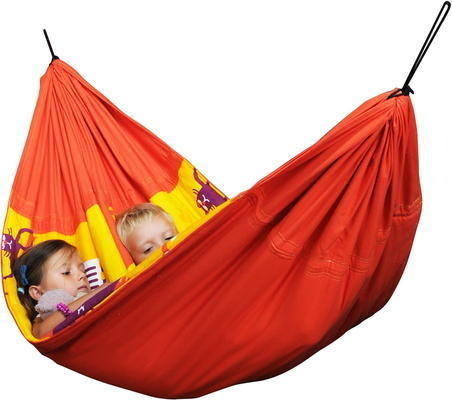 Swing high with the comfy and cosy Animundo Hammock for Children from Wholesale Hammocks, £108.
Children love things that are fun and interesting, and a little bit different.
And, in gorgeous vivid colours, decorated with funky animals, this wonderfully comfortable-looking kids' hammock is all of those!
My only concern is that, once the little monkeys angels have a go in one of these, they're never going to want to leave.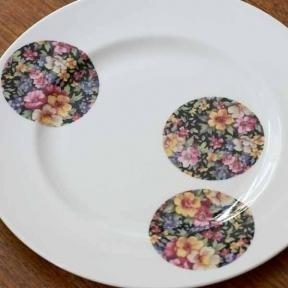 Add vintage floral style to your dining with these Flowers plates by Kathleen Hills from BODIE and FOU, £17.36.
Following on from my fabulous floral find last week – this lovely Floral Fabric Lightshade from Rigby & Mac – I'm thrilled to have found another.
These Flowers plates by Kathleen Hills from BODIE and FOU are brilliant.
Hand-decorated, they manage to keep their contemporary feel, yet feature discs of gloriously coloured vintage-style floral prints.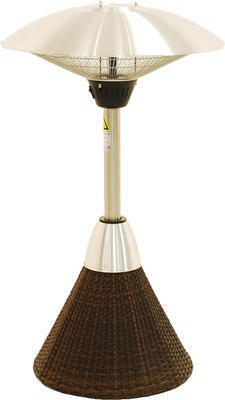 Keep that summer feeling with the Flick Patio Heater from Out There Interiors, £129.
Gosh it's been a dreadful summer, weatherwise. I came down this morning and it was so cold I almost put the heating on – in August!
And there have been so few evenings when it's been possible to enjoy an alfresco G&T. For those of us who have not been able to get away somewhere warm, it's simply not fair!
But we have the answer... designed as a tabletop heater, this Flick Patio Heater from Out There Interiors is just what you need to keep you warm outdoors for the rest of the summer and beyond.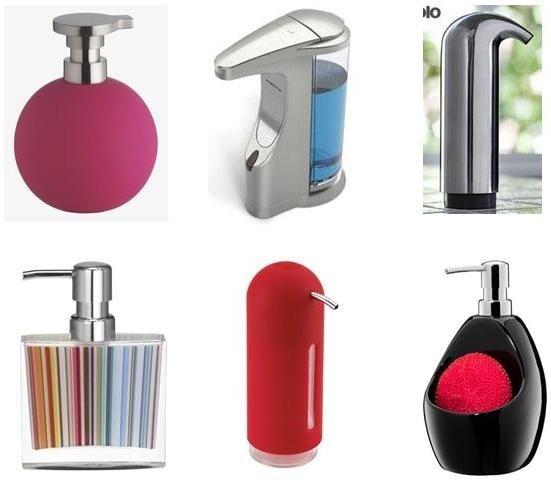 Keep your bathroom spick, span and stylish with our pick of the best soap dispensers.
When we decorate our bathrooms, soap dispensers are not typically the first thing we think of buying, tending to be a bit of an afterthought.
But there is a huge range of stylish soap dispensers available, from the funky bright pink Round soap dispenser from Habitat sure to add fun and colour to your bathroom, to the Simplehuman Sensor Soap Dispenser from Heal's, ideal for keeping your bathroom tidy and drip-free.
Clockwise from top left: Round soap dispenser from Habitat, £12; Simplehuman Sensor Soap Dispenser Brushed Nickel from Heal's, £41; Eva Solo Soap Dispenser from Red Candy, £63; Umbra Joey Soap Pump and Scrubby Holder from John Lewis, £15; Umbra Penguin Soap Dispenser from Red Candy, £15.90; John Lewis Stardust Soap Pump from John Lewis, £12.

Give your home a touch of romance with the James Candle Holder from Metal Design Furniture, from £119.
As regular readers will know, I love candlelight and have more tealight and candle holders than are good for me.
But I think that maybe I need just one more, as this gorgeous James Candle Holder from Metal Design Furniture offers something a little bit different.
It is floor standing and, at over a metre tall, bathes your room in candlelight, making it perfect for giving any room a truly romantic feel.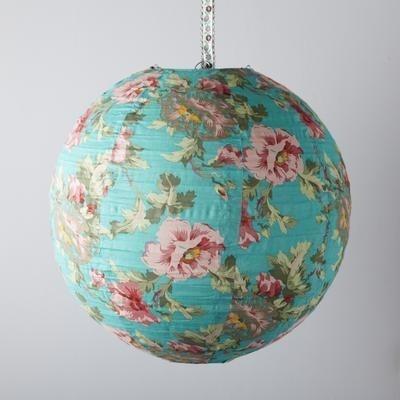 Bring the garden indoors with the Floral Fabric Lightshade from Rigby & Mac, £14.95.
My Mum has been visiting, and I have taken the opportunity to make use of her gardening expertise as my fingers are most decidedly not green.
Everything I do in the garden, whether weeding, cutting or planting just doesn't seem to work very well.
I spend hours weeding and then find that I have only cleared the smallest patch. Or I can snip away at an overgrown shrub but find it just ends up looking spindly and lopsided. Or put in new plants expecting a bed full of colour, just to watch them fail.
But whilst my garden is far from blooming, I have found some gorgeous floral pieces to decorate my home, such as this lovely Floral Fabric Lightshade from Rigby & Mac. Covered in pretty pink flowers, it is the perfect way to bring the garden indoors.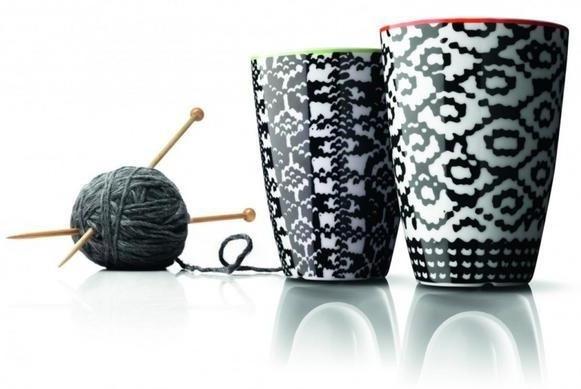 Bring a hint of Nordic style into your home with these Menu Nordic Wool Contemporary Cups from Gifts with Style, £23.95.
Last year, I was one of the few people not to be hooked on The Killing, Denmark's acclaimed detective series.
From what I've heard, I believe the star of the show, more so than the lead character, was her jumper, made in the distinctive Nordic Knit style.
While this look is not something I particularly covet in a sweater, it works fantastically well on these porcelain cups, and I would definitely love a set of these.
And, whether you'd like them for yourself or as a gift for a Forbrydelsen fan, they are currently available with 10% off until the end of August.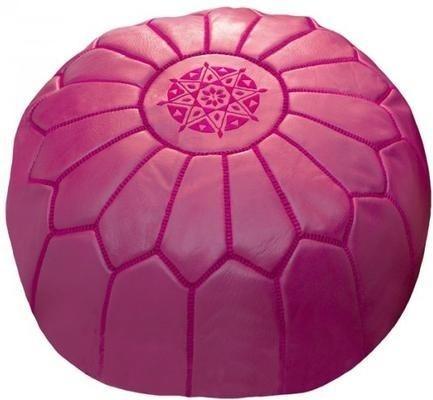 Add some hot spice to your home with the Moroccan Leather Pouffe - Hot Pink from Coco Male, £105.
Although I've holidayed to other North African countries, Morocco is high on the list of places I dream of visiting. I'd love to see the souks and riads, taste the wonderful cuisine, as well as enjoy the sun and beaches.
Until then, this Moroccan Leather Pouffe – Hot Pink from Coco Male is ideal for bringing a touch of Moroccan spice to any home.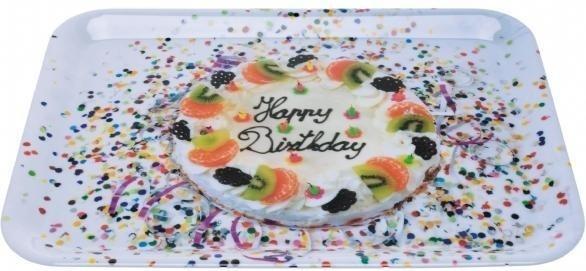 Celebrate with the Happy Birthday Tray from Dutch by Design, £12.50 (currently £6).
It's my birthday today so this fun and colourful tray is simply to say Happy Birthday Me!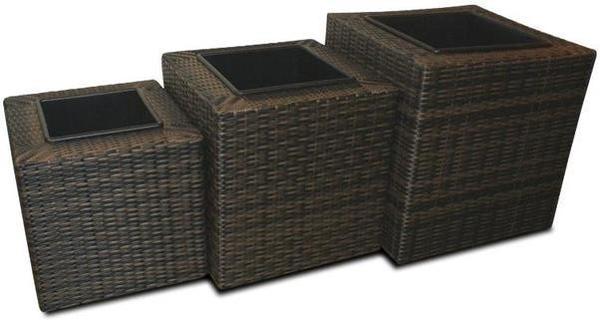 Add gorgeous planting to your garden with the Zaina 3 Square Planters from Out There Interiors, £105.
After all the miserable weather earlier on this summer, it has been wonderful having a few days of blisteringly hot sun. (Apologies to anyone who has been where the sun has not.)
Just playing in the park, walking by the river, or popping into the garden is so much more enjoyable when it's warm, and we have spent more time in our garden in the past week than the last six months put together.
The only problem is that by being in the garden more, I'm noticing its shortcomings, and have realised that it could really do with a bit of a refresh.
Fortunately, Furnish has lots of great outdoor bits and pieces, including these stylish rattan Zaina Square Planters, sure to help any garden look its best.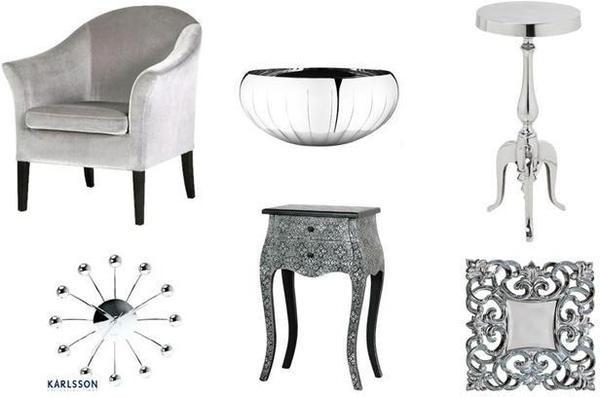 Add a silvery shine to your home with our selection of silver coloured faves.
Much as I love the colour, luxury and warmth of gold, when choosing items for my home, I tend to find myself going for the brighter, more modern, silvery look.
The super shiny Poshly Polished Silver Round Bedside Table is a lovely example and would work equally well in a bedroom or living room, while the Luxe Silver Velvet Armchair from Alexander and Pearl would give any room a luxurious touch.
Clockwise from top left: Luxe Silver Velvet Armchair from Alexander and Pearl, £295; Georg Jensen Legacy Bowl from Heal's, £65; Poshly Polished Silver Round Bedside Table from The French Bedroom Company, £159; Chrome Effect Square Baroque Mirror Finley (Three Sizes) from Out There Interiors, from £125; Silver Embossed Bedside table from Lover's lounge, £160; Karlsson Chrome Spider Clock from Red Candy, £30.90.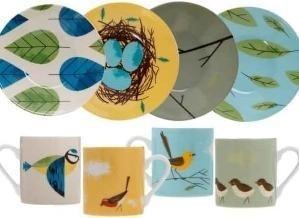 Add style to your morning coffee with the Magpie Birdy Espresso Set from Design My World, £21.95.
Regular readers will know that whilst I'm a tea girl at heart, I do like a small, strong, hot cup of coffee to get me going in the morning.
Featuring designs inspired by memories of the I Spy Birds book, these gorgeous espresso cups with matching plates offer a stylish way to serve your caffeine hit any time of the day.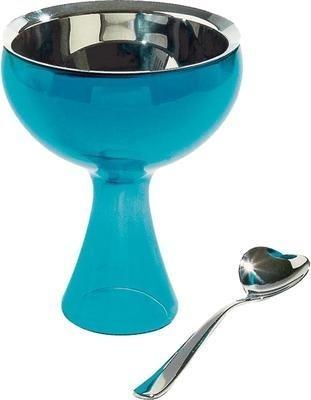 Don't you just love this Alessi Big Love Ice Cream Set from John Lewis, £29.50.
Whether you're a fan of mint choc chip, tutti frutti, strawberry cheesecake or – my favourite – Phish Food, ice cream is just the most perfect thing to cool you down on a hot sunny day. (In fact I think it's pretty much the most perfect thing any day of the year.)
And this ice-cream bowl from Alessi at John Lewis is a perfect way to serve it.
Gorgeous colours (available in fuchsia or blue) surround a stainless steel bowl, topped off with a cute, heart shaped spoon.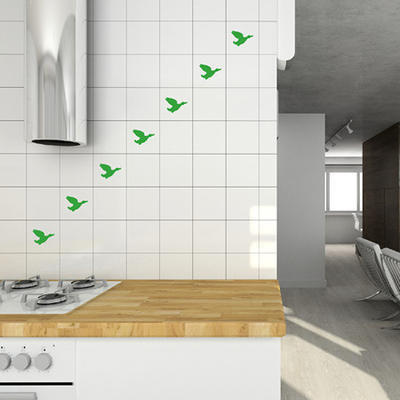 Add a touch of kitsch to your walls with the Flying Ducks Tile Stickers from Spin Collective, £20.
One of my son's favourite days out this summer holiday has been a trip into London with a ride on the Duck Tour.
Basically it's a bright yellow boat with wheels that drives you around the landmarks of London before going "splashdown" to view the sights along the riverbank. (Funniest thing was the tourists taking photos of us on the Duck.)
For duck-related fun of your own, try these Flying Ducks Tile Stickers from Spin Collective. They are great for livening up dull walls and are available in a huge range of colours (including bright yellow).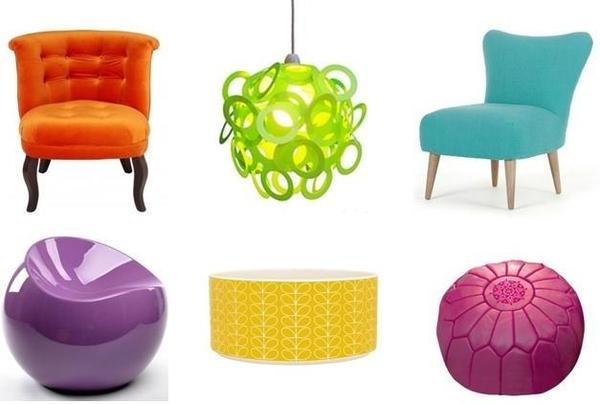 Embrace the bright and the bold with our pick of techno coloured home furnishings.
Glorious vivid colours have been all over both the catwalk and the high street throughout the summer. And they have also made their way into our homes with some beautifully colourful pieces on offer.
This stunning Velvet Tub Chair from Oliver Bonas is a perfect example in a bold shade of orange which would suit either a traditional or modern setting. And while the Loopy-Lu Light looks great in bright green, it comes in a wide selection of colours, working equally well in orange, pink, red, yellow and purple.
Clockwise from top left: Velvet Tub Chair – Burnt Orange from Oliver Bonas, £385; Loopy-Lu Light Green from Loopy-lu, £30; Finch Arte Chair, Turquoise Blue from made.com, £299; Moroccan Leather Pouffe – Hot Pink from Coco Male, £105; Orla Kiely Small Salad Bowl from Bloomsbury, £24.95; Ball chair Lilac from BODIE and FOU, £144.
Give your home the golden touch with the Esmeralda 5 Arm Cream Gold Leaf Chandelier from Alexander and Pearl, £295.
There I was thinking Great Britain had finished with their Olympic winning ways but no, on the final day of competition, yet another gold medal was deservedly won.
I have loved every minute of these Olympics from the weird but completely wonderful opening ceremony, to watching the athletes come in and party yesterday, with oh so many highlights (and tears) along the way.
All I can say is thank you and a huge golden well done to everyone involved.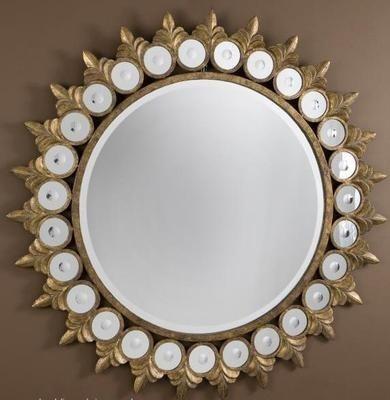 Add some sunshine to your walls with the Distressed Gold Sun Mirror "Arian" from Out There Interiors, £175.
That may be it for Team GB's Olympic medal haul (or maybe not as there are still a few up for grabs today), but what a day!
Well done to Ed McKeever in the amazingly fast kayak sprint, Luke Campbell for his brilliant win in the boxing, and who didn't scream the whole way through Marvellous Mo's race for his second gold medal.
So this may also be it for our golden fab finds here at Furnish, and what a gorgeous one we have today, with this stunning sunburst mirror from Out There Interiors.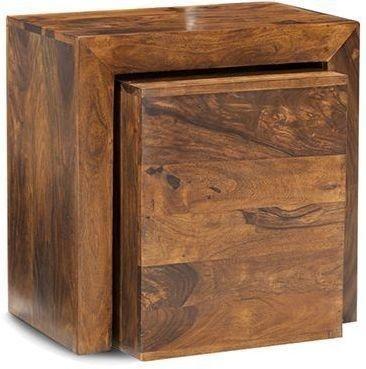 Simple, yet stylish storage with the Cube Sheesham Cubed Nest of 2 Tables from Verty furniture, £129.
Nested tables are so very useful.
Always practical, allowing you to pop them away when not required, this one is slightly different to most, having just two tables, but I think it works very well with one being the smaller cube inside.
Made from Sheesham wood, it has a well-defined grain and a lovely coloured finish.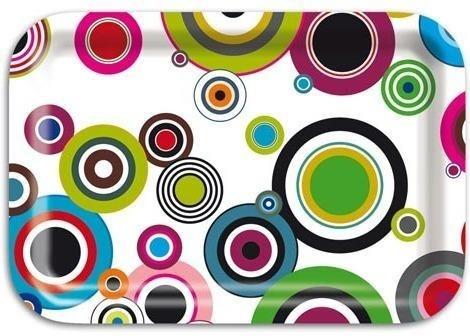 Add fun and colour to your dining with the Retro Wooden Tray Rondo from JasmineWay, £29.75.
Over the last two weeks I have been so engrossed in the Olympics that I have watched a truly ridiculous amount of TV.
The telly has been going on first thing in the morning before breakfast and has pretty much stayed on until bedtime, with me eating most of my meals off a tray.
So, whether you like to eat while you watch, or just sometimes need to carry things(!), this Retro Wooden Tray Rondo from JasmineWay does the job perfectly, whilst being full of fun and colour.