Features: Design ideas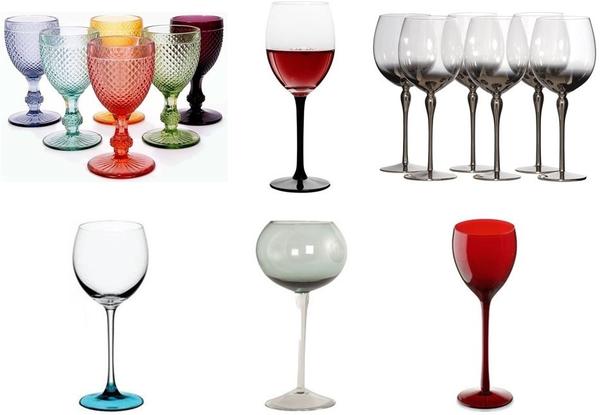 It's time to celebrate with our pick of the best wine glasses.
With all the dining and socialising enjoyed over the festive period, it's the perfect time to invest in some new wine glasses.
And we have a great selection of gorgeous wine glasses here at Furnish which are sure to make your festivities super stylish.
Perfect for a New Year's Eve supper, this Set of Four Glass Ball Wine Glasses in Smoked Grey by White Mint is extra chic, while these LSA Coro Wine Glasses by Red Candy with different coloured bases are a handy way to make sure no one's drinks get mixed up.
If you want to go really glam, then these striking Artland Midnight Goblets also by Red Candy are available in red or black, while those who want to add a variety of colour to their dining table will love these Portuguese Diamond Wine Glasses by JasmineWay.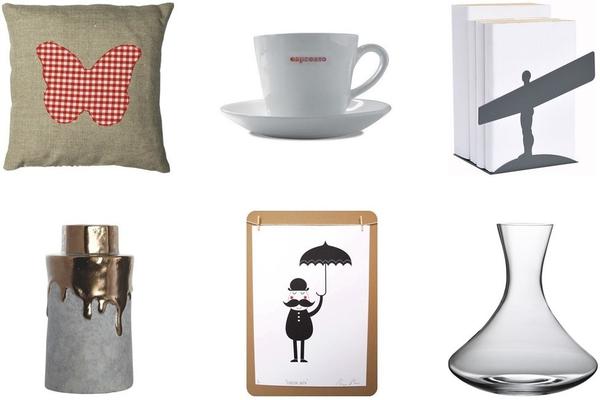 Grab a bargain with our fantastic range of gifts under £20.
If you're looking for a stylish bargain for a loved one this Christmas then you've come to the right place.
We've got an amazing selection of gifts under £20 with something for everyone.
Bookworms with a penchant for architecture will love this Angel of the North Bookend by Red Candy while this Word Espresso Set of Four by Design my World is perfect for someone who can't get going until they've had their morning hit of caffeine.
If you know someone who loves a bottle or two of vino, then this Bohemia Crystal Carafe by Solavia is bound to be a welcome gift while this London Man Print by Folly is perfect for quirky art lovers.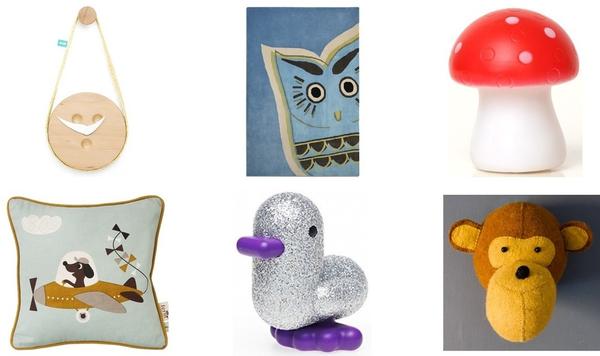 Perfect Christmas gifts for your little design aficionados.
We have a great selection of gifts for your little ones this Christmas to help them become design aficionados to be proud of!
From the cutest of lights to beautiful rugs, there's something for every young interior addict.
For savvy savers, there's this super cute and on-trend Disco Fever Canar Moneybox by White Mint, while those who love being comfy will adore this Children's Plane Cushion by Naken Interiors.
When it comes to budding art lovers, there's a plethora of goodies to choose from but our pick is this Mister Monkey Decorative Animal Head by BODIE and FOU, while this Red Toadstool Nightlight by Folly screams fairytale chic and will keep them feeling safe at night.
Add some chic lighting with our round up of the best floor lamps.
Anyone else notice how quickly the days have started getting shorter? It almost seems like summer never happened so, to combat the onset of those winter blues, why not treat yourself to one of our gorgeous floor lamps?
For those who like things bold and beautiful, the Silk 'S' Shaped Floor Lamp by Shimu is sure to add a welcome pop of colour, while the Boutique Black Floor Lamp by Alexander and Pearl will add an instant air of sophistication.
Meanwhile, if you want to keep things simple then this Copper Angled Floor Lamp by The French Bedroom Company is the perfect choice, and makes a great reading partner when placed next to a cosy armchair.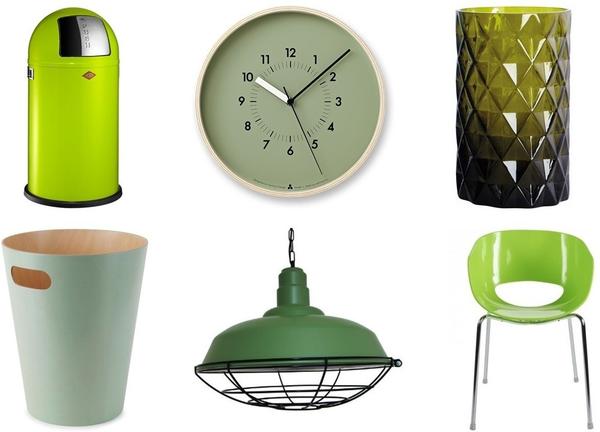 Enjoy nature's influence with these gorgeous green favourites.
I almost didn't write about green as, given the huge range of hues available, it felt like a bit of a mine field.
But how could this versatile, ever-present colour go unmentioned? I suppose everyone has an object that springs to mind when they think of green – for me it's the bobble hats my primary school used to make us wear on trips to the museum so they wouldn't lose us.
With shades as diverse as eau de nil to jade to the on-trend, and not for the fainthearted, neon green, this colour can conjure up many different moods and feelings.
Green works well in every room in the home, from the bedroom to the kitchen; the only issue is choosing which shade is right for you. A soft moss green cushion for example invokes a feeling of comfort and calm, while a brash neon lamp feels exciting and reminiscent of nightclubs and fluro 80s wear.
The beauty of green is that it complements most other colours (although red only really if you're feeling particularly daring). Team a mint green with a pale pink for a sophisticated, ice cream scheme, while a grass green works beautifully with a vibrant yellow for a continuous spring-like feel.
We've chosen our pick of the green items here at Furnish – what's your fave?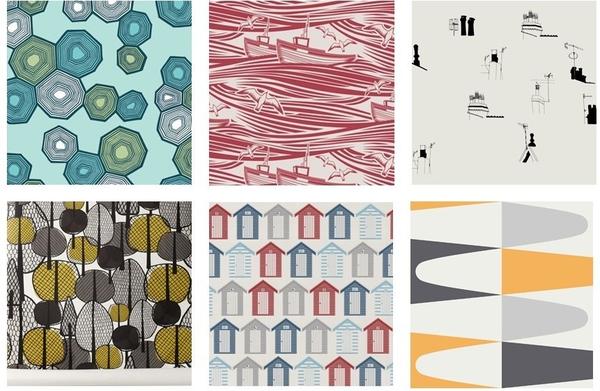 Brighten your walls with our pick of the best wallpapers around.
Wallpaper being back in vogue has been a thing for a while now, but many people are still wary of using 'loud' wallpaper in large doses, preferring to use it as a smaller feature.
However, we're a brave bunch here at Furnish, and we think boldness should be embraced, so we've picked our favourite graphic wallpapers which we encourage you to use with wanton abandonment (although they'll all work just as beautifully if you do want to go for a feature wall!)
Definitely not for the faint hearted, Polygon by Element Interiors is a riot of geometric pattern, which is available in three gorgeous colourways. For those who want to add a designer touch to their scheme, this Hemingway Carnival Wallpaper by Red Candy has been designed by Red or Dead founder Wayne Hemingway and is perfect for adding some 1960s chic.
Meanwhile, for those who prefer things a little calmer, Cachette's Roof Top Wallpaper is a beautiful design in a beautiful shade of grey making it ideal for the bedroom.
Treat yourself to a new wall clock from our fantastic collection.
You know when the clocks go back that winter is officially on its way. But while most people don't like getting up and coming home in the dark, who are we to argue with Mother Nature.
To make it a little more bearable, we've put together some of our favourite wall clocks, which are ideal for cheering up a plain wall.
If you're looking for something stylish, this Origami Ceramic Wall Clock by Naken Interiors with its geometric design is ideal for the office or living room and is available in a selection of colours.
Those with a penchant for everything retro will adore this Gold Sunburst Clock by Alexander and Pearl, which looks far more expensive than its bargaintastic price tag.
And while it might be a little on the pricey side, who can resist this super cute, designer Cucu Home Cuckoo Clock by Red Candy for a little (or big) one's bedroom?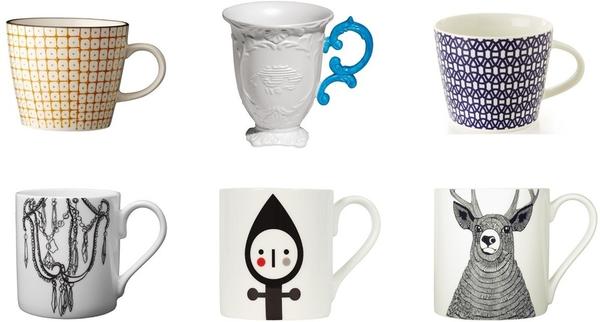 Get ready for colder days with our eclectic choice of marvellous mugs.
So much for an Indian summer – there's a distinct chill in the air, which means shorter days and colder nights are on the cards for the next few months.
Whether you prefer coffee, tea, hot chocolate or even a hot toddy to get you through, you'll be pleased to hear we have some yummy mugs to drink them from.
If you love animals, we have a great collection that's guaranteed to bring a smile to your face. From super cute to slightly surreal, we love this Deer Mug by Artstar, which is perfect for a morning cuppa.
If you prefer something a little more sophisticated, this Lace Mug by Naken Interiors is just the ticket. It comes in a variety of colours and works equally as well on the breakfast table as it does for an after-supper coffee.
Finally, if you like to be bold with your hot drinks, then this Porcelain Mug by is just for you. Also available in a range of colours, stick to one hue for a cohesive look, or mix and match for something a little more eclectic.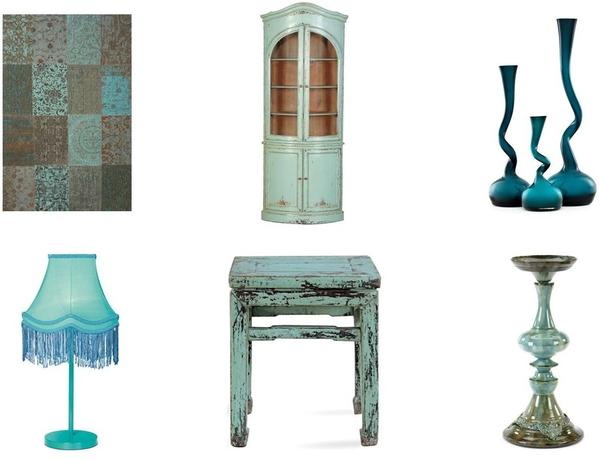 Give your home an instant boost with these turquoise treats.
Turquoise is a particular favourite colour of mine; probably because any time I start a new job or have a big event in my life, my Mum always makes sure I have a piece of it with me. As someone who is superstitious beyond belief, she believes it brings good luck and helps to keep you safe.
Reminiscent of exotic seas, this shade works well in both contemporary and classic interiors. Whether you opt for a pale, eau de nil shade or a darker, almost teal hue, both work well with pink, yellow, grey and white as complementary colours.
We have a great selection of products here at Furnish to inject this colour into your home from lighting and wallpaper to stylish, glass accessories.
If you're looking to invest in a new lamp to combat the onset of autumnal darker evenings, this Fluoro Fringe Table Lamp in Turquoise by The French Bedroom Company is just the ticket, while this Multi Rug in Sea Blue by Naken Interiors will look striking teamed with white floorboards.
And what could be a better way to display statement autumn blooms than this Normann Copenhagen Swing Vase by Red Candy, which is available is three sizes.
Get cosy with our great range of gorgeous rugs.
As we're now into October, it's time to start thinking about cosying up your home. Rugs are a perfect way to add some extra comfort to your floors, especially if you have wooden or stone flooring, and are also a great way to inject colour, texture and pattern.
We have a huge range of gorgeous rugs here at Furnish, whether you're looking for classic or contemporary, and these are just a few of our favourites.
If you're looking for a really cosy option for the living room or bedroom, this super soft Sheepskin Rug by Out There Interiors definitely ticks all the boxes, while this Wonderland Children's Rug by Naken Interiors is perfect for a little one's room.
If you're after some retro style the Dahlia Rug by Element Interiors is great for adding some bold pattern and colour and comes in four vivid colours, while those looking to add a real style statement will love this Mauve 1p Rug by Out There Interiors which is an oversized replica of a Royal Mail postage stamp.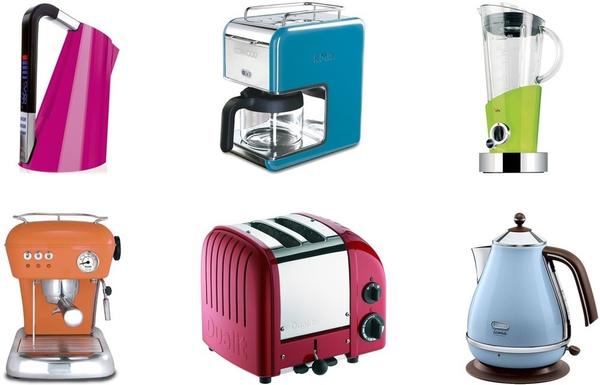 Add some colour and style with these fab and funky small appliances.
If you're bored with your toaster, or fed up with your kettle, check out our large selection of fab small appliances, all of which you'll be proud to have on display, and will get your kitchen looking truly funky.
To add a quirky touch to your breakfast, this Dualit 2 Slice Vario Toaster by Naken Interiors is just the ticket, while this vibrant Bugatti Vela Food Blender in Green is great for whizzing up everything from soups to juices.
And because everyone loves a cuppa, we've got a great selection of kettles from retro to sleek designs. Our favourite is this DeLonghi Icona Vintage Kettle by Red Candy which is sure to add a touch of style to any kitchen worktop.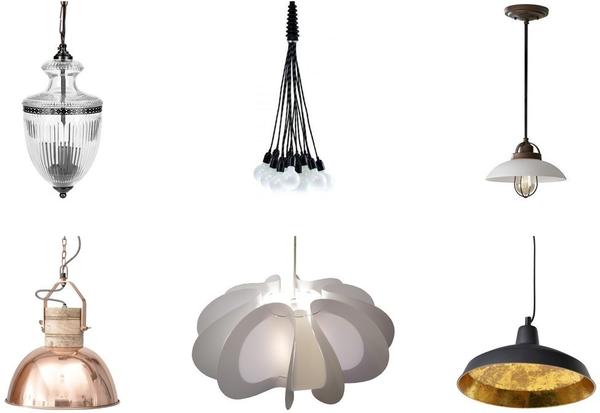 Illuminate your home in style with our selection of gorgeous pendant lights.
The nights are already starting to draw in which means it's a great time to sort out your lighting.
Pendant lights work well in every room in the home from the bathroom to hallway and are a great starting point for any lighting scheme.
We have a fantastic selection here at Furnish from classic to contemporary which are sure to update your scheme in next to no time.
Perfect for creating a real statement in the hallway or dining room, this Original Bundle Light by Design My World comprises a cluster of glass bulbs suspended from black cord and is sure to become a real talking point.
If you favour the industrial look, this Fleiss Urban Kitchen Range Light by Fields of Blue is just the ticket and would look great installed in a kitchen or dining space.
This striking Orion Pendant Light by Carl Harrison Design is ideal for the living room, and looks far more expensive than its bargaintastic price tag, while this intricate Grooved Glass Hanging Light by Out There Interiors will look fabulous in the hallway or bedroom.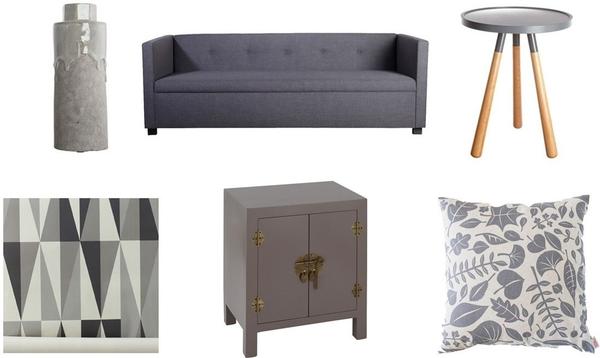 Incorporate cool and stylish grey into your home with these fabulous buys.
I'm a little bit biased when it comes to grey; it is one of my favourite colours and features heavily in my own home.
Far from being dreary, grey is sophisticated and dramatic and, contrary to popular belief, can also add warmth to a room. Finding the right grey for you is all down to what sort of light you have and personal preference, so make sure you do your research before choosing your perfect shade.
Grey also works well with a multitude of other colours but looks particularly great with pink, turquoise, yellow and of course white.
If you're a little unsure about grey as the main colour in your scheme, accessories are a great way to introduce this colour in small doses. We love the Large Hexa Cool Grey Ceramic Vase by White Mint. Available in two sizes, this simple yet striking vase will work well on either a sideboard or dining room table.
If you want to create a statement without committing to wallpaper, flooring or paint, this Dark Grey Sofa by Artstar is the ideal choice for both contemporary and classic schemes, and will look great teamed with brightly coloured scatter cushions.
However, if you're feeling a little bolder, why not opt for this striking and on-trend Spear Wallpaper in Grey by Naken Interiors which incorporates varying shades of grey into its design and will add instant impact to any room.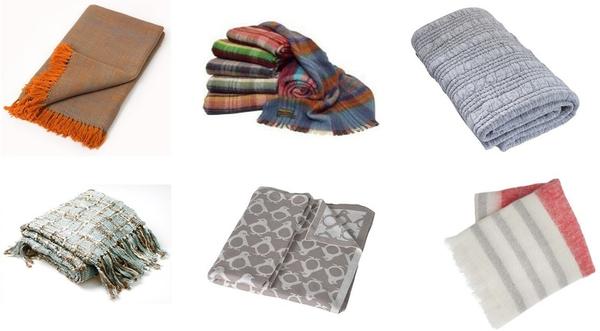 Cosy up on chilly summer evenings with one of our gorgeous throws.
I'm one of those people who eke every little bit out of summer. If it's sunny, I'll sunbathe, if it's even mildly warm, I'll whack on the fan and have a cool drink, and I still spend evenings in the garden even when it's not nearly warm enough.
But to avoid goose pimples and little blue toes I always have a throw to hand for when the nights get a little chilly.
If you're like me, you'll be glad to hear we have a great selection of throws here at Furnish, perfect for making the most of every last little bit of summer.
Ideal for cosying up in the garden or on the beach, this All Wool Throw by Fields of Blue features an array of colours and also doubles up nicely as a picnic blanket.
Colour fans will adore this luxurious Diamond Wool Bed Throw in Indigo and Burnt Orange by Naken Interiors, while those who like to keep it simple can't fail to be charmed by this Ruffle Ruched Grey Bedspread by The French Bedroom Company with its subtle calming colour and matching cushion.
Brighten up your kitchen with our pick of fantastic tea towels.
I'm yet to meet anyone who actively enjoys washing up but, if you're not blessed with a machine that does it for you, then investing in some stylish tea towels will hopefully, at least, make the drying up a little more bearable.
We have some super tea towels here at Furnish, all great at adding colour and pattern to your kitchen.
This Robots Tea Towel by Kukka will charm all ages while this Bear Tea Towel in Magenta by Artstar is equally delightful.
For those who prefer things to be a little more simple, this Red Heart Tea Towel by Red Candy has a classic colour combination of red and white, and will suit both contemporary and classic schemes.
Meanwhile, this Metamorphosis Tea Towel features a striking owl design, which is also available in matching cups, saucers and mugs.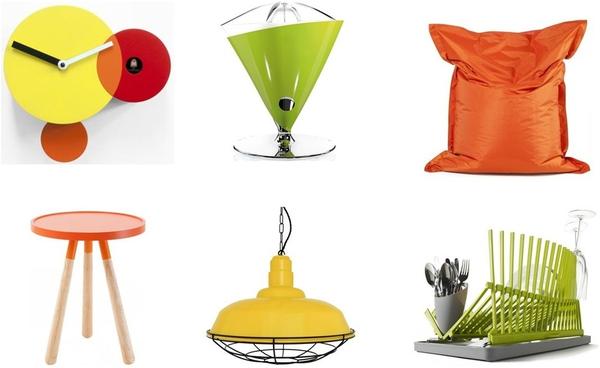 Add some zing to your home with our selection of brightly coloured buys.
As we approach the middle of summer, whether in rain or in shine, there couldn't be a better time to inject some fresh, zingy, citrus colours to your scheme.
For lovers of lime, this Bugatti Citrus Juicer by Red Candy will instantly brighten up any kitchen worktop, as will this High And Dry Dishrack by Design My World.
Orange obsessives are catered for too; this retro-inspired Orbit Side Table by Naken Interiors is perfect for any room in the home, while this Larry Orange Outdoor Bean Bag by Neofurn is ideal for the garden.
Yellow is possibly the ultimate summer colour, so if you want to add some sunshine brightness, this Kandinsky Cuckoo Clock by Red Candy will become the focal point of any room, while this Eden Yellow Industrial Cage Pendant Light by Alexander and Pearl adds colour to a more industrial scheme.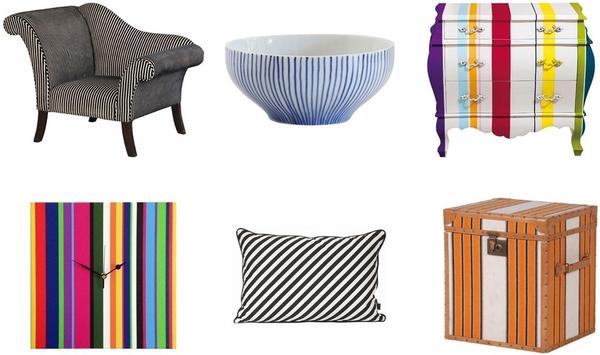 Give your home a smart look with our round up of striped goodies.
Stripes are a perennial favourite, however, they always make me think of summer. Maybe it's all those Breton tops and denim shorts combos you see when the sun decides to shine, or perhaps it's because they're particularly nautical in style.
I adore a stripe in the home as well as in fashion; they're easy to incorporate into any room from kitchen to bathroom, and suit any scheme whether contemporary or classic.
Great for keeping your bits and pieces hidden and being super stylish at the same time, I love this Paulie Orange & White Stripe Storage Cube Trunk by Alexander and Pearl, while this Black Stripe Cushion by Naken Interiors will instantly update any bed, chair or sofa.
This Swish Black and White Striped Armchair by Lover's lounge offers a subtle way to incorporate the trend and can easily be combined with other patterns without appearing too garish, while this Multi-Striped Chest of Drawers by Out There Interiors is ideal for those who are bold when it comes to decorating the home.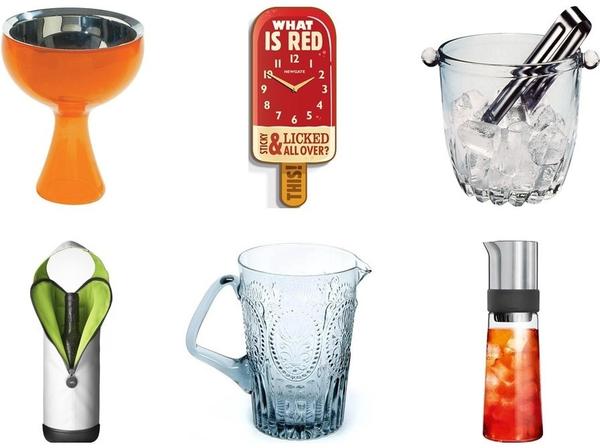 Keep your cool in the summer months with these inspired buys.
No sooner is a heatwave announced then we all start calling for rain. Turns out when it comes to weather; you can't please all of the people all of the time.
So, if the heat is getting to you, we have some great products that will ensure you keep your cool when everyone around you is losing theirs.
If picnics and al fresco dining are your thing then you'll need this Menu Picnic Wine Cooler by Gifts with Style, which will keep your bottle of plonk nicely chilled. Meanwhile, the TEA-JAY Ice Tea Maker Kit by Naken Interiors is a unique item perfect for iced tea and other chilled mixed drinks.
Naturally, you'll want some ice cream or sorbet in this weather so serve it in style with this funky Alessi Big Love Ice Cream Bowl by Red Candy, which is available in a myriad of bright colours.
And finally, for a bit of fun, we couldn't resist this Newgate Ice Lolly Wall Clock, also by Red Candy, which is perfect for adding some summer charm to your home.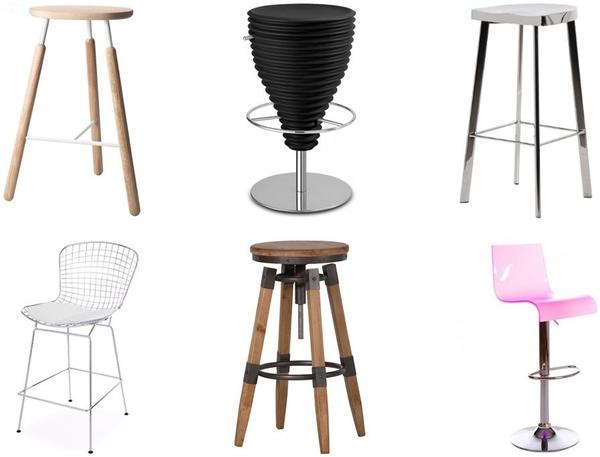 Make the most of your kitchen space with our great selection of bar stools.
A bar stool is an great piece of kit and can instantly transform otherwise dead space in your kitchen.
And there's no need for an expansive breakfast bar as, with just the end of a worktop, you have the perfect place to perch whether it's for breakfast or an after-work cocktail.
With an array of bar stools to choose from here at Furnish, there's something to suit every style and budget.
Perfect for adding a touch of girly chic to any kitchen/diner space, this Luke Acrylic Pink Bar Stool by Neofurn will instantly add a pop of colour, while this Manhattan Wood & Iron Bar Stool by Alexander & Pearl is ideal for adding a subtle industrial touch.
For those who prefer to keep things sleek and simple, this Chrome Bar Stool by London Cows is sure to be a hit, while design lovers will adore this Raft Bar Stool by Naken Interiors.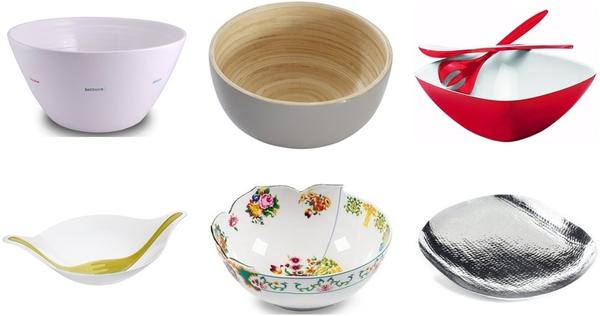 Serve up a delicious feast in one of our gorgeous salad bowls.
While salad eating isn't completely reserved for the summer months, a lot more of us eat a lot more of it when the weather's good.
And these days, salads are far more adventurous than a limp leaf of lettuce and some salad cream, so they deserve to be served on something a little more special than a bog standard plate.
Thankfully, our selection of salad bowls is sure to do your creations proud.
Wordsmiths will love the Word Salad Bowl by Naken Interiors, which is simple but fun, while those who like things to be nice and neat will adore this Koziol White Salad Bowl with Servers.
And if you want to make a real statement, this Syrian Silver Salad Bowl is perfect for serving up at a dinner party while the Fusion Salad Bowl from Out There Interiors will add colour and pattern to any mealtime.