Features: Design ideas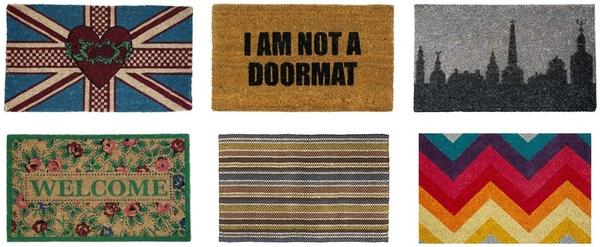 Give your guests a warm welcome with one of our attractive door mats.
Door mats are one of life's necessities but that doesn't mean they have to be dull or boring. We have a great range here at Furnish from humorous to pretty, with something to suit everyone and every budget and style.
If you like a bit of tongue-in-cheek humour then the I am not a Doormat by Lifestylebazaar is the perfect choice, while this Zig Zag Doormat by John Lewis adds a striking hit of colour.
Lovers of all things pretty are also catered for with the decorative Rambling Rose Welcome Design Doormat by Fields of Blue while city dwellers will adore the silhouette of the Stockholm Doormat by JasmineWay.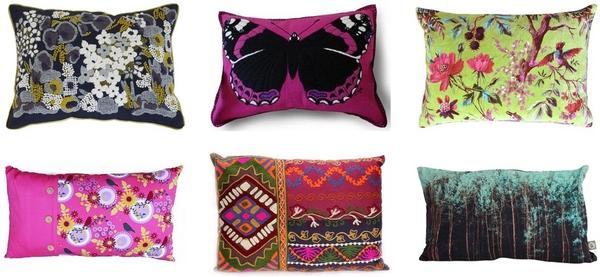 Choose one of our vibrant cushions to give your home a lift for the new season.
If you want to give your home a new look without breaking the budget and with minimal fuss, cushions are the perfect solution.
Whether you're looking to breathe life into an old chair or sofa, or simply want to jazz up your bedroom, we have a huge selection available, and here are some of our faves, all full of bright and beautiful colour.
Floral fans will struggle to resist either this fabulous Trippy Granny Cushion by The French Bedroom Company which will add a feminine touch without being too girly, or this Ellen Hand-embroidered Cushion by ALSO Home which combines gorgeous shades of grey and green.
Meanwhile, those looking to create real impact need look no further than the Jan Constantine Red Admiral Cushion by Out There Interiors or the Mosaic pattern pink cushion by JasmineWay, both ideal for adding a striking finishing touch to any room.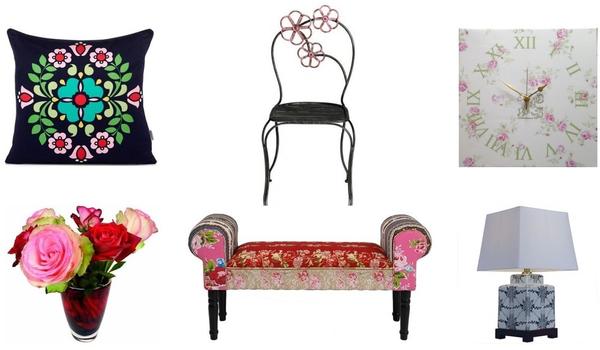 It's time to bring the outside in with these gorgeous floral home accessories.
Now that spring has sprung, it's time to blow away the cobwebs and inject some floral style into the home. And we have a fantastic mix just perfect for bringing the outside in.
Our floral pieces are great for instantly cheering up any interior and will give your home a much needed touch of spring.
For those who want to add pattern and colour to a sofa or chair, this Gypsy Blue Cushion by Artstar is super funky and the perfect choice. Meanwhile those who want to introduce some subtle lighting to their hallway or living area will love this Floral Tea Caddy Lamp by Shimu.
And if you really want to create maximum impact, how about this Romany Love Seat by The French Bedroom Company.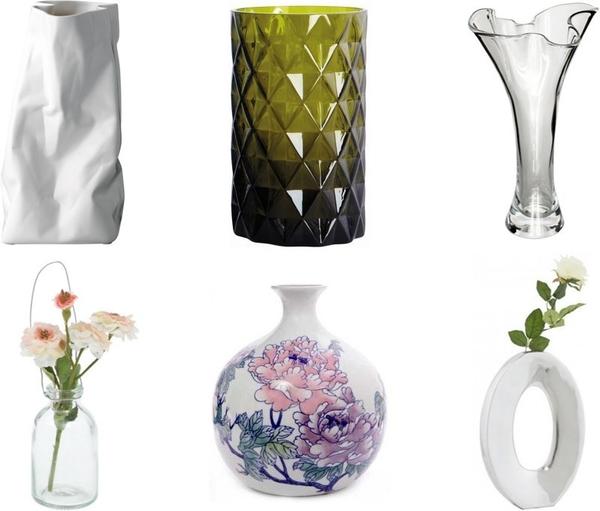 Display your favourite springtime blooms with these gorgeous vases.
Spring has finally arrived and, here at Furnish HQ, we couldn't be happier!
Not least because it gives us the perfect excuse to splash out on a new vase or two to display the first blooms of spring.
We've got something for everyone with our eclectic mix of vases, so there's no excuse not to bring some of the outside indoors.
Those who love a feminine, floral touch will adore the Flower Vase Magnolia by JasmineWay, whilst fans of geometric shapes may prefer the Green Chunky Vase by Artstar.
Meanwhile, one of our favourite designs is this Hanging Stem Bottle Vase by The Orchard which looks great when used to hold a single bloom and displayed in a cluster.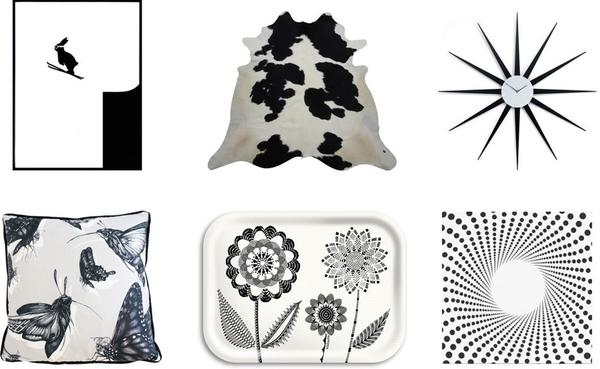 This combo never dates so embrace these black and white favourites.
Just as in fashion, there's always a place for monochrome within the home. Whether you opt for a stylish graphic rug or simple soft furnishings, this colour pairing doesn't date and suits both contemporary and classic schemes.
To create a real style statement in your living room, this BLGAB04 Cowhide Rug by London Cows is the perfect piece while this Diamantini Star Clock by Red Candy is guaranteed to add interest to the plainest of walls.
Meanwhile, if graphic prints are your thing, then you'll love this Bridget Riley-inspired Black Dots Spiral Print which comes courtesy of those clever folk at Duffy London and the stylish Swarm Cushion by Adam Slade by The French Bedroom Company which will add a touch of monochrome glamour to any sofa or chair.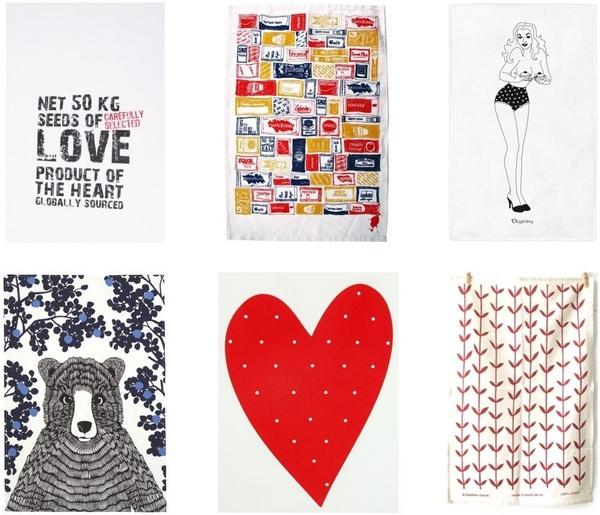 Make washing up more fun with our selection of super cool tea towels.
No one likes doing the washing up – that's a fact of life – but you can make it a little more interesting with the addition of a funky tea towel or two.
We've picked our favourites here at Furnish which are guaranteed to add a splash of colour to brighten up any kitchen.
For those who want a touch of retro kitsch, this set of two Fifties Housewife Tea Towels by The French Bedroom Company is just the ticket, and this friendly Tea Towel by Artstar is sure to raise a smile.
Meanwhile, no kitchen would be complete without a graphic print tea towel which is why we love this Orla Tea Towel by Design My World.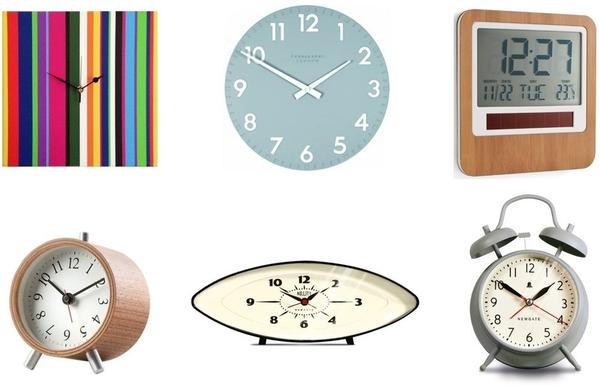 Celebrate the advent of spring with one of our fantastic clocks.
March has arrived which can only mean one thing - spring is on the way!
After one of the gloomiest and wettest winters ever, here at Furnish HQ, we can't wait for brighter mornings and longer days. And as the clocks go forward on the 30th March, what could be a better way to celebrate than with a fabulous new timepiece?
We have a huge range of clocks from sleek and simple mantel clocks to intricate wall clocks meaning there's something for everyone.
This Candy Striped Clock by Burford Trading will add a splash of colour and pattern wherever you hang it while the Newgate Bullitt Mantel Alarm Clock by The Orchard introduces a wonderfully retro feel to your bedroom.
And if you're looking for something a little more modern, this Lexon Safe Bamboo Digital Wall Clock by Gifts with Style provides a versatile option, as it can be used either as a table clock or hung on the wall.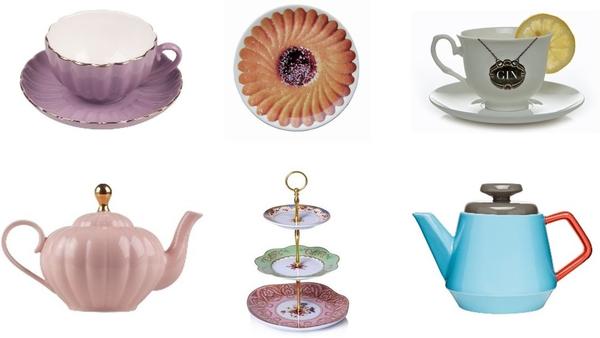 Brighten up your day with our pick of the best afternoon tea essentials around.
Nothing says true decadence like breaking for afternoon tea.
And we're talking proper afternoon tea here; not a quick cuppa and a soggy biscuit, but gorgeous cakes served on real china and sandwiches so dainty you will always need more than two.
Traditionalists will love the 3 Tier Cake Stand in Vintage Regency Style by Fields of Blue which works perfectly with the Belle Teapot and Teacup and Saucer to create the prettiest of tea sets.
Meanwhile fans of a more contemporary style will love this Biscuit Plate and G 'n' Tea Teacup and Saucer by Lifestylebazaar which, when teamed with this eye-catching Pop Tea/Coffee Pot by Design My World, make for a fun afternoon tea.
What's your favourite? Classic or contemporary?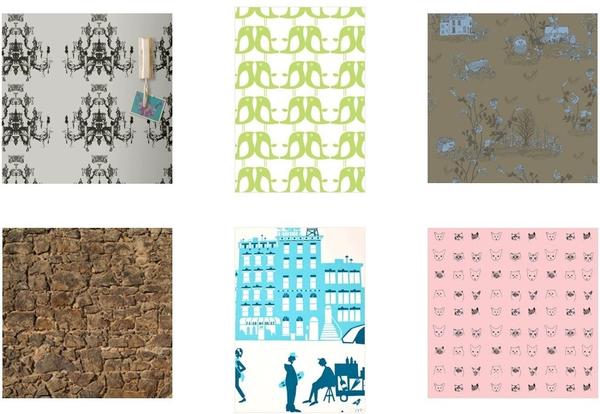 Give your walls a treat with our fantastic range of wallpapers.
Wallpaper has seen something of a resurgence over the past decade or so, and here at Furnish we're huge fans of using wallpaper to add colour and pattern to our walls.
We've put together our top picks, and whatever your style, there's something here for everyone.
To brighten up a little one's room this Penguin Wallpaper by BODIE and FOU certainly gets our vote, while feline fans will adore this Cats Wallpaper by Lifestylebazaar (available in green, blue or pink).
For something a little more grown up, this Chandelier Wallpaper by Duffy London is sure to add some grandeur to your walls, while the Stonewall Wallpaper Mural by Red Candy will transform them completely.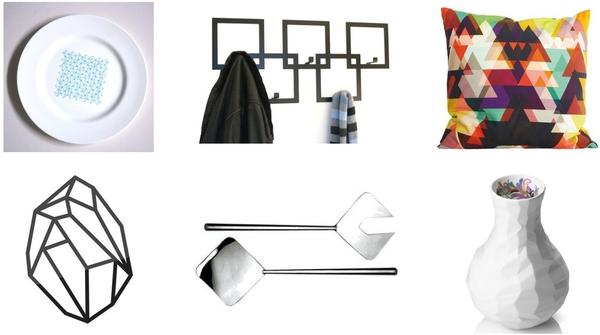 Pick up on the hottest trend around with some of our favourite geometric interiors finds this spring.
Geometric print and form is everywhere this spring and is a great antidote to the nautical and floral trends we've seen of late.
We have some gorgeous geometric products here at Furnish which are great for adding some new style to every room in the home.
Have a plain chair or sofa that's looking a bit tired? This Geometric Cushion by Artstar will pep it up instantly and add colour and pattern to your living space.
This Geometric Wall Structure by BODIE and FOU is a great alternative to traditional prints and posters, breathing life into your walls, while this Menu Raw Diamonds Vase by Gifts with Style is just perfect for displaying the first of your spring blooms.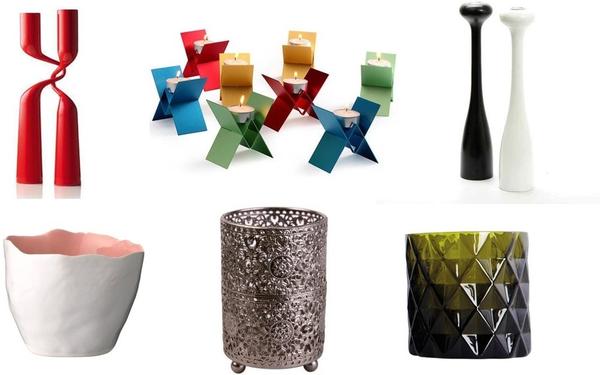 Cosy up during the dark evenings with our fantastic selection of candle holders.
While spring will soon be here and the dark nights are starting to get shorter, we still have a few weeks to get through (but seriously – enough of this rain).
Modern lighting can be harsh, but candlelight gives any room a softening glow from the living room to a candlelit bath.
We have some gorgeous candle holders here at Furnish from simple tea light holders to elegant candelabras.
If you want to inject some colour into your scheme, these Butterfly tea light holders by Lifestylebazaar are perfect, while the Green Chunky Tea Light Holder by Artstar is just right for adding a touch of glamour to a mantelpiece.
And if you're looking to create a stunning centrepiece, then this Menu Double Candle Holder by Red Candy is ideal for creating an elegant dining table, and is also available in black, white and stainless steel.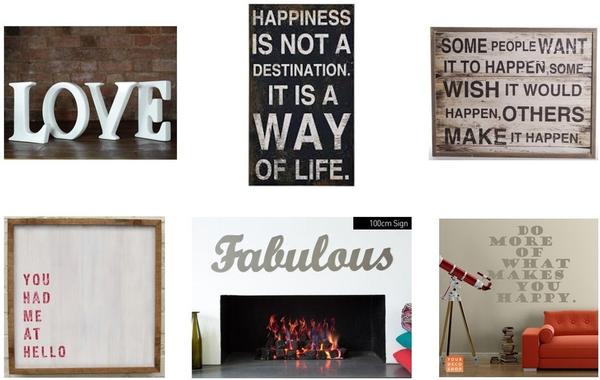 Treat your walls to a makeover with our wordy wall art.
If your walls are a little lacking in interest, then a wall sign or some written artwork is the perfect way to spruce them up and give them a new look.
They are perfect if you want a change but are not ready to commit to wallpaper or a new paint colour.
Romantics will love these LOVE Ceramic Letters by The Orchard which make the perfect wedding or anniversary present, while the Fabulous Sign by Signs For Homes is great for adding a touch of diva to any room.
And, if your spirits are in need of a little lift, then this Happiness is a Way of Life - Shabby Chic Sign by Fields of Blue should do the job.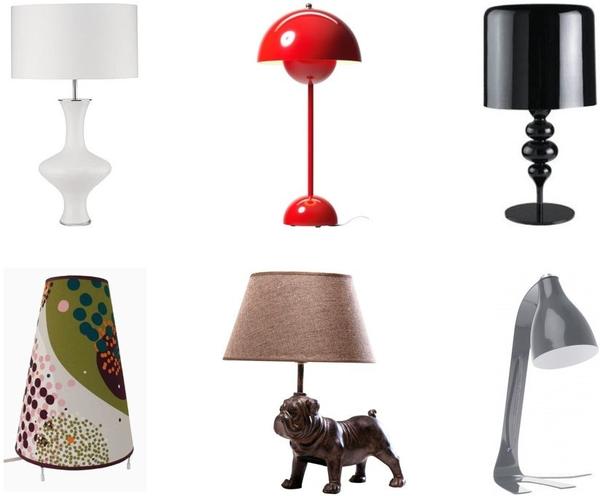 Brighten up gloomy evenings with our eclectic pick of table lamps.
We're longing for spring to arrive here at Furnish, but while the dark, long evenings are still with us, we thought it was a good idea to have a round up of some of our favourite table lamps.
Great for every room in the house, from the bedroom to the study, we have a fabulous selection for every taste.
For those who like their lighting with beautiful curves, you will struggle to beat the Medusa Black Aluminum Desk/Table Lamp by Furniture for Home, while for a desk or a side table the Leitmotiv Barefoot Table Lamp by Dutch by Design is a great choice.
And if you want to add real impact to your hallway or living room, then you need look no further than this cute, kitsch Petit Bouledogue Table Lamp by The French Bedroom Company.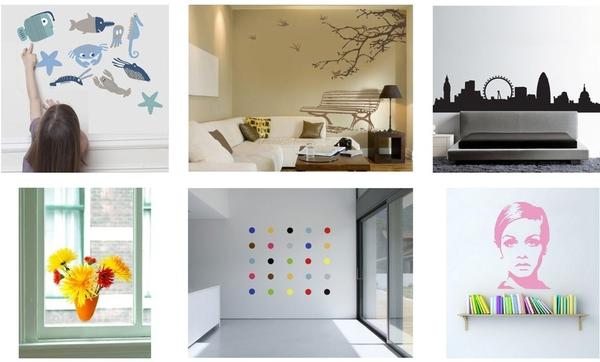 Spruce up your home with our fabulous choice of wall and window stickers.
If you don't want to commit to wallpaper or paint, wall stickers offer a fantastic way to update your walls with minimum fuss.
We have some beauties here at Furnish from classic to contemporary, which are guaranteed to suit every room in the home, as well as every style and taste.
For art lovers, the Damien Hirst-esque Art Deco Spots Wall Sticker Set from Red Candy will instantly add some gallery chic to your home while the Ocean Life Wall Sticker in Blue from JasmineWay will delight budding oceanographers.
If you're one of those who dream of viewing the iconic London skyline everyday but can't afford the city centre pad, then this London Skyline Wall Sticker from Gifts with Style makes a reasonable substitute.
Meanwhile, for something a bit different, how about this gorgeous Flat Flower Chrysantium Window Sticker from Dutch by Design, perfect for adding colour and fun to your window.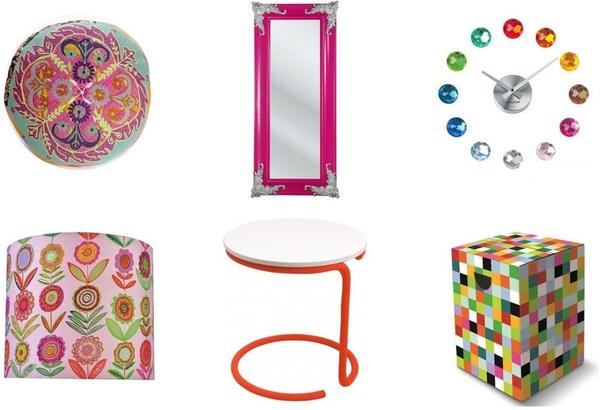 Add some colour to your home with these bright and beautiful items, all currently reduced.
Perhaps, like me, you're suffering from post-Christmas blues and are feeling fed up with the dreary January weather. Why not inject some bright accessories and furniture into your home to instantly replace the joy of those removed Christmas decorations.
This blinging Karlsson Diamond DIY Multi Coloured Clock from Red Candy is both fun and functional. It is up to you to lay out the clock face as you wish, whether circular, square or something more abstract, all in gorgeous sparkly colours.
Meanwhile, this Lampshade Designer Fabric from The Wooden Lamp Company features the beautiful 'Cut Flowers' fabric and will ensure any room looks pretty in pink.
And to help out with the January finances and add a smile to your face, these beautiful brights are all currently available at sale prices.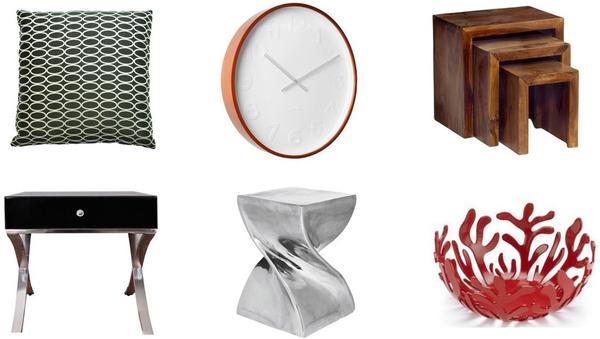 Hit the sales from the comfort of your own armchair with our pick of the best bargains.
Many of the sellers here on Furnish are offering great discounts at the moment on their gorgeous homewares.
Red Candy have some super reductions, including this Karlsson Mr White Wooden Wall Clock, reduced from £149 to £109, and The French Bedroom Company has reduced prices in several categories, including mirrors, bedside tables and chandeliers, such as this striking Twisted Table in Aluminium, reduced from £275 to £220.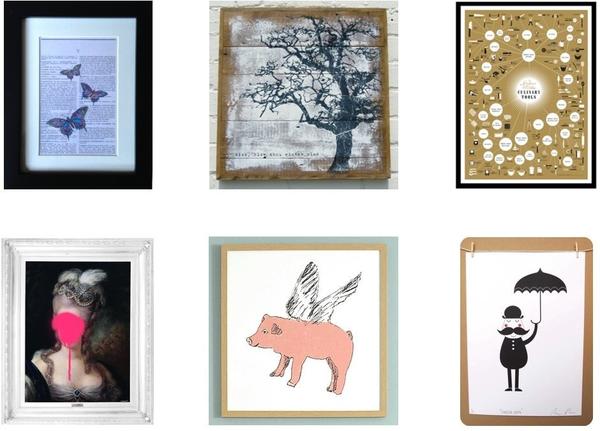 Treat yourself to the perfect print with our fantastic selection of wall art.
Everyone likes to have some artwork in their lives and, here at Furnish, we have some fantastic prints and pictures to decorate your home.
If you like your art a little bit edgy, you'll love this eclectic Defaced Duchess print from The French Bedroom Company while this beautifully sketched Flying Pig Print from Lifestylebazaar will look great in a kid's room.
Meanwhile, if you're more into nature and literature, then you can kill two birds with one stone with this pretty Vintage Style Book Watercolour Butterfly Print from Burford Trading.
(Each of these would also make a perfect gift and many items can still be delivered before Christmas. Check the individual product listings for more information.)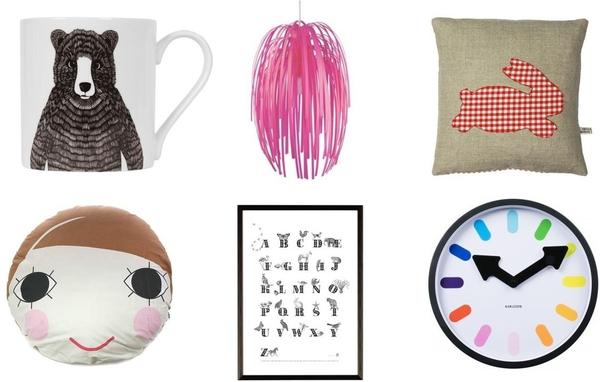 Give your little ones something special this Christmas with these gorgeous, fun accessories.
Much as kids love toys at Christmas, it is also a great opportunity to give them something special to brighten up their bedrooms. We have some gorgeous bits and pieces for children's rooms here at Furnish, sure to put a smile on their faces.
This funky Karlsson Pictogram Rainbow Wall Clock from Dutch by Design will add fun and colour, while this giant Children's Cushion Big Lulu from JasmineWay will go down a treat in any girl's room.
Up-and-coming interior designers will surely adore this super stylish Handmade Rabbit Cushion from Chocolate Creative to add some country-style chic to their bedroom, while budding art lovers will be thrilled with this stylish and educational Animal ABC Print from Folly.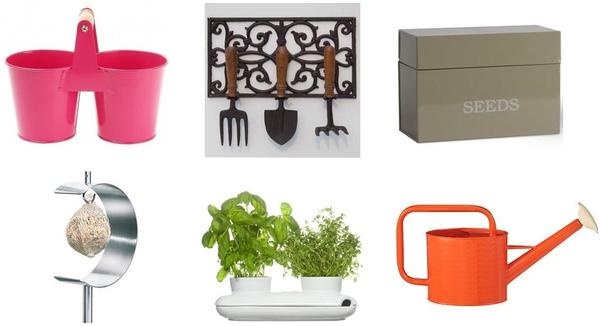 Find gorgeous gifts for your green-fingered friends with our Christmas Gift Guide for Gardeners.
If you're looking for the perfect gift for a wannabe Alan Titchmarsh or Rachel de Thame, we have some great gardening gifts for your green-fingered friends.
From watering cans to bird feeders to garden tools, we have everything to make sure your loved ones' gardens bloom this coming year.
To help them adhere to the inevitable hose pipe ban in a few months' time, this Orla Kiely Watering Can from Design 55 is just the ticket, while twitchers will be delighted with this Blomus Nido Bird Feeder by Red Candy.
And to keep seeds neat and tidy, look no further than this simple yet stylish Garden Trading Large Seed Box in Gooseberry from Amara Living.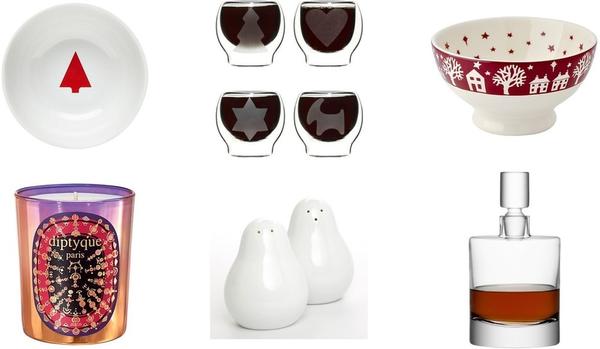 Get ready for festive feasting with this gorgeous Christmas tableware.
With Christmas just around the corner, now's the ideal time to start thinking about creating the perfect festive table.
We have some gorgeous Christmas tableware here at Furnish perfect for the Christmas period from elegant candlesticks for a Christmas Eve supper to simple yet stylish decanters which are perfect for serving a tipple or two.
Ideal for adding a Scandi-chic look, this cute Woodland Christmas Tree Bowl from John Lewis features a simple Christmas tree motif and is just the ticket for serving everything from mince pies to Christmas pud.
Meanwhile no self-respecting festive feast would be complete without a glass or two of mulled wine, and what nicer way to serve it than with this Sagaform Set of 4 Mulled Wine Thermal Glasses from Design 55.