Features: Design ideas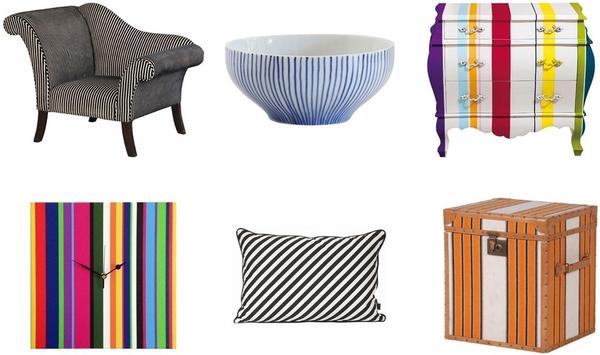 Give your home a smart look with our round up of striped goodies.
Stripes are a perennial favourite, however, they always make me think of summer. Maybe it's all those Breton tops and denim shorts combos you see when the sun decides to shine, or perhaps it's because they're particularly nautical in style.
I adore a stripe in the home as well as in fashion; they're easy to incorporate into any room from kitchen to bathroom, and suit any scheme whether contemporary or classic.
Great for keeping your bits and pieces hidden and being super stylish at the same time, I love this Paulie Orange & White Stripe Storage Cube Trunk by Alexander and Pearl, while this Black Stripe Cushion by Naken Interiors will instantly update any bed, chair or sofa.
This Swish Black and White Striped Armchair by Lover's lounge offers a subtle way to incorporate the trend and can easily be combined with other patterns without appearing too garish, while this Multi-Striped Chest of Drawers by Out There Interiors is ideal for those who are bold when it comes to decorating the home.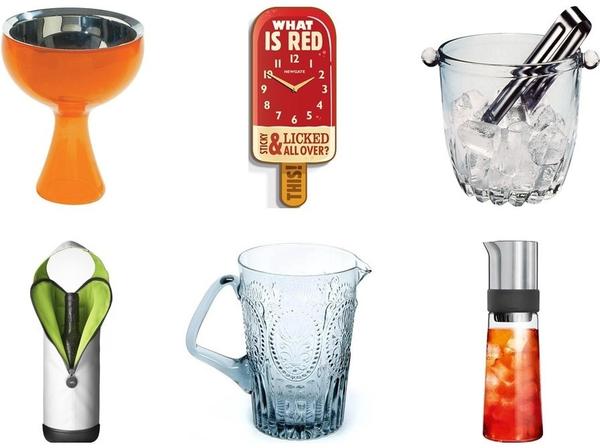 Keep your cool in the summer months with these inspired buys.
No sooner is a heatwave announced then we all start calling for rain. Turns out when it comes to weather; you can't please all of the people all of the time.
So, if the heat is getting to you, we have some great products that will ensure you keep your cool when everyone around you is losing theirs.
If picnics and al fresco dining are your thing then you'll need this Menu Picnic Wine Cooler by Gifts with Style, which will keep your bottle of plonk nicely chilled. Meanwhile, the TEA-JAY Ice Tea Maker Kit by Naken Interiors is a unique item perfect for iced tea and other chilled mixed drinks.
Naturally, you'll want some ice cream or sorbet in this weather so serve it in style with this funky Alessi Big Love Ice Cream Bowl by Red Candy, which is available in a myriad of bright colours.
And finally, for a bit of fun, we couldn't resist this Newgate Ice Lolly Wall Clock, also by Red Candy, which is perfect for adding some summer charm to your home.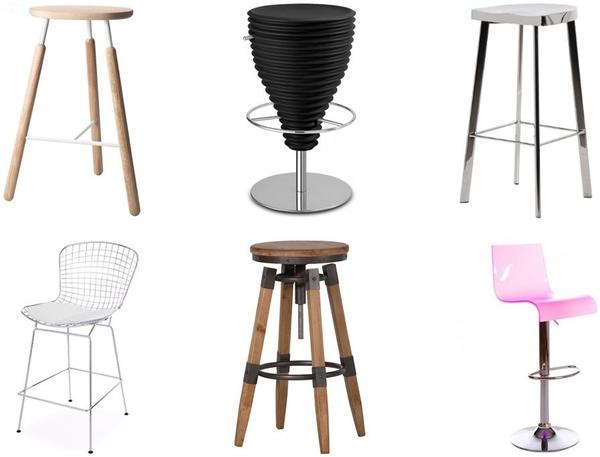 Make the most of your kitchen space with our great selection of bar stools.
A bar stool is an great piece of kit and can instantly transform otherwise dead space in your kitchen.
And there's no need for an expansive breakfast bar as, with just the end of a worktop, you have the perfect place to perch whether it's for breakfast or an after-work cocktail.
With an array of bar stools to choose from here at Furnish, there's something to suit every style and budget.
Perfect for adding a touch of girly chic to any kitchen/diner space, this Luke Acrylic Pink Bar Stool by Neofurn will instantly add a pop of colour, while this Manhattan Wood & Iron Bar Stool by Alexander & Pearl is ideal for adding a subtle industrial touch.
For those who prefer to keep things sleek and simple, this Chrome Bar Stool by London Cows is sure to be a hit, while design lovers will adore this Raft Bar Stool by Naken Interiors.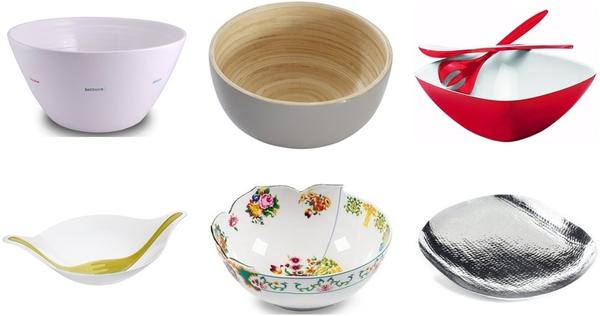 Serve up a delicious feast in one of our gorgeous salad bowls.
While salad eating isn't completely reserved for the summer months, a lot more of us eat a lot more of it when the weather's good.
And these days, salads are far more adventurous than a limp leaf of lettuce and some salad cream, so they deserve to be served on something a little more special than a bog standard plate.
Thankfully, our selection of salad bowls is sure to do your creations proud.
Wordsmiths will love the Word Salad Bowl by Naken Interiors, which is simple but fun, while those who like things to be nice and neat will adore this Koziol White Salad Bowl with Servers.
And if you want to make a real statement, this Syrian Silver Salad Bowl is perfect for serving up at a dinner party while the Fusion Salad Bowl from Out There Interiors will add colour and pattern to any mealtime.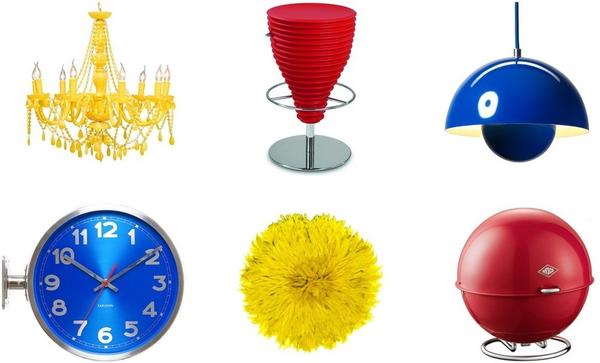 With primary colours making a comeback this year, here's how to inject some brights into your scheme.
Red, blue and yellow, more commonly known as the primary colours, are coming back in a big way.
While neutrals and neons are still around, we have seen a re-emergence of these colours that remind us of, well funnily enough, primary school.
Those who use these bold, beautiful and unapologetic shades fall in two camps; those who embrace them with wanton abandonment as if in homage to Mondrian and those, like me, who prefer subtle pops of colour. Both approaches can work very well.
Here at Furnish, we have a great selection of primary-coloured home interiors to choose from including furniture, accessories and even wallpaper.
The fearless will love this striking, showstopping Pop Yellow Chandelier by The French Bedroom Company which certainly creates a statement wherever it is used, as well as this great looking Bongo Bar Stool in Red by Furniturepod.
Meanwhile, design junkies will be unable to resist this classic Blue Panton Flower Pot Pendant, while those into funky, unusual artwork will love this Juju Hat in Yellow, both by Design My World.
Bring your interior bang up to date with these copper favourites.
Copper is one of the biggest trends in interiors this year and offers an easy way to get your scheme bang on style.
Copper accessories work well in every room in the house, from the bedroom to the kitchen and we have some great copper furniture and accessories to choose from.
Perfect for any well-seasoned traveller or for those who dream of far flung places, this Authentics Copper Globe by Lifestylebazaar is just the ticket, while a sideboard or table will be brought to life with this Copper Bottle Vase by Artstar.
A fantastic addition to any kitchen, this Dime Industrial Copper Lacquered Tall Bar Stool by Alexander and Pearl will look great teamed with a rustic wooden breakfast bar, while this Stars Copper Print Cushion by Naken Interiors is perfect for sprucing up a plain sofa or chair.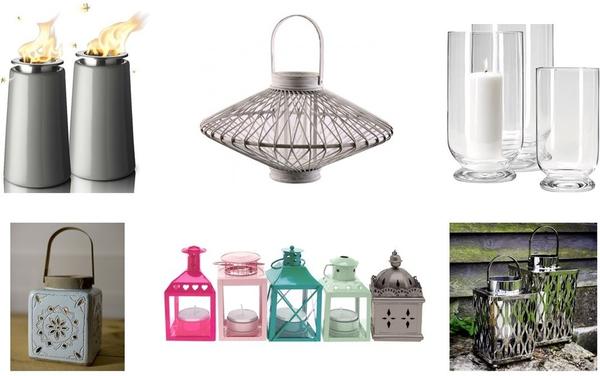 Give your garden a welcoming glow with our range of outdoor candle holders.
Now summer has (more or less) arrived, it's time to enjoy your garden as much as possible. To make the most of your outdoor space, it is a nice idea to add some garden candlelight, providing an attractive, atmospheric feel.
We have some wonderful candle holders here at Furnish with many designed for outdoor use, including something for every style and budget.
To create some real drama, why not try the Menu Outdoor Oil Lamp by Gifts with Style. Sleek and stylish, these lamps will look great displayed on a table or along a pathway.
For those wanting to add a touch of Eastern design to their outside space, the Large Bamboo Sphere Lantern by My Maison is a great choice, while those looking for something simpler will love the LSA Terrace Storm Lanterns by Red Candy.
And if you want to add some colour to your garden then look no further than the Mini House Tealight Holders Set by Dutch by Design. In five different styles and shades, they look wonderful grouped together as a centrepiece.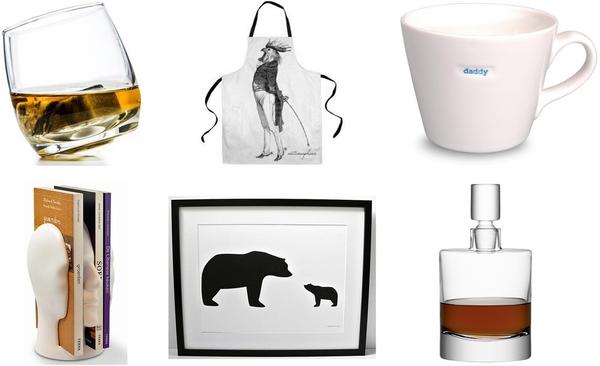 Give your Dad something to treasure this Father's Day with our round up of great gifts.
With Father's Day just around the corner – 15th June for those of you who haven't got it marked in your diary – it's time to get shopping for your Dad.
We have some great gifts for every type of Dad, even the fussiest ones.
If your Dad loves to cook then this super cool Metamorphosis Cockerel Apron by White Mint is the perfect choice, while this cute yet very stylish I Look Up To You Print by Lifestylebazaar is a great way to tell your Dad how you feel without getting too mushy.
For bookworm Dads, this In My Mind bookend, also by Lifestylebazaar is perfect for keeping his books in check, while if your old man likes some of the good stuff, he'll adore this elegant LSA Boris Decanter by Red Candy.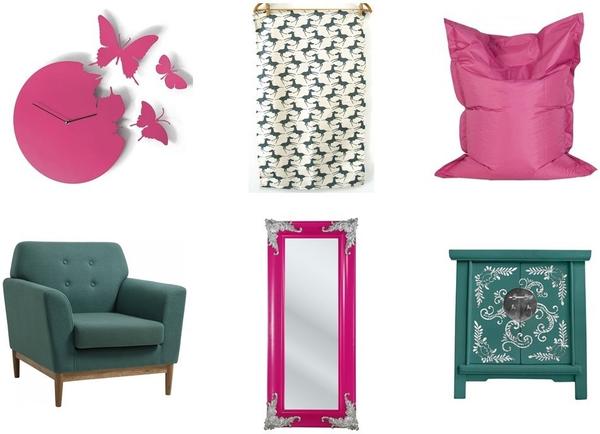 Be bold and brave with the daring combination of teal and hot pink.
Not for the faint hearted, this week's colour combination takes its inspiration from bold and beautiful Designers Guild fabrics which started firmly putting colour-phobes in their place many moons ago.
A daring pairing, these striking colours just seem to work together, particularly when teamed with a neutral backdrop. Here at Furnish, we have lots of gorgeous items in these colours from furniture to accessories to really make your scheme pop with colour.
For the brave, a piece of teal furniture will instantly lift your room and we have some great pieces available. This Bedside Teal and Silver Cabinet by Shimu offers just enough Eastern style without being too over the top, while the Vintage Teal Armchair by Alexander and Pearl is a must for retro lovers.
When it comes to this colour combination, it's important to go for the boldest shade of pink you can bear – that way it really pops against the teal. For a bold bedroom, try adding this Passion Pink Full Length Mirror by The French Bedroom Company or breathe life into a tired, plain wall with this Butterfly Clock in Fuchsia by Red Candy.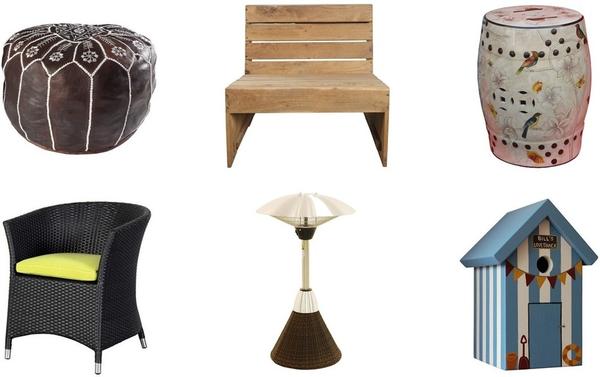 Relax in style this summer with our pick of the best garden furniture and accessories.
With summer fast approaching (or is it already here??), it's time to ensure you have everything you need to enjoy your garden. From planters to benches, and hammocks to patio heaters we have a wide selection of gorgeous outdoor furniture and accessories to get your garden looking wonderful.
For simple yet stylish seating, this Wooden Garden Chair by BODIE and FOU is perfect and will only look better with age, while this Black Woven Garden Chair by Out There Interiors looks great and is super comfy.
And if you're looking for some interesting accessories then how about either this pretty-as-a-picture Painted Ceramic Stool by Shimu or this Handmade Beach Hut Bird Box by Lindleywood which comes in nine colours and can be personalised to suit.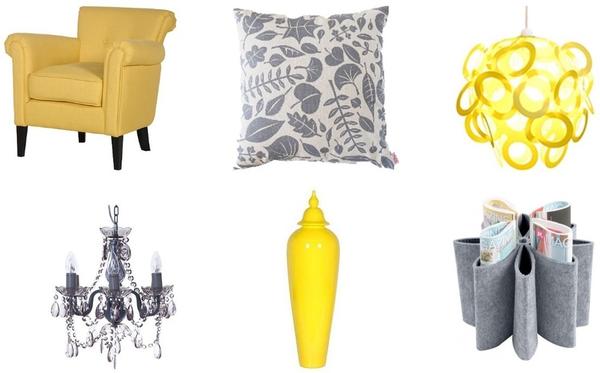 Let us show you how to make this classic colour combination work in your home.
Grey and yellow go together like strawberries and cream, and this classic colour combination has had something of a renaissance in recent years, working well in both classic and contemporary schemes.
Whether you opt for pale or bright shades, you'll create a stunning, timeless scheme using this dramatic palette.
We have some gorgeous yellow and grey items here at Furnish, from furniture to accessories to get you started.
If you're looking for some striking lighting this Fifty Shades Chandelier by The French Bedroom Company works well in both living spaces and bedrooms, while the Loopy-Lu in Yellow by Loopy-lu will stand out wherever it's used.
And if you're looking to update your furniture, this simple yet ever so stylish Sommerville Yellow Linen Armchair by Alexander and Pearl is just waiting to be accessorised with this Skinny Laminx Leaves Cushion Cover in Grey from Design My World.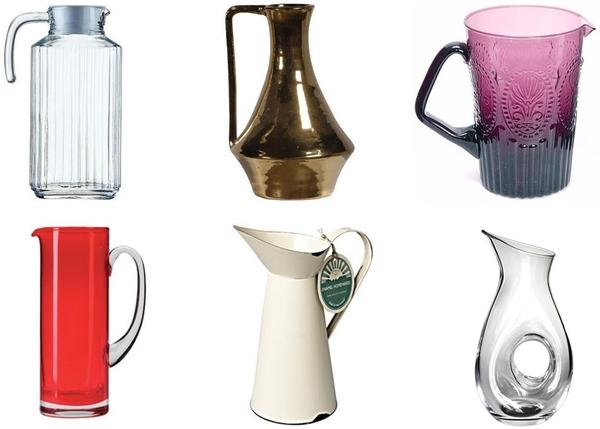 Whether for flowers or cocktails, you're bound to love our fantastic range of jugs and pitchers.
Often considered to just be practical, jugs can also be beautiful and they're super versatile.
From displaying freshly cut blooms to mixing decadent cocktails, every home should have a decent stash in varying sizes, colours and materials.
Naturally, we have some gorgeous jugs here at Furnish(!) to suit every budget and style.
Lovers of rich hues will adore this Handmade Mauve Portuguese Glass Jug by JasmineWay which will add a splash of colour to any room, while no cocktail party would be complete without this glamorous LSA Basis Jug by Red Candy.
And if you're really looking to add some glamour and drama, this striking Shiny Gold Pitcher by Out There Interiors is just the ticket.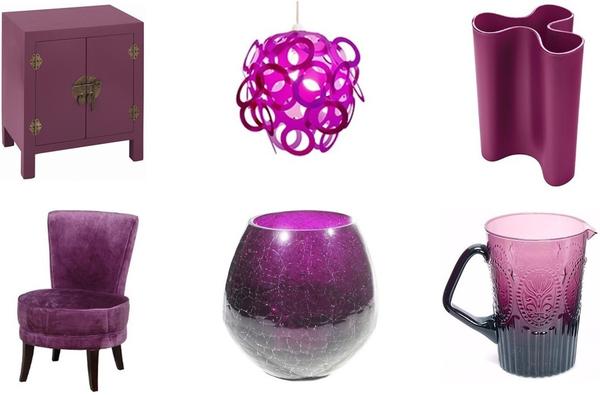 Give your home a regal feel with our pick of the best purple buys around.
Purple is traditionally associated with royalty but you don't have to live in a castle or wear a crown to use this fabulous, vibrant colour in your home.
We have a fantastic range of purple products from furniture to accessories to give your scheme a touch of regal chic.
The Lilac Velvet Chair by Lover's Lounge will add a touch of glamour to the plainest of boudoirs, while the Purple Clara Vase by Gifts with Style is ideal for filling with bold, beautiful blooms.
This intricately designed Handmade Mauve Portuguese Glass Jug by Jasmine Way is perfect for serving everything from fruit juice to delicious, summer cocktails, while the Loopy Lu Purple Pendant Light will add a touch of fun to any room.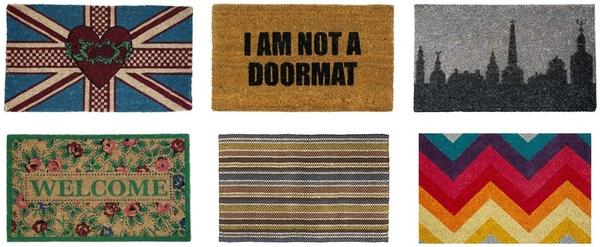 Give your guests a warm welcome with one of our attractive door mats.
Door mats are one of life's necessities but that doesn't mean they have to be dull or boring. We have a great range here at Furnish from humorous to pretty, with something to suit everyone and every budget and style.
If you like a bit of tongue-in-cheek humour then the I am not a Doormat by Lifestylebazaar is the perfect choice, while this Zig Zag Doormat by John Lewis adds a striking hit of colour.
Lovers of all things pretty are also catered for with the decorative Rambling Rose Welcome Design Doormat by Fields of Blue while city dwellers will adore the silhouette of the Stockholm Doormat by JasmineWay.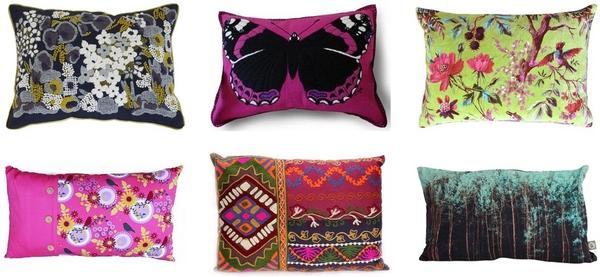 Choose one of our vibrant cushions to give your home a lift for the new season.
If you want to give your home a new look without breaking the budget and with minimal fuss, cushions are the perfect solution.
Whether you're looking to breathe life into an old chair or sofa, or simply want to jazz up your bedroom, we have a huge selection available, and here are some of our faves, all full of bright and beautiful colour.
Floral fans will struggle to resist either this fabulous Trippy Granny Cushion by The French Bedroom Company which will add a feminine touch without being too girly, or this Ellen Hand-embroidered Cushion by ALSO Home which combines gorgeous shades of grey and green.
Meanwhile, those looking to create real impact need look no further than the Jan Constantine Red Admiral Cushion by Out There Interiors or the Mosaic pattern pink cushion by JasmineWay, both ideal for adding a striking finishing touch to any room.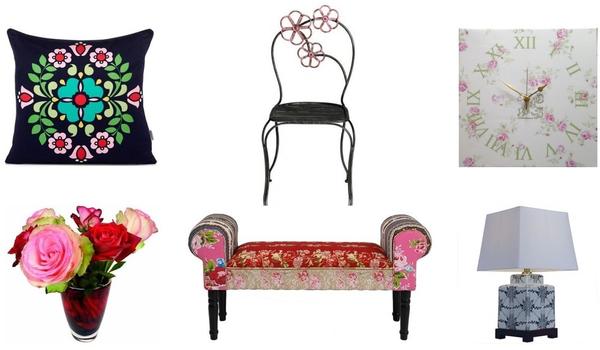 It's time to bring the outside in with these gorgeous floral home accessories.
Now that spring has sprung, it's time to blow away the cobwebs and inject some floral style into the home. And we have a fantastic mix just perfect for bringing the outside in.
Our floral pieces are great for instantly cheering up any interior and will give your home a much needed touch of spring.
For those who want to add pattern and colour to a sofa or chair, this Gypsy Blue Cushion by Artstar is super funky and the perfect choice. Meanwhile those who want to introduce some subtle lighting to their hallway or living area will love this Floral Tea Caddy Lamp by Shimu.
And if you really want to create maximum impact, how about this Romany Love Seat by The French Bedroom Company.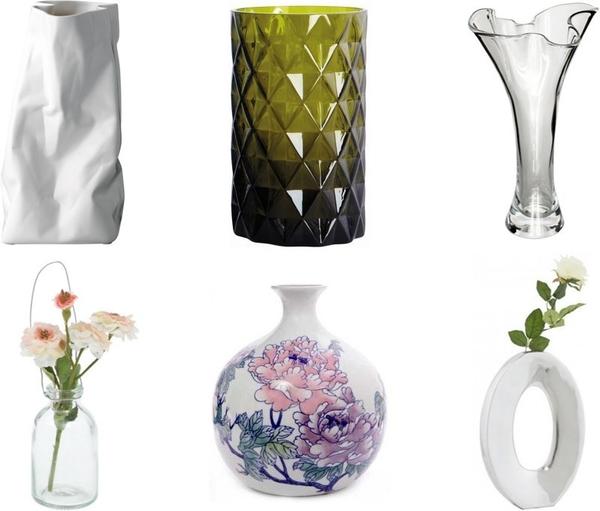 Display your favourite springtime blooms with these gorgeous vases.
Spring has finally arrived and, here at Furnish HQ, we couldn't be happier!
Not least because it gives us the perfect excuse to splash out on a new vase or two to display the first blooms of spring.
We've got something for everyone with our eclectic mix of vases, so there's no excuse not to bring some of the outside indoors.
Those who love a feminine, floral touch will adore the Flower Vase Magnolia by JasmineWay, whilst fans of geometric shapes may prefer the Green Chunky Vase by Artstar.
Meanwhile, one of our favourite designs is this Hanging Stem Bottle Vase by The Orchard which looks great when used to hold a single bloom and displayed in a cluster.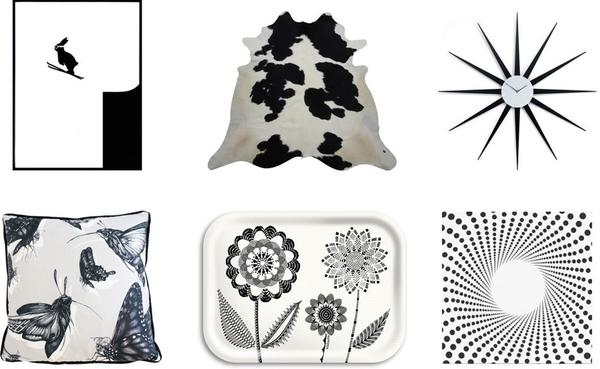 This combo never dates so embrace these black and white favourites.
Just as in fashion, there's always a place for monochrome within the home. Whether you opt for a stylish graphic rug or simple soft furnishings, this colour pairing doesn't date and suits both contemporary and classic schemes.
To create a real style statement in your living room, this BLGAB04 Cowhide Rug by London Cows is the perfect piece while this Diamantini Star Clock by Red Candy is guaranteed to add interest to the plainest of walls.
Meanwhile, if graphic prints are your thing, then you'll love this Bridget Riley-inspired Black Dots Spiral Print which comes courtesy of those clever folk at Duffy London and the stylish Swarm Cushion by Adam Slade by The French Bedroom Company which will add a touch of monochrome glamour to any sofa or chair.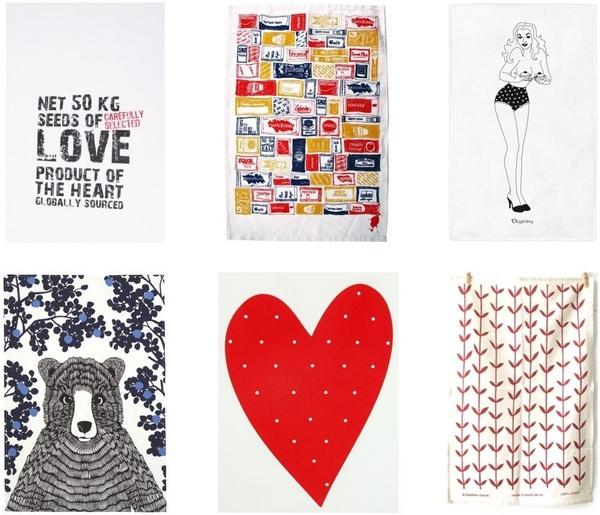 Make washing up more fun with our selection of super cool tea towels.
No one likes doing the washing up – that's a fact of life – but you can make it a little more interesting with the addition of a funky tea towel or two.
We've picked our favourites here at Furnish which are guaranteed to add a splash of colour to brighten up any kitchen.
For those who want a touch of retro kitsch, this set of two Fifties Housewife Tea Towels by The French Bedroom Company is just the ticket, and this friendly Tea Towel by Artstar is sure to raise a smile.
Meanwhile, no kitchen would be complete without a graphic print tea towel which is why we love this Orla Tea Towel by Design My World.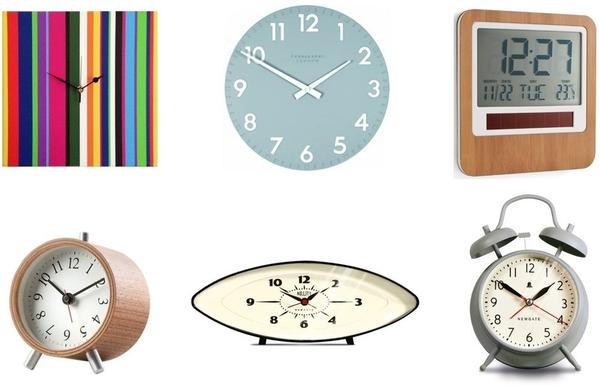 Celebrate the advent of spring with one of our fantastic clocks.
March has arrived which can only mean one thing - spring is on the way!
After one of the gloomiest and wettest winters ever, here at Furnish HQ, we can't wait for brighter mornings and longer days. And as the clocks go forward on the 30th March, what could be a better way to celebrate than with a fabulous new timepiece?
We have a huge range of clocks from sleek and simple mantel clocks to intricate wall clocks meaning there's something for everyone.
This Candy Striped Clock by Burford Trading will add a splash of colour and pattern wherever you hang it while the Newgate Bullitt Mantel Alarm Clock by The Orchard introduces a wonderfully retro feel to your bedroom.
And if you're looking for something a little more modern, this Lexon Safe Bamboo Digital Wall Clock by Gifts with Style provides a versatile option, as it can be used either as a table clock or hung on the wall.