Features: Design ideas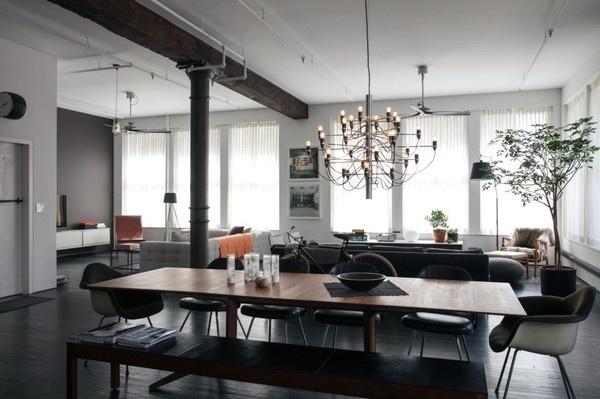 Join us as we head off to Stockholm for our interiors blog of the week.
This week we scoot over to Scandinavia to visit Stockholm and the author of Emmas Designblogg, Emma Fexeus.
Named as one of the Telegraph's top 50 interiors websites, Emma has also just written Northern Delights – Scandinavian Homes, Interiors and Design, full of pictures of gorgeous Scandinavian homes and perfect interiors finds.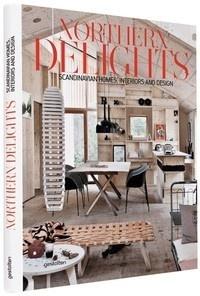 Emmas Designblogg showcases a mixture of design ideas, news and fabulous homes which have got us reaching for our credit cards and considering upping sticks to live in one of these stunning homes.
On first viewing, our favourite was the chic, yet ever-so simple, Designer Loft in NYC (see top), which we would be prepared to sell our grandmothers to move into.
But, just as we were getting ready to move across The Pond (well, virtually anyway), we spotted this amazing Airy apartment designed by Emma Persson Lagerberg, and now we don't know which one to choose!
Make sure you don't miss the next fabulous home on Emmas Designblogg by following Emma on Facebook.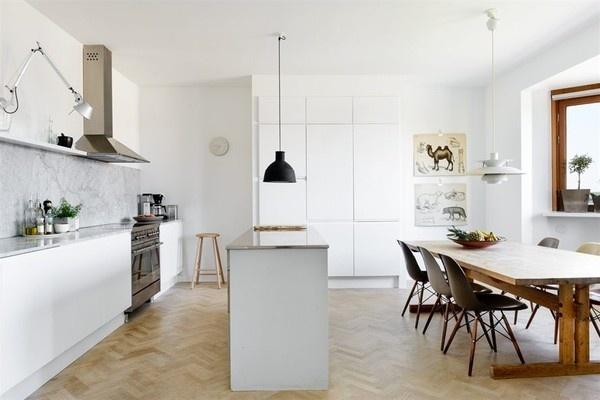 Remember, we'd love to hear from you if you write your own blog so, if you fancy seeing your musings on our blog of the week, please drop us a line!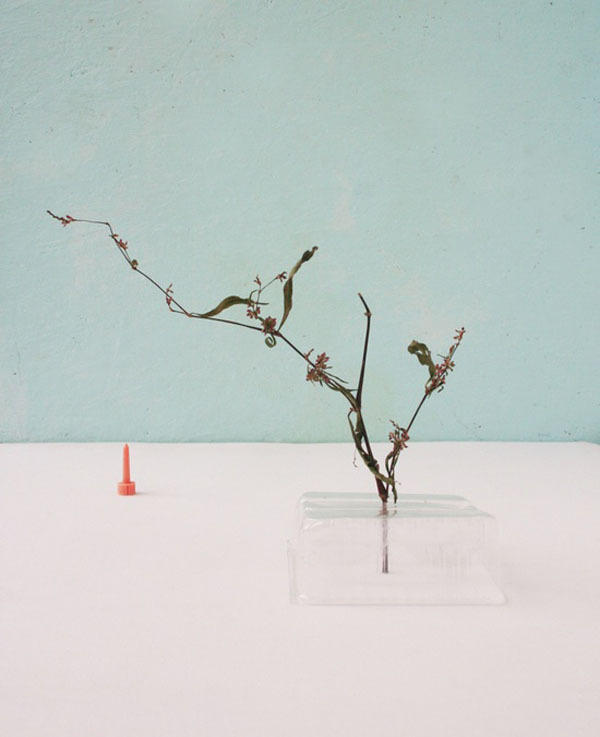 This week's search for our blog of the week ends with the fabulous Design Hunter blog.
The sun is shining so, instead of being holed up inside, why not grab your laptop and head out to a gorgeous open space to settle down with our blog of the week.
This week we call in on the oh, so stylish Design Hunter, a design and lifestyle blog, whose aim to "feature beautiful interiors, interesting people, emerging trends and enduringly good design" is achieved in spades.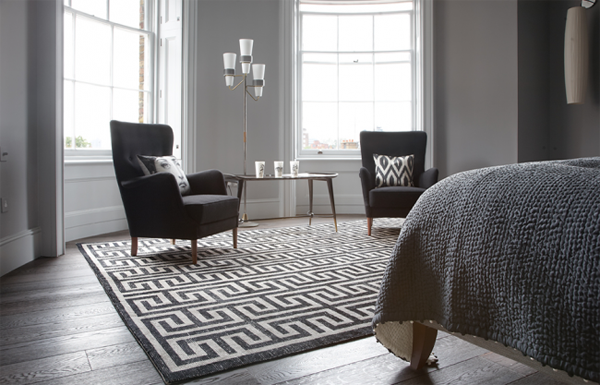 Simple, yet elegantly put together, Design Hunter comes from the keyboard of Helen Powell who is based in Warwickshire.
Offering a stunning mix of product finds, news and design inspiration, all split into easy-to-navigate sections, Design Hunter is a must-read blog for keeping up to date with the world of interiors.
We were particularly pleased to come across this handy post all about the May Design Series which takes place at ExCel from 19-21 May, which will have the design glitterati once again flocking to the capital.
The guide has great tips about which stands to visit and who to hear speak at a range of insightful seminars. As well as being an interesting read for those not planning to visit the show, it will ensure those who do attend won't miss the best bits!
Keep up to date with Helen's latest posts by following her on Twitter via @designhunter_uk.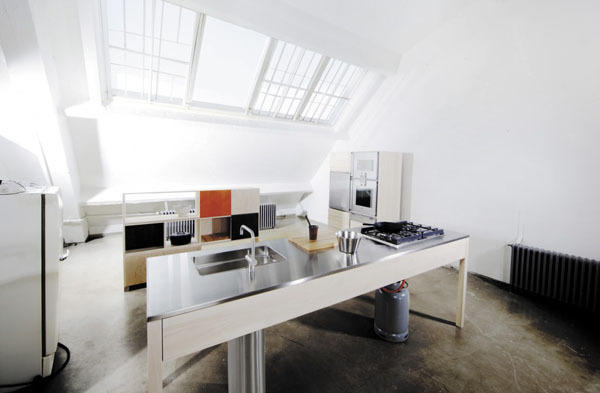 Remember, we'd love to hear from you if you write your own blog so, if you fancy seeing your musings on our blog pick of the week, please drop us a line!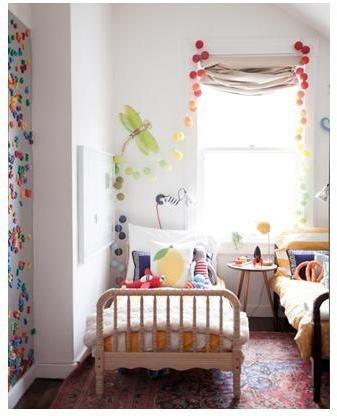 This week we call in on the gorgeous Oh Happy Day! and Design Lovers Blog.
Everyone loves a good nose around in someone else's life and, here at Furnish HQ, we love spending time having a read of all the fabulous design blogs that grace the wonder that is the Wide World Web.
So join us on our journey as this week we call in on San Francisco-based Oh Happy Day! and the Design Lovers Blog whose owners, Sam and Jill, live either side of The Pond.
Maybe it was the lure of sunshine but we just couldn't resist heading over to San Francisco (virtually, of course) for the first stop on this instalment of our Blog Picks of the Week, visiting Oh Happy Day! And what a virtual trip it was as we landed in the world of Jordan Ferney.
As Jordan is an event planner, you can expect lots of tips and ideas for making every type of party fabulous from decorations to activities for children. But what really wowed us was Jordan's recent apartment transformation. We loved the children's bedroom which has been transformed from a dull, unloved space to a fabulous bedroom any little one would be proud to call their own. And we're particularly taken with the living room, the after pictures of which bear little resemblance to the before shots.
Keep up with Jordan's blog by following her on Twitter via @ohhappyday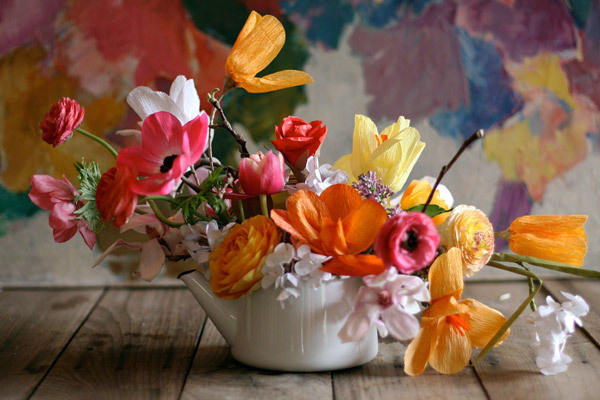 Our next stop was Design Lovers Blog which is owned by Sam & Jill. Sam is based just outside London while Jill is another resident of sunny San Francisco. (We were definitely suffering from winter blues when on this blog hunt.)
This design-addicted pair met in London over 20 years ago and share a love of good design and all things interiors.
A fabulous mixture of news, trends and houses, we couldn't resist having a peek at Liberace's home. The house is now owned by an American couple who have remodelled the space to their own taste, while remaining faithful to Liberace's vision. Check out the gold taps which the performer was infamous for having included in his home!
Keep up with Sam and Jill by following them on Twitter via @minkinteriors and @DesignLoversUSA or on Facebook at www.facebook.com/DesignLoversBlog.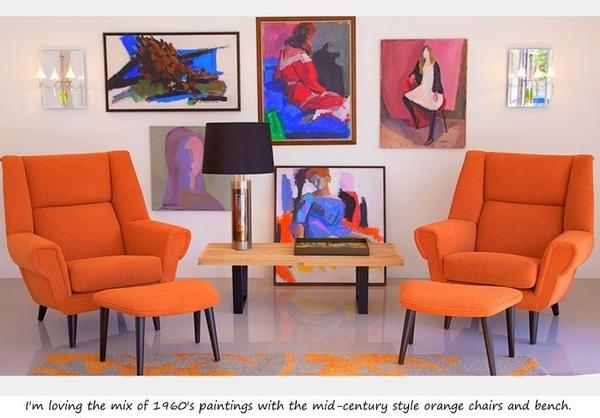 Remember, we'd love to hear from you if you write your own blog so, if you fancy seeing your musings on our blog pick of the week, please drop us a line!
This week we visit and enjoy the wonderful "The Design Sheppard" and "Simplifying Fabulous" blogs.
It's that time again to settle down, leave the day's stresses at the door and indulge in some great blog reading.
This week sees us visit the world of design writer Stacey Sheppard and her gorgeous blog The Design Sheppard. We then cross the pond to visit Manhattan-based interior designer Robin Baron and her fantastic Simplifying Fabulous blog.
What Stacey Sheppard doesn't know about interior design isn't worth knowing, which is why we simply had to tell you about her fabulous blog The Design Sheppard.
Based in beautiful Devon, Stacey blogs about everything from design news and interesting new products to current trends, and we're not the only ones who think it's great – Stacey's blog has been included in the Modenus Top 100 Interior Design Blogs and was named as one of The Top 10 Design Blogs on Twitter.
We were instantly lost in a world of fabulous design, but it was this post about the Runway Collection by Fireclay Tile, a new fashion-influenced wall tile collection, that really attracted our attention. What a fabulous way to pep up a boring wall.
To keep up with Stacey's blog, you can also follow her on Twitter at @StaceyJSheppard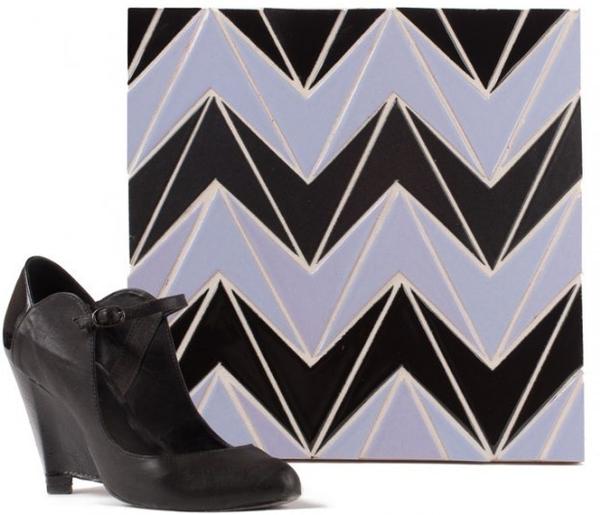 We love nothing better than a trip across the pond to see what our American friends are blogging about, and found a real gem when we stumbled across Simplifying Fabulous.
The work of Manhattan-based interior designer Robin Baron, the blog is a veritable treat of interior design advice and news.
Split into easy to navigate sections, our favourite bits are definitely the Fab Fridays and Tuesday Trend sections.
The Fab Fridays slot is a collection of in-depth interviews with fellow bloggers and other design gurus, while Tuesday Trend is a real treat for the eyes. With Easter just around the corner, we loved this post about glam Easter eggs which gave us some great ideas for decorating the home for the Bank Holiday weekend.
Make sure you don't miss Robin's latest musings by following her on Twitter at @RobinBaron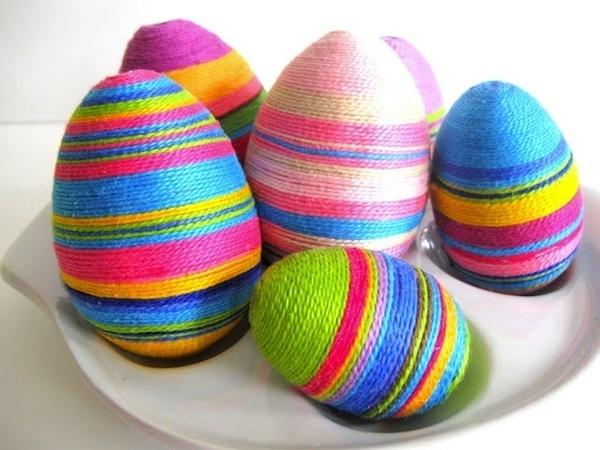 Remember, we'd love to hear from you if you write your own blog so, if you fancy seeing your musings on our blog pick of the week, please drop us a line!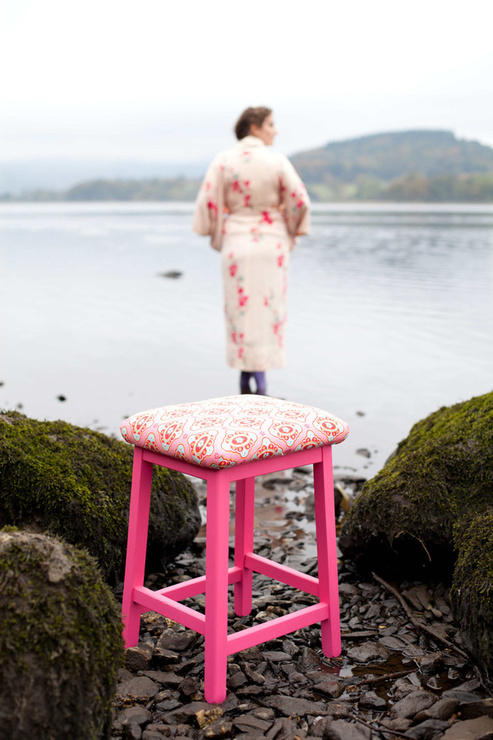 Are you sitting comfortably as we get ready to visit the gorgeous "Patchwork Harmony" and "What's in your bedroom..." blogs?
Our first stop this week sees us call in on Caroline Taylor who, while particularly loving vintage style, is passionate about all forms of interior design.
Caroline is a veteran blogger having started Patchwork Harmony in 2008 and is also the editor and founder of the online 91 Magazine.
She's also a rather nifty Pinner and we loved this post about H&M's gorgeous spring collection. The perfect antidote to the grim weather we've been having of late, we especially liked the gorgeous floral bed linen, and kitchen and bathroom textiles.
Thanks to both Caroline and H&M, our homes will soon be looking like spring has sprung, even if the grey skies are persisting for now.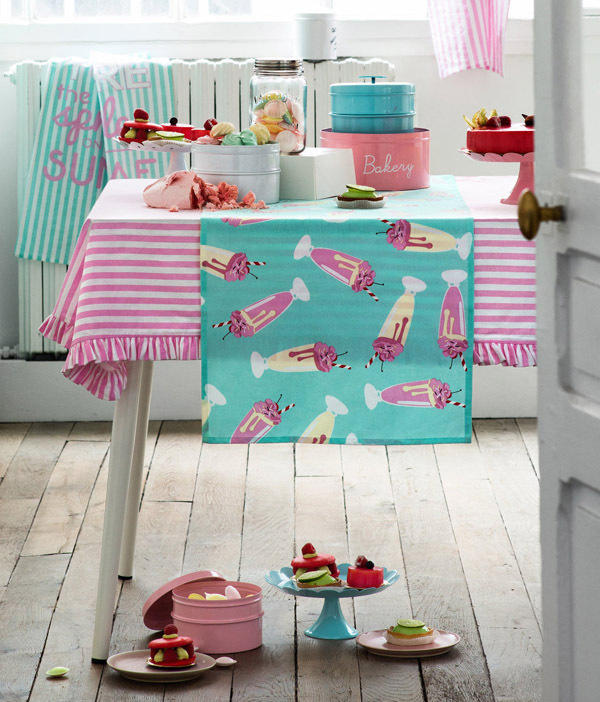 Meanwhile, we all love having a nose around other people's homes right? Of course we do, which is why we are delighted to have come across What's in your bedroom…
The blog focuses on intimate glimpses into people's bedrooms, followed by in-depth interviews about what they love and how they live.
Blog owner Olivia Howitt travels around meeting various interesting people and taking pictures of them in their bedrooms, a space most of us would have trouble letting even our nearest and dearest have a good old nose around.
We love the most recent series which concentrates on the bedrooms of all-girl choir Gaggle and sees Olivia visiting 18 bedrooms in 18 days. And we were particularly interested in Sarah T's bedroom and its mix of eclectic styling and fabulous shoes.
Warning: This blog, if you're as nosey as us, is highly addictive!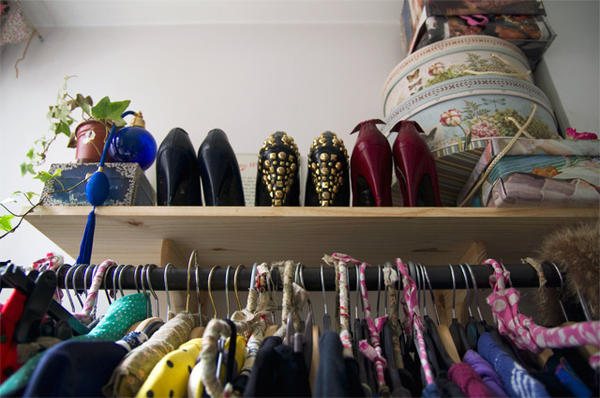 Remember, we'd love to hear from you if you write your own blog so, if you fancy seeing your musings on our blog pick of the week, please drop us a line!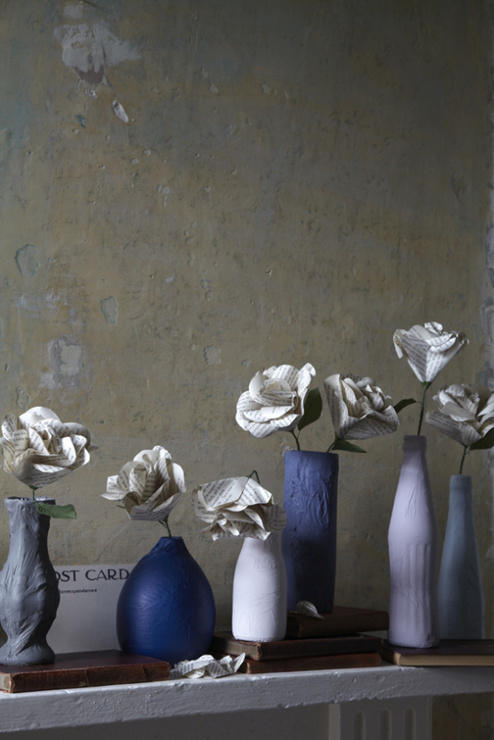 This week, we take a sneaky peek at the glorious "Stylist's Own" and "me & Alice" interior stylists' blogs.
It's time for our pick of the best interiors blogs around, so grab a cup of tea, a couple of biscuits, your laptop and settle down for some home design inspiration.
First up this week is Stylist's Own, a blog from super talented interiors stylist Joanna Thornhill.
Joanna has tons of styling experience, so it's safe to say that she knows a thing or two about making homes look gorgeous.
Joanna is in the middle of renovating her own "ramshackled" Victorian house, so you can expect to pick up lots of interesting tips. Plus, you can also have a sneaky look at some other of Joanna's super stylish shoots.
We loved this post about the vintage book themed shoot Joanna recently did for the winter issue of 91 Magazine. With bucketfuls of inspiration for book lovers, our particular favourites are these delicate paper flowers and this gorgeous Penguin Classics cushion.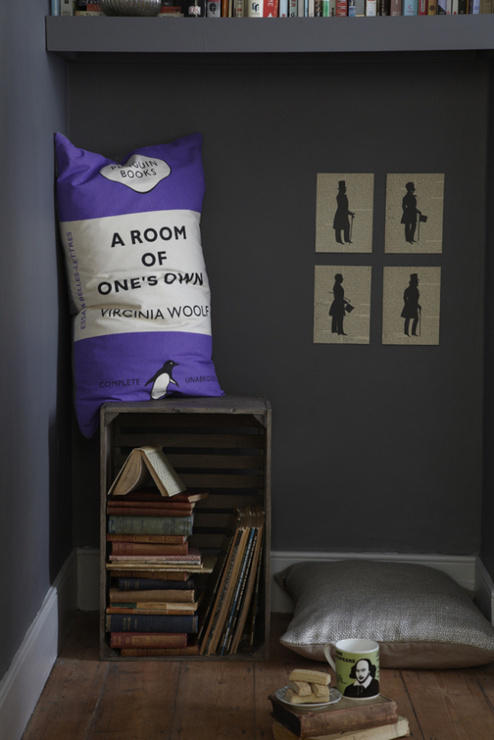 Our next stop on the blog tour this week sees us call in on Swedish interiors stylist Susanne and her blog me & Alice.
Susanne grew up in Stockholm but now lives in the beautiful town of Dalarna and we can't say we're not just the teeniest bit jealous.
Susanne's blog is a collection of her work, pictures of her home and other inspirational images and products. Her musings are published in both English and Swedish which is handy for international readers and is beautifully put together.
We loved this post on Susanne's perfect weekend which includes gorgeous images of cosy throws, chunky crockery and a simple yet beautifully laid dining table ready for the perfect Sunday lunch.
We've certainly been inspired to take things easy next weekend…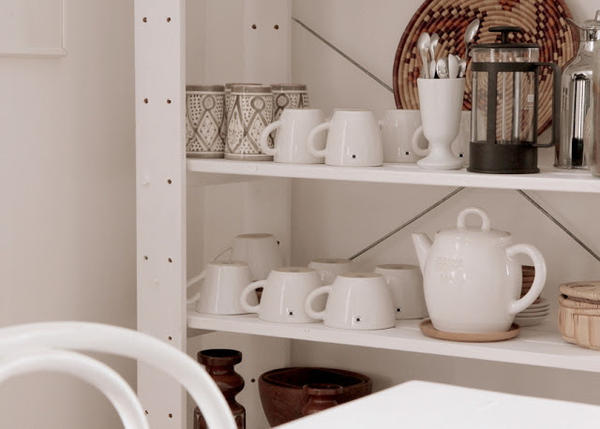 Remember, we'd love to hear from you if you write your own blog so, if you fancy seeing your musings on our blog pick of the week, please drop us a line!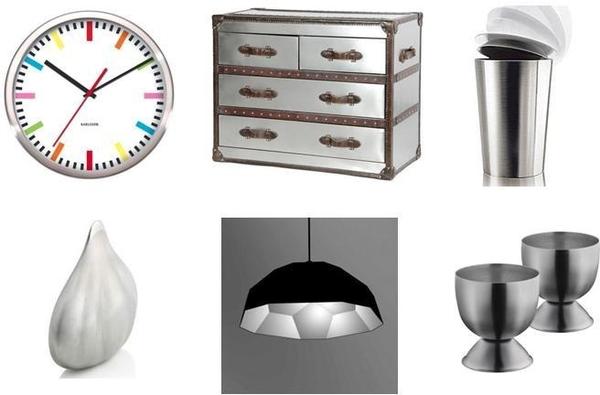 Steel yourself to be delighted by our gorgeous stainless steel home furnishings.
Over the last few years, the number of home furnishings items which are made out of stainless steel has just grown and grown.
Here at Furnish we have many sleek and sophisticated stainless steel goodies, including clocks, mirrors and fruit bowls, tables, lights and stools.
My particular faves are the Geo Shade, a gorgeous lampshade from Duffy London, and the Alessi Savon du Chef Stainless Steel Soap which, rather cleverly, is designed to remove odours from your hands.
Clockwise from top left: Karlsson Rainbow Wall Clock Steel White from Heal's, £36; Trunk Style Stainless Steel Chest Of Drawers from Alexander and Pearl, £895; Eva Solo Stainless Steel Waste Bin from Red Candy, £95; John Lewis Stainless Steel Egg Cups from John Lewis, £6; Geo Shade Stainless Steel from Duffy London, £895; Alessi Savon du Chef Stainless Steel Soap from A White Room, £14.50.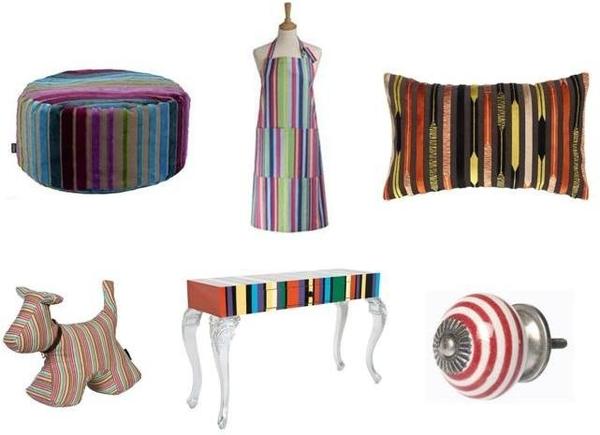 Bring super stripes into your home with a selection of our favourite striped products.
You can't go wrong with stripes. There are so many different looks that can be achieved, dependent on colour, thickness and spacing, yet they all seem to work so well when used both on furniture and other home furnishings.
I have a huge crush on painted furniture, and the bright and bold colours of the Louis Striped Painted Console Table keep it looking fresh, and would work perfectly in a hall or living room. Meanwhile, the Bean Drum pouffe from Heal's is covered with the gorgeous Designers Guild Moyka Turquoise fabric, featuring a beautiful selection of rich colours.
Clockwise from top left: Heal's Designers Guild Moyka Pink/Turquoise Stripe Bean Drum from Heal's, £160; Brights Barcode Stripe Apron from Heal's, £18; Sanderson Kandinsky Stripe Cushion from John Lewis, £45; Ceramic Drawer Knobs in Stripes Red Stripe from Fields of Blue, £4.95; Louis Striped Painted Console Table from The French Bedroom Company, £1,150; Candy Stripe Dog Doorstop from The Orchard, £37.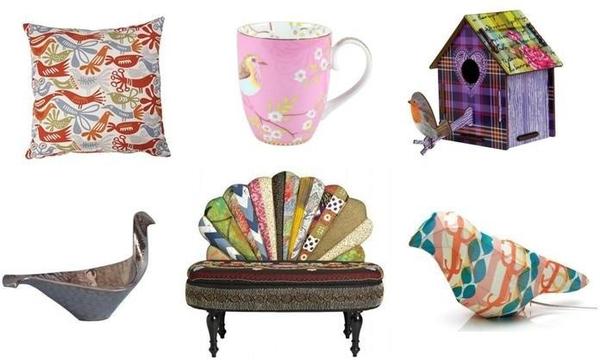 Add a feathery touch to your home with our pick of the best bird-inspired finds.
Everyone enjoys seeing and hearing birds in their garden (well except for a pesky owl near us who does rather like to hoot at all hours of the night).
And there are some lovely bird-inspired home furnishings here on Furnish.
With bird patterns, we have the funky Klippan Bird Cushion and the pretty in pink PiP Studio Early Bird Mug, while the Alessi I love Animals Bird Table Lamp and Jonathan Adler Menagerie Bird Bowl Platinum are both shaped like birds.
And I just love the Peacock Patchwork Sofa from Out There Interiors – simply and beautifully designed in the shape of a peacock's tailfeathers.
Clockwise from top left: Klippan Bird Cushion from Interior Addict, £29; PiP Studio Early Bird Mug Pink from The Orchard, £9; Ornamental Bird Box Set from Liberty, £30; Alessi I love Animals Bird Table Lamp from A White Room, £125; Peacock Patchwork Sofa from Out There Interiors, £695; Jonathan Adler Menagerie Bird Bowl Platinum from Heal's, £138.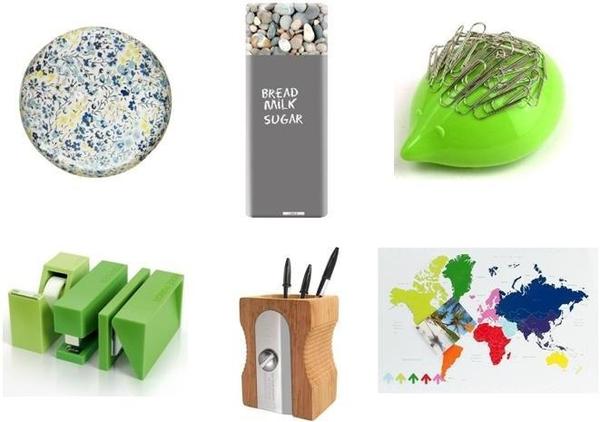 Get yourself organised with our pick of the best office accessories.
As we head towards the end of summer, and the end of the holidays, most people are back at work and for many that means being back in the office.
After being away for the hols, and hopefully coming back refreshed and raring to go, it's a great opportunity to give your office a bit of a refresh too, and there's a huge choice of fab office accessories available here at Furnish to help you better manage your working space.
These include the very cute Alessi Dozi Magnetic Paper Clip Holder and the fun Sharpener Desk Tidy, both ideal for helping you get your desk organised, whilst the extremely pretty Phoebe Liberty Print Paperweight will keep your papers under control.
Clockwise from top left: Phoebe Liberty Print Paperweight Liberty London from Liberty, £35; t2 Squared Pebbles Photo Chalk Board from A White Room, £24.99; Alessi Dozi Magnetic Paper Clip Holder from A White Room, £13; Coloured World Map Memo Board from Found Home Store, £54; Sharpener Desk Tidy from Folly, £15.95; Buro Craft Set by Lexon from Gifts with Style, £39.95.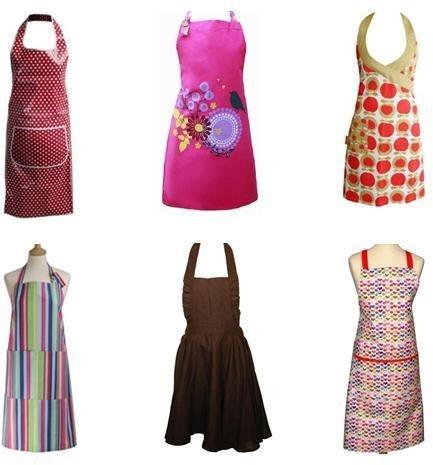 Keep your clothes clean with this selection of gorgeous aprons.
I love baking. In particular baking cakes. And, even if I say so myself, they normally taste pretty good.
However… they normally look pretty bad.
I just don't understand how people can make regular-shaped cakes, pipe beautifully, or make dainty decorations. My cakes tend to look as though a 5 year old made them (although my 5 year old makes a better job of it than I do!)
And if my cakes look a mess, you should see the state of me after baking, with flour and cake mix everywhere.
Fortunately, Furnish has some gorgeous aprons to help protect my clothes, and here is a selection of my faves.
Clockwise from top left: Retro spotted red apron from Lover's lounge, £13.50; Love Bird Apron from MoreVibrant, £14.99; Typhoon Apple Heart Apron from Red Candy, £11.50; Apron Sweetie Love by Ella Doran from Heal's, £25; Black Frilly Apron, Adult from Summerill & Bishop, £95; Brights Barcode Stripe Apron from Heal's, £18.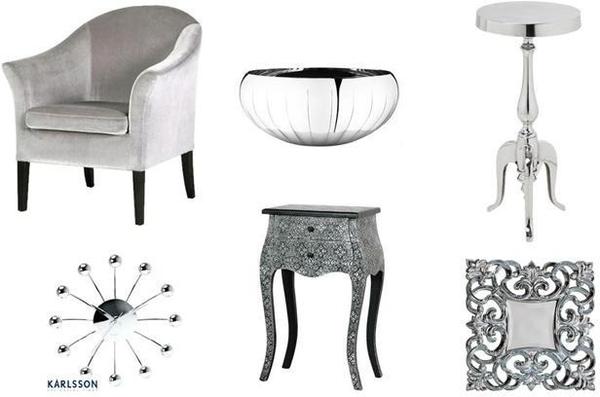 Add a silvery shine to your home with our selection of silver coloured faves.
Much as I love the colour, luxury and warmth of gold, when choosing items for my home, I tend to find myself going for the brighter, more modern, silvery look.
The super shiny Poshly Polished Silver Round Bedside Table is a lovely example and would work equally well in a bedroom or living room, while the Luxe Silver Velvet Armchair from Alexander and Pearl would give any room a luxurious touch.
Clockwise from top left: Luxe Silver Velvet Armchair from Alexander and Pearl, £295; Georg Jensen Legacy Bowl from Heal's, £65; Poshly Polished Silver Round Bedside Table from The French Bedroom Company, £159; Chrome Effect Square Baroque Mirror Finley (Three Sizes) from Out There Interiors, from £125; Silver Embossed Bedside table from Lover's lounge, £160; Karlsson Chrome Spider Clock from Red Candy, £30.90.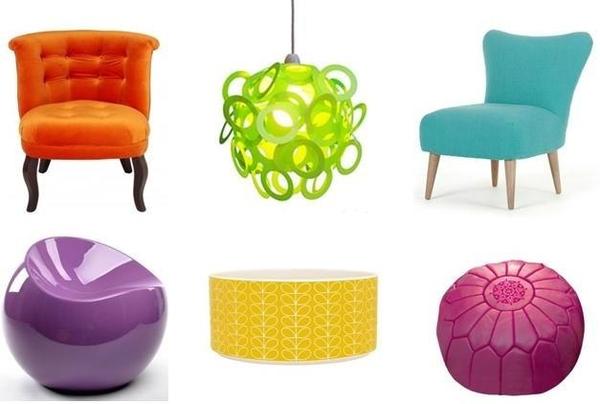 Embrace the bright and the bold with our pick of techno coloured home furnishings.
Glorious vivid colours have been all over both the catwalk and the high street throughout the summer. And they have also made their way into our homes with some beautifully colourful pieces on offer.
This stunning Velvet Tub Chair from Oliver Bonas is a perfect example in a bold shade of orange which would suit either a traditional or modern setting. And while the Loopy-Lu Light looks great in bright green, it comes in a wide selection of colours, working equally well in orange, pink, red, yellow and purple.
Clockwise from top left: Velvet Tub Chair – Burnt Orange from Oliver Bonas, £385; Loopy-Lu Light Green from Loopy-lu, £30; Finch Arte Chair, Turquoise Blue from made.com, £299; Moroccan Leather Pouffe – Hot Pink from Coco Male, £105; Orla Kiely Small Salad Bowl from Bloomsbury, £24.95; Ball chair Lilac from BODIE and FOU, £144.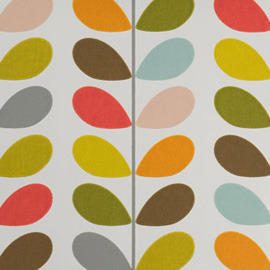 We're loving the huge range of bold and beautiful Orla Kiely Stem homewares.
Orla Kiely's stem leaf design has taken over the world. Well, it's certainly covering a pretty large proportion of it.
The well-known design (in its various incarnations - Multi-Stem, Linear, Scribble, etc) is now incorporated into just about every type of product going, from bags to bed linen, pots to placemats, wellies to wallpaper.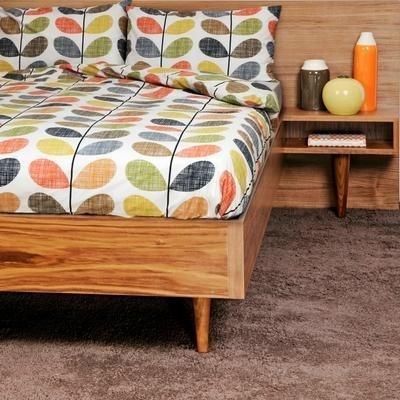 We have a large selection of Orla designed homewares here on Furnish featuring this now iconic print.
With items from suppliers including Heal's, Graham & Green and John Lewis, there's something for everyone.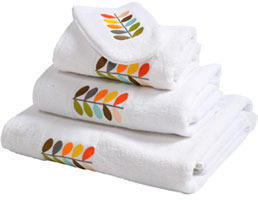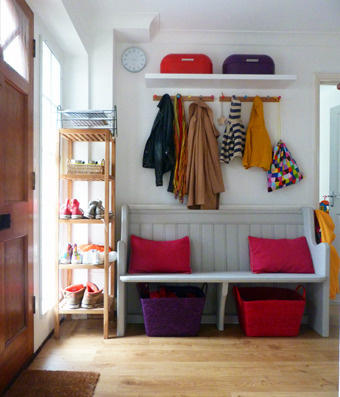 It's that time again as we take a trip around the blogsphere.
The weather may be changeable, a Brit may or may not make it past the fourth round and David Cameron may change his mind about something else AGAIN but what we can guarantee is that we'll keep you up to date with the goings on from our favourite interiors blogs.
This week has a kids theme as we head over to two of the finest parenting interior blogs around.
For anyone who thinks having small children means you can't still have a stylish home, think again, as these two blog authors show us that there's no need to compromise on style just because someone calls you Mummy or Daddy.
First up is the world of Growing Spaces, the handy work of talented journalist and mother to twins, Heather Young.
Growing Spaces was born when Heather left London and headed for the Home Counties and follows her on her journey to make a house a home.
A fascinating insight into decorating for a family, Growing Spaces is full of top tips, fabulous buys and guides. Anyone who's ever faced the clutter-filled hallway will appreciate one of Heather's latest postings which is all about how to create a stylish and orderly entrance to your home.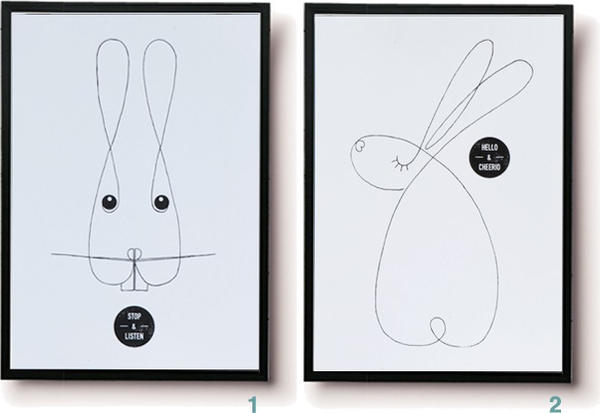 Next up is a trip to Baby Style File, a fabulous shopping blog with advice, tips and buys for the little ones in your life.
The work of stylist Poppy Norton, Mum to a little boy, Baby Style File helps you decorate your kiddies' rooms without a hint of Disney or the latest fad in sight.
We love the carefully chosen shopping buys from storage ideas and traditional wooden toys to play tents and the loveliest of prints.
Concise, clear and a jolly good read, Poppy takes the hassle out of trawling the internet and high street.
Our favourite recent posting was these super cute rabbit prints from Supafrank. They would look fabulous in any playroom or nursery, and framed would make the perfect christening gift too.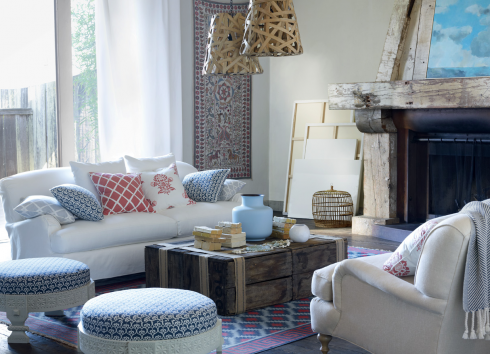 Settle down with a cuppa for a little trip around the world of interiors blogging.
It's that time again, so pull up a pew and settle down to see what our favourite interiors blogs have to offer.
First stop is the inspirational Decorator's Notebook which features the musings of an anonymous blogger which, in our opinion, makes it even more interesting.
From fabulous buys (it was our first peek at the new designs from Bold & Noble) to interesting snippets from the wonder that is our new social media crush Pinterest, Decorator's Notebook has the lot.
What really impresses us, however, is the regular Room Debate series which encourages readers to have their say on rooms picked by the author.
A kind of interiors Points of View if you will (for people old enough to remember), readers are encouraged to choose their favourite and least favourite thing about the room.
Highly addictive, we reckon once you join in you'll be hooked.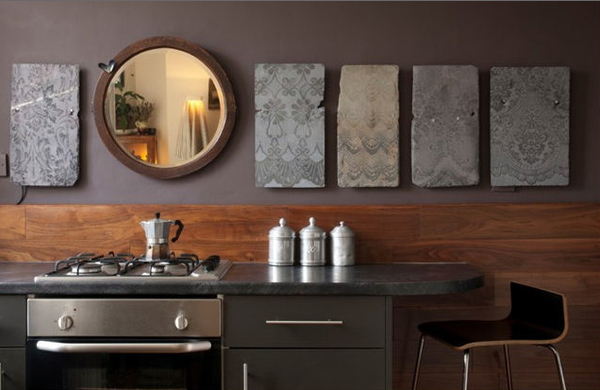 Next up is interiors journalist Ellie Tennant's blog which is also a real treat.
Those with a good memory will know that Ellie used to work on interiors bible Ideal Home and looked after its super successful blog Home Shopping Spy. (One of our very first featured blogs we'll have you know.)
Since going freelance, there's hardly an interiors mag Ellie hasn't written or styled for, so we find it amazing she has time to write her own blog.
Keeping us regularly up to date with interiors news – Joules range of bed linen was a hot off the press news exclusive – we also love the news snippets that are perfectly bite-sized bits of interiors loveliness.
It was introducing us to up-cycler Jo Gibbs and her gorgeous range of furniture for which we are most thankful. We've fallen for nearly everything talented Jo makes and are shipping out existing furniture to make room for it.
Remember, if you write an interiors blog and think others need to know about it, let us know.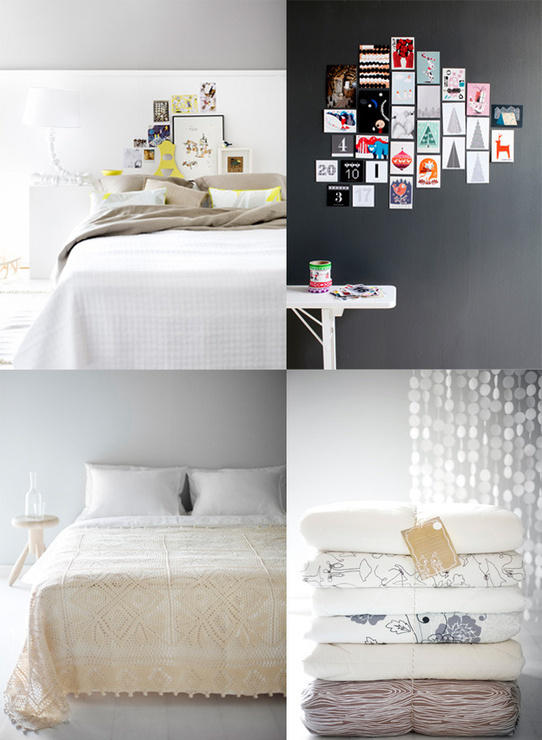 This week, we take a peek into the world of Happy Interior Blog and Mad About The House.
It's that time again folks – time to head over to our favourite interior blogs for a bit of escapism and inspiration.
This week, we take a virtual visit to the world of German-based marketing consultant Igor Josif who blogs at his Happy Interior Blog about everything that makes him happy interior wise.
And we have to say we felt instantly happy when we logged onto Igor's blog. We love the simple, clean sections and brilliant finds in the 5 Happy Inspirations posts, the latest of which has got us dreaming about holidaying in Italy.
But what really caught our eye was the post showcasing the beautiful styling work of Susanna Vento who we'd quite like to come round and makeover our homes.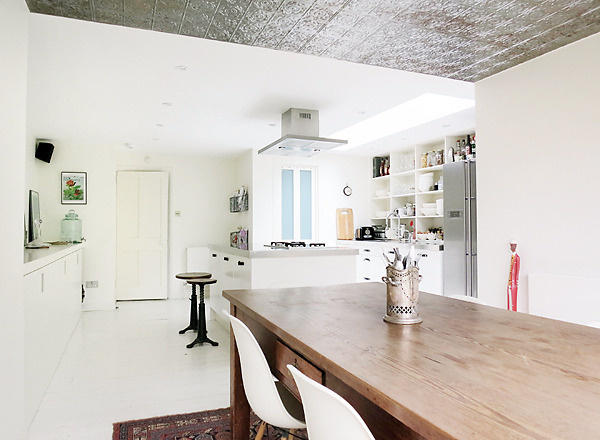 Our second blog this week is Mad About The House which is penned by journalist Kate Watson-Smyth.
Having written for The Independent, The Guardian, The Telegraph as well as countless interiors magazines, Kate really knows her stuff when it comes to interiors.
A brilliant source of daily interiors inspiration, we were green with envy (in a good way of course) when we saw The House Is Finished post which offers a sneaky peek around Kate's BEAUTIFUL home. We especially love the pink fireplace in the spare bedroom.
That's not all though, as Kate also showcases fabulous products in the Objects of Design series which can be anything from a hand blender to a super cool tea towel.
Remember, we're always looking for beautiful and inspiring blogs to feature so if you think we'll love yours, drop us a line.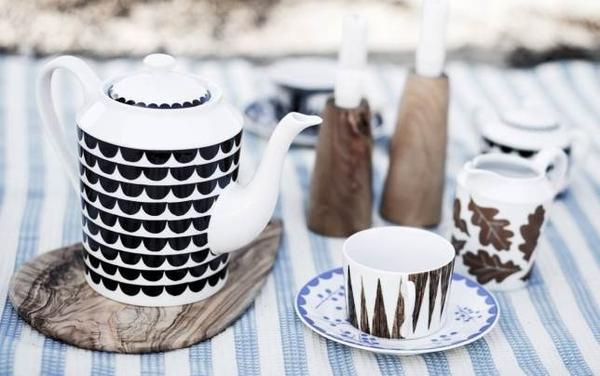 For our design inspiration this week, we take a look at the musings of Just A Little Joy and Atticus and Finch
We always get very excited when we hear of a new blog (remember to let us know if you're writing one), so as soon as news of Just A Little Joy reached us we knew we had to let you in on the secret.
Just a Little Joy is the work of Elle Decoration's Homes Editor Tessa Pearson, so it's fair to assume she knows her stuff when it comes to interiors.
The blog is split into easy to navigate sections and, as well as interiors, Tessa also writes about two subjects very close to our hearts; dogs and food!
We're especially grateful to be introduced to House of Rym, whose path we'd not crossed before and, now we have, well let's just say the bank balance will be taking a serious bashing.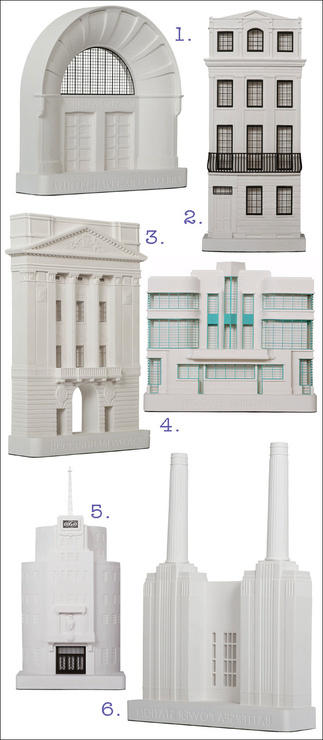 Atticus and Finch has been a regular read for us for some time now and it's one blog we go back to again and again for design news, quirky objects and beautiful buys.
As well as the recent brilliant Bauhaus exhibition review (remember it's on at the Barbican until 12 August if you want to pay a visit), it was Emily Blunden's post on Chisel & Mouse that got us reaching for the credit card.
They make paper models of iconic landmarks such as London's Battersea Power Station and Hoover Building, and the famous Guggenheim Museum in New York City.
We want them all!
Remember, we want to hear about your blog and why it should be featured in our weekly round up so, if you're writing a design or interiors blog and want to make our hit list, drop us a line and let us know.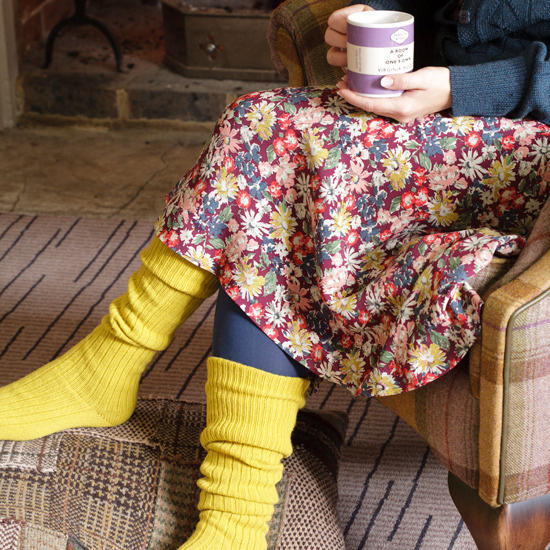 We've put together some ideas to make your autumn extra cosy
The subtle chill in the air may not be a cause for celebration for those who like to hang on to the last rays of summer, but autumn is the perfect excuse to think about making your home cosier. Whether you're returning rosy cheeked from a brisk walk in russet-leafed countryside or bedraggled from an impromptu monsoon on the way home from work, it's always nice to return to a home that feels warm and welcoming. But with the ever-increasing cost of energy bills, we aren't suggesting you turn the heating up to full whack!
Whilst autumnal browns and oranges are an obvious choice to create a feeling of warmth in your space, you needn't change your existing colour scheme. Instead try layering textures that match your existing colour scheme to add depth and warmth to your home without overhauling your décor. Opt for chunky knits, rugged tweeds and opulent velvets; use in combination, scattering sofas and beds with a selection of cushions, throws and bedspreads.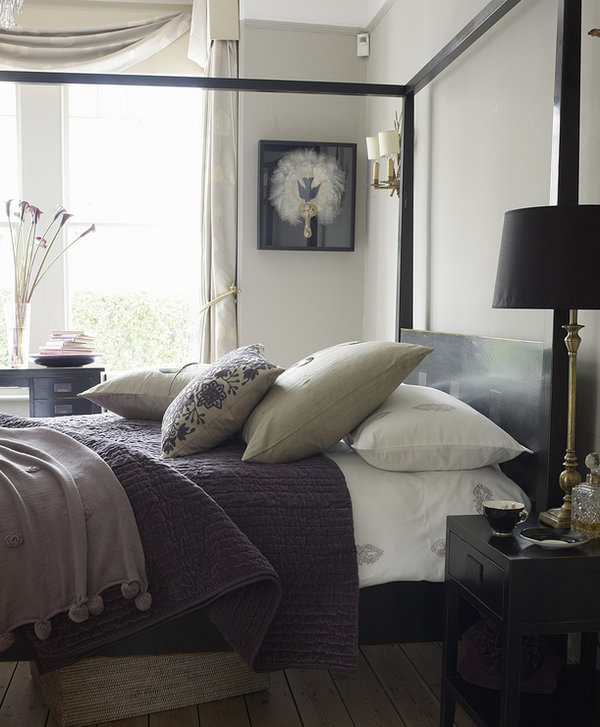 Whilst wooden floors are always appealing, autumn is the perfect time to invest in a rug to take the chill of bare floors. Look for deep pile rugs, which will add comfort and warmth even on top of carpeted floors. A small bedside rug makes a welcoming landing spot for cold toes on chilly mornings and rugs with bright accents are a perfect way to add colour to drab autumn days.
Deep cushioned armchairs and sofas are the perfect place to curl up with a hot drink and a book when the nights start drawing in. Feather wrapped foam cushions, such as the Windsor Armchair from Graham and Green, make for an extra cosy seat.
Swapping existing voile curtains for heavier fabrics is also a great way to add a feeling of cosiness to your home, as well as helping to trap heat when drawn.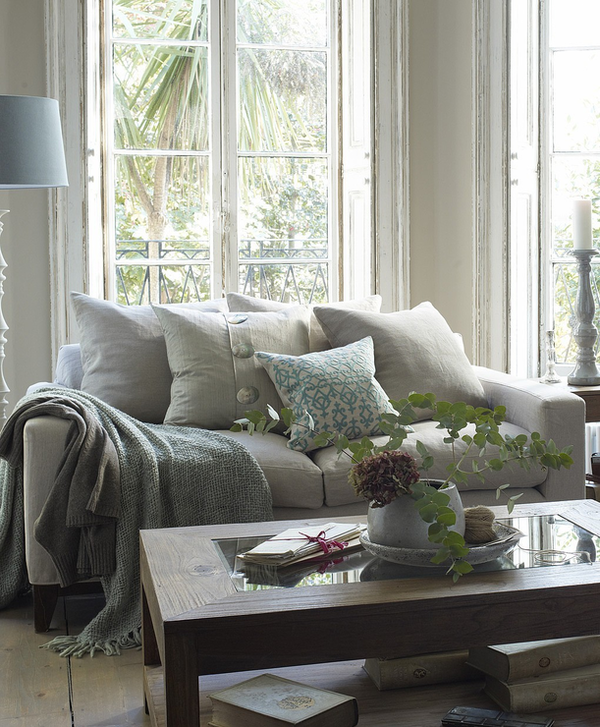 Finally, why not invest in some new mugs to help fight the impending winter blues. We love the chirpy classic print of this Orla Kiely Red Abacus Flower Mug from Heal's and the iconic bright designs of these Classic Penguin Story Mugs. Don't forget to make sure your teapot stays toasty this autumn too with a retro tea cosy, such as this super quirky Blackberry Tea Cosy from Hunkydory Home or this Union Jack design from The Orchard.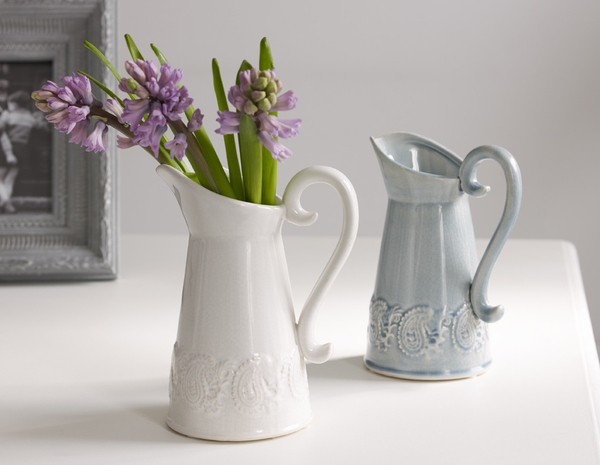 A rich history and unisex appeal; this week we focus on paisley.
There's something about paisley; that botanical teardrop-shaped design is instantly recognisable. The whole pattern is infused with a rich history, from ancient Persia to dapper British gents, lending it a familiar yet mysterious appeal. Whilst it is often found on silk scarves and ties, don't let paisley be confined to attire. This classic print is popping up everywhere and makes a pretty addition to any home.
Fabric
Paisley can be found in both woven and printed forms, so there is plenty of choice when it comes to fabric. Liberty has a fantastic collection of paisley fabrics to choose from, such as the more traditional, archive Bourton print, which was produced on dress fabrics in the 1960s. Alternatively try Liberty's Mark print, a vibrant contemporary take on paisley, which is perfect for introducing the pattern into a relaxed living room or children's bedroom.
OKA stocks a range of products in a beautiful Indian-inspired wool paisley fabric available in Peacock Blue and Rust Red. The subtler blue version is available as an elegant set of cotton-lined curtains, making it super simple to bring a hint paisley into a drawing room or bedroom. For a flexible, folky take on the pattern, throw OKA's Reversible Paisley Throw over a solid coloured sofa or armchair.
Furniture
Paisley risks looking a little too psychedelic on large pieces of furniture, so take inspiration from this stunning Horchow Paisley Settee and have a loveseat or armchair upholstered in a bold paisley print for a contemporary interpretation of the paisley pattern.
The historical characteristics of paisley are offset by clean, modern lines in this one-off Paisley Armchair from Lockwood Design. Upholstered with glamorous woven gold paisley fabric on tubular steel legs, it would look fantastic in a contemporary bedroom.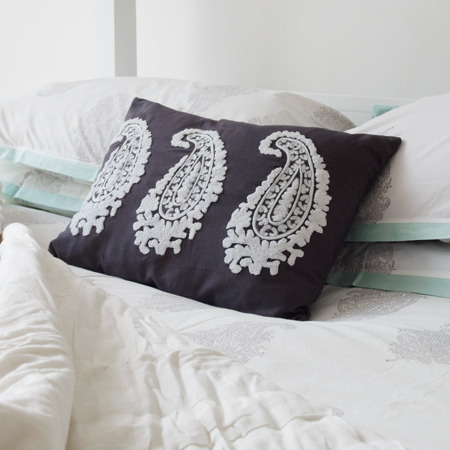 Flooring
Avoid the hotel lobby feel by steering clear of paisley patterned carpets, instead try layering pre-existing neutral carpets or floorboards with a contemporary paisley rug. We love the bold colours of this Paul Smith Paisley Aubergine Rug, which is made to order.
For a softer mix of colour, try this Brink and Campman Kodari Paisley Rug. Hand knotted in Nepal it is available in 5 rectangular sizes or alternatively can be created to a custom size, making it ideal for awkward sized spaces.
Wallpaper
Like most bold patterns, paisley wallcoverings are best confined to smaller spaces such as alcoves or feature walls. However we love the unexpected visual impact of ceilings wallpapered with paisley. Whilst it's a bold move, this is a great way to introduce pattern to wall space and perfect for achieving more proportion in high ceilinged rooms. Just ensure you choose wall paper with a pale coloured base to avoid making your space feel heavy.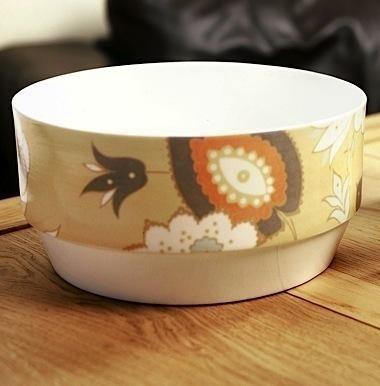 Accessories
We love the use of paisley in the Off the Wall Paisley Flower vase and bowl collection from Designed in England. Making a refreshing change from polka dotted or striped tableware, the collection was designed to celebrate the wallcoverings of Cole & Son and the use of oranges and browns gives the whole collection a delightful retro appeal. Shortlisted for the Homes and Gardens award, each piece is part of a limited collection of just 250 units per style – so be quick!
Sofas and beds look fantastic scattered with a coordinating mixture of solid coloured and paisley cushions; we love this Cream & Taupe Paisley Cushion from Primrose & Plum. Embroidered with taupe stitching and silver beading with a fluffy feather pad, this cushion is a luxurious take on paisley.
These cute set of 4 Fairtrade Paisley Boxes from Plumo are perfect as gift boxes or to store knick knacks and jewellery. With embroidered lids and opulent jewel colours they lend an exotic, well-travelled look to your dressing table.
So whether you want traditional and masculine or opulent and exotic, paisley could be just the thing.