It's our Interior Design Magazine!
The hottest interior design ideas, fab finds for the home and the latest in interiors trends. We're always looking for new finds, designers to feature or anything else lovely for the home, so if you've seen something gorgeous and would like it featured in our interior design magazine, please get in touch!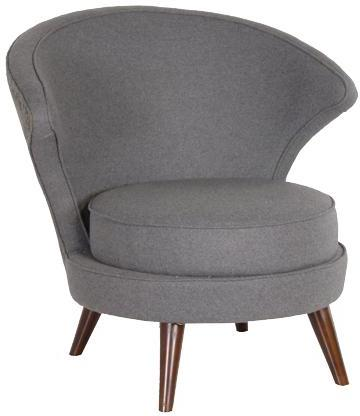 Cosy up on this stylish Grey Felt Upholstered Chair, £392.
Regular readers will know how much I love chairs – I even used to write a blog about them – and they're usually the first thing I look for in a shop or on a website.
Sadly, I don't have room for a new chair but that doesn't stop me drooling over the gorgeous chairs we have here at Furnish, and this Grey Felt Upholstered Chair by Out There Interiors has particularly caught my eye.
I love the shape of the back and the mid-century influenced legs, but most of all I love the fact it's been covered in felt, one of my favourite materials.
Perfect for both the living room and bedroom, if the grey is a little too stark for you, then trying brightening it up with a chartreuse or neon pink cushion.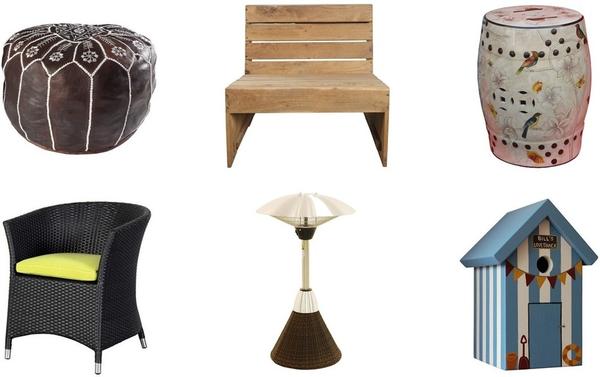 Relax in style this summer with our pick of the best garden furniture and accessories.
With summer fast approaching (or is it already here??), it's time to ensure you have everything you need to enjoy your garden. From planters to benches, and hammocks to patio heaters we have a wide selection of gorgeous outdoor furniture and accessories to get your garden looking wonderful.
For simple yet stylish seating, this Wooden Garden Chair by BODIE and FOU is perfect and will only look better with age, while this Black Woven Garden Chair by Out There Interiors looks great and is super comfy.
And if you're looking for some interesting accessories then how about either this pretty-as-a-picture Painted Ceramic Stool by Shimu or this Handmade Beach Hut Bird Box by Lindleywood which comes in nine colours and can be personalised to suit.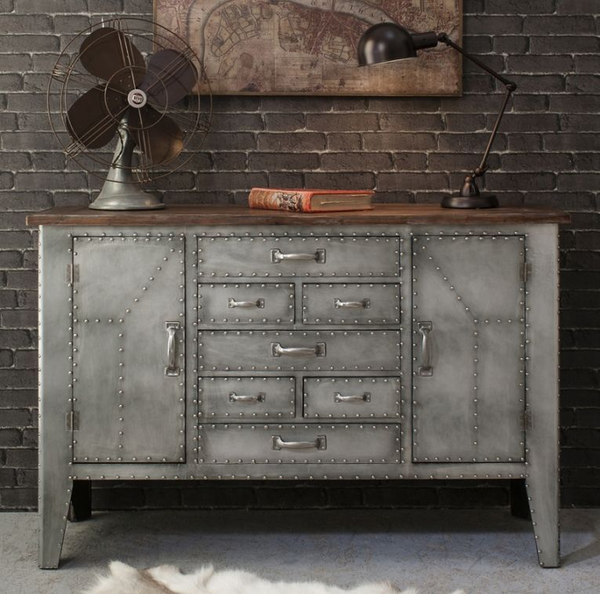 Add some industrial style to your home with this Rivet Industrial Metal Sideboard, £795.
So the industrial trend is still going strong and, while others might be bored with it, I have to say I'm thrilled.
You see I just can't get enough of factory-style lights and metal-clad furniture, and I adore this trend's understated yet stylish look.
Which is why this Rivet Industrial Metal Sideboard by Alexander & Pearl has just jumped to the top of my wish list.
Wonderfully stylish, it will create a striking centrepiece in any room while its generous drawers and cupboards are perfect for hiding away a multitude of stuff.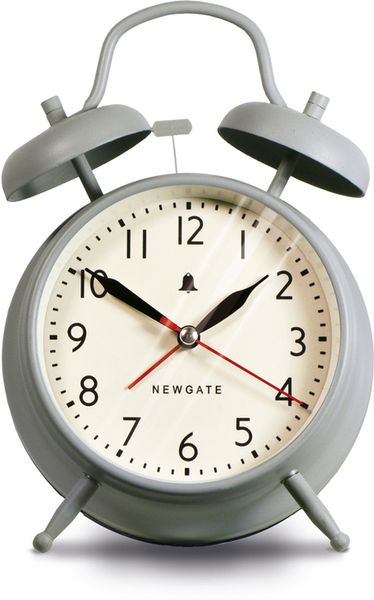 Wake up the old fashioned way with this Grey Covent Garden Alarm Clock, £20.
No one likes getting up in the morning but get up we must!
Personally, I'm sick of using my phone as an alarm clock (mostly because of the all-too-handy-but-very-dangerous snooze function) which is why I have decided to go old skool and buy an actual, proper alarm clock.
We have loads of alarm clocks to choose from but I've got my heart set on this Grey Covent Garden Alarm Clock by The Orchard.
A beautiful piece, it will look fantastic on my white gloss bedside table and, thanks to its generous bells, make sure I never sleep through a snooze session again.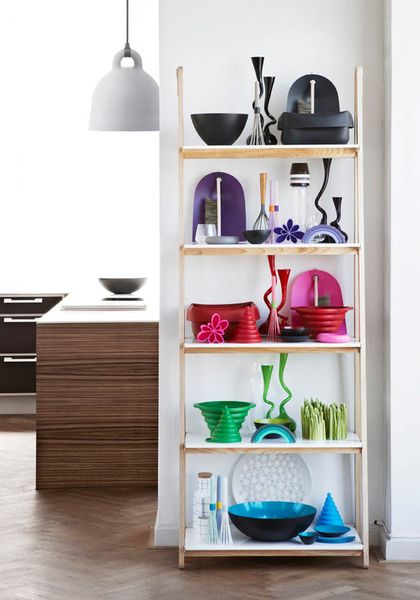 Keep your books in check with this One Step Up Bookcase, £410.
If you're as obsessed with books as I am, then you're probably constantly looking for ways to keep them neat and tidy too.
The good news is we have some great bookcases to suit every decor and budget.
My personal new favourite is this Normann Copenhagen One Step Up Bookcase by BODIE and FOU. Crafted from wood with gloss white shelves, this simple yet ever-so stylish bookcase is a flexible storage system that adapts with your needs.
Clever, practical and stylish, this is the perfect bookcase for any room in the home.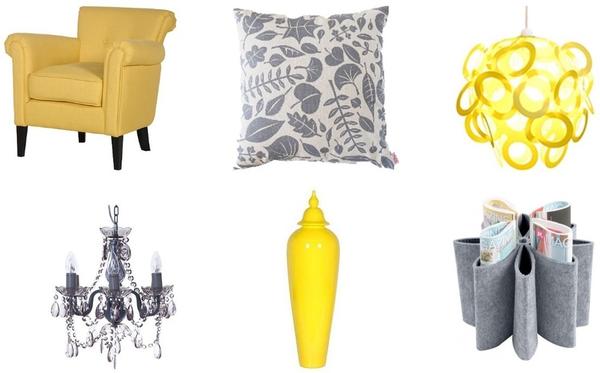 Let us show you how to make this classic colour combination work in your home.
Grey and yellow go together like strawberries and cream, and this classic colour combination has had something of a renaissance in recent years, working well in both classic and contemporary schemes.
Whether you opt for pale or bright shades, you'll create a stunning, timeless scheme using this dramatic palette.
We have some gorgeous yellow and grey items here at Furnish, from furniture to accessories to get you started.
If you're looking for some striking lighting this Fifty Shades Chandelier by The French Bedroom Company works well in both living spaces and bedrooms, while the Loopy-Lu in Yellow by Loopy-lu will stand out wherever it's used.
And if you're looking to update your furniture, this simple yet ever so stylish Sommerville Yellow Linen Armchair by Alexander and Pearl is just waiting to be accessorised with this Skinny Laminx Leaves Cushion Cover in Grey from Design My World.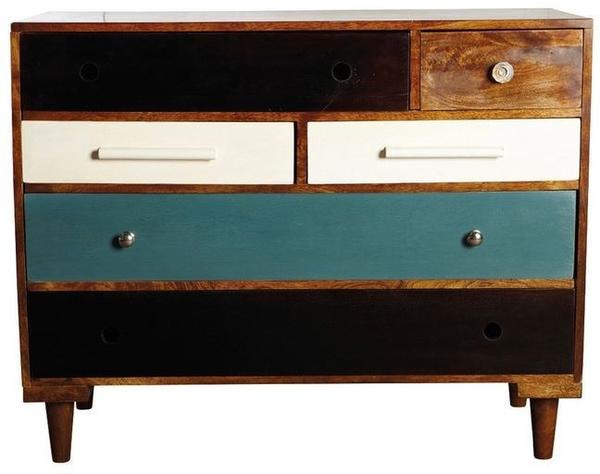 Get your stuff sorted with this eclectic Chest of Drawers, £1,100.
My trusty and very bargain-tastic chest of drawers has finally given up the ghost and is no longer fit for purpose.
That means I'm on the hunt for a new chest of drawers, and what fun I've been having searching our huge selection, trying to decide whether I stick with a vintage style or dare to go for modern. The list of maybes is growing almost by the hour.
One piece that has jumped to the top of the list for me is this gorgeous and rather simply named Chest of Drawers by ArtStar.
Perfectly blurring the lines between vintage and modern, this design has been crafted from mango wood, with six differently finished drawers which make for an extremely eclectic piece.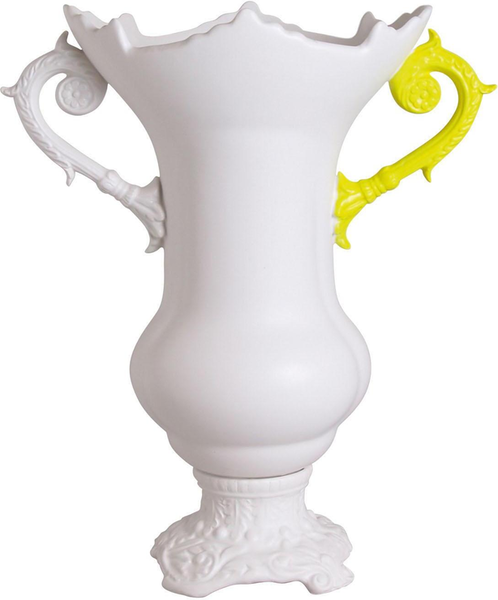 Create a dramatic flower display with this White Porcelain Amphora Vase, £100.
As regular readers will know, I'm a massive fan of having flowers in the home and always have a fresh bunch or two every week.
Before you think that sounds like an Elton John-esque extravagance, let me reassure you that I only ever opt for in-season flowers as this makes my habit more affordable.
My passion for freshly cut blooms means I'm always on the hunt for new vases and my brand new favourite is this White Porcelain Amphora vase by Out There Interiors.
Perfect for creating a dramatic floral display, this gorgeous vessel (with its striking yellow handle) looks equally good empty.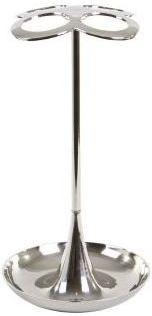 Get ready for spring showers with this Luciano Umbrella Stand, £104.
Ah spring – what a contradictory season. Yes it brings longer days and sunny mornings, but it also brings grey, gloomy clouds and unexpected downpours.
As I said to a Greek friend once, no self-respecting Brit leaves the house without both their umbrella and sunglasses during spring.
If you're fed up with soggy brollies cluttering up your hallway, then you need to invest in a decent umbrella stand.
We love this Luciano Umbrella Stand by Artisanti which is super stylish and generous enough to accommodate umbrellas for the entire family.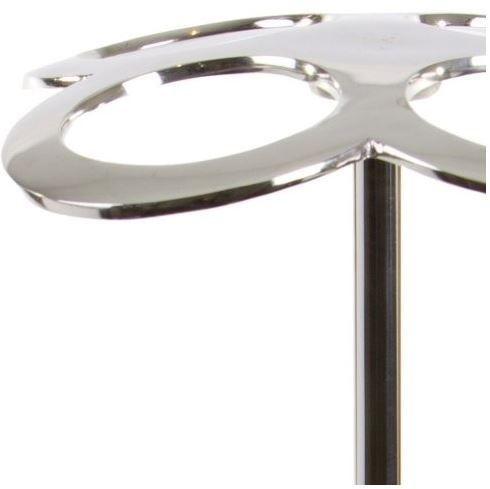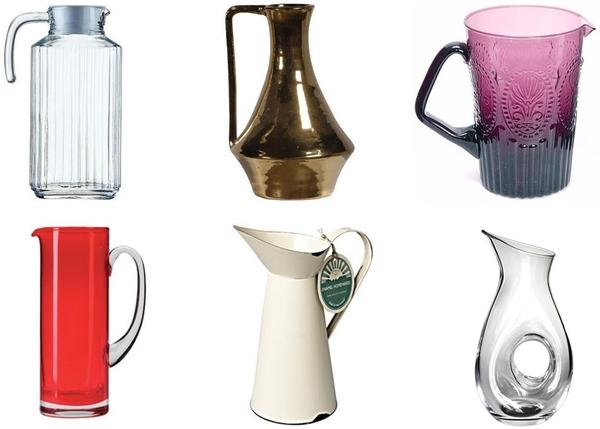 Whether for flowers or cocktails, you're bound to love our fantastic range of jugs and pitchers.
Often considered to just be practical, jugs can also be beautiful and they're super versatile.
From displaying freshly cut blooms to mixing decadent cocktails, every home should have a decent stash in varying sizes, colours and materials.
Naturally, we have some gorgeous jugs here at Furnish(!) to suit every budget and style.
Lovers of rich hues will adore this Handmade Mauve Portuguese Glass Jug by JasmineWay which will add a splash of colour to any room, while no cocktail party would be complete without this glamorous LSA Basis Jug by Red Candy.
And if you're really looking to add some glamour and drama, this striking Shiny Gold Pitcher by Out There Interiors is just the ticket.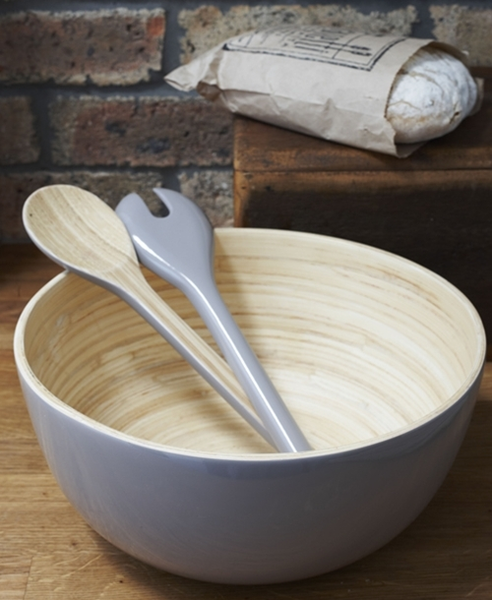 Serve stylish salads with this Grey Pressed Bamboo Salad Bowl, £40.50.
The weather is getting warmer so I'm celebrating by indulging in some of my favourite salads.
As such, I've been on the hunt for a new salad bowl since my favourite one had a rather nasty (losing) battle with the dishwasher.
We have some gorgeous salad bowls here at Furnish from bold and beautiful to elegantly simple.
My current favourite is this super sleek Grey Pressed Bamboo Lacquer Salad Bowl by ALSO Home. Simple, yet ever-so stylish, this generous bowl is perfect both for weeknight suppers and al fresco dining.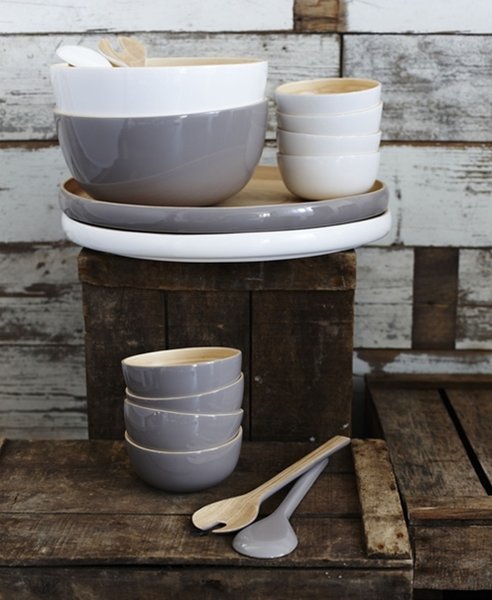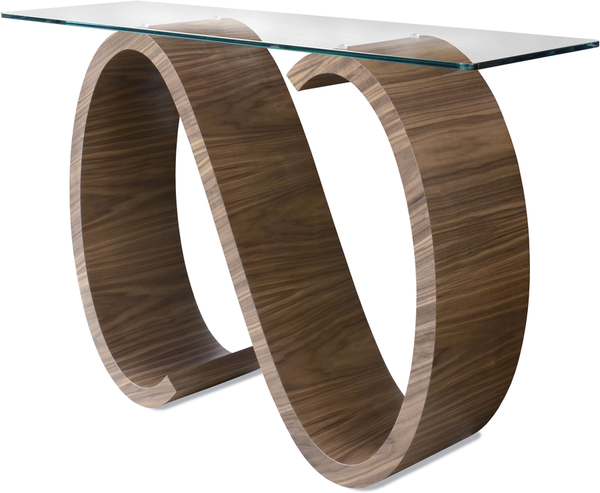 Plus an extra 5% off your first purchase. Offer ends today!
Tom Schneider is offering Furnish customers 15% off its range of gorgeous furniture - FINAL DAY TODAY! This is in addition to the 5% discount available on Tom Schneider items on your first Furnish order.
Each collection is made by hand in the UK by a team of skilled craftsmen using modern methods with established techniques. Materials are sculpted into Tom's signature elegant curves and flowing lines, such as this striking Swirl Side Table.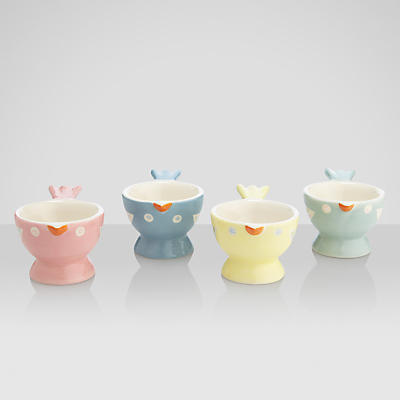 Update your breakfast table with these John Lewis Polly's Pantry Egg Cups, £16.
I adore boiled eggs and soldiers, but sadly I'm absolutely rubbish at cooking them. So is the other half, so I have to wait until we visit my parents for my Mum's speciality, a perfect, soft-boiled egg.
If you're partial too, then chances are you'll have an impressive collection of egg cups. If not, we have a great range of egg cups here which will allow you to serve your breakfast in style.
My current favourites are these Polly's Pantry Egg Cups by John Lewis. Cute as can be, these little chicks are perfect for adding some style to any breakfast table.
All you need to figure out now, is the age old question of what came first – the chicken or the egg?!?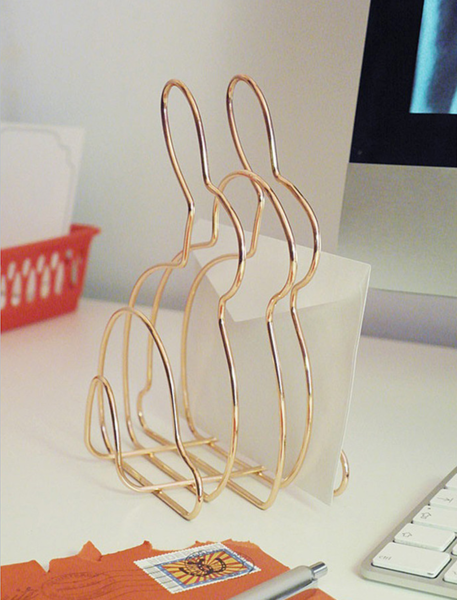 Keep your letters tidy with this cute Desk Bunny Letter Holder, £24.
So, Easter has been and gone, and I've been enjoying way too much chocolate. Not just chocolate eggs, but also chocolate chicks and, my favourite, chocolate bunnies.
But if you're more into home accessories featuring rabbits than the chocolate variety then we have some cuties to choose from.
One of my faves is this sweet and super stylish Desk Bunny Letter Holder from Lifestylebazaar.
Made from twisted wire, this little chap has been finished with on-trend copper and is a fun and unusual way of keeping your correspondence in check.
And, instead of using this on your desk, why not try it on a console table in a hallway so you can sort your post as soon as it comes flying through the letterbox.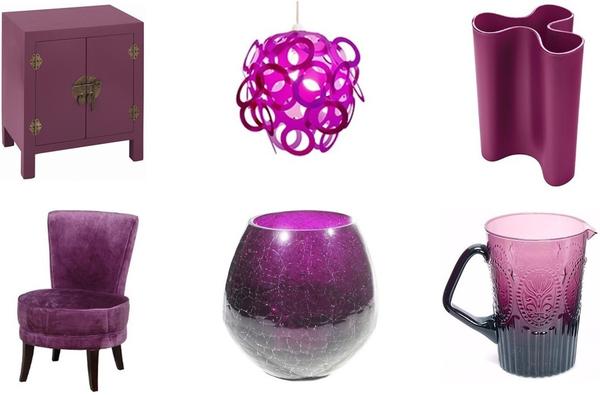 Give your home a regal feel with our pick of the best purple buys around.
Purple is traditionally associated with royalty but you don't have to live in a castle or wear a crown to use this fabulous, vibrant colour in your home.
We have a fantastic range of purple products from furniture to accessories to give your scheme a touch of regal chic.
The Lilac Velvet Chair by Lover's Lounge will add a touch of glamour to the plainest of boudoirs, while the Purple Clara Vase by Gifts with Style is ideal for filling with bold, beautiful blooms.
This intricately designed Handmade Mauve Portuguese Glass Jug by Jasmine Way is perfect for serving everything from fruit juice to delicious, summer cocktails, while the Loopy Lu Purple Pendant Light will add a touch of fun to any room.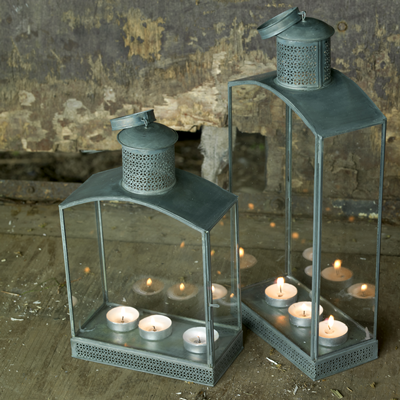 Get ready for long, summer evenings with these Kamira Lanterns, £54.95.
The newspapers have recently been proclaiming that this year we'll see the "hottest summer ever".
While, like every Brit, I am wary of such headlines, it would be rather fantastic if we really did have a scorcher. And if we do, I plan to make the most of it by spending as much time as possible in my little garden.
Which is why I love these Kamira Lanterns by Daisy West. Elegant and understated, with a touch of Moroccan style thrown in for good measure, this set of two lanterns will give your garden a welcoming glow long after the sun has gone down.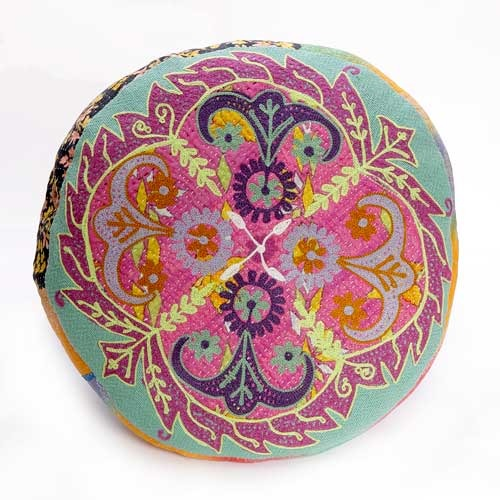 Add some colour and pattern with this Patchwork Pink Floor Cushion, £75.
I find it hard to resist a cushion, whether it's one I've made myself or a bought one, so much so that you can hardly move in my home for them.
As well as being decorative, I like my cushions to be practical and luckily we have some great floor cushions here at Furnish to suit every style and budget. Ideal to use as extra seating for unexpected guests, in the garden or even on picnics, a floor cushion will soon pay for itself.
I particularly love this Patchwork Floor Cushion by JasmineWay which features a gorgeous design and intricate embroidery, and comes in 5 vibrant colours.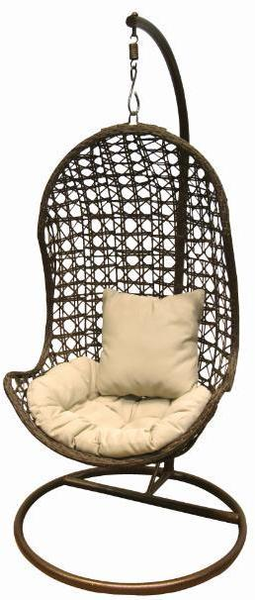 Add some drama to your garden with this Jaliyah Hanging Garden Chair, £299.
The weather has been pretty mixed these last few days with both glorious sunshine and pouring rain. But we're confident (well hopeful), that there's some great weather to come over the coming months.
Now's the time to start planning your outdoor space, and we have some super items for your garden here at Furnish from hammocks to garden chairs, and outdoor lighting to pots and planters.
One piece which has really caught my eye is this Jaliyah Hanging Garden Chair by Out There Interiors. Made from high quality rattan and available in Grey or Mixed Choco, I adore its retro feel.
Great for adding a luxurious touch, this chair is perfect for curling up in and reading a book while soaking up some much needed rays of sunshine.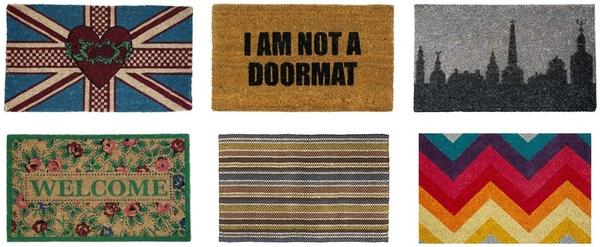 Give your guests a warm welcome with one of our attractive door mats.
Door mats are one of life's necessities but that doesn't mean they have to be dull or boring. We have a great range here at Furnish from humorous to pretty, with something to suit everyone and every budget and style.
If you like a bit of tongue-in-cheek humour then the I am not a Doormat by Lifestylebazaar is the perfect choice, while this Zig Zag Doormat by John Lewis adds a striking hit of colour.
Lovers of all things pretty are also catered for with the decorative Rambling Rose Welcome Design Doormat by Fields of Blue while city dwellers will adore the silhouette of the Stockholm Doormat by JasmineWay.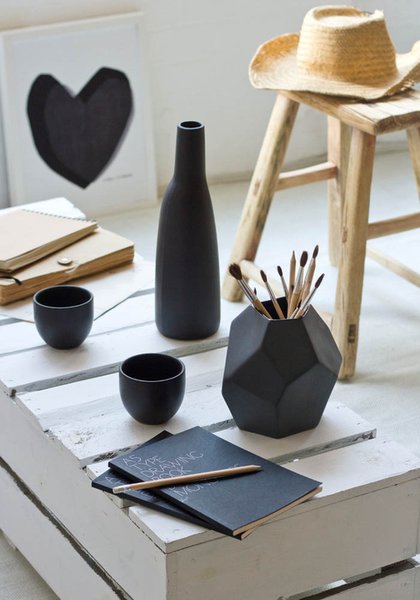 Introduce some angular style with this Black Matte Geometric Vase, from £27.
Geometrics are big news when it comes to interiors this year with everything from cushions to wallpaper being given the angular treatment.
If you're not a fan of prints and are looking for a subtle way to inject some geometric style into your scheme, this Black Matte Geometric Vase by BODIE and FOU is ideal.
Available in two sizes, these black vessels look great full of brightly coloured blooms and work equally well empty.
Use one or two to create a simple yet striking centrepiece; or use a combination of the two sizes on a sideboard or wall shelf to create an interesting display.