It's our Interior Design Magazine!
The hottest interior design ideas, fab finds for the home and the latest in interiors trends. We're always looking for new finds, designers to feature or anything else lovely for the home, so if you've seen something gorgeous and would like it featured in our interior design magazine, please get in touch!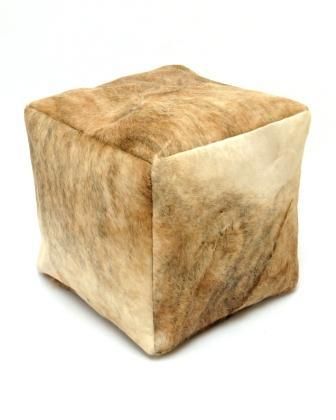 Relax and put your feet up in style with one of these cow hide Cowcubes from Pampeano. £149
If you're like me, then the likelihood is all you want to do when you get in from a long day is put your feet up.
And while pouffes are all very well and good, they're just not very cool are they?
Well, I've found the perfect solution and it comes in the form of these cow hide Cowcubes from Pampeano.
Hailing all the way from Argentina, the land of the gaucho and of course the cow, these cubes are available in a range of colours from pale beige to black and white and an array of patchwork designs.
We think they're simply divine and the perfect way to sit and relax.
See this product at Pampeano...
(We don't list this product yet but sign up to our newsletter and we'll let you know if/when we do)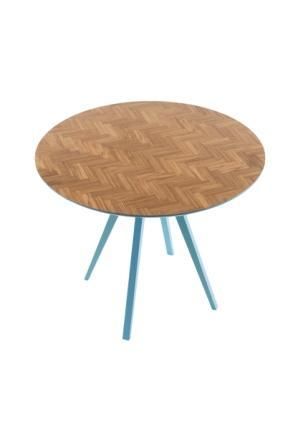 Make sure you have the most stylish dining room in town with this Parquet Table from Something From Us. £995
It's fair to say I am fairly obsessed with parquet flooring. I think it must stem from being that bored in assemblies at primary school. I used to spend more time staring at the beautifully polished, geometric floor than listening to what was going on.
Which is why I've fallen for this Parquet dining table from Something From Us.
A rather glamorous parquet top sits upon elegant, contemporary legs that are available in white, blue or charcoal.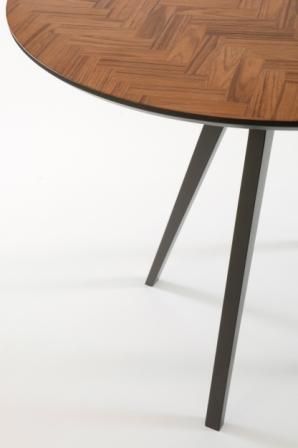 I love the combination of something old and new and if I wasn't head over heels in love with my G Plan dining table then this would in there like a shot.
See this product at Something From Us…
(We don't list this product yet but sign up to our newsletter and we'll let you know if/when we do)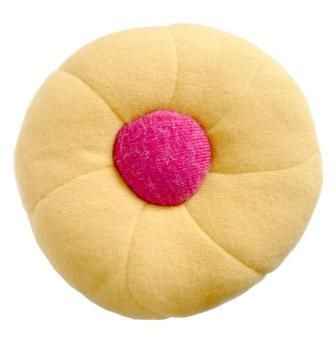 Cosy up with these "biscuit" cushions from Sarah Kerry. From £65
A blustery walk around Greenwich last weekend found me seeking solace from the elements in the famous market.
And boy am I glad, I did as if I hadn't then I wouldn't have come across Sarah Kerry and her fabulous knitted, biscuit cushions.
These delightful treats are made from the softest lambswool and are just the ticket for snuggling up with on a cold evening.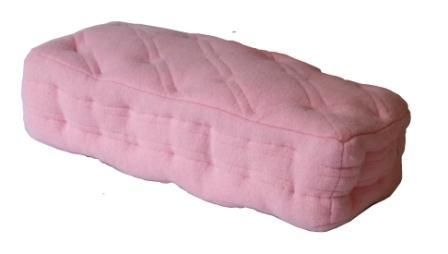 Available in a variety of styles, or should that be flavours, each one has been painstakingly hand knitted by Sarah to mimic some of the most famous biscuits ever produced.
My favourite is the Jammy Dodger but I also love the Bourbon and Pink Wafer, which are deliciously reminiscent of childhood parties.
Add one or two to a sofa or chair for some tongue-in-cheek cosiness but make sure you dunk them in your tea.
See this product at Sarah Kerry…
(We don't sell this product yet but sign up to our newsletter and we'll let you know if/when we do)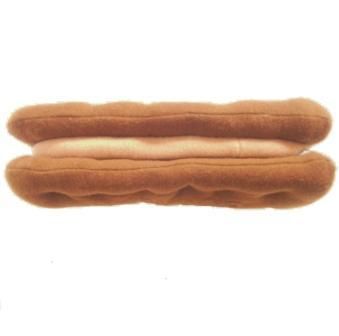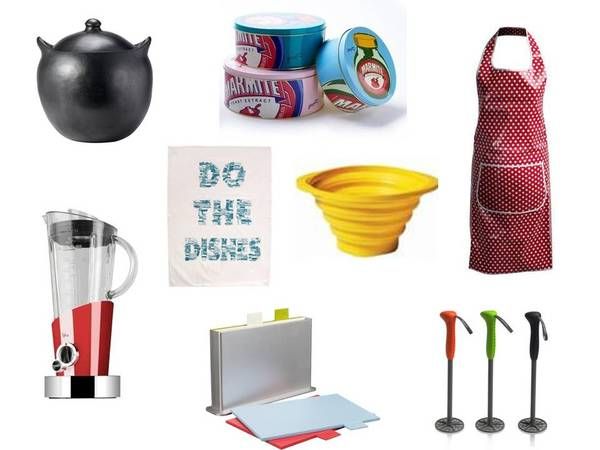 Know a budding chef or wannabe Nigella? Look no further than our Food Lovers Gift Guide for the perfect present.
If you're struggling to find the perfect gift for the foodie in your life look no further. We have it all from stylish mashers and folding colanders to top of the range casserole dishes and handy chopping boards.
Clockwise from top: Columbian Cooking Pot,£72, Occa Home; Set of three Marmite Cake Tins £2, Pelican Pear; Red Polka Dot Apron, £14, Hunkydory Home; Spudski, £16, Black+Blum; Index Chopping Boards, £42, Utility; Bugatti Vela Blender, £160, WhereDidYouBuyThat.com; Kitchen Commandments – Do The Dishes Tea Towel, £11, Showpony; Collapsible Colander £10.13, Bodie and Fou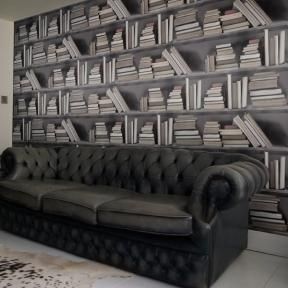 Not well read? Fool visitors with this Bookshelf wallpaper by Y&B from Bodie & Fou. £68
I've written before about just how much I love books. Not just reading them but their look, feel and smell.
Even though I have plenty and that adorn the shelves in my dining room, I still love this fake-it Bookshelf by Y&B available from Bodie & Fou.
If you're not a reader then this wallpaper is ideal for you.
The Trompe-l'oeil design mimics a wall of shelves full of books which is perfect for any room and the ideal way to bluff your friends that you're a serious book worm.
Add some depth to the design by installing real shelves on it with a few books dotted here and there to create a real focal point.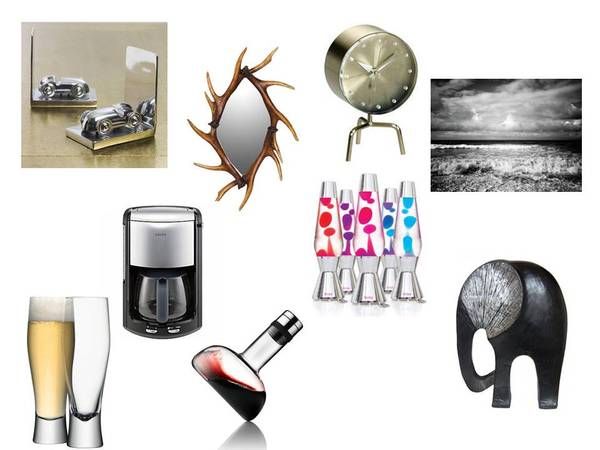 If you're struggling to think of gift ideas for a man in your life, look no further than our guide for inspiration
If you need gift inspiration for your hubby or boyfriend, don't fret, because we have everything from quirky car bookends to stylish lava lamps.
Clockwise from top: Classic Car Bookends, £55, Graham & Green; Stag Horn Mirror, £175, Sweetpea and Willow; Vitra Tripod Clock, £220, Heal's; Seascape II, £164.50, Surface View; Krups Pro-Aroma Thermo Filter Coffee Maker, £50, Heal's; Smart Astro Lava Lamp, £75, Heal's; LSA Bar Larger Glass, £34, Occa Home; Menu Wine Breather Carafe, £44.95, Utility; Elephant Sculpture, £17, Coco Male.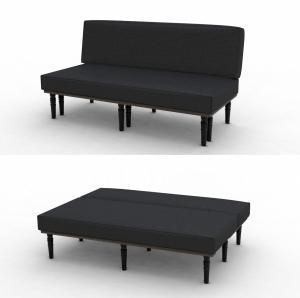 Accomodate extra guests in style with this sofa bed from Duffy London. £1,545
If you've got hoards of guests descending on you during the festive season, it's a good idea to start thinking about where to put them.
For those short on space, this Sofa Bed from Duffy London is the perfect solution.
Contemporary and stylish, you simply pull the front and push the back sections down and hey presto you have a double bed.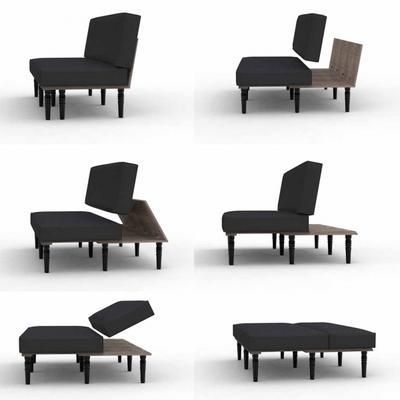 But that's not all when it comes to this clever sofa bed, it has another secret.
Remove the cushions and you reveal a low, Japanese-style dining table and can use the cushions on the floor for impromptu and relaxed supper parties.
This is multi-functional furniture at its best and we're super impressed.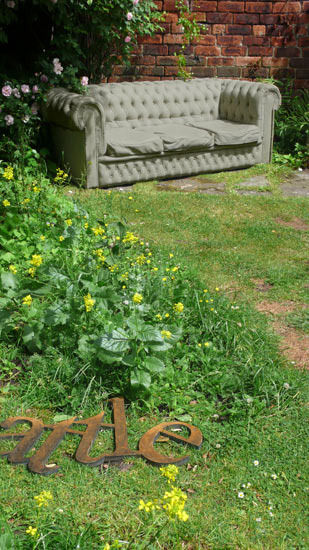 Take a fresh look at the most famous sofa design ever with this Concrete Chesterfield from Gray Concrete. £POA

I had to make sure my eyes weren't deceiving me the other day (really should get that eye test done) when I came across this product but no, this is a Chesterfield made from concrete designed by Gray Concrete. Gray Concrete (perhaps not surprisingly given their name) specialise in using concrete in the home and have created this rather gorgeous and unusual concrete Chesterfield. The sofa has been cast in solid concrete and the attention to detail is amazing. The sofa has everything you would expect from a leather version including the squishy seats and button back.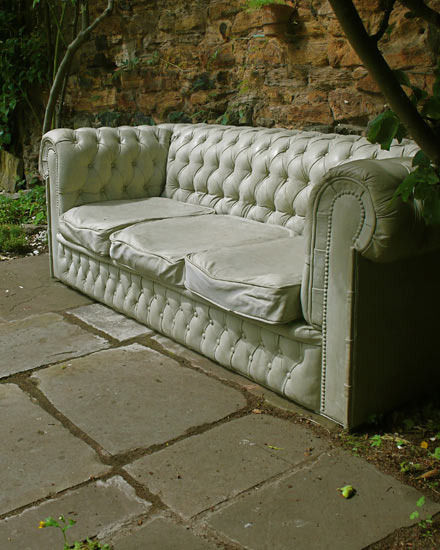 Perfect for use in the garden, it woks well inside too - although you may want to cosy it up with some cushions and throws. It's bound to be a talking point wherever you decide to use it. See this product at Gray Concrete... (We don't list this product but sign up to our newsletter and we'll let you know if/when we do)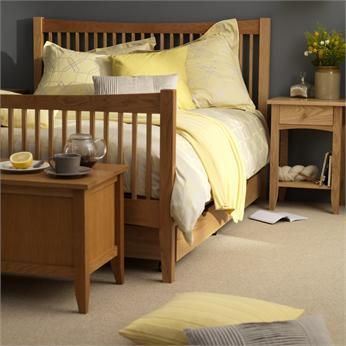 Add some pattern and colour to your bedroom with this Georgia Bed Linen from Feather & Black. From £24 for a pillowcase
With my head full of Christmas and dark wintry colours, I felt the need to escape to Spring the other day.
And I found just the thing to cheer me, this Georgia bed linen from Feather & Black.
Yellow and grey are two of my favourite colour combinations from slate and chartereuse to this paler, fresher interpretation of pale lemon and soft grey.
I adore the subtle geometric pattern, which will work well in both classic and contemporary bedrooms and can't wait to get rid of my throws, cushions and heavy duvet and get this bed linen on my bed.
Only a few months to go…
See this product at Feather & Black…
(We don't list this product yet but sign up to our newsletter and we'll let you know if/when we do)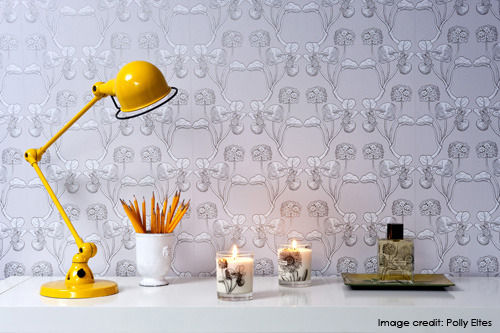 Liven up dull walls with this Pom Flower Damask wallpaper from Miller Harris. £75 a roll
Most famously known for her delectable fragrances, founder of Miller Harris Lyn Harris has now added wallpapers to her empire.
Designed by Karen Beauchamp, the collection comprises of three different designs available in a range of shades from the palest of greys to a dark and dramatic purples.
My favourite is this Pom Flower Damask design which comes in three colour ways; pink/grey, pale grey and aubergine.
I love the bold yet super feminine design which is perfect for adding pattern to your bedroom walls.
And while the collection is only three designs, we're certain it will be a big hit and increase in size so watch this space…
See this product at Miller Harris…
(We don't list this product yet but sign up to our newsletter and we'll let you know if/when we do)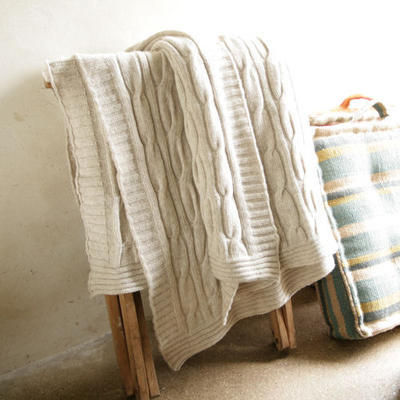 Snuggle up in comfort with this super soft lambswool throw from The Orchard. £99.95
Now the nights are decidedly chillier, it's time to start wrapping up.
But if you can't be bothered to dig out your old throws, why not treat yourself to some new ones?
This lambswool throw from The Orchard ticks all the right boxes when it comes to snuggling up on a chilly evening. It's super soft, super warm and super stylish too.
Throw it on the bed for freezing nights when a duvet alone just won't do or have it on the sofa, ready to grab at those moments when you need a bit of extra warmth.
Warm up and brew up with this delightful teapot Tea Word Teapot from Hunkydory Home. £22.50
Despite the fact I can't actually remember the last time I made tea in a teapot, I still love these gorgeous vessels.
And while I haven't started collecting them (might wait a few decades before I start that!) they are one of my favourite interiors products.
Patterned, plain, squat, svelte, expensive, affordable – there are so many to choose from, you could going insane trying to pick your favourite one.
However, this Tea Word one from Hunkydory Home makes it into my top ten.
Simple, yet effective this plain white design features the word TEA stamped in green and I think it's great. In fact, it might even convince me to start buying loose tea instead of bags…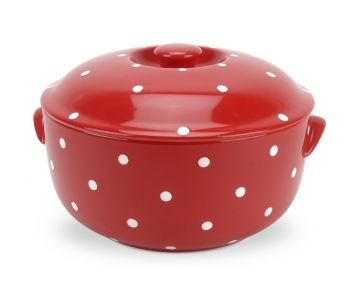 Treat yourself to a warming casserole in one of these delightfully dotty dishes from Spode. From £22.50
With winter well and truly here, it's time to start thinking about hearty dishes such as stews, casseroles and soups.
So, if you fancy yourself as the next Nigella, Heston or Gordon, then it's essential you have the right equipment.
We love these Round Covered Deep Dishes from the Baking Days collection at Spode.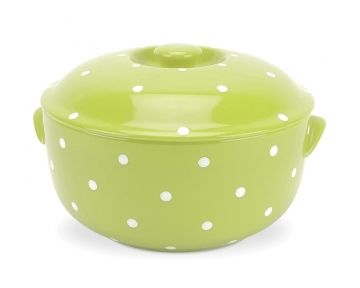 Available in an array of colours including Red, Green and Dark Blue and with an oh-so-fashionable polka dot pattern, they'll make the perfect addition to any kitchen.
And these stylish dishes aren't just pretty, they're practical too as each one is safe to use in the microwave, oven, dishwasher and freezer.
(We don't list this item yet but sign up to our newsletter and we'll let you know if/when we do)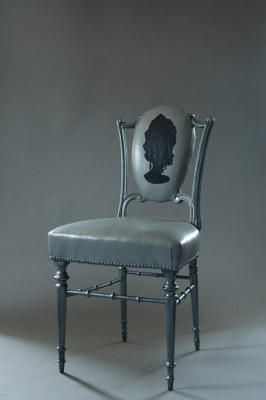 Indulge your love of vintage finds with this Marie Antoinette chair from Ghost Furniture. £625
Ghost Furniture is fast becoming one of my favourite places to find vintage furniture.
They take discarded and forgotten items and turn them into pieces that anyone would be proud to have in their home.
I love the way they tell you the history behind the product and add their own quirky twist.
This Marie Antoinette chair is one of my favourites and was found at The Ham Fair in Paris.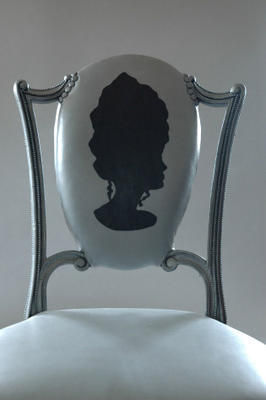 Lovingly restored, this chair is covered in a matt silver calf's leather and finished with a pewter paint.
The Marie Antoinette silhouette is a piece of black leather sourced from a vintage jacket and gives the chair a regal elegant feel, paying homage to France's most famous Queen.
I think these chairs would look gorgeous dotted around an ultra modern dining table or you could try using it as a dressing table chair.
Either way, it's simply divine and going on my letter to Father Christmas.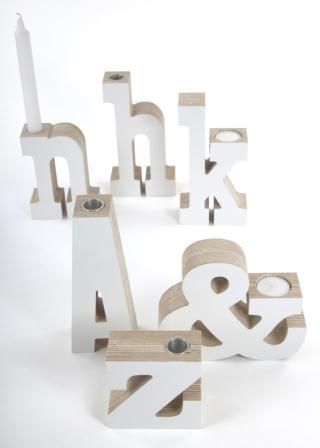 Make sure you know your letters with these Alphabet Candlesticks from The Letteroom. From £35
You could be forgiven for thinking that I am obsessed with letters and typeface recently as it seems a lot of my Fab Finds have been based around them.
So, it will come as little surprise that I have yet another letter-inspired item to show you.
These Alphabet Candlesticks from The Letteroom are simply divine.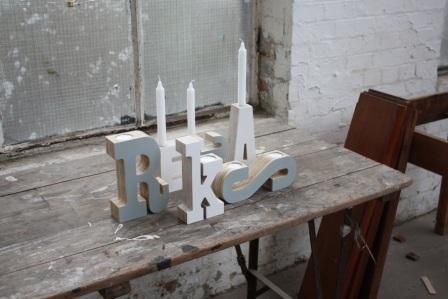 Made from birch wood, they are available in a variety of sizes and come in a natural finish which are ready to paint any colour you choose.
Use them to spell out a favourite phrase or just simply your initials to add a personal touch to a dining table or mantelpiece.
See this product at The Letteroom...
(We don't list this product yet but sign up to our newsletter and we'll let you know if/when we do)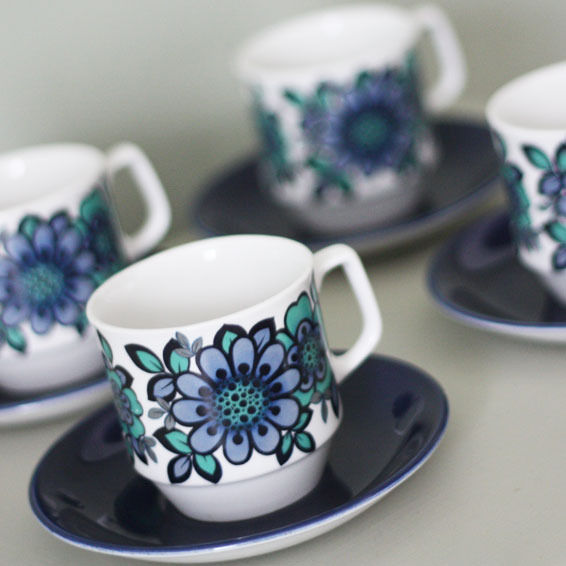 Step back in time with this vintage Blue Mood Cup and Saucer set from Our Shop. £25
Vintage has never been more popular, and whether that's because it's become more mainstream or not, I still adore a bit of tableware from the past.
However, it can be expensive and tricky to find but that my fellow vintage-hunters is a thing of the past thanks to Our Shop.
Delving into their Vintage section is like taking a stroll around a flea market or thrift shop but all in one handy place.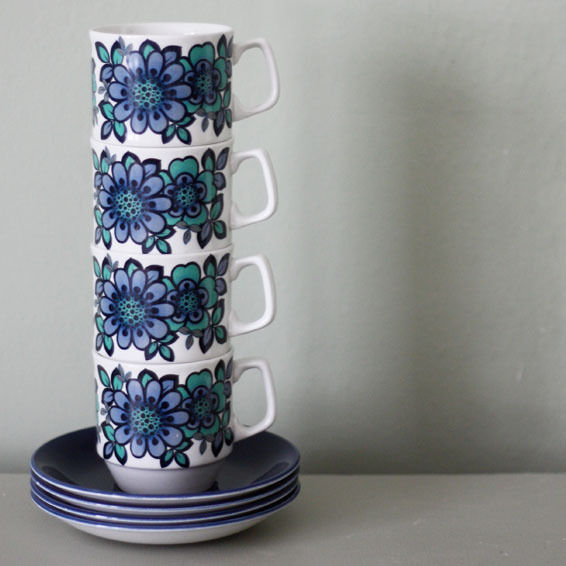 There's almost too much to choose from and I was torn in two, three and four when deciding what to show you but in the end I plumped for this Blue Mood by Hostess cup and saucer set.
I love the unashamed 60s style and the vibrant blue, but most of all I love the bargain price. Whenever you say vintage nowadays you automatically assume there will be some hideous price tag attached but not with these.
So, if you too have fallen for a bit of swinging 60s charm, I suggest you hurry up as this one-off set won't hang around for long.
See this product at Our Shop...
(We don't list this product yet but sign up to our newsletter and we'll let you know if/when we do)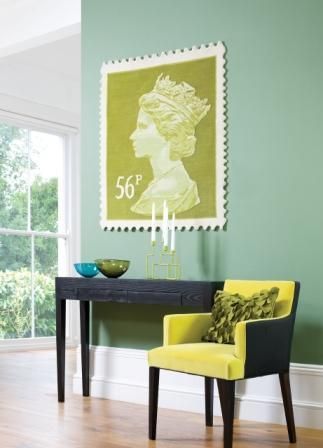 Add some Royal Mail style to your floors with these Royal Mail Stamp Rugs from Stamp Rugs. From £695
I've been finding such innovative and beautiful home wares of late that it's starting to make me a little bit giddy.
|t's so good to know that despite these hard economic times and doom and gloom, that there are still people being creative.
One such company is Stamp Rugs who I stumbled across last weekend and knew straight away that they had to be included as a Fab Find.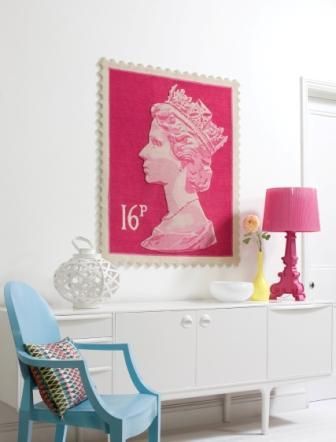 They've taken the humble postage stamp and turned it into a stunning collection of rugs.
Available in 10 denominations, each given its own colour, the rugs have a scalloped-edge which mimics a paper stamp's perforations and the Queen's head is hand-carved to give a stunning raised effect.
Ideal for turning your floors into a work of art or even hanging on the wall, these rugs are truly sublime and have just jumped up a few notches to the top of my wish list.
See this product at Stamp Rugs...
(We don't list this product yet but sign up to our newsletter and we'll let you know if/when we do)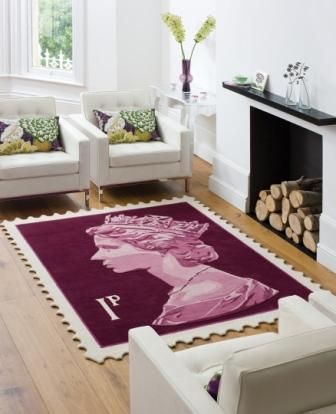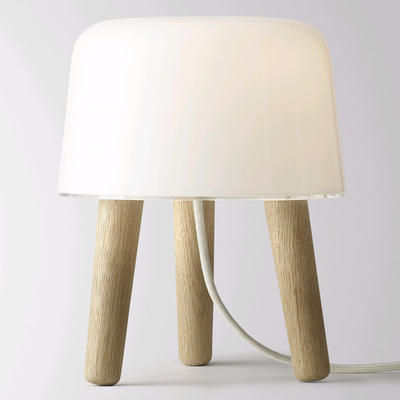 Enjoy bed time reading with this Milk Table Light from 95% Danish £129
If like me you enjoy indulging in a bit of bedtime reading, you'll know that it's essential to have a good lamp.
There's nothing more frustrating than having to get out of bed and turn your ceiling light out or getting nice and cosy with your book only to find the light isn't bright enough.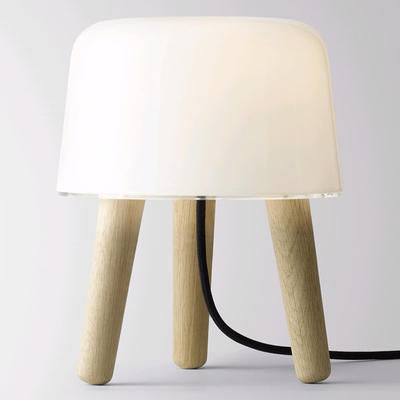 But hopefully all that will be a thing of the past thanks to the Milk Table Light from 95% Danish. Designed to look like a milking stool, this super cool lamp makes the perfect bedside lamp.
And fussy types (who? Me?) can choose from black or white cords to complement their scheme.
Sleepless nights will be a thing of the past with this Antigua Four Poster Bed from Graham & Green £795
For me, four poster beds have always seemed a bit stuffy and fusty, The preserve of old-fashioned hotels and country homes (not that I particularly have anything against either) but I prefer my interiors a little simpler which is why I love this Antigua four poster bed from Graham & Green.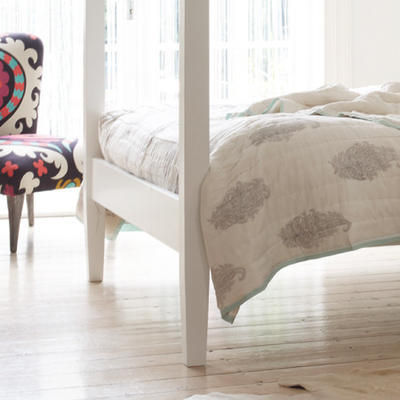 Made from Oak, the bed's simple lines coupled with the white-painted finish, will look fabulous in any bedroom whether you favour a classic or contemporary scheme.
Dress it up with sumptuous throws and the odd cushion or two to ensure the best night's sleep ever.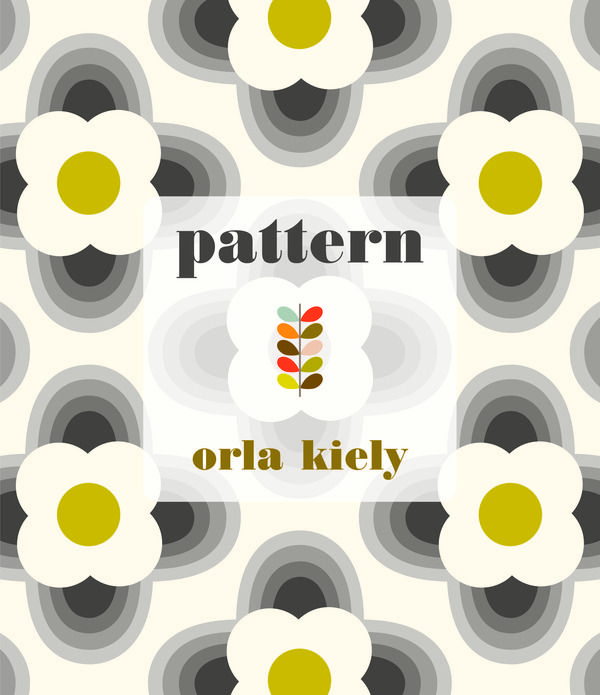 Don't miss Orla Kiely's exclusive signing of her new book
This rare signing is not to be missed if you're a fan of Orla Kiely's bold, retro patterns. You'll have the chance to meet her in person and get your copy of her newly released book 'Pattern' signed.
There will be a free limited edition Pattern oyster card holder, produced especially for the book's launch, for anyone who purchases Orla's book on the day.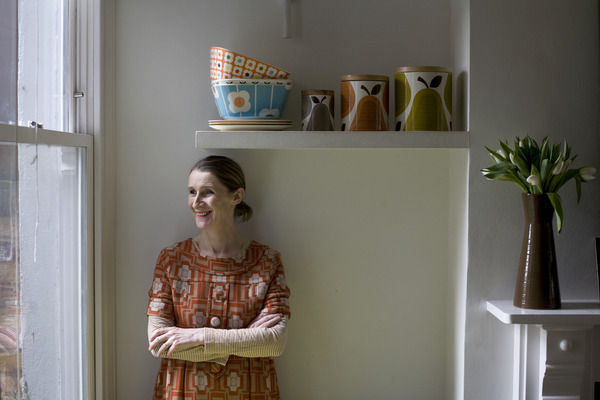 Orla's autobiographical book is a gift from her to her devoted fans. Filled with her ideas and inspiration, it also offers full colour pages of her visually pleasing patterns and designs.
If you would like the chance to meet Orla at her book signing, here's the info you'll need:
When: Wednesday 10th November 2010-10-30
Where: Lower Ground Floor, Selfridges, Oxford Street, London
Time: From 6pm
For more information about Orla and her designs visit www.orlakiely.com, and for more about her book 'Pattern' and her designs take a peek at our feature 'Spotlight on Orla Kiely'.