It's our Interior Design Magazine!
The hottest interior design ideas, fab finds for the home and the latest in interiors trends. We're always looking for new finds, designers to feature or anything else lovely for the home, so if you've seen something gorgeous and would like it featured in our interior design magazine, please get in touch!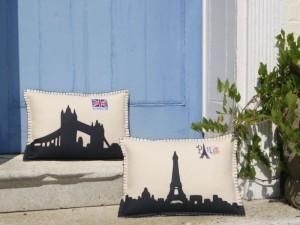 Add some ooh la la to your interiors with this Paris skyline cushion from Megan Quinton. £35
Being utterly obsessed with cushions means I never tire of seeing new ones or coming across new designers who share my passion.
Megan Quinton is clearly just as fanatical about them as me, as her gorgeous collection proves.
Megan's bright and cheery cushions are available in a wide range of designs but my favourite is this Paris skyline one.
Made from felt, the design has been finished with hand embroidery detailing and is truly exquisite.
And if you're feeling patriotic rather than Franco-phile, the Tower Bridge design is rather natty too.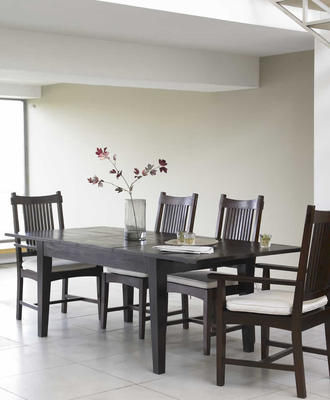 Get ready for Christmas with our guide on how to create the perfect dining room
With Christmas just around the corner (just over eight weeks to go) it's essential you get your dining room sorted in preparation for entertaining guests. Perhaps this is your first time hosting the main event or you just want to give your dining room a makeover. Whatever your budget, style and reason, our guide shows you how to create the perfect dining room for the festive period and all year round.
The Table
The dining table is an essential bit of kit. A good option is to choose one that's extendable, that way you're always have room for the extra guest who just happens to turn up unannounced. The Malang Dark Teak Extending Dining Table will add a touch of oriental –chic to your scheme while the refectory-style Ash Extending Dining Table from Sweetpea & Willow is perfect for those that want something a little simpler. If you don't have room for an extending design, opt for a round one, which is much more sociable and guaranteed to get even guests who don't know each other chatting.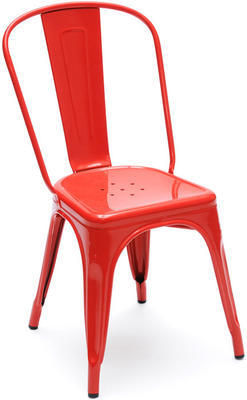 The Chairs
The days of having to match chairs to your table are long gone. Of course, if you want to match your chairs to your table then there are plenty of options. However, mixing and matching chairs is a great way to give your dining room a unique look. Brightly coloured chairs such as the Tolix A Chair from The Lollipop Shoppe work well with a plain, wooden table. Comfort as well as style is important when it comes to dining chairs, make sure you opt for ones that your guests will want to stay in long after pudding rather than running for the hills before the starter has arrived. If you're going to use benches instead of chairs, make sure there's plenty of room to manoeuvre them and add some colourful cushions for extra comfort.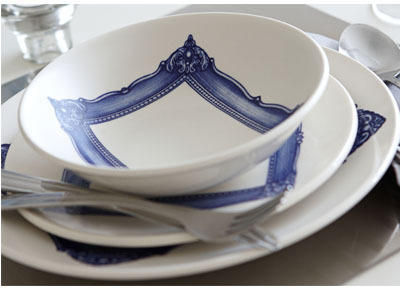 The Lighting
Lighting, as in every room, plays an important part in the dining room. Firstly, it's important to choose a central light to create drama and atmosphere. A pendant light such as the Clarence Pendant Shade from Heal's is a good choice. Make sure it's connected to a dimmer switch so you can alter the mood of the room accordingly. Candle light is a must for any dining room, whether you opt for a dramatic candelabra such as the Medium Abbey 5 Arm Candelabra from Alexander and Pearl or subtle tea light holders (Also Home has a good choice), they're a sure fire way to add some atmosphere to any scheme.
The Tableware
Choosing your tableware is as important as the food you serve on it. White is best, it looks classic, is timeless and means should things get a little out of hand or the washing up chaotic, pieces can be easily replaced. Don't be afraid to mix and match, decorative plates such as the Art of Entertaining collection by Andrew Tanner from Designed in England look fabulous with plain white china.
Follow these simple tips and you're ready to entertain, now all you need is to get cooking...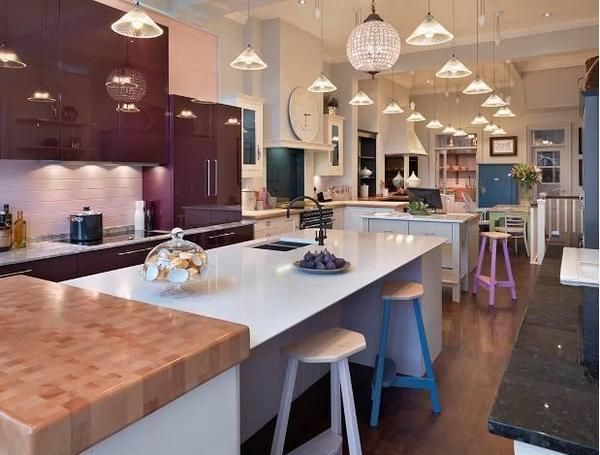 The creators of some of the most stylish kitchens around have just opened a new showroom in Blackheath
When I'm a grown up and need to buy a kitchen, my first stop will be John Lewis of Hungerford.
I've always adored their designs from the deliciously retro Creme de la Creme kitchens which are available in a range of ice cream colours such as Vanilla, Strawberry and Mint to the ultra chic Shaker designs, they are the perfect place for a beautiful kitchen.
My personal favourite has always been the Cool Kitchen collection.
And now it's good news for those living south of the river in London as John Lewis of Hungerford has opened its 11th showroom in leafy Blackheath.
Jon Rosby, Managing Director of John Lewis of Hungerford, comments: "We are very proud and excited to be opening our 11th showroom in Blackheath. It is the perfect launch pad for our new designs and fresh colour options. Our in-house design team are second to none and we are really looking forward to becoming an integral part of the local community."
Great kitchens and a great company mentality, what more could you want?
For more information log onto their website.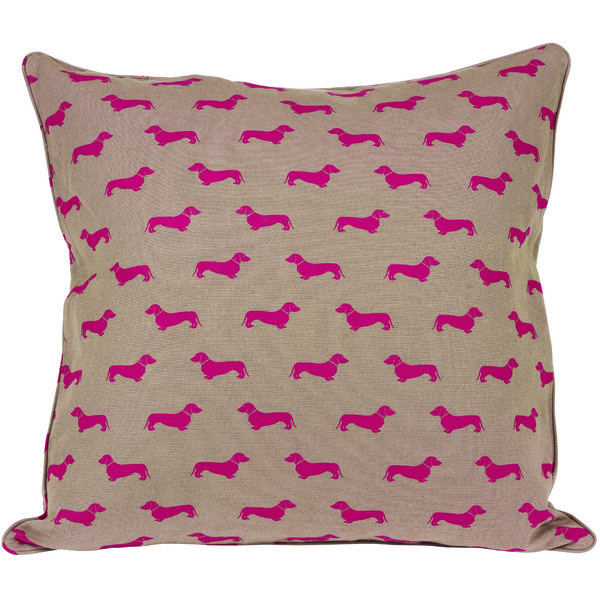 We interview British fabric designer Emily Bond
British fabric designer Emily Bond designs beautiful fabrics inspired by animals and the countryside.
We find out more about Emily, her inspiration and her style...
If you had 3 words to describe your style what would they be?
Eclectic, country, fresh
Where does your inspiration come from?
My life, my childhood and all people and animals in it.
What is it that you endears you so much to British countryside?
There is nothing quite like an Autumn day walking with the dogs through the country side, there Is nowhere I'd rather be.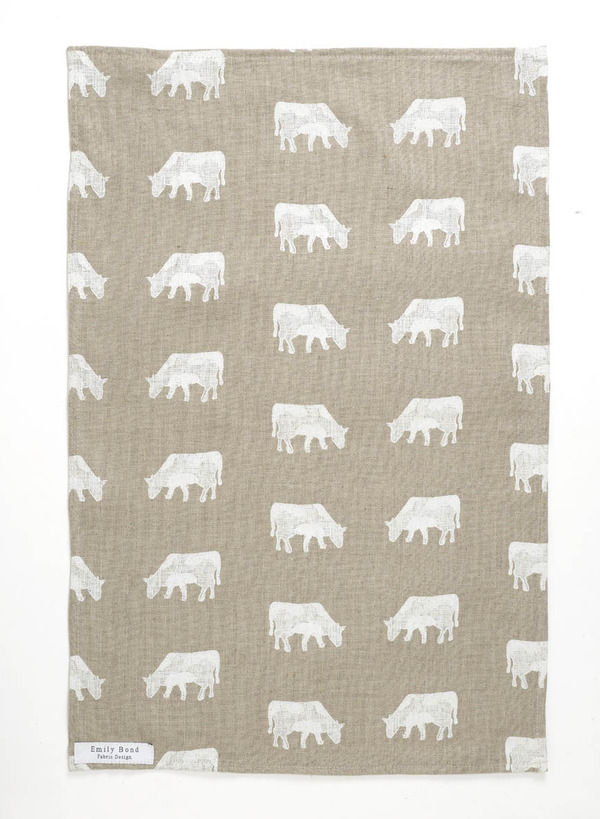 Why do you choose to feature animals in your designs and what do you feel they bring to a variety of home interiors?
I love animals on fabric it brings an element of fun into your interiors, but the way I put them together and the colours and fabrics I use it makes them sophisticated and classic at the same time.
What's your 'hero' product and why?
My blue dachshund tea towel is started the business, people love dachshunds!
How important is pattern and repetition to your designs, and how do you think pattern will continue to keep interior design fresh and exciting?
It's very important and each design is very repetitious which is what I love about my designs. I like simply fresh designs.
What's your favourite material to work with and why?
I love linen because it so natural.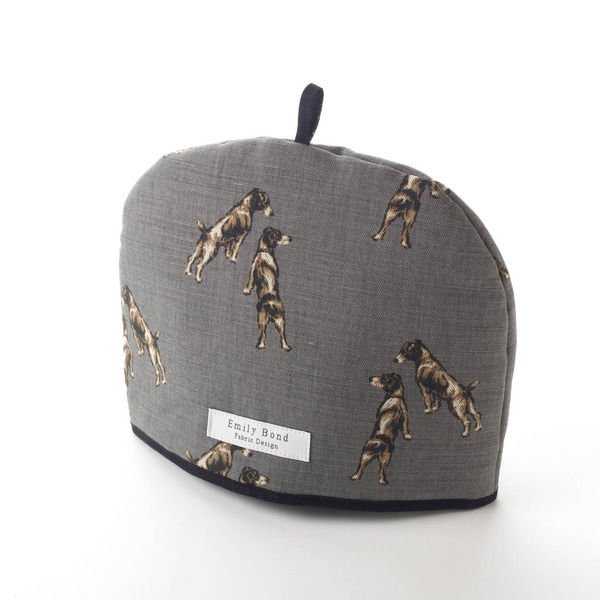 What is the most recent design product that you have bought for your home?
The last product I bought for my home was an Anta foot stool, I love their checks in my home and they complement with my fabrics beautifully.
Where do you like to shop for quirky furniture pieces for your own home?
Reclamation yards.
How important do you think it is for interior design to become more eco-friendly?
I think it's a difficult one, as I agree we must be as eco as possible, I love old things, antiques quirky finds in reclamation yards which are not made in an eco way! So I think if we can bring it into interior design somewhere along the line that can only be a good thing.
What advice would you give to aspiring interior designers?
Go and look for things different and look for small little company like me because we are individual, unique and fresh.
What new projects do you have on the horizon?
A children's collection, which I'm really looking forward to designing.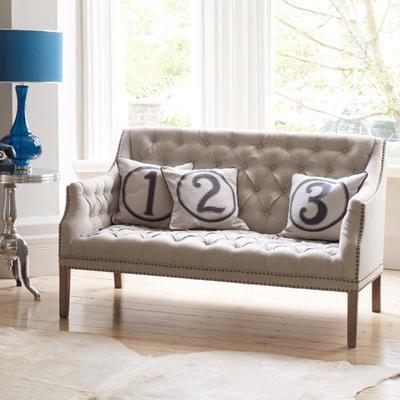 Add a touch of elegance with this Bath Button Back 2 Seater Sofa from Graham & Green. £1,250
When I live in my Georgian town house (and believe me I will), I will of course need a suitably elegant sofa to match the property.
I always thought I would go for something really modern, a striking juxtaposition against all the period detailing.
However, having found this Bath Button Back sofa from Graham & Green, I have totally changed my mind.
I mean, what's not to love about this truly gorgeous sofa? First off, I adore the shape; elegant and masculine all at the same time, it's simply divine. Secondly, not only does it have a button back (a design passion of mine) but it also has a button seat. And last but definitely not least, I love, love, love the colour of the fabric.
The Georgian town house might be a way off but this sofa definitely isn't - I just need to start saving my pennies!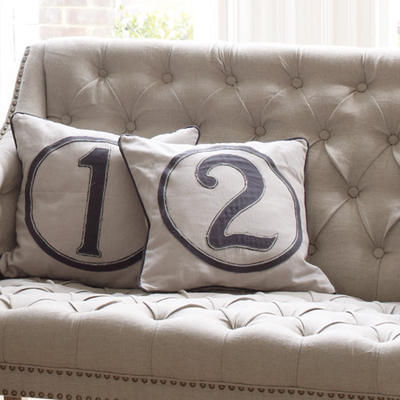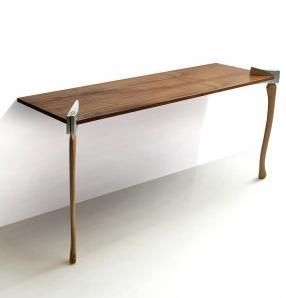 Inject some fun into your interiors with this Woodsman Axe Console Table from Duffy London. £495
While I am deadly serious about furniture, I like to have some fun with it too.
Which is why I just adore the Woodsman Axe Table Console Table from Duffy London.
Made from walnut or oak veneer, the table's legs are shaped to resemble axes.
Both humorous and practical, this console table is what your hallway has been crying out for.
And if you like the idea of having axes in your home (in a non-violent way of course) then there's a coffee table and dining table too.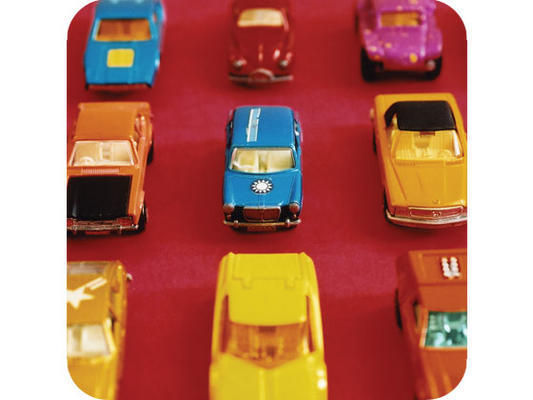 Embrace a passion for cars with this super cool Cars range from Ella Doran. From £7
Despite not being able to drive (grew up in London and never saw the need) I am obsessed with cars. My first choice would be a vintage Saab 900, followed by a 1960s Mercedes bright red sports car and in third a very unfeminine Lotus Elise.
However, it seems a little ridiculous to buy all these cars (yeah right, like I could even afford them!) when I can't drive.
So I'll just have to fulfil my dreams with the Cars range from Ella Doran.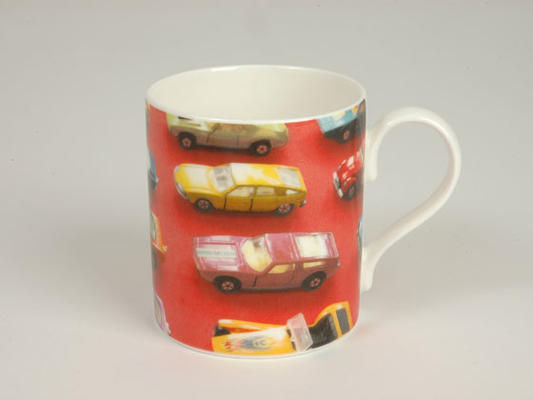 Available as coasters and a mug, this design is classic Doran. Lots of bright colours and a fun idea but this time nature has been replaced by something man-made.
I love them and think the coasters are just the thing to add a splash of colour to my coffee table. And with Christmas round the corner (there I said it!) they're the perfect present for any car nut.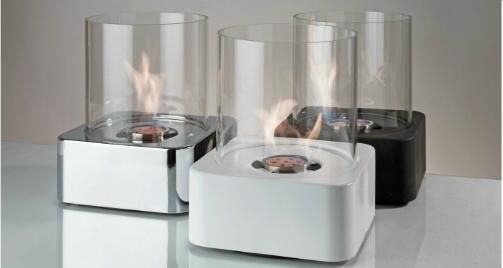 Add the wow factor to autumn dinner parties with one of these Ethanol Hurricane Fires from Found Home Store. £110
When it comes to dressing your table for a dinner party, forget candelabras and tea light holders, what you really need is one of these Ethanol Hurricane Fires from Found Home Store.
Made from metal and glass and available in black, white and chrome, they stand 28cm tall and are the perfect centrepiece for any table.
For maximum impact, try using several along a rectangular table or use in a empty fire place to create a subtle and warming effect.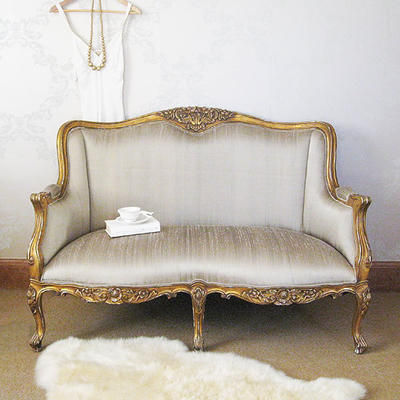 Give your bedroom the five-star hotel treatment with our tops tips and ideas
We all talk about how we love to stay in luxury hotels, so why not create the look at home? Here's how.
Furniture
Hotels always have sumptuous armchairs or sofas and it's easy to create this look at home. If you have the space, a small sofa or chaise will add a touch of luxury. We love this Versailles Bedroom Sofa from The French Bedroom Company. Its gilt finishing and silk upholstery is just the ticket if you want to inject some French glamour. To make it extra cosy, add mohair throws and sumptuous cushions for a decadent scheme.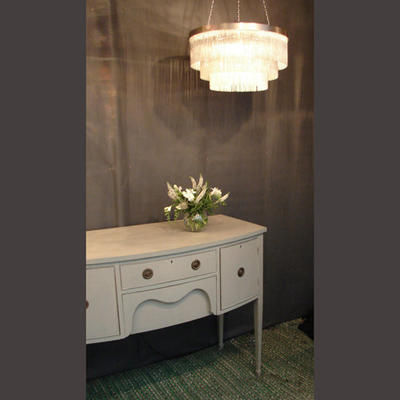 Lighting
Lighting is all about getting the right atmosphere. Copy the chicest hotels around by adding a multitude of light sources to your boudoir. Start with a stunning chandelier such as the Silver Chain Swallow chandelier from Tigermoth Lighting and add wall lights (The Tom Tom from Diffuse lighting is a good choice). Finish the look with elegant, statement table lamps (try Brissi for a good range) dotted around on bedside tables.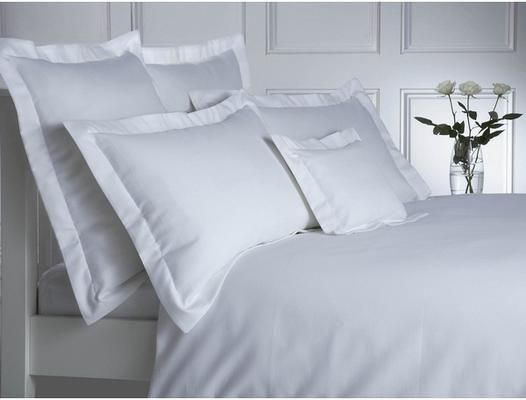 Bedlinen
There's nothing nicer than sinking into a hotel bed but if you're a homebody then it's easy to create the same sumptuous feel at home.
Opt for good quality sheets, pillowcases and duvet covers - the best you can afford. The Milan Organic Cotton Waffle collection from The Fine Cotton Company is a good choice and being white provides the perfect canvass for you to add some colour to. To create a really decadent feel, layer up with scatter cushions, throws and bedspread.
So, while we can't promise room service, we can promise that with these tips, you'll turn your bedroom from the mundane to the magnificent.
Just don't forget the Do Not Disturb sign...
Tangible yet beautiful wallpapers: Tracy Kendall designs something a little bit different for your walls.
London based wallpaper designer, Tracy Kendall offers a beautiful collection of contemporary wallpapers and just recently exhibited at Decorex and won an award for her stunning Sequin design.
We caught up with Tracy to find out what inspires her to keep creating and designing...
If you had 3 words to describe your collection what would they be?
Simple, original, touchable.
You recently exhibited at Decorex and won an award for your stunning 'Sequin' wallpaper. What does this mean to you and what do you hope that your wallpapers bring to home interiors?
It means a great deal to me to have such a prestigious award given to me. I work in such a bubble sometimes, I don't design for anyone other than myself and all the collection are my designs so to have such a great recognition of what I do is really special to me. I hope that it can inspire people to take risk but with products that they fall in love with, to have in their home items which have won their heads, rather than their heads all the time, i.e., not the safe option.
Since starting the production of your hand-produced graphic range in 1996, how have you developed and experimented with different designs and scales?
I've moved into more textural work, adding different textures as I find different manufacturing partners along the way. Sometimes the designs can only be made in house, such as the sequins, but with others I have been able to use external specialized manufacturers for which is great.
What inspires you to keep designing and creating?
Curiosity; I love to challenge myself both visually and technically with my work.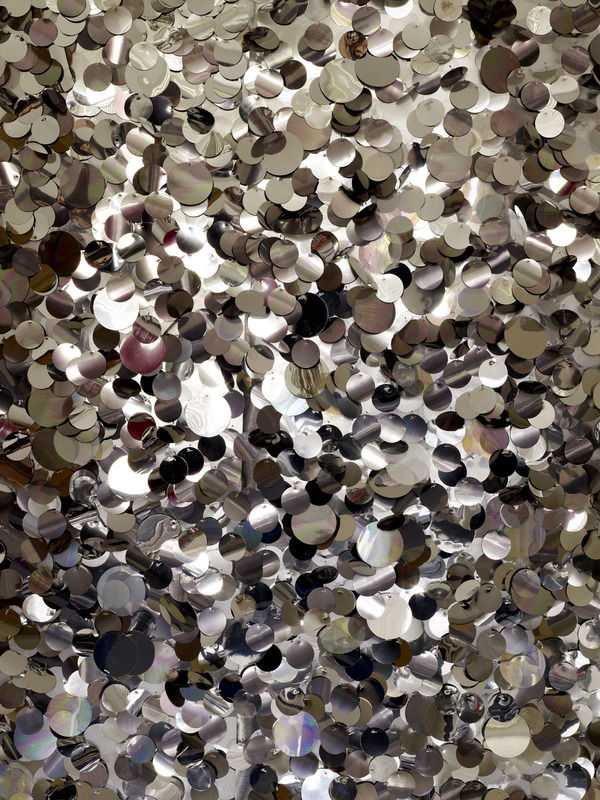 You have taken 3-D wallcoverings in a new and exciting direction. So, what are your favourite materials to work with and why do they work so well?
Paper is still my favourite material; having studied fine art printmaking I am always struck by how much paper can do or be made to do.
Your wallpapers could be described as tangible, and I particularly like love the sequins and also the stitched text. Why do you think that wallpaper should be something that will create an impact and evoke a reaction when people see it?
I don't think that is limited to wallpaper, chair or cup can give the same reaction but my chosen medium is wallpaper and by hopefully creating a wallpaper that gives people more than one option of sense in which to view the paper helps to make them fall in love with it.
What is your best selling design from your collection and why?
It's probably still the fork design, the first but it is so simple, so easy to use in the home or commercial spaces, it is big but not over powering, it makes a statement but doesn't yell for attention all the time, it just works very well, thank goodness.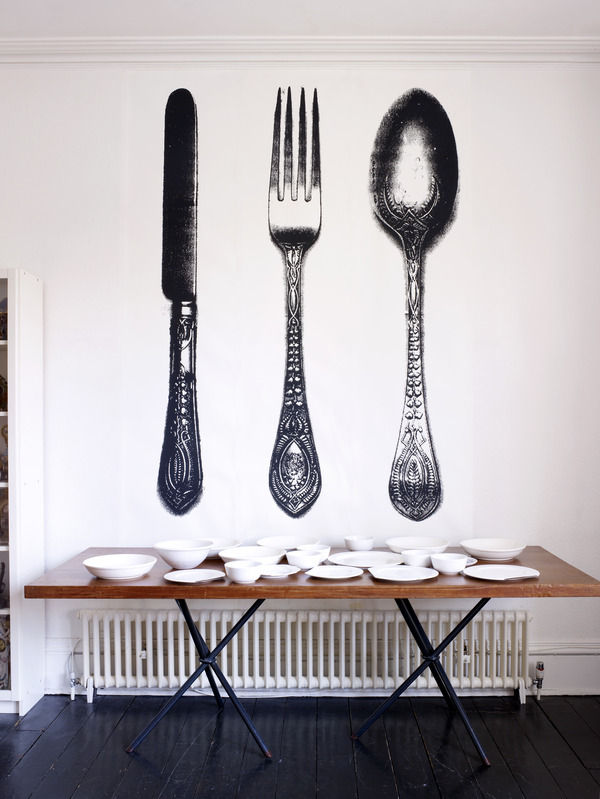 How do you feel that patterned wallpaper will develop, and what direction do you hope it will go in the future in order to keep interior design fresh and exciting?
There are so many new and exciting wallpapers coming out, I hope that they continue to have a aspect of respect for the environments they are going into and don't try to over whelm them, its wallpaper, it is meant to have mirrors and pictures on top of it and chair in front of and your back to it as well!!
How important do you think it is for interior design to become more eco-friendly?
Very, not always in such obvious "what materials" do we use way, it's more about how much we change interiors rather than grow them and how much material we waste as a part of the manufacturing process. as I make to order, I have very little waste, all my waste then goes into sampling for sending out which works very well for me.
What is the most recent design product that you have bought for your home?
Nothing new, brought some amazing brass table legs to make a table up with and then had a friend make the table top for me, a lovely mix of old and new.
What advice would you give to aspiring interior designers?
Have passion, lots of passion.
Is there anyone that you would like to collaborate with in the future and if so why?
I never plan who I am going to work for or with, I love not knowing what or which client will ask me to make whatever for them next, the element of surprise helps to keep everything fresher and better for the client as well.
What are you working on now or do you have anything in the pipeline?
I've just finished a new design to be launched at Maison and Object in Jan 2011 and I'm also working on another to launch there as well and doing lots of projects for mainly domestic clients at the moment but have a restaurant in London that I am also working closely with and a shop opening in Vancouver which will stock my work which is exciting as well.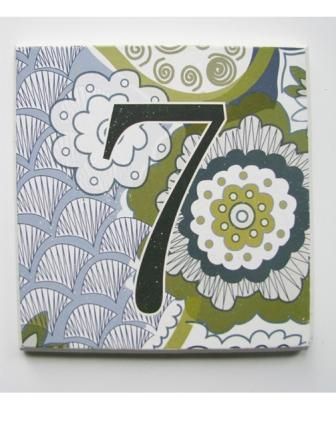 Add some pattern and colour to your front door with these patterned door numbers from Tillie Mint. £22
Living in a flat means I sometimes have issues being found. Despite the fact by door is clearly marked 18A, postmen, delivery men and takeaway drivers all have "issues" with finding me.
I've lost count of the number of times I've had to run down the drive, screaming "it's me" after the peeps at 18 have explained that they haven't ordered an Indian takeaway or a new pair of boots. To say it's tiresome is an understatement.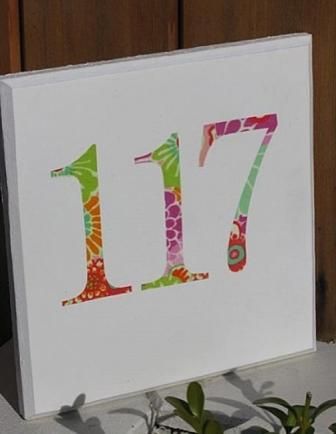 However, this will soon be a thing of the past thanks to these fabulous door numbers from Tillie Mint.
Made from weatherproof wood, these little squares have been given the pattern treatment and are the perfect way to add colour to your front door.
I like the Black/Grey design but if you want something a little more colourful then the floral designs are just the ticket.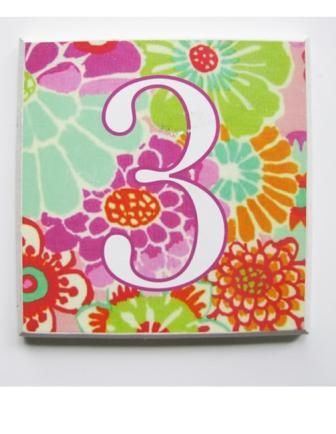 And I am more than confident that with this on my front door, no longer will there be a queue of confused delivery people scratching their heads wondering where 18A is...
See this product at Tillie Mint...
(We don't list this product yet but sign up to our newsletter and we'll let you know when/if we do)
Instantly cosy up your floors with this Cowhide rug from London Cows £185
Now it's a bit chillier, the wooden floors in my flat that were so deliciously cool during the balmy summer are now a little cold underfoot, which means it's time to invest in a new rug.
My bedroom floor in particular is crying out for something hardwearing, sumptuous and chic and I think I've found the perfect thing.
London Cows has lots of beautiful cowhide rugs but my favourite is this CH109 design. Hailing all the way for Colombia, this rug is a gorgeous brown and white, which will add pattern and texture to the coldest of rooms.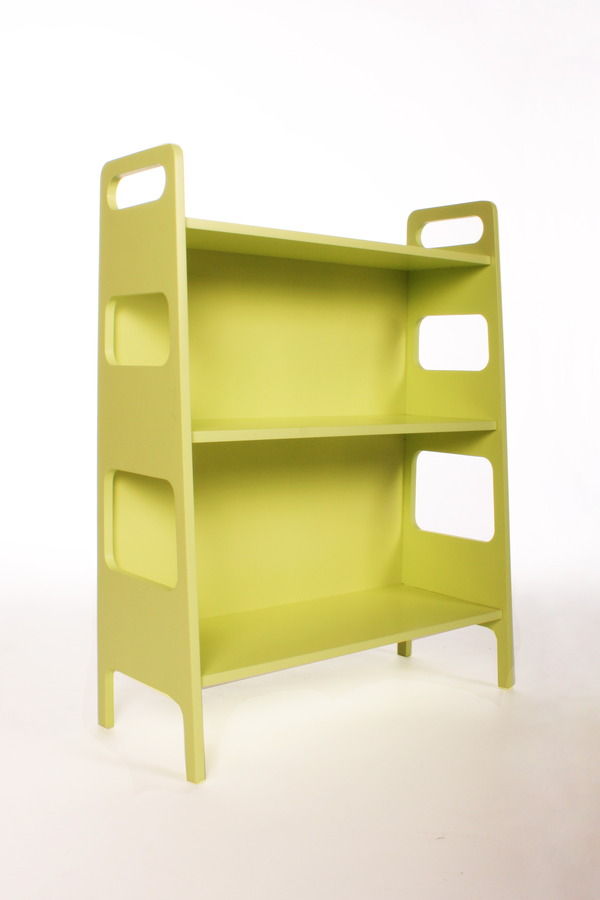 Keep your books in check with this simple yet oh-so-stylish Homemaker bookcase from Liam Treanor. £350
Sometimes I go to people's houses and I am shocked to not see any books on display. Do they not read? I think to myself. Where is their collection?
It's probably because I am fiercely proud of my (ok and the boy's) collection. It fills every imaginable space in our dining room and I love it.
Having said that, we're fast running out of space and seeing though I've never been one who can bear to throw away books (for me this is total sacrilege) I have been on the look out for a freestanding bookcase to take some of the pressure off the bulging shelves.
Thankfully, I think I have found just the thing.
The Homemaker bookcase by Liam Treanor may seem simple to some but I love the elegant shape and no-fuss style of this design.
It reminds me of school libraries which is where I assume my love affair with seeing books neatly in a row began.
Plus, this brilliant lime green is guaranteed to add a pop of colour to any room and if green aint your thing, then I am reliably informed by Liam himself that the bookcase is available in lots of of colours.
See this product at Liam Treanor...
(We don't list this product yet but sign up to our newsletter and we'll let you know if/when we do)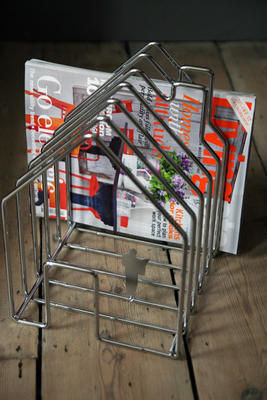 Keep your magazines in check with this super cool magazine rack from Rockett St George. £32
I've been after a magazine rack since my old one collapsed under the sheer weight of back issues of interiors mags a few months ago.
Despite trawling various online boutiques and vintage shops, I couldn't quite find one I liked enough, that was until now.
I have fallen hook, line and sinker for this metal House magazine rack from Rockett St George.
Made from steel, this nifty rack is designed to look like, yes you've guessed it, a house.
Complete with a chimney, the rack is neatly divided into sections so you can store and protect your mags.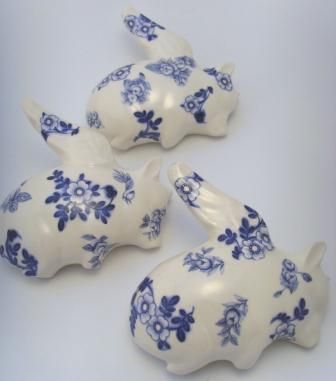 Add some animal magic to your walls with these flying pigs from Kitty & Dude. £22 each
My dad was a massive Pink Floyd fan and my Granddad worked at Battersea Power Station, so it's no surprise that the band's Animal album cover always made me chuckle.
On a separate note, aside from dogs, pigs are my favourite animals. Probably because the hero in my favourite childhood book was a French pig called Partouche who always ate the cabbages.
Which is why I absolutely adore these Flying Pigs from Kitty & Dude.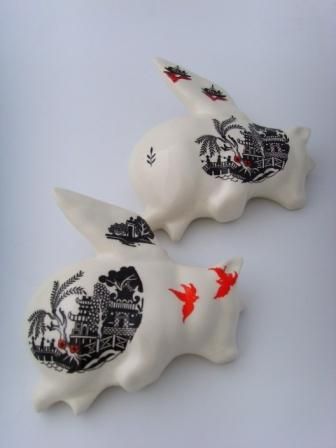 A twist on the ubiquitous Hilda Odgen flying ducks, these delightful pigs are available in a range of patterns but my favourites are the Delft-inspired floral and black and red Willow pattern.
Perfect for adding a touch of kitsch chic to your walls, the pigs will make a change from your usual choice of artwork.
I can't wait to get my hands (or should that be trotters?!) on them and put them on my living room wall.
See this product at Kitty & Dude...
(We don't list this product yet but sign up to our newsletter and we'll let you know if/when we do)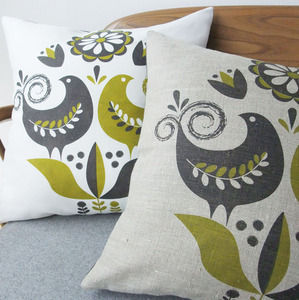 Add some retro flair with these Happy Birds cushions from Roddy & Ginger. £25
I have a thing about retro textiles, which I mostly attribute to a 70s bedspread my Mum had when I was growing up. It had huge, brightly coloured flowers and was my favourite, so the passion for all things retro obviously started at a young age.
Which is why I adore the range of cushions from Roddy & Ginger. The sweetest owls sit alongside bold geometric prints but my pick is these Happy Birds cushions.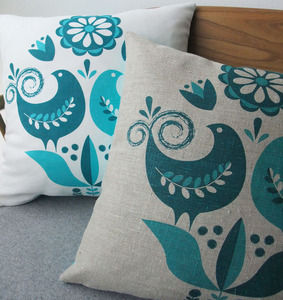 Available in teal and turquoise and grey and olive, they're screenprinted onto natural linen and hand made.
I love the vibrant colours and gorgeous attention to detail in the design.
Perfect for adding a pop of colour to a living room or bedroom, I'm going to use mine on a neutral chair.
See this product at Roddy & Ginger...
(We don't list this product yet but sign up to our newsletter and we'll let you know if/when we do)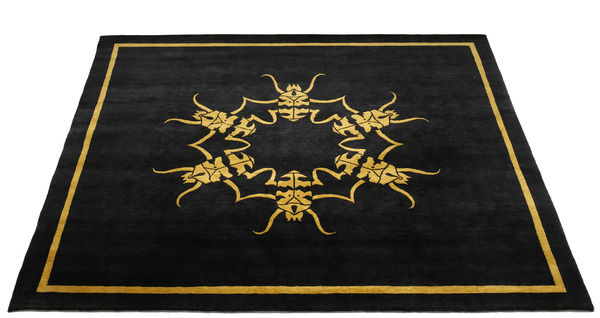 Bringing together traditional English craft with a fresh and modern approach, Somerville Scott & Company's collection will embellish any home interior
Devoted to producing beautifully crafted furniture, Somerville Scott and Company's collection of furniture, rugs, cabinetry, desks and tables offers distinctive style and a modern elegance.
We caught up with Amy Somerville and Stuart Scott to discover more about their ambition and style...
If you had 3 words to describe your style what would they be?
Sumptuous, precisionist, modernist.
What is your company's 'Hero' product and why?
Our curiosity cabinets encompass what Amy and I are able to achieve but the Minx chair was the first product that got us noticed – so it would have to be that.
As a British based design company, how do you feel about interior design becoming more eco-friendly? And how will this improve the quality and durability of interior furnishings in the future?
Product longevity is important, if you design with that in mind with the use of better quality materials and construction methods then the piece becomes eco-friendly, you're investing in a product for life. If it becomes tired over time then you can simply re-upholster it, instead of throwing it away. Designers can help in considering schemes that have a longer shelf life.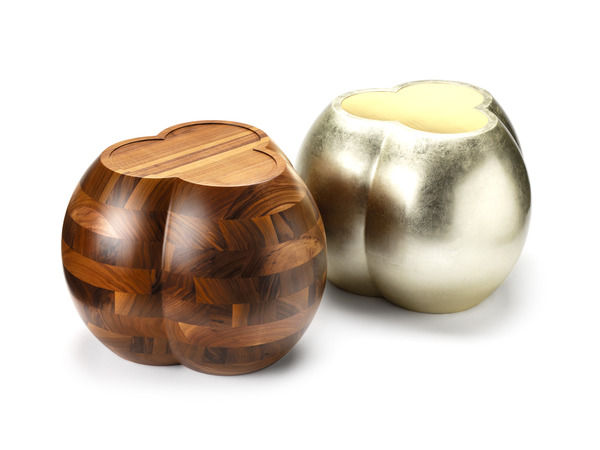 What inspires the combination of modernity and traditional style of your furniture and cabinetry?
Just looking at antiques and how pieces used to be made. Some of the furniture that came out of the Art Deco period was so rich in its use of materials and finishes. Nowadays it's difficult to replicate these details as materials increase in price, and the craftspeople that are able to achieve this level of quality in furniture are becoming increasingly rare and sought after.
Do you have a favourite traditional piece of furniture?
I've always been drawn to works by people like Jean-Michel Frank, Pierre Legrain and Ruhlmann. Amy and I both agree that the 'Skyscraper' bookcase by Frankl is a bit special.
You have a small range of stunning handmade rugs, what makes your rug collection unique from anything we have seen before?
Our choice of subject matter is often quite unique, the colours and the quality of weave tell them apart.
What is the most recent design product that you have bought for your home?
On a practical level a Dyson vacuum cleaner, on an indulgent level I picked up a Rover Chair by Ron Arad at a recent auction, although it turned out to be a fake, I was mortified!
What advice would you give to aspiring interior designers?
Think practically and design with the user in mind.
Is there anyone that you would like to collaborate with in the future and if so why?
Always used to be Ettore Sottsass but that wouldn't be possible now. It would have been interesting and quite mad. In terms of a contemporary brand on a purely self-indulgent level it would have to be Aston Martin. We could do a pretty special limited edition interior.
What's next for Somerville Scott & Company?
Keep designing! Producing more furniture that people aspire to own.
For Somerville Scott & Company's full collection, specification sheets and price list, check out their website.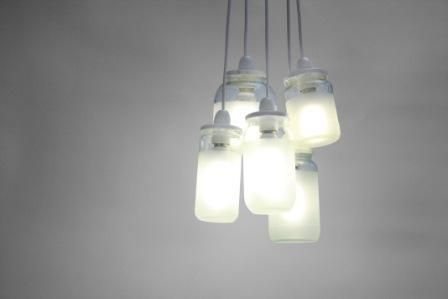 Take a fresh look at lighting with these Jars lights from James Shaw. From £11
Sometimes the simplest ideas really are the best and when it comes to lighting for me, the simpler the better.
So, take a break from elaborate chandeliers and embrace the unfussiness of the Jars series of lighting from James Shaw.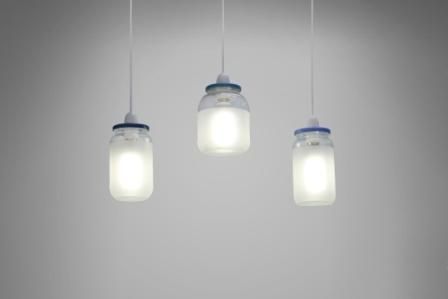 The collection includes ceiling lights, a table lamp and desk lamp – I love the idea of arranging the ceiling lights as a cluster – simple yet oh-so effective.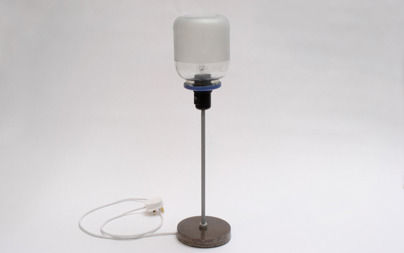 The humble jam jars are sandblasted and the lids have been drilled so they can fit over a standard light fitting.
I adore this collection and can't wait to get some of these in my home.
See this product at James Shaw...
(We don't list this product yet but sign up to our newsletter and we'll let you know if/when we do)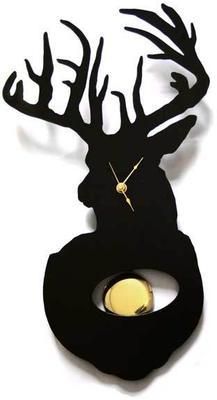 Make sure you turn your clocks back in style with this Stag clock by Polly Westergaard from Hunky Dory Home. £45
I can't quite believe it but it's almost time to turn back the clocks - is it just me or does it feel like we only just turned them on an hour?
Regardless of lamenting the speed at which this year has flown by, you may as well put your clocks back in style with this Stag design by Polly Westergaard from Hunky Dory Home.
Made from powder coated steel, this majestic design will add instant style to any plain wall and is bang on-trend for the current hunting-lodge look.
I love the brass pendulum and hands which add just enough glamour.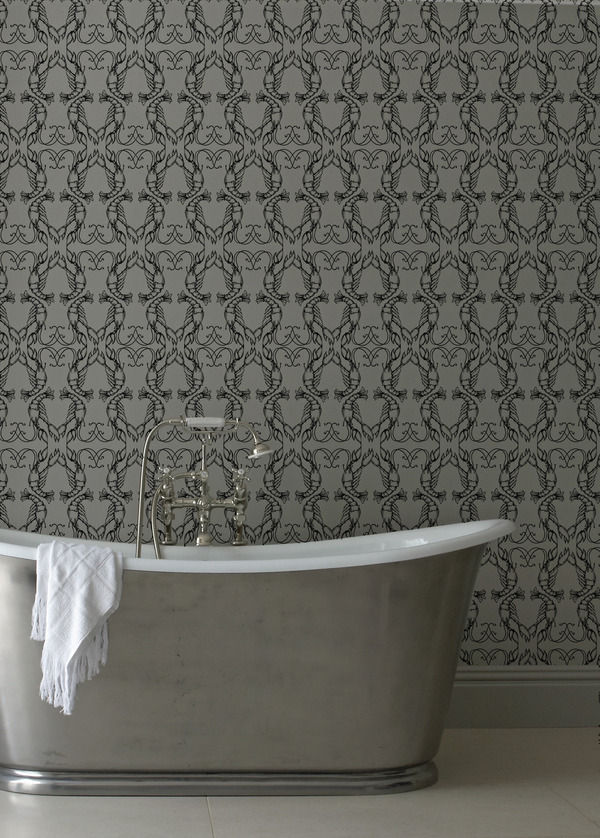 Naturally beautiful: Georgia Horton's luxury wallpapers bring the colours and patterns of nature together to create something special
Designer and artist, Georgia Horton is fresh from exhibiting at Decorex where she successfully launched her 'New Naturals' collection.
We caught up with Georgia to find out what inspires her and what's next on the horizon...
If you had 3 words to describe your collection what would they be?
Bold, organic, architectural.
You have described your illustrative wallpaper as "somewhere between organic and architectural", can you expand on this?
Many of my designs originate from sketches that I have drawn from what I see around me in nature. For me this is a great way to begin because I can put a design down on paper and let it expand and grow from there. For example, from paper to print, I believe that the whole process of designing all the way through to the manufacturing can be described as organic because it feels like a natural, creative process. I think the word 'architectural' captures the depth and 3-D quality of my designs.
How have your childhood experiences and time spent in South Africa and Italy influenced your life and your work?
My father was an architect and my mother was an artist so I have grown up with a huge artistic and creative influence in my life. You can see that there are both Italian and wild African styles apparent in some of my designs, although I couldn't say that there's any specific place that I have taken inspiration from. I get my inspiration from all over the place and have my eyes open for new ideas all the time.
I particularly love the Lobster Quadrille' in 'The One Collection' because of its quirky appeal. You use a lot of symmetry in your designs and repetition, how do you feel that your artistic background has helped you?
It has helped me understand perspective and scale. For example, with the Lobster Quadrille, scale is important because it offers a different perception depending on your distance away from the wallpaper. On a larger scale you can see lots more of the detailing such as the horizontal trellis.
I'm also intrigued by the patterns and symmetry found in nature which inspires a lot of my designs. I really appreciate Escher's work because he experimented with symmetrical designs and he explored the idea of reflection.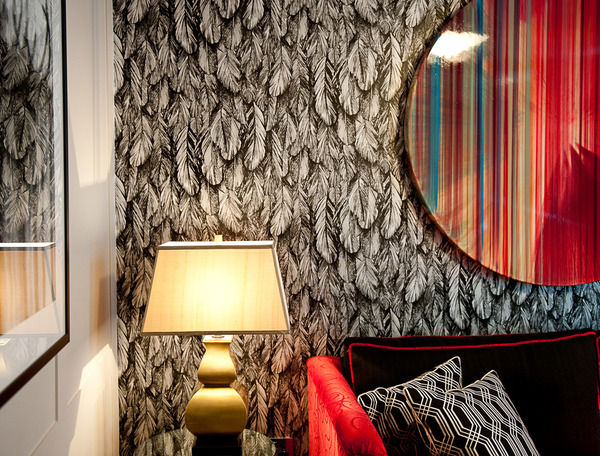 What is your best selling design from your collection and why?
The Lobster Quadrille is one of our best sellers because it has a unique style that draws you in. This is followed very closely by the Quilt design which is also a very popular choice.
How do you feel that wallpaper will develop, and what direction do you hope it will go in the future in order to keep interior design fresh and exciting?
Wallpaper has been around for such a long time and it has gone through several periods of change. However, I think that this is an exciting time because wallpaper is leading people into a different approach to interior design, and it has encouraged waves of boldness and eccentricity.
How is the quality of your wallpaper improved by your use of hand mixed colours on hand printed paper?
Our paper is of a high quality and it's sustainably sourced. The hand-printed paper is strong and durable which helps improve the richness of colour and it also gives an appealing tactile quality.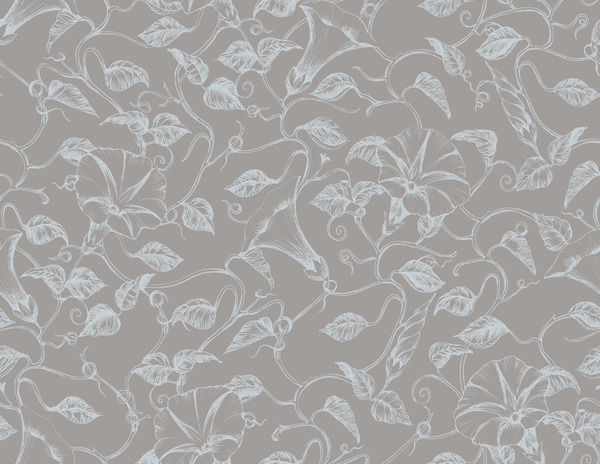 How important do you believe it is for interior design to become more eco-friendly?
I think it's extremely important! All of my designs are manufactured in the UK, and I do aim to move with technology and keep up with sustainable ways to produce my wallpapers.
What did you last buy for your home?
I've recently bought a typical 1970's retro style easy chair which I have upholstered in my own fabric in the Quilt design.
What advice would you give to aspiring interior designers?
I would say take initiative; listen to your clients and consider their brief but at the same time bring a new edge and individuality to your work.
What are you working on now, is there anything new in the pipeline?
Yes - In fact I'm developing a new collection for 2011 which will have bolder and braver colourways.
I have also just launched my 'New Naturals' collection which features organic colours such as pale sage, calico, buttermilk and stone. We created this in response to a high demand for neutrals with strong decorative appeal.
Visit Georgia Horton's website for more information and to view her whole collection.