It's our Interior Design Magazine!
The hottest interior design ideas, fab finds for the home and the latest in interiors trends. We're always looking for new finds, designers to feature or anything else lovely for the home, so if you've seen something gorgeous and would like it featured in our interior design magazine, please get in touch!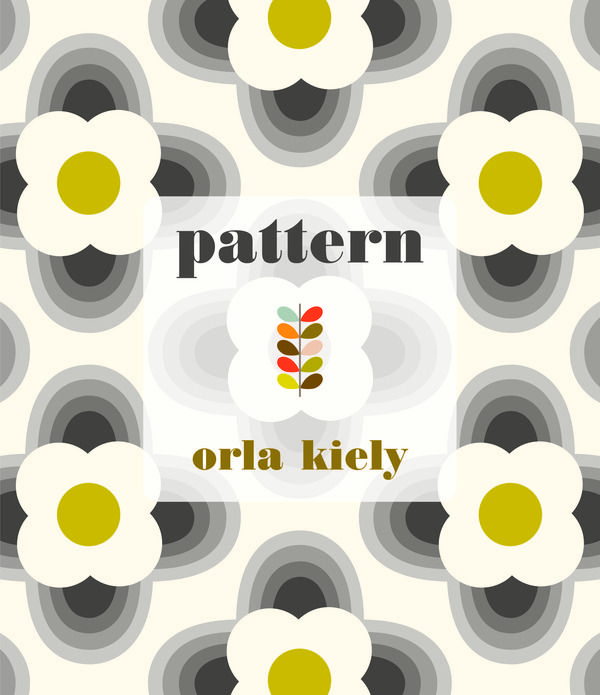 Don't miss Orla Kiely's exclusive signing of her new book
This rare signing is not to be missed if you're a fan of Orla Kiely's bold, retro patterns. You'll have the chance to meet her in person and get your copy of her newly released book 'Pattern' signed.
There will be a free limited edition Pattern oyster card holder, produced especially for the book's launch, for anyone who purchases Orla's book on the day.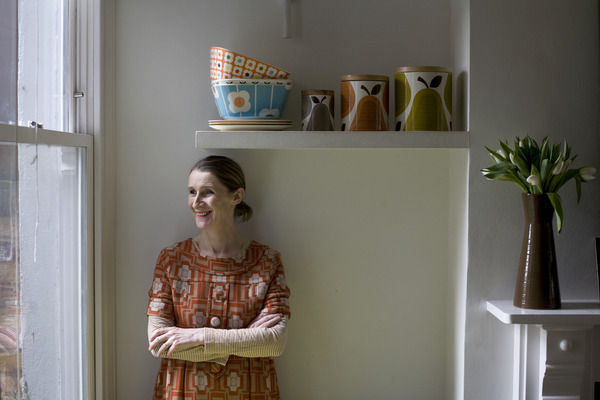 Orla's autobiographical book is a gift from her to her devoted fans. Filled with her ideas and inspiration, it also offers full colour pages of her visually pleasing patterns and designs.
If you would like the chance to meet Orla at her book signing, here's the info you'll need:
When: Wednesday 10th November 2010-10-30
Where: Lower Ground Floor, Selfridges, Oxford Street, London
Time: From 6pm
For more information about Orla and her designs visit www.orlakiely.com, and for more about her book 'Pattern' and her designs take a peek at our feature 'Spotlight on Orla Kiely'.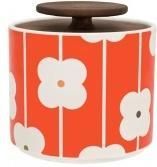 Keep your kitchen organised and colourful with these storage jars by Orla Kiely from Bloomsbury. From £18.95
I've been on the hunt for some new storage jars for my kitchen for what seems like an age.
Turns out I am a extremely fussy person and haven't been able to decide on a simple thing such as kitchen caddies - well, until now that is because I have fallen for these Orla Kiely storage jars from Bloomsbury.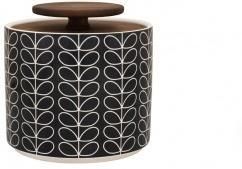 Available in various sizes, the jars come in a range of pattern-queen Orla's signature prints, each one as gorgeous as the next.
And as well as safely storing your tea, coffee and other essentials, these pretty jars will add a touch of retro colour to brighten up even the dullest of kitchens.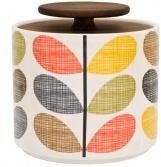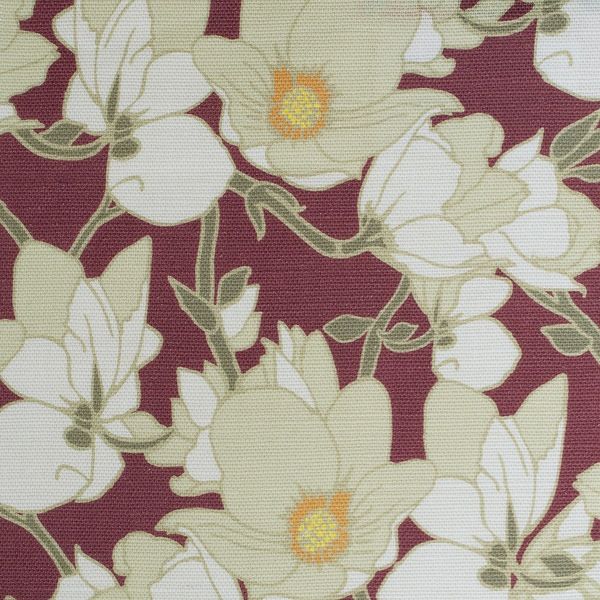 We interview British textile designer Emily Burningham
British textile designer, Emily Burningham, has a beautiful collection of versatile fabrics inspired by the patterns and colours in nature. We caught up with Emily to find out what inspires her and what new projects she has on the horizon...
If you had 3 words to describe your style what would they be?
Balanced, stylized, English.
Where does your inspiration come from?
Japan, with its fascinating culture and history has a strong influence on my designs. The boldness, simplicity and use of colour in Japanese textiles have inspired a great deal of my work. Design of the 1920's and 1930's is perhaps the other greatest resource for my patterns. English and French textiles from the turn of the century, ceramics, furniture and design of the Arts and Crafts movement have inspired designs such as Poppies and Trees in Pots amongst others. Also, the traditional flowers of an English Garden in summer with an abundance of Hollyhocks, Roses, Delphiniums, Lupins and Foxgloves and an array of visiting insects is a happy, comforting place for me to be.
How have your travels inspired your designs?
Visiting other countries where colour in design is used boldly particularly in traditional regional clothing when enhanced by the light and hot climate is a huge inspiration in contrast to the often subtle, muted tones of England. Saris from India spring to mind.
How important are colour and pattern to your designs?
Colour and pattern are the core of my work and often the most difficult aspect to work with. It's so easy to get it wrong! One also has to remember that people have to live with the designs and never tire of the pattern.
How do you think pattern and print will continue to keep interior design fresh and exciting?
Pattern, colour and trends are always changing, with many different influences such as a countries political, social and economic circumstance. These changes reflect in all areas of design which has been apparent through the ages. As a result interiors, product design and fashion, all absorb these changes and push boundaries which keeps design fresh and exciting. Not sure what's going on at the moment though!
What's your favourite material to work with and why?
I love working with many different materials such as paint, paper, clay, cloth. I have just printed on some 100% linens which I am really pleased with, and also some cotton lawn for dress fabric. I think natural fabrics which feel irresistible and hold colour well are my favourite. I look forward to working with some silks.
What's your 'hero' product and why?
The Fritillary pattern has been hugely popular. It was inspired by the delicate flower which my grandmother was very fond of and we planted together in her garden. We used to marvel at how nature managed to make such detailed accurate patterns on its petals. A lot of people also seem to have the same appreciation hence the popularity of the design.
What is the most recent design product that you have bought for your home?
I recently bought an old 1930's sofa which was completely falling apart which I had reupholstered in one of our designs. It's wonderful to refurbish something to its former glory and then add a modern twist with a new fabric.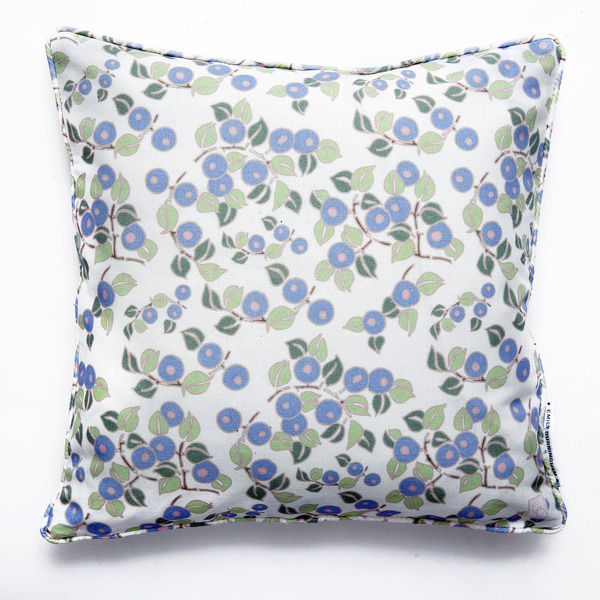 Where do you like to shop for quirky furniture pieces for your own home?
I strongly believe in salvage. I use ebay for purchasing vases, tiles, pieces of fabric and furniture can be addictive! Antique shops are also a happy place for me to be – however, sadly there seem to be less and less around. My father has taught me to never pass a skip without taking a look inside – one never knows!
How important do you think it is for interior design to become more eco-friendly and why?
As designers and consumers we have a great responsibility to make a difference by choosing careful and considerately manufactured products. As a manufacturer I am up against cheap imported items, where one does not know the true process of manufacture. For us as a business working with UK suppliers we are confident in knowing that our products have been created with respect to the environment and to those who carry out the work – which our customers appreciate.
What advice would you give to aspiring interior designers?
Work with design you believe in, don't be afraid of using something new or unknown – if its good design and you can see it working go for it! So many people are timid and stick to the same old formula.
What new projects can we look forward to seeing?
I am always working on new designs and ideas for future product ranges. Having just launched our second collection of textiles at Decorex, I will now begin the new range, hopefully including some wallpapers. We are soon to introduce a selection of quilted wash bags in some vibrant small scale patterns...
See Scrabble in a different light with these wordy "prints" from Copperdot. £49
I've written before about how much I love Scrabble and now it seems I'm not the only one, as it's fair to say the bods at Copperdot are obsessed with it too! They take humble Scrabble tiles and transform them into stylish 3D framed, "prints" for the home.
What a truly genius idea and one of the best I've seen for a long time.
My favourite is this Home Sweet Home design although there are tonnes of amusing sayings to choose from, all cleverly arranged to look like a group of people are in the middle of a game. And rather excitingly, Copperdot also allow you design your own, so you can create a special message for a loved one or perhaps one of your favourite phrases.
Being half-Italian, I'm going to put a Mediterranean twist on mine and have Casa Dolce Casa, now all that's left to do is work out if that will work...
See this product at Copperdot...
(We don't list this product yet but sign up to our newsletter and we'll let you know if/when we do)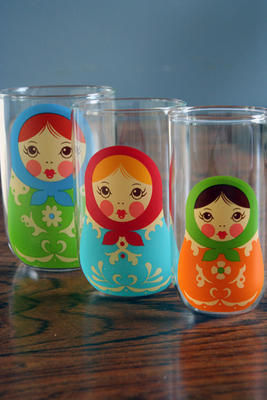 Add some charm to your table with this super cute set of Russian doll glasses from Rockett St George. £14
Being a fairly clumsy person (I'm not ashamed and don't mind admitting it) I don't really allow myself to buy posh or decorative glasses, There's little point as I seem to be able to go through a box of wine glasses as quickly as some people do a box of tissues.
It all started when |I broke every one of my parent's champagne glasses which were a wedding present - needless to say that didn't go down well, in fact Mum still mentions it from time to time...
However, I am going to make an exception and treat myself to these set of three Russian doll glasses from Rockett St George.
Being fairly obsessed with Russian dolls, I absolutely adore these glasses - each of them features a different doll and the cleverest thing of all, and what really sold them to me, is they stack inside each other, mimicking traditional nesting Russian dolls.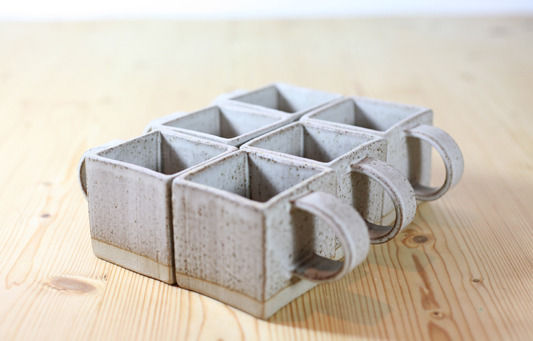 Take a fresh look at the humble mug with these square designs from Tom Butcher Ceramics. £10 each or £55 for a set of six
Every now and again, you stumble across really unique and truly gorgeous products, and that's just how I felt when I came across Tom Butcher Ceramics.
Tom works out of his studio on the shores of Loch Long (the lucky thing - seriously, Google it and you'll know what I mean) where he creates a whole host of ceramic pieces. Tom's collection includes bowls and sculptural pieces as well as a rather natty tableware collection.
I love it all but especially the square stoneware mugs, which are available separately or as a set of six which neatly fit together to create a pleasing rectangle of loveliness.
So, if you're bored of round mugs or just want something handmade rather than mass produced, these are the mugs for you.
See this product at Tom Butcher Ceramics...
(We don't list this product yet but sign up to our newsletter and we'll let you know if/when we do)
Add some animal charm to your home with these metal buckheads from Lemonlu London. £66.95
Animal heads are big business in the world of interiors at the moment, not real ones of course, that would be plain cruel but you can't move for stag-head inspired home wares.
From clocks to wall stickers, fake heads to cushions it seems the interior design glitterati has gone mad for Bambi's Dad.
Which is why I thought |'d share these rather striking Metal Buckheads from Lemonlu London.
Designed in South Africa, these stylish metal heads are available in Black, White and Red. I think they're simply divine and a good alternative to all the other animal heads around at the moment.
I deal for brightening up a plain wall or creating a real statement in a hallway, I'm going to hang all three in a row in my living room for maximum impact.
Where will you hang yours?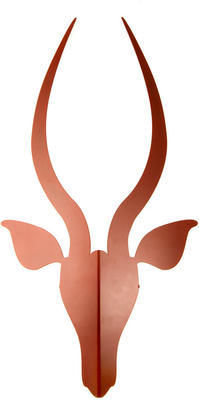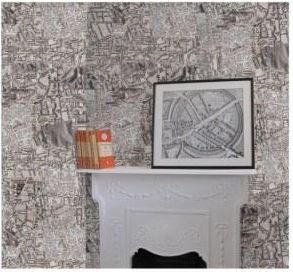 Find your way around with this History Map wallpaper from Gina Pierce. £129 per 10m roll
We all know wallpaper is well and truly back, in fact it has been for sometime but if you're bored with florals, stripes and even animals – where do you go?
I found myself pondering this last Saturday while researching things to show you (it's a hard life I tell you looking at all that gorgeousness, with my virtual back account being frittered away but hey ho, someone has to do it) and stumbled across Gina Pierce.
Gina has some truly wonderful wallpaper designs on offer but what I really adore is the History maps collection.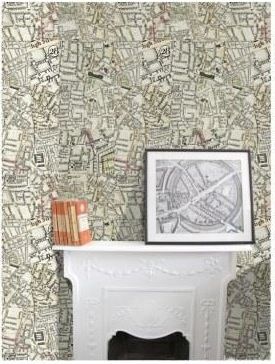 Depicting old maps of London town, the wallpaper is available in three colour ways, pink, grey and parchment.
Perfect for creating a feature wall or using to line a bookcase, this wallpaper will work well in any room whether your style is contemporary or classic.
And if you don't fancy a whole wall of maps, Gina has created some gorgeous panels too.
See this product at Gina Pierce Design...
(We don't list this product yet but sign up to our newsletter and we'll let you know if/when we do)
Tell it like it is with this territorial wall sticker from Leonora Hammond. £40
It's fair to say I am obsessed with typography which no doubt comes from having a background in the media and the fact my Dad was a print manager.
However, surveying my home the other day, I realised I don't have one single piece of type displayed in the home.
That's all about to change though, because I have found this gorgeous My Home Is My Castle wall sticker from Leonora Hammond.
Perfect for stamping your authority on your own "castle", this wall sticker is available in an array of colours from a sunny yellow to dramatic black and virtually everything in between. And if you don't want to be quite so authoritative, then don't despair as there are a wide range of saying s available as well as famous quotes. And for fussy types, those clever bods at Leonora Hammond will even let you devise your own saying.
So, as they say, with these wall stickers, the writing is most definitely on the wall.
See this product at Leonora Hammond...
(We don't list this product yet but sign up to our newsletter and we'll let you know if/when we do)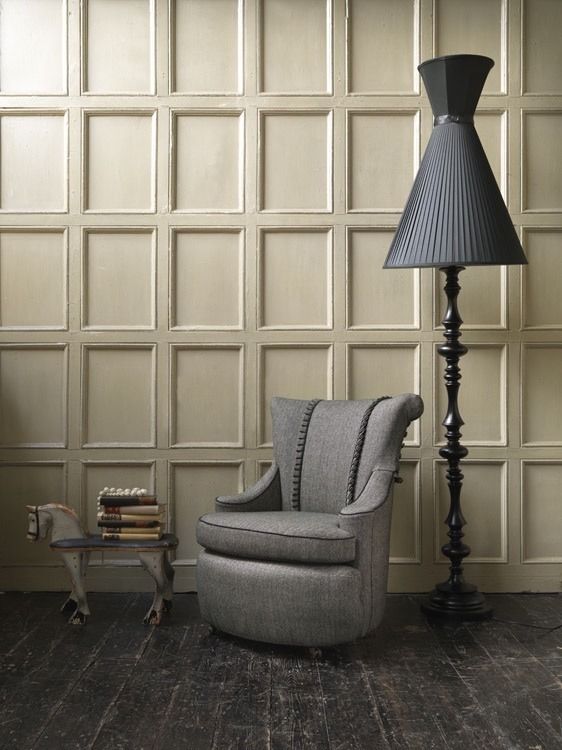 We interview furniture designer Aiveen Daly
Inspired by haute couture gowns, Aiveen Daly's collection boasts hand-upholstered designs with intricate detail and a gorgeous chic look.
Read on to find out more about Aiveen Daly's style and inspiration...
If you had 3 words to describe your collection what would they be?
Luxurious, contemporary, different.
What inspired you to get into the world of interior design?
I love colour and textiles and wanted to spend my life doing something more creative.
Your collection is hand upholstered, how do you feel that this enhances the quality and aesthetics of the designs?
My team are meticulous to the point of obsession. We work on fabrics that come from all over the world sometimes they have been specially produced at hundreds of pounds a metre so we can't make any mistakes! Doing things by hand allows for more creative fluidity. It makes each piece totally unique compared with mass production where a lot is done by computer and huge machines.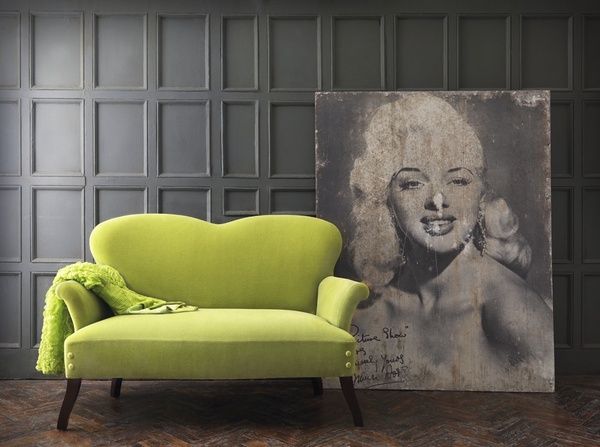 You have a selection of beautiful vintage pieces, how do you think vintage-inspired furniture will continue to add personality and character to both modern and traditional interiors?
We love to revive old pieces and dress them in something contemporary. Old furniture is often magnificently built and so literally lasts hundreds of years. BBC Homes & Antiques magazine suggested the Aiveen Daly collection would be the antiques of the future. We really build our pieces to last.
Your designs are inspired by haute couture gowns and Saville Row tailoring, which are your favourite pieces and why?
My favourite Stiletto chair is the Love Knot as it is simple and classic like your favourite piece of clothing or jewellery that never goes out of style.
What is the key link between fashion and design for you, and how do you think 2011 fashion trends will influence interior design?
Fashion for me has always been more experimental and quirky than furniture design. Tailoring is big again with very classic cuts – simplicity with attention to detail will be important. I think a new minimalism will emerge that is much warmer than the last wave.
All of your work is manufactured in Britain, how important do you believe it is for interior design to become more eco-friendly and to help build the British economy?
I think it is so important to keep traditional trades alive. Britain has always been renowned for high end craftsmanship. I think it should be more clearly labelled on furniture where it has been manufactured as it definitely influences customers. It is much more sensible to invest in something that you will keep for years and pass down to your children than to buy cheap imports that you have to replace every time you move.
What is the most recent design product that you have bought for your home?
My new Aphrodite lampshades in pale grey silk with hand braiding.
Where do you like to shop for quirky furniture pieces for your own home?
Merchant Archive and Retrouvius.
Do you have any new collections on the horizon?
We have just made a magnificent 4 poster bed called Arabian Nights with hand beading and stud work. We will be doing a lot more with embellishment in the near future.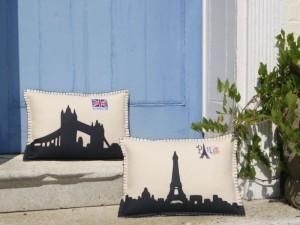 Add some ooh la la to your interiors with this Paris skyline cushion from Megan Quinton. £35
Being utterly obsessed with cushions means I never tire of seeing new ones or coming across new designers who share my passion.
Megan Quinton is clearly just as fanatical about them as me, as her gorgeous collection proves.
Megan's bright and cheery cushions are available in a wide range of designs but my favourite is this Paris skyline one.
Made from felt, the design has been finished with hand embroidery detailing and is truly exquisite.
And if you're feeling patriotic rather than Franco-phile, the Tower Bridge design is rather natty too.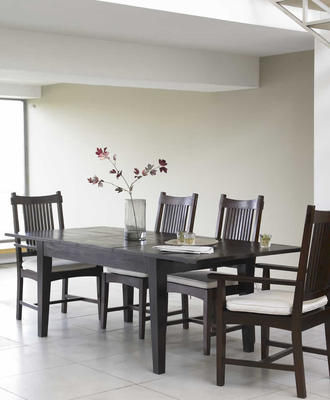 Get ready for Christmas with our guide on how to create the perfect dining room
With Christmas just around the corner (just over eight weeks to go) it's essential you get your dining room sorted in preparation for entertaining guests. Perhaps this is your first time hosting the main event or you just want to give your dining room a makeover. Whatever your budget, style and reason, our guide shows you how to create the perfect dining room for the festive period and all year round.
The Table
The dining table is an essential bit of kit. A good option is to choose one that's extendable, that way you're always have room for the extra guest who just happens to turn up unannounced. The Malang Dark Teak Extending Dining Table will add a touch of oriental –chic to your scheme while the refectory-style Ash Extending Dining Table from Sweetpea & Willow is perfect for those that want something a little simpler. If you don't have room for an extending design, opt for a round one, which is much more sociable and guaranteed to get even guests who don't know each other chatting.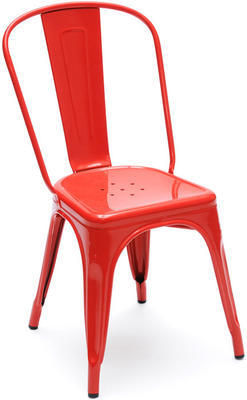 The Chairs
The days of having to match chairs to your table are long gone. Of course, if you want to match your chairs to your table then there are plenty of options. However, mixing and matching chairs is a great way to give your dining room a unique look. Brightly coloured chairs such as the Tolix A Chair from The Lollipop Shoppe work well with a plain, wooden table. Comfort as well as style is important when it comes to dining chairs, make sure you opt for ones that your guests will want to stay in long after pudding rather than running for the hills before the starter has arrived. If you're going to use benches instead of chairs, make sure there's plenty of room to manoeuvre them and add some colourful cushions for extra comfort.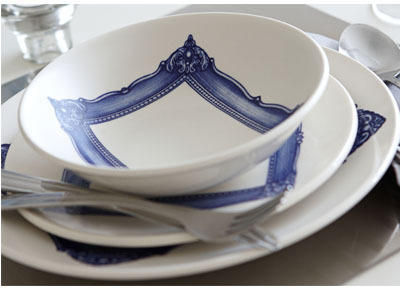 The Lighting
Lighting, as in every room, plays an important part in the dining room. Firstly, it's important to choose a central light to create drama and atmosphere. A pendant light such as the Clarence Pendant Shade from Heal's is a good choice. Make sure it's connected to a dimmer switch so you can alter the mood of the room accordingly. Candle light is a must for any dining room, whether you opt for a dramatic candelabra such as the Medium Abbey 5 Arm Candelabra from Alexander and Pearl or subtle tea light holders (Also Home has a good choice), they're a sure fire way to add some atmosphere to any scheme.
The Tableware
Choosing your tableware is as important as the food you serve on it. White is best, it looks classic, is timeless and means should things get a little out of hand or the washing up chaotic, pieces can be easily replaced. Don't be afraid to mix and match, decorative plates such as the Art of Entertaining collection by Andrew Tanner from Designed in England look fabulous with plain white china.
Follow these simple tips and you're ready to entertain, now all you need is to get cooking...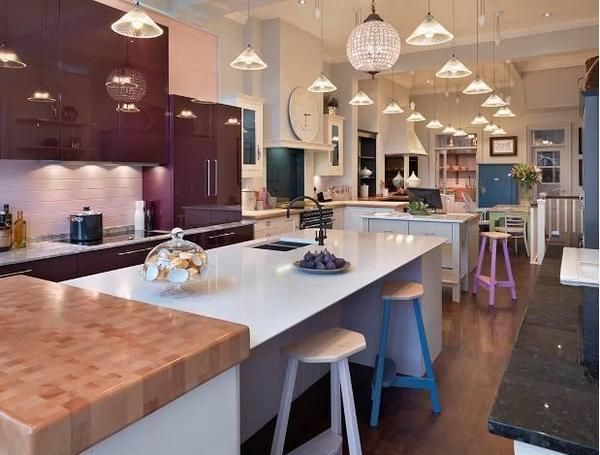 The creators of some of the most stylish kitchens around have just opened a new showroom in Blackheath
When I'm a grown up and need to buy a kitchen, my first stop will be John Lewis of Hungerford.
I've always adored their designs from the deliciously retro Creme de la Creme kitchens which are available in a range of ice cream colours such as Vanilla, Strawberry and Mint to the ultra chic Shaker designs, they are the perfect place for a beautiful kitchen.
My personal favourite has always been the Cool Kitchen collection.
And now it's good news for those living south of the river in London as John Lewis of Hungerford has opened its 11th showroom in leafy Blackheath.
Jon Rosby, Managing Director of John Lewis of Hungerford, comments: "We are very proud and excited to be opening our 11th showroom in Blackheath. It is the perfect launch pad for our new designs and fresh colour options. Our in-house design team are second to none and we are really looking forward to becoming an integral part of the local community."
Great kitchens and a great company mentality, what more could you want?
For more information log onto their website.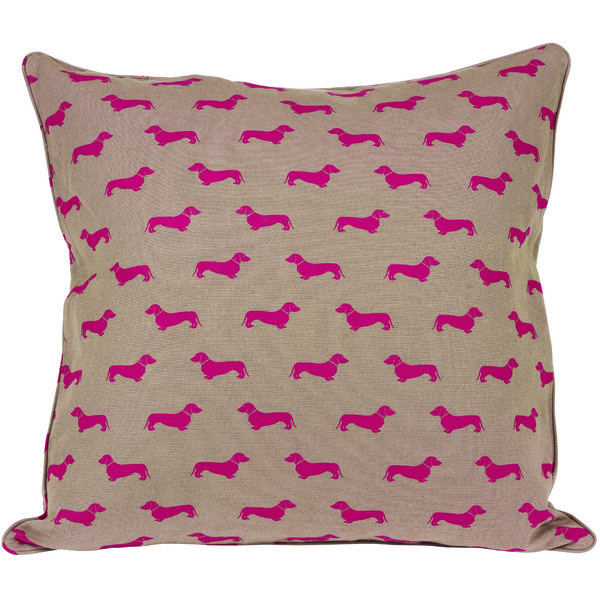 We interview British fabric designer Emily Bond
British fabric designer Emily Bond designs beautiful fabrics inspired by animals and the countryside.
We find out more about Emily, her inspiration and her style...
If you had 3 words to describe your style what would they be?
Eclectic, country, fresh
Where does your inspiration come from?
My life, my childhood and all people and animals in it.
What is it that you endears you so much to British countryside?
There is nothing quite like an Autumn day walking with the dogs through the country side, there Is nowhere I'd rather be.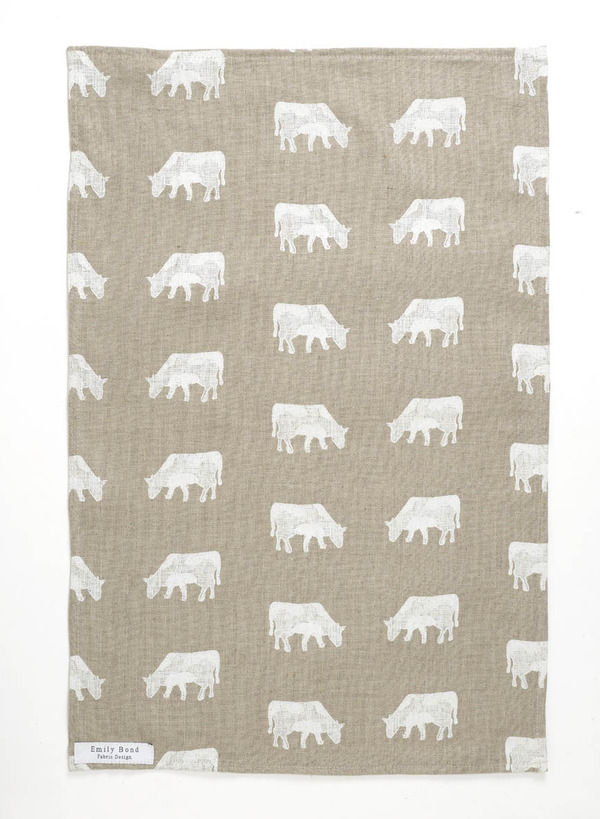 Why do you choose to feature animals in your designs and what do you feel they bring to a variety of home interiors?
I love animals on fabric it brings an element of fun into your interiors, but the way I put them together and the colours and fabrics I use it makes them sophisticated and classic at the same time.
What's your 'hero' product and why?
My blue dachshund tea towel is started the business, people love dachshunds!
How important is pattern and repetition to your designs, and how do you think pattern will continue to keep interior design fresh and exciting?
It's very important and each design is very repetitious which is what I love about my designs. I like simply fresh designs.
What's your favourite material to work with and why?
I love linen because it so natural.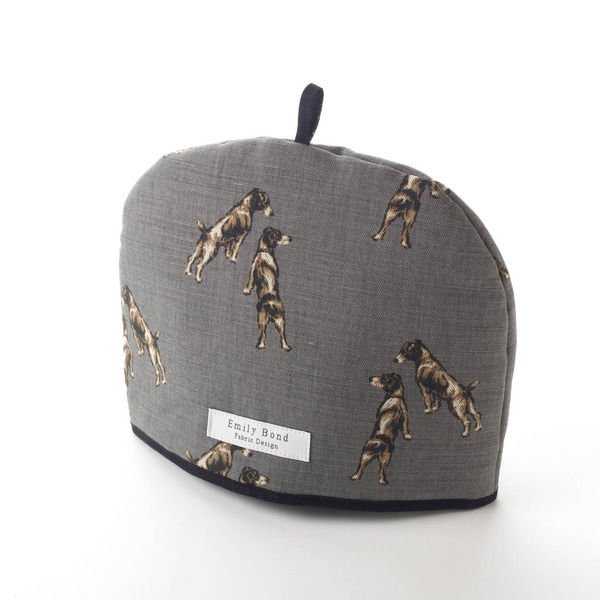 What is the most recent design product that you have bought for your home?
The last product I bought for my home was an Anta foot stool, I love their checks in my home and they complement with my fabrics beautifully.
Where do you like to shop for quirky furniture pieces for your own home?
Reclamation yards.
How important do you think it is for interior design to become more eco-friendly?
I think it's a difficult one, as I agree we must be as eco as possible, I love old things, antiques quirky finds in reclamation yards which are not made in an eco way! So I think if we can bring it into interior design somewhere along the line that can only be a good thing.
What advice would you give to aspiring interior designers?
Go and look for things different and look for small little company like me because we are individual, unique and fresh.
What new projects do you have on the horizon?
A children's collection, which I'm really looking forward to designing.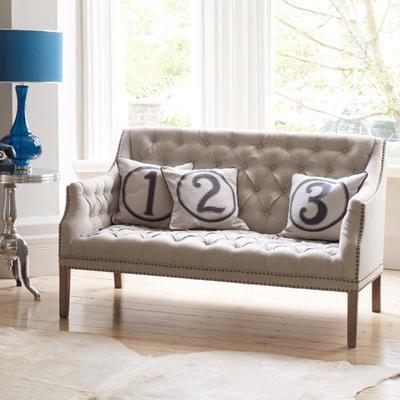 Add a touch of elegance with this Bath Button Back 2 Seater Sofa from Graham & Green. £1,250
When I live in my Georgian town house (and believe me I will), I will of course need a suitably elegant sofa to match the property.
I always thought I would go for something really modern, a striking juxtaposition against all the period detailing.
However, having found this Bath Button Back sofa from Graham & Green, I have totally changed my mind.
I mean, what's not to love about this truly gorgeous sofa? First off, I adore the shape; elegant and masculine all at the same time, it's simply divine. Secondly, not only does it have a button back (a design passion of mine) but it also has a button seat. And last but definitely not least, I love, love, love the colour of the fabric.
The Georgian town house might be a way off but this sofa definitely isn't - I just need to start saving my pennies!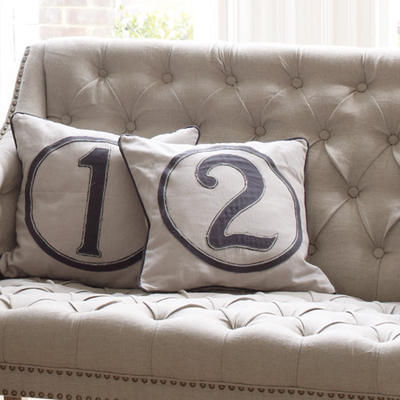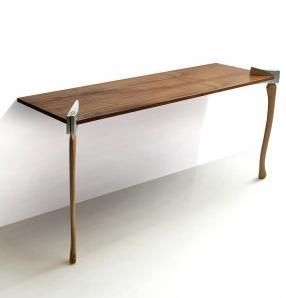 Inject some fun into your interiors with this Woodsman Axe Console Table from Duffy London. £495
While I am deadly serious about furniture, I like to have some fun with it too.
Which is why I just adore the Woodsman Axe Table Console Table from Duffy London.
Made from walnut or oak veneer, the table's legs are shaped to resemble axes.
Both humorous and practical, this console table is what your hallway has been crying out for.
And if you like the idea of having axes in your home (in a non-violent way of course) then there's a coffee table and dining table too.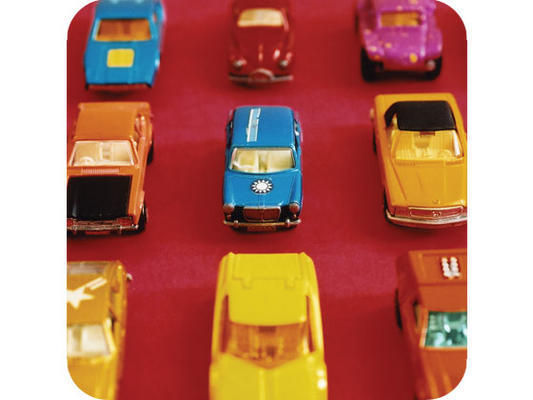 Embrace a passion for cars with this super cool Cars range from Ella Doran. From £7
Despite not being able to drive (grew up in London and never saw the need) I am obsessed with cars. My first choice would be a vintage Saab 900, followed by a 1960s Mercedes bright red sports car and in third a very unfeminine Lotus Elise.
However, it seems a little ridiculous to buy all these cars (yeah right, like I could even afford them!) when I can't drive.
So I'll just have to fulfil my dreams with the Cars range from Ella Doran.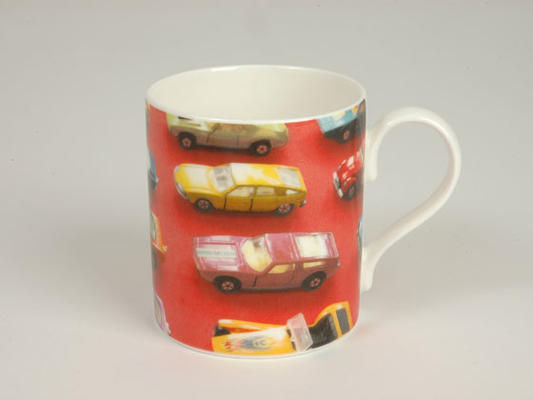 Available as coasters and a mug, this design is classic Doran. Lots of bright colours and a fun idea but this time nature has been replaced by something man-made.
I love them and think the coasters are just the thing to add a splash of colour to my coffee table. And with Christmas round the corner (there I said it!) they're the perfect present for any car nut.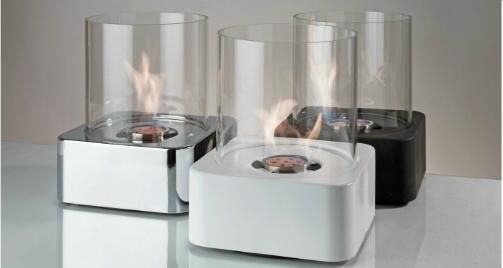 Add the wow factor to autumn dinner parties with one of these Ethanol Hurricane Fires from Found Home Store. £110
When it comes to dressing your table for a dinner party, forget candelabras and tea light holders, what you really need is one of these Ethanol Hurricane Fires from Found Home Store.
Made from metal and glass and available in black, white and chrome, they stand 28cm tall and are the perfect centrepiece for any table.
For maximum impact, try using several along a rectangular table or use in a empty fire place to create a subtle and warming effect.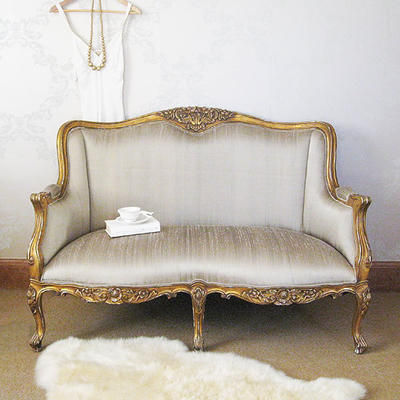 Give your bedroom the five-star hotel treatment with our tops tips and ideas
We all talk about how we love to stay in luxury hotels, so why not create the look at home? Here's how.
Furniture
Hotels always have sumptuous armchairs or sofas and it's easy to create this look at home. If you have the space, a small sofa or chaise will add a touch of luxury. We love this Versailles Bedroom Sofa from The French Bedroom Company. Its gilt finishing and silk upholstery is just the ticket if you want to inject some French glamour. To make it extra cosy, add mohair throws and sumptuous cushions for a decadent scheme.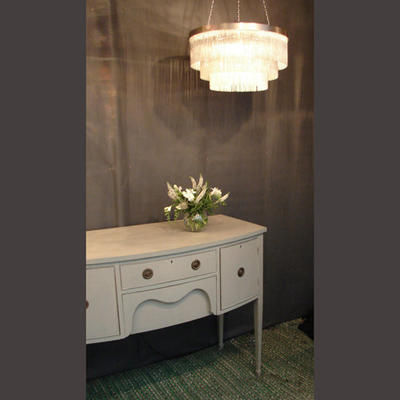 Lighting
Lighting is all about getting the right atmosphere. Copy the chicest hotels around by adding a multitude of light sources to your boudoir. Start with a stunning chandelier such as the Silver Chain Swallow chandelier from Tigermoth Lighting and add wall lights (The Tom Tom from Diffuse lighting is a good choice). Finish the look with elegant, statement table lamps (try Brissi for a good range) dotted around on bedside tables.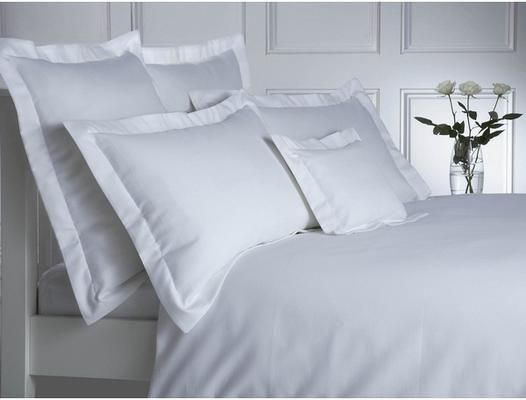 Bedlinen
There's nothing nicer than sinking into a hotel bed but if you're a homebody then it's easy to create the same sumptuous feel at home.
Opt for good quality sheets, pillowcases and duvet covers - the best you can afford. The Milan Organic Cotton Waffle collection from The Fine Cotton Company is a good choice and being white provides the perfect canvass for you to add some colour to. To create a really decadent feel, layer up with scatter cushions, throws and bedspread.
So, while we can't promise room service, we can promise that with these tips, you'll turn your bedroom from the mundane to the magnificent.
Just don't forget the Do Not Disturb sign...
Tangible yet beautiful wallpapers: Tracy Kendall designs something a little bit different for your walls.
London based wallpaper designer, Tracy Kendall offers a beautiful collection of contemporary wallpapers and just recently exhibited at Decorex and won an award for her stunning Sequin design.
We caught up with Tracy to find out what inspires her to keep creating and designing...
If you had 3 words to describe your collection what would they be?
Simple, original, touchable.
You recently exhibited at Decorex and won an award for your stunning 'Sequin' wallpaper. What does this mean to you and what do you hope that your wallpapers bring to home interiors?
It means a great deal to me to have such a prestigious award given to me. I work in such a bubble sometimes, I don't design for anyone other than myself and all the collection are my designs so to have such a great recognition of what I do is really special to me. I hope that it can inspire people to take risk but with products that they fall in love with, to have in their home items which have won their heads, rather than their heads all the time, i.e., not the safe option.
Since starting the production of your hand-produced graphic range in 1996, how have you developed and experimented with different designs and scales?
I've moved into more textural work, adding different textures as I find different manufacturing partners along the way. Sometimes the designs can only be made in house, such as the sequins, but with others I have been able to use external specialized manufacturers for which is great.
What inspires you to keep designing and creating?
Curiosity; I love to challenge myself both visually and technically with my work.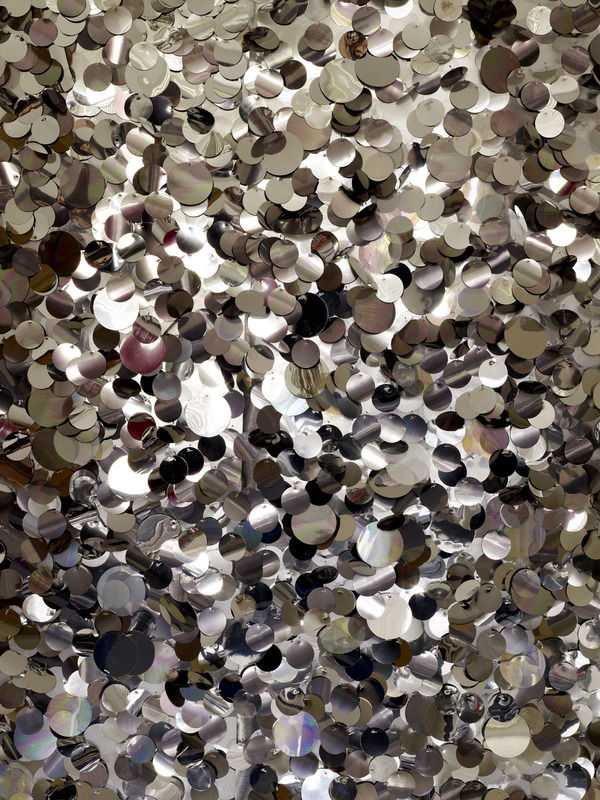 You have taken 3-D wallcoverings in a new and exciting direction. So, what are your favourite materials to work with and why do they work so well?
Paper is still my favourite material; having studied fine art printmaking I am always struck by how much paper can do or be made to do.
Your wallpapers could be described as tangible, and I particularly like love the sequins and also the stitched text. Why do you think that wallpaper should be something that will create an impact and evoke a reaction when people see it?
I don't think that is limited to wallpaper, chair or cup can give the same reaction but my chosen medium is wallpaper and by hopefully creating a wallpaper that gives people more than one option of sense in which to view the paper helps to make them fall in love with it.
What is your best selling design from your collection and why?
It's probably still the fork design, the first but it is so simple, so easy to use in the home or commercial spaces, it is big but not over powering, it makes a statement but doesn't yell for attention all the time, it just works very well, thank goodness.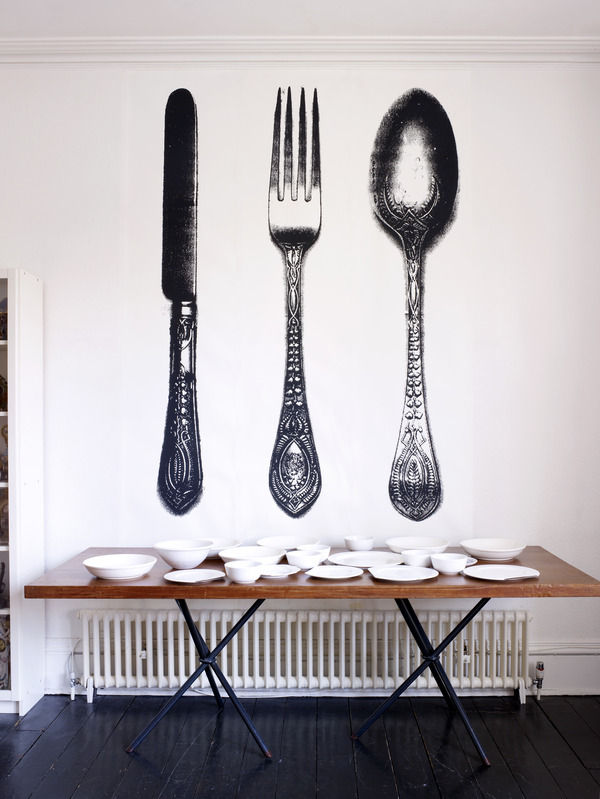 How do you feel that patterned wallpaper will develop, and what direction do you hope it will go in the future in order to keep interior design fresh and exciting?
There are so many new and exciting wallpapers coming out, I hope that they continue to have a aspect of respect for the environments they are going into and don't try to over whelm them, its wallpaper, it is meant to have mirrors and pictures on top of it and chair in front of and your back to it as well!!
How important do you think it is for interior design to become more eco-friendly?
Very, not always in such obvious "what materials" do we use way, it's more about how much we change interiors rather than grow them and how much material we waste as a part of the manufacturing process. as I make to order, I have very little waste, all my waste then goes into sampling for sending out which works very well for me.
What is the most recent design product that you have bought for your home?
Nothing new, brought some amazing brass table legs to make a table up with and then had a friend make the table top for me, a lovely mix of old and new.
What advice would you give to aspiring interior designers?
Have passion, lots of passion.
Is there anyone that you would like to collaborate with in the future and if so why?
I never plan who I am going to work for or with, I love not knowing what or which client will ask me to make whatever for them next, the element of surprise helps to keep everything fresher and better for the client as well.
What are you working on now or do you have anything in the pipeline?
I've just finished a new design to be launched at Maison and Object in Jan 2011 and I'm also working on another to launch there as well and doing lots of projects for mainly domestic clients at the moment but have a restaurant in London that I am also working closely with and a shop opening in Vancouver which will stock my work which is exciting as well.