It's our Interior Design Magazine!
The hottest interior design ideas, fab finds for the home and the latest in interiors trends. We're always looking for new finds, designers to feature or anything else lovely for the home, so if you've seen something gorgeous and would like it featured in our interior design magazine, please get in touch!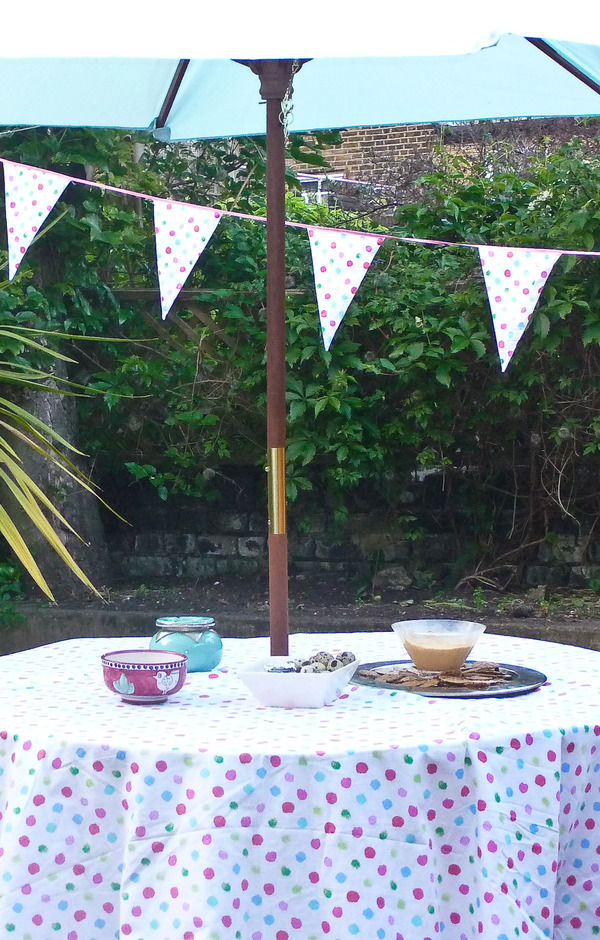 Add some pattern and colour to your garden table with this Pink Spotty tablecloth from Kitaura Designs. From £25
They say the simplest ideas are often the best and I certainly see a lot of those when I'm looking for Fab Finds.
In fact I can quite often be found sitting at my laptop, kicking myself for not having thought of said simple ideas myself.
So it's no surprise that I'm suffering from a rather bruised shin after coming across Kiataura Design's tablecloths.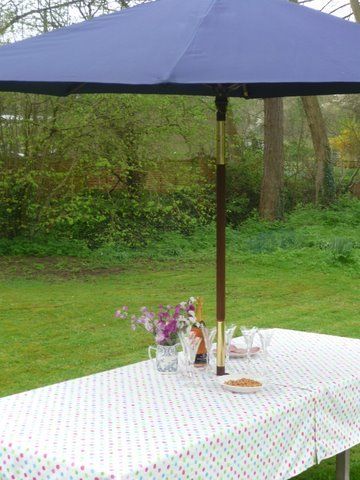 As well as being really pretty, these tablecloths have a whole in the middle and buttons allowing them to be used along with your parasol. See I told you, extremely simple idea but I bet it wasn't one you'd thought of was it?
Available in a range of designs, they're the perfect accessory for summer dining. Also available are matching napkins and waxed designs which means your table won't suffer too much should the heavens decide to open.
Now if you'll excuse me, I'm off to think of my really simple idea...
See this product at Kitaura Designs...
(We don't list this product yet but sign up to our newsletter and we'll let you know if/when we do)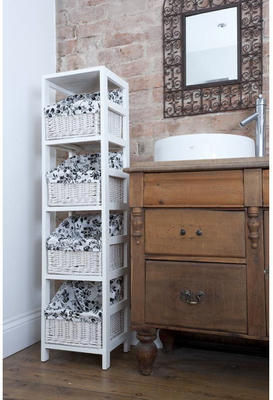 Don't ignore that stack of magazines on your floor, or that heap of clothes on your bed; de-clutter your home and your mind with some simple storage solutions from Furnish.
Use this opportunity to have a bit of a spring clean, and look at the potential your room has for storage space to fit a new elegant wardrobe, or a unique coffee table. Remember that storage isn't simply for hiding those cluttered objects that lie around your house, it can also serve as a much more stylish and functional feature of your home.
Clothing storage
We are all guilty of getting our knickers in a twist when we can't find something we want to wear. So, whether you have something stylish but small, or a walk-in wardrobe (we can all dream, right?), where we store our clothes should be a reflection of our lifestyle. Lombok's stylish Keraton wardrobe has an alluring colonial look which brings a unique statement piece to your bedroom. Not only does it contain a full-width hanging rail, it also has two large drawers at the base of the wardrobe. Alternatively, for a charming furniture piece that would add a perfect feminine touch to your room, the Amelie two drawer chest from Brissi offers practical drawer space for folded garments. For long-term storage, the Kigoma trunk from Holding Company is a suitable place for keeping garments that you are putting away for the next winter.
Sideboards
Simple and effective, the sideboard is conventionally used in the dining room; however it also works well in hallways, living rooms, or bedrooms. Go for the vintage inspired look with the Miss Print sideboard; its chic finish will add a touch of intrigue. Choose the Shanxi sideboard from Puji in white to compliment a modern decor with its smooth linen white lacquer finish with wooden edging detail. It has distinctive brass handles giving it a hint of eastern exoticism, and with two cupboards and spacious draws it offers the potential for maximum storage space. The Tactile sideboard from Utility has a seamless finish, and purposely has no handles which would only add confusion to its understated appearance. This masculine look would work well in a bachelor's pad as it provides a no-nonsense way for the male species to create a sleek look for their decor without damaging any manly pride.
Kitchen dressers/larders
For the perfect place for you to store your finest tableware, Lombok's Traditional glass dresser in dark teak gives that idyllic country house feel. Install it in your kitchen or dining room and there's no need to hideaway your favourite tableware. With a display with two glass shelves for your cookery books, and drawers for table linen, this dresser not only gives a sense of pride to any kitchen, it also offers a functional and timeless charm to your home. Zenith basket trolleys from Heal's are made from sturdy chrome wire, and they are ideal for keeping fresh fruit and vegetables as well as kitchen utensils in order.
Multifunctional furniture
Making the most of your storage is essential. Many furniture pieces available on Furnish are multifunctional and offer you space-saving opportunities to use throughout your home. Take a look at the Multi-Purpose Play table with Trundle Drawers from Great Little Trading Company. This cleverly compact play table is exciting to look at, not only does it provide your child with great fun and entertainment that will keep them occupied for hours. It also offers convenient storage space for toys and game that might otherwise clutter the floor or simply get lost in the chaos. Also, the Military coffee table from Occa Home is attractive stained oak wood coffee table but is also provides an easy-to-reach resting place magazines, books or vases. Its discreet drawers make it simple for you to store other knick knacks like placemats or notebooks.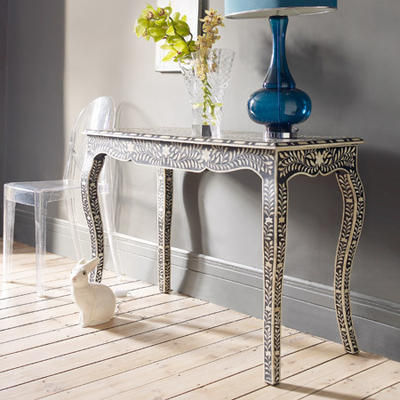 Console tables
Bring versatility to your home with a console table; coming in all shapes and sizes, they offer stylish storage and add interest. Unwelcome mess within your home can be solved with the Lloyd high-console from The White Company. This incredibly neat looking set of drawers would fit extremely well within a hallway, bathroom or a bedroom, and with its strong woven baskets it is ideal for storing all kinds of belongings from magazines to umbrellas, shoes or photos, or even the phone directory. If you like detail and character is your furniture then the very stylish Black & Bone Inlay Console Table from Graham & Green would be an asset to your home. This table is beautifully hand crafted and a unique one of a kind piece that is only worthy of your most personal and cared for belongings.
Wall hung storage
If you are short of floor space don't despair because your walls can offer an extra storage space for you to play with. The Seletti Framed CD Notorious Shelf Gold from Heal's is a great example of how storage can be useful in an attractive way. This clever series of shelves looks like a work of art with its stunning gold frame and ultra-modern box shelves. It provides a perfect balance of practicality and style. Add intrigue and a conversation starter to your room with the unique Sticklebook invisible bookshelf from Utility, which works using a combed strip that grips the covers and pages. Its deceptive powers make your mind believe the illusion that your books are floating in thin air- guaranteed to give the wow factor.
Shoe racks
Shoes are a girl's best friend (well, after diamonds that is) and if you love your shoes then you shouldn't be without Utility's Floor standing shoe rack. It is the perfect design for keeping shoes tucked away neatly in cupboards without them getting crushed. However, it does only hold up to seven pairs so you may want to consider the Expandable shoe racks from Holding Company. Take advantage of the two expandable and stackable shoe racks made from classic chrome for a practical and easily accessible home for your shoes- you never know, there may be room to fit a few new pairs in too.
Kids storage
Any parent will empathise with how easily a child's bedroom can suddenly look like a hurricane has just hit it. Children's furniture by Great Little Trading Company is designed specifically for the helping parent and their children to live a mess free but fun life. The Horizontal six drawer unit provides accessible storage for toys and books that get frequently used, and they also encourage your child to tidy up after themselves. Ideal for use either in a playroom or bedroom, the Dolls house bookcase has three shelves and six compartments making it easier to store books, games or toys. Also, under the bed is a great place to store frequently unused items out of sight without taking up any extra floor space.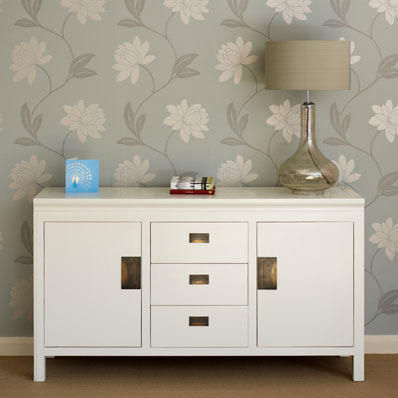 Kitchen utensil storage
Make preparing and cooking in your kitchen more enjoyable with suggestions of storage for your kitchen utensils from Furnish. Heal's has a collection of items to help organise you utensils, and the modern style of the Simplehuman utensil holder with a removable spoon rest will give any kitchen a futuristic feel. However, if you would rather give your kitchen a retro feel than be rocketed into the future, then you should choose the Typhoon vintage kitchen utensil holder available in black, white and red. Typhoon has taken inspiration from kitchens from the early 1930's to 50's, and you can find their enamelled range of kitchenware on Furnish.
Bathroom storage
Let's face it; we all spend a little longer pampering ourselves in the bathroom than we like to admit. With the right storage, life will be made easier in the mornings when the fight for the bathroom can get nasty! For an ideal way to save space and time, you can keep 'his and hers' toiletries separate with try the Four drawer Rattan basket rack from The Orchard. The Contemporary Home has come up with a practical solution to the problem of where to keep your toothbrush with the Suction toothbrush holder. This no fuss holder sticks to your bathroom tiles, with no drilling required, and the least mess made. Or in case of an emergency, no bathroom would be complete without a First aid box from wheredidyoubuythat.com. This cabinet is wall mountable or it can be used free-standing, but either way it's just what the doctor ordered.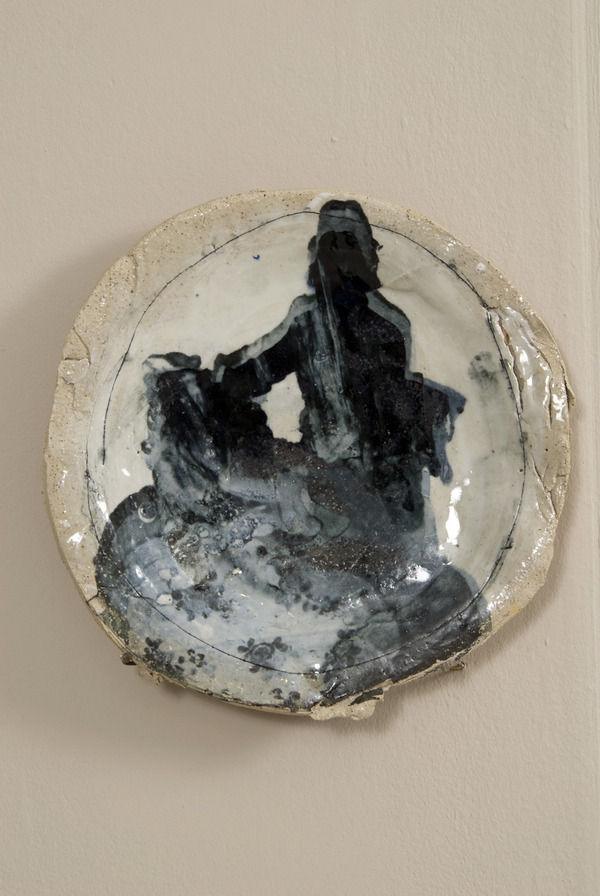 An inspiring sunny afternoon at the RCA graduate SHOW
I managed to sneak out yesterday to visit part one of the Royal College of Art end of year SHOW, including ceramics, metalwork and glass. And I'm mightily glad I made it, because not only did I spy (and not so inconspicuously point out) the subject of my long-held style crush, Sir Paul Smith; but I discovered some fabulously beautiful objects and inspiring makers. The whole afternoon made me want to get my hands on some clay and throw it and thump it about, but having neither the means nor the skill, I went to the pub to cool down and collect myself.
In the ceramics section references to the 18th century abounded, which, being the flamboyant glory years of porcelain production, isn't really surprising but underpinned some innovative and highly original outcomes. Sun Ae Kim's playful monochrome dinner service alludes to 18th century porcelain figurines used as talking points at the dinner table, reworking them into 21st century narratives of seduction and satire. Images manipulated from ceramic pattern books of past centuries are combined with saucy hidden surprises on the underside of plates and bowls. Amy Hughes' gloriously tactile vases hark back to urns produced by the Royal Sèvres Porcelain factory, but allow the clay of which they're made to break free from the constraints of their refined predecessors. The textured body speaks of the hands that shaped it and the unrefined surface richness of the clay itself, a celebration of material qualities and craft that retains the decadence of the original.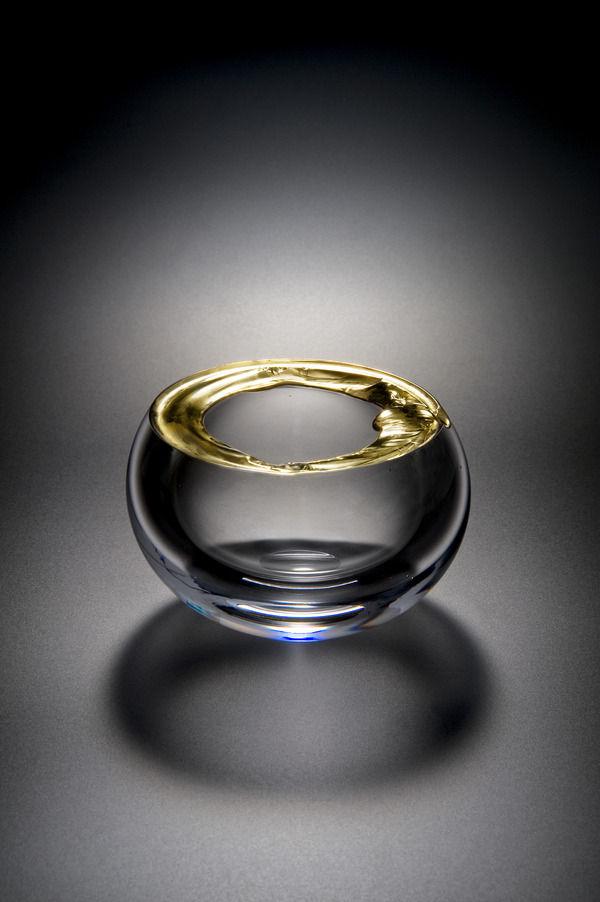 In a similar way, Hanne Mannheimer's beguiling series of plates, 'Memory of a Figurine', combines the roughnesses and unrefined qualities of clay with refined decorative details of silkscreen-printed 18th century figures; detailing which reduces in sharpness as the 'memory' fades. This concept of unfinished and unrefined edges was another trope running though both ceramics and glass. Hanne Enemark's 'Cracked Rim' series of fabulously heavy blown-glass bowls has to be my favourite of the glass students' work. The uneven rims have a deliciously thick coating of gold, which looks like it might begin to drip into the clear glass bowls. In metalwork, I loved Victoria Delany's, Brio-inspired, 'Candlestack'. With a solid-silver top and base, you get a pack of lovely colourful wooden beads in different shapes and sizes that you can slot on in any configuration, creating your own bespoke candleholder.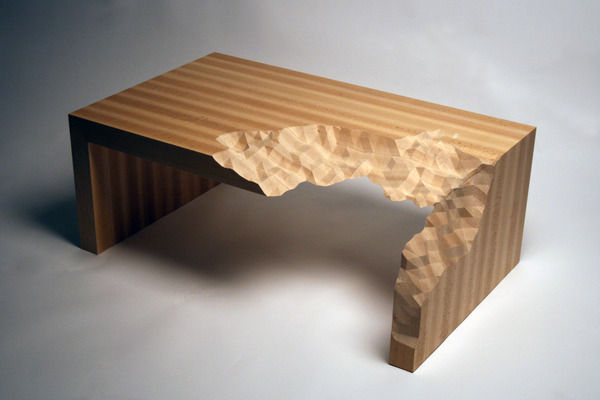 Elsewhere there were some fascinating experiments in digital design. Kathryn Hilton, on hand for a demonstration, uses a digital hammer and three-dimensional wax printing to create moulds for her beautiful multi-faceted, geometric silver bowls. And Zach Eastwood-Bloom's work explores the interaction of the digital and the material worlds with truly stunning results. His wonderfully absurd coffee table in Beech wood, 'Information Ate my Table', describes a process by which the real and the virtual might collide, applying digital, binary information to a tangible, natural material. And my favourite piece of the whole exhibition, Zach's '21st Century Landscape Tryptich' was shown to full effect in yesterday's sunshine, as the shadows on the faceted, highly textural surface changed throughout the afternoon. In white resin, it made a fabulous contrast hung against the geometric grey-black bricks of the courtyard wall.
All in all it was an utterly inspiring afternoon out. I only wish I could have persuaded Sir Paul to join me in the pub...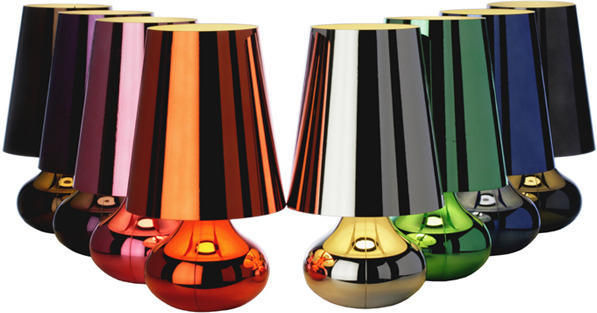 Go for glamour with these luminous Cindy Table Lamps from Utility, £137
These rich toned table lamps pick up on the trend for lustrous metallics, radiating refined glamour and an iridescent glow. In jewel-like colours their beautifully bulbous, teardrop bases have a retro lava-lamp feel, bought up to date by the sleek shade and metallic finish. The bases have the appearance of blown glass but they're actually made from 'technoplastic', which sounds like something you might find at a rave. Or maybe at Studio 54: the lamps do have a 70s look about them.
Providing a shimmering lustre in the living room, they'd also be perfect either side of the bed. Succumb to 70s style with tangerine, flamingo and bronze or keep it contemporary with platinum, gunmetal and green.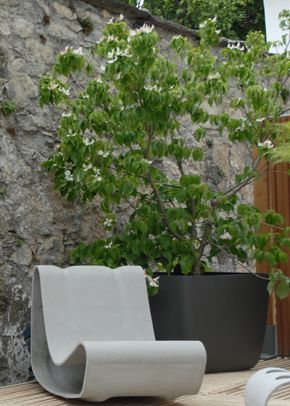 Go curvy in the garden with this showstopping Loop chair and table set from Iota. From £250
Having a garden is seen as a luxury, especially in towns and cities. So if you're lucky enough to have some outside space, it's important to make the most of it.
We're often told to think of our gardens as an extension of our indoor space, which is why this Loop chair and table from Iota is the perfect garden furniture choice.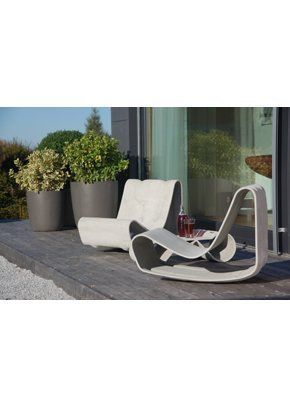 This stunning duo looks more like something you'd have in your garden rather than your garden and is ideal for lounging on.
So get ready for summer and invest in some furniture that will make sure you enjoy it.
(We don't list this product yet but sign up to our newsletter and we'll let you know if/when we do)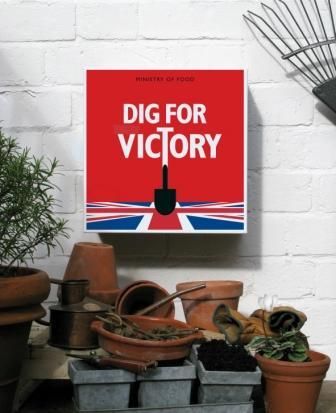 Keep your garden seeds in check with these super cool Seed Boxes from The Original Metal Box Company. £80
Even non-green fingered me (all I have to do is look at a plant and it wilts) knows that seeds are delicate objects and need to be protected.
There are tonnes of seed boxes around and some of them are very lovely indeed, but I've found the cutest ones around courtesy of The Original Metal Box Company.
Available in a wide range of designs, these sturdy boxes are wall-mountable and have six handy compartments for stashing your seeds.
I found it really hard to choose my favourite ones but, in the end, plumped for this vintage-themed Dig For Victory and Harvest designs.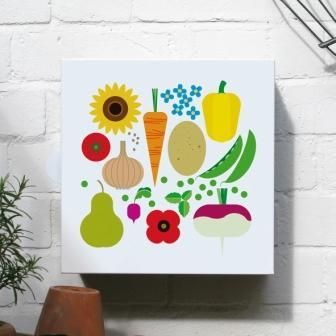 And if you really don't have one single green finger on either hand, why not try using them for keepsakes and nik and naks.
See this product at The Original Metal Box Company...
(We don't list this product yet but sign up to our newsletter and we'll let you know if/when we do)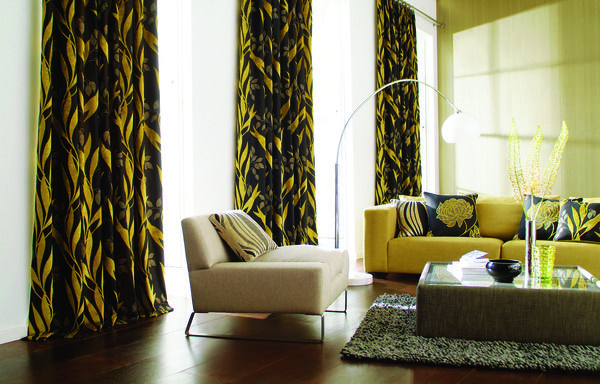 Whether you go for bold prints or intricate detailing, playing with pattern adds instant vitality to a decorative scheme.
Pattern is a great way to animate space and add interest to your home. Whether you go for bold prints or intricate detailing, playing with pattern adds instant vitality to a decorative scheme. And there are plenty out there to suit your style. Stir the senses with variations in scale and combinations of different patterns and textures.
Wallpaper
Patterned wallpaper brings drama to a dull room. Make an architectural statement with graphic geometric prints, or go for timeless elegance with traditional florals. Generally speaking, the smaller the wallpaper motif, the larger the room will appear. Vertical stripes will give the impression of higher ceilings, and if you have a narrow room think about hanging striped wallpaper horizontally to add width.
Large-scale pattern can work on all four walls of a room, but choosing a subtle colour palette will stop it from becoming oppressive. Similarly, intricate prints can look over-fussy if used unremittingly. Creating feature walls, hanging wallpaper in panels or using it as an accent in alcoves are often better options, broadening your scope for the scheme as a whole and allowing for greater flexibility.
Picking out the colours in the wallpaper and choosing shades from the same colour palette for soft furnishings, upholsteries and paint will unify your design. Designers Guild is particularly good on this, with complementary families of wallpapers, fabrics and even paint colours, enabling a mix and match approach to pattern, texture and tone. Zoffany and Harlequin also have fabulous ranges of coordinating wallpapers and fabrics. Colefax and Fowler is great for timeless prints, while Cole and Son have some fantastic tartans designed by Vivienne Westwood.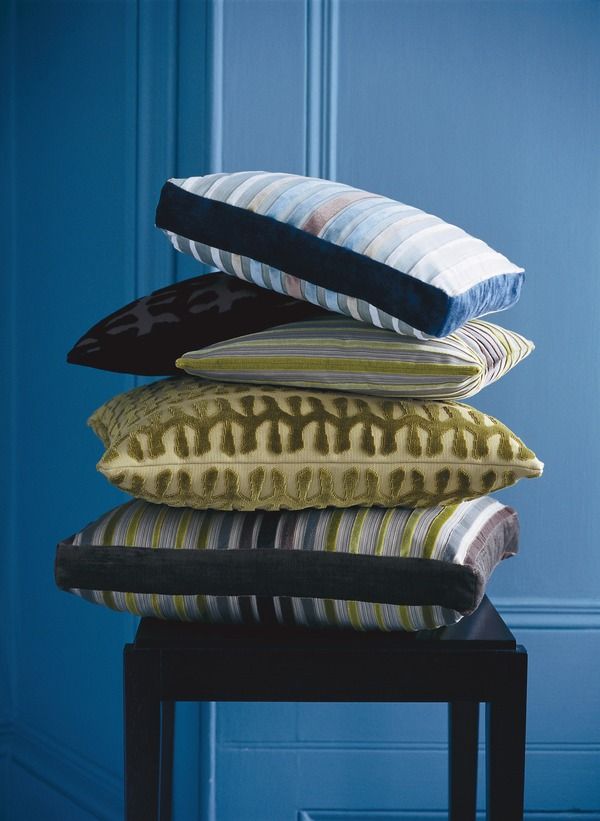 Flooring
Whether you choose wood, tiles or carpet, patterned flooring can transform a room. As with wallpapers, large-scale patterns generally look better on larger floors. A smaller scale pattern with a frequent repeat will look better in a smaller room. Again, pick out colours from the flooring to use elsewhere in your scheme. And if you're going for a full-on floor pattern, let it speak for itself with plain and simple furnishings.
Parquet woodblock patterns range from the simple herringbone to the most intricate of geometric mosaics. Create a subtle pattern with parquet flooring in one type of wood or go for high drama with contrasting timbers. Weldon create beautifully crafted, bespoke parquet and marquetry floors, and Ardeco are parquet specialists with a great range of designs.
Stunning effects can be achieved with floor tiles, and the possibilities are limitless. Villa Lagoon [http://www.villalagoontile.com] has a fabulous range of floor designs with cement and ceramic tiles in all manner of patterns and colours. De Ferranti is unsurpassed for choice, with a vast product library spanning ceramic, encaustic and glass tiles, to leather, metal and bone. Tiled Perfection specialise in traditional Victorian and Edwardian geometric designs, and Fired Earth recently launched a range of encaustic tile patterns inspired by the 1951 Festival of Britain.
Patterned carpets are no longer the preserve of seafront hotels or granny's front room. Crucial Trading has a stylish range of sophisticated stripes and grids in wool, and if you don't want to go for full-colour, try a textured weave in seagrass, jute, or coir. For the commitment-phobic, rugs are a great alternative to permanent patterned flooring and can bring a room to life. The Rug Company and Christopher Farr are both outstanding on quality and design.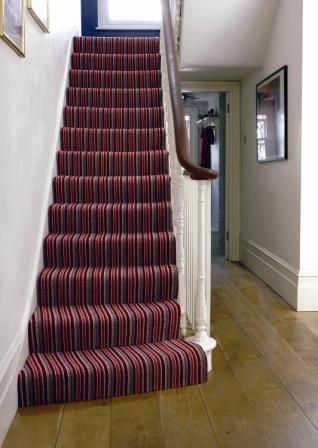 Soft Furnishings
There's plenty of scope to experiment with pattern in your choice of soft furnishings. Layering different patterns, such as stripes and florals, works well if you stick to the same colour palette to bring the look together. Play around with variations in scale and texture to add a sense of movement and depth. Again, Designers Guild is fantastic on complementary, but not 'matchy matchy', soft furnishings and will upholster any of its stunning sofas to your specifications. A couple of cushions or a lampshade in the same pattern as your curtains, blinds or wallpaper will to draw together a decorative scheme without looking over-done. Go for sofas and armchairs in block colours if you're using a lot of pattern elsewhere.
Have fun with pattern and bring your home to life. Go with your instincts and create an interior with personality and style.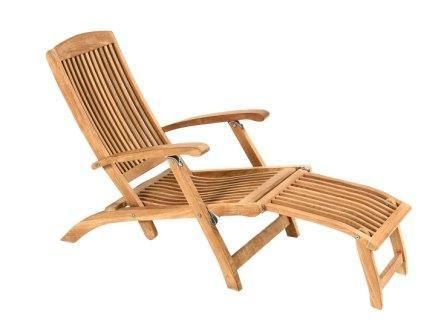 Add some bygone era chic to your garden with this Salisbury Steamer Chair from Indian Ocean. £525
Personally, I've never been one for cruises; far too afraid of being stuck with the same people without land in sight for weeks on end.
But I do love the glamour of the old cruise ships, all that dressing for dinner and taking moonlit walks on the deck.
If you're like-minded and would like to inject this look into your garden, then this Salisbury Steamer Chair from Indian Ocean is the perfect addition to your summer lounging.
Made from solid teak, it exudes vintage glamour and is perfect for lazy, sunny afternoons.
See this product at Indian Ocean...
(We don't list this product yet but sign up to our newsletter and we'll let you know if/when we do)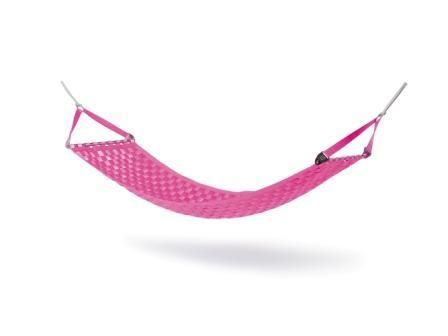 Be green and stylish with this colourful hammock from Skitsch. £372
Of course we all strive to be eco friendly but that doesn't mean you have to fill your home and garden with unstylish products.
This SeatBelt Ting Sling hammock by Inghua Ting from Skitsch is a perfect example of how you can be stylish and green.
As the name suggests, this sleek hammock is made from recycled seat belts and dyed in a range of fabulous shades including shocking pink and turquoise.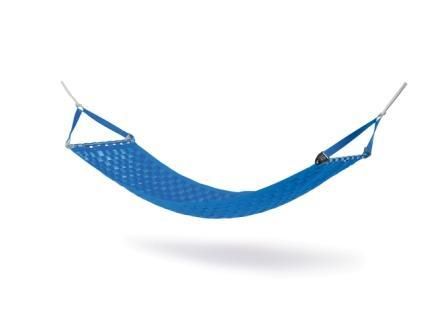 For extra comfort, invest in some matching cushions and you'll have the perfect combination for summer lounging.
Hang one in your garden, grab a good book and settle down for a relaxing day in the sun, just don't blame me if it rains.
See this product at Skitsch...
(We don't sell this product yet but sign up to our newsletter and we'll let you know if/when we do)
Invoke the opulence of the Orient with this lacquered Ladies Cabinet from Orchid. £790.
Crafted in reclaimed Elm, the lacquer and gilt finish radiates a subtle sheen, while elegant proportions and authentic detailing give the piece a real air of refined glamour.
Inspired by cabinets of the Ming dynasty, which were originally used as dressing tables, the gracefully tapered feet evoke the point-shoes of tiptoeing Geishas.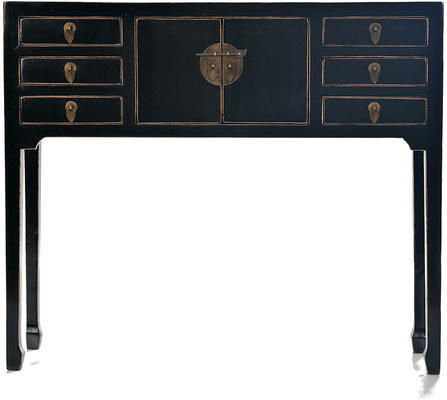 Practical as well as pretty, the cabinet has three drawers on either side of a central cupboard, all finished with little leaf-shaped handles.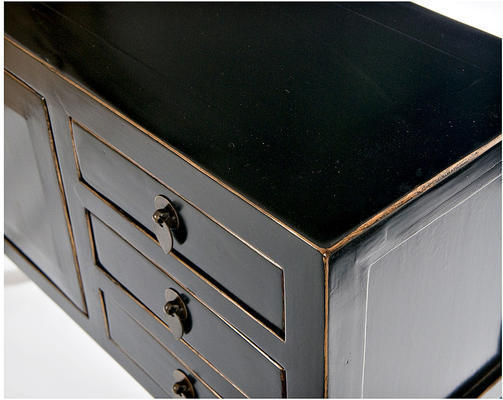 Beautifully poised on elongated legs, the Ladies Cabinet would make a perfect hall console table, or a beguiling addition to the dining room.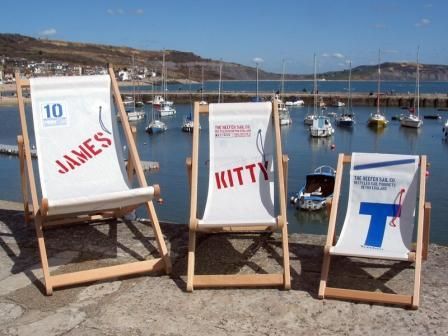 Go sailing without ever having to leave dry land with these recycled sail cloth deckchairs from The Reefer Sail Company. £120
Perhaps this is an unusual statement for a lifelong city dweller but I have always wanted to learn how to sail.
However, with my feet firmly on London pavements, the closest I get to bobbing around on the open sea is watching other people doing it on TV.
That doesn't mean I can't indulge in a bit of sailing lifestyle. I could wear deck shoes, shout "land ahoy" at people on the Northern Line and make sure my house keys are attached to a float key ring.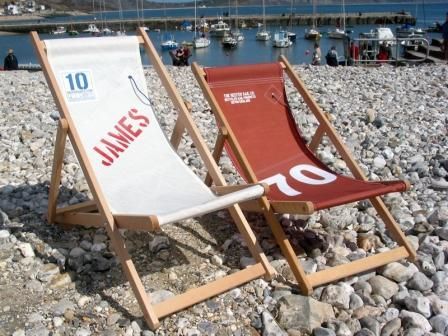 On second thoughts, that sort of behaviour could get me sectioned, so I'll settle for one of these gorgeous deckchairs instead.
Made from recycled sail cloth (which is sure to get a definite thumbs up from eco enthusiasts) they offer the perfect way to add some chic summer style to your garden. I absolutely adore them and am planning on installing several in my garden pronto, let's just hope the weather holds and they'll be no need for a sou'wester.
See this product at The Reefer Sail Company...
(We don't list this product yet but sign up to our newsletter and we'll let you know if/when we do)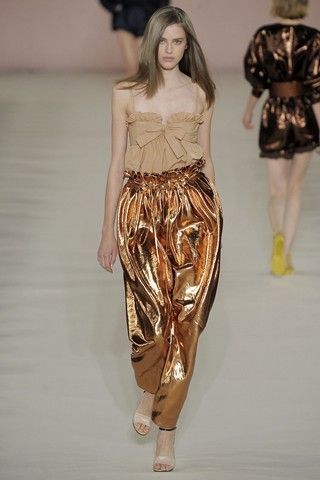 Give your interior a sharp and dramatic look with metallics.
When metallics hit the catwalk they brought bright, bold, inspiring colours to the forefront of fashion. A common misconception about trends is that they are only acceptable and in-fashion for short periods of time, but the great quality that metallics have is that they filter into different aspects of decor to give a timeless and opulent feel to your home.
Metallics can be applied to your interior in so many ways because they ooze modernity and have a classic appearance, making them effortlessly pleasing to the eye. Use black and gold to create a dramatic statement, or use silver with pastel colours to give a more serene and natural feel to your room. Either way, go ahead and add shimmering detail and grandeur that fashion designers use so well in their clothes to dress your home.
If the rush of rich golds, silvers and bronzes on the catwalk has done anything to inspire interior design, it has certainly encouraged us to liven up neutral colour schemes with a splash of sparkle and glamour. For an accent wall in a bedroom, the fantastic Wilderness white gold wallpaper from 95% Danish will bring both texture and interest. For bed linen, try the Mink satin bedspread from The Contemporary Home to add an understated elegance and luxurious feel to your bedroom.
Take a peek at Chloe's Spring/Summer 09 catwalk collection featuring lamé harem pants; the 'heavy metal' trend showcased a natural and radiant look. This use of stunning metallic shades can be dressed up or down in order to give a room a bold daytime look or a shimmering night time vibe. The Bean bag in gold leather from Heal's has a luxurious gold finish making it perfect for a comfortable evening in, and the Small sequin cushion in silver from Rockett St George, are both perfect for achieving this thriving and versatile trend.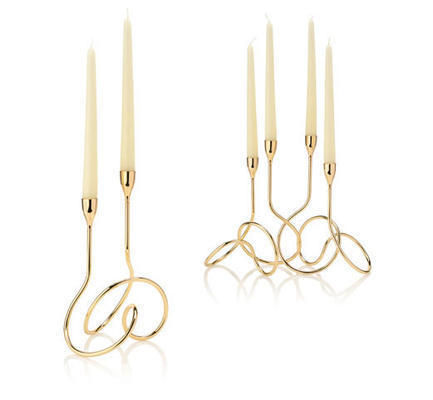 Why not use metallic shades to give your home a look that retains an authentic style but brings a modern, glamorous look to your interior. The Orchard's Gold Gilt Collection is inspired by classical French themes, and the Gold gilt two drawer bedside cabinet is finished in genuine gold leaf. If you fancy giving your guests an afternoon tea to remember, then look no further than the Silver tea caddy and the Silver tea strainer from Brissi. This is a nostalgic piece that is fit for the Queen and should make us feel proud to be British.
Metallic colours exude a finished look and are just the thing to bring a shiny, polished look to your home. Black and Blum's Gold loop candelabra will provide your dining table with a stylish and stunning statement piece that will not fail to impress. Or, if you want to liven up your hallway or add a feminine touch to your living room, then choose the Flower loop for a minimal yet chic and individual piece that is inspired by the Fibonacci curve to create a balanced and aesthetically pleasing design.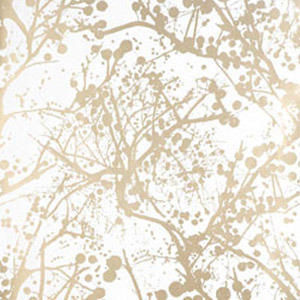 These are just some examples of how you can introduce the metallic trend into your home. Don't get too carried away by mixing too many metallic pieces in one room; use them to add visual impact and a touch of elegance as a statement piece for your room. Choose a furniture piece like the Brass stools from Lombok, made from solid brass and finished in antique silver, or use detailed fabric with metallic gold beading found in Sweet Pea and Willow's Paris gold and lilac tie backs to give a contemporary and stylish touch that no home should be without.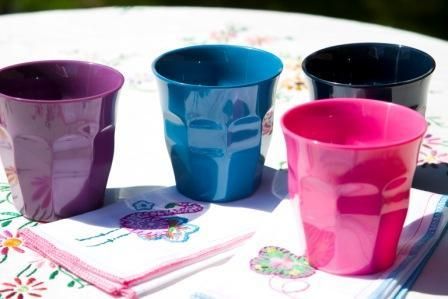 Add some colour to your summer dining with these fabulous tumblers from The Other Duckling. £2.50
Whether you're picnicking or dining in your garden this summer you probably don't want to risk your best china and glass.
However, that doesn't mean you have to settle for naff plastic cups and paper plates.
Say hello to melamine, your al fresco dining best friend.
Of course there are lots of melamine products on offer, but we really like these tumblers from The Other Duckling. Available in four stylish colours they're perfect for summer parties and impromptu picnics or you could even try using them to display home-grown blooms.
Go for one colour or mix and match to create an eclectic table setting.
See this product at The Other Duckling...
(We don't sell this product yet but sign up to our newsletter and we'll let you know if/when we do)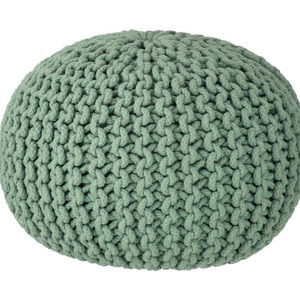 Put your feet up and relax in style with a fantastic Knitted Pouf from 95% Danish, £69-£124.
Chunky knits have been trending on the fashion catwalks as well as the world of interiors, and these tactile knitted poufs are a great way to get the look at home without breaking the bank. Made of rope, they pick up on the nautical trend too. I love the orange and yellow ones; they remind me of buoys bobbing up and down at sea.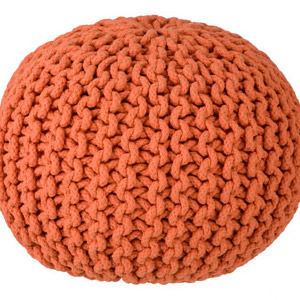 Available in three sizes and four colours, they look fabulous individually or as a cheerful little group. And who doesn't need a pouf in their life? These plump little spheres of joy are so versatile: as extra seating, a footstool for tired limbs, or simply a decorative accent to brighten up a room.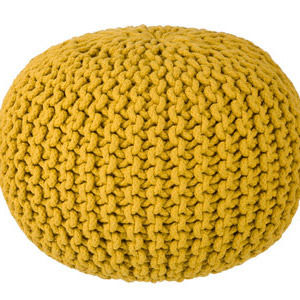 The difficulty's in choosing which one to go for. Flustered by the constant tyranny of decision-making, I'd probably end up getting all of them. And then I'd make a chubby bundle of them in the corner of my room.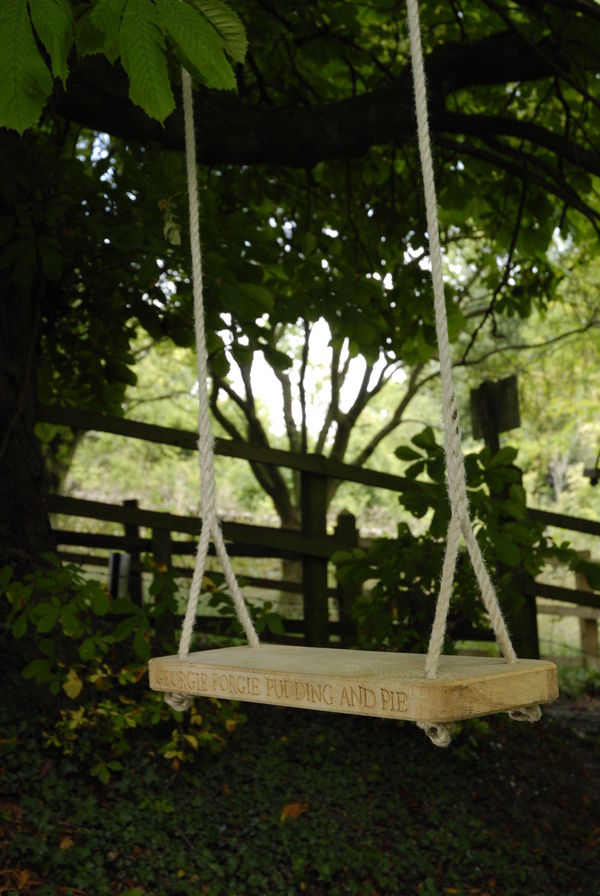 Release your inner child with this wooden swing from Swings and Pretty Things. From £90
I don't know about you, but even at the ripe old age of 31, I find it hard to walk past a swing in a playground.
Call me childish if you wish, but there's nothing I like better than jumping on one, pushing off with my feet and daring myself to go higher and higher.
Of course, all this behaviour is a little embarrassing for an adult to admit to, which is why I'm delighted to have found these swings at Swings and Pretty Things.
Made from oak, they are as sturdy as they are beautiful and will make a welcome addition to your garden whether they're for little ones or not such little ones.
They can also be engraved with a personal message which is a really lovely idea.
I can't wait to get one for my own garden so I can swing away until my heart's content and not risk any strange looks at the local park.
See this product at Swings and Pretty Things...
(We don't list this product yet but sign up to our newsletter and we'll let you know if/when we do)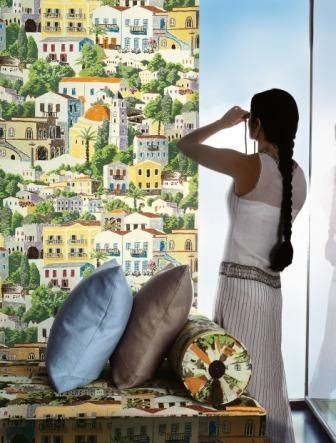 Bring your holiday home with you with this fabulous Dodacanese fabric from Sandberg. £94 per m
It might have something to do with the fact that I'm shortly off on my hols to Greece, but I think even if I was going to Bognor, I'd still be in love with this fabric.
Named after a particularly pretty group of Greek islands, this Dodacanese fabric from Swedish company Sandberg is hand painted and features hilly Greek towns complete with red roofed villas and luscious countryside.
Perfect for adding some Greek chic to your home, use it for cushions, curtains or cover wooden panels for instant art.
See this product at Sandberg...
(We don't sell this product yet but sign up to our newsletter and we'll let you know if/when we do)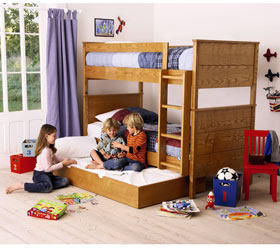 When decorating a kid's room you can really be as imaginative as you want, and have some fun with the great choice of products available from Furnish.
Any parent will know just how difficult it can be to create a bedroom for their kids that will keep them happy and help them learn, whilst also maintaining that 'cool' status for when they have friends round.
Wallpaper is a feature that will determine the overall mood of a room, and if you want to go for something decorative and colourful, then Butterflies wallpaper from Lover's Lounge is a great choice for either a playful feature wall or to cover all four walls. Another imaginative way of decorating your children's bedroom is with wall stickers; these offer the perfect alternative to wallpaper and can liven up a bland wall. I love that these can be both easily applied and simply removed if you or your child decide that you want a change. For example, Animal tower wall stickers from Lover's lounge are perfect for toddlers to measure their height as they grow.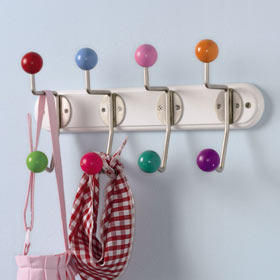 Storage is essentially one of the most important parts of a children's bedroom; ultimately you will want to achieve a tidy room with accessible storage. The multi-purpose play table with trundle drawers from Great Little Trading Company is any parents' dream because not only does it serve a practical solution with drawers for storing all your kid's toys in, but it also provides a play table with different activities to choose from so your child won't get bored. No longer will your child be afraid of the dark with Plug in Night Lights from Great Little Trading Company; these are a safe and simple way of ensuring a good night's sleep all round. Any cool kid's bedroom would also not be complete without a ceiling light, such as Twit Twoo from Hunkydory Home, which has a colourful print and gorgeous owl design.
If you have children sharing the same room but want to create space then bunk beds are a good solution, they give you more space and kids love them. The Tilly and George bunk bed from Great Little Trading Company is ideal for a cool kid's bedroom because it has a modern design made from traditional wood providing a sturdy sleeping place. Themed bunk beds are also a very popular choice. For furnishing a children's room but still keeping it fun, the Magis Plastic Puppy from Utility is a great seat to keep in their bedroom. You may want to have a couple of these in different colours so that their friends can join in too.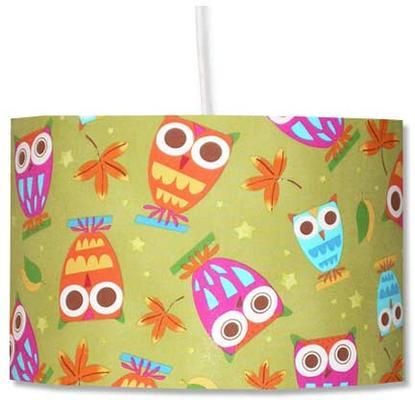 Children's accessories are often the most imaginative and creative part of a room, and are the best way to encourage your child to learn but enjoy it at the same time. The magnetic Blackboard clock from Great Little Trading Company allows you to write in your own numbers, timings or reminders, and this way kids can become more independent in remembering what activities they are doing and when. When starting school kids will need to be organised and so functional accessories like the Rainbow Coat Rack from Great Little Trading Company will help them keep their coat and bags tidy.
In a sense, the greatest freedom you have with decorating and furnishing a cool kid's bedroom is that there are no strict rules, although fun and practicality should merge to give the room the best potential for your child to enjoy playing as much as learning.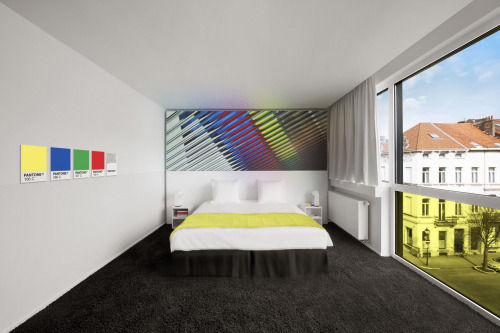 The opening of the Pantone Hotel has certainly brought a spectrum of colour to the city centre of Brussels.
Whether you want to have a city break or you are on a business trip, this unique hotel promises an eclectic and colourful experience to suit every possible desire.
The designers, Michel Penneman and Oliver Hannaert thought about how colour in interiors can work to evoke different senses and moods. One of the seven different Pantone colour spectrums is featured in one of the 59 rooms, the spectrum ranges from vibrant and intense to fresh and eager.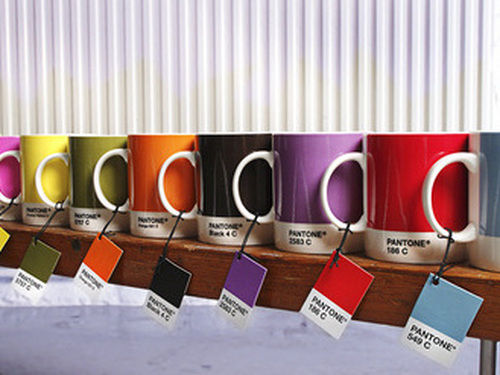 The basis of the design in the bedrooms shows how the contrast of the blank white walls with colour can create a simplistic, modern style that will appeal to many. The guest rooms in the hotel feature exclusive photography by the Belgian artist Victor Levy. Guests can also book colour consultations with Pantone specialists for interior design advice.
Complete with luxurious beds, designer furniture, and flat LCD TV's, it seems hard to imagine that you wouldn't want to visit this hotel time and time again to experience a different perspective of colour.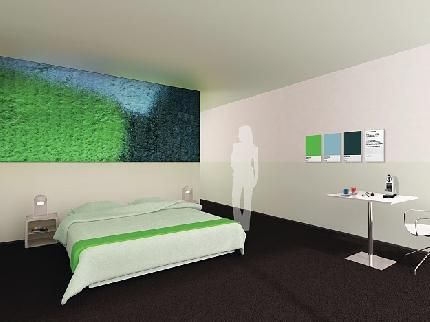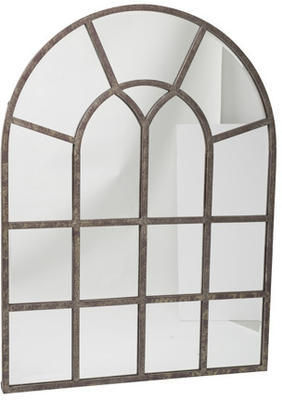 Get some light on the scene with this Arched Window Mirror from Graham & Green, £166.
This fantastic Arched Window Mirror can be used inside to give the illusion of looking into another room, or outside to give the impression of a bigger garden. It's a bit Alice in Wonderland, which is why I like it so much. And I've always wanted to live in a house with arched windows.
Fabulous in a hallway or above a fireplace it looks wonderful propped against the wall, reflecting light back into the room. And outside in the garden it'll create a lovely courtyard feel. It's got the look of architectural salvage about it, but with a metal frame and wood effect finish, it won't degrade outside.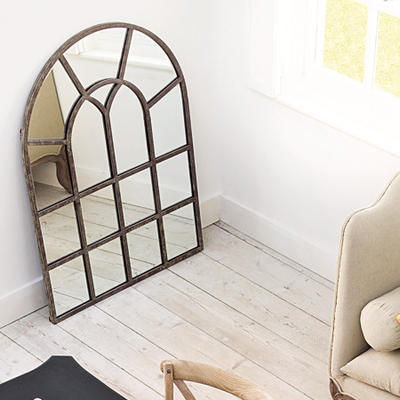 Standing at over a metre tall and almost a metre wide, you get a lot of mirror for your money. The same thing from a reclamation yard would be more or less double the price.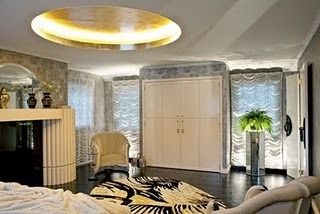 We've been roaming the highways and byways of the internet for inspirational interiors blogs, and we haven't come home empty-handed.
Top of the list of picturesque pit stops this week is the fabulously titled Domicidal Maniac. The maniac in question is Washington-based interior designer and window dresser, Scott Fanzzini. This is window-shopping in the virtual world, with inspiration at every turn: new designers, envy inducing interiors, style crushes and all manner of good-looking things (including Mr Fanzzini, I might add). He's also got a penchant for old movies – check out this post celebrating the set designs on How To Marry a Millionaire.
Next stop on the scenic route is Diary of a Wandering Eye. Another American boy with eclectic tastes, this anonymous blogger will lead you on a wanton chase through a landscape of visual delights. The Covet section left me slack-jawed with desire, especially for Greg Kulharic's ceramic vegetable pots. Whoever this wandering eye belongs to it knows where to look. And with a jaunty writing style, the hand's not bad either. The boy's got style in spades – just look at the fantasy musings and scrapbook photos in the My Future Home series.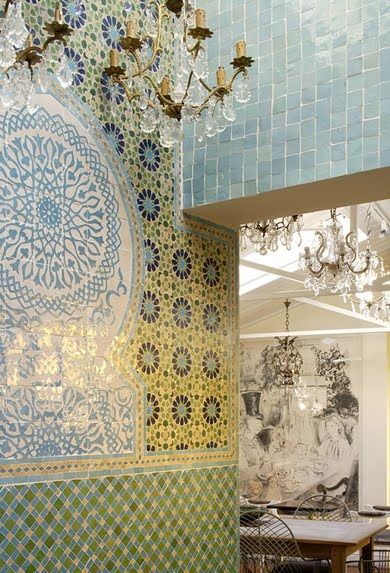 Back in Blighty, there's time to stop off for a pot of Earl Grey and a cucumber sandwich with Lynne at Tea for Joy. Dedicated to two of my favourite things – tea and vintage - this one's right up my street. And it really is a joy to behold – a reverie of teashops and teacups, patterns and prints, fifties furniture and beautiful British designs [http://teaforjoy.blogspot.com/2010/02/roddy-and-ginger.html].
That's it for this week, but remember, if you write your own interiors blog get in touch and we'll flag it up next time.