It's our Interior Design Magazine!
The hottest interior design ideas, fab finds for the home and the latest in interiors trends. We're always looking for new finds, designers to feature or anything else lovely for the home, so if you've seen something gorgeous and would like it featured in our interior design magazine, please get in touch!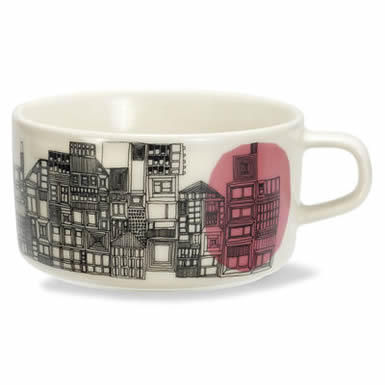 Make time for a relaxing spot of afternoon tea with this graphic china from The Lollipop Shoppe. From £14
Everyone loves a good cup of tea but we think how your tea cup and pots look is just as important as what goes in them.
Like most home products, there's lots of teaware to choose from. Some pretty and romantic, some contemporary and quirky (remember the Shatter ones we showed you a few months back from Umbra). Well, we think we've found a happy medium in between the two.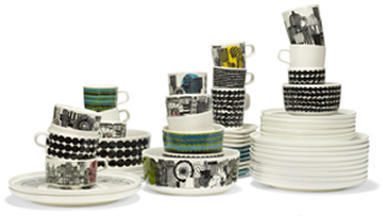 The In Good Company range from Marimekko (available at The Lollipop Shoppe) features an eclectic graphic print that is sure to brighten up your daily (or hourly!) cuppa.
And if you happen to know someone who can't get through the morning without several cups of Rosy Lee, then this will make the perfect gift for them under the Christmas tree this year.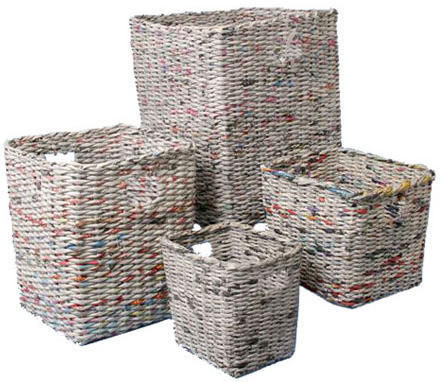 Go green in the home with these recycled newspaper accessories from Oliver Bonas. From £9.50
Everyone knows that we're all meant to be greener these days from getting the bus instead of driving to recycling everything in our homes from newspapers to food containers.
Well, if you haven't been keeping up your end of the bargain by recycling every last scrap of paper in your home, here's a way to make amends and do your bit for the planet.
This stylish bin and storage boxes are made entirely from twisted, recycled newspapers – meaning you can feel completely guilt free about having them in your home. The bin, obviously acts as a great, erm bin – that will look fab in any room, while the storage baskets are available in four different sizes and are perfect for stashing away everything from back issues of magazines and toiletries to accessories and jewellery.
They'll also make a perfect Christmas gift for someone who cares about the environment and loves stylish interiors products too.
They say today's newspaper is tomorrow's chip wrapping, well in this instance it's actually some rather stylish accessories.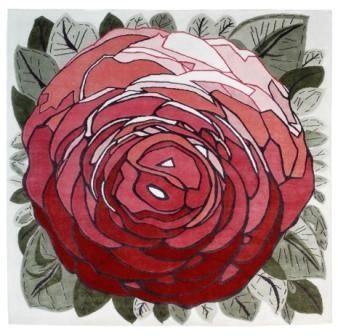 Give your floor the floral treatment with this stunning rug from Jocelyn Warner. £1,810
We're getting bolder with the pattern choices we make for our walls, so why shouldn't we with our floors?
Jocelyn Warner is a well renowned rug and wallpaper designer, with her stunning creations taking their inspiration from nature.
And we love this designer rug, which provides the perfect excuse to add some much-needed colour and pattern to neutral floors.
Called Bloom, its design is an intricate replication of a rose head in all its glory.
Made from 100% hand knotted wool, this rug will look fantastic in any room but we think it will make a great addition to a romantic bedroom.
See this product at Jocelyn Warner...
(We don't sell this product yet but sign up to our newsletter and we'll let you know if/when we do)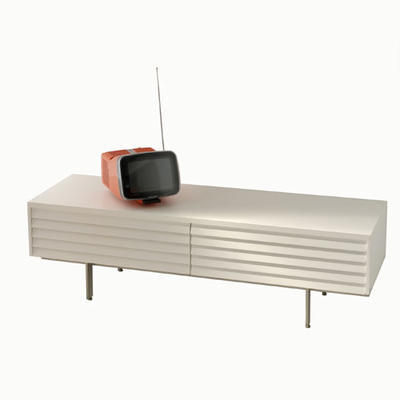 Keep your TV looking stylish with this cabinet from Utility. From £1,442
TV at Christmas is just as important as the tinsel and turkey, but just for a moment forget about arguing about who wants to watch what and concentrate on how good your TV can look.
Let's face it, unless you've splashed out on the latest Bang & Olufsen, TVs aren't the most stylish things in the world and that's without even thinking about all the DVDs and games consoles that sit alongside them.
Which is why we think it's a good idea to invest in one of these TV cabinets from Utility. Designed by Terrance Woodgate, the Sussex TV cabinet is sleek, stylish and possible most importantly, super practical.
As well as providing plenty of room for you to display your TV, this cabinet also has plenty of room to stash away DVDs, videos (go, on we know some of you still have them...), games and anything else you might not want on display.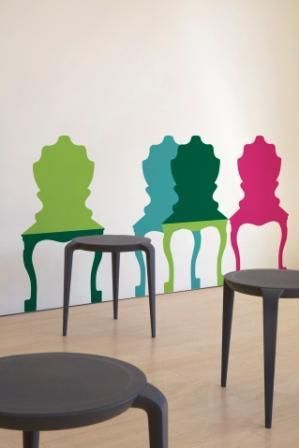 Create a chair of your own or jazz up an existing one with these super cool stickers from Supernice. From £32 for a pack of stickers.
Wall stickers have been around for quite some time and have proved to be ultra popular with those who are a little bit wary of using wallpaper or paint to add colour and pattern to their homes.
We agree that they are indeed a brilliant way of jazzing up your home without the hassle of having to get out your paint brush or wallpapering table.
However, we have found something just as exciting; these super cool chair stickers.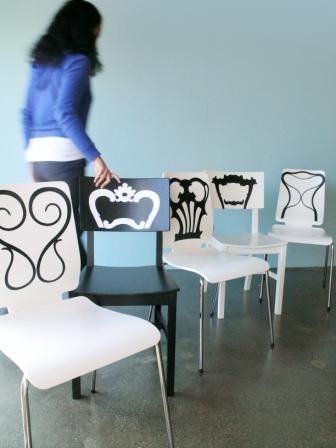 The Classic Chair Back stickers allow you to jazz up an existing chair without the hassle of having to paint or reupholster it, while the Mix A Lot stickers feature silhouette chairs in a range of colours which are great for adding colour to a plain wall.
We love them both and are currently working out which of our chairs to update them with.
See this product at Supernice...
(We don't sell this product yet but sign up to our newsletter and we'll let you know if/when we do)
Liven up your Christmas tree with these cute felt decorations from Michelle Mason. £11.99
I've finally succumbed to the fact Christmas is indeed just around the corner and that I really should think about how I'm going to decorate my tree this year.
I'm usually a silver and white kinda gal, anything else seems to stand out like a sore thumb in my neutral flat and there's definitely not a whiff of tinsel or novelty baubles when it comes to my tree.
This year however, I'm breaking with tradition as I just simply must have these gorgeous felt transport-inspired decs from Michelle Mason. As someone who's more than familiar with London's transport system, I adore this black cab decoration and the iconic Routemaster design definitely gets my vote.
Just cute enough without being naff, these baubles are also super stylish and an absolute must for anyone that wants a cool tree this year.
See this product at Michelle Mason...
(We don't sell this product yet but sign up to our newsletter and we'll let you know if/when we do)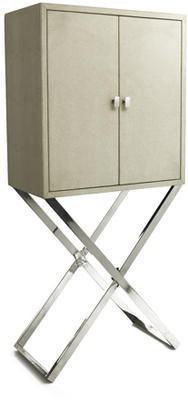 Get shaking those cocktails with this funky bar from Graham & Green. £695
With the party season well and truly upon us, it's time to start thinking about the most important aspect of this festive time: drinking cocktails!
Ok, that might not be true for some, but personally I'm excited about having lots of Manhattans...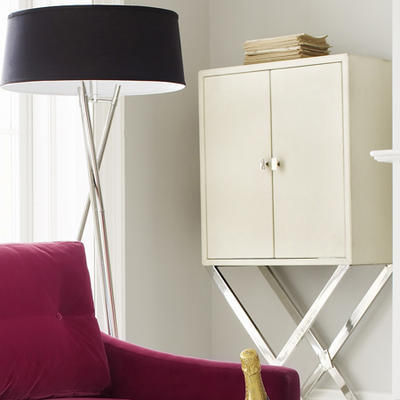 In all fairness, home bars have always been a bit naff – think Del Boy and his pineapple ice bucket but that's a thing of the past thanks to this ultra cool bar from Graham & Green. Made from faux snakeskin teemed with sleek polished steel legs, it looks fabulous and is super handy too.
The doors open to reveal a single shelf for you to stash your poison on and any other barware paraphernalia you might need to make your party go with a swing.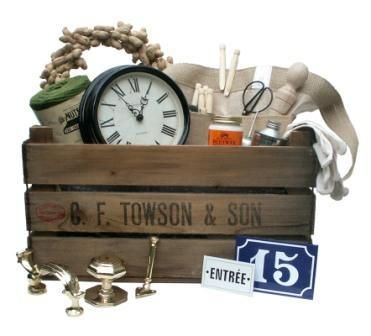 Give your friends some Christmas cheer with an interiors hamper from Willow & Stone. From £20
If your friends are just as obsessed with interiors as you, then what could be better to give them this festive period than a bespoke hamper from Willow & Stone?
Willow & Stone are a delightful interiors company based in Falmouth, Cornwall and are a treasure trove for anyone who wants to add a vintage touch to their home.
A nuts and bolts company, Willow & Stone sells a great range of door furniture, lighting and everyday essentials such as hooks and other stylish hardware items.
To create your hamper, you simply choose from either an apple crate (which can be reused for storage) or a genuine Edwardian paper bag, then select the items you want to include and if that's all too much for you, then give the clever peeps at Willow & Stone a rough idea of budget and what you're after and they'll put a gorgeous hamper together on your behalf.
A word to the wise though... if you've got your heart set on one of these hampers for yourself, we suggest you leave your Christmas list lying around in an obvious place.
See this product at Willow & Stone...
(We don't sell this product yet but sign up to our newsletter and we'll let you know if/when we do)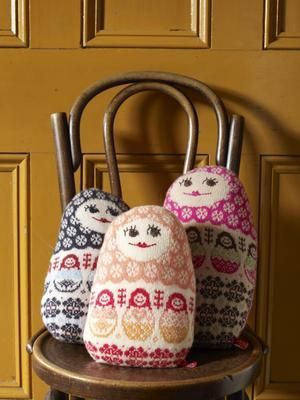 Add some Russian charm to your sofa with these gorgeous knitted cushions from Plümo. £59
I don't know why but I've always been obsessed with Russian dolls. I think I just love the way they look and nest inside each other.
My obsession stretches way further than actual Russian dolls, in fact I love anything with a print of them on, which is why I simply adore these cushions from Plümo.
These hand-knitted cushions are made in the Shetland Isles and are available in three different colours. Perfect for adding a quirky twist to a sofa or your favourite easy chair, they're great for kids and adults alike.
And I love them so much that they've just jumped to the top of my Christmas list for Santa. I've been a good girl all year so I'm hoping they'll be in my stocking on Christmas morning.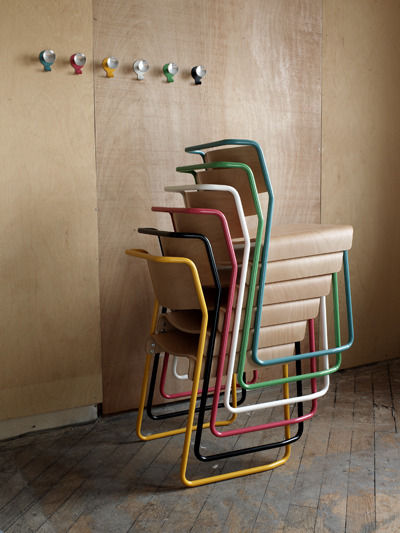 Add some colour to your dining room with these simple yet stunning chairs from Very Good & Proper. £215.
With Christmas just around the corner, it's not just present buying that should be high on your To-Do list, but getting your home ready too.
Christmas is probably the one time when everyone you know will descend on you for a visit. Whether they're the ones who definitely outstay their welcome or the thoughtful ones who can tell when it's time to leave, we're sure you'll want your home to look its best this festive season.
Dining of course is one of the most popular pastimes at Christmas, so it's essential that your dining space is looking its best.
We've fallen hook, line and sinker for these gorgeous retro dining chairs from Very Good & Proper. The beauty is in their simplicity – reminiscent of old school chairs, the frames have been brought bang up to date by being finished in a range of bright colours.
These will look perfect when teamed with a sleek dining table and the best bit is they're stackable so are ideal for using as spare chairs when you have one guest too many.
See this product at Very Good & Proper...
(We don't sell this product yet but sign up to our newsletter and we'll let you know if/when we do)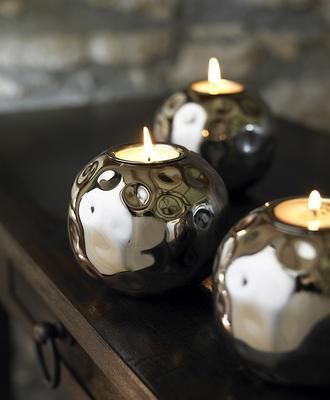 Create a magical glow with this pretty metal tea light holder from Lombok. £10.
Ah, the magical glow of candlelight at Christmas. There really is nothing like it and these hammered tea light holders offer the perfect way to create a warm and inviting atmosphere.
Simple yet elegant in design, they look great lined up on a mantelpiece or dotted around a dining table, and being fairly low means you won't have guests craning their necks to speak to one another over a grand candelabra.
You could even try adding a couple to your bathroom for a decadent candlelit soak.
They will also make the perfect Christmas present for any design addicts you might know and at a purse-friendly £10 each, they won't break the bank either.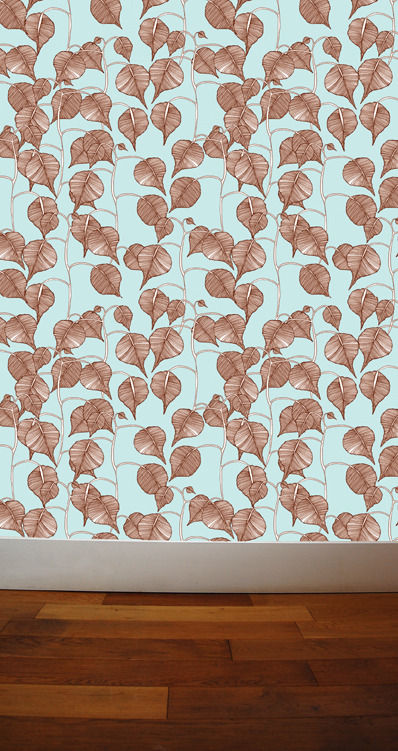 Give your walls some pattern and colour with this wallpaper from Camilla Meijer. From £67.50.
Winter may well and truly be with us but that doesn't mean your home has to reflect the cold and bleak weather that we're no doubt set for. On the contrary, we think adding some colour to your home is the perfect way to brighten up those dark mornings and evenings.
Camilla Meijer clearly agrees, as her collection includes some gorgeous wallpaper, cushions and lampshades all in beautifully bright shades.
We love all her designs but Swedish Leaf is a definite favourite and, as with all the prints, this design is also available as lampshades and cushions.
So you can choose to go pattern crazy or just inject a small amount into your home.
See this product at Camilla Meijer...
(We don't sell this product yet but sign up to our newsletter and we'll let you know if/when we do)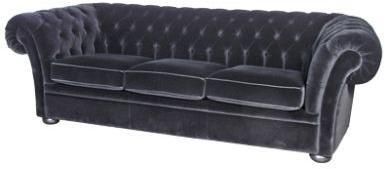 Sit back and relax in style with this sumptuous Chesterfield sofa from Lover's Lounge. £999
Buying a sofa can be a stressful experience, there's deciding on what style you want to go for, then which colour to choose and finally you have to work out whether you can actually get it through the door.
Here at Furnish, we see loads of sofas on a daily basis; some contemporary, some classic, some comfy, some not so but this Chesterfield from Lover's Lounge is without a doubt one of our favourites.
The classic design is absolutely timeless and will look great in both contemporary and traditional schemes.
We love the gorgeous black velvet upholstery, scrolled arms and beautifully buttoned back, which combined together, makes this the perfect sofa to sink into and watch rubbish Christmas TV when you've eaten one too many mince pies.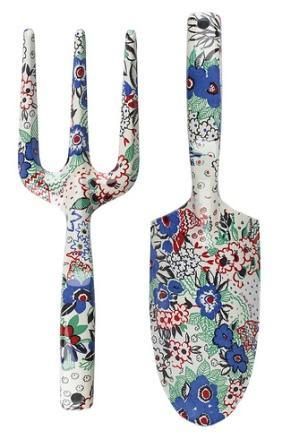 Funk up your gardening with these colourful accessories from WhereDidYouBuyThat from £9.99 for a pair of gloves
Growing your own veg is all the rage at the moment, but for some the thought of being knee deep in soil with an aching back and dirty finger nails isn't exactly fun.
Well, we think we've found just the thing to make your gardening experience a whole lot more stylish.
Designer extraordinaire and one time muse for David Hockney Celia Birtwell, has created a range of gardening accessories all covered in a beautiful floral print. Choose from gloves, a gardening apron and tools to make sure you and your garden look super stylish.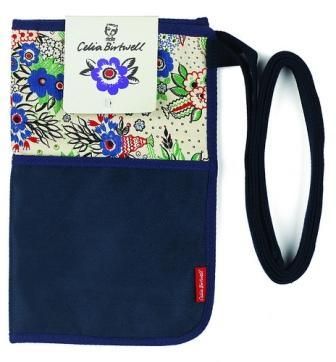 And if you're not naturally green-fingered, then they'll make the perfect Christmas gift for someone who is.
See these products at WhereDidYouBuyThat...
(We don't these products yet but sign up to our newsletter and we'll let you know if/when we do)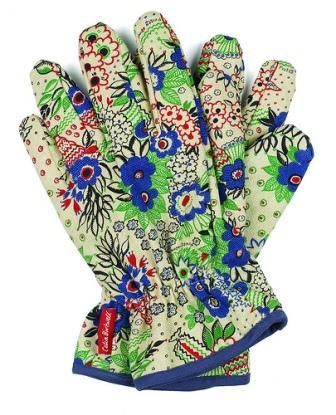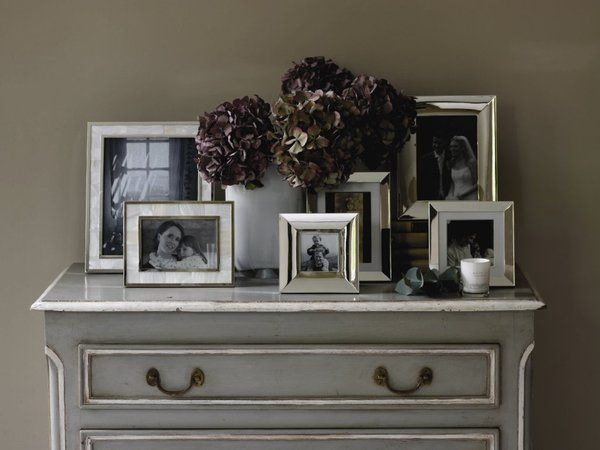 Say cheese, take a snap and then display it beautifully with these simple frames. From £20.
I don't know about you but I absolutely struggle finding presents for everyone each Christmas.
It's not that I can't be bothered to think about it, it's just that my family and friends are a fussy bunch and tend to know what they like. My sister is one of the hardest to buy for but I fear if I buy her pyjamas (very nice ones I might add) for the third year in a row, she might just disown me.
Perusing the usual Christmas catalogues and look books which are have been arriving at my desk at an alarming rate since the beginning of May – I kid you not, I think I've found just the thing to guarantee a smile on her face on Christmas morning.
The White Company, as they have done so often when I'm faced with not knowing what to buy a tricky relative, have come to the rescue once again. These picture frames are absolutely gorgeous and totally stylish. I love the Mother of Pearl ones which will provide the perfect surround for your family snaps.
In fact, they're so beautiful, I might just keep them for myself.
See this product at The White Company...
(We don't sell this product yet but we will do very soon. Sign up to our newsletter and we'll let you know when we do)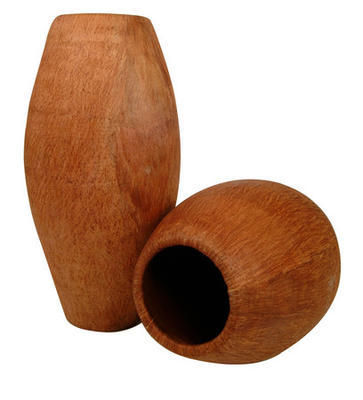 Combine being green and stylish at the same time with this eco-friendly vase from Puji. £75.
We're all more concerned about the environment than ever and it seems that everyone from high end designers to the high street has cottoned on to the fact that we all love a product with a good eco story.
Not so long ago, being green in the home didn't necessarily equal being stylish but thankfully that's all changed thanks to items such as this Tree bark vase from Puji.
Made from the bark of a mahogany tree, this vase will look great in any scheme, whether you favour the contemporary look or something a little more classic.
We know you'll probably want to keep it for yourself but it will also make the perfect Christmas gift for the eco warrior in your life.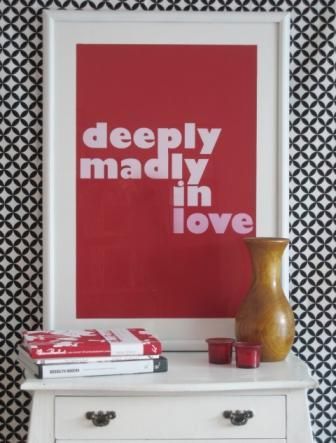 Inject some romance into your life with this print from Bodie and Fou. £25.
Prints with words on are becoming more and more popular. It seems people just love having phrases on their walls as the whole Keep Calm trend proved.
We've been searching for an alternative for quite some time so we're delighted to come across this amorous one from Bodie and Fou. Simple yet totally effective at getting its message across, this print will look fabulous on a plain wall.
And if you're still searching for the perfect gift to give your beau this Christmas, then we reckon you'd be hard pressed to find a better one than this; because let's face it, saying it with flowers is just so old hat...
See this product at Bodie and Fou...
(We don't sell this product yet but sign up to our newsletter and we'll let you know if/when we do)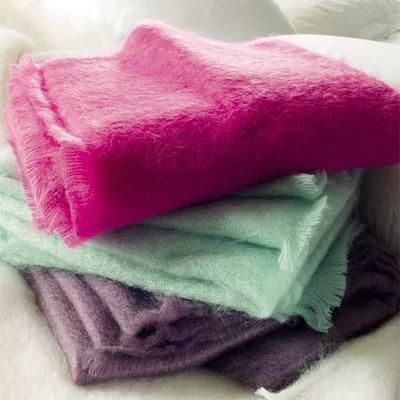 Cosy up with these colourful throws. £55.
Now winter is well and truly here (we somehow seem to have bypassed autumn) I'm on the constant hunt for products to make me feel warm and cosy in my draughty flat. Now, while I'm sure thermals are very good at keeping in all that body warmth, they're not exactly the most stylish things in the world, are they?
Which is why I've been on the hunt for a stylish throw that will keep me warm and look good, erm, thrown on my sofa.
Luckily, I found out about these gorgeous mohair throws from Graham & Green.
Available in Pink, Blue and Plum, they are just what the doctor ordered to snuggle up under in front of a roaring fire with a hot cup of cocoa.
And they'll make the perfect Christmas present for anyone from your Nan to your cool, best friend.
I know I'll definitely be adding one to my list for Father Christmas...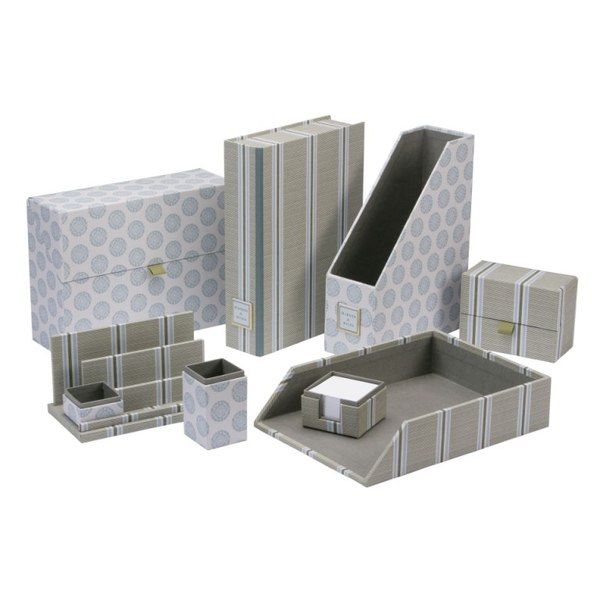 Add some pattern to your home office with these decorative accessories. From £9.50.
More and more people are working from home. In fact I've lost count of the number of friends that do.
And a lot of them work from their dining tables rather than carefully organised desks in spare-room offices.
I've been racking my brains for what I can get said home-working friends for Christmas (other than a full time job and stability of course!), but now I think I've found just the thing. Harris & Jones design some really gorgeous desk accessories which will make any home office feel less like an office.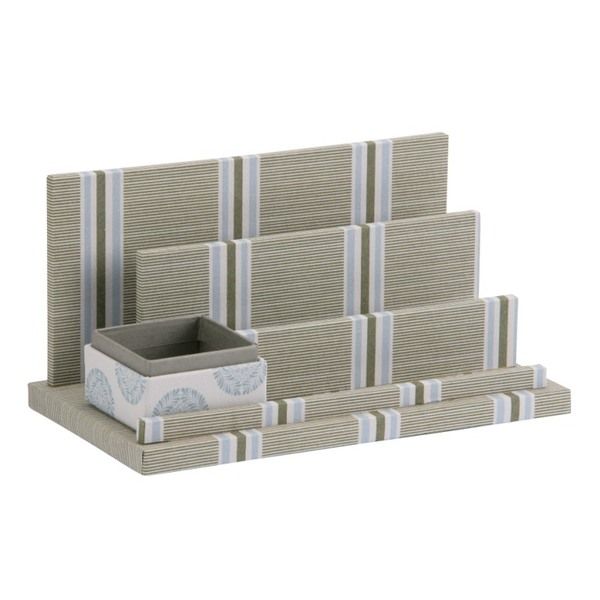 As well as being ultra-pretty, these accessories are practical too and the range includes a desk tidy, memo block, magazine files, desk trays and more. And while this Andrei print is our favourite, they're also available in five other designs.
And if that won't encourage them to have a tidy dining table (ahem, I mean desk of course) then nothing will.
See this product at Harris & Jones...
(We don't sell this product yet but sign up to our newsletter and we'll let you know if/when we do)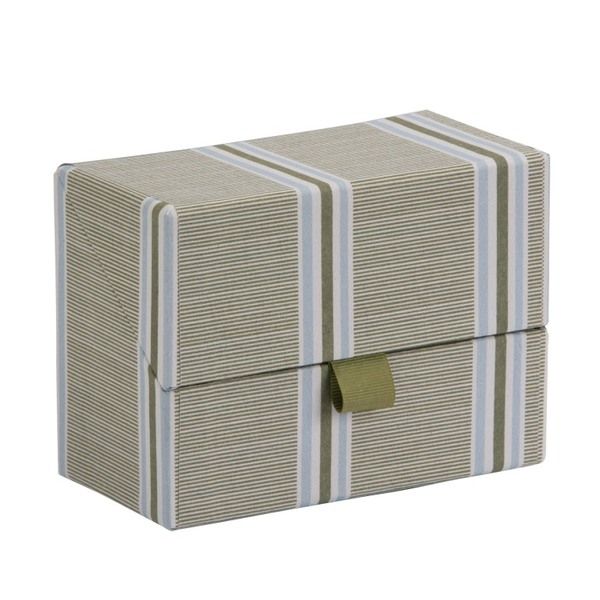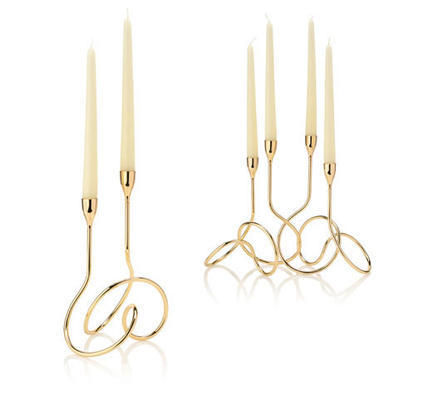 Create a dining table to be proud of with this candelabra. £70.
I adore candlelight, there's just something so magical about it compared with the glow from an energy saving light bulb.
Of course, there are lots of candle holders and candelabras available. If you put them all together, they'd go around the Earth about three trillion times*.
But like most items for the home, some are gorgeous and some are, well, not...
But this Loop one from design duo Dan Black and Martin Blum has become a design icon and is one of the most stylish candelabras around.
Loop is available in Gold and Silver both of which are equally stunning. And with Christmas just around the corner, perhaps it's time you treated your home to a little present too.
This will look fabulous as a simple yet stunning centrepiece for your dining table on the big day, without a piece of holly or a poinsettia in sight – which gets my vote.
*Not based on any form of scientific research (!)