It's our Interior Design Magazine!
The hottest interior design ideas, fab finds for the home and the latest in interiors trends. We're always looking for new finds, designers to feature or anything else lovely for the home, so if you've seen something gorgeous and would like it featured in our interior design magazine, please get in touch!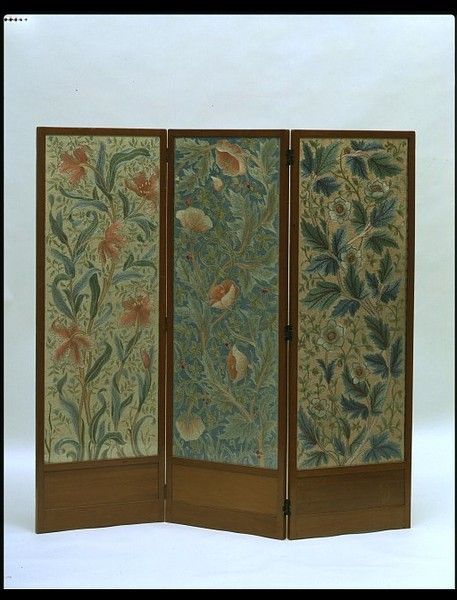 We look back on Arts and Crafts style and highlight designers upholding the movement's legacy.
We look back on Arts and Crafts style and highlight designers upholding the movement's legacy. Celebrating quality construction, skilled craftsmanship, and the beauty of natural materials, the Arts and Crafts movement has renewed relevance in today's hyper-commercialised world. Ideals of quality over quantity, 'truth to materials', and beauty in simplicity are making a resurgence, as concerns over economic and environmental sustainability are reflected by contemporary designer-makers.
Arts and Crafts designers railed against the plethora of poorly made objects and sham historical styles churned out as a result of growing industrialisation and commercialisation in Victorian Britain. Developing in the 1860s as a reaction against stuffy ornament-filled interiors, gaudy commercialism and industrial production, the Arts and Crafts movement sought to restore the link between beauty and utility, material and design, hand and object. Rejecting the division of labour in industrial manufacture as dehumanising, Arts and Crafts designers set up small workshops in which objects were made from start to finish by skilled craftsmen. Handcrafting and taking pleasure in work were seen as morally uplifting, and morality of manufacture was coupled with morality of design. 'Truth to materials' was the moral compass of good design. The inherent beauty of natural materials was celebrated and designers were to have a full understanding of the material being worked in order to produce well-designed objects fit for purpose.
The high moral seriousness of the Arts and Crafts movement might be a bit of a turn off. (It's detailed in possibly the most tiresome tome in the history of design: News from Nowhere, by William Morris.) But a visit to one of the great houses of the Arts and Crafts movement, Rodmarton Manor in Gloucestershire, dispels any misgivings about the actual designs produced. Hallmarks of Arts and Crafts style include simple structural forms (used to emphasise the natural qualities of materials), exposed construction (such as wooden pegs and joints), tactile ergonomic design and organic patterns. All these are evident in the interiors at Rodmarton Manor, while the exterior draws on the bold forms of vernacular architecture in rural Britain.
Designed by Ernest Barnsley in 1909, the house features traditional Cotswold architectural details including gables, stone mullions, leaded lights and tall chimneys. Employing local craftsmen, it was built using local stone and tiles, as well as timber felled from the surrounding area. Much of the furniture was made for the house at Rodmarton workshops and includes designs by Ernest Gimson, Alfred and Louise Powell, Ernest Barnsley's brother Sidney, and Sidney's son Edward. Perhaps the very best work, and that which goes furthest to shake off the 'backward provincial' tag, is by Dutch émigré cabinet-maker Peter Waals.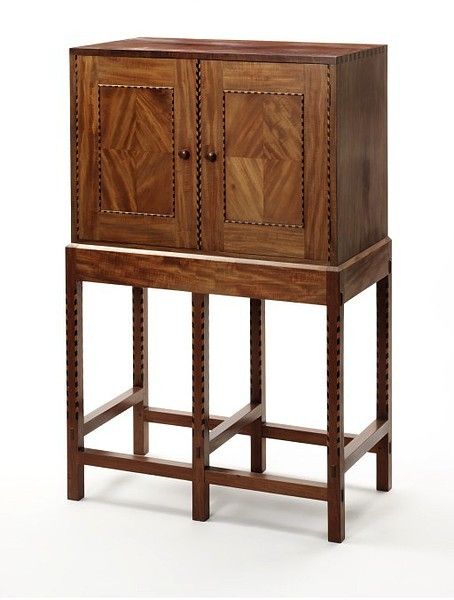 Waals produced two burr walnut writing cabinets for the drawing room at Rodmarton as well as numerous other pieces. Finished to a high lustre, the cabinets show off the beautiful grain of the walnut, featuring raised panels and drawers with chamfered edges, exposed dovetail joints, holly and ebony inlays, and handles with carved finger holds. The rooms at Rodmarton are large, and furniture was built to match: great dressers, chests and cabinets with multiple drawers, tactile grab handles and sliding wooden door catches. But the quality of detailing is remarkable: delicate inlays, turned, tapered and chamfered wood, and multiple timbers enhanced to bring out the grain. Oak floorboards are overlaid with bright hand-knotted rugs; whitewashed walls enhance feelings of light and space; curtains and drapes feature organic patterns based on floral and animal forms. In the library, a huge screen painted by Louise Powell depicts young ferns, spindly trees with delicate blossoms, and frolicking squirrels and birds. After visiting Rodmarton in 1914, C R Ashbee, an influential exponent of Arts and Crafts style, proclaimed that 'the English Arts and Crafts movement at its best is here'.
Although the Arts and Crafts movement is associated with the country life, it had a strong cosmopolitan base. Arts and Crafts style was popularised by shops such as Liberty and Co. though which designers including C F A Voysey, Ashbee and William Morris sold their work. Liberty adopted Arts and Crafts as its signature style, and continues to produce fabrics by Arts and Crafts designers today. With the current resurgence of interest in craft, and the desire for quality over quantity in economically uncertain times, the ideals of the Arts and Crafts movement are making a comeback. Contemporary designers are spearheading a revival of craftsmanship and traditional skills.
Tom Dixon's Beat vessels and shades are made from hand beaten brass using a traditional, rapidly vanishing skill from Indian master craftsman. His pressed glass pendant lights are hand cast and each reflects the inclusions and imperfections of the manufacturing process. Dixon established the brand in 2002 with a commitment to reviving the British furniture industry, and his work draws on Britain's craft heritage. Dixon's Natural Slab chair has all the Arts and Crafts hallmarks. Crafted from solid oak with a deeply brushed surface, exposing the grain of the wood, visible wooden pegs fix the seat to the frame. Innovation is combined with traditional craftsmanship to create a space-saving, stackable dining chair. Dixon's Offcut furniture range uses scraps or 'off-cuts' of oak that would otherwise have been discarded, and embraces the beauty of imperfection. Arts and Crafts ideals are united with current environmental concerns.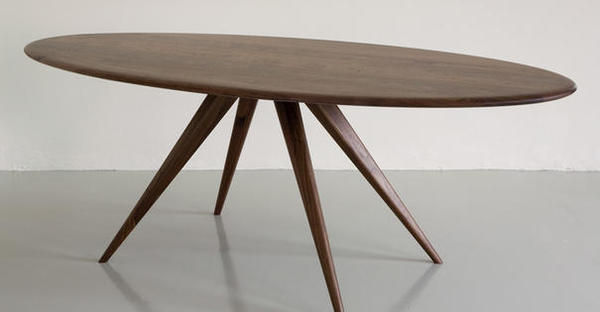 Anna Lockwood of Lockwood Design creates unique, one-off pieces of furniture. She specialises in traditional upholstery techniques and uses natural materials such as hessian, coir fibre, horsehair and calico. Sourcing vintage and antique pieces as well as providing a complete restoration service or a simple recover, her work is environmentally friendly and craft driven. The Holland occasional chair has an Arts and Crafts look about it, with a turned wood frame and seat upholstered in orange felt. The Benjamin wing armchair has the same 100% wool felt upholstery and beautiful bees-waxed legs. It wouldn't look amiss at Rodmarton Manor.
Running an apprenticeship scheme and employing and training up workers from the local area, Benchmark continues the legacy of the Cotswold Arts and Crafts movement responsible for Rodmarton Manor. Producing contemporary classics with sustainability in mind, Benchmark is founded on a belief in the timeless appeal of good design. Celebrating high quality materials and traditional craftsmanship, the furniture collection is hand made to order from start to finish in the workshops in West Berkshire. The angle-fronted Admiral Cabinet in American black walnut with lacquer finish epitomizes 'truth to materials', working to bring out the natural beauty of the wood grain. Crafted from solid fumed oak with a lacquer finish, the Jack Pedestal dining table recalls a design by Ernest Gimson in the Drawing room at Rodmarton. The Darcey table and Furrow sideboard evoke the simple sophistication of Arts and Crafts furniture.
Good design and quality construction never date. Celebrate design innovation and invest in the future of traditional craft skills.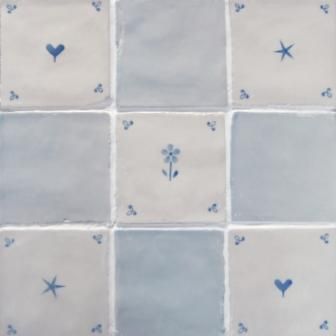 Add some subtle pattern to your walls with the True Blue tiles collection from Susie Watson Designs. £7.75 each
We don't often feature tiles as Fab Finds here on Furnish.co.uk, but when I saw the stunning designs from Susie Watson, I just knew I had to share them with you.
There are tonnes of designs to choose from, but what really caught my eye was the True Blue collection (not least because the Madonna album of the same name was my very first LP).
The range consists of four designs; three delicate motifs featuring a star, heart and flower and a pale blue plain design. An update on traditional delft, these pretty tiles will look fantastic wherever you use them.
Try using a mixture of the plain and motifs to create an elegant splash back for a sink or basin or even to add a new look to a fireplace.
See this product at Susie Watson Designs...
(We don't list this product yet but sign up to our newsletter and we'll let you know if/when we do)
Give your table a patriotic feel with this Britannia china from Bottle Green Homes. From £10.95
Perhaps it's because the London Olympics are fast approaching, but it seems interiors are having a patriotic moment. You can barely move for Union Jack inspired homewares and while I'm not exactly against a bit of flag waving, I prefer my patriotism a little more subtle.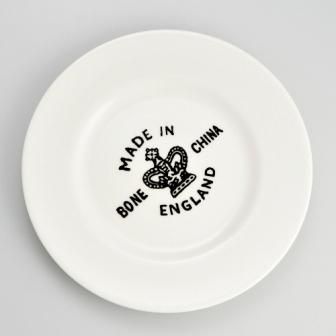 Available as a teapot, mug and small plate, each piece comes with this stylish and evocative "Made in Britain" back stamp mark which is traditionally on the underneath of products. Ideal as a chunky breakfast set, this collection is sure to add some national pride to any dining table.
See this product at Bottle Green Homes...
(We don't list this product yet but sign up to our newsletter and we'll let you know if/when we do)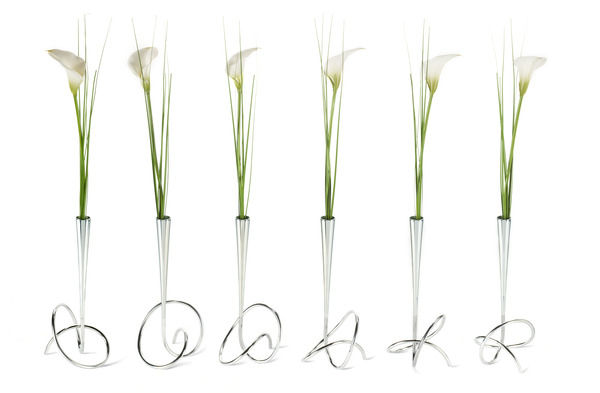 We take a look at how black+blum bring innovative style to your home.
Creative designers Dan Black and Martin Blum complete the Anglo-Swiss partnership of black+blum. Their design consultancy business, set up in 1998, has given them the opportunity to explore and develop their passion for design through their own range of functional products.
What makes black+blum unique is that they don't create fashion products that only have a short lifespan because they are based on current trends. Instead, their aim is to create designs that will inspire people's imaginations and give lasting enjoyment. They're proud to showcase designs that offer longevity; the products all serve a practical use which should still give them value in many years to come.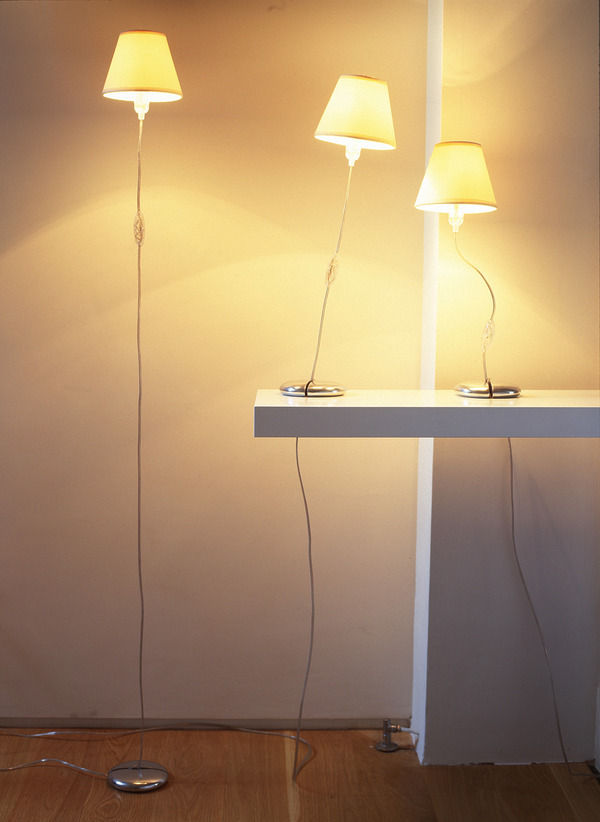 The Loop candelabra and the Flower loop vase showcase black+blum's elegant yet minimal style. The Loop designs are inspired by the Fibonacci curve which can be seen throughout nature, giving a balanced and aesthetically pleasing look. The loops can be linked together and used in interesting ways; rotating it offers a different look from every angle, giving the design a fresh and changeable look. Both designs offer good functionality and they're based on the fact that people, from history and into the foreseeable future, will always have a use for them.
black+blum are renowned for producing designs that have huge amounts of character; so, it is not surprising that one of their hero products is the award-winning James the doorstop who offers plenty of personality. Due to popular demand, this quirky design has also been remodelled into a bookend. James the bookend is made from synthetic rubber, except for the black version which is made from recycled material, and it can be used individually or as a pair. The stainless steel plate fixed to his foot gives him the strength to hold up a number of books. Transcending taste, the James products are widely recognised, and people appreciate the design for its functionality and humour.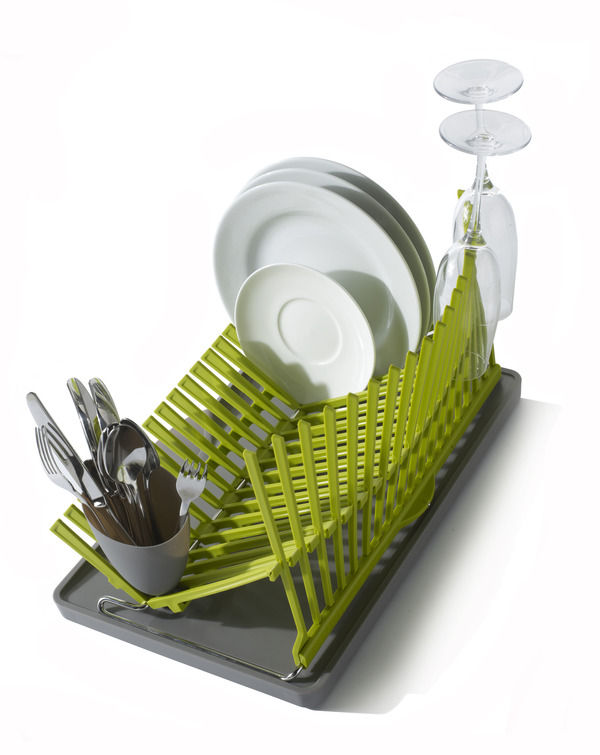 My favourite product is the Kind of Magic light which tricks the eye into believing that this is just an ordinary light. However, the shade is suspended from the ceiling with fishing wire so it appears to be floating. This illusion makes it possible to arrange and personalise the light in any way you want; it transforms easily from a floor lamp to a table lamp, creating a fascinating piece of feature lighting.
One of black+blum's newest products is the high&dry dishrack which took them two years to develop; its distinctive style, inspired by architecture, has recently won an International Design Award in America. Dan and Martin came up with the design when they realised that there was a niche in the market. The design has a unique and appealing sculptural shape that looks good when in use, and also enables it to fold down into a compact size for easy storage. The unique flip spout on the drainage tray gives you the option to drain or not, depending on your kitchen set-up.
black+blum's products are available on furnish.co.uk, and for their latest news and events visit their website at www.black-blum.com.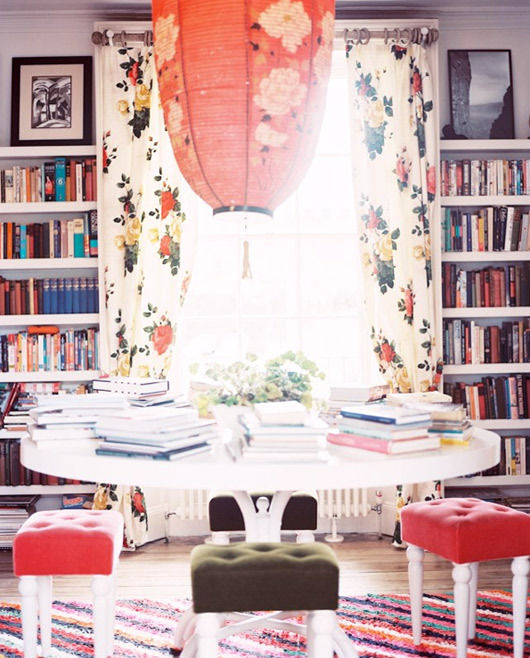 This week we're visiting San Francisco, Marrakesh and New York City.
SF Girl by Bay unsurprisingly hails from San Francisco and the blog is as beautiful as the city. The photographs have a dream-like nostalgia to them and the blog is known for representing 'bohemian modern style'. Created by Victoria Smith, it's a scrapbook of interiors inspiration, showcasing art and craft, new designers, products and trends, with a heap of shopping tips thrown in. She's a flea market junky with a love of photography, and her fabulous finds are shared with all. There's a great recent post on Scandinavian style. You could get caught up on here all day.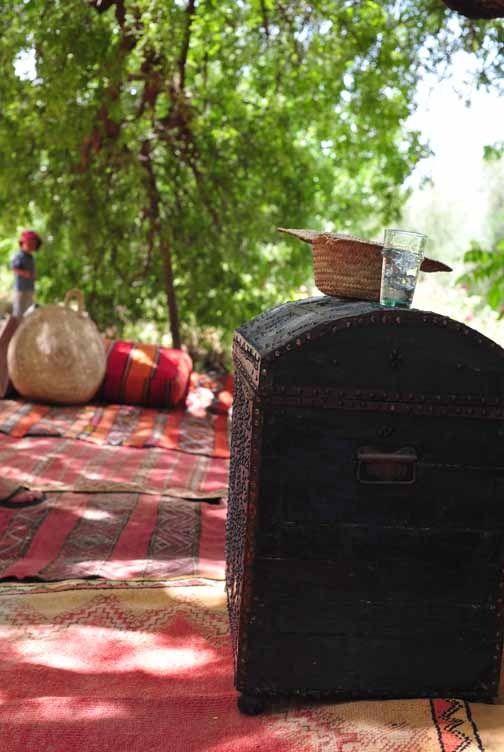 My Marrakesh is brought to you by 'Moroccan Maryam' and billed as 'the tales of an American family's quest to build a guesthouse in Marrakesh.' But it's much more than that. Maryam's a travel obsessive, a guidebook writer and a human rights specialist. With a job that's taken her all over the world, she's developed a passion for global textiles, carpets and Moorish culture. And the blog's definitely got that 'global traveller' feel, a wonderful riot of colour, pattern and sun-drenched style. The guesthouse, Peacock Pavilions, is a real find if you're thinking of a Moroccan trip. And the family have three peacocks as pets, which just about sums up the lifestyle.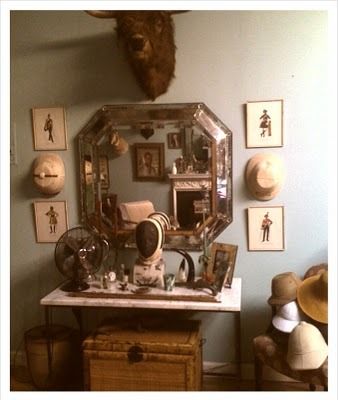 Hollister Hovey is such a charming blog, it's just mesmerising: a string of pearls. Beautiful photographs, printed ephemera, Polaroid snapshots, flea market finds, and design historical bits and pieces, are a continuous source of intrigue and delight. The 'acquisitions' posts bring out an alarming covetousness, and the blogger's house, stuffed full of beautiful vintage finds, is enough to make me weep. I'm actually quite lost for words when it comes to describing the wonder of this blog. If you live anywhere near New York or you're planning a visit, it's a must-see for insider tips on the best places for ferreting out a vintage bargain. But if a trip stateside is out of the question, just go on here and dream the dream.
Once again, get in touch if you want us to feature your very own blog next time.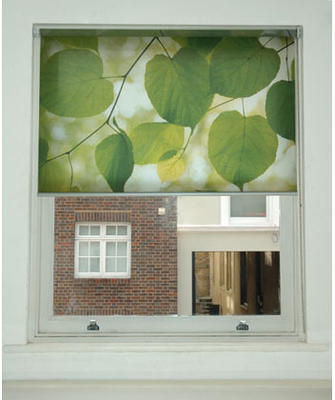 We uncover Ella Doran's inspiration and how she captures the wonders of nature in print.
Ella Doran's prints are now iconic within the world of interior designs and can be seen on everything from blinds to table mats. Ella has received several awards including the 'Most Influential Designer' Award from her peers at Hidden Art, and the Laurent Perrier Eureka 2006 award. Her designs combine and translate the vivacity of nature and art, bringing colour and interest into your home.
We interviewed Ella to find out what inspires her, and here's what she said...
If you had 3 words to describe your style what would they be?
Colourful, photographic, and bold.
Where does your inspiration come from?
It comes from the world around me; my children and family; the city; the countryside, and travelling. I constantly have my eyes open for new ideas.
What's your 'hero' product and why?
I think it would have to be our bespoke blinds and particularly the 'Sunlight through Leaves' design. Making bespoke blinds just really adds something extra and individual to a room, and that particular design works so well. If the blind is down and there is still some light outside, it makes the image glow and it's simply stunning.
How important is colour to your designs/prints?
Massively important! It's often the colour that draws me to a new idea. It's always colour that I love to absorb, like a sponge. And in terms of production it is always the colour that can lift a product from good to exceptional.
The popularity of your photographic coasters, based on photos you had taken on a trip abroad, was the catalyst for developing your business. How important is photography and capturing nature/life to you and your designs?
Photography is my pencil; my tool, my aid. Often I take my best shots when I'm not intending to. It's the light that draws me towards a subject outdoors, be it leaves on a tree or a large building. Often I can see more in the photograph after I have taken it and use this in another way than I had originally intended. My Geo design is a bit like this because it came from a photo of a building I took in Berlin, and in post production I have reworked it to become something completely different. Its repetition inspires many people to see all sorts of different things.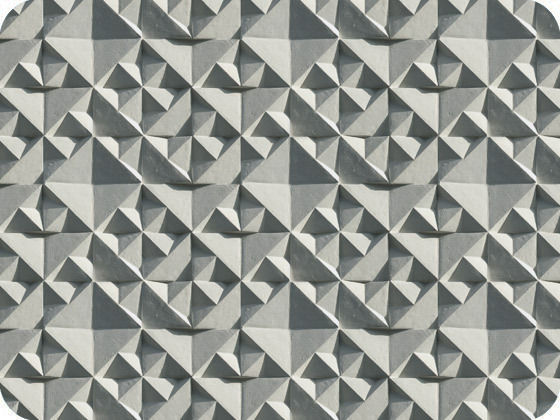 What is the most recent design product that you have bought for your home?
I recently bought the 'Hang it All', Charles and Ray Eames coat hanger from TwentyTwentyOne (Islington). I have a long standing love affair with Eames', the way they designed for industry and children, both with love, care, wit and attention to detail in such an all-encompassing way, and the freedom with which they applied their craft.
Who is your favourite interior designer of all time and why?
I don't have one in particular. I look back at people like Fornasetti and how he covered everything in his crazy designs, and take great inspiration from his clarity of ideas and determination to experiment with his art onto anything and everything. I also love Marimekko and their story since the 60's because their photoshoots of their fashion lines back then and in the 70's are fantastic.
What's your favourite material to work with and why?
Paper! Anything beautiful in paper excites me and makes me want to have it. The wallpapers have been brilliant to develop along with my stationery lines coming out soon! But I have made a name for myself in hard top tablemats and accessories, and I often see images applied to these in my mind as I work.
Where do you like to shop for quirky furniture pieces for your own home?
A mixture of places; I have my eye on a piece or two from the newly launched Jens Risom furniture at Rocket Gallery, produced by Bench. I have also bought from Russell Roberts on Cheshire Street; he has wonderful mid mod pieces, and is always displaying something wonderful in his window.
What advice would you give to aspiring interior designers?
Follow your own rules. There have been times during my career when I have been swayed by others, and this can lead you down the wrong path. You have to stay focused. It is your individuality that will make you successful; no one wants to see the same things churned out again and again, but by different people. Band-wagons are not always there to be jumped on.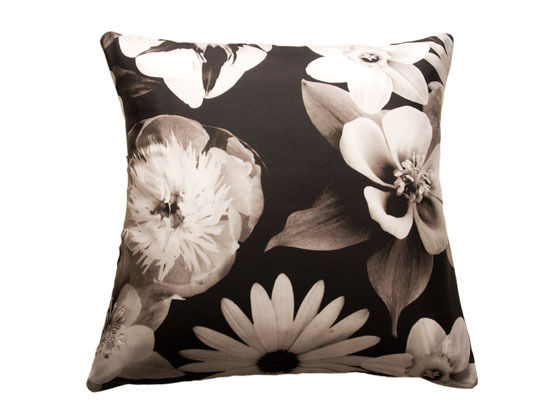 How important do you believe UK manufacturing is to our economy and the environment?
UK manufacturing has so many benefits to the economy and bringing back craftsmanship and skills to our society gives a huge sense of independence, achievement and longevity. It means that skills can be passed on from generation to generation, giving us an invaluable legacy. Environmentally, we would definitely save on carbon footprints! But I would say that global manufacturing, on the whole, needs to consider the environment more seriously and sustainable methods need to be embraced.
Are there any designers that you would particularly like to collaborate with in the future?
I would love to collaborate with a designer or architect on something on a large scale; often I think surface design is pigeon holed and people don't relate it to 3D products or even buildings. It would be interesting to push these boundaries where the surface design influences the form and vice versa.
What new projects do you have on the horizon?
I am always developing new products - sometimes too many! My most recent projects include gift wrap, gift bags and stationery. A larger collection of stationery is something I really want to push, as well as a larger collection of wallpaper.
You can view all of Ella Doran's designs at www.elladoran.co.uk.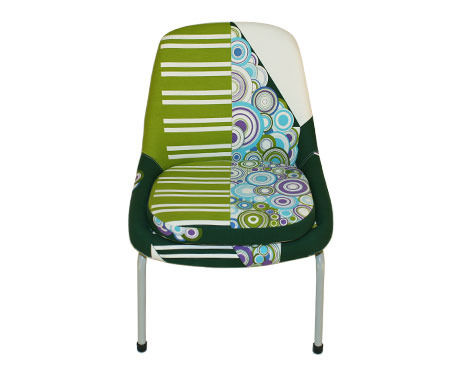 Sit back and relax in this beautifully recovered chair from 20Age. £396
My love of 20th century furniture knows no bounds. When that elusive lottery win comes through (and it will) I will fill my home with the most beautiful 20th century chairs around.
And so it makes sense that top of my shopping list will be this stunning Berlin chair from those clever people at 20Age. Berlin is a miniature egg chair which has been covered in a stunning vintage Heal's fabric and had its legs painted in a subtle grey paint.
Perfect as an office chair or an occasional piece for a hallway or living room, its rebirth at the hands of 20Age is simply divine.
However, if Berlin doesn't float your boat, there's sure to be one that does as the collection of revamped designs means there'll be something for everyone.
So I suggest you grab your measuring tape, raid the piggy bank and invest.
(We don't list this product yet but sign up to our newsletter and we'll let you know if/when we do)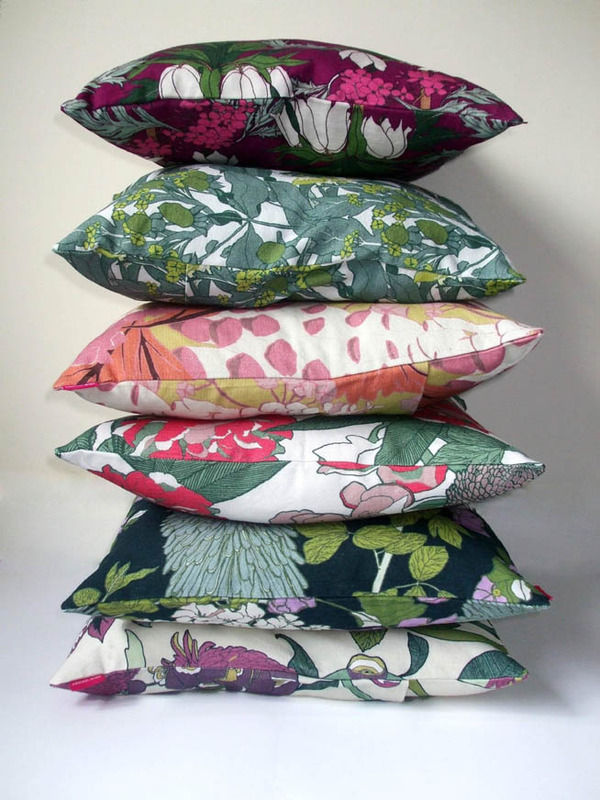 Award-winning surface designer Abigail Borg tells all.
Abigail Borg has taken the world of interiors by storm since graduating from Leeds College of Art in 2008 with a First in Printed Textiles & Surface Pattern Design. Picked out from thousands of graduates, she was named 'New Designer of Year 2008' and went on to set up on her own in January 2009. She's continued to wow industry professionals and interiors obsessives alike with her beguiling floral prints, and was short-listed by Elle Decoration at the British Design Awards 2009. We caught up with Abigail to have a bit of a gossip.
How would you describe the Abigail Borg style?
All of my work begins with hours of hand drawing – an integral part of my style. I see it as a fading craft, and there is no comparison to a hand drawn illustration against something that has been knocked up in a few minutes on a computer screen.
I have then chosen to digitally print my wallpapers and fabrics, as I don't have to compromise on colour or levels of details that I perhaps would if screen printing. If I could sum it up I'd say: 'Hand drawn; Vintage Inspired; Contemporary.'
What's your personal style at home?
I love going to car boots, charity shops and buying things off eBay, so there's lots of knick-knacks: battered picture frames and prints, scuffed storage boxes and jars, old textiles, fabrics, and so on. I'd much rather buy an old chest of draws that's been used constantly for 50 years, than a shiny, chip-free one. I also love being in the garden and spend lots of time planting and growing different flowers to photograph and draw, so there are lots of dried flowers about.
Your wallpapers and fabrics have a William Morris feel to them. What draws you to the Arts and Crafts movement and do you have any other favourite eras of interior design?
I love vintage design, particularly from the late Victorian period right up until the 1960's – lots of patterns, hand drawing, colour and craftsmanship. I enjoy looking at styles from each period and incorporating them into my own style.
As an illustrator, are there particular artists that have influenced your work?
Designers such as CFA Voysey and Walter Crane, and companies such as F. Steiner & Co and the Calico Printers Association all influence me – I love the daring use of colour and the bold lines and pattern.
You have a very distinctive colour palette. How do you put together your colour schemes and what comes first – pattern or colour?
I generally hand draw and put together a pattern, and decide from there what sort of colour palette I'd like to incorporate. As always, I'll look at archival patterns, as well as dipping into current colour trends to come up with something that has a good balance of the old and the new.
Why do you think florals work so well in interior design?
Florals have played a major part in interior design and decoration for centuries, starting off as tapestries, mural paintings and textiles, moving into the high fashion, modern settings of today. I think it's because of this that floral patterns never date and will always work well in an interior setting. Wallpapers designed by Morris and Voysey during the late 1800s could easily be applied to a room today and not look out of place. I think the basis of good design is being able to apply a product into a setting from any era and it still looking bang up to date.
How is new technology and traditional handcraft combined in your work? What is the aesthetic result of this approach?
I love to hand draw as the level of detail and the slight imperfections are so much nicer to see that a perfected and pruned computer file. I experimented with screen printing a lot whilst at art school, and found that I had to alter the detail and reduce the amount of colours. From then on I started digitally printing, as this allowed me to have as much detail and colour as I like, resulting in designs that had both bold colours and intricate, contemporary patterns.
As well as producing your wallpaper and fabric collections, you work with clients on bespoke commissions. What has been your favourite project?
I love working on all commissions as each one is a new challenge, and no matter what the end product is you learn so much along the way. I really liked working with Johnson & Johnson on illustrations for some of their products. It's nice to work on a brief together with an art director – and to think my drawings are in hundreds of bathroom cabinets makes me smile.
What's your favourite high-street and high-end home furnishing brand/store?
Topshop! It's affordable, with higher end pieces if you're wanting to splash out, as well as having a bit of vintage in there.
And Liberty – there's so much in there and every time I visit there's always something new to look at. Plus the tea room is nice for a little sit down.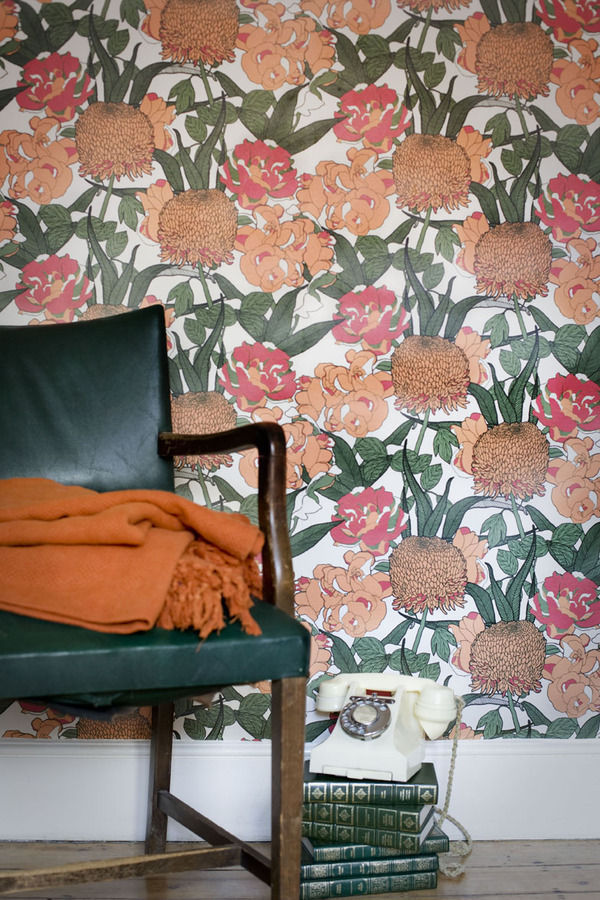 What's been your best interiors bargain?
This isn't so much a bargain, but salvage. My parents were cleaning out the loft of their house a few years ago, and on the 'take to the tip' pile was a shiny brown object. When I had a look it was a Guzzini mushroom ceiling light, which had been left there by the previous owner. They were going to throw it away as it was 'ugly and dated', so I immediately claimed it as my own!
Which three objects would you save if your house was on fire?
The Singer 3004; my mom bought it 27 years ago and it's the best sewing machine I've ever used. A box I keep lots of photos, cards, notes etc in from friends and lastly my collection of design books, journals, bibles which I'd hate to lose.
What do think will be the next big trends in interiors?
From a wallpaper point of view, perhaps some new finishes or printing methods with larger scale patterns, particularly florals.
What's next for Abigail Borg?
I'll be moving into a studio space by the end of the year, with new products and lines in the new year. I'll also be releasing a series of letter pressed Christmas cards in the next few months, as well as working on commissions for interior fabrics.
Find out more and buy online at www.abigailborg.com.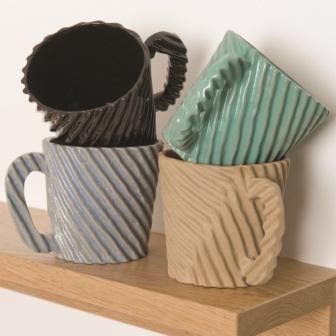 Find a new way to enjoy your afternoon cuppa with these corrugated mugs from Adra. £12
Perusing my mug collection the other day, I found that while it's a pleasing assortment of all the right kinds (the ubiquitous Pantone and Penguin Classics feature heavily) nothing really matches.
Not that it worries me a great deal but I thought it might be quite nice to have a matching set.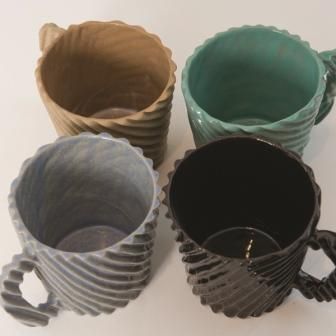 My online travels took me in the direction of Adra, a delightful interiors website based in Wales, which is where I found these corrugated mugs by Tom Gloster. Designed to look like corrugated cardboard, I love the lines and chunkiness of these tea-drinking vessels.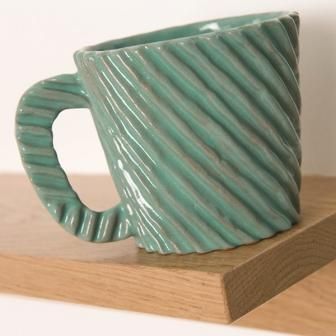 Available in four different colours and of generous size, these are perfect for adding a splash of colour to your kitchen and of course for drinking out of!
(We don't list this product yet but sign up to our newsletter and we'll let you know if/when we do)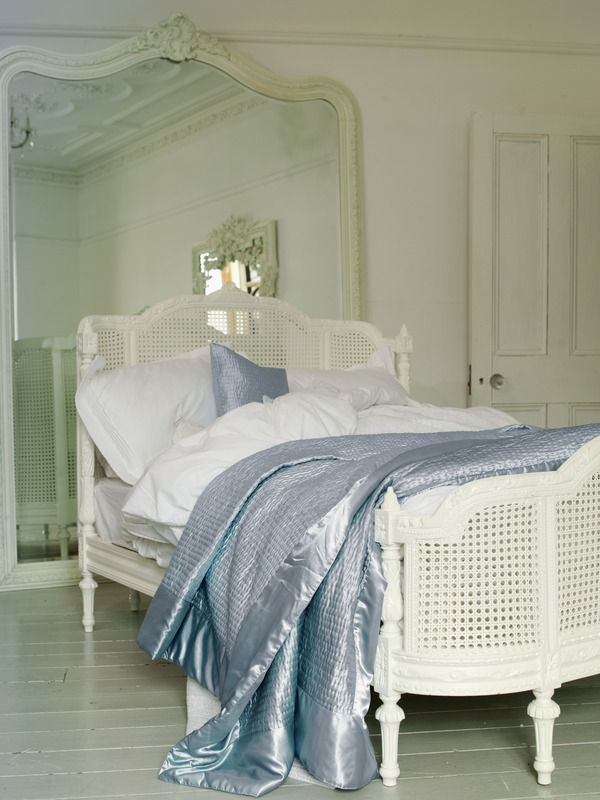 We shine the spotlight on The French Bedroom Company and uncover their elegant designs.
This week we're saying 'Oh là là' as we discover sassy designs that you won't find anywhere else. Read on as we uncover the chic and feminine style of The French Bedroom's collection.
Online boutique, The French Bedroom Company, was created in May 2006 by Georgia Metcalfe after she realised that there was a gap in the market for elegant and affordable French style furniture. The company's aim is to find adorable, unique furnishings that they can share with people who want to bring some glamour to their homes.
The French Bedroom Company's collection is an array of bedroom furniture and linen, seating, storage, tables, lighting, mirrors and screens. With its beautifully curved mahogany and cane head and footboards, it's little wonder the Lit Lit bed is one of the company's hero products. Available in angelic white or glamorous gold, the bed is guaranteed to be the star of any boudoir.
The Provencal 3-drawer chest is part of a collection which includes products that are carved from mahogany and inspired by classic French provincial elegance. The chest is hand-finished in antique white which gives it a modest beauty. It would fit perfectly in a country-inspired home because it gives a rustic and a charming appeal; combined with the Madeleine chandelier and you'll add instant chateau chic to your room.
To give a bedroom a traditional and opulent feel, the antiqued gilt mahogany of the Versailles 2-drawer bedside table would be an ideal furniture piece. The distinctive cabriole legs and subtle hand carvings in the wood represent the ornate style associated with the Louis XV period. The Versailles collection also boasts an adorable petit bedroom chair, a damask stool, and a stunning mirror-fronted armoire.
My favourite piece is the Octavia mirror which stands grandly on the floor, or can be mounted on a wall in a majestic hallway or bedroom. It has an egg-and-dart style frame surround which was commonly used in eighteenth century neoclassical design. The bold detailed carved emblem is an additional embellishment, and the jet black colour of the mirror brings a modern twist to such a refined piece.
One of The French Bedroom Company's newest products is the white cowhide which is made from organic British cows; the cowhides are tanned in the UK which ensures that there's a low carbon footprint. Its pure white colour gives it an extremely high-shine coat, and with thick skin and fluffy hair it means that it will last twice as long as a standard hide.
We are excited to hear that The French Bedroom Company's 2011 brochure will be launched next month. And why not take a peek inside their showroom at Apsley House, based in West Sussex, to discover the eight beautifully decorated rooms featuring their products.
The French Bedroom Company's products are available on furnish.co.uk so why not take a look...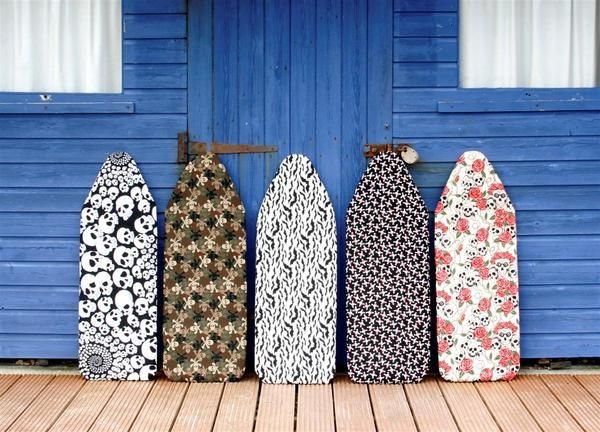 Add a new a lease of life to your ironing with these funky ironing board covers from Bombarock. From £19
Of all household chores, ironing is one of my least favourites – in fact, I'll let you into a secret, I don't iron anything until needs must.
An admission that would surely shock my Grandmother, who, rumour has it was so fanatical about everything being crease-free, used to even iron flannels. Yes, that's right, flannels! Needless to say this is one trait that hasn't passed down the through the generations.
However, as dull as I find standing for hours on end at an ironing board, I do rather like these ironing board covers from Bombarock. Available in a variety of designs and sizes, they're perfect for adding some colour and pattern to that most laborious of tasks.
And while I can't guarantee that it will make me get the ironing board out more often, it will certainly make it look prettier when it's folded up in the corner.
See this product at Bombarock...
(We don't list this product yet but sign up to our newsletter and we'll let you know if/when we do)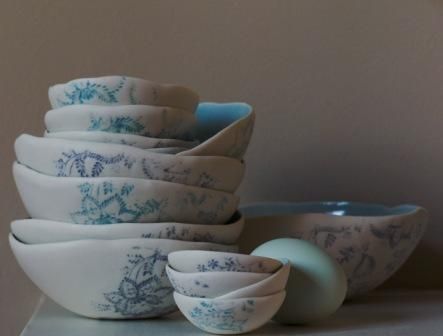 Spruce up your dining table with these wobbly bowls from Roost Living. From £12
Now that summer has almost disappeared, it's time to put away the melamine and picnic ware for another year.
Which means you'll be turning your attention to your inside dining table.
While it's true you can't beat a beautifully table laid with crisp white linen and exquisite china, sometimes a relaxed supper with friends calls for something a little more informal.
That's why I just adore these Wobbly bowls from Roost Living. Available in a variety of sizes, they're ideal for everything from dipping sauces to hearty soups and pastas.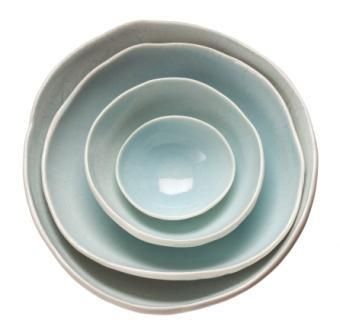 I love their irregular shape which gives them a handmade feel and the delicate floral design is just pretty enough without being over fussy or too cute.
I don't know about you but these bowls will definitely be making an appearance on my autumn table.
See this product at Roost Living...
(We don't list this product yet but sign up to our newsletter and we'll let you know if/when we do)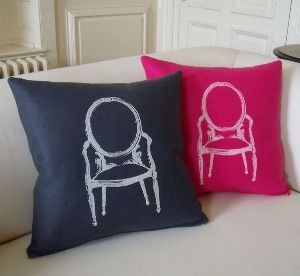 Smarten up a plain sofa or chair with this Louis cushion from Raw Xclusive. £69
I love cushions and chairs so much, that one day I hope I have a house big enough to squeeze in every one I have ever wanted.
Gorgeous vintage Eames loungers would sit alongside the latest designs from Established & Sons, softened by gorgeous cushions from every designer imaginable.
Well, that's just a dream for now, which is why I love this cushion from Raw Xclusive as it kills two bird with one stone.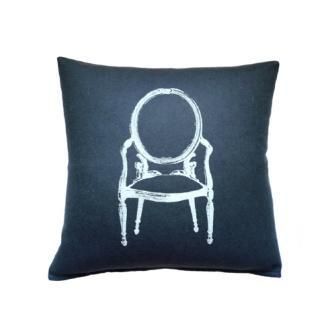 You see these rather gorgeous cushions each feature a classic Louis chair. Available in Grey, Dark Grey, Cream and Purple, one of these cushions is just what you need to brighten up a neutral sofa or chair.
Better still, try using one on a Louis chair for a little bit of tongue-in-cheek interior design fun.
See this product at Raw Xclusive...
(We don't list this product yet but sign up to our newsletter and we'll let you know if/when we do)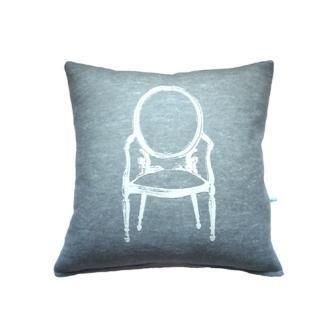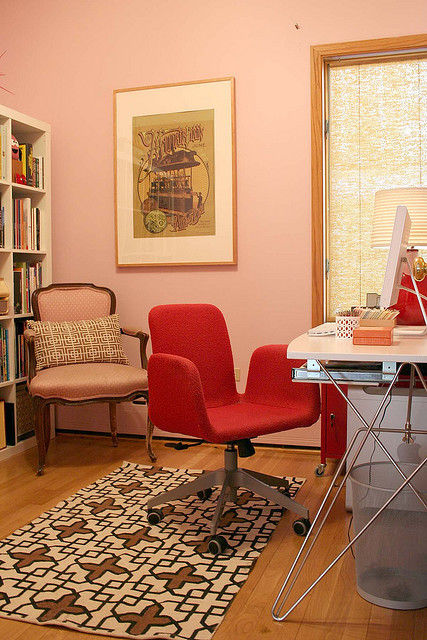 This week we check out three home renovation projects.
Making it Lovely follows Nicole Balch and family as they transform a 'so-so' century old house into a lovely home. Nicole posts the pictures of her home renovation handy-work in a photo gallery; and there's plenty more inspiration in the form of product reviews and fabulous finds, craft projects, lifestyle stories and interiors advice. She regularly puts together a collage of home furnishings 'chosen' by James and Eugenia, a 'fictional couple with exceptionally good taste in furniture'. But if you need reminding that it's Nicole who's got the great taste, just take a look at her house.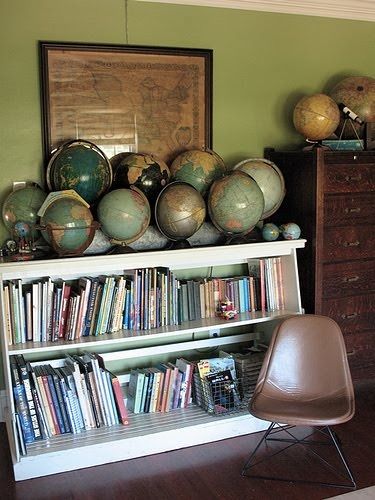 The Rambling Renovators are a couple of design-loving DIYers who invite you to tag along as they revamp their home, room by room. It's another chance to be nosy and have a good old snoop around somebody else's stylish home. As well as the customary 'before and after' photos you can expect loads of lifestyle images, plenty of vintage finds, product reviews and a whole lot of interiors ideas. From mock-ups and mood-boards, to DIY tips and decorating dilemmas this blog's great if you're thinking about renovating. And if you live anywhere nearby, the Christie Antiques Show in southern Ontario looks absolutely amazing.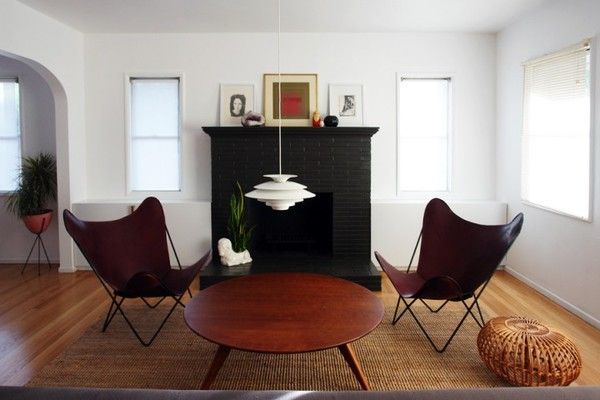 The Brick House is right up my alley (in terms of style, that is; the house is in California). Originally built in the 1950s, this super stylish bungalow is being restored to its former glory, complete with mid-century modern furnishings. Shaking off any lingering associations with retirement villages, it'll change your mind about bungalows in an instant. The photographs look like something straight off the pages of Elle Decoration or The World of Interiors. Draw dropping stuff. There's not one thing I don't like about it; although I really hope they're keeping the pink and black tiles in the original bathroom. The tiles alone would have made me buy the place. The Brick House is a must-see for any mid-century modern fans and a lesson in sympathetic restoration. Perfection.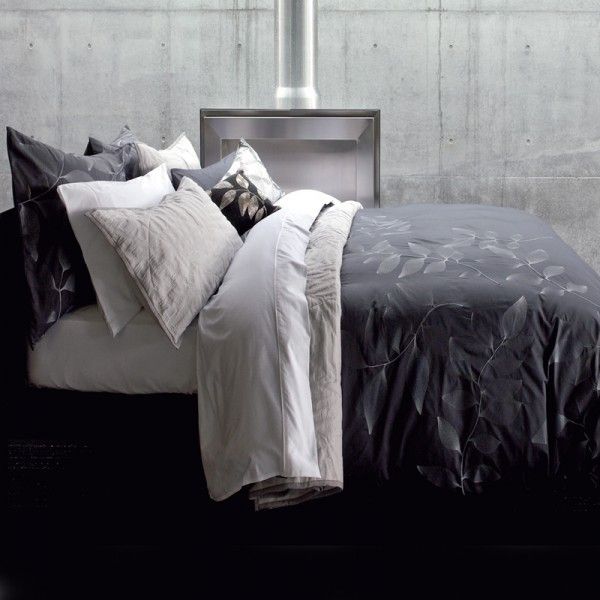 Put some swagger in your style with our tips on how to decorate a bachelor pad.
Boys will be boys... we look at how to decorate a stylish and modern masculine bedroom fit for any man.
Colour scheme
A masculine palette craves colour that invokes feelings of strength and power; colour blocking with black, white, grey, blue, green or purple will give a modern and striking look. A bold monochrome scheme will maintain a fuss-free style that limits you to two colours; however, you can keep a white and blue scheme looking fresh, for example, by bringing in boyish navy blue or grey tones in your fabrics and accessories.
Mocha browns can be enriched by cream shades or dark indigos that are accented with warmer ochre tones. Avoid pastel hues because they have a softer and more feminine feel that will contradict and confuse the look.
Wall coverings
Wallpaper, for example the Ribbed wallpaper or Monroe Special Surface, both from 95% Danish, will add texture and drama to your room. The geometric pattern in the Monroe wallpaper is in keeping with the colour block trend and shows how pattern can be incorporated into masculine style. To keep the look minimalist, try wallpaper on a feature wall behind the bed to draw attention and create impact.
Wall art is a great expression of personality as well as a form of escapism. Choose from a selection of exciting prints from 55Max available on Furnish, including images of favourite football memories and iconic film shots.
Bed linen
Don't overdress the bed, this isn't the time to go for hundreds of cushions and throws. Choose a matching duvet set and either use a solid colourway or go for plain stripes in dark colours. Pick either a lighter or darker shade of the colour you have on your walls and use this in your bedding to indulge in a cohesive look that isn't fussy or high maintenance. The Lavina king size duvet cover from Coco Male, tailored in a deep charcoal, gives a luxurious look that any man would be proud to show off.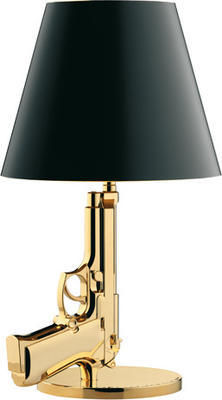 Lighting
In a masculine bedroom you can't go wrong with functional lighting that offers a quirky and innovative style. The Foscarini Diesel fork table lamp from Utility is a unique design, and the anodised metal base has the flexibility to allow the head to turn 360 degrees for directional or general ambient lighting. Or choose the Flos Gun bedside table lamp, also from Utility, which was designed by Philippe Stark who based his idea on a Baretta pistol hand gun. This feature piece instantly conjures up connotations with James Bond: how could any man resist?!
Furniture and storage
Opt for black or natural wood tones for a contemporary look. The black-antiqued lacquered finish of the Oriental Shanxi wardrobe from Puji will be set off by the earthy tones of your colour scheme. With a drawer, an internal shelf and a hanging rail, this should provide sufficient space for work suits, shirts and shoes.
The Nest bed range from Heal's is upholstered in fabric with a padded pillow-style headboard. It has a mechanism which allows the mattress to lift to reveal storage space which is perfect for all those manly keepsakes that would otherwise clutter the room.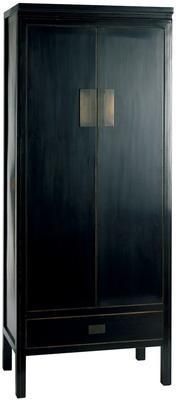 Flooring
For a simplistic look choose natural wood flooring in dark tones such as teak and walnut that will give a practical and contemporary feel. Rugs, such as the Sable green rug from Puji, will soften and bring texture and warmth to wood flooring. Or bring out a man's wild and adventurous nature with some animal prints; try the Zebra print cowhide from The French Bedroom Company to match your monochrome look and add visual interest to your floor.
Accessories
A restrained masculine style is uncomplicated so accessorising will involve sticking to the essentials. The Eclipse mirror from Tom Schneider is available in a selection of wood finishes, which will make a dark room feel lighter and more spacious.
Finally, if cushions are a must then the Etch baguette cushion from Margo Selby combines black, silver and cream colours in a woven fabric giving a 3-dimension feel that will give depth to a monochrome scheme and is suitably manly.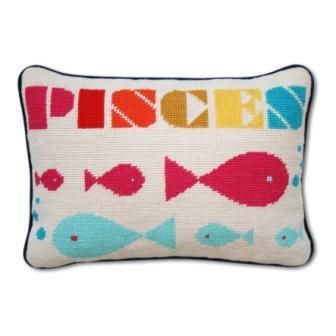 Help predict the future with these Zodiac cushions by Jonathan Adler from Supernice. £70
Star signs are funny things aren't they? Some people live their lives by them and others poo poo them as utter rubbish.
My Mum swears blind that she's never surprised to learn of someone's star sign while my OH think they're complete claptrap.
Me, I'm a Pisces, which means, if you believe all that stuff, that I am prone to daydream, am fairly physical and have a fierce temper. Hate to admit it but those are fairly true.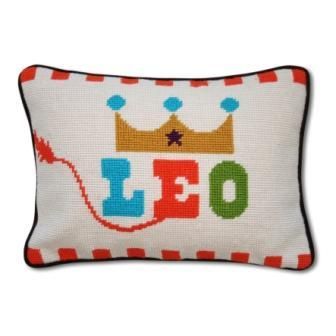 Still, while I'm not going to start checking my horoscope on a daily basis with the hope of winning the lottery or travelling to a far flung destination, I do rather like these new cushions by Jonathan Adler from Supernice.
Depicting all twelve signs of the Zodiac, they are made from brightly coloured needlepoint and offer a witty way to brighten up a plain sofa.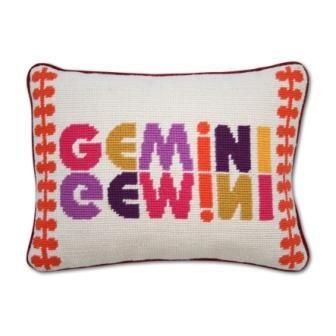 Of course, I will be buying the fishy-inspired Pisces one but I reckon they'll make a fun present for even the most sceptical of non-believers.
See this product at Supernice...
We don't list this product yet but sign up to our newsletter and we'll let you know if/when we do)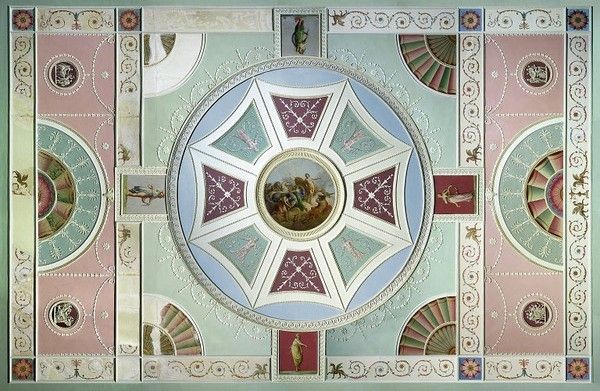 Elegant and evocative, neoclassical style has timeless appeal. Check out our period style guide and get the look at home.
Elegant and evocative, neoclassical style has timeless appeal. Check out our period style guide and get the look at home. Inspired by the ancient world, and fuelled by a spirit of adventurism, neoclassical architects transformed British design. Initially confined to handful of wealthy patrons and collectors, neoclassical style became hugely popular in the 18th century and remains an enduring influence today.
Neoclassicism emerged in Britain and France as a coherent style in the 1750s. Known to contemporaries as the 'antique manner', it flourished into the early years of the 19th century. Inspired by a resurgence of interest in ancient Greek and Roman design, the new style was fuelled by archaeological discoveries such as at Herculaneum and Pompeii in Italy, and Palmyra in Syria. Several publications celebrated ancient art and design, cataloguing archaeological finds and illustrating antique ornament and sculpture. This was the great era of the European Grand Tour; wealthy adventurers, architects and collectors travelled to the sites of antiquity, studying (and systematically plundering) the remains of the classical past. Architects pioneering the neoclassical style in Britain were James 'Athenian' Stuart and Robert Adam, both of whom had studied in Rome. These designers sought to create a distinctively modern yet eternally valid 'true style', arising from the ruins of the ancient world.
Completed by Robert Adam, Kedleston Hall in Derbyshire is a fabulous example of neoclassical architecture and interior design. The magnificence of the exterior, with its columned portico surmounted by three classical figures, stone carved roundels and niches for sculptures, is matched by the evocative interiors. The Marble Hall features twenty enormous Corinthian columns, friezes depicting ancient scenes and wall and ceiling decorations depicting classical and mythological creatures, swags and festoons. Adam's dining room at Kedleston Hall is a characteristically unified scheme, incorporating neoclassical furniture, utensils and decoration, all of which he designed. He sought to suggest the rooms of the ancients adapted to modern usage, and created a highly distinctive decorative style. Walls and ceilings (as well as floors in the form of patterned carpets and inlays) were decorated with plasterwork tablets and small-scale plaster ornament, distilled from ancient and Renaissance sources. It was Adam's skill as a colourist that set him apart from anything that had gone before. Inspired by the use of colour in ancient interiors, his patterned ceilings in particular were brought to life with highly pigmented hues: shades of pink and green, turquoise and blue were classic Adam choices. He was also a prolific self-publicist. Printed catalogues of Adam's designs popularised the neoclassical style and had a lasting influence on British architecture and interiors.
The decorative vocabulary of neoclassicism was expressed across the entire visual arts, from architecture and interiors, to ornamental and useful objects of all kinds. Symbolic of the ancient world, the vase was a dominant feature of neoclassical decoration. An absolute mania for vases and urns spread rapidly in the second half of the 18th century. Josiah Wedgwood is synonymous with exploiting this insatiable market, plundering sources ranging from printed catalogues to excavated pottery, and producing a vast array of neoclassical ceramics at his Staffordshire factory (aptly named Etruria). Neoclassical designers also used the iconic vase shape for a variety of practical objects such as sugar bowls, plate warmers and stoves as well as a design motif for surface decoration.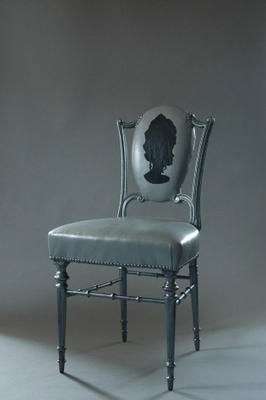 The classical figures depicted in ancient Greek and Roman art provided 18th century designers with sources of both subject matter and style. Again associated with Wedgwood pottery, classical figures were used to decorate all sorts of objects, as well as walls, ceilings and the facades of buildings. The cameo format was especially popular and figures in cameo were applied to objects ranging from chimneypieces and furniture to jewellery. Real animals as well as creatures of mythology were also fashionable decorative devices. Dolphins, lions, sphinxes, griffins and satyrs often formed the bases or handles of neoclassical objects.
Ornamental plasterwork as well as inlaid, engraved and relief decoration on all manner of objects often took the form of swags, tassels and festoons. These hanging garlands of fabric, ribbons, flowers and scrolling foliage were based on Roman ornament. Lines of small beads were another characteristic neoclassical motif. While beading was a feature of classical architecture, it was adapted in the 18th century for use as decoration on small-scale objects. This is just one example of the way in which neoclassical designers experimented with and moved beyond the ancient models that inspired them. This imaginative response to the antique, focussing on evocative visual and scenic effects rather than strict rules of architectural logic, is typical of neoclassical design.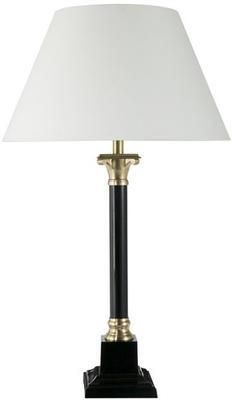 It's this freedom of interpretation and expression that makes neoclassical design so enduring and also easily combined with other styles. For example, Greek, Roman and Egyptian motifs were taken up by Art Deco designers in the 1920s and 30s. Lamps are a simple way to introduce neoclassical accents to a room. The classical urn shape forms the base of Occa Home's Cavendish table lamp, The French Bedroom Company's Claridges lamp and OKA's quirky Silhouette lamp. Roman columns inspire the Athena and Artemis lamp bases, also from OKA. Mirrors are another simple way to achieve an elegant neoclassical look. The French Bedroom Company's Burnished Beauty mirror features Adam-style decoration including swags and beading. The Nordic Grey mirror from Sweetpea & Willow has simple yet striking architectural detailing and the Large Oval mirror is a typical neoclassical design. Ghost Furniture offers a playful take on neoclassical themes with its footstool adorned with a Roman plaster foot and Marie Antoinette chair with a cameo profile backrest. Sweetpea & Willow's elegant Fig Leaf chair features the Greek key pattern, neoclassical beading and leaf details, with calico upholstery and a black ebonised frame. The monochrome Roman Console from Benchmark is a fabulous contemporary take on neoclassicism and reminiscent of Art Deco interpretations of the style. For a more traditional look, try the silver beaded console from Brissi.
Add a touch of elegance to any room with neoclassical accents.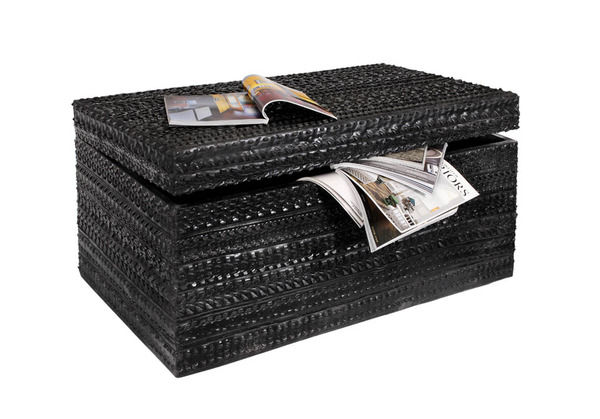 Be eco chic with this Recycled Tyre Trunk from Tread. £250
We are so far along from eco interiors meaning a hemp cushion or a ridiculously expensive throw and nowadays it seems everyone has at least one "eco" product in their collection. My favourite eco company of the moment is Tread. These clever peeps take old tyre treads and turn them into everything from picture frames to planters.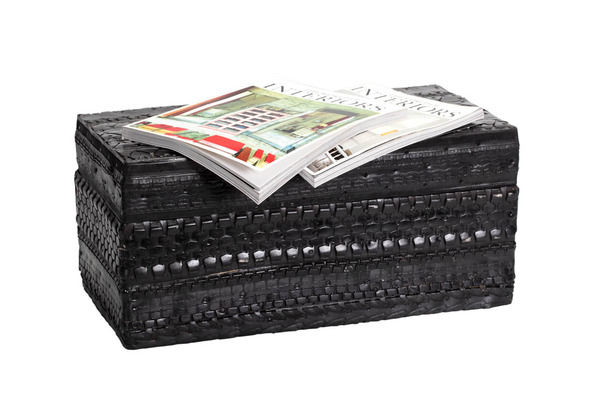 My pick of the bunch is the storage trunks, available in small, medium and large. Just the thing for stashing everything from towels to out of season clothing, each trunk is handmade and because each one is created from a plethora of tyre treads, no two are the same.
(We don't list this product yet but sign up to our newsletter and we'll let you know if/when we do)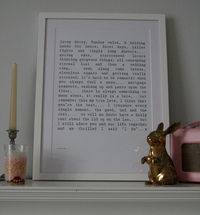 Go all romantic with this warming Married Life print from Pearl & Earl. £25
Because I am getting married next year, I have naturally become a tad obsessed with everything to do with weddings.
With the venue chosen and the date booked, there's now the dress, cars, cake and invitations to consider. The list goes on and on and I now know why weddings take a year to plan. One of the things top of my list is wedding readings, since it will be a civil ceremony and it's really important to me. Nothing too slushy but equally not too serious, which is how I stumbled across this Married Life poem print from Pearl & Earl.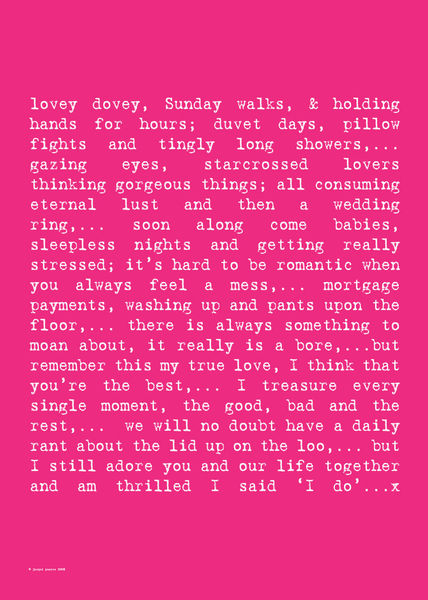 The poem was written by Jacquie Pearce, owner of Pearl & Earl as an anniversary present for her husband.
The perfect wedding gift for a future spouse or even friends and family, the print can be customised to include the date of your wedding or anniversary.
Now I promise this will be the only wedding-inspired Fab Find, trust me, I'm not a Bridezilla... yet...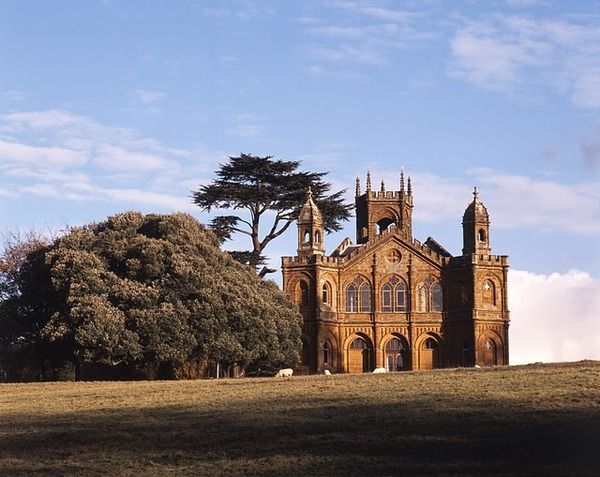 Sneak a peak behind closed doors.
Heritage Open Days celebrates England's architectural and cultural history by throwing open the doors to interesting properties either normally closed to the public or normally charging an entrance fee. Every year on four days in September visitors can satisfy their nosey inclinations for free, peaking into properties ranging from castles to factories, town halls to tithe barns, Buddhist temples to Masonic lodges, mines, windmills and private homes. Coordinated by English Heritage it's a once yearly chance to discover hidden architectural gems and enjoy a range of tours, talks and activities bringing local history and culture to life. Simon Thurley, English Heritage Chief Executive says: 'Heritage Open Days is about people and places; it celebrates community and reflects the importance of the built environment in our lives and to our quality of life. It is organised by local people who dedicate their spare time to opening properties and staging activities, and it is their knowledge and enthusiasm that makes Heritage Open Days happen.' The Event Directory has just been launched and allows you to search more than 4,000 buildings of every style, period and function, to find out what's on in your area.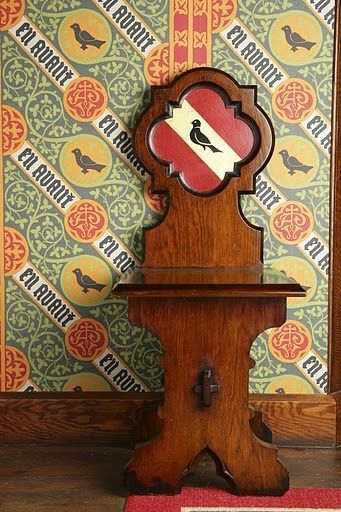 Highlights this year include Bentley Priory in Stanmore, Hertfordshire, the Battle of Britain Command centre which has been closed to the general public during its 70 years as an RAF base. The Second World War Beacon Hill Radar Tower at Harwich, Essex, and the Royal Air Force College in Cranwell, Lincolnshire are also well worth a snoop. The 18th century ironstone Gothic Temple at Stowe, Buckinghamshire will also open its doors, with its wonderful circular domed vault and magnificent views over the Stowe Landscape Gardens. Built in 1845 in the Gothic Revival style, The Grange in Ramsgate, Kent is well worth exploring as the former home of Augustus Pugin, oddball architect of the Houses of Parliament.
In Bristol, the Aardman Animation headquarters offers a glimpse of a cutting-edge sustainable building, home to the creators of Wallace and Gromit. A pioneering example of energy conscious design, Norman Foster's kidney shaped, glass sheathed office block, the Willis Building in Ipswich, Suffolk, is the youngest building to receive grade I listed status. Completed in 1975 it's a must-see for modern design devotees. Anderton House in Barnstaple, Devon is another exceptional example of 1970s design, still furnished with contemporary curtains, furniture, ceramics and paintings. And a quintessential Modernist home, The Concrete House in Bristol, was built in 1934 and designed by Basil Ward of architectural firm Connell, Ward and Lucas.
Romantics and music lovers will enjoy the honeymoon destination of composer Edward Elgar, No.3 Alexandra Gardens in Ventnor on the Isle of Wight, one of eight grand Victorian villas overlooking the Isle's south coast. Heritage Open Days properties associated with the arts also include the former home of Jane Austen's brother, Chawton House in Hampshire, and the Elizabethan North Lees Hall in the Peak District National Park: said to be the inspiration for Charlotte Bronte's description of Mr Rochester's House, Thornfield Hall in Jane Eyre.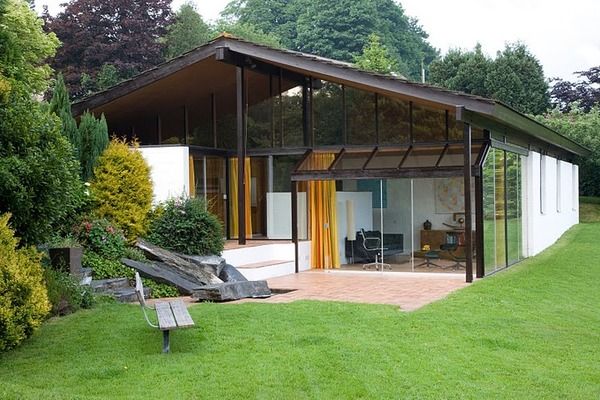 An interesting historical curiosity, The Fisherman's Hospital in Great Yarmouth, Norfolk, was founded in 1702 to provide housing for old or 'decayed' fishermen who could no longer support themselves. There are charming ornamental details and Saint Peter, patron saint of fishermen, stands proud on the roof of the brick building. Staying on the English coast, one of Hastings' intriguing net shops in East Sussex, built in 1835 to store fishermen's equipment, will reveal its old nets, ropes, corks and sails, all evoking salty sea dogs and the perilous high seas.
Up North, some of England's great Victorian theatres open their doors with special backstage tours of both The Journal Tyne Theatre and The Theatre Royal in Newcastle and Leeds' Grand Theatre & Opera House. And for sports fans, there'll be tours of the Victorian Jesmond Dene Real Tennis Club in Newcastle, Chester Racecourse, the country's oldest racecourse dating to the early 16th century, and Molineux Stadium, home to Wolverhampton Wanderers since 1889. Dip your toes into local history at Georgian swimming pool, The Cleveland Pools in Bath, Somerset and 1930s lidos including Broomhill Pool in Ipswich, Suffolk and Sandford Parks Lido in Cheltenham, Gloucestershire.
Heritage Open Days is England's contribution to European Heritage Days, in which 49 countries now participate. In the UK, four other schemes open doors in September: Open House London, Doors Open Days in Scotland, Open Doors Days in Wales and European Heritage Days in Northern Ireland.