It's our Interior Design Magazine!
The hottest interior design ideas, fab finds for the home and the latest in interiors trends. We're always looking for new finds, designers to feature or anything else lovely for the home, so if you've seen something gorgeous and would like it featured in our interior design magazine, please get in touch!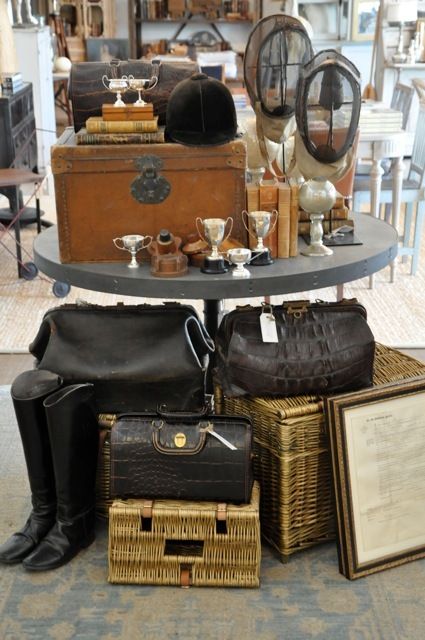 Another week, another three great blogs.
First up is interior designer Brooke Giannetti's Velvet & Linen. Brooke owns Giannetti Home, a treasure trove of a shop stuffed with vintage pieces and architectural antiques. The main reason I love this blog is looking at the photos of her amazing finds and how they're displayed. Brooke's got a roving eye and real flair for interesting vintage and antique pieces, which she uses in her interior design projects. Not only that, she has a descriptive talent for writing about the pieces she loves. A feast for the eyes, this blog's a constant source of inspiration and style ideas.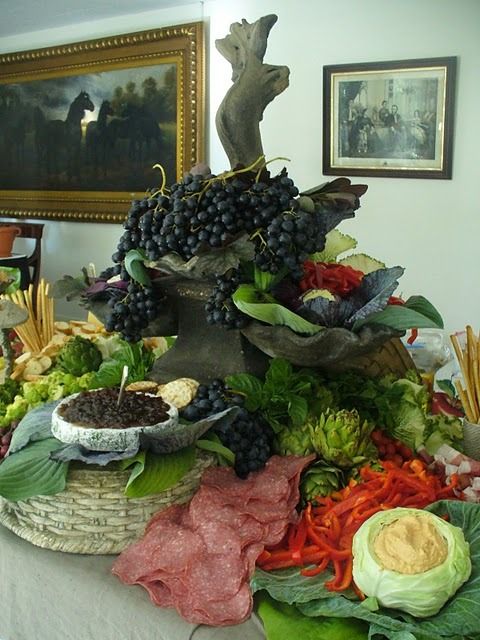 Despite the name, My Notting Hill is actually brought to you from Washington DC (which I was pleased to find out because I'm afflicted by an irrational loathing of West London). This blogger is happy for you tag along on her shopping trips and these are some of my favourite posts because it's window-shopping without the fear of spending. Most of the photographs on here are hers, which makes the blog intriguing and personal. As you follow vicariously in her footsteps, you'll be peeking at hotel rooms, interiors shops, and her own and her friends' homes; just the thing for nosy parkers like me.
Finally this week, a flying visit to Canada to stop off in Vancouver with interior designer Patricia Grey. Patricia Grey Inc is an insider's guide to what's hot in the world of interior design. It's fabulous blog, covering colour trends, great new products, decorating ideas, interviews, and interesting design books. The writing and the photographs are great, and there's always something interesting on here whether you're looking for advice or inspiration. But steer clear of the post on Patricia's holiday in Mexico; it's enough to make you sick with envy.
Again and as always, get in touch if you'd like us to feature your blog next time.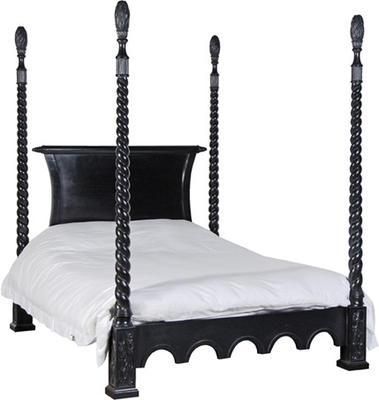 Get a stylish night's sleep with the Twilight Four Poster Bed from Sweetpea & Willow. Was £1,163 Now £975
If you're in the market for a new bed then I may have found just the thing for you.
The Twilight Four Poster Bed from Sweetpea & Willow is more than just a bed however, it's a work of art.
Recently featured in Period Living and The Sunday Times, this bed screams classic design.
Crafted from mahogany, the bed has four scrolled posts which gives it a decadent feel. You can almost imagine the princess and her pea feeling right at home in this.
A perfect choice whatever your style (we think this bed would look great as a statement piece in a parred down bedroom) this bed is sure to be a favourite piece of furniture for years to come.
And if you're sitting there lusting after it in secret but thinking you can't afford it, the good news is Sweetpea & Willow have included it in their summer sale which means it's now £975 down from £1,163 saving you £188 to splash out on some gorgeous bed linen.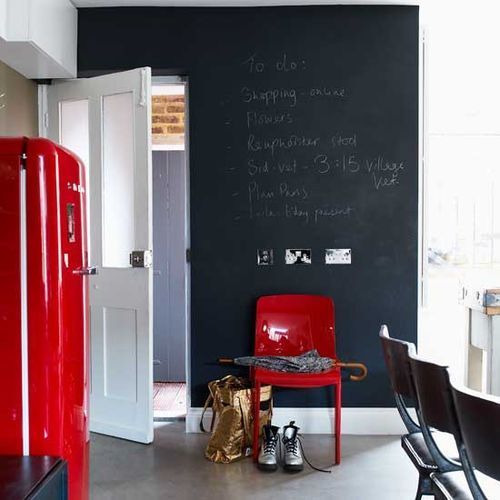 Revamp your décor with a splash of paint.
The surface preparation might be a bore, but in this weather you won't be watching it dry for long. There are few things more satisfying than a freshly painted room, but with our 10 ways, there are plenty more options with paint. Time to get the overalls out.
1. Feature Wall
A feature wall is a great paint option, particularly if you want to go for bold colour. It'll lift the room, add drama and create a natural focal point. Use a paler shade of the same colour on the other walls, or complementary wallpaper, to make sure your scheme ties together. Accent walls are particularly appropriate in modern homes and open plan spaces. Use the feature wall to zone your space, for example if your dining room flows into your living room. An accent wall will add life to a stairwell and a sense of drama used behind the bed. Colour-blocking is also a huge trend at the moment in both fashion and interiors. Get the look at home with a bold feature wall teamed with accessories in the same colour or sofas and chairs in a contrasting block colour.
2. Painting Furniture
As long as it's not a 20th century icon, a beautiful 17th century cabinet or some such wondrous antique, painting furniture can be a great way to revive an old piece or change it to fit in with a new decorative scheme. And if you're into the shabby chic, relaxed coastal look, then this could be the thing for you. Equally a flea-market find might be brought into the 21st century with a splash of shocking pink gloss. Painting furniture for kids' rooms, and getting them involved, is a great way to add personality to their rooms. Think about where you want the piece to go and have some fun with it. If the piece has been painted before, sand off old or flaking paint, going with the grain of the wood. If it's unpainted, use a knotting solution to seal any knots and apply a wood primer. For your topcoat, a water-based acrylic paint is less messy, environmentally friendly, and available in matt, gloss and eggshell finishes.
3. Blackboard Paint
Blackboard paint is now widely available and it's a playful, versatile medium. Use it in the kitchen for shopping lists, the hallway for reminders, home offices for to-do lists, or kids' rooms just for fun. Magnetic blackboard paint allows you to add photographs, postcards or anything else that takes your fancy. Blackboard paint adds personality and dynamism to a space, with scrawls and doodles providing an evolving record of family life. Make a bold statement in a light-filled kitchen or studio workspace with an entire wall in blackboard paint, or use it in small doses in panels or on cupboards and drawers to mark the contents. IIf your child's room is on the small side, blackboard paint looks wonderful on toy boxes or painted in cloud shapes on the wall with bright blue raindrops and a sun peeping out of the top.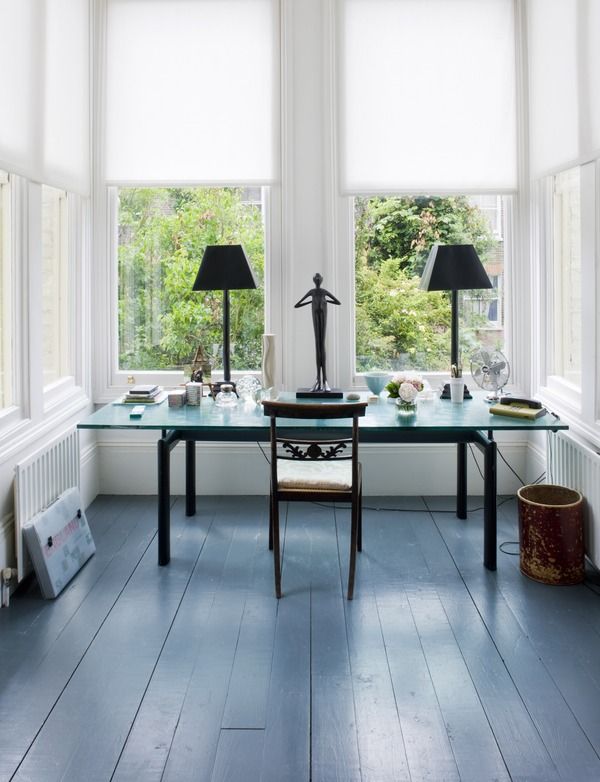 4. Floor Paint
Make a feature of your floorboards with paint. The Little Greene Paint Company has beautiful soft sheen floor paint in the full range of colours, from neutrals to brights and everything in between. Farrow & Ball has eggshell finish floor paint, also available in the complete colour range. Painting the floor will transform your room, so it's important to think carefully about the colour, taking into account the amount of light in the room, and use tester pots. Durable and hardwearing, floor paint is suitable for almost anywhere in the house, and can be a great way to brighten up kids' bedrooms, hallways and kitchens.
5. Stencils
Stencils have moved on from the sponged horrors of the 90s. But, that being said, there's a fine line between style and vile when it comes to using and choosing stencils. A great way to create a focal point, or a feature wall, it's best to use stencils as accents. For kids' rooms they're great fun, especially to jazz up furniture and toy boxes. The Stencil Library has a huge range to choose from, including Alice in Wonderland, character stencils for children, animal prints, Art Deco patterns, and classical architectural motifs. The Stencil Studio also has a useful 'How To' guide, and even stocks Banksy-style stencils, if you want to jump on that bandwagon.
6. Combining Matt and Gloss finishes
Combining a chalky matt paint on the walls with a high gloss for skirting and windows creates a crisp finish. Whichever colour you choose for the walls ensure that the gloss trim colour provides enough of a contrast. With rich wall colours a creamier trim colour, rather than bright white, will be more flattering. If you want to go for a coloured trim, rather than a neutral, choose a lighter or darker shade of the same colour as the walls, to create contrast. For a really dramatic effect, use full gloss on the walls or ceiling, using a matt finish for the trim.
7. Painting Tiles
Painting over tired or nasty looking tiles is a good way to revive your bathroom or kitchen on a tight budget. Any painting job requires surface preparation, but with tiles this is absolutely crucial. The surface must be spotlessly clean in order for the paint to adhere properly. Wash the tiles with sugar soap and rinse clean to remove any residue. Use a hand-held orbital sander with fine grit paper to lightly scuff the tile glaze and wash again to remove dust. A primer such as Ronseal's One Coat Tile Primer will prevent the topcoat paint from pealing. When applying paint, use a small gloss roller to avoid brush marks and apply several thin coats to build up adhesion in layers. Specialist tile paint is available in a limited colour range, but any latex or oil based paint is suitable for the job.
8. Using Tester Pots on Canvases
Create art that fits in with your room scheme using tester pots on canvases. Having no artistic skill, I think I'd stick to letting the kids do it. Messing around with a few pots of paint and a canvas sounds like fun, but it can be a hit and miss affair when it comes to interior design. Short of taking an Art Foundation course, there are two options for the artistically challenged. Spontaneous and simple figurative pictures can add a lively element to a room. But abstract work is more forgiving. For example, Rothko-esque fields of colour, or Pollock-style splatters, painted on several canvases can look great in a drab hallway or open plan space.
9. Paint Effects
With a roll of low-tack masking tape you can create all sorts of geometric patterns with paint. Use vertical stripes to give the illusion of higher ceilings or horizontal stripes to add width. For a subtle stripe, use two different tones of the same colour, or make a bold statement with two or more contrasting colours in varying widths. Creating a pattern with paint is a great way to create a feature wall behind your bed, brighten up a playroom or add some drama to a hallway. Whatever pattern you want to go for, and especially with spots and circles, mark it out in pencil first. With stripes, use a spirit level to make sure your lines are straight.
10. Revamping Garden Furniture
Revive a rusty patio set or a tired wooden bench with paint. With metal furniture, wash down with hot soapy water and remove any rust or flaking paint with a wire brush and coarse sandpaper. Use an anti-rust primer and paint, such as Plasti-Kote's Metal Primer and Super Spray Paint. Really easy to apply, Super Spray Paint is available in a huge range of colours. For wooden furniture, sand the item along the grain until smooth and then use a primer, such as Cuprinol's clear Wood Preserver. Cuprinol's Garden Shades and Ronseal's Woodland Trust Colours will give tired wood a new lease of life.
Get your overalls on and have some fun with paint.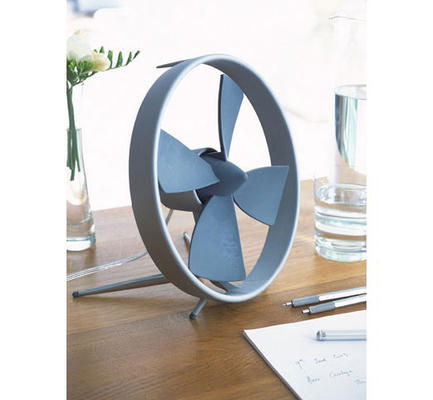 Keep you and your home cool with this Propello desk fan from Black+Blum. Was £79 now £71.10
With this heatwave (friends from Australia recently commented it's not a heatwave, it's what summer should be!) it seems everyone is doing their utmost to keep cool.
While that's near on impossible on the Northern line, it certainly is at home thanks to fans. But, if like me, you've found that your local DIY store has been massacred of all keeping cool products then help is at hand.
And it comes in the shape of the Propello desk fan from Black+Blum.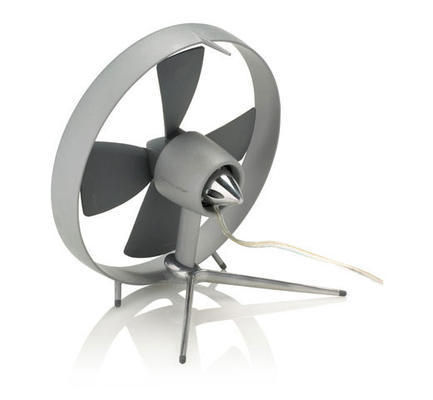 Another example of design genius from Dan Black and Martin Blum. the Propello has rubber blades and is, so they claim, virtually silent making it the perfect for desk fan for when you're hard at work but also melting slightly in the heat.

Best of all, you can stay cool and save some pennies as the Propello is now priced at £71.10 (usual price £79) which leaves more than enough for 99 when the ice cream man comes calling.

http://furnish.co.uk/items/-propello
Earn your stripes with a contemporary and chic take on a classic style.
Whether you are looking to update your wardrobe or your décor, it seems that fashion and interior designers simply cannot resist the reliable, classic style of stripes. Catwalk fashion has been dominated by Parisian chic whilst interior design has been inspired by this geometric print for fabrics, carpets, wallpaper and furniture.
Wallpaper
Use stripes on your wall to enhance the shape and size of your room; horizontal stripes running along the midpoint of a wall extend and elongate a smaller room, and lighter cooler tones will make a space seem larger. Hang Stripey Wallpaper from Flock Your Wall or Gradient Wallpaper from Graham and Brown vertically or horizontally to give a contemporary look to any room. Using vertical stripes in moderation will make a low ceiling feel higher; an overload of pattern will crowd a room therefore making it seem more enclosed. A feature wall behind a bed or surrounding a fireplace, for example, will help break up the pattern. Laurence Llewellyn-Bowen's Mosaic Stripe from Graham and Brown, interprets stripes in a unique way that adds interest to the design.
Painting stripes are a simple design that will add depth and interest, but you will need to do a bit of preparation in terms of measuring and taping to get your stripes aligned. For helpful hints and tips try doityourself.com.
Flooring
Put a bounce in your step with soft and luxurious stripy carpet; if you are carpeting all over then you can elongate a room and create a vibrant look. Try the Mississippi or Tiffany collections in 100% wool from Crucial Trading for comfort and durability. Jazz up your stairs with a vertical stripe runner that will draw your eye. Brintons offer many stylish runners that will work brilliantly on hardwood stair floorings, and it will also help draw the eye into your home. Paul Smith has inspired and popularised stripes in interiors; his Stripe rug from The Rug Company combines striking colour and texture to really liven up a room.
Furniture
Stripes are best used in moderation so if you choose to make your furniture a feature in your room then avoid stripes on your walls, instead you can use subtle accessorise to repeat the pattern elsewhere. For a stripy feature piece try the Vertical Stripe Chest of Drawers from Bassett which is given a contemporary and chic look with its bold black and fruitwood stripes on cherry veneer. The Hampton velvet stripe chair from Sheer Home has a stripy fabric that comes in a choice of five colourways to suit your colour scheme. Or to add a nautical touch to your child's bedroom use the Small Blue Striped Chair Wisteria which would be perfect for a sailor theme.
If you want to update your furnishings and bring some Parisian chic into your home, then you can choose from a selection of Striped fabrics from Tinsmiths or check out Ian Mankin's natural and organic fabrics, which are all ideal for upholstering.
Accessories
Upholstery, cushions and throws can be updated with a simple stripe. The classic pinstripe doesn't just look great on suits; in fact it can achieve a suave, masculine look and it will bring clean, straight lines to a bedroom. The Woven Linen Stripe Bed Linen has a fresh, nautical feel with its pure whites and deep blue tones. For a more feminine touch, mix in some florals to give a warm and playful style. Or try Frilled Edge Cushions from Graham and Green to add some summer style to your garden or dining chairs or your sofa. The Catrine Stripe tablecloth from Sally Bourne Interiors use multi-coloured stripes which will allow you to introduce lots of colour into your living or dining area.
Bring out the best of the playful and optimistic feel of stripes by using rainbow colours.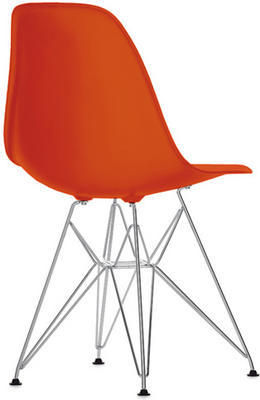 Grab a bargain on a classic piece of design with money off this Eames DSR at Utility. Was £192 now £153.60
One of my favourite ever quotes comes from one of the gurus of design William Morris. He said, and I quote, "Have nothing in your house that you do not know to be useful, or believe to be beautiful".
Very wise man Mr Morris and I couldn't agree with him more.
Which is why I squealed with delight when I saw that Utility are offering a great discount on the classic Eames DSR chair.
An fine example of what Charles and Ray were best at, the DSR combines engineering with style and being both beautiful and useful, it fits Mr Morris' mantra perfectly.
Best of all, this stunning piece of furniture now has over £30 off meaning you can afford to splash out and treat yourself to one without having to send a begging letter to the bank.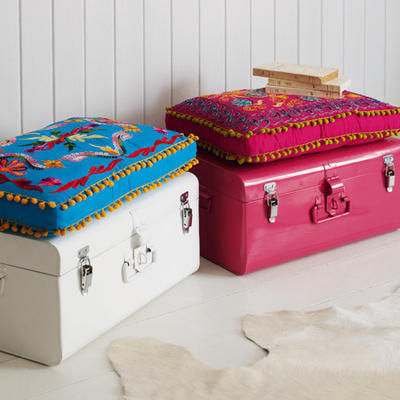 Jazz up your storage with these colourful trunks from Graham & Green. £119
I've made no secret about just how much I love everything Graham & Green do. If money were no object, I would grab my purse and shopping list and hot foot it to their nearest store to buy the lot.
Lucky for you lot, Graham & Green are having an amazing summer sale and we have got the inside info.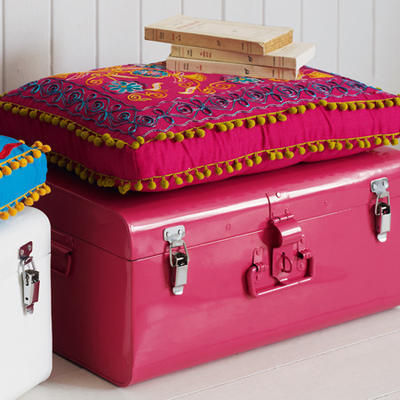 Top of my wish list is a couple of these fabulous metal storage trunks.
Available in Hot Pink or White, they are big enough without being intrusive and are super stylish too. But that's not all, oh no. They also come complete with a folk-inspired seat cushion (surely one of the hottest trends around) which turns them into a comfy seat.
Use them anywhere from bedroom to home office to stash away unsightly belongings and your home will soon be clutter free.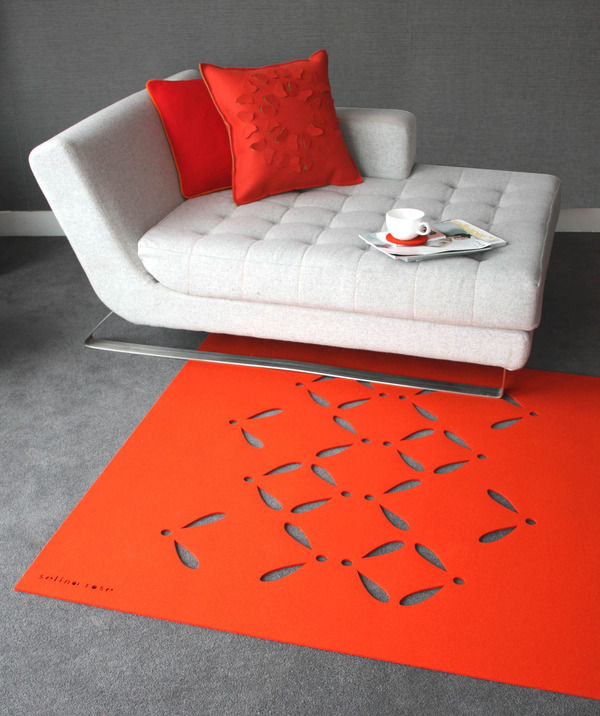 Introducing the hottest designers of the moment.
Designer-maker Selina Rose creates fashion-forward textiles, homewares and bespoke surfaces using renewable and biodegradable wool felt: 'If I were to sum up my style I would describe it as bold, colourful, tactile, natural, simple yet sophisticated.' Turning heads in the international design world, Selina's received a raft of awards and nominations including the Arts Council's grant for the arts, Homes and Gardens Classic Design awards in 2007 and Craft Central's Bright Ideas award in 2008. Launching an exclusive collection for Heal's in 2009, you can find Selina's felt furnishings at www.selinarose.co.uk.
A fresh approach to a familiar material, Selina's innovative cutwork designs harness new technology while referencing natural forms and architectural geometries. These highly original, beguiling surfaces are suitable for a multitude of interior applications including rugs, throws and runners, acoustic wall panels, window treatments, room dividers, lighting and upholstery. Manufactured entirely in the UK, Selina's high-impact designs are coloured using environmentally friendly dyes in her own distinctive colour palette of rich jewel tones and vivid brights, paired with soft pastels, greys and black. Breaking away from traditional woven textiles, these pierced felt surfaces create a visually striking, modern aesthetic celebrating the timeless appeal of plant forms, geometric motifs and meticulous craft. Visual drama in colour and pattern is united with the enticing tactility of cut and folded felt. Rugs, throws and table runners feature poetic botanical patterns, such as the enchanting rose petal and foliate Bloom design. Contemporary felt room dividers and window panels allow light to pass through the intricate cutwork creating a play of shadows and animating interior space.
New for 2010, Selina's Connect panels feature layers of contrasting coloured felt with circular incisions revealing a geometric grid pattern of colourful dots. A unique interpretation of the colour-blocking trend in interior design, Connect demonstrates Selina's innovative fashion-conscious approach. Another new addition, the stylised Oli pattern is inspired by the winged propeller-like structure of sycamore seedpods. Combining both botanical and geometric forms in one textile, the Oli design exemplifies Selina's simple yet sophisticated aesthetic. This new cutwork pattern features on rugs, throws and coordinating coasters in a choice of 14 vibrant colours. The hugely popular Flutterby cushions are also given a 2010 makeover in three additional colourways: lime, hot pink and orange. Partial cuts are made in the top layer of felt, folded to reveal a contrasting coloured felt behind and creating a three-dimensional textured surface. The same origami-inspired Cut + Fold technique is used on Selina's fabulous Scale stool, a statement piece reminiscent of Christopher Kane's Spring-Summer 2009 catwalk collection, which secured his rising-star status in the world of fashion. Made to order in your chosen colourway, the semi-circular scales fan out around the stool to reveal the layer of felt beneath.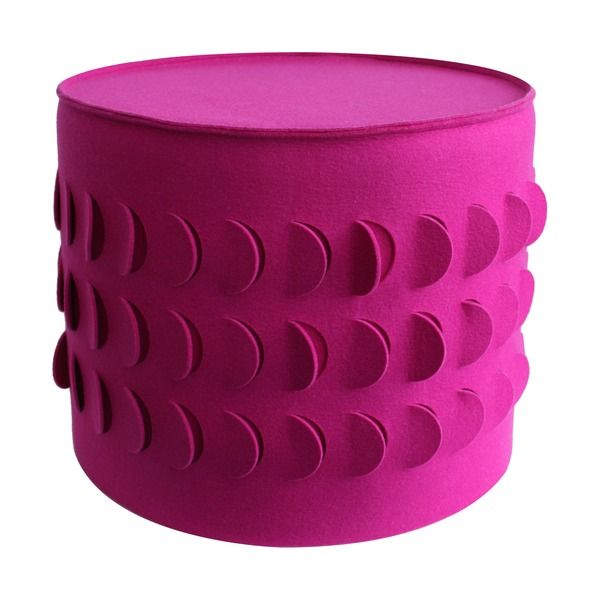 Best known for her botanical cutwork rugs, throws and runners, this exceptional Cut + Fold technique has elevated Selina's felt surfaces to a new level of design innovation.
'My 'Cut + Fold' range of felt surfaces can be used for acoustic paneling, blinds, screens, room dividers and upholstery. I wanted to create something new and innovative for the contract interiors market. Following on from the success of my cut-out, fretwork style felt designs I was experimenting in the studio with concepts inspired by traditional origami. I wanted to create a 3 dimensional surface using the felt playing on its paper-like qualities, for example the way it cuts without fraying, you can fold, pleat and manipulate it into shape. I developed a technique of making partial cuts into the surface and folding shapes back to create advent calendar style flaps or windows revealing contrasting coloured felts behind. I launched the collection at 100% Design 2009 and it was really well received and designs such as Scale, Faceted and Flutterby now adorn the walls and windows of luxury hotels, offices and residential interiors.'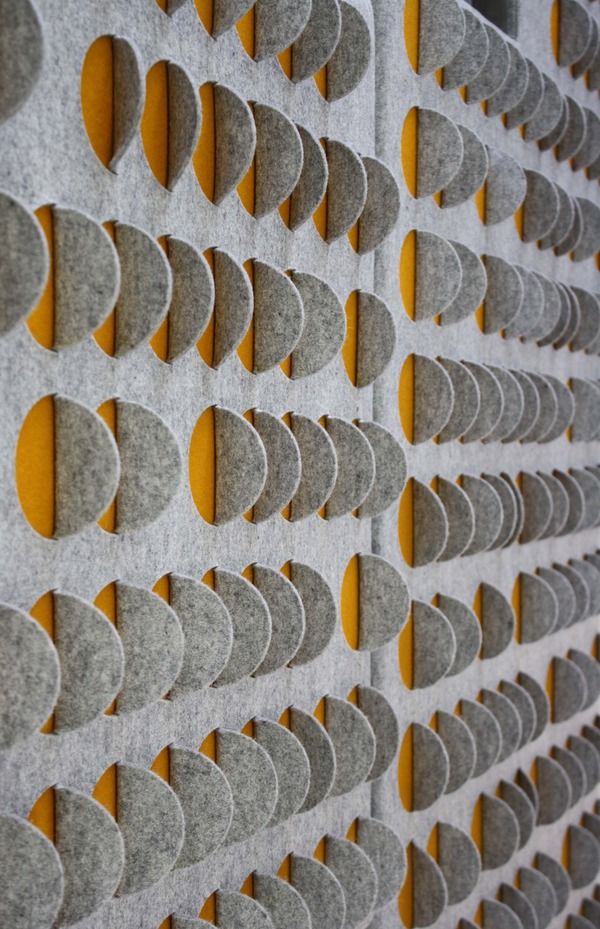 The Cut + Fold technique caught the eye of international design and engineering firm Arup, which commissioned Selina to create bespoke acoustic felt panelling and window treatments for its new London Headquarters in Fitzrovia. The architectural qualities of Selina's Cut + Fold surfaces are a perfect match for this innovative design firm, leading the field in structural engineering since its Modernist projects of the 1930s. Across 200 linear metres, spanning two buildings and 17 rooms, Selina produced 150 bespoke Cut + Fold panels in her geometric Faceted, Arrows and Scale designs, featuring grey on blue and grey on yellow felt layers. Functional, tactile and visually interesting, the acoustic panels absorb and reduce reverberant noise, making them ideal for music rooms, studios and playrooms at home.
Including the Scale stool and Cut + Fold felts, Selina's new collection will be on show at 100% Design in Earls Court Arena, 23rd-26th September 2010, stand H12. Visit www.selinarose.co.uk for more information on bespoke services and to buy online.
Bring some bling to your boudoir with this decadent Velvet Diamanté cushion from Occa Home.
Jan Constantine is without a doubt one of the most respected textile designers in the business.
Her iconic cushion designs have graced everywhere from homes of the rich and famous to the Cheryl Cole L'Oreal advert (keep an eye out for Jan's red LOVE cushion next time you're channel surfing).
Our favourite is the Black Diamanté Union Jack design which has just enough sparkle to add some glamour to your scheme without being over the top.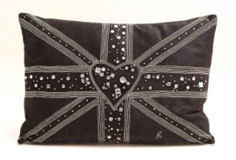 The good news is that this gorgeous comforter is now available with 10% off at Occa Home.
Occa Home's sale runs until the end of the month, so there's plenty of time to get your mitts on one of these. We suggest using it to glam up a plain armchair or add some girly chic to your bedroom.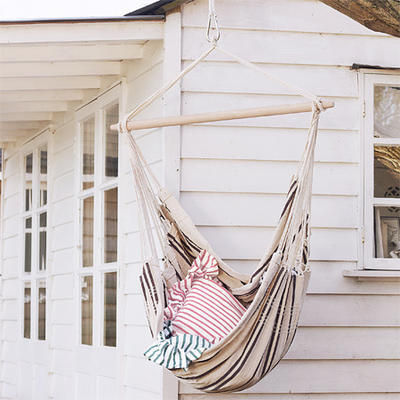 Add some colour, pattern and style to your garden with this stripey hammock chair from Graham & Green. From £12.75
As much as I adore the idea of a hammock, I have also always been a little bit scared of them.
Strange, I bet you're thinking, after all there is a lot more to be scared of than a hammock. But if you knew me as my friends and family do, then you'd realise this irrational fear is down to balance issues.
Put simply, I don't have any.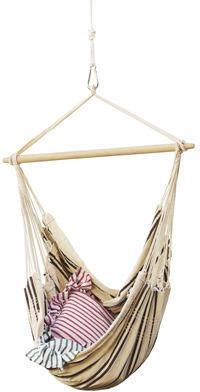 So, I'll feel much safer in the stripey hammock chair from Graham & Green.
Made from stripey canvas and looks super comfortable when stuffed with cushions as shown here.
So, this summer won't be falling out of a traditional hammock, I'll be lounging in this instead.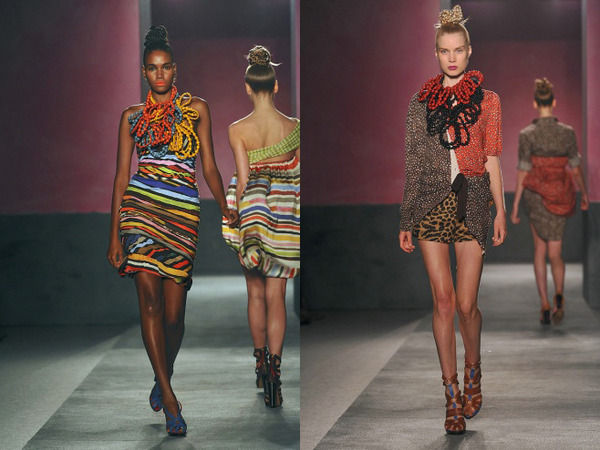 Out of Africa and into our homes, the tribal look is a hot trend for summer 2010.
Interior designers are using Arabic, Asian and African inspired pieces to add depth and interest to interior schemes. The exotic trappings of nomadic tradition are used to create evocative interiors, celebrating the material culture of distant lands. Think Raj tents swathed in exotic rugs and wall hangings, dark wood and leather; the high-energy prints and jewel-bright colours of tribal dress; and striking animal skins seen on the African plains.
The key to making the tribal look work in your home is to use these pieces as contrasting accents: an animal print cushion on a plain sofa; an embroidered wall hanging in a whitewashed room; or a Persian rug on a simple wood floor. Clashing prints, as seen on the fashion catwalks, can really work in a predominantly white room, but take care with colour and pattern if your interior scheme is already defined by a particular colourway. Tribal pieces and especially animal prints are best used to create bold focal points, lifting a scheme with highlights rather than veering towards a pastiche.
With so many vibrant cultures inspiring the tribal look in interior design, there are many ways to interpret the trend according to your personal style. Known for its Asian inspired pieces, OKA is channelling the nomadic vibe with fabulous rugs, http://furnish.co.uk/items/51151-petra-runner-92-x-275cm">runners and wall hangings featuring exotic patterns, beautifully woven in vivid hues. Trunks with carrying handles, folding occasional tables, and Isphahan plates hand-painted with Persian designs, continue the opulent nomadic theme. The intricate carved wood room screens at Lombok and the low Oriental coffee table with ball feet at Puji create a similar nomadic feel.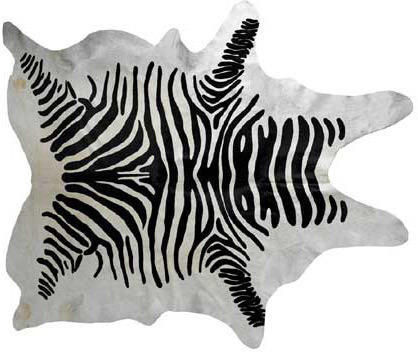 For jewel-bright tribal colours, check out Margo Selby's hand-knotted banana fibre rug and geometric hand-woven cushion covers. The multi-coloured Summer Estella rug at Heal's evokes sunrise over the Serengeti, while Rockett St George's jute storage baskets in sunshine yellow, deep blue and hot pink have fair trade credentials. Moroccan leather footstools are perfect accent pieces for laidback living spaces, available in a range of vibrant hues from Graham & Green and Rockett St George. A fantastic statement piece, the Waldorf Hex sofa from Lockwood design is upholstered in silk fabric with a vivid multi-coloured print.
For a safari feel, try the Bone Inlay furniture collection and Zebra Print cowhide rug from Graham & Green. The intricate detailing on the black resin and camel bone furniture brings an air of luxury to the bedroom, while the striking zebra print rug makes a stunning statement against a stripped wood floor. For a demure approach to animal print, try the dark brown textured Zebra cushion at Occa Home, or go for glamour with the Aura Sequin cushion range at Heal's. In a pared down colour palette - grey and silver zebra print or gold and silver leopard print - the Aura cushions add some sparkle without being over-the-top. For a natural look, go for the real thing with Rockett St George's fair trade cowhide cushions.
Tom Dixon's Beat Vessel vases and Beat Shade pendant lamps in brass are the perfect finishing touches for a tribal-inspired interior. And Zenza's pierced brass pendant shades diffuse light beautifully for a sultry nomadic feel.
Spice up your interior this summer with a vibrant tribal-inspired look.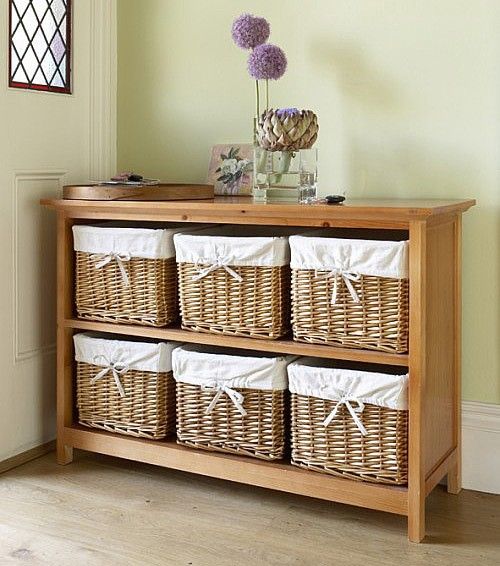 Give your guests a welcoming feel as soon as they step into your home with our guide on how to create a stunning hallway.
First impressions are just as important and influential in your home as when you meet new people. Whilst your hallway is not a place that you will spend a lot of our time in, it should not be overlooked when decorating. Make the first glimpse your guests get of your home something to remember with a glamorous chandelier or a luxurious rug to give your hallway a touch of style.
Flooring
From the first step into your hallway to the last step out, your hallway flooring will make a big impression and it will need to withstand more traffic than any other room as it is a throughway. For hardwearing carpet, heuga.com offer unique carpets in various textures and colours for comfort and practical wear. However, bear in mind that carpet is high-maintenance and will not be forgiving of dirt and dust. Hard wood flooring such as oak, if laid well, will give a warm and welcoming impression; it is easy to maintain and clean and available from The Natural Wood Floor Company. For a little warmth and a softer touch underfoot, try the Designers Guild Amalienborg Natural Rouge Rug from Heal's. Also, don't forget a door mat; the Black Baroque Door Mat from The Orchard will prevent any unwanted stones and dirt being trodden in to your home.
Lighting
From top to toe, your stunning hallway would not be complete without the right lighting which has practical uses but can also be stylish too. You can create an inviting ambience with wall or ceiling lights because of the lack of floor space in a hallway. In a large hallway and a high ceiling, a decorative and glamorous chandelier such as the Crystal Pendant by Sweet Pea and Willow or the Clearly Now Chandelier by The French Bedroom Company is a striking feature to catch the eye. For eye level lighting, try the Ball brass lamp base from Lombok, which is ideal for giving a welcoming glow. Wall sconces are popular because they provide indirect lighting; for a large selection of energy efficient light fixtures try eco-lights.com.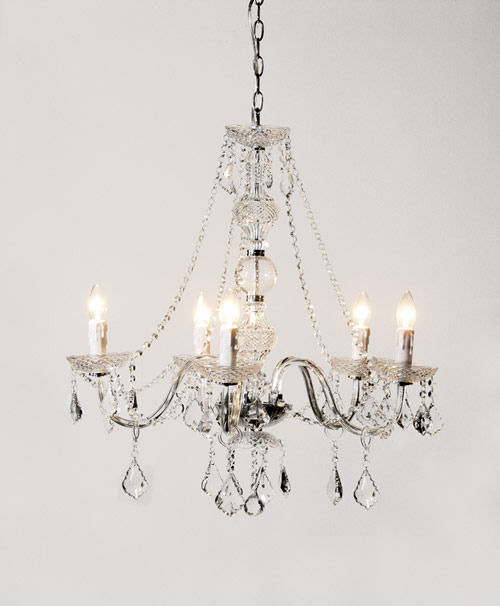 Furniture
Key furniture pieces for your hallway will make those last minute dashes out the door a lot less stress. Hallways are commonly small and narrow with little floor space so furniture should be kept to a minimum but it should provide you with necessary storage space. Try the Clarissa Silver Console Table and Mirror by Sweet Pea and Willow for a stunning feature piece or the Marie Antoinette Console Table by The French Bedroom Company for a modest but stylish look. If you are fortunate to have a lavishly large hallway with a high ceiling, then you could add some interest with the Narrow Bromo teak bookcase from Lombok. Bring a contemporary, fresh style to your hall with the Six basket console unit from The Holding Company which provides plenty of storage that will help you maintain a tidy hall area.
Storage
Keeping your hallway clear and clutter-free with some simple storage solutions will enhance the space and make your home feel more organised in a stylish way. For those cold or rainy days, have your coats and scarves close to the front door on the Cherry Blossom Coat Hooks or the Seletti Desdomona Hanging Coat Hooks, both by Rockett St George. Or if you have more floor space, the beech Tree coat stand from The Holding Company has warm wooden tones that will suit any interior. The Wall Mounted Shoe Rack from Utility will keep your shoes off the floor and help keep your floor space free.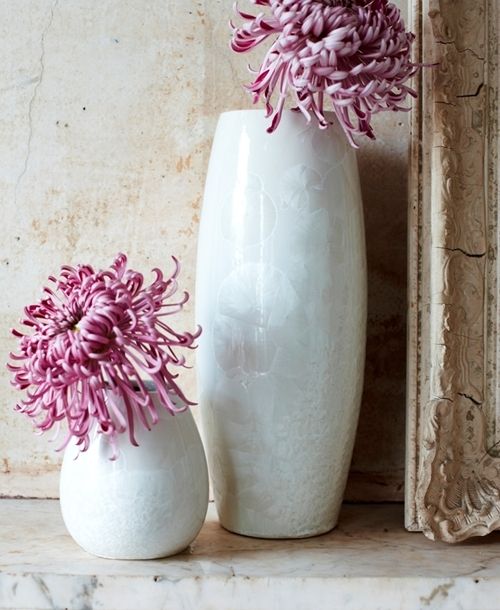 Accessories
Accessorising your hallway will give it a personal touch; placing family photos around your home is one way to make it more inviting, and you can frame your happy memories in your hallway in style with the Mati design photo frame from Lombok. Or choose the Muir carved wooden trinket box, also from Lombok, to put on a console table or shelf by your front door either as a private place to keep your keys or simply for decorative purposes.
Mirrors are perfect for hallways because they reflect light and create a feeling of depth in smaller, narrower hallway. Go for a contemporary style with the Rectangular Venetian mirror from Sweetpea & Willow which has eye-catching intricate detailing.
Vases are a great way to add colour and fresh flowers will bring an inviting, natural scent. The Gold dust vase from Occa Home or the Nyla vase from ALSO Home are unique feature pieces that will add to the beautiful, harmonious and minimal decor of your hallway.
Paint and Wallpaper
As hallways don't often have windows they are darker than other rooms, so use a light or neutral shade to decorate with. The exception is if you have a large, traditional hallway, in which case red and greens will work well with dark wood furnishings to create a stunning entrance. For those with smaller halls, use earthy or pastel hues such as Mushroom paint from The Little Greene Collection or try dulux.co.uk to choose anything from gentle lavender to pale citrus to bring a warm and natural feel. Avoid using white for your walls because it will show up unwanted dirty fingerprints and marks; washable paints are an excellent choice because you can wash your walls without taking the paint off.
Furnish lists a great selection of patterned wallpaper which will work well in long, narrow hallways as it creates width by drawing the eye away from the length. The sophisticated Berry white wallpaper from 95% Danish will give the illusion of a higher ceiling because of its vertical design. Or for a dramatic and glamorous entrance, try the Wilderness White/Gold Wallpaper from 95% Danish with its delicious gold tones that will reflect the light and ignite life into your hall.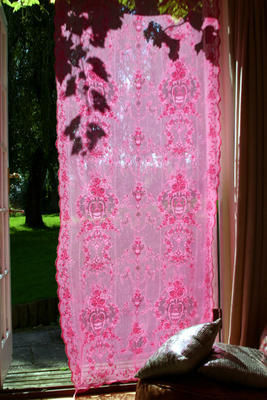 Give your windows a fresh new look and make the most of the summer sun
Windows are natural focal points, inevitably drawing the eye as the source of natural light in our homes. Window treatments are key to setting the mood of your room in terms of style certainly, but also because your choice will determine how far you can manipulate the effects of natural light. With the capacity to completely transform a room, choosing window treatments can be a daunting process. So we've put together a buyers guide to help you choose with confidence.
Curtains
Curtains are available in all manner of fabrics and styles. Heavy silks, velvets, cottons and linens are all great choices. A patterned fabric will make a feature of your window, but if you don't want your curtains to fight for attention with another focal point, go for a plainer fabric. The higher the thread count of the fabric, the better your curtains will hang. Lined curtains keep the heat in better than unlined curtains and will block out more light when closed. Lighter, breezy fabrics are great diffusers of light, making them attractive for the summer. Pleated headings give an elegant, classic look, while eyelets and tab-tops are more casual, making them great for kids' rooms and relaxed living spaces.
When choosing the length of your curtains you have three options: finishing at the windowsill, allowing the curtains to just about graze the sill; finishing below the windowsill and above the radiator (if you have one), adding between 8cm and 15cm; or dropping to the floor, adding between 1.5cm and 2cm. There's a fashion for allowing your curtains to fall in pools of fabric on the floor because it looks more 'expensive'. I have to say I think this not only looks ridiculous, but it collects dust and makes cleaning your floor more difficult. Whichever drop you go for, use a metal measuring tape and make sure that the curtain pole or track is in place, taking headings into account to avoid miscalculations. Try Designers Guild for fabulous curtain fabrics.
Pros: good insulation against heat loss; great choice of fabrics and styles
Cons: when drawn back, curtains allow less light in than blinds; thick fabrics, such as velvet, can be a bit oppressive in the summer months.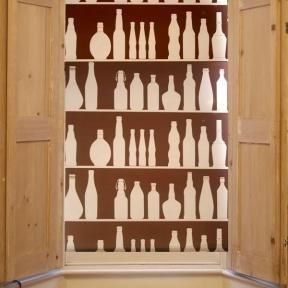 Blinds
Roman blinds fold back on themselves when raised, creating a feeling of quality and elegance, which makes them a great choice for period homes. Suitable for any room in the house, they're particularly good for living rooms and bedrooms, creating softness at the window. Roman blinds are available in a range of fabrics, which can be blackout lined, and in woven bands of wood, bamboo and jute, which gently diffuse light.
Pros: great choice of patterns and materials; elegant appearance
Cons: more expensive than roller blinds; less sleek than Venetians
Venetian slatted blinds give you sharp, clean finish making them especially good for modern homes. Being easy to clean, they're also a great option for bathrooms and kitchens. Enabling you to filter light or cut out it out completely, Venetian blinds are a versatile choice. And if you're concerned about privacy, they'll allow light in while obscuring the view from the street. They're great for awkward windows such as skylights, and they can be fitted to tilt and turn. Venetians come in a range of slat widths and are available in wood or powder-coated aluminium.
Pros: more versatile than Roman or roller; sharp modern look
Cons: metal slats may not suit period homes; less choice in terms of material and pattern
Roller blinds are a popular choice, offering simplicity and practicality. Like Roman blinds they're available in a huge choice of fabrics as well as bamboo, wood and other natural fibres. Rollers are easy to use, making them great for kids' rooms, while Teflon coated rollers are perfect for bathrooms and kitchens. Rollers can also be fitted for skylights. Sheer rollers that allow light through are a stylish alternative to net curtains in street level rooms.
Pros: simple, smooth appearance; a cheaper alternative to Romans
Cons: rollers stand further from the window than other styles; they don't lend the same softness to the room as Romans
Try Tuiss for great quality made-to-measure Venetian, Roman and roller blinds.
Sliding Panels
Sliding fabric panels are a stylish and contemporary way to dress floor-to-ceiling windows, perfect for modern homes with large expanses of glass. In feather-light fabrics, use them against glass walls and sliding patio doors to maximise on light while retaining privacy. Double-sided and weighted at the bottom to allow them to hang cleanly, sliding panels are also great to use as room dividers. Each panel moves on a separate channel of track, stacking neatly at either side of the window when open. Each panel picks up the next, and when fully closed the panels overlap to provide a screen against sunlight and nosy neighbours. The separate channels allow you to create a layered look by combining different colours, patterns and fabrics. Sliding panels are available in woven woods, and fabrics ranging from sheer voile to opaque canvas. Easy to remove and replace, the panels can be changed for winter and summer. Try Blindtrack Services for a good quality selection.
Pros: elegant, contemporary look; great for large windows, patio doors and as room dividers
Cons: panels won't give the cosy feeling of curtains; while curtains can be flung open, and blinds can be raised with a quick pull, panels can be annoying for the impatient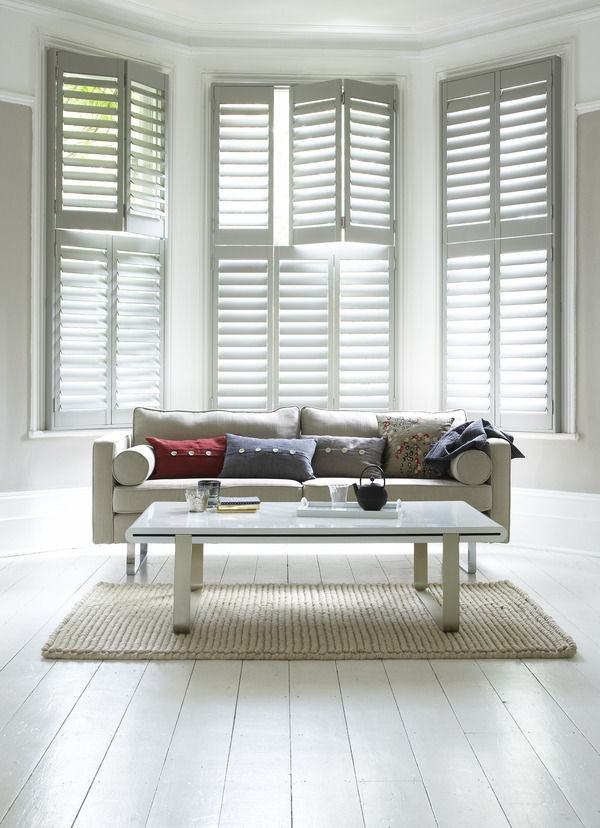 Window Film
Window film is available with a range of properties for a variety of applications. Heat control films are great for conservatories, while glare reduction films take the edge off blinding sunlight. Films with UV protection prevent fading of carpets, wood floors, curtains and artwork. Frosted and reflective films provide privacy, while anti-shatter varieties enhance safety and security. The Window Film Company offers products to meet each of these requirements as well as a professional installation service. Professional installation is recommended, especially if you have a large expanse to cover, because applying the film can be fiddly and it's easy to get irritating bubbles in the surface. The relatively small investment involved in fitting a film with UV protection is really worthwhile for the fade resistance it offers for expensive wood floors and cherished art. Frosted films are available in a range of tasteful designs and look much sleeker than traditional frosted glass. If you have boisterous kids or you're worried about break-ins, anti-shatter films are a great way to enhance security and safety without forking out for new windows.
Pros: get a range of effects without changing the windows; maximise light while retaining privacy
Cons: professional installation recommended; films can be difficult to remove
Shutters
Shutters are an elegant and classic way to dress your windows, making them particularly appropriate in period homes. Used alone, they give the window a clean, neat finish, and they can be combined with curtains to add softness. Shutters offer fantastic flexibility in terms of light filtration and privacy; slats can be tilted to the desired position, and shutters can be made either full length, in independent upper and lower sections, or café-style, covering just the bottom half of the window. When closed, shutters completely block out light, making them a practical choice for nurseries and kids' rooms. They'll make an elegant statement in the living room, and they're great for bathrooms and kitchens. Made bespoke they can be designed to fit awkward windows. Shutters are an expensive option, but a worthwhile investment because they'll last for years. Shutterly Fabulous offers a complete design and installation service, with shutters in stained or painted wood as well as a range designed by Kelly Hoppen. Shutter World also has a great range, including both slatted and solid shutters.
Pros: long-lasting and versatile; classic, elegant and airy feel
Cons: an expensive option; not the sort of window treatment you can change on a whim
Whether you want to maximise light or thwart a nosy neighbour, there's a stylish window treatment to suit your needs.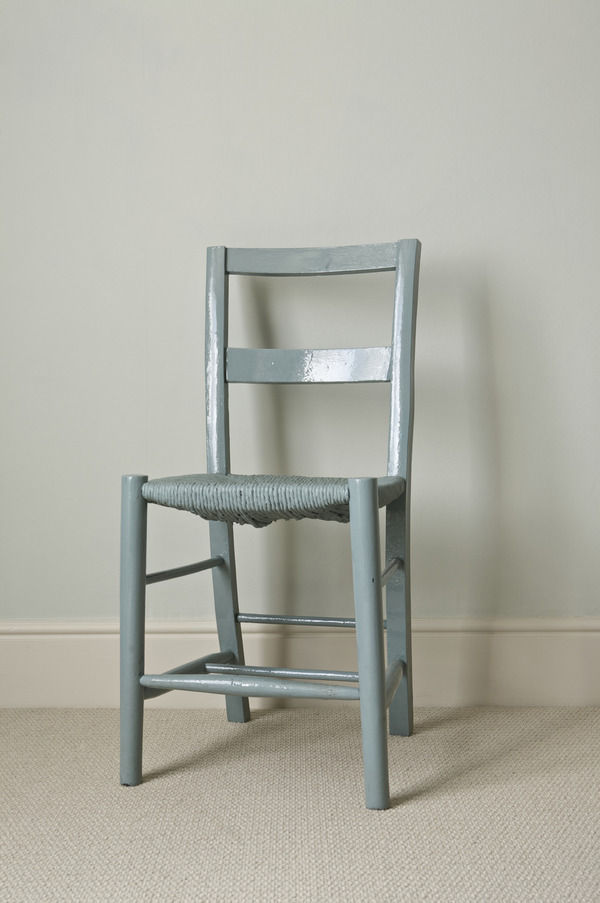 If your furniture needs a face-lift then have some fun and get creative. Our guide to revamping shows you how.
So you've got an old wooden table that's more shabby than chic, a sad looking chair with lumpy stuffing, or a flea market find that needs a bit of love. Don't despair. There are lots of fun things you can do to breathe new life into tired furniture. Get creative with our guide to revamping.
Paint
A splash of paint is probably the most obvious way to transform wooden furniture and it can work wonders to revive an old piece. As with any paint job, surface preparation is boring but necessary. If the piece already has an old coat of paint, sand off any flaking areas, going with the grain to get a smooth finish. Bare wood is porous so will need to be primed, and if the piece has never been painted seal any knots with a knotting solution. Once the surface is dry, apply a water-based acrylic paint such as Farrow & Ball's Eco Full Gloss, Estate Eggshell or Modern Emulsion. Water-based paints are environmentally friendly and far less messy than oil-based paints. For the lazy among us, me included, Plasti-Kote has everything you need to paint furniture in simple-to-use spray can form. Blackboard paint is another fantastic invention and can instantly transform kitchen cupboards, toy boxes, drawers and wardrobe doors. Magnetic blackboard paint is great for cupboards and doors, allowing you to add photos, postcards and interesting bits and pieces to your message board.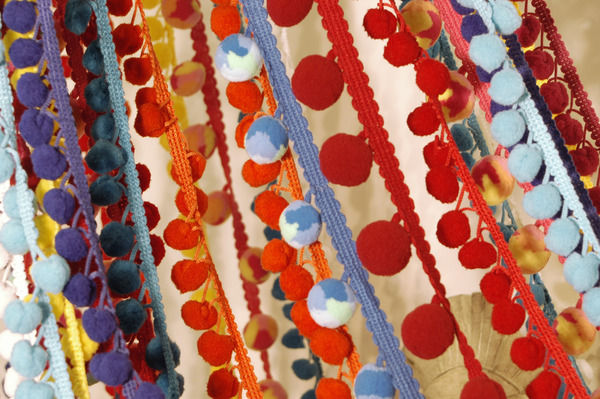 Fabric and Reupholstering
There are few things that I wouldn't suggest having a bash at, but reupholstering a button-backed chair is one of them. If you're an uninitiated upholsterer and you've got a chair or sofa with awkward curves or a button-back it's probably best to take it to a professional. However, drop-in seats on dining chairs, headboards and ottomans are pretty straightforward and great to practice on first to get a feel for the materials. If you want to go on to something more fancy after that, Nicole Fulton's book, New Upholstery, is easy to follow and will get you to the button-back stage and beyond.
For drop in seats, headboards and ottomans you'll need foam, polyester wadding, calico, spray adhesive, a staple gun and your chosen fabric. The foam goes on first, held in place with spray adhesive. The malleable polyester wadding goes on top of the foam, tugged and kneaded into the desired shape. The padding is then covered with calico to retain the shape: allow an extra 8cm and neatly fold 'hospital corners' like the bottom sheets on a bed, stapling the underside of the drop-in seat, the back of the headboard or at the sides of the ottoman. Repeat the process with your chosen fabric. If you're doing an ottoman you'll need to cover the stapled edges with a braided trim: glue it into place and fix with decorative nails. You can find advice and all the materials you may need at The Upholstery Shop.
Removable sofa and seat cushions can be re-covered simply by unpicking the original covers and following the pattern with your new fabric, sewing with the fabric inside out. To insert a zip in one side, place the two edges of the fabric right sides together and tack along the seam; stitch the ends of the seam to secure it, leaving just the tacking stitches where the zip is to be inserted; place the zip wrong side up over the tacked section of the seam; pin and stitch the ends and sides of the zip close to the teeth; remove the tacking stitches.
Trimmings
If you're daunted by the prospect of reupholstering or you happen to like the fabric on an old piece you can get really creative with trimmings. Feathers, ribbons, tassels and decorative braids can all be used to customize your furniture. Braids with little hanging pom-poms or glass beads look fabulous around the bottom of an upholstered chair. Ribbons and decorative braids can also be used to give the upholstered body of the chair a new look; choose a colour that complements the upholstery fabric for your ribbon or braid, gluing and neatly stitching it into place. If you're a bit ham-fisted with a needle, rather than attempting to hide the stitching, make a feature of it by using thicker thread and bigger needle. For inspiration with feathers, have a look at the feather-backed Fin Chair from BODIE and FOU on Furnish. You could create a similar effect with ribbons and bows. VV Rouleaux is a treasure trove of trimmings and lovely stuffs to stir your imagination.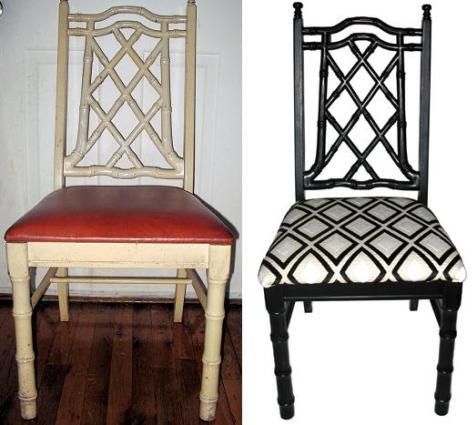 Wallpaper
My grandma used to line chests of drawers with wallpaper off-cuts and it's one of the things I still do. It's a great way to use a retro roll found at a flea market or to put wallpaper samples to good use. And it's lovely to open the drawer and have a bit of pattern in there. But you can also use wallpaper on the outside of drawers. Take the handles or knobs off the drawer fronts to paper them and either replace with prettier ones or paint the originals in a complementary colour. Seal the papered drawer fronts with a coat of PVA glue to prevent pealing, and pick out one of the colours in the wallpaper to paint the rest of the chest. You can do the same for wardrobes, lining the insides with wallpaper in a different pattern or colourway to add depth and interest.
Mouldings and Beading
Available from DIY stores such as B&Q, decorative wooden mouldings are another way to transform wardrobe doors and chests of drawers. With lengths of moulding you can create a framed panel effect on wardrobe doors. Use wood glue and tacks to fix your frame into place. Once dry you can simply paint the whole door one colour, choose a different colour for the inside and outside of the frame, or use patterned wallpaper within the frame and complementary paint outside. If you've got a plain chest of drawers you can liven it up with mouldings framing outside edges of the top of the chest and thinner beading to frame the drawer fronts. Replacing handles and knobs will complete the transformation and give your furniture a finished look.
Top 5 Revamping Tips
1. Leave yourself at least a day, ideally a weekend, to do the job
2. Plan out your design and each step of the process
3. Make sure you have all the materials you need before you start
4. Prepare the surface and you'll get a better finish
5. Take your time and tidy up as you go along!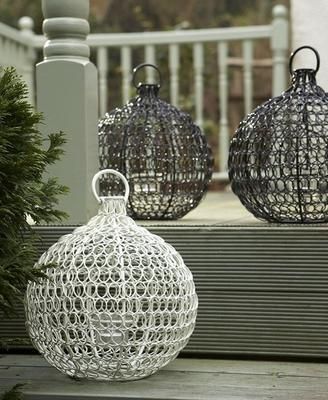 Enjoy your garden long into the night with this intricate lantern from Also Home. £45
With the balmy weather set to be with us for a while longer, for most of us getting out in the garden means doing it after dusk, especially during the week.
This is why I suggest you get your hands on one of the nicest lanterns I have seen.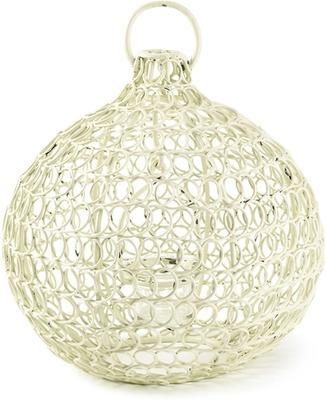 The Squiggle lantern from Also Home is made from iron and its intricate design means it's both hardwearing and delicate at the same time.
Available in classic black or white, try hanging one (or a few!) from a wooden gazebo or dot them along a path for an instant style injection.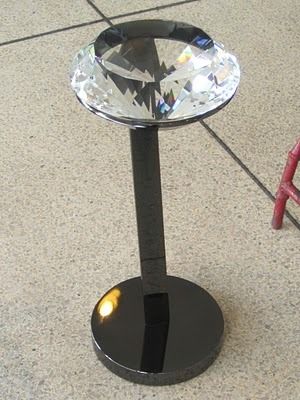 It's that time of the week again, and we've found another three internet gems.
First up is the deliriously stylish Maison 21, the work of LA based interior decorator Christian May. It's stuffed full of covetable objects and creative design ideas, but it's Christian's new rescue dog that had me falling head over heals. He's got a magpie's eye for design (Christian that is, not the dog) and you can't help being inspired by his upbeat posts. A constant stream of witty writing and beautiful things, it's a really good fun and quite campy blog that never fails put a smile on your face.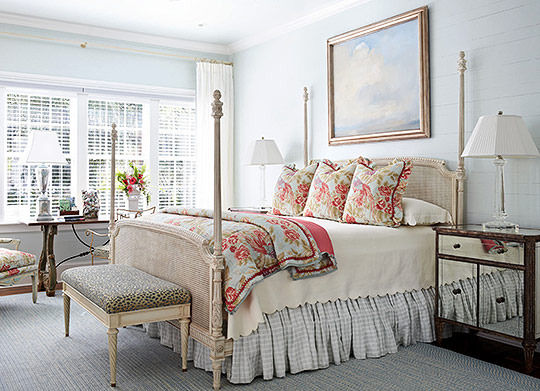 A topical one next, since it's Pantone's colour of the year for 2010: House of Turquoise. Brought to you by Erin from Minneapolis, it's one of her twelve (yes, twelve) interiors blogs, all of them based on particular colours. This one's an ode to turquoise in all its varied hues, celebrated through fabulous photographs of interiors. And being such an uplifting colour, it's naturally an uplifting blog. I loved this flouncy flamenco style turquoise shower curtain.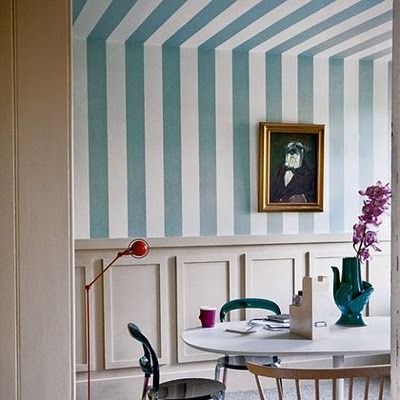 Lastly this week is interior designer Shannon Darby's beautiful blog, Pink Wallpaper. This one's definitely all about the interiors photos, which are full of inspiration and absolutely, covetously divine. Posts are word light but written with warmth, and with pictures like these, there's no need for flim-flammery. Shannon's got a great eye for style and lets you in on all her design ideas and decorating quandaries. But if there was ever any reason to get writing your own blog, it's this : Shannon's work as an interior designer recently caught the attention of a magazine scout and they're featuring it on the front cover. So get in touch if you write an interiors blog and we'll highlight it here next time.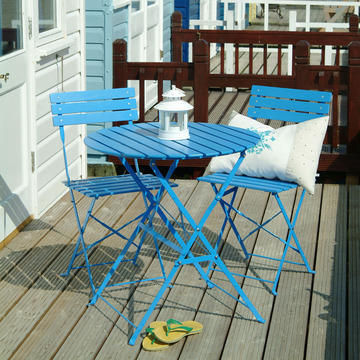 Add some colour with this pretty bistro set from Cocoboat. £135
I've seen some absolutely stunning garden furniture this season, from beautiful daybeds to dining furniture that wouldn't look out of place in your, erm, dining room.
But not everyone has acres of land to house this furniture, some of which is absolutely huge. Not the case with this compact but nonetheless gorgeous Fayence bistro set from Cocoboat. Made from wood and steel, it compromises of two chairs and a table and folds for easy storing, making it the perfect choice for roof gardens or bijou outside spaces.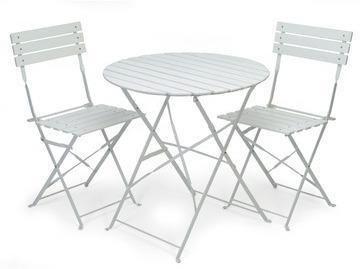 What I really love about it though is its bright blue colour, reminiscent of the Mediterranean Sea (can you tell I'm missing being abroad?)
However, if this bright blue isn't for you, don't despair – it also comes in classic apple green or stylish clay.
And at £135 for three pieces, it's a bit of a bargain as well – so what are you waiting for? Summer won't last forever you know...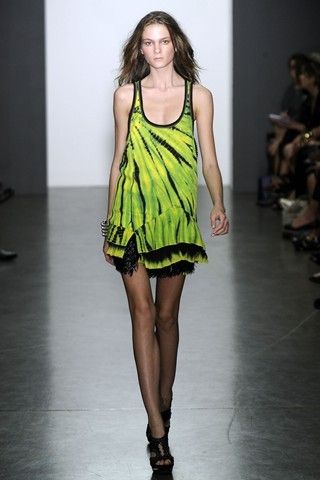 Create your own tropical paradise with our tips on how to find natural and exotic furnishings for your home.
Transforming your home into a tropical paradise is all about combining natural textures with bold patterns and prints to bring a sultry look together. With tribal themes dominating the catwalks this season, interior design has pounced on luxurious animal prints and has been influenced by African style in order to bring cultural interest to your interior. Combine the tropical hues of sea blues and greens with tribal and earthy tones to create a blissful and harmonious mood for your home.
Wallpaper
Tropical scenery evokes vibrant and exotic colours and if you want to experiment with this look in your home then have a look at aymefitzgerald.co.uk for wild but beautiful and contemporary exotic designs that can be applied to wallpapers, fabrics and cushions. Or try the garden inspired Hothouse wallpaper by Suzy Hoodless from Osborne & Little. Bold patterns such as lush foliage or bright flowers work really well on a feature wall to make a strong statement without the room feeling too busy. Alternatively, Urbane Living bamboo natural wallpapers and wall coverings bring textural drama to your walls. Bamboo papers from Farrow & Ball display an exotic pattern adapted from an iconic nineteenth century Japanese print for an ideal backdrop.
Flooring
When it comes to choosing flooring go for simplicity and a minimalistic look; avoid carpet as this will detract from the natural, al fresco feel. Wood flooring such as Urbane Living's bamboo flooring or Ipe tropical wood from ecora.co.uk is durable and stylish, and it has a modern, fresh feel. Also, use a lightweight rug made from natural materials to soften the dark tones in the flooring and bring texture and interest to your floor. Jute and sisal rugs from The Rug Lounge are perfect for giving your living room a natural, effortless look.
Furniture
To enhance the exotic and modern feel of your room, choose simple, dark wood furniture such as teak, mahogany or walnut. Dark teak, with its rich and warming tones, has an alluring appeal that makes it a statement piece in any room. The handmade ladder bookcase from Lombok is a unique statement piece. Or the irresistibly inviting handmade bamboo love seat from Puji will provide you with a place to relax in style. Conservatory style furniture that is made from bamboo, wicker or rattan, like the Port Royal Chaise Lounge in the Port Royal collection from bluebarnacles.com, is versatile to use inside or out. The Birdcage coffee table from OKA has a finely woven rattan border that also perfectly fits the tropical look.
Accessories
Accessories will pull the tropical theme of your room together, but in this case it is all about quality not quantity so don't go overboard otherwise you might get lost in your very own jungle. With turquoise evoking tropical oceans, the decorative glazed ceramic Fish Vase from belongingstc.com or the striking Earthenware pot from Lombok can provide tropical detail to your home with bright blooms or lush green foliage. Cushions and fabric with animal prints, palm trees or sea shells will add a touch of playful detail. Try the Oscar Round cushion from The London Cushion Company or the Shells Porch Pillow from mainecottage.com. Also, try Tropical fabrics from The Seam Shoppe to add vibrant and exciting patterns to your interior design.
Letting natural light in to your room through your windows will enhance your décor, so avoid large curtains and thick, dark fabric. Feature lighting like the Walis Table Lamp from belongingstc.com, made from natural rattan, will create a relaxing and natural ambience.
Treat yourself to some luxurious furniture pieces and enjoy the long summer days in your own tropical paradise.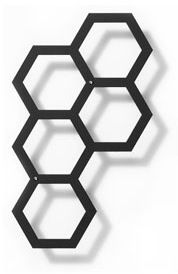 Add some contemporary style to your garden with this Comb-ination trellis from Garden Beet. From £36
Think of trellis and you probably imagine a wood or cane affair that might not suit your contemporary garden.
Which is why I was delighted to find this modern take on an old favourite from Garden Beet. Made from powdered coated zinc and designed by Arik Levy, Comb-ination trellis comes in a variety of sizes.
Perfect for small gardens or balconies, use it to encourage climbing plants to bring your garden walls alive.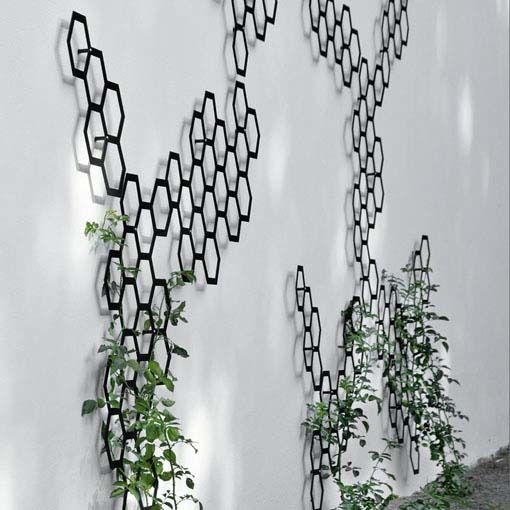 Alternatively, if you're like me and don't have green fingers, use it plain as a decorative wall accessory for your garden.
See this product at Garden Beet...
(We don't sell this product yet but sign up to our newsletter and we'll let you know if/when we do)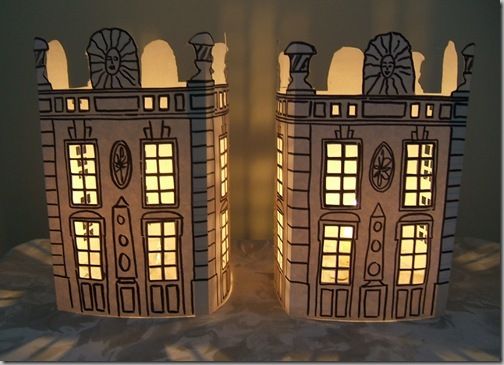 We've found another a fine crop of interiors writers blooming with bright ideas
First off the blocks this week is the delightfully named Pigtown Design, brought to you by Meg Fielding from Ville de Porc (Pigtown!) in Baltimore. Meg used to live in Wales and appears to have foreign correspondents keeping her up to date on all things British: there's a great post on the outrageous hats at Ascot. All sorts of interesting things turn up on Pigtown, from the beautiful to the bizarre. Check out these iceberg and Titanic shaped ice cubes. Perfect for a summer gin and tonic.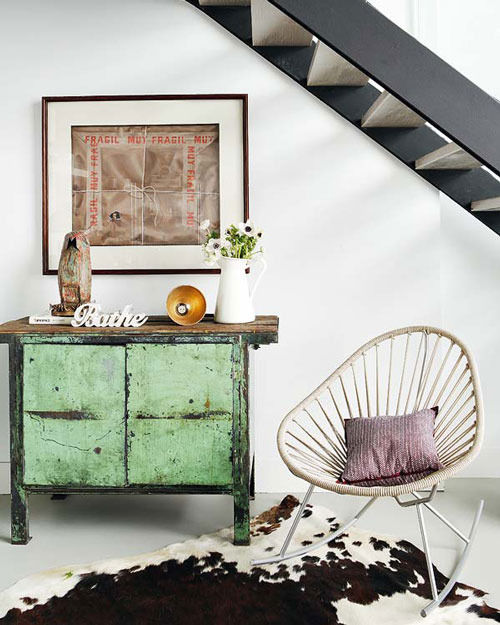 But don't sink a drink just yet because next up is Desire to Inspire, and although alcohol does seem to have a similar effect, reading this blog won't give you a hangover. Desire to Inspire is the joint project of two interiors obsessives who've never actually met in person. From Australia and Canada respectively, Jo and Kim met on Flickr, which figures because the blog is image rich. Together they scour the web and share their finds, highlighting beautiful interiors and architecture, inspiring photographers, and all things design. Great for the nosy, they also feature readers' homes. I'm probably going to die alone surrounded by cats but my favourite thing on this blog is the weekly Pets on Furniture feature, with photos sent in by readers.
A little bit of California dreaming next with LA based interior designer, Megan, at Beach Bungalow 8. This is a really well informed blog, engagingly written and beautifully illustrated. I really enjoyed this post about a window tour event during the Legends of La Cienega festival in LA's design quarter; each window showcases a different designer's interpretation of a book, film or television series. The Dr Zhivago windows styled by Dayna Lee are amazing. Megan's also a great believer in the power of the blogging and organises events for fellow design bloggers to get together and share ideas. So, once again, if you write your own interiors blog get in touch and we'll feature it next time.