It's our Interior Design Magazine!
The hottest interior design ideas, fab finds for the home and the latest in interiors trends. We're always looking for new finds, designers to feature or anything else lovely for the home, so if you've seen something gorgeous and would like it featured in our interior design magazine, please get in touch!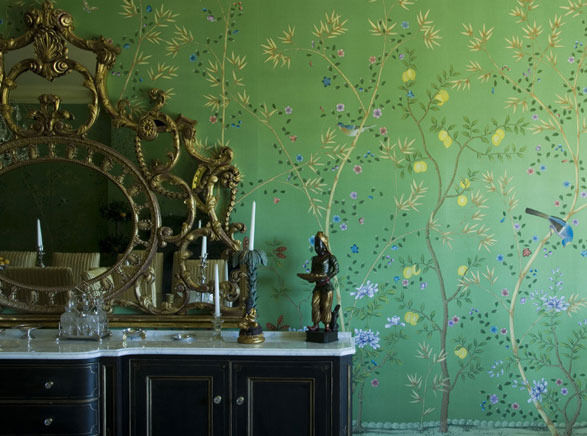 Sneak a peak at what's in store at Decorex 2010
Decorex International is renowned as an arbiter of style and an authority on where things are heading in the world of interiors. Offering a sophisticated and inspiring mix of emerging talent and big-name brands, exhibitors are handpicked to represent the best of design globally. An unmissable event for industry professionals, Decorex throws open its doors to the public on Tuesday 28 September; style-seekers and design-devotees take note.
Decorex showcases top-end, design-led interiors products from the finest suppliers, with exhibitors presenting the latest in fabrics, wall-coverings and floor-coverings, to furniture, lighting and accessories. Alongside a vast array of top-notch exhibitors, seminars will be running throughout the event, with speakers addressing hot topics and offering design inspiration. Often referred to as the 'Oscars' of the interior design industry, Decorex has launched its own awards this year. Judges will be scouring the show for the Best New Exhibitor and the Best International Exhibitor, with an Outstanding Contribution award going to one of the show's stalwarts.
A treasure trove of interiors excess, you can expect to be dazzled at Decorex. Lewis Carroll's novel 'Through the Looking Glass' has inspired Spanish design duo Herme ye Monica to create an installation in which all is not what it seems; rugs will change colour, spatial distortions abound and a secret room reveals a theatre of optical illusions. World-renowned interior designer Nina Campbell is taking a similarly liberated approach with the Sloane Square lobby entrance. Exploring the enchanted story of play and temptation in a grown up wonderland, Nina's display will include exquisite products from over 50 exhibitors including specially commissioned one-off pieces. Tableware and interior accessories company Harlequin Tabletop is presenting an 'Alice in Wonderland' theatrical display. You're invited to follow Alice into an underground warren, play a surreal game of croquet and take part in a spectacular tea party, showcasing the world's finest crockery.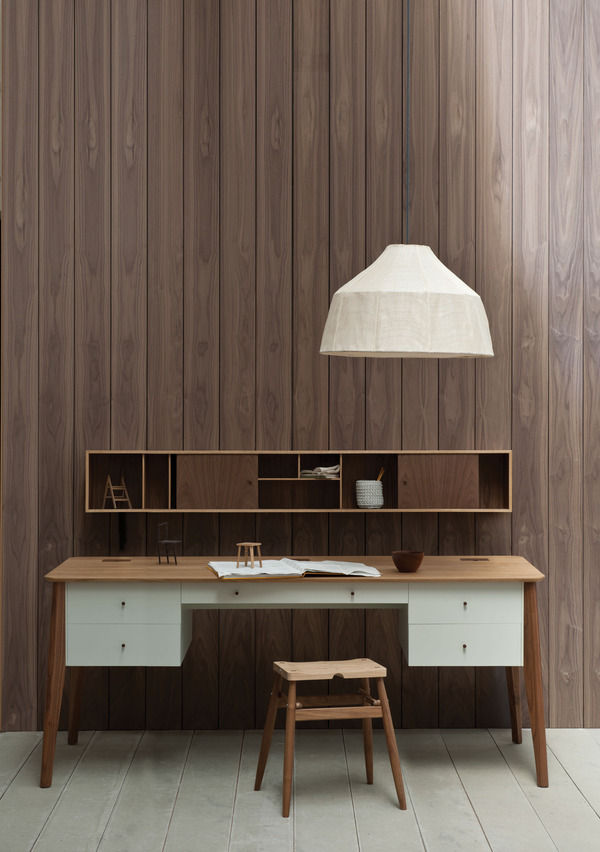 Wit and nostalgia continue at Wilman Interiors. Wilman is presenting the 'Fairground Attraction' collection, fabrics with all the fun of the fair, by Nono. The new collection is inspired by the charm and vibrancy of the 1930s fairground, with vintage motifs and carnival brights. Graphic harlequin diamonds, bold geometrics, 'big top' satin stripes and taffeta 'zig zag' embroideries are designed to mix and match, creating a sense of fun, playful originality and high spirits. Comprising six bold designs: 'Big Top', 'Gigi', 'Happy Hour', 'Roll up Roll up', 'Show Stopper' and 'The Right Lines'; the colour palette is a heady mix of candyfloss pinks, dramatic damsons, cool mojito, striking emerald, poppy reds, tangerine and on-trend sunshine yellow.
With botanicals reaching new heights in the world of interiors, the Decorex Slone Square entrance takes on a fashionable Kew Gardens feel. Visitors will be welcomed into a glorious summer room, with award-winning floral designs and a unique commission of hand-painted wall-coverings created exclusively for Decorex by Fromental. Winners of Best Stand at Decorex 2009, Fromental strive to create the world's most beautiful wallpapers. Combining skilled craftsmanship with luxurious fabrics, Fromental's distinctively British style blends historic classicism with the cutting-edge cool of London's fashion scene. Fromental's elaborate hand-painted and hand-embroidered designs, and their now-signature modern take on 18th Century Chinoiserie, have led the revival of the wallpapered interior.
While Decorex has an international flavour and global scope, over a quarter of all exhibitors highlight the fact that their products are made entirely in the UK, using British skills and craftsmanship. A 'Made in Britain' stamp certifies authenticity, quality and good design. Celebrating 100 years of 'Britain's Finest' from Fox & Brothers & Co luxury tweed fabrics and Price & Co soft furnishings, Decorex 2010 will also be showcasing the very latest of British design talent. Louise Body's first and long-awaited fabric collection will be launched at the show. The collection includes fabric to complement each of the wallpapers in the current range as well as new floral and foliage motifs developed from Louise's 'Plant Life' wall panels. Louise is also creating a bespoke entrance to the ladies and gents, bringing a novel approach to the 'smallest room in the house'.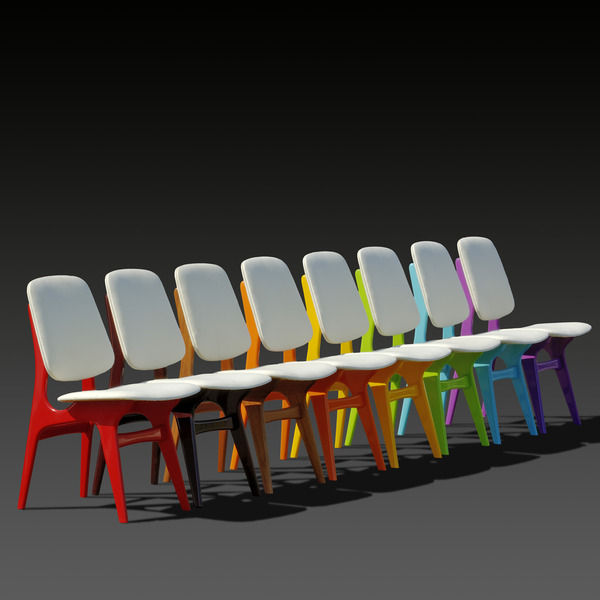 In furniture, expect to be wowed by traditionally crafted bespoke pieces and cutting-edge contemporary design. Massant has created a line of chairs, armchairs and sofas in Regency, Louis XV, Empire, Restoration and more recently Art Deco and fifties style, respecting the techniques of traditional cabinet makers and remaining faithful to the materials used in each era. Massant's exclusive products are popular with renowned interior decorators and architects. London's finest contemporary furniture dealer, ARAM will exhibit at Decorex for the first time this year. ARAM's range is unrivalled and includes flagship displays from Cassina, Living Divani, Fritz Hansen, Knoll, Arketipo and Vitra as well as the complete range of Eileen Gray's designs, for which the company hold the worldwide license. ARAM was the first to introduce the designs of, among others, Marcel Breuer, Le Corbusier, Mies van der Rohe and Castiglioni to the UK and the company carries on this tradition today with iconic designs and contemporary future classics.
Decorex promises to be a feast for the senses, and not least in terms of dining in style. Overlooking the River Thames, The Ranelagh Restaurant will be transformed with hand-painted wallpaper by Tracey Kendal, Interior Design Wall Coverings and Barneby Gates. If a light bite's what you're after, check out the Silver Birch Café, designed using only materials of organic origin, in partnership with idFX.
Time to clear those diaries and get down to Decorex.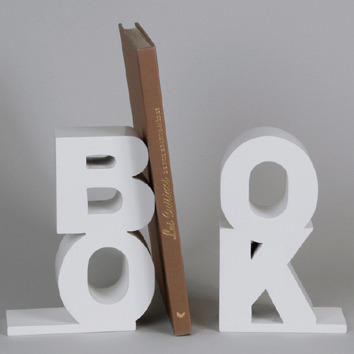 Give your books the treatment they deserve with these bookends from Coco Male. £34
If you love books as much as | do, then chances are you like having them on display and making a focal point of them.
One of my ultimate interiors dreams is to have a library, where I could house my beloved book collection.
Alas, without room for one, my books are kept neatly on shelves in my dining room.
In order to keep them in check, I have been looking for bookends for quite some time. So I was delighted to find this pair from Coco Male.
These Innocent bookends are made from white melamine and will look fabulous on any shelf, closely guarding your reading matter.
They are by far some of the nicest bookends I've seen for quite a while and I can't wait to get my hands on them.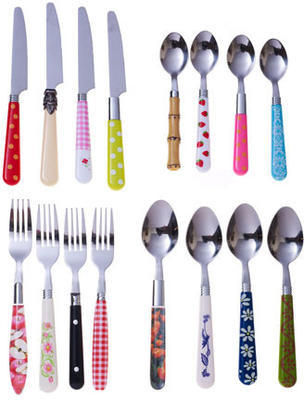 Have some fun at dinner time with this mix 'n' match cutlery set from Oliver Bonas. £28
Who says dining has to be about fine bone china and silver-plated cutlery? Clearly not the colourful peeps at Oliver Bonas that's for sure.
If you're bored with plain knives, forks and spoons then invest in this Mix 'n' Match cutlery set which is a sure fire way to give your dining a hit of colour.
This 16-piece eclectic set features a different design for every piece; spots and vintage floral sit alongside bamboo and checks to offer a unique way of adding pattern to your dining table.
Use this cutlery with crisp, white table linen and plain white china to create a place setting that's sure to have your guests talking long after pudding is finished.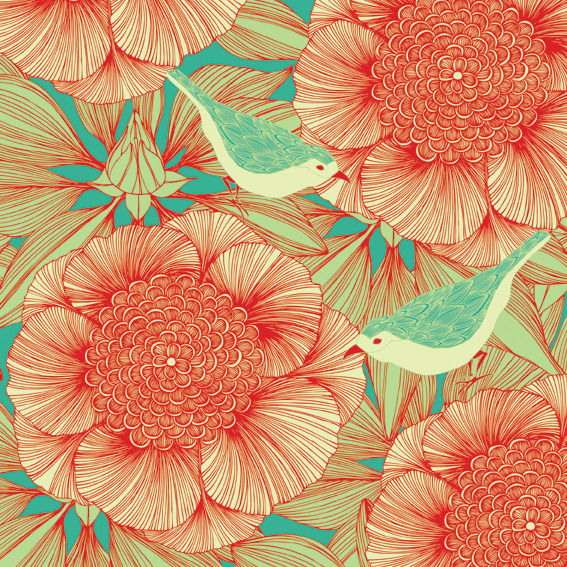 "Bringing the outdoors inside": Camilla Meijer's wallpaper and textiles will liven up any interior with an abundance of colour and pattern.
We caught up with Swedish designer, Camilla Meijer, to discuss how she has been inspired by London, nature, and vibrant, bold patterns. It's a very busy and exciting time for Camilla as she is in the middle of preparing for her exhibition at 100% Design, and she is riding high on a sea of success. Her award-winning work is deservedly loved for her fresh perspective on floral patterns, and we love her detailed hand-drawings and exciting combinations of colour.
Read on to find out more about Camilla's style and inspiration...
If you had 3 words to describe your style what would they be?
Colourful, fun and beautifully intricate.
You have been shortlisted for the British Design Awards 2010, what does this mean to you?
It means the world to me! To have the recognition for my work, my passion, the work that comes before everything... So, yes very happy and this inspires me to continue sharing my work.
Where does your inspiration come from?
Nature and all nature! I live and work in London so I take inspiration from people's gardens, the city's parks and where ever nature has decided to plant itself. I can't walk down a street without zooming in on a bush with its leaves, or a flower with its quirky way of presenting its petals. Nature and its magical beauty just fascinate me.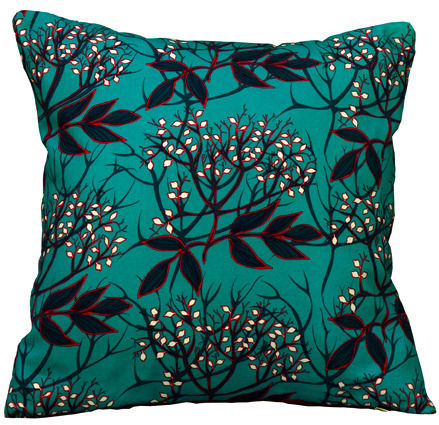 How important are colour and pattern to your designs?
They are the key elements in my work! I love colour and love the way it makes me feel, and this I hope to share with others through my work. Pattern is how I give life to my illustrations by allowing them to tell a visual story within the design.
Your designs are possessed by impressionable, bold florals, how do you think floral prints have revolutionised interior design? And how do you think they will be used in the future?
We have always seen floral, nature inspired prints and I don't think that will ever change. But I believe it's the style of the design that will always keep florals in fashion.
What's your 'hero' product and why?
I must say it's definitely the LCW Chair by Charles and Ray Eames because for me it ticks all the right boxes. It's stylish, cool, and beautiful with its perfect curves, shapes... It makes me happy.
What is the most recent design product that you have bought for your home?
It would have to be the sixth addition to my Moomin cup collection. I love the illustrations and they are just so sweet and colourful!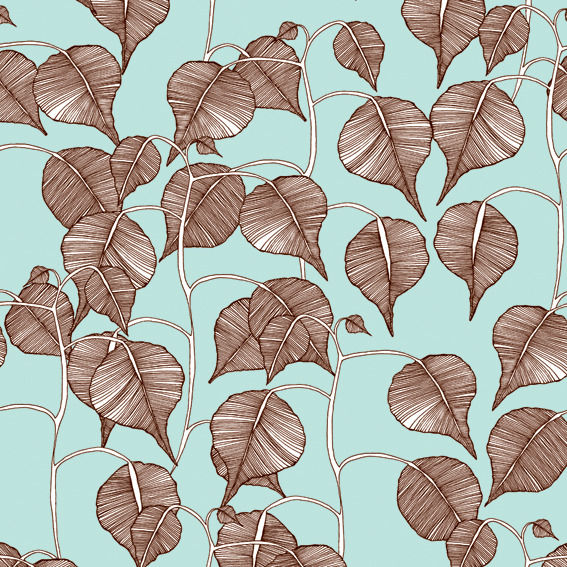 What's your favourite material to work with and why?
My favourite material is fleece paper, a mix between fabric and paper and this I use for my wallpapers. I love working with it because it absorbs the ink beautifully and gives me this gorgeous print. It's also really hard wearing which then makes it possible for my patterns to become a feature for a bathroom and kitchen area.
Where do you like to shop for quirky furniture pieces for your own home?
At the moment it's more about window shopping, so, yes my favourite places would be twentytwentyone, aria, two colombia road, scp, caravan, bohemia... there are just so many lovely places in London selling collective and beautiful design pieces.
What advice would you give to aspiring interior designers?
Believe in what you're aiming to achieve.
What new projects can we look forward to seeing?
I'm working on my new pattern collection for next year, so yes expect to see more intricate, colourful, cool designs! And at this moment I'm enjoying drawing my blossom print, yeah!
You can view all of Camilla's designs at www.camillameijer.com. And visit Camilla at 100% Design, K81 on the 23rd- 26th September 2010.
Also, Camilla has been shortlisted for the British Design Awards 2010, and to find out how you can vote read our feature.
Under the heat of the spotlight, Utility outperforms on quality and originality.
Since opening its first store in 1999, Utility has become highly renowned for its distinctive mix of contemporary future classics and 20th century design icons. With discernable roots in 1920s and 30s modernism, Utility sidesteps the whims of fashion with designs that don't date and high quality products that demonstrate the beauty of simplicity and functionality. Furniture, lighting and home accessories are all handpicked by Utility. You'll find the latest products from independent designers such as Tom Dixon, Ilse Crawford and Marcel Wanders, big brands including B&B Italia, Kartell and Alessi, as well as iconic 20th century designs reissued by Vitra and Knoll.
Celebrating the timeless appeal of good design, Utility's product range also reveals a commitment to quality, originality and design innovation. The Here You Go coat rack is a great example of inventive problem solving. Simple yet striking, the coat rack is strung from the ceiling, leaving precious floor space uncluttered. Nine metal components link together like a paperclip chain and each has two tactile wooden pegs on which to hang coats, hats and scarves. It's a beautiful sculptural object in its own right, but also utterly practical. The String shelving system is another ingenious product and an example of Utility's resurrection of 20th century design icons. Designed in 1948 by Swedish architect Nils Strinning, it's an award-winning, highly versatile modular storage system. Its simple construction of a powder coated steel frame on which wooden elements hang gives the String shelving system a refined, timeless and unpretentious appeal. Lending itself to both large and small compositions, it's an investment piece that can be reconfigured to suit changing needs and room sizes.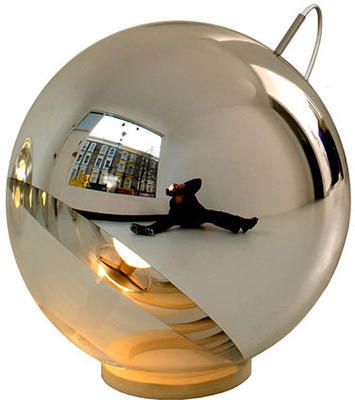 You can count on Utility to be up to date on all the new furniture releases from both established brands and independent designers. Launched at the 2010 Milan Furniture Fair, Vitra has given the classic Eames plastic side chair and armchair a softer new look with upholstery. Chair shells are available in the same mid-century modern colour palette, with Hopsak upholstery in a variety of complementary shades. The DAR, DSW and DSR chairs are all available with this new upholstered fabric option at Utility. Continually expanding and refreshing its product range, Utility has recently become a stockist of De La Espada. As well as producing its own designs De La Espada manufacturers and champions the work of designers such as Matthew Hilton, Ilse Crawford, Autoban and Leif. This beautifully crafted collection is hand made in Portugal, with each piece being made to order.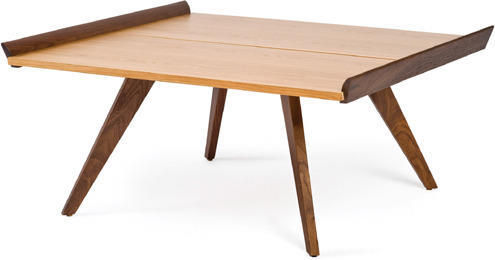 I just so happen to be looking for a coffee table at the moment and I've found the perfect candidate at Utility. For me it's got to be the star product; but whatever you're looking for there's a galaxy of equals. Reintroduced by Knoll into the Knoll Studio Collection, the Nakashima splay leg coffee table is a triumph of mid-century design. Designed by George Nakashima in 1948 the beautifully tapered legs complement the angled lip at either end of the table. Available in a choice of timbers with a low sheen finish - a darker American walnut or a lighter Hickory - the splay leg table epitomises Nakashima's sympathetic treatment of wood and his respect for the inherent beauty of the grain. The table is authenticated with Nakashima's stamped signature on the underside. At £1,480 it's an iconic investment piece, but sadly my pockets won't stretch.
You can shop for Utility furniture, lighting and home accessories on Furnish for gift ideas including Rob Ryan's new range of oilcloth bags and notebooks.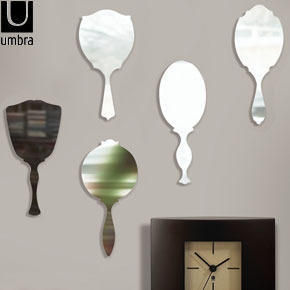 Bring some fairytale chic to your scheme with this set of five Fairest mirrors by Umbra from Red Candy. £26
Mirrors offer the perfect way to instantly brighten and bring a room to life.
I have plans to create a wall of mirrors in my living room with some stunning vintage finds but, if trawling second-hand shops and car boot sales is too time consuming for you, then Umbra has the perfect solution.
Available from Red Candy, this set of five Fairest mirrors consists of a group of five differently designed, vintage-style hand mirrors.
I absolutely adore them and can't wait to get them included in my wall of mirrors. Perfect for adding some interest to a plain wall in a bedroom, for maximum impact try using them above a dressing table.
Alternatively, brighten up a dull, narrow hallway by lining them up along one wall.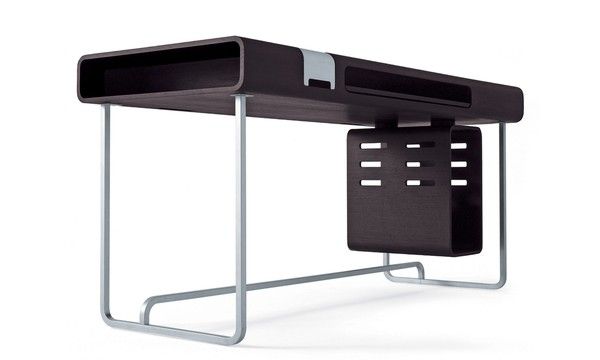 Work from home in style with this Wilson desk from EDC London. £
When I worked from home last year, my dining room was my office, my dining table my desk, which was all in all, less than convenient.
Not only could I not get reception on my mobile, which meant wandering into the living room and inevitably getting distracted by Diagnosis Murder but working at a dining table is bloody uncomfortable.
So I vowed that should I ever be a home-worker again, I would invest in a proper desk.
My first choice would be this Wilson desk from EDC London. Made from layers of plywood, Wilson is available in wenge or natural oak veneers as well as range of colours which is perfect if you want to brighten up your home office. Spacious enough to allow you to spread out and be creative, its practical too with a nifty PC holder.
With desks this gorgeous around, it almost makes me wish I was still working from home, almost...
See this product at EDC London...
(We don't list this product yet but sign up to our newsletter and we'll let you know if/when we do)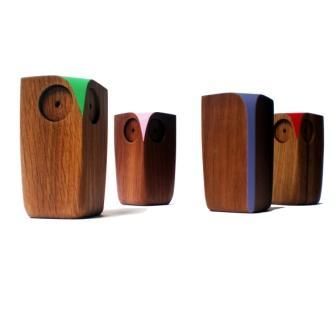 Be wise and decorate your home with these wooden owls from Matt Pugh. £25
Owls are big news this autumn; from fashion to interiors, it almost seems you can't move for these wise, old birds.
Cushions, rugs, curtains, you name it everything seems to be have given the owl treatment.
These signature owls by Matt Pugh are by far my favourites.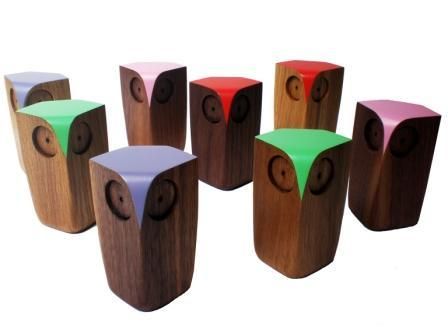 Made from oak or walnut, these delightful little chaps have coloured heads and beaks.
They definitely offer a nod to Art Deco design and offer the perfect way to add some unusual style to your home. Try lining them up on a mantelpiece or anywhere you want to add a bit of quirky style and charm.
My favourite is the green one, what's yours?
See this product at Matt Pugh...
(We don't list this product yet but sign up to our newsletter and we'll let you know if/when we do)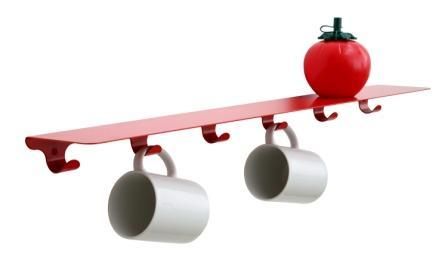 Keep your home neat and tidy with one of these Overhang shelves from Domesticity. £30
Keeping my flat tidy is a weekly mission. Two very, very busy people means it's easier for us to just dump our stuff wherever we see fit rather than tidy it away properly.
Believe me, when you're coming in through the door at 9pm for the fifth night in a row and there hasn't been a pub or restaurant involved, the last thing on your mind is "I must put my shoes away".
However, this means come Saturday morning the flat looks like a teenager's bedroom and we begin the boring process of putting everything where it should be and vowing "this definitely won't happen next week".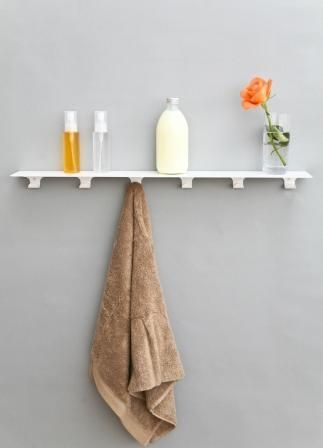 Sounds familiar? Then you, like me, need to invest in some storage to kick all that clutter into shape. Which is why I'm sharing these nifty Overhang shelves from Domesticity.
Made from powder coated steel, they're available in three colours; red, white and black. The top part of the shelf will allow you to keep stuff neatly stashed, while the six hooks can be used to hang everything from towels to coats.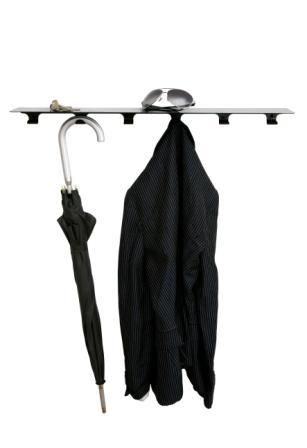 A must if you're short on space (or just as messy at me) these shelves can be used everywhere from the bathroom to hallway, kitchen to the bedroom.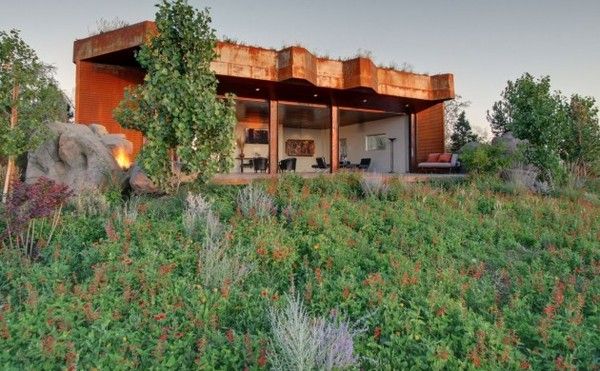 Find out what's hot in the world of interiors blogging with our weekly rundown
Contemporist is so slick that it's really an online magazine rather than a blog; but, hey, we're including it anyway. The collaborative project of two design devotees, Erin and Dave, Contemporist is a daily source for interior designers and architects to discover new products and projects at the cutting edge of contemporary design. These two never miss a beat and if you want to know what's up in the world of contemporary design, this is the place to find out. With an international following Erin and Dave's scope is global, covering the latest in architecture, interiors, furniture, lighting from across the world. Keeping pace with an ever-changing industry, the photographs and write-ups are consistently inspiring.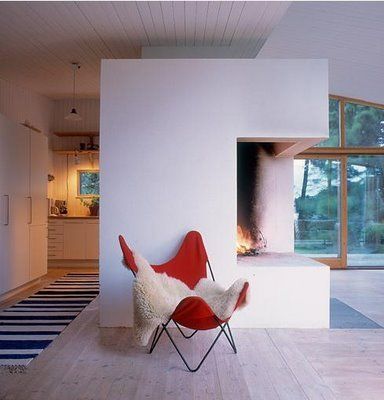 My Scandinavian Retreat follows a family restoring a summerhouse on the coast of Norway. All the inspiration for transforming the interior is collated on the blog and it's devoted to Scandinavian style, showcasing a mix of mid-century modern and contemporary design. It was recently nominated for the Best Norwegian Interiors Blog 2010 and you can see why. Fans of Scandinavian style will find all the hallmarks here and the interiors photographs never fail to raise a pang of envy. I'm dreaming of Reiulf Ramstad's modernist timber-clad beach house. And I'm now even more fixated on a Scandinavian road trip (with a van).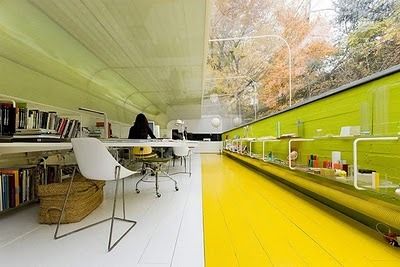 Carrie Can is where graphic designer Caroline de Winter shares her love of interiors, architecture and design. With a wandering eye, she covers a lot of ground, showcasing new products and inspiring designers along with themed posts on everything from wallpaper to storage and rooms with a view. You can count on Carrie to brighten up your day with something beautiful, even if it's a dirty-clothes basket. There's always something here to delight and inspire. Carrie recently took a trip to Copenhagen so expect lots of lovely Scandinavian style.
As always, get in touch if you've got your own interiors blog and we'll feature it next time.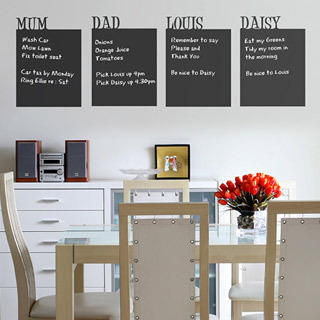 Get organised with these chalkboard graphics from Caroline McGrath. £19
Let's face it, in these busy times we could all do with being a little more organised.
And if you're a busy family, keeping on top everything can be a nightmare.
Which is why these chalkboard wall stickers from Caroline McGrath are just what you need to make sure you're keeping abreast of everyone's appointments.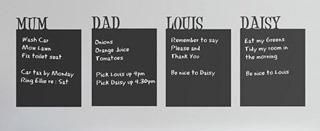 Perfect for a kitchen, child's bedroom or study, they will allow you to be more organised with minimum fuss.
Stick them up wherever you need to and then make a note of all appointments so everyone knows where they're supposed to be and what they're supposed to be doing.
We delve into the world of Hunkydory Home to discover the array of colourful prints and quirky home gifts.
Launched in 2005, Hunkydory Home is Alison Ellerbrook's creative outlet. Alison found other interior products bland and uninspiring so she set out to create "something a bit different". With a love of textiles and pattern, she takes pride in her creative handmade pieces and brings an innovative and vibrant style to conventional interior designs. With everything from cushions and lampshades to attention-grabbing accessories and kitchenware, Hunkydory products are bursting with colour and personality.
We caught up with Alison, founder of Hunkydory Home, and here's what she said...
If you had 3 words to describe your style what would they be?
Quirky, fun, colourful.
Where does your inspiration come from?
I love Scandinavian design which I think stems from spending my early childhood years growing up in Norway. I love children's products and colour, and I love to find products for grown-ups with a playful feel. I'm always on the lookout for new designers with fresh, new ideas.
Are the products you design for children inspired by your own childhood memories or children's illustrations?
I make lampshades and cushions using funky fabric prints – I do hark back to memories from my own childhood - the ByGraziela Retro Heart lampshades reminds me of a duvet cover I had in Norway when I was 5 or 6 years old!
What's your 'hero' product and why?
I have to say the lampshades and cushions that I make myself. Hunkydory Home started out just selling my own lampshades and cushions and has grown from there, they are the products that started it all off for me.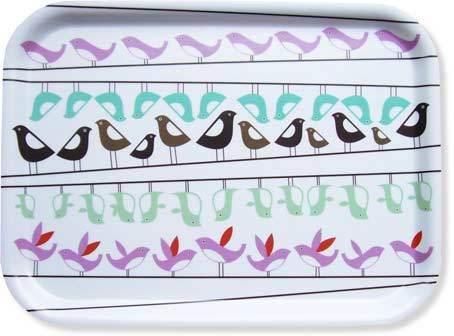 How important is colour to your designs/prints?
Bright, colourful funky accessories is what Hunkydory Home is all about so colour is very important. When I started making my cushions and lampshades it was all about creating home accessories that were not the boring beige and cream that was everywhere on the high street.
You use various retro designs on your products, why do you think that this is such a popular trend?
Retro is comforting for so many people, it can be fresh yet familiar. There's also something fun about something your parents said was naff becoming fashionable again like the 'ducks flying up the wall' that we sell.
How do you think that print has revolutionised interior design, and how do you see prints being used in the future?
Print is important because it transforms any product and even changing the colourway of the same print design can give a whole new feel. I think we will see print becoming more integral in people's interiors as they get braver about using it.
What is the most recent design product that you have bought for your home?
On my summer holiday in Holland, I bought some gorgeous white ceramic birds which are now on my kitchen windowsill. I also recently bought a lovely wooded stool with a colourful crocheted seat for my workroom.
Who is your favourite interior designer of all time and why?
I love Orla Kiely, her prints are fresh and contemporary yet have a comforting retro feel.
Where do you like to shop for quirky furniture pieces for your own home?
I am always on the lookout for things online particularly accessories. IKEA is still great for basics which can be customized or dressed up.
How important do you believe UK manufacturing is to our economy and the environment?
Vital, we have a very strong creative/design base in the UK which needs to be supported. I know so many talented designers with amazing products; I think we need to support small designer-makers and businesses to help grow the economy.
What new projects do you have on the horizon?
Currently we're launching all our lovely Autumn/Winter products on the website and developing our winter gift guide. We will be working in collaboration with the Mushroom Works design studios in Newcastle in October/November to launch a pop-up shop which is quite exciting.
Browse through more of Hunkydory Home's gorgeous gifts for your home at furnish.co.uk.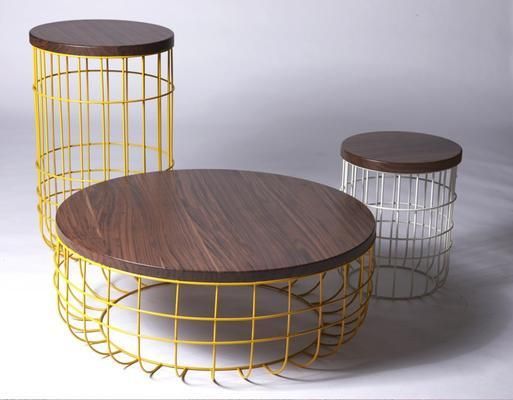 Inject some designer style into your living room with this Wire Coffee from Dare Studio. £599
Dare Studio has long been one of my favourite design houses since I discovered them a couple of years ago. Their furniture is simple yet innovative, cutting edge yet timeless and to put it bluntly, I want it all!
Top of my wish list at the moment, is this wire coffee table.
Combining powder-coated metal in six colours and a choice of either walnut, teak or oak tops, it is simply beautiful.
The collection also includes a tall side table and a smaller one that can also be used a stool. Try using this coffee table in a simple living room so it becomes focal point that all visitors will no doubt be jealous of as soon as they see it.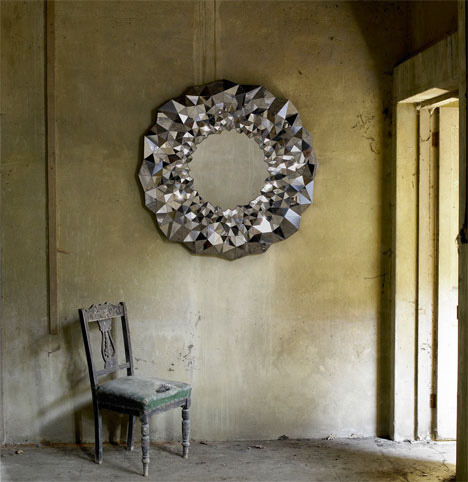 Vote for your favourite home-grown talent for this year's eagerly anticipated British Design Awards.
Feast your eyes on some of the most creative and imaginative design pieces to spring from a wealth of British talent. ELLE Decoration, in association with Casa Couture, Graham and Brown, and Charnwood, are celebrating Britain's finest talent with The British Design Awards 2010.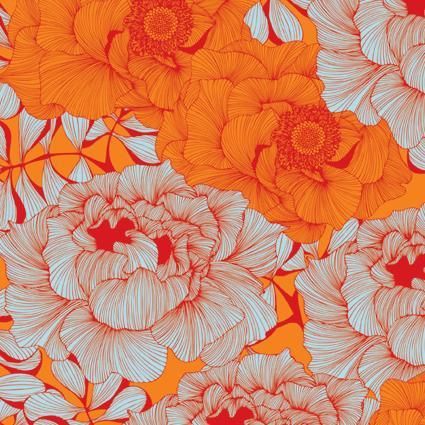 The BDA's are taking place for their ninth consecutive year and they continue to recognise British talent and interior designs that are both innovative and inspiring. British design has been transformed by designers who are challenging our perceptions of everyday objects and by a distinct move towards eco-friendly materials and ways of manufacturing interior products.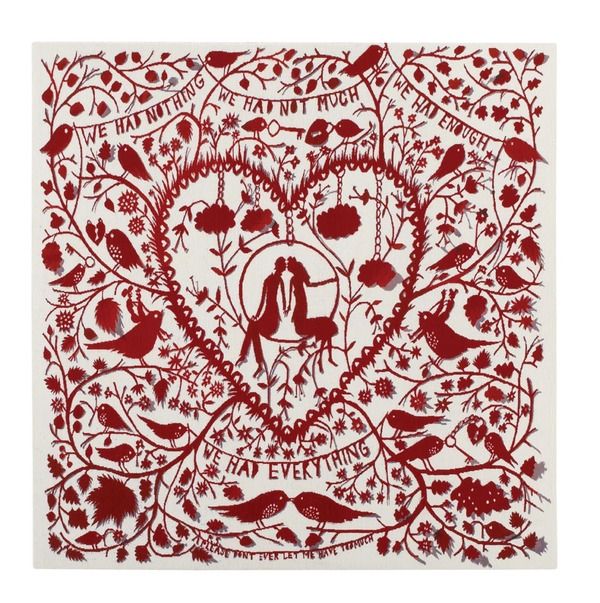 Among the nominees for Best British Design 2010 is designer Jake Phipps, whose 'Stellar' mirror earns its nomination for its stunning cut diamond look made from 750 tiny facets of mirror. Shortlisted for Best British Pattern 2010, Camilla Meijer's 'Roseflower' wallpaper uses a fantastic bold floral print with an embossed fleece finish to create a blooming backdrop for your walls. An intricate, romantic wall hanging designed by Rob Ryan, Abigal Borg's 'Friti' fabric, and Bluebellgray's pretty linen cushions are also on the shortlist.
Vote online at http://www.thebritishdesignawards.com, and look out for the results published in ELLE Decoration in a special December issue, on sale 10th November.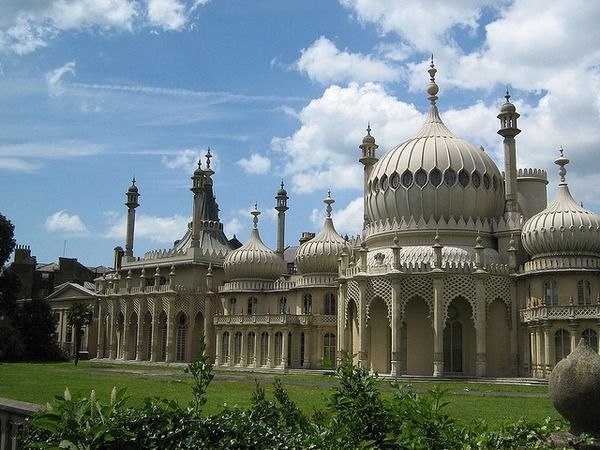 Discover Chinoiserie style and spice up your home with a hint of Eastern promise.
Chinoiserie designers tapped into European fantasies of Eastern exoticism. An insatiable desire for exotic goods fuelled the imaginative re-creation of a veiled and mysterious land for European consumption. The East became a magic lantern for the projection of European desires.
Fantasies of Eastern promise and Oriental opulence have stirred the British imagination for centuries. The opening of trade routes with the East had a huge influence on British design and exotic styles reached the height of fashion in the 18th century. A mania for porcelain, silk and lacquer imported from China and Japan inspired British designers and craftsmen to imitate Asian designs, creating their own fantasy versions of the enigmatic East. A generalised impression of mysterious Eastern lands, and the exotic allure of China in particular, inspired a fanciful style that came to be known as Chinoiserie. At the peak of its popularity in the mid 18th century, Chinoiserie was often combined with Rococo, a style characterised by exuberant asymmetrical ornament and sharing similar fantastical elements. Chinoiserie remained popular in the 19th century and Art Deco designers looked to the East once more in the 1920s.
In the 18th century Chinoiserie style was used right across applied arts, as well as for interior decoration, furniture, and garden buildings such as the pagoda at Kew. Objects featured fantastic landscapes, fanciful pavilions, exotic birds and Chinese figures. Interiors often combined genuine Asian elements such as Chinese wallpaper and porcelain with imaginative evocations of the East. Dragons were popular decorative motifs, epitomising for British designers the mysterious allure of Asia. The rooflines of Chinese pagodas were also incorporated into a wide range of Chinoiserie objects, including ornate gilt-framed mirrors and canopied four-poster beds. Wooden furniture was often lacquered, or 'japanned', and decorated with imaginary Oriental scenes. Chair legs might take the form of bamboo, and latticework backrests were derived from Chinese screens.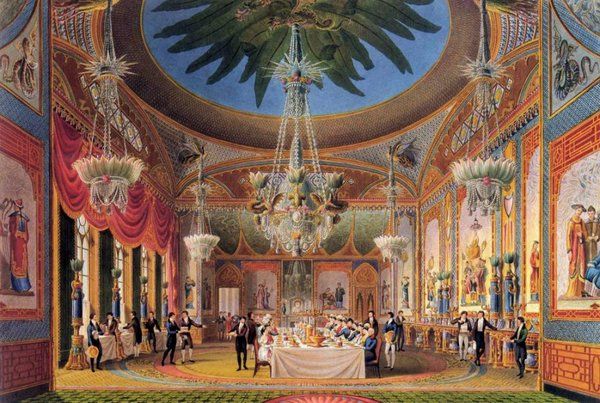 While Chinese was the most popular of the exotic styles throughout the Georgian period, by the end of the 18th century the vogue for exoticism included Egyptian, Moorish and Indian influenced designs. Along with Chinoiserie these styles were often combined in fantastical objects and interiors. A fabulous example of the plurality of exoticism is the Royal Pavilion in Brighton. Between 1815 and 1823 John Nash transformed the original neoclassical building into a fantastic (and fantastically camp) Eastern palace for King George IV. The extraordinary exterior combines Indian, Moorish and Chinese architectural styles. Mogul-inspired onion domes, minaret towers and tented roofs preside over Islamic arches and perforated screens based on Indian jalis.
The interiors underwent several phases of Chinoiserie decoration, designed by Frederick Crace and Robert Jones. Vaulted plasterwork ceilings were designed to evoke the interiors of tents and pagodas. Interior columns took the form of palm trees and oversized bamboo canes, or were decorated with plasterwork ornament in the form of lotus leaves. Serpents and dragons slivered across the walls. The cast-iron balustrades of the central staircase imitated bamboo and the walls in the long gallery, depicting an illusionistic Oriental scene, were partitioned with simulated bamboo fretwork. Painted skylights, lanterns decorated with tassels, and magnificent crystal chandeliers with glass lotus leaf shades lit up the rooms. The whole place was absolutely saturated with colour and pattern. Luxurious wall-to-wall carpets featured elaborate hand-knotted designs, and drew together the decorative elements of each room.
Personally I can't think of anything much better than a palm tree column to bring a bit of class to a home; but if you don't want to go for the whole Chinoiserie shebang, you can find elegant Eastern-inspired accent pieces on Furnish. OKA's Manchu furniture range features Oriental landscapes picked out in gold on a black lacquered ground. The Manchu chest has a different scene on each of its six drawer fronts. In the traditional blue and white glaze, the Kraakware lamp base is hand-painted with Chinese warrior scenes, and crockery is available in the same pattern. The oversized Imperial vase is a striking accent piece, with characteristic blue and white pattern, long slender neck and bulbous base.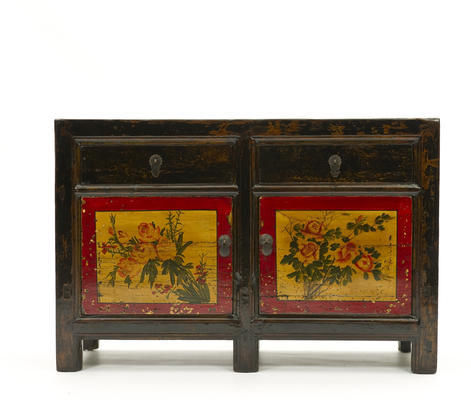 Orchid sources antique Chinese furniture and creates sophisticated Eastern-inspired pieces using sustainable materials. The Mandarin furniture collection is effortlessly elegant, displaying clean lines, lustrous black-lacquered finish and authentic brass handles and door catches. The Mandarin screen features four richly lacquered panels with traditional Chinese fretwork on the upper sections. Evoking the rich colour scheme of Chinoiserie style, Orchid's reproduction elm cabinets have a yellow-gold lacquer finish and each door features a hand-painted red chrysanthemum in a ceramic-blue vase. Restored antique pieces include a beautiful lacquered elm sideboard (c.1870) with vivid hand-painted decoration in red, yellow and green.
Lombok sources furniture direct from factories in Indonesia and Vietnam. Highlights include the solid wood black-lacquered Canton range with distressed finish and patinated brass handles and drawer pulls. The Canton sideboard and nine-drawer chest are particularly striking. Puji specialises in the design and import of recycled hardwood furniture, which is hand made in Indonesia by local craftsmen. The Shanxi furniture range in white or black lacquer has an understated elegance and would fit in with almost any decorative scheme. I've got my eye on the dressing table.
Create an atmosphere of Eastern promise with exotic Chinoiserie-inspired pieces.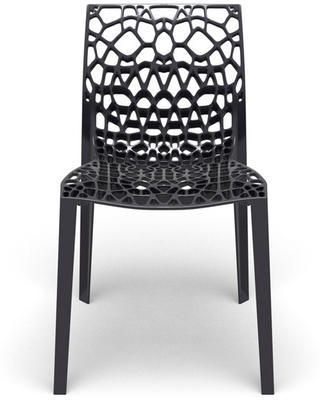 Do your dining room proud with this intricate Coral chair from 95% Danish. £145
When I come across a new chair I am as excited as a small child at Christmas.
My favourite new one at the moment is this Coral chair from 95% Danish.
On closer inspection, you can see how this chair got it's name as it more than resembles a piece of coral reef.
Made from high quality plastic, this chair can be used inside or out making it an extremely versatile buy.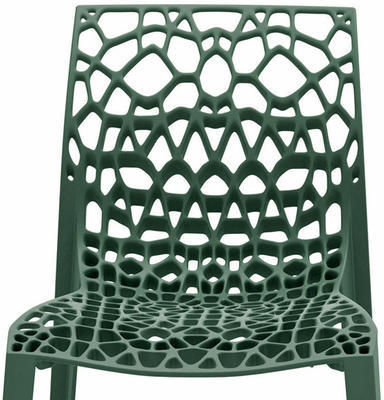 I love the intricate detailing and the combination of something so hard and man made being used to create something so heavily influenced by nature.
Available in Anthracite and Army Green, this chair will make a welcome addition to any dining room.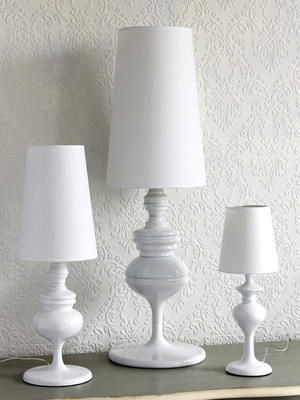 Light up your home with these Hamburg and Copenhagen table lamps from Brissi. From £59
With the darker nights setting in already, it's time to turn your attention to getting your lighting scheme ready for autumn.
Table lamps offer the one of the most effective and atmospheric ways to light a room. You can dot them around to add cosiness and move them from room to room should you get bored.
Some of the nicest I've seen for a long time are the Hamburg and Copenhagen designs from Brissi.
I adore their spindly bases and simple yet ever-so chic shades.
The Hamburg design is available in two sizes, medium and large while the smallest of the trio, Copenhagen makes up the collection. Perfect for living rooms or as a bedside table, these elegant lamps will work well whatever your style.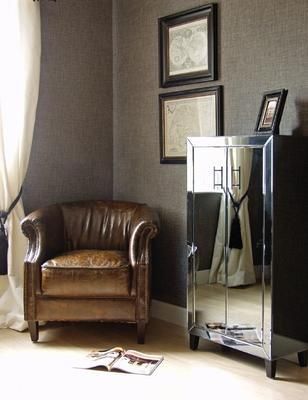 Sit back in style with this vintage leather club chair from Rose & Grey. £725
It's no secret to regular readers that I absolutely love chairs.
Designer, high street, the latest design, the most beautiful vintage - I adore them and it's not because I like to sit down a lot.
A recent discussion about the furniture in my flat with the other half concluded that while our rather sleek leather armchair is gorgeous, it ain't very comfortable.
This means we're in the market for a new armchair.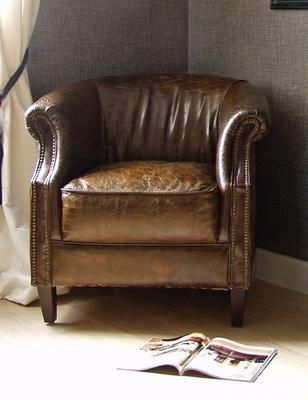 While this will will no doubt mean a very lengthily trawl about the internet and the odd second-hand shops, I have found one that has caught my eye.
The Vintage leather club chair from Rose & Grey looks like its come straight from a gentlemen's club. I love the slightly battered leather, the shape and the stud detailing.
But most of all, I love the deep, sink-into seat.
I reckon if I get this chair, it will be the one everyone fights to sit in so I'm claiming it as mine.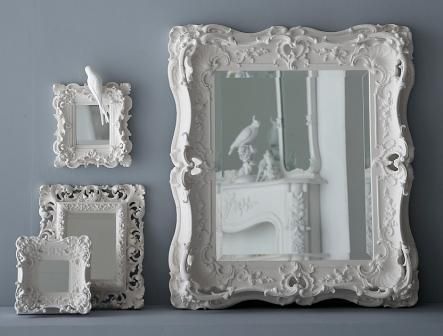 Liven up your walls with these classic mirrors from An Angel At My Table. From £25
I'm not entirely sure why it's taken me so long to feature An Angel At My Table as a Fab Find, but as the saying goes, better late than never.
The website is a treasure trove for all interiors nuts, featuring furniture, gorgeous cushions and throws and exquisite lighting.
My favourites are these Boho Blanc mirrors which are simply divine. Made from white plaster, they feature intricate Rococo-style detailing and are available in four sizes.
Try using a selection of them on one wall to create a wall of mirrors, this will instantly lift a dark or dingy room and bring extra light into your space.
See this product at An Angel At My Table...
(We don't sell this product yet but sign up to our newsletter and we'll let you know if/when we do)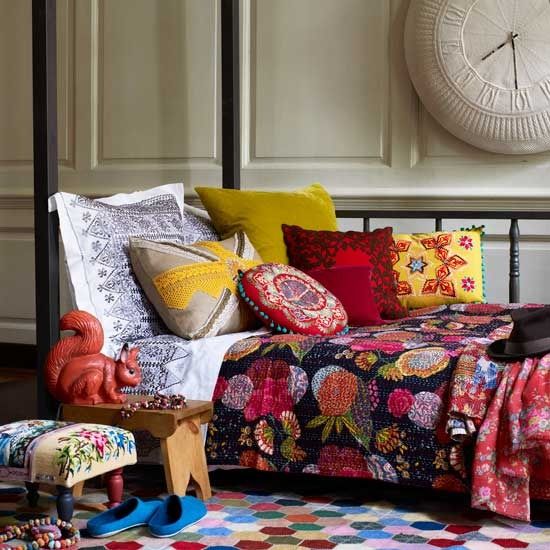 Roll up, roll up, and scroll down for three more lovely blogs.
Heartfire at Home is a great ideas blog. Keeping the home fires burning in Australia, Linda always has something up her sleeve to get you inspired to change things around at home. She's all about taking risks with décor and going with gut instinct to create a personalised space. The photographs of interiors are full of ideas and indulge Linda's obsession with colour and pattern. As well as a lovely string of interiors images, there are posts that focus on specific designers, artists and products. There's always something to spark the imagination and leave you wanting more.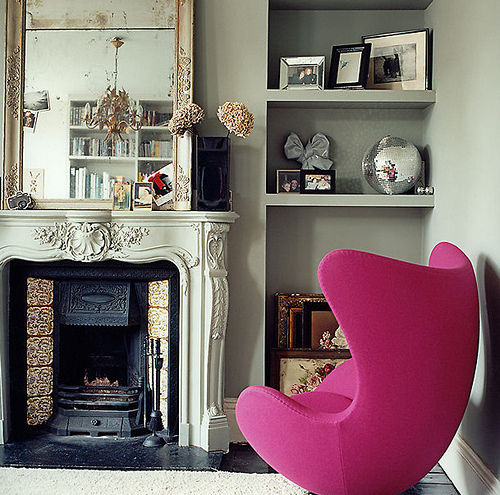 Design Crisis is the collaborative project of two Texas-based creative types, Katy and Erin. Erin's a photographer, and Katy seems to have fingers in all sorts of pies. She set up the Austin Craft Mafia, a collective of crafty ladies who have their own TV show on the DIY network. Wow. And the blog is fantastic: irreverent, well written and full of design inspiration. There's a whole section devoted to animals in art and design, which just about sums up the quirky spirit of Design Crisis. These ladies know where to look for great design and the interiors photographs are a constant source of inspiration.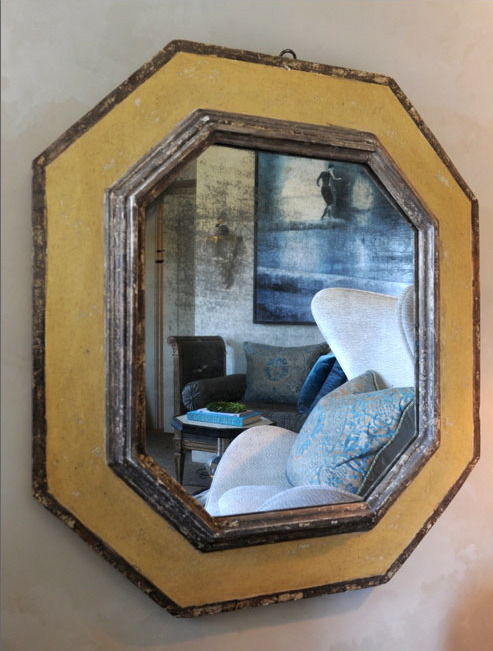 Eye Spy is a daily collection of design images to delight and inspire. From beautiful interiors and cutting edge design, to age-worn objects and flea market finds, it's chock full of style ideas. An Atlanta-based blogger, Susie's a graphic designer with a great eye for style. She's constantly sifting through interiors magazines, design books, catalogues and blogs, searching for things to inspire. There are regular posts showcasing the bargains to be had on 1st dibs, ebay and craigslist. She's also redecorating at the moment so expect some obligatory 'before and after' photos.
As always, get in touch and we'll feature your blog next time.