It's our Interior Design Magazine!
The hottest interior design ideas, fab finds for the home and the latest in interiors trends. We're always looking for new finds, designers to feature or anything else lovely for the home, so if you've seen something gorgeous and would like it featured in our interior design magazine, please get in touch!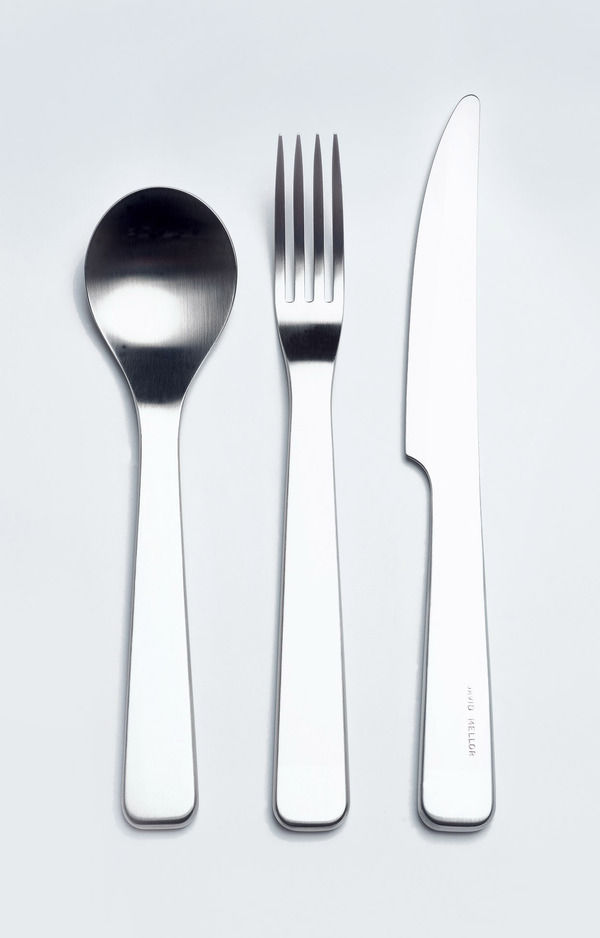 Create a dining table to be proud of with this stylish cutlery. From £11.
We're assuming you don't eat with your hands all the time so bearing that in mind, you'll need some fantastic cutlery.
We were overwhelmed by the selection on offer at David Mellor so much so that we couldn't just pick one collection to show you. So we didn't. We picked two.
The London cutlery is as sleek as the city itself, combining stainless steel with clean lines, it's perfect for the minimalist.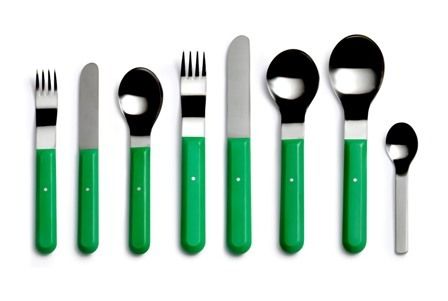 While Chinese Green is a reissued design from the 70s and combines simple style with a flash of colour. (it's also available in White and Black for those not so taken with green.)
Whatever you choose, we think it will give you one of the best dressed dining tables in town, whether you go for a retro dining chair and table look or a modern dining chair and table look.
See these products at David Mellor...
(We don't sell this product yet but sign up to our newsletter and we'll let you know if/when we do)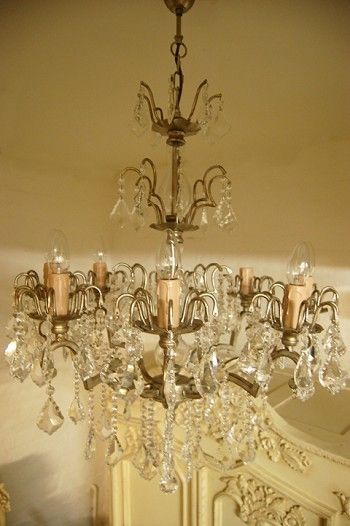 Get some vintage style in your home with this impressive chandelier. £259.
We love a bit of glamour here at Furnish, just as long as it's done in the right way! Done in small doses, adding a bit of gold to your home will give you enough glamour without being too bling.
And with the dark nights well and truly upon us, we're looking for ways to update our lighting.
So we were really pleased to stumble across this gorgeous Monaco 8-arm chandelier from Sweetpea & Willow. It combines a subtle gold matt finish with beautifully crafted crystal droplets which all make for a really impressive light fitting.
Try using it in a bedroom to create an opulent scheme or how about a hallway to create a dramatic entrance to your home.
See this product at Sweetpea & Willow...
(We don't sell this product yet but sign up to our newsletter and we'll let you know if/when we do)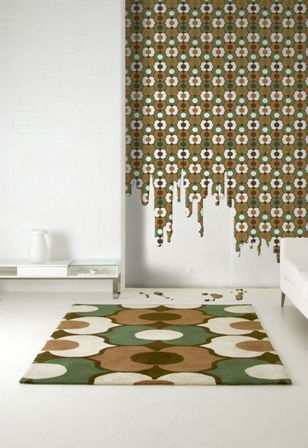 Create a rug that truly fits in with your scheme. From £99.
I was recently left totally flabbergasted as I searched for a designer rug for my dining room. They were too big, too small, too expensive, too cheap looking, completely the wrong colour or I just didn't love them. By the end of a shopping trip I was exhausted and rugless!
How I wish I'd known about Rug Designer because if I had I wouldn't have even had to step outside the front door.
Rug Designer has a great selection of designs (we love the 70s flower design which is ideal if you want to add some retro flavour to your scheme) but the beauty of it is you can change the colours and size until you're happy you've got the one you want for your home.
You can also choose from a wide selection of colours to create a plain rug if pattern isn't your thing.
See this product at Rug Designer...
(We don't sell this product yet but sign up to our newsletter and we'll let you know when we do)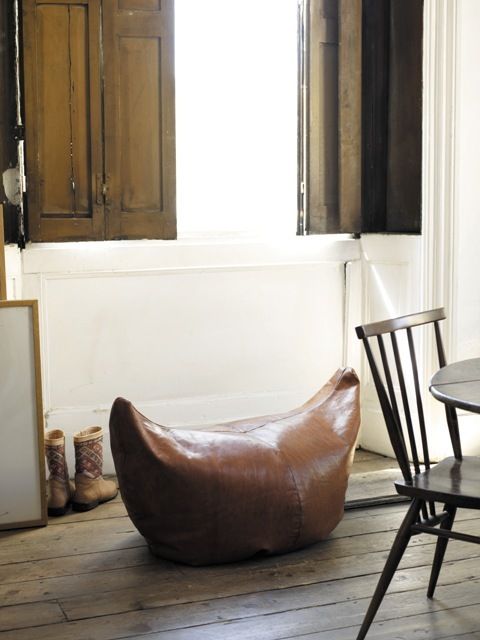 Sit on it, put your feet on it, just don't be without it! £379
There are lots of leather pouffes on the market but we think this is one of the most stylish we've seen so far.
The Moon leather pouffe from Plümo is handmade in France and uses the finest tan leather. Use it as a footstool or an extra seat for guests in fact whatever you use it for, we're sure it will be a welcome addition to your living room or bedroom.
What we really love about it is its crescent moon shape – no prizes for guessing how it got its name.
(We don't sell this product yet but sign up to our newsletter and we'll let you know if/when we do)
Get some iconic faces on your walls with this great selection of prints. From £14.
If you prefer stars of the silver screen on your walls rather than abstract prints, then head over to 55 Max.
They've got an array of classic black and white prints featuring stars from the golden days of Hollywood.
We love this Rat Pack photo print which is a still from the original Ocean's Eleven and they also have iconic images such as Audrey Hepburn in Breakfast at Tiffany's.
There's also a host of other iconic moments of history captured on camera such at Bobby Moore lifting the World Cup in 1966.
The best bit of all and why 55 Max are one of our favourite companies of the moment is the options are endless as to what you can have these prints on.
Choose a traditional print, a canvas or even a roller blind to decorate your home.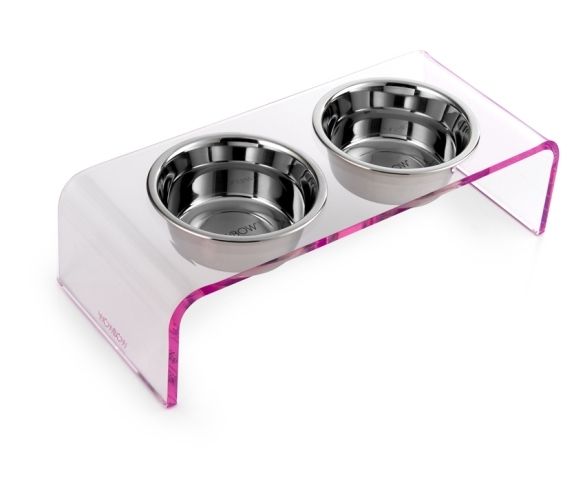 Feeding bowls from Wowbow. From £155 for a feeding set.
As a nation of animal lovers, us Brits really do love to spoil our pets and we reckon you lot want your furry friends to be some of the most stylish felines or pooches around.
So if you really want to give Fido or Kitty the style treatment, we suggest you take a look at Wowbow.
They design a range of pets' products that are both functional and stylish. From designer beds to feeding bowls and even clothes – they've got it all. There's also a rather cute limited edition dog bed designed by Bill Amberg.
We love the sleek, Perspex dog beds and feeding bowl "dining tables" with not a paw print or cartoon character dog or cat in sight. They're some of the most stylish pet products around. And if your moggy just won't stop scratching your Eames chair then there's even a sleek, ultra contemporary scratching post!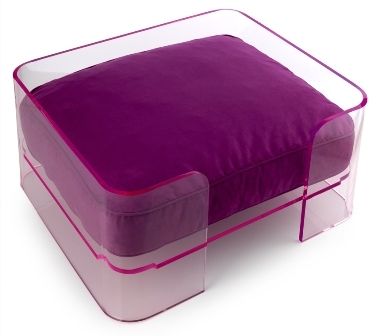 So look after your pets and treat them to some designer furniture all of their very own.
See these products at Wowbow...
(We don't sell these products yet but sign up to our newsletter and we'll let you know if/when we do)
Give your little ones a room to be proud of with this super cute wall sticker. £55.95
We know little ones can be demanding, wanting this toy and that and the latest everything. They'd probably quite like their rooms to resemble Disney World as well, but if you want something a little more stylish, then we've got the perfect solution.
Lover's Lounge have a great range of wall stickers on offer which make the perfect alternative to using wallpaper and will brighten up a little ones boudoir in seconds (ok, well maybe half an hour...)
Our favourite is this Animal Tower design which is available in red, green or blue and also features a handy height chart as part of its design.
We love it and we're pretty sure you will too.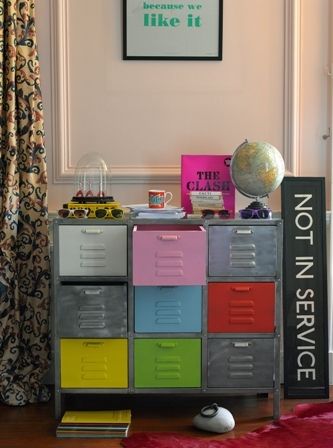 Keep your stuff in check with these stylish drawers. £995
I don't know about you but the rate at which I accumulate stuff (I need it all of course) is frankly alarming.
Ok, I admit it I'm a hoarder, why else would I have back issues of magazines from 2003 and my birthday cards from my 25th birthday (not letting you know how old I am but let's just say it was a while ago...) not to mention a ridiculous amount of jewellery and stuff I keep "just in case". So, I definitely need this piece of furniture in my life.
This Industrial 9-drawer unit from Pedlars is a good sturdy option for stashing all your belongings in and I love the colourful drawers which break up the industrial feel of the metal. The only problem is that with all my clutter, I fear I'm going to need more than one.
See this product at Pedlars...
(We don't sell this product yet but sign up to our newsletter and we'll let you know if/when we do)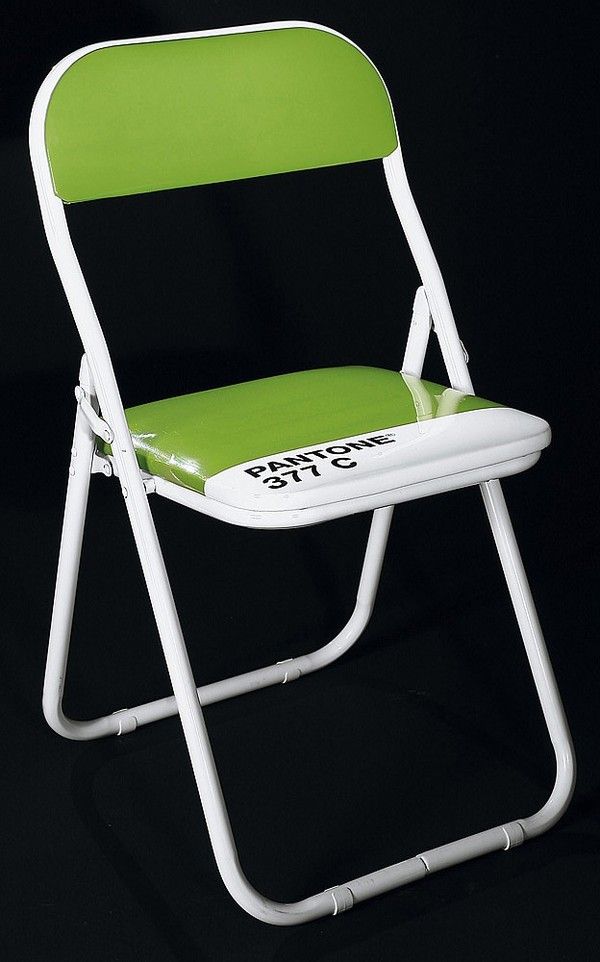 Add some colour with these bright chairs. £54
Walk into most interiors shops or click on most homes websites and we guarantee you'll see a veritable feast of Pantone products in front of you. Tea towels, mugs, placemats, cards and even laptop bags have all been given the Pantone treatment.
Far from being "over" this trend however, we love seeing products we can use in the home in their beautiful shades.
However, we hadn't seen these before which is why we thought we'd show them off.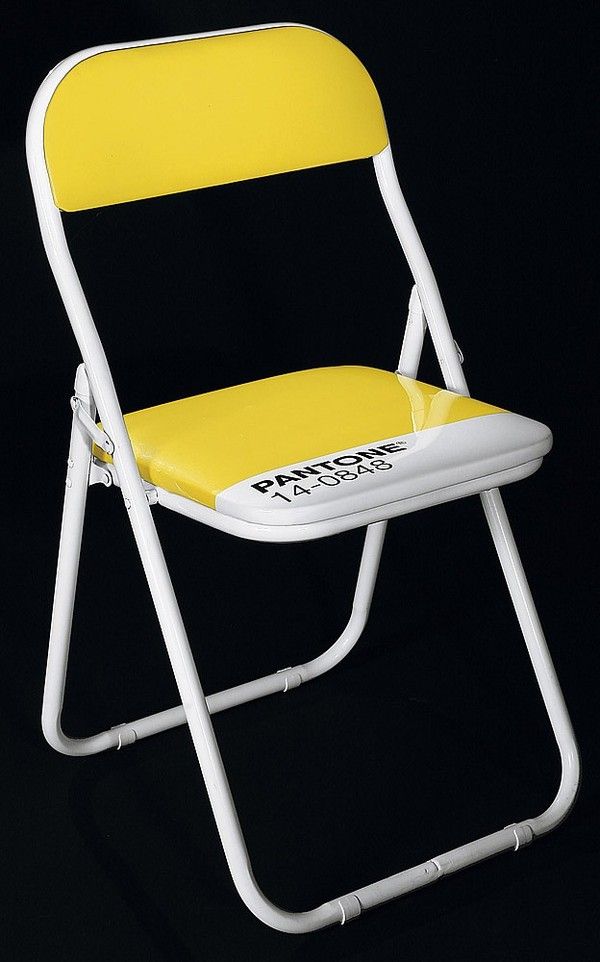 These folding chairs available from The Holding Company are available in Yellow, Grey, Pink, Violet, Red and Green and are ideal for adding some colour to your dining room or perhaps a child's playroom.
We haven't decided what we'll use ours for, but they're definitely going on our shopping list.
See these products at The Holding Company...
(We don't sell this product yet but sign up to our newsletter and we'll let you know if/when we do)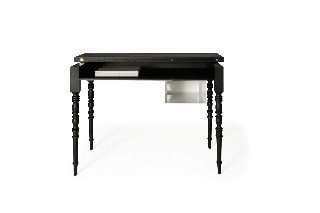 Make working from home a pleasure rather than a chore with this sleek desk. £1,744
If you work from home then you know the importance of having a good desk and somewhere peaceful to get those nagging jobs done.
We also know you don't want your home office to look officey right?
So if you're sick of working from the dining table or in cafes with free WiFi – we suggest you invest in one of these. Designed by Marcel Wanders, the Moooi Two Top desk from Utility Design has really impressed us.
Not only is this desk super stylish (we love the spindle-inspired, turned-wood legs) but it's multifunctional too.
The lid lifts to reveal plenty of storage and work space and when you're done for the day, simply pull the lid down to hide your clutter and the desk turns into a storage table.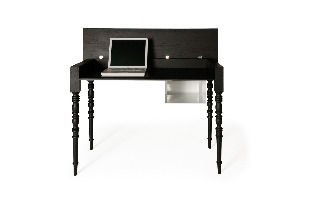 We love the desk in dramatic Black but if that's not for you then it's also available in Wenge and White.
We can't promise this desk will make you super efficient but we reckon it will help.
See this product at Utility Design...
(We don't sell this product yet but sign up to our newsletter and we'll let you know if/when we do)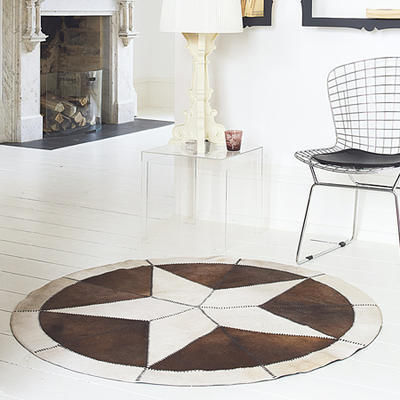 Add warmth to your floors with this stunning rug. £375
Wooden floors are all well and good but what do you do when the winter months set in and your room feels a little chilly? Warm your floors up with a beautiful designer rug of course.
Naturally, there are loads of rugs around to choose from but this Cow skin one from Graham & Green really caught our eye.
We love the fact its hand stitched giving it a really bespoke feel and the eye-catching star motif really sets it apart from other hide rugs.
Of course you don't you have to have a wooden floor to love and enjoy this rug, it will look great on a contrasting carpet too and will look great whatever your style.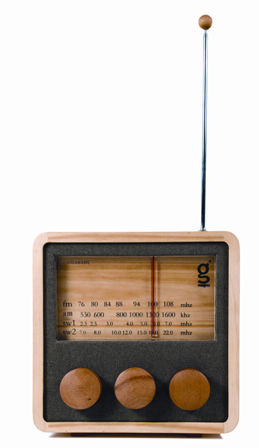 Never miss a favourite tune with this cool radio. £230
When was the last time you actually listened to the radio and not your iPod? Hmmm, thought so!
Well, perhaps you'd be listening to it more if you had this super stylish radio from Bloomsbury Store.
The Magno wooden radio certainly ticks all the design boxes and being mp3 compatible will please the techies too.
That's not all though; it's got good eco credentials as well, being made from wood that comes from sustainable forests.
Seems to us it's perfect all round and we can't wait to get our mitts on one and enjoy some really cool tunes, as well as listening in to important political debates of course...
See this product at the Bloomsbury Store...
(We don't sell this product yet but sign up to our newsletter and we'll let you know if/when we do)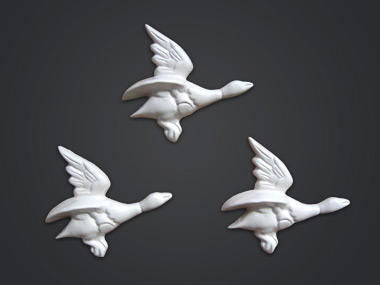 Get back to nature with these quirky wall decorations. £45
Aside from posters, prints, stickers and wallpaper what else can you use to make your walls more interesting? Hmmm, we, even in our infinite wisdom of interiors were a little bit stumped. But then we came across these and instantly knew we had to get our hands on some.
This set of three flying birds is designed by Andrew Tanner for Designed in England and is available in a set of three in Cream or singularly in Black.
We love their kitsch design, in fact they were inspired by Hilda Odgen's lounge (for those too young to know she was a character in Coronation St with shall we say slightly dubious taste in interiors) and you can't get more kitsch than that.
But we also think they're rather stylish and will look great in a retro scheme. Just don't leave rollers in your hair eh?...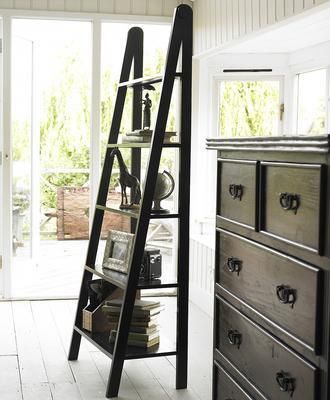 Keep your books in check with this simple bookcase. £250
Pretty much everyone loves a book; whether you read the classics, trashy novels or historical biographies, you gotta have somewhere to stash them.
And the majority of us haven't got the room to create a separate library, so what do you do? Well the answer is simple, really, it is – you invest in a good quality bookcase to display your collection.
One of our favourites is this Ladder-style design from Lombok. Made from stained bamboo strips, it's slim enough to slip into even the narrowest of alcoves and provides ample storage space for all your reading matter.
And if you don't like reading books (we won't judge you if you prefer the latest copy of Heat to a Jane Austen, promise!) then you can use it to display vases, ornaments or even an iPod dock.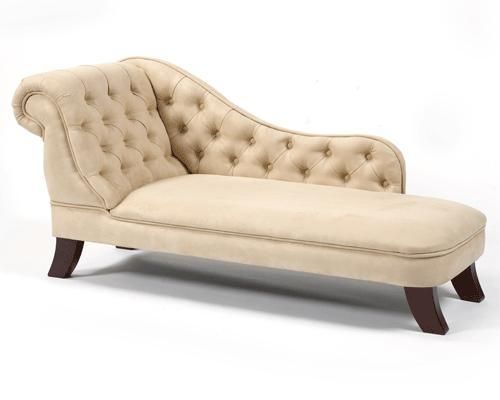 Relax and take it easy with this chaise longue. £382
There's something really decadent about a chaise longue, for some reason they always remind me of lounging Hollywood starlets in film noir flicks.
Of course you can still have a chaise longue in your home even if you're not an Oscar-winning actress and we love this one from Sheer Home. With its buttoned back and curvy lines, you could be forgiven for thinking it was a piece of vintage furniture.
It will make the perfect addition to your living room or how about using it to create a vintage-style boudoir.
And what we really love about it is that you can choose from 27 fabrics to have it upholstered in or use your own fabric to create a truly bespoke item of furniture.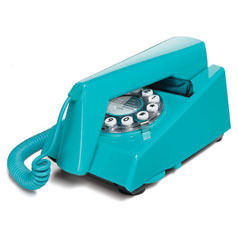 Never miss a call again with these colourful phones. £40
My parents had one of those old fashioned Bakelite telephones with the round dial which as a teenager used to infuriate me because it meant dialling took twice as long.
As I grew up however, I started to appreciate the beauty of it and whenever I see one, they always remind me of my childhood home.
These Trim phones from Oliver Bonas have the same delicious retro feel albeit they're slightly more funky and I can't wait to swap my slightly temperamental digital thingy which always seems to turn itself off for one.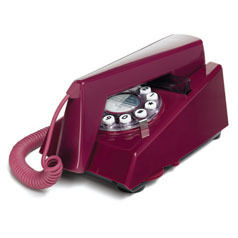 Available in five different colours, we love the turquoise and on-trend purple – they're perfect for adding a touch of colour to your home and naturally for having a good natter on as well.
See this product at Oliver Bonas...
(We don't sell this product yet but sign up to our newsletter and we'll let you know if/when we do)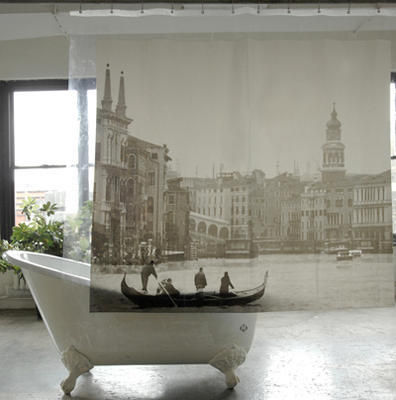 Create a landscape in your bathroom with this decorative shower curtain £30
On the whole, shower curtains are pretty dull but kind of necessary, that's if you don't want water all over your bathroom floor.
So just when we'd given up hope of ever finding a cool shower curtain, we were lucky enough to stumble across this one from Rockett St George.
It features the Venice skyline, is really beautiful and will bring a touch of interest to your bathroom.
But if you're not feeling particularly Venetian, then don't despair as Rockett St George also sells shower curtains featuring Trafalgar Square, the Brooklyn Bridge and even the London tube map so you can plan your journey when having your morning shower!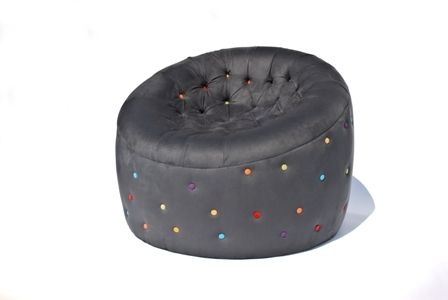 Take a seat with this slouchy armchair. £1,600
We love a good armchair to relax in here at Furnish HQ, especially when we've been busy bees bringing you the latest trends and news from the world of interiors.
Of course, we want our chairs to be super stylish but we don't mind if they're a bit fun too which is why we love this Hester one from Overend Studio.
Designed by Alexander Harris, the Hester was inspired by a Chesterfield sofa which explains the buttons which are an array of different colours.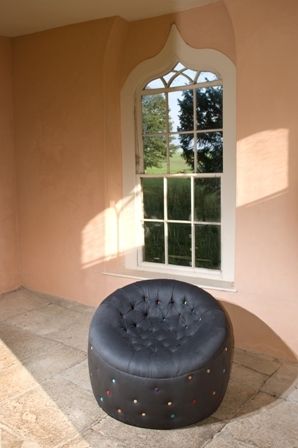 As soon as we saw it, it was quickly added to our "we want now" list and we think that Mr Harris is certainly a designer to keep your eye on, so don't forget where you heard about him first now...
See this product at Overend Studio...
(We don't sell this product yet but sign up to our newsletter and we'll let you know if/when we do)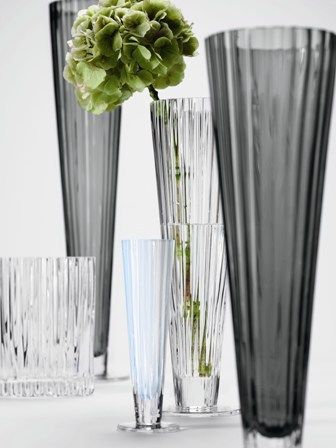 Display your favourite winter blooms in these striking glass vases. From £16
Summer may be well and truly over but that doesn't mean you can't have flowers in the home.
And of course you'll need something gorgeous to display them in which is why we wanted to let you know about these beautiful Olena vases from LSA International.
These sculptural vessels are ideal for showing off a single stem or would look equally beautiful lined up on a mantelpiece or grouped together on a sideboard. And as everyone knows, you can never have too many vases as displaying flowers in anything else just isn't on!
See this product at LSA International...
We don't sell this product yet but sign up to our newsletter and we'll let you know if/when we do)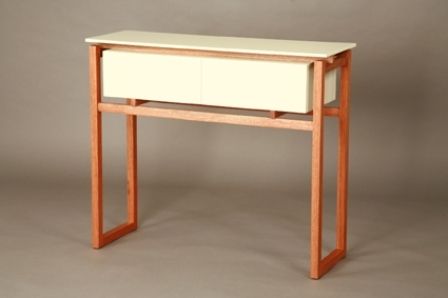 Keep your hallway clutter free with this stylish console table. £2,070
Hallways are notorious for becoming a dumping ground. Everything from keys and post to coats and bags seems to end up draped over stair rails or worse still on the floor – well, they seem to in my flat anyway.
So what do you do about it? Well, you get yourself a fabulous console table of course. Like most items of furniture, there are lots of console tables about; some gorgeous, some are frankly hideous but we love the one we discovered at TENT from ME Design.
Made from solid Meranti (it's a hardwood from Malaysia – yes we had to look it up...) the top and drawers are spray lacquered for a really sleek finish.
It's not just good looking though, oh no, it's practical too. With two deep drawers to stash away those bills you might be avoiding paying, it's guaranteed to keep your hallway clear and tidy.
See this product at ME Design...
(We don't sell this product yet but sign up to our newsletter and we'll let you know if/when we do)