It's our Interior Design Magazine!
The hottest interior design ideas, fab finds for the home and the latest in interiors trends. We're always looking for new finds, designers to feature or anything else lovely for the home, so if you've seen something gorgeous and would like it featured in our interior design magazine, please get in touch!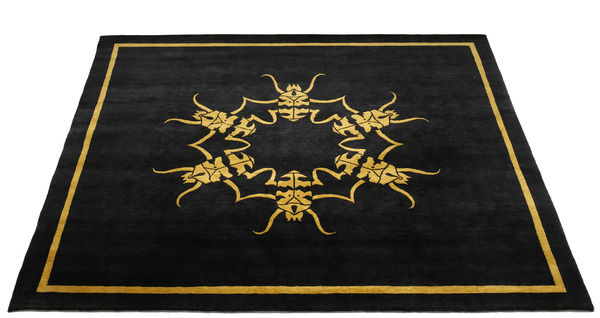 Bringing together traditional English craft with a fresh and modern approach, Somerville Scott & Company's collection will embellish any home interior
Devoted to producing beautifully crafted furniture, Somerville Scott and Company's collection of furniture, rugs, cabinetry, desks and tables offers distinctive style and a modern elegance.
We caught up with Amy Somerville and Stuart Scott to discover more about their ambition and style...
If you had 3 words to describe your style what would they be?
Sumptuous, precisionist, modernist.
What is your company's 'Hero' product and why?
Our curiosity cabinets encompass what Amy and I are able to achieve but the Minx chair was the first product that got us noticed – so it would have to be that.
As a British based design company, how do you feel about interior design becoming more eco-friendly? And how will this improve the quality and durability of interior furnishings in the future?
Product longevity is important, if you design with that in mind with the use of better quality materials and construction methods then the piece becomes eco-friendly, you're investing in a product for life. If it becomes tired over time then you can simply re-upholster it, instead of throwing it away. Designers can help in considering schemes that have a longer shelf life.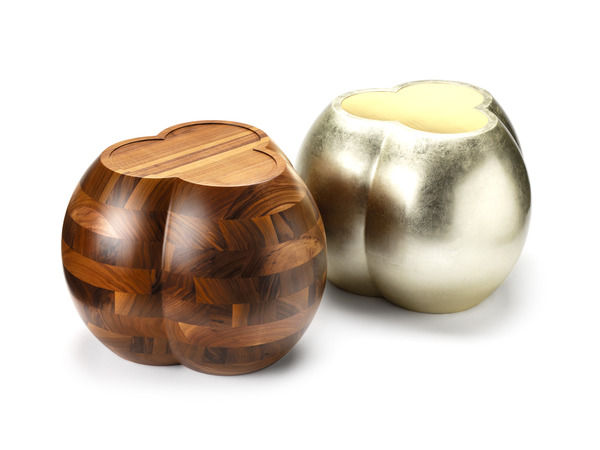 What inspires the combination of modernity and traditional style of your furniture and cabinetry?
Just looking at antiques and how pieces used to be made. Some of the furniture that came out of the Art Deco period was so rich in its use of materials and finishes. Nowadays it's difficult to replicate these details as materials increase in price, and the craftspeople that are able to achieve this level of quality in furniture are becoming increasingly rare and sought after.
Do you have a favourite traditional piece of furniture?
I've always been drawn to works by people like Jean-Michel Frank, Pierre Legrain and Ruhlmann. Amy and I both agree that the 'Skyscraper' bookcase by Frankl is a bit special.
You have a small range of stunning handmade rugs, what makes your rug collection unique from anything we have seen before?
Our choice of subject matter is often quite unique, the colours and the quality of weave tell them apart.
What is the most recent design product that you have bought for your home?
On a practical level a Dyson vacuum cleaner, on an indulgent level I picked up a Rover Chair by Ron Arad at a recent auction, although it turned out to be a fake, I was mortified!
What advice would you give to aspiring interior designers?
Think practically and design with the user in mind.
Is there anyone that you would like to collaborate with in the future and if so why?
Always used to be Ettore Sottsass but that wouldn't be possible now. It would have been interesting and quite mad. In terms of a contemporary brand on a purely self-indulgent level it would have to be Aston Martin. We could do a pretty special limited edition interior.
What's next for Somerville Scott & Company?
Keep designing! Producing more furniture that people aspire to own.
For Somerville Scott & Company's full collection, specification sheets and price list, check out their website.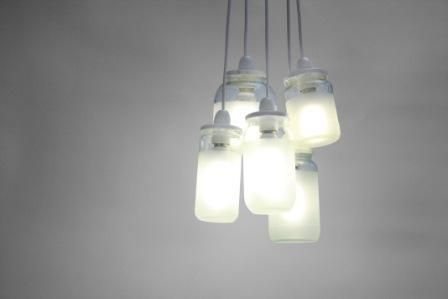 Take a fresh look at lighting with these Jars lights from James Shaw. From £11
Sometimes the simplest ideas really are the best and when it comes to lighting for me, the simpler the better.
So, take a break from elaborate chandeliers and embrace the unfussiness of the Jars series of lighting from James Shaw.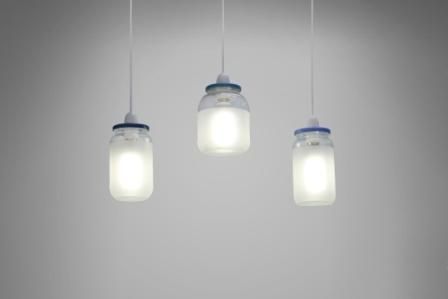 The collection includes ceiling lights, a table lamp and desk lamp – I love the idea of arranging the ceiling lights as a cluster – simple yet oh-so effective.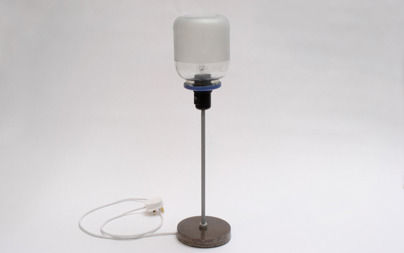 The humble jam jars are sandblasted and the lids have been drilled so they can fit over a standard light fitting.
I adore this collection and can't wait to get some of these in my home.
See this product at James Shaw...
(We don't list this product yet but sign up to our newsletter and we'll let you know if/when we do)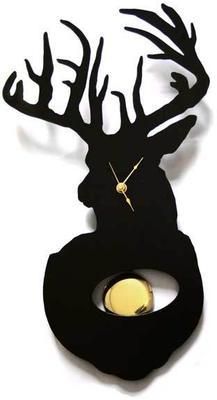 Make sure you turn your clocks back in style with this Stag clock by Polly Westergaard from Hunky Dory Home. £45
I can't quite believe it but it's almost time to turn back the clocks - is it just me or does it feel like we only just turned them on an hour?
Regardless of lamenting the speed at which this year has flown by, you may as well put your clocks back in style with this Stag design by Polly Westergaard from Hunky Dory Home.
Made from powder coated steel, this majestic design will add instant style to any plain wall and is bang on-trend for the current hunting-lodge look.
I love the brass pendulum and hands which add just enough glamour.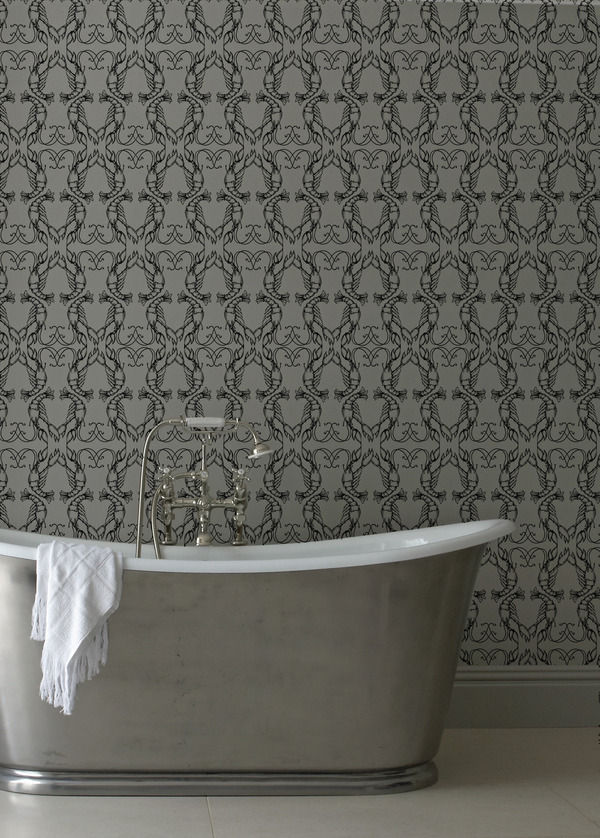 Naturally beautiful: Georgia Horton's luxury wallpapers bring the colours and patterns of nature together to create something special
Designer and artist, Georgia Horton is fresh from exhibiting at Decorex where she successfully launched her 'New Naturals' collection.
We caught up with Georgia to find out what inspires her and what's next on the horizon...
If you had 3 words to describe your collection what would they be?
Bold, organic, architectural.
You have described your illustrative wallpaper as "somewhere between organic and architectural", can you expand on this?
Many of my designs originate from sketches that I have drawn from what I see around me in nature. For me this is a great way to begin because I can put a design down on paper and let it expand and grow from there. For example, from paper to print, I believe that the whole process of designing all the way through to the manufacturing can be described as organic because it feels like a natural, creative process. I think the word 'architectural' captures the depth and 3-D quality of my designs.
How have your childhood experiences and time spent in South Africa and Italy influenced your life and your work?
My father was an architect and my mother was an artist so I have grown up with a huge artistic and creative influence in my life. You can see that there are both Italian and wild African styles apparent in some of my designs, although I couldn't say that there's any specific place that I have taken inspiration from. I get my inspiration from all over the place and have my eyes open for new ideas all the time.
I particularly love the Lobster Quadrille' in 'The One Collection' because of its quirky appeal. You use a lot of symmetry in your designs and repetition, how do you feel that your artistic background has helped you?
It has helped me understand perspective and scale. For example, with the Lobster Quadrille, scale is important because it offers a different perception depending on your distance away from the wallpaper. On a larger scale you can see lots more of the detailing such as the horizontal trellis.
I'm also intrigued by the patterns and symmetry found in nature which inspires a lot of my designs. I really appreciate Escher's work because he experimented with symmetrical designs and he explored the idea of reflection.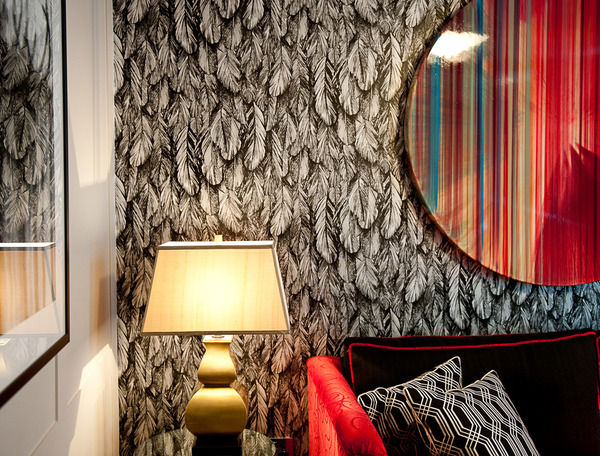 What is your best selling design from your collection and why?
The Lobster Quadrille is one of our best sellers because it has a unique style that draws you in. This is followed very closely by the Quilt design which is also a very popular choice.
How do you feel that wallpaper will develop, and what direction do you hope it will go in the future in order to keep interior design fresh and exciting?
Wallpaper has been around for such a long time and it has gone through several periods of change. However, I think that this is an exciting time because wallpaper is leading people into a different approach to interior design, and it has encouraged waves of boldness and eccentricity.
How is the quality of your wallpaper improved by your use of hand mixed colours on hand printed paper?
Our paper is of a high quality and it's sustainably sourced. The hand-printed paper is strong and durable which helps improve the richness of colour and it also gives an appealing tactile quality.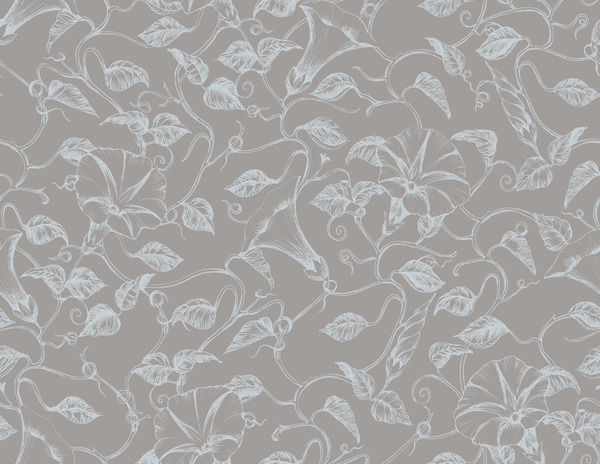 How important do you believe it is for interior design to become more eco-friendly?
I think it's extremely important! All of my designs are manufactured in the UK, and I do aim to move with technology and keep up with sustainable ways to produce my wallpapers.
What did you last buy for your home?
I've recently bought a typical 1970's retro style easy chair which I have upholstered in my own fabric in the Quilt design.
What advice would you give to aspiring interior designers?
I would say take initiative; listen to your clients and consider their brief but at the same time bring a new edge and individuality to your work.
What are you working on now, is there anything new in the pipeline?
Yes - In fact I'm developing a new collection for 2011 which will have bolder and braver colourways.
I have also just launched my 'New Naturals' collection which features organic colours such as pale sage, calico, buttermilk and stone. We created this in response to a high demand for neutrals with strong decorative appeal.
Visit Georgia Horton's website for more information and to view her whole collection.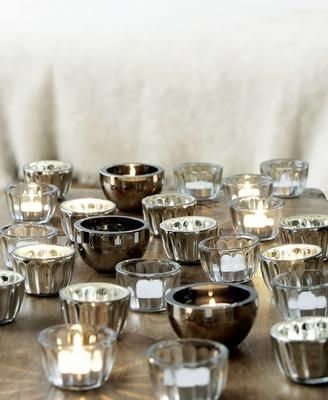 Create a romantic glow with these silver tea light holders from ALSO Home. £3.50
With the nights getting darker, it's time to start thinking about lighting your home.
However, electric lighting isn't the only way to add warmth and light to your home on a dark, autumn day. Candle light is cheaper and more environmentally friendly which is why I love these silver tea light holders from ALSO Home.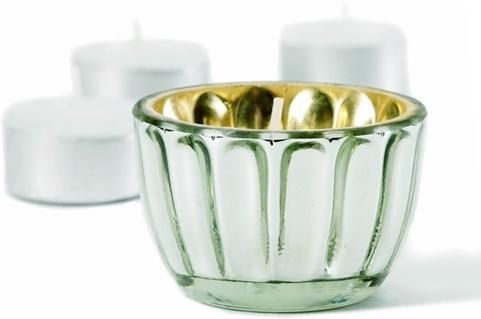 These elegant vessels are perfect for adding a romantic glow to your home, so try dotting them around on side tables, sideboards and mantelpieces to create an warming atmosphere.
And at less than a fiver each, they won't break the bank.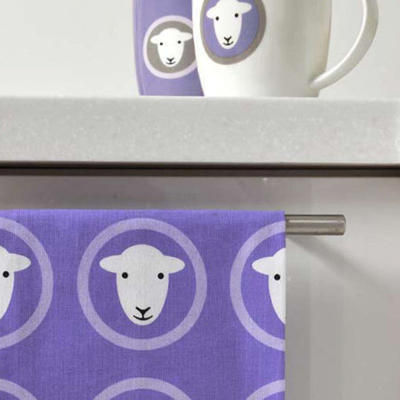 Add some fun to your kitchen with these baa-tastic tea towels from Cocoboat. £6.95
Let's be honest, tea towels are dull and boring but one of those annoying kitchen necessities, so why have plain ones when you can have cool and interesting ones.
There are tonnes of tea towels around, some with typography, others with covers of books and many, many more.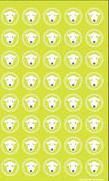 I really like these Herdy ones from Cocoaboat which feature sheep heads on a bright background.
Available in six gorgeous colours (I like the Cool Blue and Lime Green) they're the perfect way to add some colour to a neutral kitchen.
And while I can't promise you that they'll make washing up and less painful, they'll certainly make it more interesting.
Alternatively, they make a really good alternative to a print, just pop them in a simple frame and hang on your kitchen wall.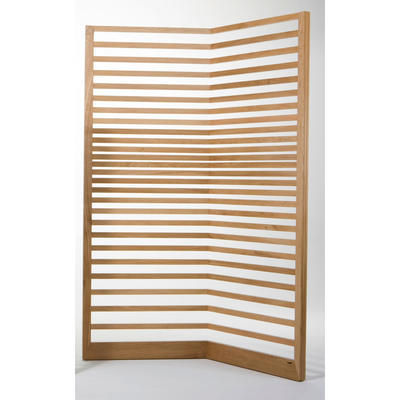 Add some privacy the stylish way with this contemporary Horizon Slat Screen from MARK Product. From £1500
I have to admit that I'm a bit biased when it comes to MARK Product. They're based in Penryn, which is just down the road from where I studied for three years, and this part of Cornwall will always be special to me.
However, it's not blind love as I adore everything they do from their gorgeous Arris sofa to their Ribbon pendant light.
A new favourite for me is the Horizon Slat Screen.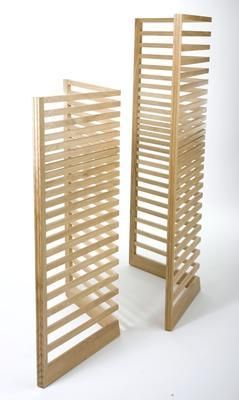 Available in various sizes, this screen has been crafted from two of my favourite woods, oak and walnut.
Simple in its design, the Horizon Slat is one of the coolest screens around. No fussy chinoiserie or mock-oriental patterns here but just clean, elegant lines which make a beautiful piece of furniture.
The screen offers the perfect way to make open plan living seem a little less scary or try using in a bedroom to screen off and create a separate dressing area.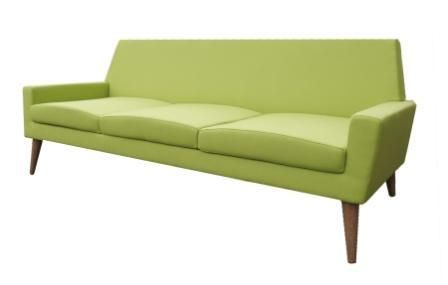 Pay homage to 1950s design with this AR003 sofa from Assembly Room. From 1995
A while back I read that someone was sick of seeing new furniture that had been influenced by 1950s style – according to them; there was no innovation in furniture design and designers were stuck in a rut.
Apart from that not being true, I really don't see what's wrong with being influenced by this era – it was after all one of the most important when it comes to design.
The AR003 sofa from Assembly Room is a perfect example. I adore the sharp lines, splayed legs and the simplicity of this design which just screams sophistication and style..
In fact, I adore all of Assembly Room's furniture and if that means I'm stuck in a rut or not innovative enough when it comes to liking furniture – then so be it...
See this product at Assembly Room...
(We don't list this product yet but sign up to our newsletter and we'll let you know if/when we do)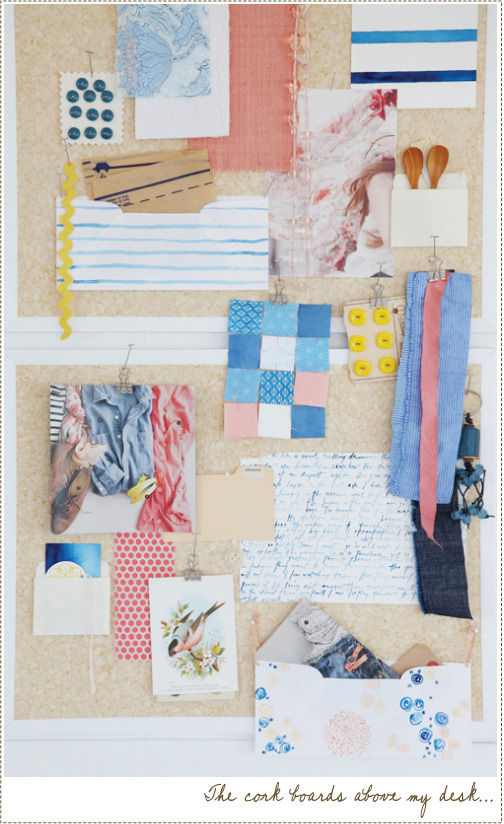 Blogs to get you through the week in style.
A Creative Mint is the creative outlet for Canadian-born LA-based designer, Leslie. After taking degrees in Architecture and Interior Design and a successful career in packaging design, Leslie decided to take a step back. At home with two young children she started the blog as a scrapbook for her interiors projects and photographs. She's interested in all aspects of design, from architecture to cooking, and this really comes across in the blog. Leslie's a great photographer and this as well as her love of collage makes the blog really visually appealing. You'll find all sorts of lovely stuff on here, and if you're a crafty type A Creative Mint is right up your street.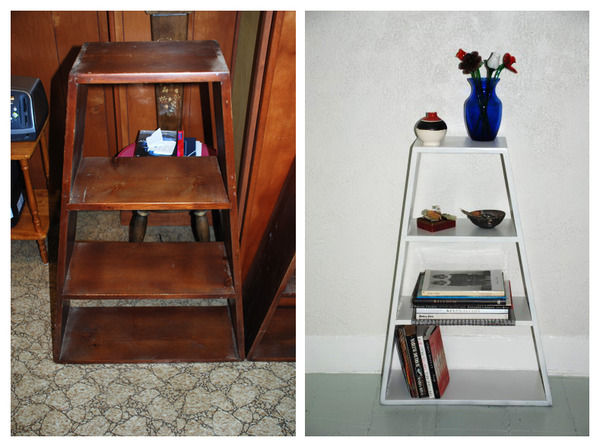 Adam's House is a really delightful blog. It'll be right up your street if you're interested in getting your hands dirty with a bit of DIY; or you love period houses, architectural salvage and design history. Adam lives in small Victorian village called Potsdam in upstate NY. He teaches high school art and with his upbeat manner and creative exuberance it wouldn't be a class I'd bunk off. He bought an 1812 Potsdam-sandstone house six years ago and he's been working on remodeling it ever since; the blog follows Adam's progress with plenty of design-related asides along the way. He's trying to keep the décor fitting with the history of the house without it being too themed, traditional or stuffy. We heartily approve.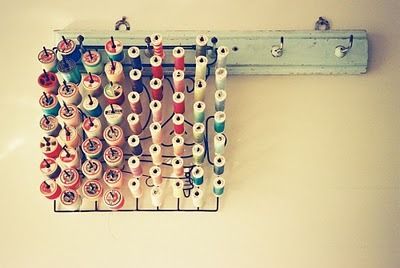 Lobster and Swan is a charming, beautifully illustrated Hastings-based blog. You'll find musings on fashion, art, craft and design with shopping tips, travel stories and interiors inspiration aplenty. There are loads of great ideas for creative projects around the home. Hastings is a bit of a Mecca for junk shopping too, so expect evocative lifestyle images with a vintage flavour. This blogger has a wandering eye that always seems to alight on something beautiful or delightfully different. Designed to intrigue and inspire, it's an eclectic blog drawn together by a consistent and confident sense of style.
As always, get in touch if you write your own design blog and we'll feature it next time.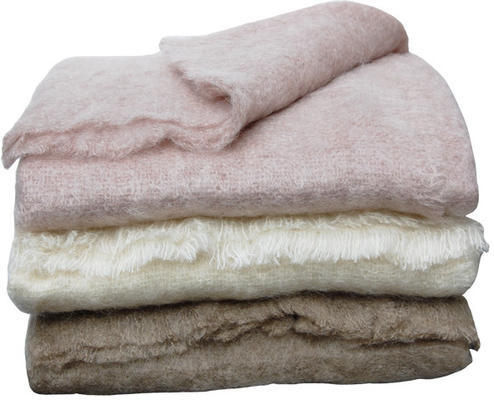 Snuggle up with one of these Pure Mohair Throws from Coco Male. £99.50
It's that weird time of year when it's not cold enough to have the heating on but there's definitely a chill in the air.
So instead of cranking up the thermostat, why not invest in a luxurious throw instead.
These pure mohair ones from Coco Male offer the perfect solution to staying warm on a chilly night. Made from 100% mohair, they're available in three colours; pink, cream and a pale chocolate.
Layer them on a bed or have on a sofa so you can snuggle up in comfort.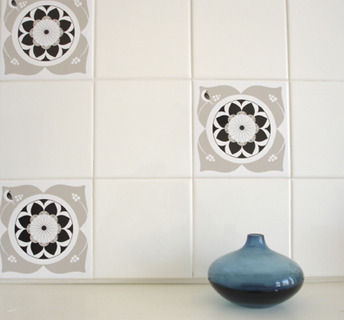 Freshen up your tiles with these pretty tile tattoos from Mibo. £12.15 for a pack of 10
I usually shudder when I hear the phrase "making over tiles" it conjures up memories of Changing Rooms and poor unsuspecting homeowners having their perfectly good tiles "revamped".
However, as someone who still lives in a rented flat and could no longer bear her hideous, floral tiles – I too went mad with a tin of white tile paint once.
The finished look isn't that bad, well if you squint a bit and don't put the kitchen light on but oh how I wish I'd heard of Mibo's tile tattoos first.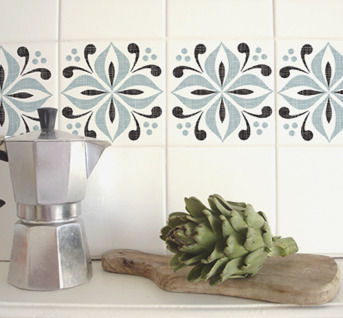 Available in two patterns and two colour ways, they offer the perfect way to hide less-than-perfect tiles.
I love the Ventnor design available in blue and grey and think they're just what my equally hideous bathroom tiles have been crying out for.
(We don't list this product yet but sign up to our newsletter and we'll let you know if/when we do)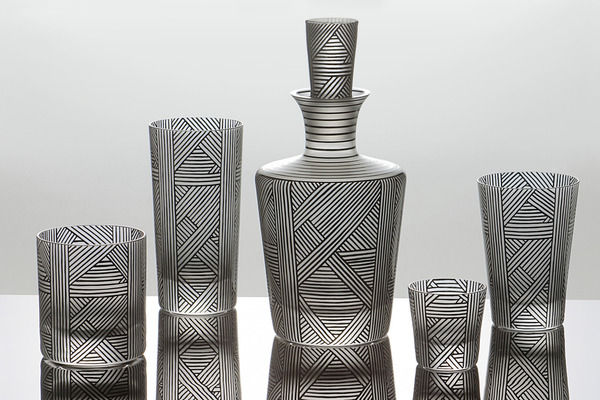 Our hot picks from 100% Design.
100% Design delivered a knockout show this year, with impressive displays from exhibitors across the board. Ambushed by eager designers and waylaid by wonderful objects it was easy to get overwhelmed in the throng. With beautiful things at every turn, I got lost trying to find my way back to Print, Tuft & Fold. Expect an interview with the lovely ladies soon. There were spectacular displays of both home grown and international design talent. Wandering about in a beauty-induced trance, here are just a few of the things we homed in on.
Czech Selection showcased some fabulous glassware including a sleek new collection by Bohemia Machine, featuring stylish angular forms and tactile bands of raised glass dots. Karen Feldman of Artel launched a new collection in partnership with graphic designer Natalia Ogneva. Featuring an intricate pattern of parallel and diagonal lines, the Sequence collection is reminiscent of early 20th century Czech cubism. 'One of my sources of inspiration for Sequence was the work of Czech-born designer Josef Hoffmann…In particular, his extraordinary feel for lineation' says Ogneva. Incredibly, each black line in the lattice-like pattern is hand-painted on to the mouth blown vessels. You can find Artel glassware at Paul Smith in the UK. Representing the best of British, RCA Alumni Rothschild & Bickers unveiled a beautiful range of glass light shades. The new Flora collection features delicate bauble light fittings topped with gold pineapple-like leaves. With glorious golden fringing, the domed Tassel Light and fluted Vintage Light have a nostalgic feel, while the distinctive colour palette - teal, gold, black and grey – gives the whole collection a contemporary edge.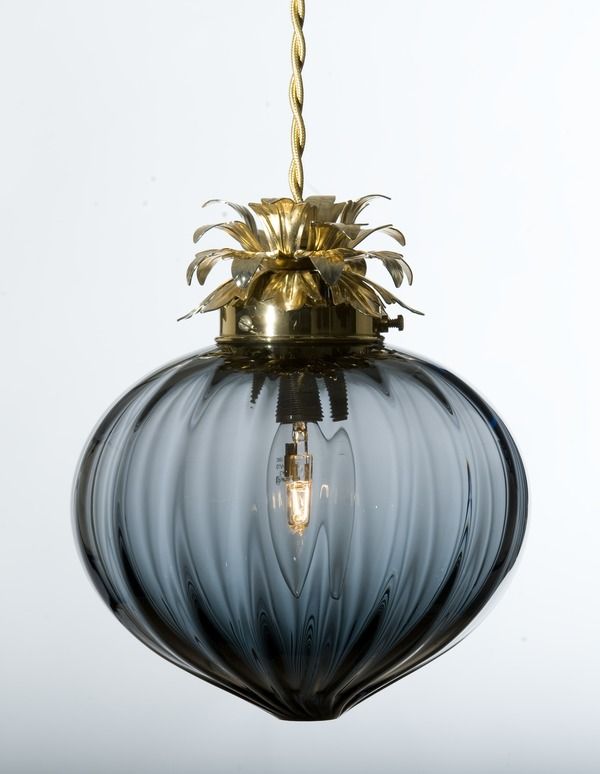 At 100% France, I was struck by Atelier Polyhedre's bold shape-shifting ceramics. Flying the flag and looking particularly dapper, Baptiste Ymonet and Vincent Jousseaume are the creative duo behind this quirky design studio. Fluctuating between minimalist rigour and baroque exuberance, between the geometric and the organic, Vincent and Baptiste have created a fresh and original collection, experimenting with form and style while retaining absolute quality. Stopping to grab a bag for all the ephemera I'd amassed, I spotted Scandinavian Surface exhibiting at 100% Norway. The four Bergen-based designers behind the brand recently launched an innovative new wallpaper concept. PanelPiece is a series of individual wallpaper panels designed to be used separately or in combination. Each panel has its individual identity and used singly will reveal a larger overall design. Mixed and matched, the different designs strike up a dialogue allowing you to create a customized wallcovering.
A cohort of British designers showcased their work as part of Design Event North East, representing the best of contemporary design across the region. Michael Armstrong of Afid Design exhibited a breath-taking collection of bespoke timber furniture. Michael's designs highlight the beauty of simple forms, celebrating expert craftsmanship, quality materials and subtle detailing. I'm saving up for the sideboard. Design polymath and all round mischief-maker Dan Civico was on hand to demonstrate his artful ChairKit_. These AirFix-like self-build chairs and tables are sold in flat-pack/wall-art form, laser cut from a single piece of birch plywood, and are supplied with all the bits and bobs you'll need for a satisfying afternoon of DIY. Each kit comes with a signed and numbered, limited edition screen print.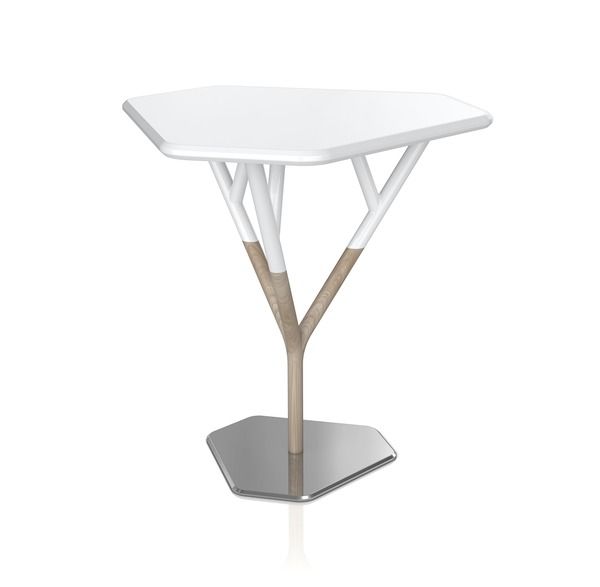 Hidden Art was also supporting emerging talent with its fourth Hidden Art Select range, featuring the work of seven British designers. One of my favourites was Your Placemat or Mine? by Hannah Dipper and Robin Farquhar of People will Always Need Plates. Featuring eight designs, the new range celebrates British domestic architecture through the ages and can be used either individually or placed together as a table runner, charting the history of British homes. Renata Manau of Biscuit Design evoked the exploits of Winnie the Pooh with her Balloon nesting box. Complete with a four-paned 'window', the ceramic balloon-shaped birdhouse is designed to be strung from a tree and features a florescent pink string that dangles away underneath. This year Hidden Art also launched a new collection of seating by five independent designer-makers. It was difficult to obey the polite 'do not touch' sign next to DesignK's Dandelion Stool: a tripod construction with a plump knitted ball perched on top. COAL Design's fifties-inspired Horrice Chair was another winner, with its lacquered walnut frame and vivid yellow upholstery.
Furniture was a particular draw at 100% Design this year and the impressive selection on show didn't disappoint. James UK's range of hardwood, upholstered seating raised the heart rate rather alarmingly, particularly a button-backed fifties-style sofa and a contemporary reinterpretation of the traditional wing armchair. Vitamin launched a new collection of furniture and lighting at the show, of which the Fuse Table was the standout piece. Out of the steel base grows an ash sapling, which splits into three branches to support the white lacquered tabletop. A fusion of geometric and organic forms, and of three different materials, each of the elements feed into one another to create a beautiful, functional object; the tabletop can even be removed to use as a tray. Leading the field in hand-made contemporary furniture, Pinch Design exhibited a beautifully crafted collection with graceful simplicity of form; we've got an interview with Russell Pinch coming soon. The influence of fifties design was visible throughout the show, particularly in furniture, so it was great to see the real thing in evidence as well: a much anticipated collection of original Ernest Race designs reissued by Race Furniture. The pipe-toting mid-century designer created the Antelope chair for the Festival of Britain in 1951 and the wonderful lightness of his steel rod constructions articulate the buoyant festival spirit.
It's a spirit that seemed alive and well at 100% Design. We'll be following up on lots of the exhibitors in the next few weeks.
Make storage pretty with these silver apothecary jars from Primrose & Plum. From £23
I think of myself as a bit utilitarian when it comes to design – I like my lines clean and my furniture simple but sometimes even I can't resist a bit of prettiness.
So, if you too are craving a bit of girly chic then do as I did and head over to Primrose & Plum. This online boutique sells an array of gorgeousness from elegant lighting to romantic tableware.
My favourites are these silver apothecary jars, available in two sizes they are perfect for use in the bathroom, bedroom or anywhere you want to add a touch of understated glamour.
I'm going to use mine to house my numerous bangles and other trinkets and keep them on my dressing table to add some subtle vintage-charm.
See this product at Primrose & Plum...
(We don't list this product yet but sign up to our newsletter and we'll let you know if/when we do)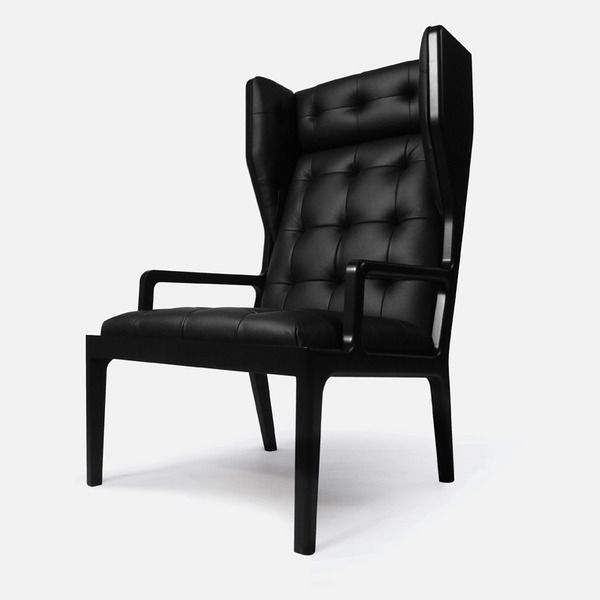 Create a statement with this fabulous Wingback chair from James. From £1426
Regular readers will know I am utterly obsessed with chairs. Sure, I love all interiors but chairs are my thing.
And particularly ones which are so heavily influenced by mid-century modern design, which is why I have fallen hook, line and sinker for this Wingback chair from James.
Design duo James Harrison and James Kinmond have designed the chair of my dreams. Wingback has a button back, elegant legs and just oozes style.
I love the walnut and black leather combo but if you don't then fret not as Wingback is available in a variety of wood finished and upholstery choices including a vibrant yellow and regal purple. And if that doesn't tickle your fancy, you can have the chair covered in your own fabric.
So, if anyone's feeling generous how about buying this little beauty as an early Christmas present for me?
(We don't list this product yet but sign up to our newsletter and we'll let you know if/when we do)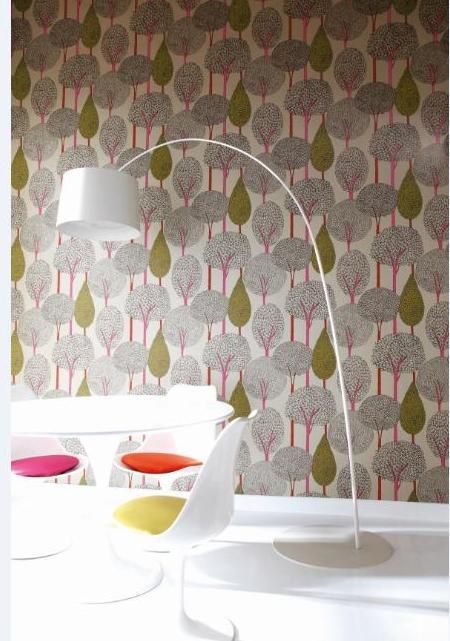 Create a bold statement in any room with this Silhouette wallpaper from Harlequin. £55 per roll
When it comes to wallpaper and fabric design, Harlequin rarely disappoints. Every collection seems lovelier than the last and the Boutique range is no exception.
Featuring bold florals, sartorial stripes and delicate blooms in monochromes, neutrals and bold pops of colour, this collection is perfect for anyone that wants to add some pattern to their lives.
My favourite is the Silhouette design, which is available in two colourways, a delicate combination of neutrals and this fabulous riot of colour.
Reminiscent of Scandinavian design, this woodland pattern is the perfect choice for any room.
Go bold and use it on several walls or frame it for instant art.
See this product at Harlequin...
(We don't list this product yet but sign up to our newsletter and we'll let you know if/when we do)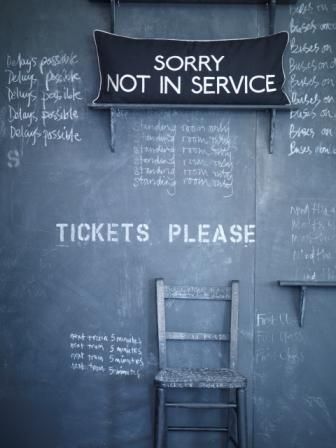 Forget traffic jams and show your love of vintage-London travel with these London Calling cushions from Barbara Coupe. £85
Many moons ago, when I was a poor editorial assistant and by poor I mean in the money sense not that I was rubbish, I used to travel to work by bus and mostly Routemaster.
One particularly harrowing journey was when I worked in Highbury Corner and lived in Streatham which meant catching three buses. It used to take about a week.
Despite this I started a love affair with Routemasters and was devastated when they were taken out of service.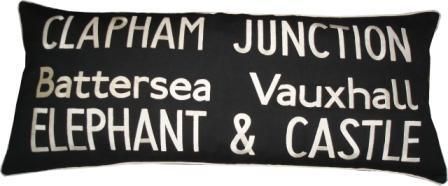 Luckily, I can reignite my passion for these red beasts with these London Calling cushions from Barbara Coupe. This collection of embroidered cushions has been created as a homage to the destination blinds and feature well-known routes around the capital.
I love them all and while buying them all at once may mean not being able to eat for a month, I've found my new object to collect.
See this product at Barbara Coupe...
(We don't sell this product yet but sign up to our newsletter and we'll let you know if/when we do)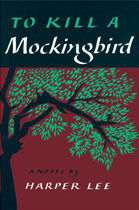 Give your walls a makeover with these Book Cover posters from The Literary Gift Company. £9.95
It never ceases to amaze me that books I studied at school still remain favourite reads.
After all, studying a book is so different to reading it for pleasure, I would have thought over analysing Harper Lee's To Kill A Mockingbird and Virginia Woolf's Mrs Dalloway would mean I would never want to see them again, yet they remain in my top 10.
Which is why I love these Book Cover posters from The Literary Gift Company.
There's a whole host of titles to choose from, with every bookworm catered for. Tennessee Williams fans will be pleased by the A Streetcar Named Desire one while the the Alice in Wonderland makes the perfect choice for a child's bedroom.
And at less than a tenner a piece they offer the perfect way to add interest to a plain wall.
I'm going to frame mine in vintage-style frames and add them to my dining room - where will you put yours?
See this product at The Literary Gift Company...
(We don't sell this product yet but sign up to our newsletter and we'll let you know if/when we do)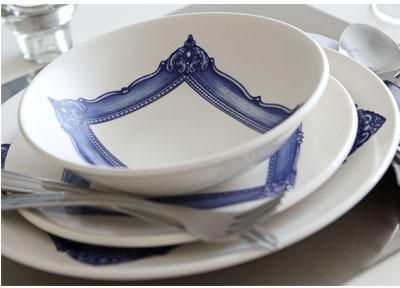 Create the perfect dining table with this Art of Entertaining Three Piece Set from Designed in England. £30
As a huge fan of Andrew Tanner's work, I absolutely adore this Art of Entertaining three-piece dining set.
Never one to let us down on giving everyday products a quirky twist, Andrew has transformed the humble dinner service into something really special. It consists of dinner plate, side plate and bowl each of which have been decorated with a painted blue frame.
Now, usually I'm one for plain white china but 'm a big fan of this set.
I love the way you can use the frames to present your food and the colours are simply divine.
I can't wait to throw a dinner party so I get to use it.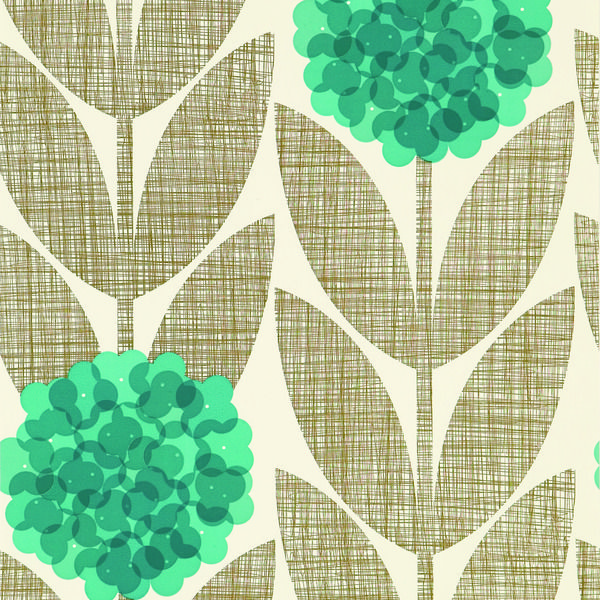 With a strong eye for colour and pattern, Orla Kiely explores the nature of shapes and repetitions found in nature in her gorgeous designs.
Let's face it, who doesn't have an Orla Kiely bag or cushion on their wish list? Her collections are always eagerly anticipated and her colour-popping prints never fail to impress.
From as young as she can remember, fashion and textile designer Orla Kiely became preoccupied and intrigued by patterns and shapes. Having just published 'Pattern', her first book, Orla has revealed how her childhood memories of growing up in Dublin in the late 60's and early 70's have inspired her love of retro style furnishings.
Orla studied at Dublin's National College of Art and has achieved her master's degree from the Royal College of Art in London. Starting out in the 1990's, Orla injected a burst of colour into a world of fashion, which was dominated by an abundance of black, with a small collection of bags. In 2005, she opened her flagship store in London's Covent Garden which showcases the best of her designs including wallpapers, fabrics and accessories, amongst her hugely successful fashion lines. Orla has collaborated with names such as Habitat, Heal's and Dulux, but she insists that she will not be a slave to fashion trends, instead her designs are distinctly daring and true to her own style.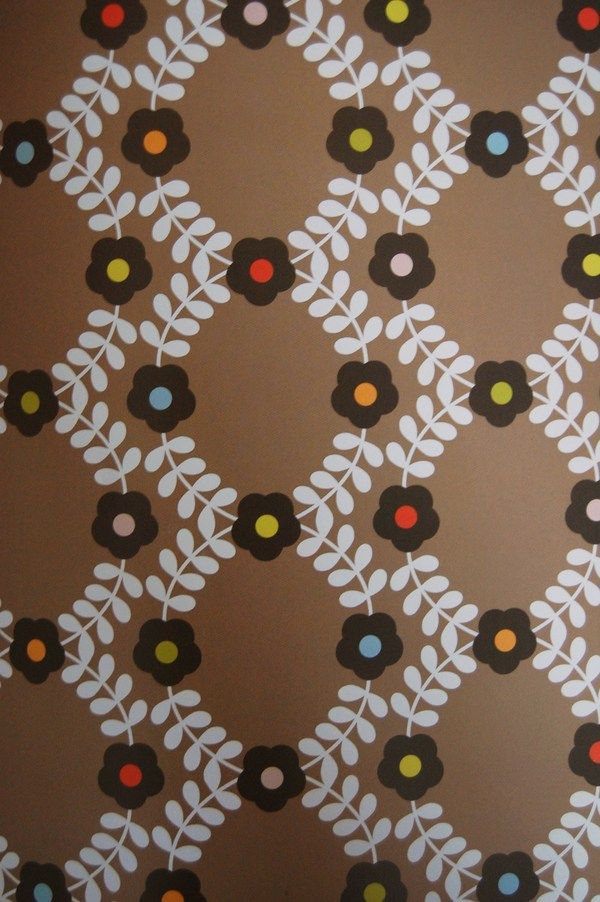 In collaboration with Heal's, famous for its contemporary furniture ranges, Orla has achieved success with her designs including soft furnishings, linen, and furniture pieces such as sideboards, cupboards and armchairs. Many of these items are available on Furnish, including the Flower Blossom duvet cover (available in lichen or teal), and a gorgeous range of mugs available in several colourful designs, ideal for livening up any kitchen. Among my favourites, is the Lusk armchair [http://furnish.co.uk/items/23662-orla-kiely-lusk-armchair-bute-melrose-fabric-range] which is beautifully crafted from a hardwood frame and upholstered in Bute Melrose fabric in Pumpkin, Henna and Moss.
The Stem design is recognised worldwide and is always a best seller; it has become a core part of every collection that Orla has released, and its appeal shows no signs of wavering. Along with the abstract Pear, the Stem is adored because it has a beautiful simplicity that's given a sense of order and unique charm in its repetition. Due to its popularity, Stem is modified every season and it is given a new colourway to keep the print looking fresh and exciting. It began in three colourways: olive and chartreuse, pink and red, and orange and ochre. You will recognise the infectious Stem print on a range of products, from wallpaper to mugs, and even Orla's fashionable range of bags.
"Distilling a form, natural or man-made, into its basic elements, while maintaining a degree of recognition, gives a certain poise and tension to a design, so that it reads in two distinct ways at a time." (Orla Kiely, "Pattern")
Orla's interiors collection boasts a homely and exciting array of designs that are inspired by mid-century modern design, and many are created from her love of Scandinavian design. Visually, her designs are comforting, and they compliment both modern and traditional interiors. She experiments and plays with the scale of her work which helps her adapt her patterns to a variety of interior products such as cushions, mugs and wallpaper. Some of her designs incorporate large and small scale elements in the same print which is a great way of drawing the eye and creating rhythm. Interestingly, Orla keeps all of her print boards from season to season so that she can look back and explore new patterns with an idea of how her prints will continue to work coherently as part of the brand look.
Orla hopes to always be "associated with products that are valued, cherished and not discarded." We certainly will always treasure and adore Orla's work, and we're looking forward to the development of her newly introduced lines including fragrance, kitchen ceramics and bed linen.
Visit Orla Kiely's website for more information at www.orlakiely.com, and to find out more about Orla's recently published book 'Pattern', read our feature.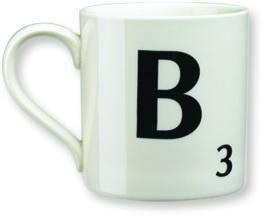 See who can get the highest score with this Scrabble mug from Bloomsbury. £6.95
I love playing Scrabble and with my family it usually gets super competitive.
In fact, I'm ashamed to say that there old score books from games at my parents house that have "Alex stormed off halfway through" in them.
Of course I'm much more grown up now and storming off has stopped, usually, and I know this is blowing my own trumpet, because I win.
Which is why I love these Scrabble mugs from Bloomsbury so much.
Every letter is available and I think they'd look great lined up on a kitchen shelf from A-Z. Alternatively, buy a few to spell out your name, just remember to keep score.