It's our Interior Design Magazine!
The hottest interior design ideas, fab finds for the home and the latest in interiors trends. We're always looking for new finds, designers to feature or anything else lovely for the home, so if you've seen something gorgeous and would like it featured in our interior design magazine, please get in touch!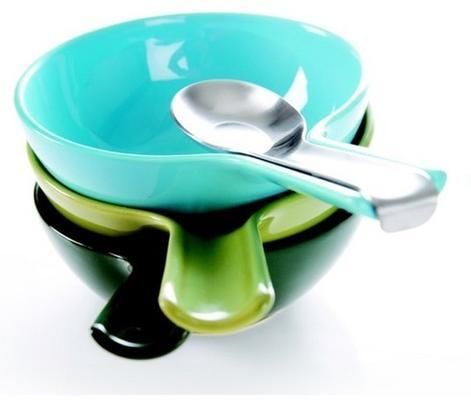 Enjoy casual dining with these bowls and spoons from Mocha. £25.99 for a set of two
Of course it's nice to have smart tableware for special ocassions but sometimes you want to just veg out on the sofa with a bowl of pasta and relax.
This is when these rather pretty bowl and spoon combos from Mocha are rather handy.
Made from earthernware, the generous bowls are perfect for late night suppers and delicious desserts.
Available in a range of stylish colours, the stainless steel spoons rest safely in the specially designed handle.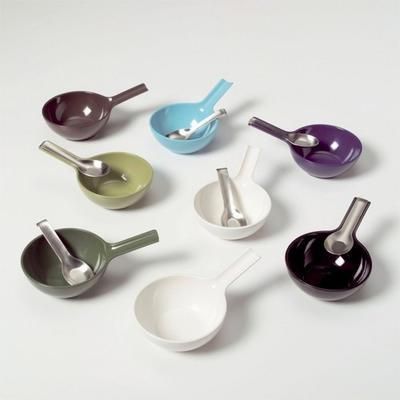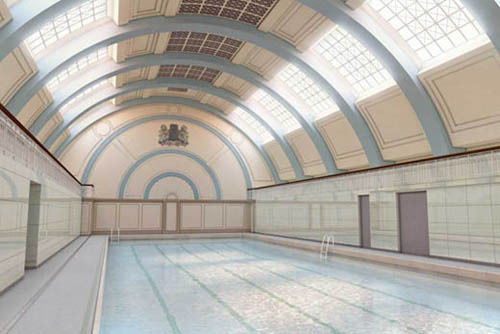 Dive into an Art Deco dream...
After a £25m regeneration project and more than a decade on the English Heritage 'Buildings at Risk' register, the iconic Marshall Street Baths in the heart of Soho has reopened to the public. The first public baths on the site were built in 1850 and the present Grade II listed building first opened in 1931 as The Westminster Public Baths. With a stunning barrel vaulted roof, white Sicilian marble-lined pool and green Swedish marble-clad walls, it's an Art Deco masterpiece.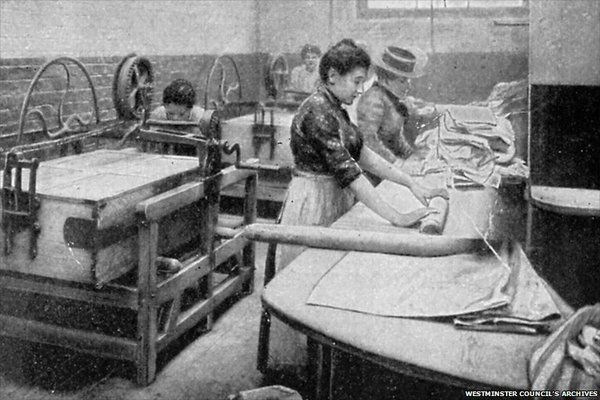 Originally built with public funds for the health and wellbeing of local people, the baths included a first and second class swimming pool, a child welfare centre, a public laundry and washing facilities. As well as retaining many of the period details such as the 30s ticket booth, gilt finials on the staircase, and a bronze fountain featuring a frolicking merchild and two dolphins, the regeneration project has maintained the public spirited ethos of the original baths.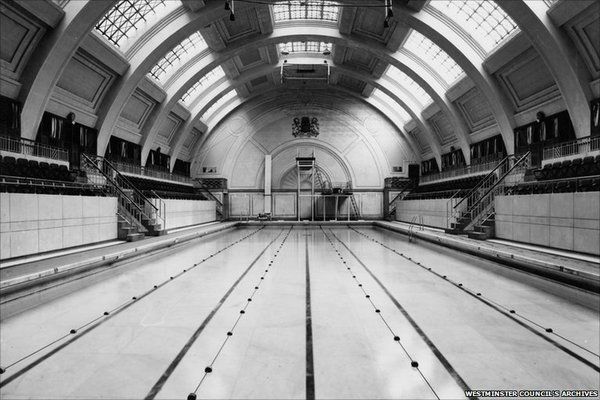 Westminster Council carried out the restoration with its development partner, Marshall Street Regeneration, and with the support of local groups such as the Friends of Marshall Street. The restored pool is the centrepiece of a new public leisure centre on the site, including a gym, sauna, and dance and exercise studios. The wider regeneration programme includes 52 new homes, 15 of which are part of an affordable housing scheme. A new street cleaning depo has also been built as part of the project.
Restored to its former glory, the stunning pool is well worth a visit. And it's not often you get to enjoy such fabulous facilities at council prices. I recommend a bit of sedate sculling: to make the most of that fantastic vaulted roof.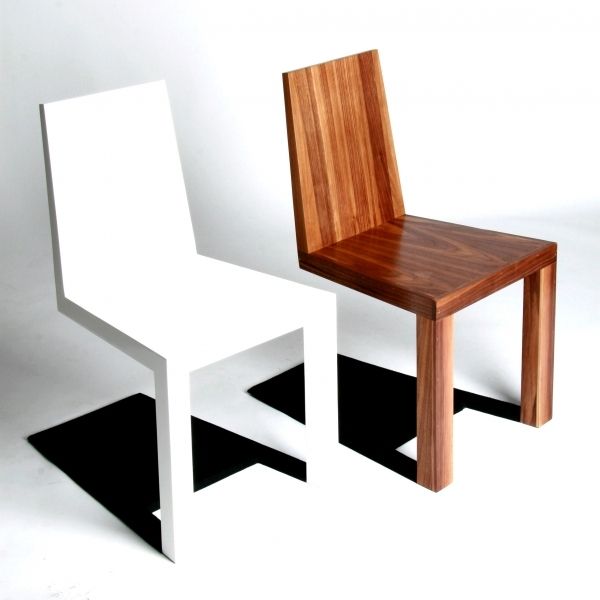 Under the heat of the spotlight, we showcase the best of Duffy London's furnishings.
Duffy London is an idea-based company that thrives on ideas not only based on similar themes and concepts but designs that are completely unique. Chris Duffy, a graduate of the University of Brighton, has always harboured a love of making and designing products, and with his own studio in east London he has achieved his dream of having his own space to work in.
Chris Duffy has created this company with the aim to encourage inventive and exciting designs that aren't pinned down by boundaries. He has had a love for designing and making things ever since he was a young child: "I was always making crazy bikes, karts and boats while everyone else was playing football. I remember my junior school teacher asking me what I wanted to do when I grow up, and I said that I wanted to be an inventor." Chris' inquisitive mind drove his ambition to create his own business. With regards to where his inspiration comes from, he said "when you have been designing for a long time, you see that all design is a process, usually a very long one, and not just an inspiration, although that does occasionally happen."
The collection includes a range of furniture, lighting, wallpaper and interior products which are predominantly designed by Chris Duffy himself, although he draws inspiration and ideas from designers that he works with. All products are handmade to order or bespoke, and they are all manufactured in the UK. One of Chris Duffy's 'Hero' products is the Double-sided Hanging Chandelier Glo-Canvas which provides a stunning statement piece to hang above a dining table. It can be hung from ceiling light fittings, and to create a warm ambience each frame is installed with low energy strip lights that illuminate the Chandelier print from within. Digitally printed onto 100% cotton, the image is stretched over both sides of a wooden frame, giving a modern twist on the chandelier and the conventional use of canvases.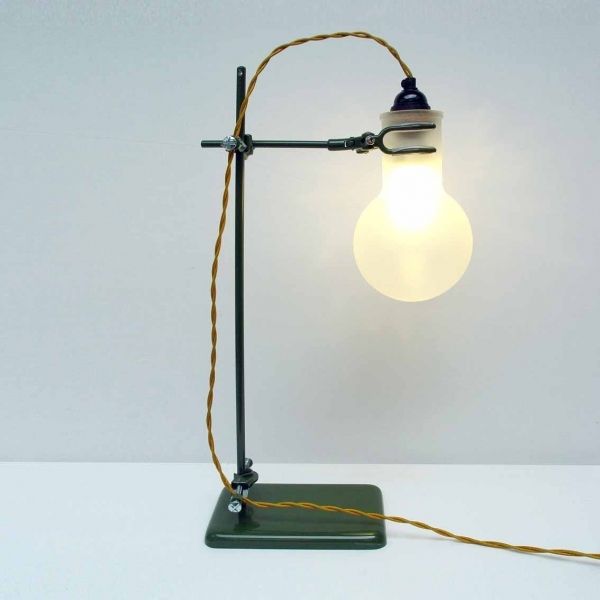 The LAB Lamp is one of Duffy London's newest products for 2010; it's made from genuine laboratory parts giving it an authentic style. It is available as either a desk/table or a floor lamp and is ideal for task lighting or it can simply be used as an innovative feature piece. The light is provided by an eco bulb, and the flask is sand blasted Pyrex.
I love the quirky personality of the Shadow chair, which was launched at the Milan Salone Satellite in April 2009, because its intelligent design integrates shadow into its structure. The chair appears to defy gravity by standing on just two front legs, however with a closer look the shadow is made from steel which is attached to metal frame built inside the chair. It has a very modernist look; it plays with the representation of space and light and our perception of these things, making us question what is 'real'. When placed in an interior space it comes into a life of its own, and will certainly make your guests look twice.
Duffy London has strong eco-credentials and Chris explained to us why he believes in the benefits of UK manufacturing: "I think it is important because it makes it possible to get a design from your head and into the shops in a very short space of time, keeping ideas and products fresh, updated, changing and improving, which is never as easy to do if you have products made in China for instance. Eco-friendly design is important not just for the obvious reasons, but because it shows an idea has been thought through properly, any design like this will take into account manufacturing processes, transportation, import duties etc."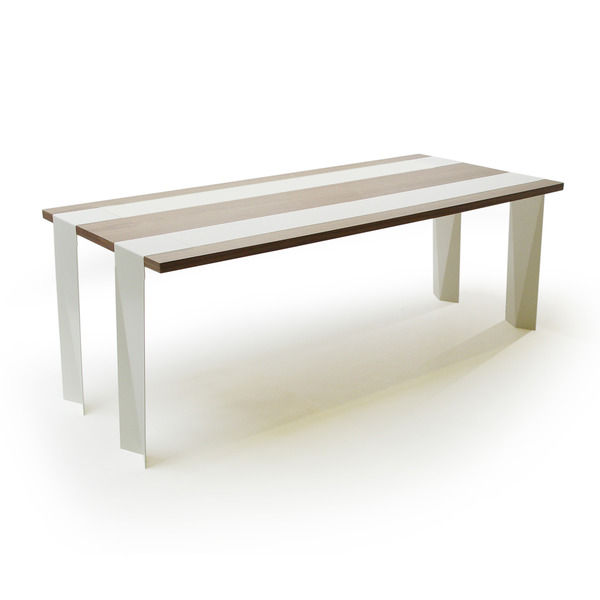 Coming soon...
Duffy London will be launching a new dining table at London Design Week in September 2010. This new furniture piece will be another unique addition to the collection; the design cleverly incorporates its runners as its structure by having them run the full length of the table, falling off the edge to become the legs. The juxtaposition of the steel thin legs with the sturdy walnut table top gives an illusion of weightlessness, as if the table is floating. To celebrate the launch, Duffy London is offering a 25% promotional discount on orders placed before the launch. (The offer price is £1495, and the retail price will be £2000 once the offer ends.)
Duffy London products are available on furnish.co.uk and in many outlets in the UK and around the world.
Follow us to blogland and the wonderful world of interiors

Housemartin is brought to you from Portand Oregon, the work of a fashion industry textile designer turned interior decorator and shop owner. The shop, Ink & Peat, is an eclectic mix of vintage and modern homeware, handmade goods and floral design, while the blog offers daily inspiration in the same vein. It's a great place to pick up on new designers and especially crafty people working in ceramics, printmaking and textiles. If you're into handmade, vintage and quirky design, this is definitely a blog worth visiting. Named after the little house-proud bird, this blogger's more of a beady-eyed magpie. The eclectic posts always unearth something beautiful.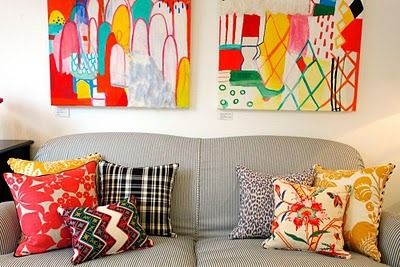 You can guess what you'll find on Absolutely Beautiful Things. Brisbane-based interior designer Anna Spiro began the blog as a record of beautiful pieces that inspire her on a daily basis. And along with posts highlighting great new interiors products, you'll find posts on Anna's design projects and photos of the displays in her shop, Black & Spiro. Black & Spiro offers a mix of vintage treasures and modern pieces and there are some great posts on junk shopping and flea market finds. She's also got a passion for colour, which makes the blog a really uplifting read (love the rose pink background).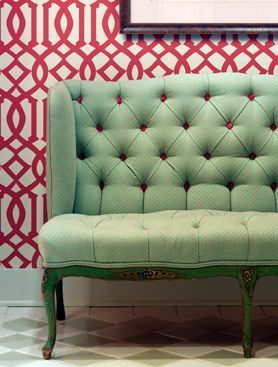 Described as a 'passport to stylish living' Ronda Carman's All The Best is an insider's guide to what's hot in the world of design. Ronda appears to have a bulging little black book: the blog's chock full of interviews with industry big wigs, interior designers, artists and other interesting types. Just a few of the brains she's picked are India Hicks, Jonathan Adler, Rita Konig, and Christopher and Suzanne Sharp (of The Rug Company fame). So you get the picture that it's a pretty big-hitting blog. Interesting and inspirational, it's all very slick; you won't see any flea market finds on here. But if you want to know what makes design stars tick, and what 'global tastemakers' are making us think, then this is the blog to visit.
As always, get in touch if you want us to feature your blog next time round.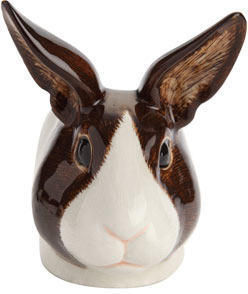 Have some fun at breakfast time with these animal head egg cups from Liberty. £10.95
Liberty is without a doubt my favourite store in London, in fact I challenge you to find someone who doesn't love this shop, which is as much a landmark as Big Ben and the London Eye.
From its Tudor atrium to the cool and chic, yet ever-so-helpful staff, everything about it oozes class, coolness and beauty.
Which is why it's fab that we're showing some of Liberty's lines here on Furnish.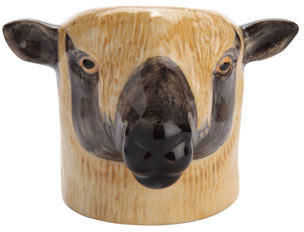 Nestled in between classic furniture and the iconic Liberty print products, I found these little fellows who brought an instant smile to my face. These egg cups designed to look like rabbit and sheep heads are deliciously kitsch.
Ideal for brightening up a boiled egg and soldiers, they're guaranteed to get a giggle from small and big kids alike.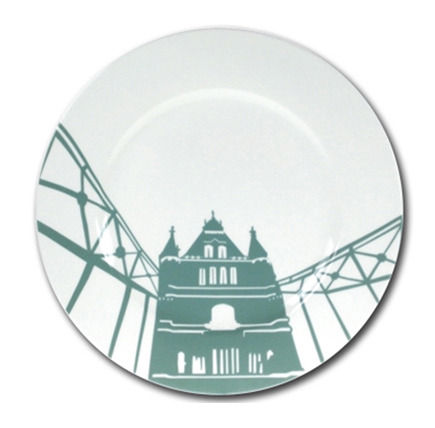 Snowden Flood gives us insight into her inspiration and she also offers some advice to aspiring interior designers.
For interior accessories designer, Snowden Flood, 'Home is where the art is' and this shines through in her designs which expose her love for urban and rural landscapes across the world. Snowden's designs beautifully capture nature as well as her experience and knowledge of what she sees around her.
Snowden took some time out to answer our questions, and here's what she said...
If you had 3 words to describe your style what would they be?
Eccentric, British, Nostalgia
Where does your inspiration come from?
Everywhere! From junk shops, art galleries, books, magazines and children's drawings. Just going out of my front door and looking at the kids playing some odd game in the square; could be anything really.
Your work displays your love of landscapes and scenery. How much are your designs influenced by places you have been and experiences you have had?
Some are much related to experience, for example my Urban Landscape plates came from living in the north in a predominantly industrial landscape and sketches I'd done at the time. Others were inspired by things I found myself drawn to like the shapes that trees make at dusk against the sky; so that developed into a set of glasses. Other products, like my Rivers of the World cups and saucers, were inspired by a book I got from the local Oxfam store called "Great Rivers of the World' – pieces by famous travel writers about river journeys. It was so evocative that I kept mulling over how you could draw an experience like that.
What's your 'hero' product and why?
I love my world river cups and saucers because they are quite abstract and somewhat understated, and I like that it's not immediately obvious what the design actually is! But in terms of general popularity, my hero products are the Battersea mugs, plates and aprons, because they are incredibly popular around the world!
Through your designs you explore the theme of souvenirs and keepsakes, is this influenced by your own nostalgic childhood memories and favourite holidays?
I think it has less to do with my nostalgia about my own holidays and more to do with being brought up in rural England by American parents. I was completely fascinated by their photos, stories and all the souvenirs of their former life, even their cars looked so glamorous. It all seemed so different from our lives in the UK, so far away! For example, my grandfather was a writer from California and was married to a silent film star and in a band with Bing Crosby's brother. He later worked for William Randolph Hearst (who Citizen Kane was modeled on). I think you could say that 1960's UK was a bit of a shock for my parents!
What is the most recent design product that you have bought for your home?
I have a bad flea market addiction! This week I became the proud owner of a 1940's schoolroom poster of earthworms, for the princely sum of £4.
You spent many years at world-renowned New York architects Peter Marino & Associates. How much did you learn from this, and what was it like creating designs for clients such as Dior, Chanel and Louis Vuitton?
I learned lots working at Peter Marino. They are known for several things: the quality of the work but also for their 'revolving door' policy, i.e. it's a very hard place to work and most don't stay beyond 1 year (I worked for them for 8yrs!!). Part of my job was to travel to shows around the world and come up with ideas and concepts. I also had to find manufacturers to make the pieces we designed for our clients. So for example, I might attend a technical textiles show in Germany looking for manufacturers to weave a Chanel plaid in carbon fibre. Then I'd go to the Netherlands to see someone who could embed that fibre into resin panels for a new store in Japan. It was fun but stressful because these clients came to us to provide them with innovative ideas, and the level of quality always has to be the highest. The residential projects were fun, our clients were some of the richest in the world and wanted things in their houses that are completely unique. All good experience for my own business!
Who is your favourite interior designer of all time and why?
There are two that I particularly like. David Hicks for his use of colour and pattern and Oliver Hill because I love Art Deco and his mix of art deco and modernism is very stylish.
What's your favourite material to work with and why?
I don't really have a favourite material. I have ideas for everything and don't really like to be restricted. If you insist I'd say bone china, I like the quality and warmth of it, the colours can be very pure.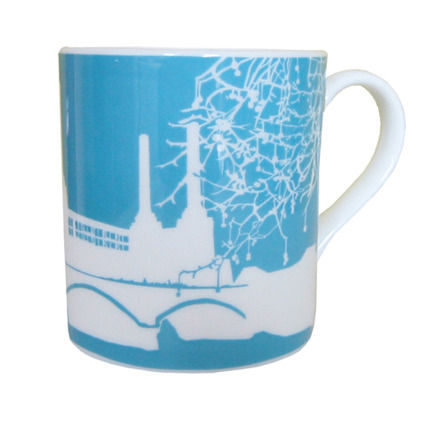 What's your favourite high street home furnishing brand/store?
To be honest I prefer to shop in smaller independent stores and tend to stay away from the high street in general. So… I'd head to Columbia Road in London; I like museum stores like the V&A and the Tate Modern. Other stores I like are places like Mint, Lucas Bond, Abigail Ahern. Out of London some favourites are Article in Dublin, the Craft & Design centre in Manchester, Home Autour du Monde in Paris, Rare Device in San Francisco and NY, the MoMA store and Moss in NY.
What advice would you give to aspiring interior designers?
Have fun and don't be afraid of colour and personality! I'm not a fan of the beige and brown school of interiors I must admit! Look at people like Wary Meyers, Kelly Wearstler, Todd Oldham.
How important do you believe UK manufacturing is to our economy and the environment?
Well it's very important to me personally. In terms of quality and integrity of a product it makes all the difference to be able to go to the factory and discuss the issues. I work very closely with my UK manufacturers, and they are following a tradition of craftsmanship that is a key part of the product. However, I would just say that it's not always easy to manufacture here. Customers have become used to high-street prices and don't always appreciate that those prices are a result of mass production and – sometimes – low quality. Not everyone wants to buy something that was lovingly and carefully made if it means they have to pay an extra £10 for it!
Are there any designers that you would particularly like to collaborate with in the future?
I like working with Alex Gorlizki and often find that looking at his work gives me ideas. I like Marian Bantjes and Leah Giberson and their work is interesting to me.
What new projects do you have on the horizon?
Lots! I'm working on some new products in polymers as part of a Hidden Art initiative. Also for Hidden Art, I'm part of a consortium proposing design-led gifts for the London Olympics. In addition to this I have two new product ranges in production and am finishing up production for some custom products for Chatsworth House in Derbyshire. Busy!
You can find more information and all of Snowden's designs on her website at www.snowdenflood.com.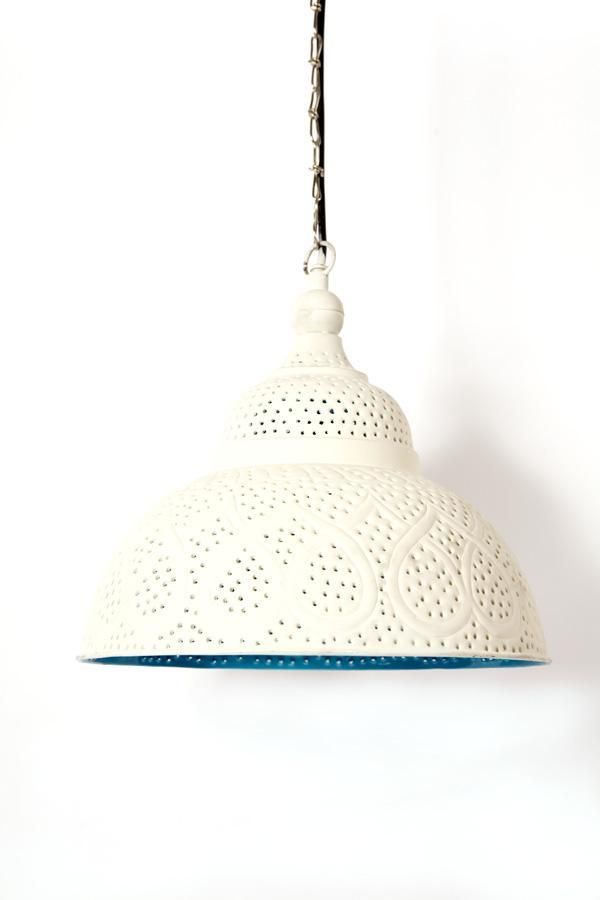 Glam up your lighting with these beautiful pendant lamps from Lemonlu London. £59.95
Pendant lights have always been one of those accessories I never seem to get right.
Table lamps and floor lights aren't a problem, I know what works well in my rooms and, sorry to blow my own trumpet, but usually get it right.
Ceiling shades however, is a different matter all together.
Which is why I'm rather taken with these Indian pendants from delightful online store, Lemonlu London.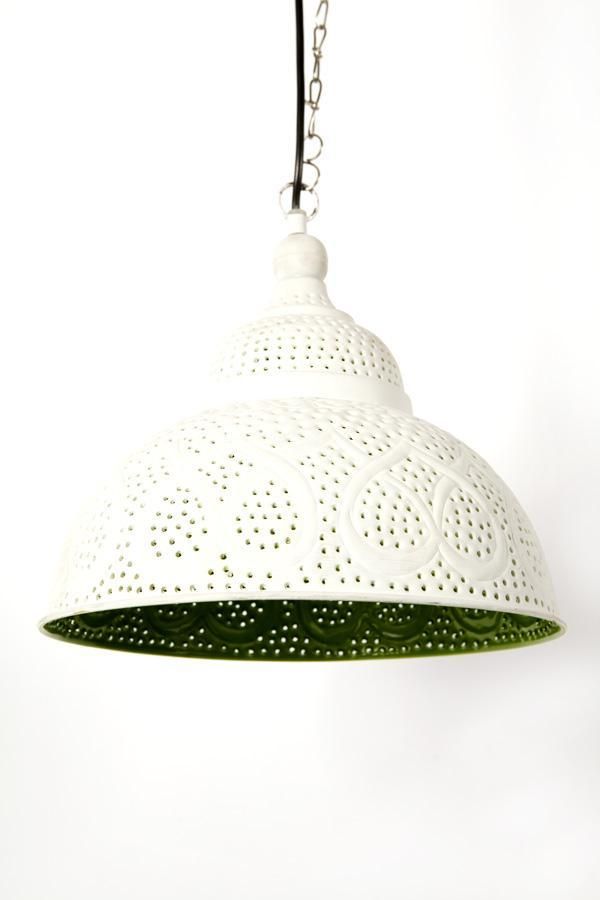 Made from hammered metal, their intricate detailing it perfect for giving a room an exotic twist wthout feeling too over the top. The outer part of the shade is painted white but look underneath and you'll discover zesty lime or vibrant colour-of-the-year turquoise.
Perfect for adding a subtle splash of colour to any scheme, these lamps will work well in any room from hallways to bedrooms.
See this product at Lemonlu London...
(We don't list this product yet but sign up to sure newsletter and we'll let you know when we do)
Give little ones a tea time treat with this Lottie Lion cup, plate and bowl set from Too Much Too Young. £30
When it comes to little people's tableware, it can be tricky to find the right thing.
While you obviously don't want something too grown up, you may be like me and not particularly favour Disney characters either and want something a little less, well, commercial.
Cue Too Much Too Young, a wonderful website for little ones accessories.
They have everything from traditional toys to decorations for small people's bedrooms, all without a whiff of Snow White and her seven followers.
What really caught my eye were the delightful cup, bowl and plate sets. Featuring the cutest of characters such as Nellie Elephant and Lottie Lion, they will make feeding time a treat, not a chore.
See this product at Too Much Too Young...
(We don't list this product yet but sign up to our newsletter and we'll let you know if/when we do)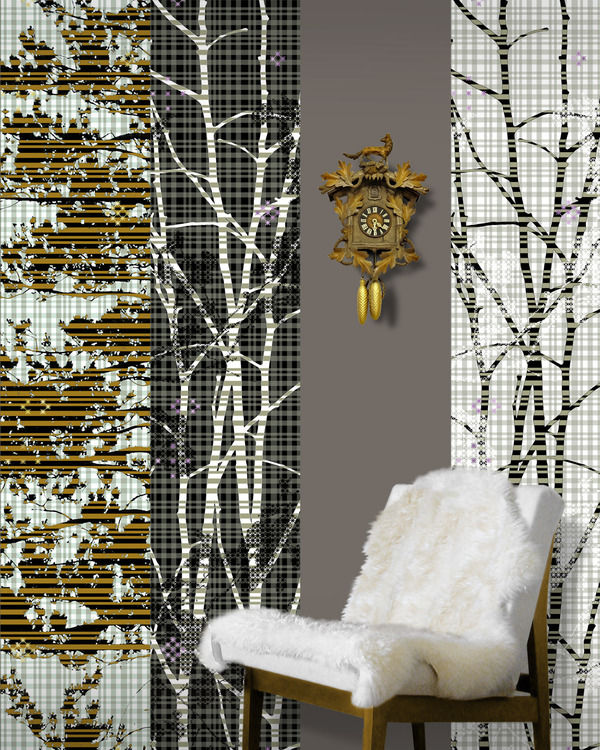 100% Norway will be at this year's 100% Design showcasing the best Norwegian design companies and manufacturers and their range of sustainable and eco-friendly designs.
Showcasing a variety of Norwegian companies, including established and up-and-coming designers' work, 100% Norway are set to impress at this year's 100% Design. This will be their seventh appearance at the exhibition which helps designers from Norway expose their talents and ideas to the British market.
100% Norway will be exhibiting an array of impressive sustainable and eco-friendly designs, including tables, chairs, ceramics and textiles which all utilise natural materials. The line-up of contemporary manufacturers includes LK Hjelle, Fora Form, Fjordfiesta, VAD and Variér, among many others. Designers Petter Knudsen and Steiner Hindeness collaborated with furniture company VAD to create a collection of pine seating. The designers have used traditional Norwegian methods of handling wood and local pine to bring us a stylish, contemporary and sustainable chair.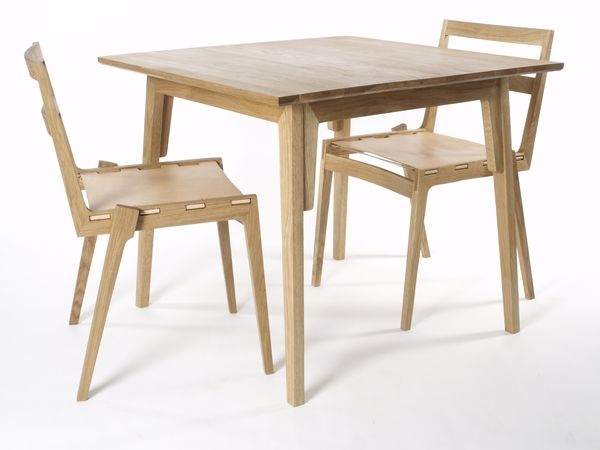 Also, Scandinavian Surface will be showcasing their selection of PVC free wall coverings which incorporate a green philosophy by using environmentally friendly ink in the manufacturing process. With striking images inspired by nature, such as dramatic coastlines, steep mountains and cascading rain, the designs provide beautiful backdrops.
With regards to the importance of producing green products, Henrietta Thompson, Curator of 100% Norway, claims that "Sustainability is an important issue for designers everywhere, and it's come to be expected of the new generation emerging to incorporate environmental considerations in their work from the beginning. Norwegian designers are perhaps more aware of this than many, as they are so often inspired by the natural environment in their work."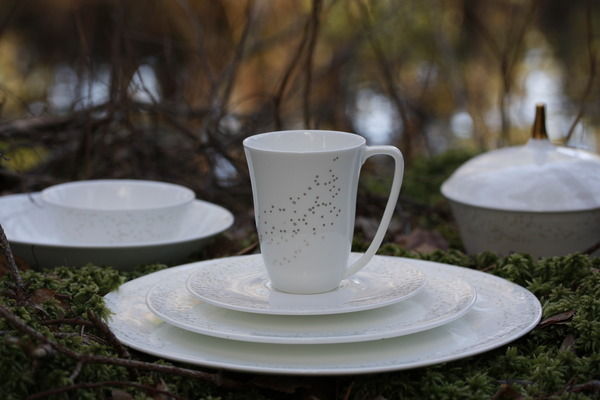 The exhibition will be taking place at stand G40 at 100% Design, Earl's Court, from 23rd-26th September 2010. You can find out more about 100% Norway at www.norway.org.uk.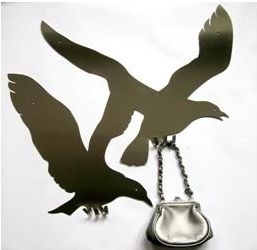 Add a touch of nature to your storage with these Bird of Prey coat hooks from Beetroot. From £40
Where to hang my coats is a constant problem for me.
A long but ridiculously narrow hallway means I can't squeeze in a traditional coat stand and believe me I've measured most of them going.
At the moment, a failure to reach an agreement with him indoors about what to do, means coats languish on the sofa in the dining room (the fact we have a sofa in our dining room makes us sound posher than we are - there was simply nowhere else for it) which is, to say the least, annoying.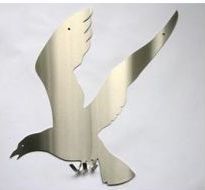 However, I think i have solved our coat storage quandry courtesy of Beetroot. While having a nose around the site, all in the interest of bringing you the latest up to date interiors you understand, I stumbled across these rather fabulous Bird of Prey coat hooks.
Crafted from steel, they depict birds of prey in flight and also have a rather handy hook. Available in a matt and polished finish, they come as either single or double options.
Absolutely perfect for those short on space, they make a great alternative to boring, plan hooks.
See this product at Beetroot...
(We don't sell this product yet but sign up to our newsletter and we'll let you know if/when we do)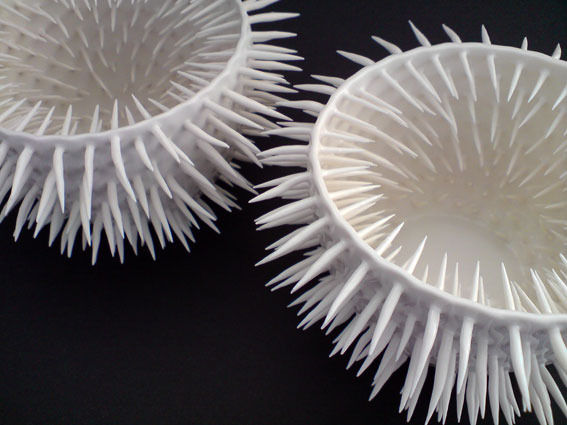 Sneak a peak at what's on show at TENT London.
Taking place at the Truman Brewery on Brick Lane, TENT London plays host to the best of contemporary and vintage design, digital innovation, architecture and interiors from established and emerging design studios and suppliers. With a global exhibitor list and an international audience, TENT London is a diverse and vibrant showcase of forward-thinking design across all disciplines. Competitions run throughout the event and there are five separate shows to explore, communicating a real sense of excitement around design. This year sees TENT expand its digital design show, launched in 2009, and present Origin: The London Craft Fair for the Crafts Council at Old Spitalfields Market. TENT enables exhibitors to trade in one-off orders meaning that you'll have the opportunity to buy new and unique pieces direct from the designers.
Here's what you've got to look forward to…
Tent London is the hub of the event, showcasing cutting-edge contemporary design with a rich multi-disciplinary mix of furniture and lighting, ceramics and textiles, materials, accessories and more. It's a chance for both established and up-and-coming designers to launch new products, sell to the public and secure commissions. Expect to see an inspiring array of lighting, furniture and interior accessories from newcomers Kitty & Dude, Paola Lenti, Moore Designs, Lizzy Mary Cullen, The Modern Garden Company and Curiousa & Curiousa. Also working on new designs are Ercol, Miller Goodman, Mini Moderns, Zoe Murphy, Ikuko Iwamoto, Kyungwon Kim and Jon Male who will be returning with new and impressive exhibits.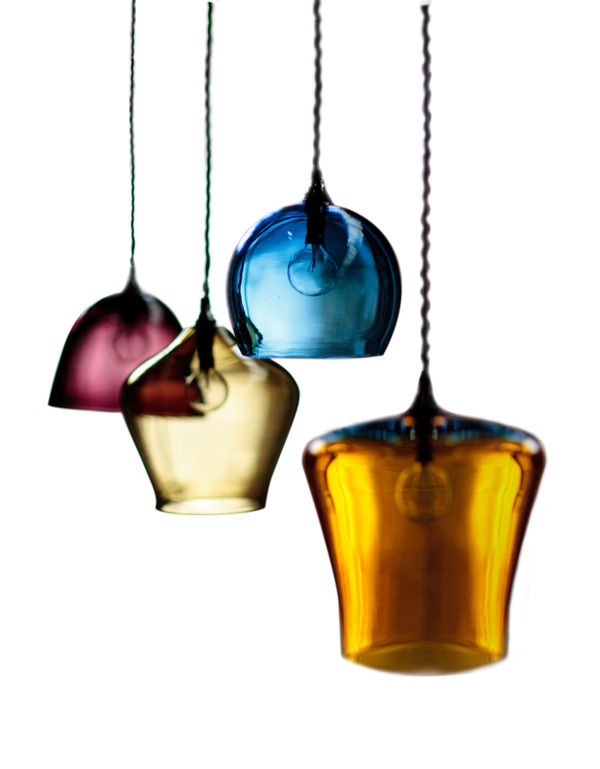 Tent Digital is the only annual showcase for digital creatives and digitally enabled design during the London Design Festival. Launched last year, it was immediately tipped as the highlight of the Festival. Exhibitors are sourced globally within the interaction design and augmented reality industries. Described in 2009 as containing all the best bits of the Science Museum this is the playground at TENT. Work on display is thoroughly interactive, engaging and responding to visitors in beautiful, surprising and entertaining ways. With the increasing integration and intervention of technology in daily life, this is one of the fastest growing and innovative design disciplines. Digital designers and companies will show curious visitors a glimpse of the future with interactive installations and a programme of talks.
Tent Selects showcases the next generation of world-class designers, hand picked by the Tent Selects panel. The panel is seeking out the most promising design graduates from the class of 2010 in UK and abroad. The show will include the best examples of emerging talent in furniture, ceramics, textiles, graphics, jewellery and product design. The aim is to provide the next generation of designers with a platform to raise their profile and gain access to industry and media contacts. The closing date for applications to exhibit is August 10th and we'll let you know the lucky few to be chosen.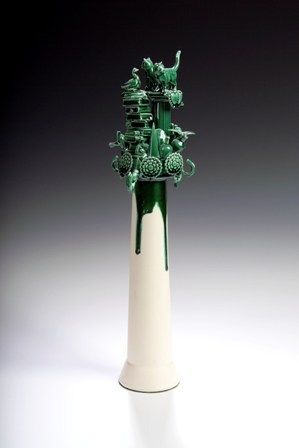 Circa proves that good design is timeless. This biannual show features iconic designs alongside little known investment items and rare pieces of design history. This year Circa presents a refined selection of dealers who are specialists in a particular era or type of vintage furniture, lighting, accessories or art. It's a fantastic opportunity to buy design icons and hidden gems, chat to knowledgeable dealers and celebrate the best of vintage style.
Origin: The London Craft Fair will hosted by TENT for the first time this year. Previously held at Somerset House, the Crafts Council exhibition is an annual showcase of original contemporary craft, this year bringing together 220 of the most innovative makers from the UK and abroad. Located in the newly refurbished Old Spitalfields Market (23 -29 September), Origin offers a rare opportunity to buy directly from the makers. With the new timing and new location, it's great to see craft gaining a greater presence at the London Design Festival.
It's a rare thing for a design show to bring together both contemporary and vintage pieces, digital technology and traditional craft in one place. It makes for a fantastic atmosphere and an absolute must-see event.
We look at the various ways you should prepare your home for the colder and darker months in style.
While we're still hoping that our English summer lasts for as long as it can autumn is slowly approaching, so it's a great idea to get your house prepared for the colder weather and drearier days. Miserable weather can lower your mood, however with rich tones and luxurious textures you can feel warm and cosy in your home.
Try introducing oranges, reds, yellows, browns and purples into your interior as these autumn shades that will bring warmth and richness to colder rooms.
Storage
As autumn approaches, it's time to start getting autumn accessories out of storage. Start by giving your heavy curtains an airing and cleaning your bedspreads and blankets. Store your summer accessories such as lighter duvets and throws in ottomans or chests, to keep your home organised in a stylish way. The Velvet chesterfield ottoman from The French Bedroom Company gives a warm texture and a luxurious look to your bedroom. While Lombok's Canton black lacquer blanket chest and the Kigoma trunk from The Holding Company are both smart solutions to long term storage and come in a variety a sizes and styles to suit both traditional or contemporary schemes.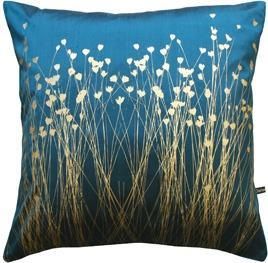 Soft furnishings
You can't deny that changing over to your warmer, heavier weight duvet doesn't bring a comforting feeling inside, knowing that you can snuggle up and retreat under the covers as the colder nights draw in. Also, swap your lightweight throws for heavier ones made from chenille, wool, faux fur or cashmere for ultimate luxury. Throws have a versatile quality which allows you to use them on your bed or your furniture, or even as a blanket; they are available in any colour to match your style, and why not try combining throws of different textures and shade to layer your look.
If you have natural wooden flooring it can feel cold underfoot, adding a rug to create a warm feeling and cosy appearance. Try the Kemal beige rug from Puji or the 100% pure wool Artic rugs from Rockett St George.
My favourite piece to provide comfort and warmth at any time would have to be the Ivory Sheepskin bean bag from Heal's. Its ivory colour will match any scheme and its sumptuous soft and fluffy texture makes it the perfect treat for your home.
Window Treatments
Poorly dressed windows can allow cold air in and warm air out so make sure you choose your window treatments carefully. Swap your lightweight curtains for heavier fabric ones such as velvets or rich damasks or try layering lighter fabrics with blinds for a dramatic look. Use thermal linings to help eliminate draughts and save you some money on your heating bill; if you have a particularly cold room you can also add an interlining made from 100% cotton which makes your curtains look fuller and more lavish. For natural, made to measure curtains and blinds try www.naturalcurtaincompany.co.uk.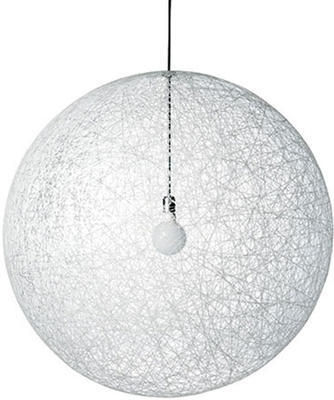 Accessories
This is the time of year when you can go overboard with cushions, and you can mix and match to give a playful and colourful look that will liven up your room. With turquoise, Pantone's colour of 2010, you can add metallic shades to bring an opulent look; this look is achieved on Clarissa Hulse's Grassflowers hand-printed silk cushion from Heal's. The useful yet cute Stripe Doggy draught excluder from Graham and Green made from blue stripe cotton with a wool tail, will keep the warmth in your room and keep draught at bay.
Lighting
With the days and sunlight hours getting shorter you will want to make the most of the natural light in your rooms; try hanging mirrors opposite a window to reflect the light throughout a space. The rectangular Venetian mirror from Sweet Pea & Willow has eye-catching detail, and would look stunning in a living or dining area, or a bedroom to create the illusion of more light and space. For extra light, invest in some pendant lighting which is more atmospheric and aesthetically pleasing than ceiling mounted lighting. Pendants look great as decorative pieces hanging singularly for task lighting, or they can work well when placed in a row above a dining table. Decorate tables and fireplaces with candles to create a relaxing and welcoming ambience that is perfect for evenings spent at home.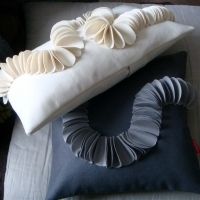 Cosy up and get ready for autumn with these gorgeous cushions from Cushlab. £75
Cushions are my absolute passion when it comes to interiors.
Show me a cushion and I'll find somewhere to put it and much like handbags, I have a new favourite every week.
Sometimes it's plain ones, sometimes patterned, sometimes designer, sometimes highstreet.
The fact is, that I just adore them.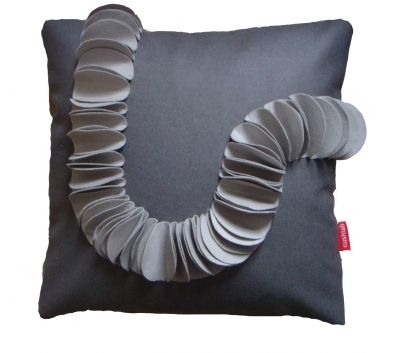 So it'll come as no surprise to you that Cushlab is my kind of website.
Home to cushions designed by Rebecca Barton, Cushlab is to me what Louis Vuitton's new "maison" is to a couture addict.
I could have shown you all Rebecca's cushions but that would be a bit slly seeing though you can log on and have a peek yourself, which meant I had to choose my favourites.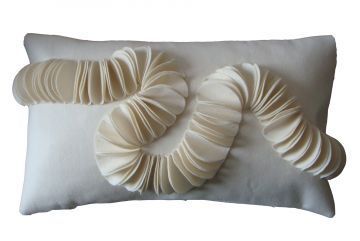 This was no mean feat but in the end I managed to whittle it down to these Chain Circle designs. Available in Cream and Grey, these intricate cushions are perfect for adding texture to any room. I can't wait to get them in my home ready for autumn.
See this product at Cushlab...
(We don't list this product yet but sign up to our newsletter and we'll let you know if/when we do)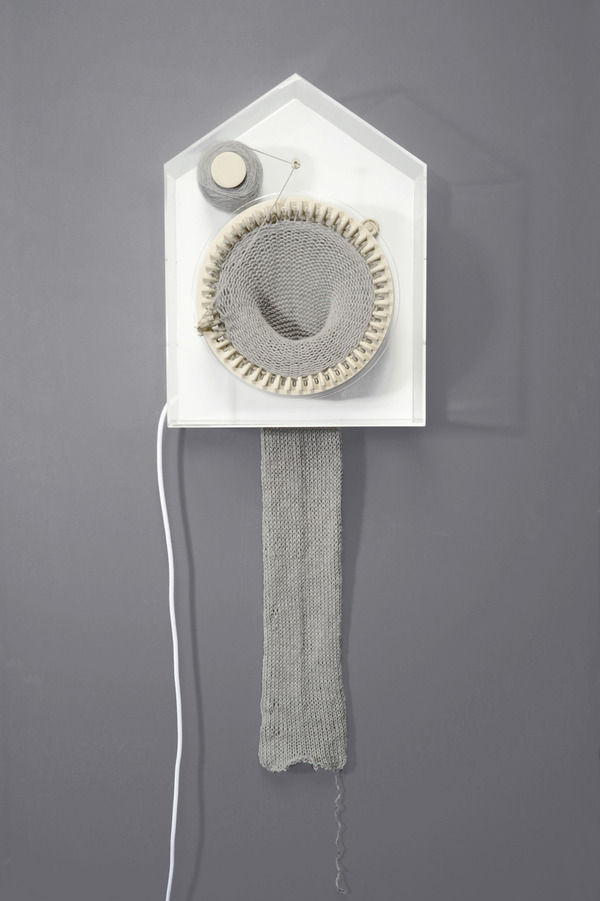 Designers take on the knitting machine.
We're used to seeing time divided up neatly on diary pages and calendars, and attributing the convenient labels of past, present and future. But time marches on regardless: the future becomes present the present becomes past, and time becomes indefinable. Intangible and beyond our grasp, time is essentially an abstract concept: the invisible fourth dimension.
German designer Siren Elise Wilhelmsen's knitting clock, '365', gives materiality to this invisible presence. The passage of time is translated in the lengthening of knitted fabric. Shaped like a house, evoking traditional German cuckoo clocks, 365 holds a circular knitting machine with 48 needles, a thread spool, a thread holder and a ball of alpaca wool. Moving in a clockwise direction, each needle denotes half an hour, and one round of knitting is completed in a day. Rolls of 'more time' yarn last for a year, by the end of which the clock has created a two metre long knitted scarf. Presenting the knitting clock, Wilhelmsen was one of six graduates from the Berlin University of the Arts (UdK) who showcased their work at DMY International Design Festival in June this year. 365 will be on show at 100% Design London in September.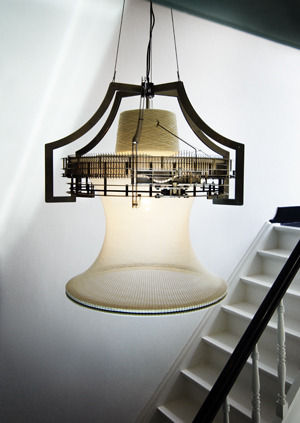 Mimicking organic growth over time, like the lengthening of human hair, Wilhelmsen's clock is reminiscent of another innovative take on the knitting machine by Dutch designer Nadine Sterk. Sterk's Sleeping Beauty is a mechanical lamp that 'grows' like a plant in the light. And just like a living organism, the lamp is equipped with all it needs to develop. Switch on the bulb and it begins knitting slowly around the light to create its own shade, pausing only when the light is turned off. The bulb generates enough energy to keep the knitting machine moving, at a rate of two rows an hour. Nadine Sterk exhibited Sleeping Beauty at Dutch Design Week's Graduation Galleries in 2006.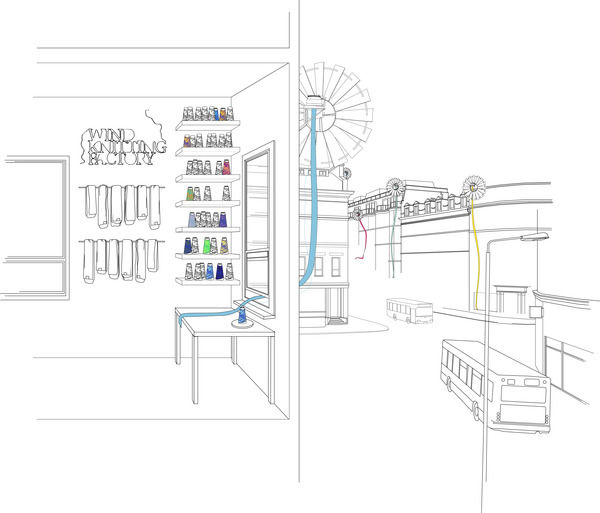 Animating space, both these beguiling objects have a Willie Wonker appeal to them and a surreal presence in the home. Exhibited at the Royal College of Art graduate show in 2009, London-based Dutch designer Merel Karhof's Wind Knitting Factory seems to epitomise this gonzo style of thinking. Connected to a wind turbine attached to a building like a satellite dish, the circular machine knits from the outside of the building through the window, powered by the wind. The knitted material is harvested from time to time and rounded-off into individually packaged scarves. Each scarf has its own label documenting how much 'time' has been knitted into it and on which date. The Wind Knitting Factory was installed at THEKEY.TO, an international event celebrating green fashion, lifestyle and culture, during Berlin Fashion Week earlier this month.
All these designs use knitting to give a physical presence to the passage of time. Time is no longer lost, but captured in the knitted creations. These designs speak to a modern desire for more time, and a tendency to regret its passing. Siren Elise Wilhelmsen's contention that time is something that unites us all, probably goes some way to explain why these knitting automata are so captivating.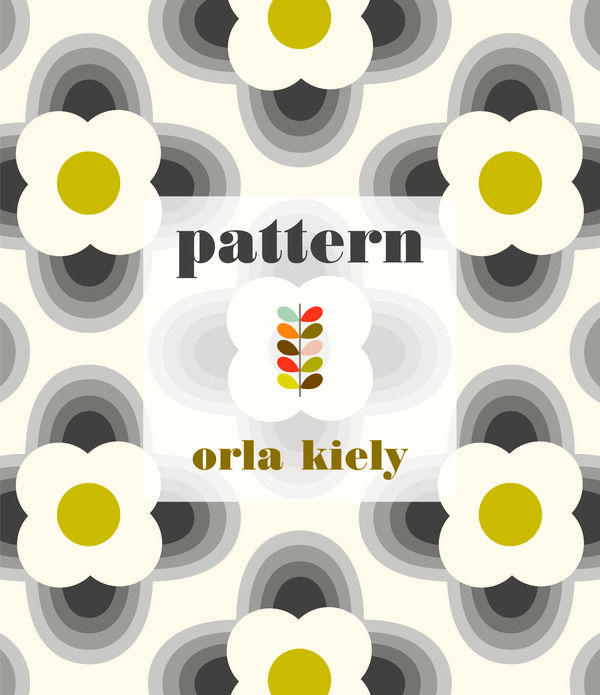 Giving a personal account of what informs and inspires her work; Orla Kiely delves into the world of pattern and explores colours, print, texture and form.
In her first book, Orla Kiely explores the one thing that has informed and inspired her work: pattern. For everyone who has fallen in love with her unique designs, this is the perfect chance to enjoy an insight into her creative process.
'Pattern' is, in a sense, a gift to her followers; she gives a personal account into how pattern has had such a huge effect on her designs across all the mediums she works in: fashion, design, textiles and interiors. Inside, her knowledge of how pattern transforms objects fills the pages, and she looks at the impact of scale and proportion, rhythm and texture, and dimension of colour.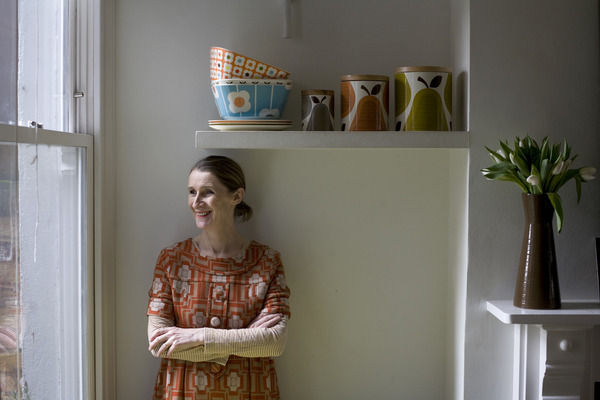 Orla Kiely's creative passion flows throughout the book: "Pattern is not a trend for me, to be taken up one minute and abandoned the next when the winds of fashion change. Pattern is in me. Pattern is my life." Her words are embellished with beautiful illustrated examples, and she provides her readers with a friendly guide to using pattern with finesse and confidence. The book is spilt into six chapters, one being centred on 'Home' which concentrates on decorating and furnishing your home, with advice from Orla on how to bring out your personality in your interior design.
'Pattern' by Orla Kiely is published by Conran Octopus, and will be available to buy from 6th September 2010. (Hardback, £25) It will also be available to buy from Amazon.
You can also find out more about Orla Kiely and her designs on her website at www.orlakiely.com.
Sneak a peek at what's on show at 100% Design.
100% Design London represents the best of contemporary interior design and architecture in the UK and internationally. Held over four days at Earls Court Arena, the event features world-renowned interiors show, 100% Design; architectural and interior materials exhibition, 100% Materials; and a showcase of emerging design talent, 100% Futures.
100% Design
Celebrating its 16th birthday this year, 100% Design is well established as a key event in the international design calendar; attracting architects, interior designers and industry insiders as the place to meet innovative suppliers and source new products. Showcasing the finest in contemporary design, the exhibition spans furniture, lighting and textiles, to kitchens, bathrooms, and interior fixtures and fittings. 100% Design is acknowledged industry-wide as the place to unveil new products and the rigorous selection process ensures that only original designs are exhibited. It's a unique opportunity to explore and experience the cream of the crop, offering a one-stop-shop for industry professionals and design lovers alike. British design will be represented by such celebrated companies as Race Furniture, with new and classic pieces from the Ernest Race Festival of Britain portfolio; Anne Kyrro Quinn celebrating ten years at the show; and Gray Concrete with concrete wallpaper as seen in Manolo Blahnik's Dublin store. This year sees an increase in international pavilions with individual and group deputations from Austria, Argentina, Belgium, Czech Republic, Italy, Japan, Latvia, Norway, Spain and more. Once again, 100% Design is hosting the prestigious Blue Print Design Awards. Awards include Best New Product, Best Exhibition Design, Most Promising Talent and Best Use of Materials; judged by industry insiders, the winners will be announced on September 23rd.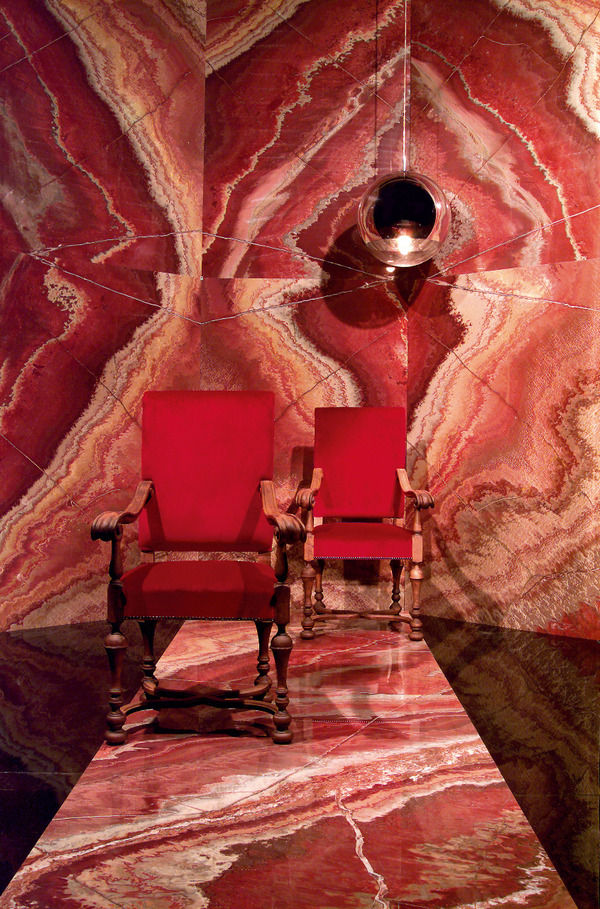 100% Materials
Significantly expanded this year, 100% Materials offers a dedicated platform for suppliers specialising in materials innovation and a source for architects and interior designers. Along with over 350 exhibitors, hand-picked for their creativity and originality, this year's show features an inspirational seminar programme curated by Mix Magazine. Exploring the interaction of technology, design and wellbeing, the aim of the programme is to discover new ways to improve urban spaces and interiors, taking nature and ecology as inspiration. The programme includes speakers from Architects of Humanity, Pocket Habitat and Stylgraph, with discussions around innovative new materials, processes and colour trends. As part of the colour consultancy Global Color Research, Mix Magazine will introduce the latest colour trend predictions for Autumn/Winter 2011/12, and reveal how these global trends can be adapted to different environments. Sustainability is the watchword this year, with exhibitors showcasing experimental surfaces and creative applications for natural, composite and recycled materials. As well as new product launches, expect to see live experiments from Chris Lefteri's materials laboratory.
100% Futures
100% Design London continues to support young designers through 100% Futures, now in its fourth year. Showcasing the best emerging talent from the UK and internationally, 100% Futures promises to be a feast for design hungry visitors. For exhibitors, it's a not-to-be-missed opportunity to meet influential manufacturers, retailers, architects and interior designers. Highlights this year include Norwegian designer-maker Beate Einen's bespoke glass lighting and sculptural one-of a kind vessels; London-based design collective Print, Tuft & Fold's exuberant textiles; and Nottingham newcomer, Porcellana & Duomo's evocative porcelain wall panels. Print, Tuft & Fold is also producing a collection of 18 seating cubes for the main entrance at Earls Court, including an array of kaleidoscopic-inspired carpet cubes, graphic digitally printed cityscape cubes and tactile pleated fabric cubes. Joining 55 others at 100% Futures is James Michael Shaw, winner of this year's New Designers 100% Design Award. His prize is a 9sqm stand at the event and judging by previous winners, it's certain to be a must-see. Shaw's work maintains the delicate balance of form and function, finding beauty in simplicity. Judges were impressed by the 'strong use of industrial materials', describing his designs as 'original and utilitarian'.
Open to the public on Sunday 26th, 100% Design London is a fantastic place to pick up ideas, meet designers and soak up some style.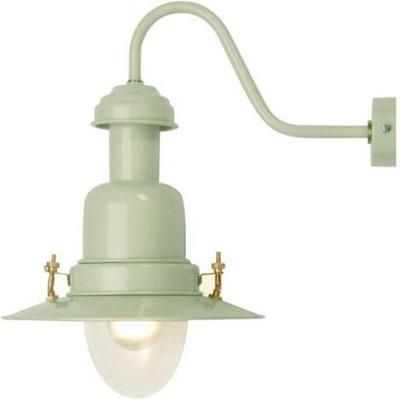 Add some light to your outdoor space with this Apple Green Fishing Light from The Contemporary Home. Was £59.99 Now £49.99
I've lived in the same flat for eight years this November and every year, on dark, winter evenings, I spend ages trying to get my key in the door (sometimes a little worse for wear I admit) all because I don't have an outside light.
This year that's all going to change because I have decided it's time to invest in an outside light - not least to avoid strange looks from the neighbours as I try and unlock the door with my phone.
Top of my list list is this Apple Green Fishing Light from The Contemporary Home.
Elegant and understated, it looks great and of course will illuminate even the darkest of entrances.
So, if like me, you're fed up of stumbling and fumbling, I suggest you invest in one too.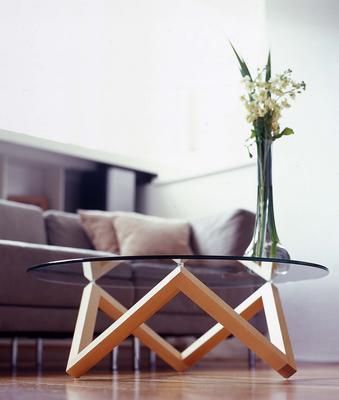 Make a bold statement with this Tempo Fallen Cube coffee table from Tom Schneider. Was £735 Now £624.75
When I was on the hunt for a new coffee table a few years ago, it was to say the least a rather draining experience.
They were either too tall or too short, too big or too small, just the look I was after but cost the same as a luxury holiday or just not right.
I now realise my first port of call should have been Tom Schneider - it certainly would have saved a lot of hassle.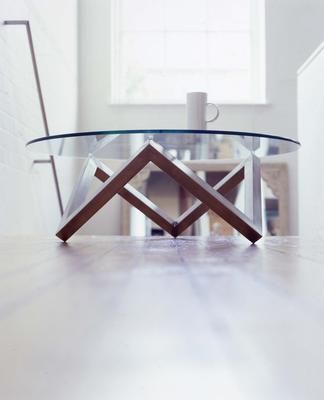 This Tempo Fallen Cube coffee table is a prime example of Tom's furniture. Elegant yet edgy, bold yet understated, it's simply divine.
I adore the angular legs and glass top which combine to make a very stylish piece of furniture.
The legs are also available in a variety of materials including Cherry, Walnut and Oak and a rather sophisticated brushed stainless steel.
And with over £100 off, it's a bit of a bargain too.
Brighten up a sofa or chair with these Morris Minor cushions from Rosa Blue. £10
I have a thing about Morris Minors; whenever I see one I squeal with delight. There's just something about them that I adore.
So much so I even thing I would buy one that didn't go just so I could admire its beauty on my drive. Ok, so maybe that's taking it a little too far.
As a consolation prize, I will settle for one of these retro-influenced cushions from Rosa Blue. Available in Red or Blue, these cute cushions are perfect for adding a retro twist and some colour to a sofa or chair.
See this product at Rosa Blue...
(We don't list this product yet but sign up to our newsletter and we'll let you know if/when we do)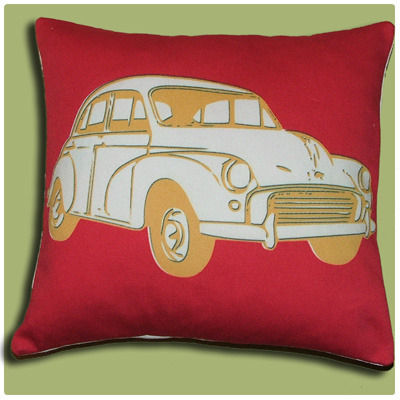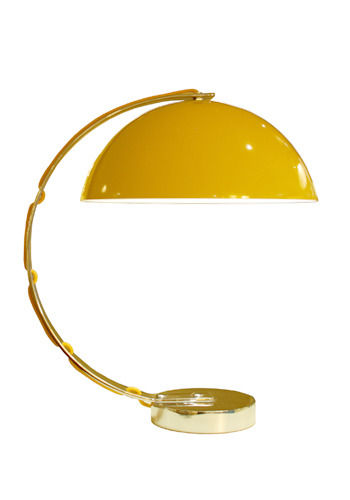 We turn the spotlight on Original BTC to learn more about their collection of lighting.
Design luminary, Peter Bowles, founded Original BTC in 1990, upon his knowledge of retail, manufacturing and design that has come from the depths of his family history. Peter's designs are a collaboration of original and classic pieces which have been inspired by traditional factory fittings, childhood toys and iconic 1940's design. Entirely manufactured in the UK, Original BTC lighting is hand-assembled in Oxford from the finest chrome, aluminium and bone china.
First and foremost, at Original BTC quality of style and design naturally coincides with producing sustainable and practical lighting in order to give the best result. The company is renowned for its relaxed lighting that is suitable for either contemporary or traditional homes. Creating the perfect ambience is essential and Original BTC use precision in detailing and a mix of materials to achieve this; metallic painted, glass or china shades are paired with polished satin or chrome bases. Peter claims that his aim was "to design and produce lights that you are instantly at home with, that will fit easily and comfortably for many years to come."
The stylish collection covers all your lighting needs with wall and floor lamps sitting alongside table and pendant lights. From bone china, metal and prismatic glass, there are so many fabulous designs to choose from that offer both style and versatility. The influence behind the designs comes from the clean lines of traditional factory fittings and the versatility of mid-century style. Over 70% of the company's lighting is exported worldwide, and widely recognised by acclaimed French designer Andrée Putman, John Pawson and Terence Conran. Also, you will find Original BTC products lighting up the likes of Gordon Ramsey's Maze Grill restaurant in London, and making us say 'Oh là là' about Paris' new concept store, Merci. Their lighting is being used in these well known places because it has a classic style that draws attention.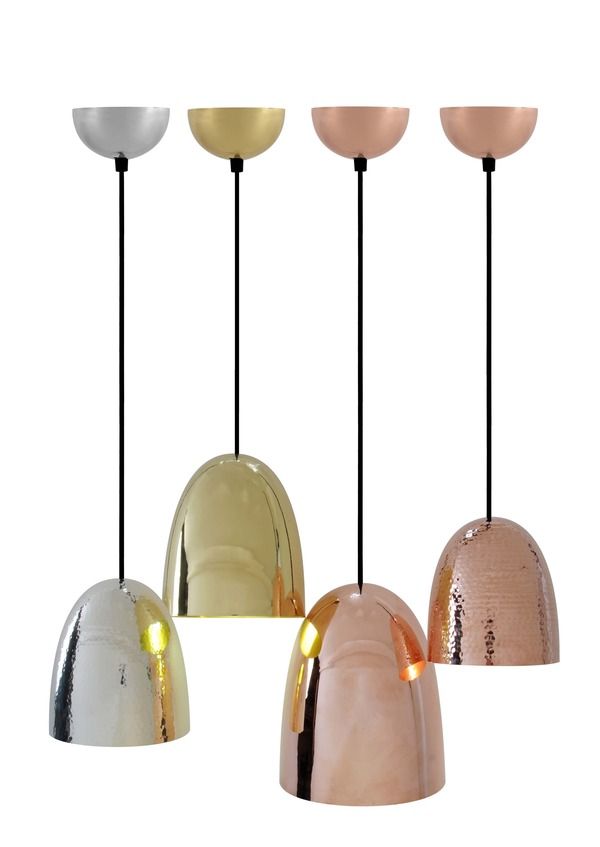 New for Spring/Summer 2010, the retro-inspired London desk light, designed by Charles Bowles (the son of Founder, Peter Bowles), epitomises modern design with its simple clean lines. It has a spun aluminium semi-sphere shade, solid chrome base and a matching cotton braided flex to give it a tailored finish. The London is available in black, putty grey and yellow to suit any sophisticated study, and its intriguing shape looks great from all angles. Original BTC have also released a new limited edition task light known as 'Jack'; this is made to order and features a hand-painted British flag featuring the iconic patriotic colours of red, white and blue.
The Stanley Range includes three sizes of pendants which are available in solid copper, solid brass, or nickel plate. Made to order, you can choose a hammered or smooth reflective finish, and they give a spectacular look when grouped together or you can mix metals for a contemporary and interesting appeal. These provide a stunning effect because their narrow cylindrical shape creates a spotlight over a feature, or they simply be used as decorative pieces. The Stanley range was launched in September 2009 along with the Cosmo pendants and table lights, available in ribbed prismatic glass shades, which sparkle and refract light to create beautiful shadow play on the polished chrome bases.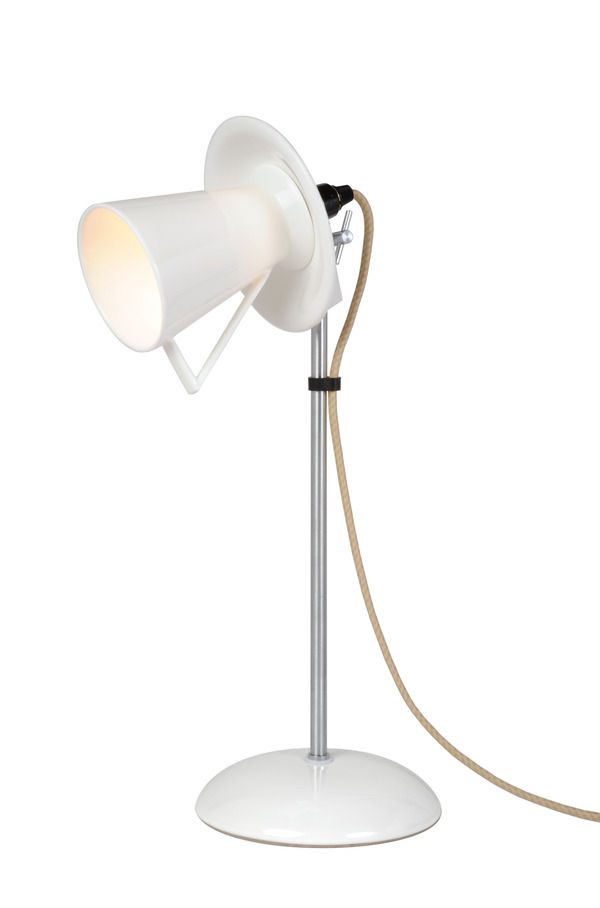 My favourite is 'The Tea Range' for its fanciful tea cup and tea pot shaped pendants and table lights which are inspired by 1930's tableware. They are ideally suited to dining rooms or kitchens to create an imaginative style that takes traditional pieces of tableware, and evolves them into fantastical designs. Staying true to their original design, they are made from bone china like a fine English tea set, giving them a delicate appeal.
So, here is yet another example of how British manufacturing is building and increasing in popularity to support the economy. Original BTC is founded on values that encourage British-made products and designs; in fact Peter Bowles strongly believes in producing excellent quality and good value designs and takes pride in the fact that they are manufactured in the UK.
Original BTC will be exhibiting at 100% Design in London, Sept 23rd-26th 2010. For the complete range of Original BTC lighting, visit www.originalbtc.com, and for more information tel: 0207 351 2130.