It's our Interior Design Magazine!
The hottest interior design ideas, fab finds for the home and the latest in interiors trends. We're always looking for new finds, designers to feature or anything else lovely for the home, so if you've seen something gorgeous and would like it featured in our interior design magazine, please get in touch!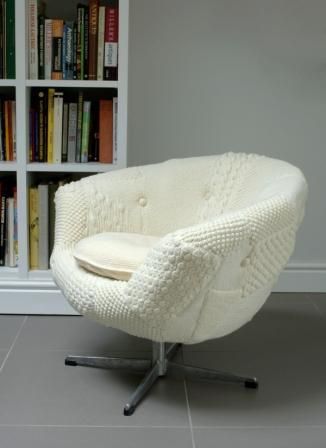 Feel cocooned in warmth with this knitted Bob chair from Melanie Porter. From £2,000
I love it when people reinvent furniture, turning something old into something new – their creativity usually astounds me.
Probably because I know that if I ever tried to reupholster a chair I'd make a complete hash of it. It certainly wouldn't look like Bob by Melanie Porter that's for sure.
Bob is my new favourite chair. Having started off life as a 1960s egg chair, he's been lovingly restored and covered in a hand knitted patchwork design.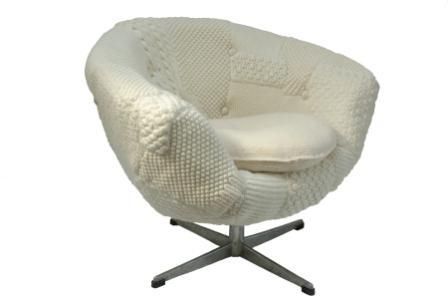 Perfect for cosying up in for autumn, Bob will work well in a living room or bedroom and is a great piece of statement furniture.
See this product at Melanie Porter...
(We don't list this product yet but sign up to our newsletter and we'll let you know if/when we do)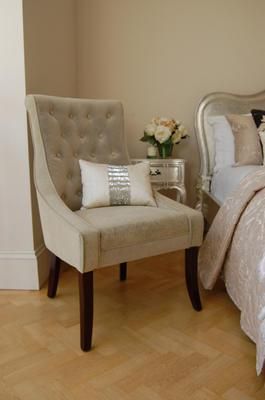 Add some comfort to a vintage style boudoir with this Claremont Button Back Armchair from Sweetpea & Willow. £250.
I have always thought that having an armchair in your bedroom is the height of luxury.
First off it means you must have a fairly large space in order to accommodate one and secondly presumably means you have time to lounge around in your bedroom. Nice work if you can get it!
Unfortunately for me, I have neither space or time but if I did, then you can bet your bottom dollar that I would love to get my hands on the Claremont Button Back Armchair from Sweetpea & Willow.
I love the elegant shape and velvet upholstery and of course as regular readers will know, I can't resist a button back when it comes to chairs.
So, go on and create your glamorous boudoir.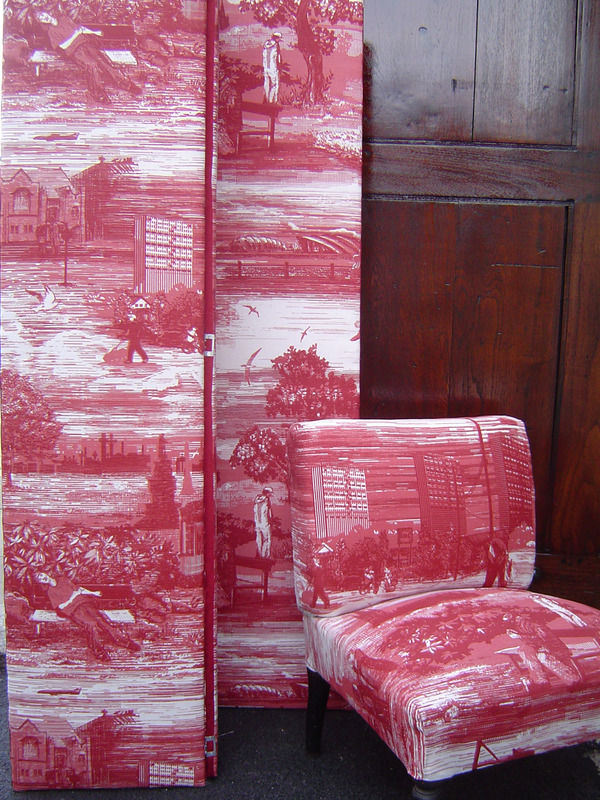 Our hot picks from the world of fabrics.
We've been rummaging around in the wonderful world of fabrics to bring you the latest news from established brands and emerging talent.
Founded in Glasgow, and once described as 'William Morris on acid', the design studio Timorous Beasties has developed an iconoclastic style, printing surreal and provocative imagery on traditional textiles and wallpaper. Timorous Beasties are experimental in approach to both hand-printing methods and machine production. This innovative approach is reflected in an evolving aesthetic: from early surrealistic and distorted naturalistic images of insects, plants and fish, to a new graphic style which explores social and political themes. The Glasgow Toile, featured in the recent Quilts exhibition at the V&A museum, epitomises this uncompromisingly contemporary graphic style. At first glance it looks like one of the bucolic pastoral vistas depicted on 18th century Toile de Jouy textiles, but closer inspection reveals a nightmarish vision of contemporary Glasgow, in which addicts, prostitutes and the homeless are depicted against a threatening backdrop of decaying tower blocks and scavenging seagulls. Other fabrics for 2010 include the ethereal Lace collection, which has a hint of Miss Havisham about it, and the Digital collection, a development of Timorous Beasties trademark naturalistic imagery, with fabrics depicting moths, insects, amphibians and plant forms. Naturalistic, lace fretwork, damask and Toile de Jouy imagery is repeated across the Velvet, Linen and Woven fabric collections.
Since launching her wallpaper collection in 2009, illustrator and surface pattern designer Abigail Borg has received a clutch of industry awards. Influenced by traditional pattern design, particularly that of William Morris and the Arts and Crafts movement, Abigail combines a timeless approach to drawing and pattern design with the latest in digital printing methods and a passion for vibrant colour. Her striking, vintage-inspired floral prints, rendered in a series of luscious colourways, now feature in the recently launched fabric collection. Available by the metre as well as hand finished feather-filled cushions; it's a beguiling collection of bold English country-garden prints and vivid, saturated colour, achieved through digital printing. Perfect for curtains and upholstery, the dramatic colour ways and graphic style give the collection a contemporary edge, offering vintage-inspired design for a modern setting. Our favourites are the Polka Polka fabric, depicting hydrangeas and red-hot pokers in white, duck egg blue, pea green, and shades of pink on black ground; and the soon to be released Peonie Fox, featuring peonies and foxgloves in white, pink and pea green on a pale turquoise ground. We'll be interviewing Abigail soon, so watch this space.
Designers Guild is a well-established brand with a well-deserved position in the world of interiors, consistently offering original, stylish and liveable fabric and wallpaper collections in coordinating colourways and patterns. Designers Guild does colour exceptionally well, with new combinations each season and its own line of complementary paints. Textiles range from the block-coloured Essentials collections, containing over 2000 plain and textured fabrics, through contemporary and vintage-inspired florals, to architectural patterns and graphic geometric motifs. We love the striking hexagonal repeat pattern on the Leopold fabric (2010 Darly collection) and the fretwork, interlocking motif on the Rheinsburg fabric (2010 Pavilion collection). These dynamic geometric prints are accompanied by nostalgic florals and flowing arabesques in complementary colourways. The Designers Guild furniture range, encompassing both contemporary and vintage-inspired designs, is available to be upholstered in any Designers Guild fabric. And as well as fabrics by the metre, Designers Guild has a fantastic range of cushions, bed linen and blankets, throws and table linen. Rugs feature oversized patterns and motifs taken from the wallpaper and fabric collections. Designers Guild is a distributor of The Royal Collection, inspired by the interiors of Buckingham Palace and Windsor Castle; the Ralph Lauren Home fabric and wallpaper collections; and William Yeoward's luxurious fabric and wallpaper ranges.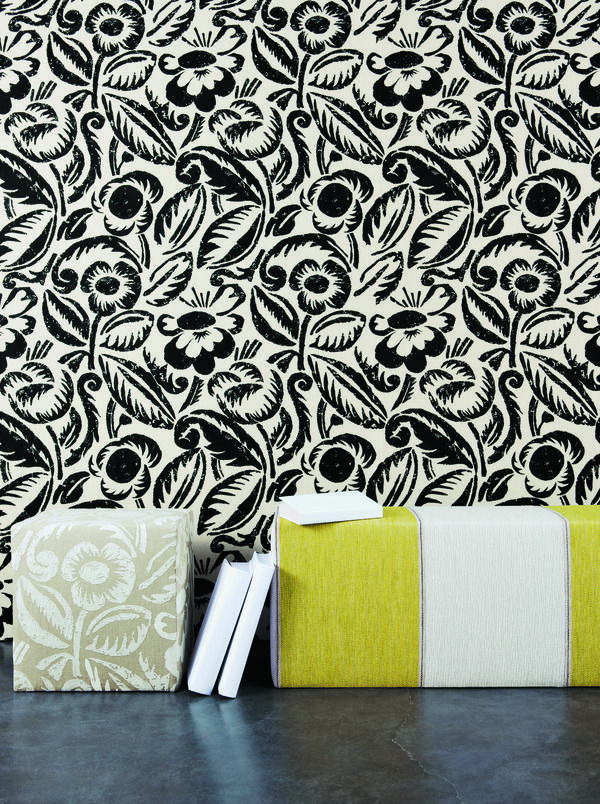 Part of the Colefax Group (of Colefax & Fowler fame), Manuel Canovas is a Parisian design studio producing sumptuous and stylish wallpapers and complementary fabrics. The Millennium collection follows a seafaring and naturalistic theme, with twiggy coral fronds, oriental koi carp, fluid plant forms, seashells and stripes, adorning linens, cottons and velvets. New collections for 2010 include a series of fabulous French toile patterns in contemporary colourways such as orange and grey, dark brown and pale blue, rose pink and graphite. Sophisticated florals, bold stripes and geometric motifs in a distinctive colour palette are featured throughout the new collections. Our favourite new pattern has to be the Vence fabric. Reminiscent of the woodblock textiles produced by Duncan Grant and Vanessa Bell of the Bloomsbury group in the early 20th century, the stylised florals have a hand-printed appearance with the imperfections of the woodblock process adding to the charm of the fabric. Available in black, mauve or ecru, Vence is a stylish fabric choice for upholstery projects and window treatments.
Check back soon for more hot of the press homeware.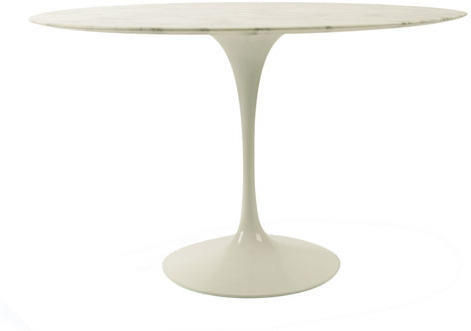 Treat yourself to a design classic with this Knoll Saarinen Tulip Round Dining Table from Utility. Was £5,181 now from £1, 466.60
If, like me, you love design classics, then you probably spend most of your time praying for a lottery win so you can splash out on something from Kartell or Vitra.
However, now and again the fairy godmother of good design will come along and sprinkle a little magic which means you don't need Camelot to come calling.
Utility has lopped money of lots of designer furniture in its summer sale which is great news if you bank manager is being less than understanding about your interiors addiction.
Top of my "I want it now" list is the Knoll Saarinen Round Dining Table.
This design icon combines a beautifully elegant central pedestal with a luxurious yet sleek marble top.
Available in a variety of sizes, Utility has shaved pounds off this gorgeous specimen of design so you can have it in your home.
Go on, you know you want to...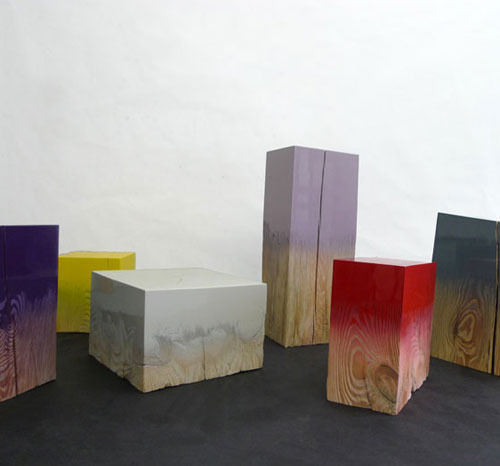 Roll up, roll up, and see who's been added to our blog roll.
With a dedicated group of weekly contributors from the field of art and design, Poppytalk is a Vancouver-based blog founded by husband and wife team, Jan and Earl. It's an online scrapbook of interiors inspiration, craft projects and design innovation, featuring emerging talent as well as established names. It's quite craft-driven and there are regular features on decorating tricks, budget living and creative weekend projects, along with great posts on design, art and architecture. Jan and Earl also curate Poppytalk Handmade, an online monthly exhibition showcasing handmade and vintage goods from around the world. And in another offshoot of the blog, you can follow the progress of Jan and Earl's renovation project: a 70s townhouse in the Pacific Northwest. It's a decorating dream.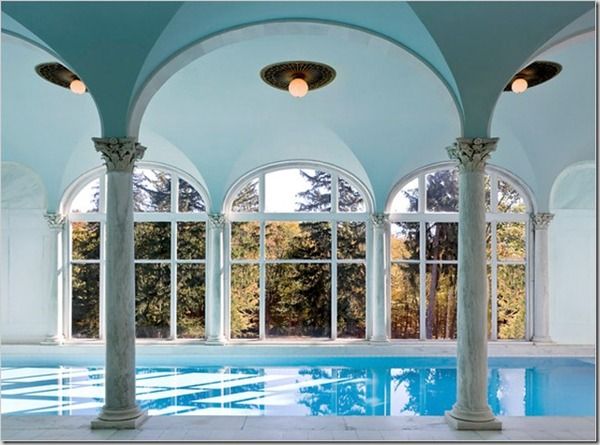 Atlanta-based blog, Things to Inspire is chock full of just that: inspirational finds from the worlds of interior design, architecture and art. I loved this post on Astor Courts, a sprawling estate in Rhinebeck, NY, designed by American architect Stanford White in 1902. If anyone's interested it's also the rumoured location for Chelsea Clinton's impending nuptials. Holly, aka Things to Inspire, shares her eclectic finds and love of beautiful things. She's an industry insider and there's also a section on her favourite architecture and design books. Holly's another blogger with her own online store, Quatrefoil Design, which specialises in sourcing unique items that can't be found elsewhere.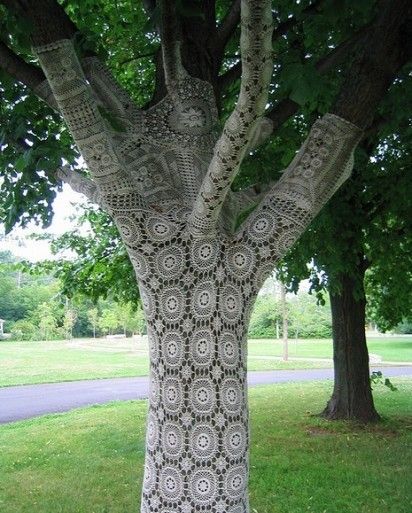 Design for Mankind is the work of Erin Loechner. With an irreverent take on the design industry, and scouring the web daily for fabulous finds, Erin delights in the quirky side of design, featuring the beautiful and the downright bizarre. The layout, typography and graphics are stylishly simple, and each image in the continuous reel is followed by few words and quick links the designer, artist or architect featured. Design for Mankind offers daily inspiration in a effortlessly simple package, allowing you to navigate away to find out more, and with a roundup of everything featured at the end of each week.
Get in touch if you've got a blog of your own and we'll feature it next time.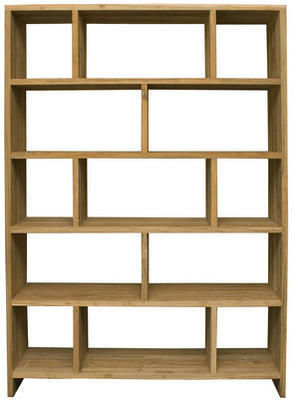 Keep your books in check with this teak bookcase from Puji. Was £995 Now £795
Ah the summer sales, at time to fight with someone you've never met over the last Marc Jacobs handbag in Selfridge's.
Or if you're sensible and don't think turning up to work with a black eye is a good look, you'll stay in the comfort of your own home and check out the fabulous sale offerings on Furnish instead.
We've been perusing our suppliers offerings to highlight some of the best deals around and this Modular bookcase from Puji is just one of them.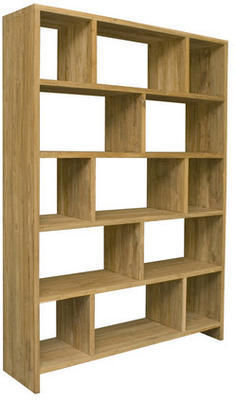 Made from 100% reclaimed teak, this bookcase has plenty of room to hold even the most extensive of libraries.
Or if you're not that well read then use it to display vases and favourite accessories.
And with a rather generous £200 off the original price, you can afford to splash out on more than one.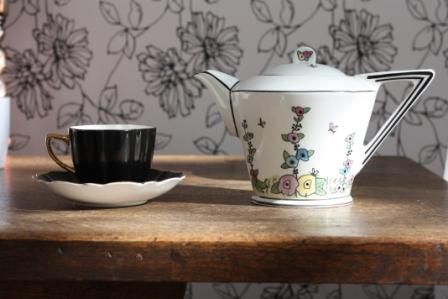 Pretty up afternoon tea with these Flora Dora teapots from Katy Potts. £135
I'm not a massive tea drinker myself, much preferring a cup vat of caramel macchiato to a dainty offering of English Breakfast but I do love teapots and the more vintage-inspired the better which is why I love these Flora Dora teapots from Katy Potts.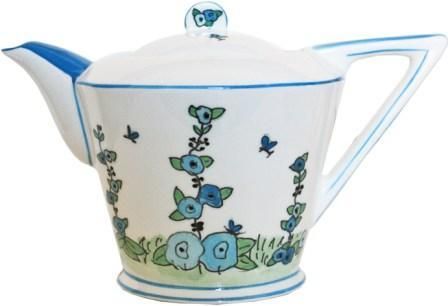 Available in a variety of colours including Black, Blue, Green and Multi they are simply divine. Combining an Art Deco shape with soft floral pattern they really are some of the nicest teapots I've seen in a long time.
But they're not just gorgeous, they're important too as being made in the heart of the potteries in Staffordshire, they're breathing life into a much diminished Industry.
Pretty and important, that equals pretty fabulous to me.
So, while I'm not a fan of Rosie Lee, I am most definitely a fan of these and instead of using them to brew up in, I'll decoratively display them instead.
See this product at Katy Potts...
(We don't list this product yet but sign up to our newsletter and we'll let you know if/when we do)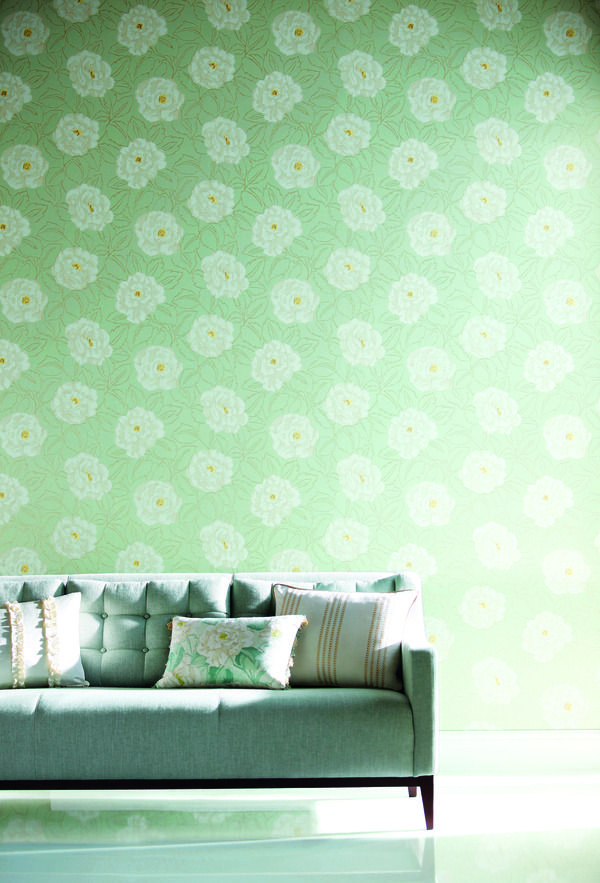 Look no further because we have found out what's new in the world of wallpaper.
We are showcasing the newest wallpapers in interior design and keeping you up-to-date with the hottest trends. With big prints and florals gracing the catwalks, we knew it wouldn't be long before our décors would be blooming with these large, contemporary prints. 2010 is the year for focusing on brighter and more optimistic designs, and wallpaper has certainly earned its right to be back in our homes. Wallpaper is officially back in trend with eco-friendly paper making it a superb choice for all who are aspiring to create a sustainable yet stylish interior.
Dandelion wallpaper (MissPrint)
The 'Dandelion' wallpaper was launched in September 2009, and due to its increasing popularity MissPrint has recently launched two new colourways: Porcelain with powder blue and Mist green with white. The design originates from hand drawn illustrations and it is reminiscent of the fifties with a modern twist featuring wild dandelions. Another new addition is the well-received 'Leaves' design which is available in four colourways, including dove grey with white in a matt/pearlescent finish. It has been made with a high quality woven fabric and the geometric design fits nicely in with the rest of their collection. The whole wallpaper range is PEFC certified, and printed with organic, non-toxic pigment inks which are better for the environment and for our homes.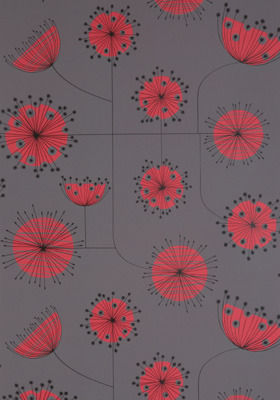 Amilie wallpaper (Harlequin)
'Amilie' is a new wallpaper collection at Harlequin that includes seven designs which have been inspired by beauty of English country gardens and a classic French style. With interior design turning to nature and all things eco-friendly, this wallpaper brings the timeless beauty of floral bouquets into your home and provides a fresh and modern look. The collection offers colourful designs that would lift any colour scheme and create a perfect backdrop; the palette offers vibrant shades of lime and fuchsia, warm metallics and neutrals, and pastel hues to suit your style and offset the mood of your room. The collection captures the beauty and quaintness of a traditional country home but has the elegance and boldness of modern design.
Nabucco wallcoverings (Designers Guild)
The Nabucco collection offers over sixty luxurious designs that are printed to suit any décor. If you are looking for print that is more conservative but sophisticated then you will love the sussex designs that are available in a variety of calm pastel shades, or in noir or platinum for a more dramatic look. The collection includes a modern stripe on the bridgeport designs which have an interesting woven texture effect in tonal shades. With stripes striding out on the catwalks recently this is a great time to introduce them into your interior; try stripes on a feature wall to either help create a feeling of height or simply to add visual interest.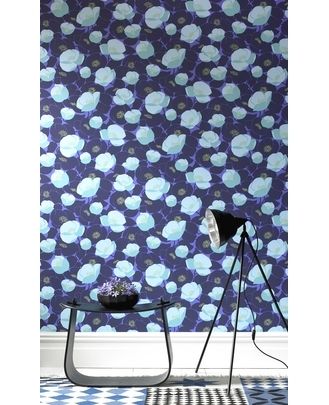 Archive Traditional Collection wallpaper (Cole and Son)
New for Spring 2010, the Archive Traditional Collection wallpaper includes twelve designs that are a selection of familiar and traditional prints. The 'Dorset' is one of the most popular of Coles designs because of its classic and restrained design that is perfect if you want a more traditional and simplistic style for your dining or living area. It comes in off white on warm sand, gold on almost black, gold on earthy red, off white on old white, and gold on duck egg and natural white. Or have a look at the 'Woolverstone Hall' which has been taken from an eighteenth century silk design giving its small-scale damask elegance. It is available in three colourways including warm silver on pales ducks egg, white on champagne lustre, and warm silver on muted navy.
Amy Butler's wallpaper collection (Graham and Brown)
Graham and Brown have released Amy Butler's new and exclusive collection of wallpaper which is very feminine and print-focused. She is best known and loved for her gorgeous fabrics and this collection, her first line of wallpaper, has been highly anticipated and it does not disappoint. The collection includes six colour palettes and six designs, and her signature style shines through in her modern bold prints with predominant floral patterns. She is clearly inspired by nature in English and tropical gardens with such passionate colours and exotic designs. Amy also has a collection of custom wall art which are inspired by her floral and textile designs to liven up your walls with a bold splash of colour.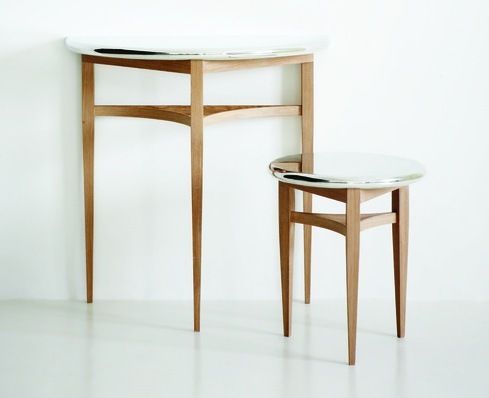 Wondering what's special about suppliers on Furnish? Take a look at Benchmark.
Established by Terence Conran and Sean Sutcliffe in 1984, Benchmark is a design-led manufacturer of bespoke furniture. Producing contemporary classics with sustainability in mind, Benchmark furniture is handmade and built to last. Benchmark was the first furniture maker to receive the Queen's Award for Enterprise in Sustainable Development. The company is founded on a belief in the enduring appeal of good design, celebrating high-quality materials and traditional craftsmanship, while harnessing the latest in modern technology, machinery and tooling.
Excellence in design and a passion for furniture is expressed across the entire collection, which includes the work of well known designers such as Thomas Heatherwick, Russell Pinch and, of course, the indomitable Terence Conran. Alongside these big names are pieces from up-and-coming independent designers, as well as the Benchmark in house team. Supporting young designers, Benchmark also runs an award-winning apprenticeship programme, providing training for the designer-makers of the future.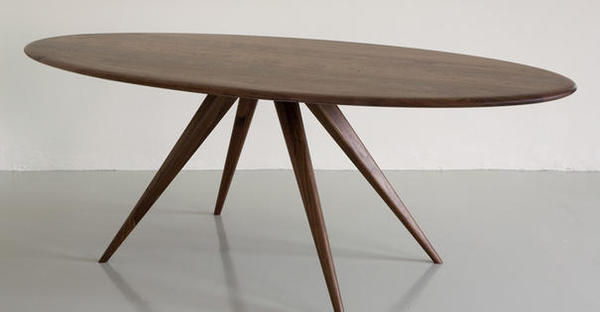 The furniture collection is exclusive to Benchmark and handmade to order from start to finish by highly skilled wood and metalworkers. Benchmark encourages customers to visit its showroom and workshops in West Berkshire to see the furniture being made and provides a personalised service, tailored to meet your specific requirements. Once purchased, each individual piece is marked with a polished pewter disk and registered as an authentic Benchmark original. The disk is individually numbered and you can also choose a personalised inscription of up to 12 characters.
The Benchmark style exudes timeless elegance, simplicity of design, and sophisticated craftsmanship. Innovative contemporary pieces often make reference to the great eras of interior decoration, such as the 1950s-style Emily Console with oblique tapering legs, or the Art Deco-inspired Roman Console with its black lacquered, D-shaped, oak frame and limestone top. The collection pays tribute to the inherent beauty of natural materials, using certified timbers from sustainable sources, as well as stone, leather and metals such as zinc, pewter, copper and bronze. The combination of beautiful materials and expert craftsmanship make this a sensuous collection, both tactile and visually striking. And alongside furniture, Benchmark also produces contemporary lighting such as Partridge & Walmsley's Fingers Crossed wall light with its beguiling counterbalanced pulley system.
To choose a star product from this captivating collection is difficult, but we think the Normandie chairs, designed by Terence Conran, embody the style and spirit of Benchmark. Drawing inspiration from the second class dining chair on the Art Deco cruise liner, the SS Normandie, the chairs are available in a variety of different options, epitomising the bespoke service offered by Benchmark. You can choose between an upholstered or burr oak backrest, and a natural or mocha stained oak frame. The chairs are upholstered in any fabric of your choice and are available with or without armrests. Angular back and armrests are combined with softly tapered legs for an understated look that's also high on style. These elegant chairs will last generations and never go out of fashion.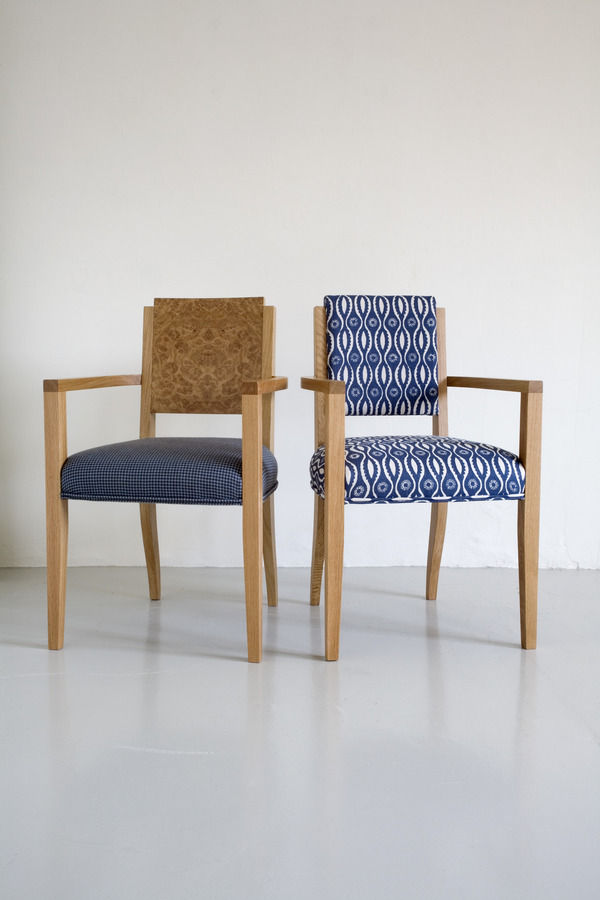 Demonstrating Benchmark's design historical sensibilities, the company recently teamed up with the Rocket Gallery in London and Danish-American designer Jens Risom to reissue his 1950s and 60s furniture designs. Made by Benchmark with the close involvement of 94-year-old Risom, the first collection of nine pieces to be reissued includes an easy chair and a side chair, a desk and a magazine table, four coffee tables and Risom's iconic upholstered bench. An exhibition of the collection runs to September 4th 2010 at the Rocket Gallery, in the Tea Building, 56 Shoreditch High Street. Risom describes his designs as 'an American version of Scandinavian modern furniture' and the exhibition is well worth a look for mid-century design devotees. The result of another collaboration with the Rocket Gallery, the Hexad coffee table by Tomoko Azumi won Benchmark a Wallpaper* Design Award earlier this year, and further products designed by Azumi are due to be launched as part of the London Design Festival in September.
As well as its collection of handmade furniture, Benchmark provides a specialist service for commercial and public projects, working with architects and interior designers. Benchmark has recently completed a bespoke commission on a grand scale for the London Library. Patinated brass, dark oak, reeded glass and leather in shades of oxblood have been incorporated throughout the library, linking the rooms together and seamlessly combining old and new. Working with architects, Haworth Tompkins, Benchmark have made around one hundred pieces of individual furniture, all with contemporary lines and designed for modern day use while harmonising with the historical setting, existing furniture and architectural features.
Benchmark is one of the great success stories of British manufacturing. Looking to the future with respect for designs of the past, Benchmark is committed to innovation and technological advancement while celebrating and fostering the continuation of craft practices. Supporting 45 staff, running an apprenticeship scheme and employing and training up workers from the local area, the business as well as the furniture is built to last.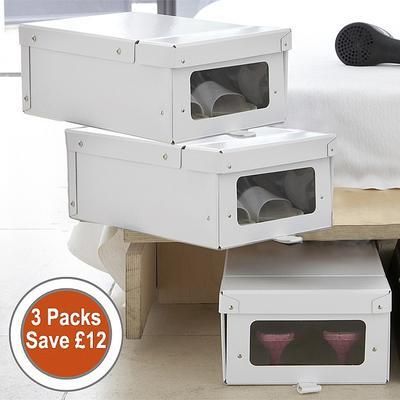 Make storage simple with these handy shoe boxes. Were £48 for three. Now £36
You'd think that when it comes to storage I'd have it sewn up.
I've read countless books on the subject, watched endless TV programmes about how to make your home clutter free, read top tips in all the interiors mags (hell, written top tips in a lot of the interiors mags) but yet somehow a streamlined home evades me.
Shoes, it has to be said, are a major quandary when it comes to keeping my bedroom ship shape.
Sure I know all about buying the sturdy boxes, taking a Polaroid of what's inside them and stacking them neatly on my wardrobe. But it seems that what's good in theory is definitely not good in practice.
However, that's all set to be a thing of the past with these handy White shoe boxes from The Holding Company.
Sturdy enough to hold your treasured Louboutins, these boxes have a handy window which means you can see what's in them without faffing around with Polaroids.
I'm planning on buying them in bulk after all a girls got a lot of shoes to store...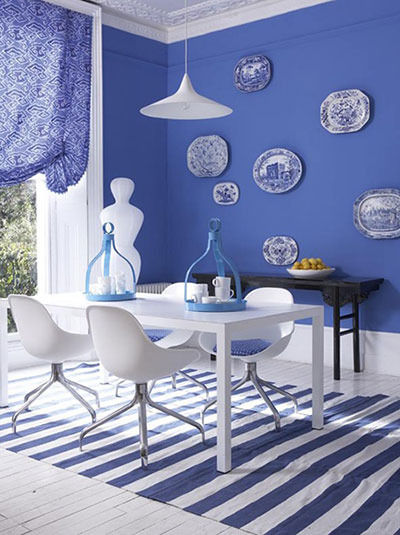 From daring midnight blues to breezy, calming baby blue hues you can blend and contrast different tones, shades and palettes to create a harmonious room.
Colour sparks individuality, creativity and mood which is why it is such an integral part of art and interior design as well as influencing the way we perceive the world. Whether you want to create a room that has a relaxing ambience or simply to add some drama and excitement there is a shade of blue for you. Blue is a primary colour and one of the cooler shades on the colour wheel that will bring a calming influence to a room. Blue shades are associated with the sky and sea, and also loyalty, stability and relaxation which makes it a popular choice in many homes.
Choosing the right blue
There are plenty of versatile shades and huesof blue to choose from that will work their tranquil magic in any room of your home. Consider the size of your room and how much natural light it gets because choosing a darker shade will make a small room feel less spacious and more enclosed. Use a colour wheel to help you make the right choices with colour; it is a visual aid to help you understand the relationship between different colours. For example, midnight and sapphire blues are great for feature walls in fair sized living rooms or bedrooms because deeper shades, when used sparingly, create a dramatic impact but do not darken the atmosphere and mood of your interior. To make the right decision for your wall colour, a top tip is to get a sample pot or tester from any paint supplier and try it out in different parts of the room where the light will hit it differently. If in doubt, go for a lighter shade with warm tones that will prevent the room feeling cold and unwelcoming.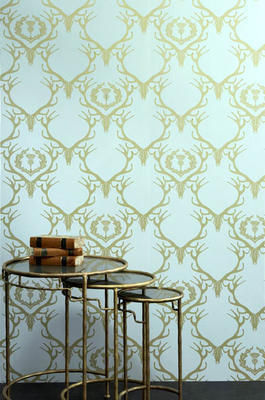 Tonal scheme
You can create a harmonious room by choosing various tones of blue which are created by adding grey or black in order to make a dulled or muted shade, or with white to give a cooler, pastel shade. Use deeper tones nearer the floor and work upwards into lighter hues to give a feeling of space. For example, an exotic blue rug will bring texture and depth to wooden flooring.
A monochrome interior is great for contrasting light and shade and will bring a different dimension to your interior. The key to this look is to experiment with pattern and texture to prevent the colours becoming too bland. A monochromatic room in blue should use a single shade of blue paired with white; sky blue walls with deeper sea blue furnishings can be combined with white fabrics and accessories such as flowing curtains, tablecloths or cushion covers. You can even bring a nautical touch to your home with classic blue and white stripes.
Analogous colour scheme
An analogous colour scheme is as easy to create as the monochromatic scheme but it provides more nuances to complete a richer look. Blue can be combined with green and purple hues that bring a deeper interest and encourage feelings of serenity because the colours are reminiscent of the ocean. Avoid combining warm and cool colours in this scheme because they will not work well together. Instead, combine light and dark blues from the same colour family that use the same undertone. This is important in maintaining a natural and desirable scheme that uses colours that you would normally find together in nature.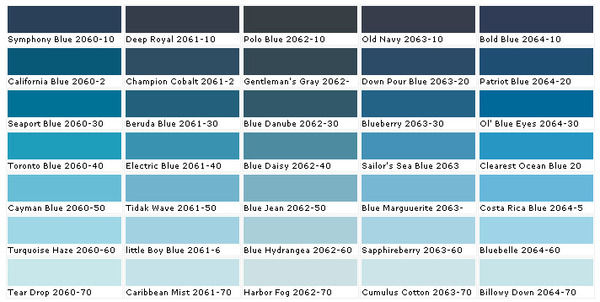 Complementary colour scheme
Complementary colours are aesthetically pleasing and they are placed opposite to each other on the wheel for the correct pairing. For the best results you should place cool hues against warm tones. Orange is the complementary colour of blue because together they provide an exciting combination that will accentuate the best features in your room. Use orange highlights in patterned fabrics or accessories, for example, because you can overdo it and create an unwanted clash of dominant colours.
Pairing one light and one dark tone of each of your chosen colours works well to give an aesthetically pleasing contrast. The pair can be combined using a muted version of one colour on the walls, and a more intense version of the other colour in furnishings and accessories. Blue with red orange and yellow orange is known as a split complementary scheme which can be used to promote a high contrast and a dramatic look. Complementary colours will work well when used in floral fabrics, drapery and upholstery to naturally highlight texture and brighten your interior.
Accents
Rather than painting an entire room in blue, you can introduce the colour into a white based room with vases, art work, cushions, and other decorative pieces. Accents can also fall out of the basic colour scheme; use complementary colours such as turquoise or fuchsia pinks to brighten up the subtle or deep blue tones in your room. Also, with metallic shades being a hot trend this season you can use hints of silver or gold throughout your room to create a feeling of opulence.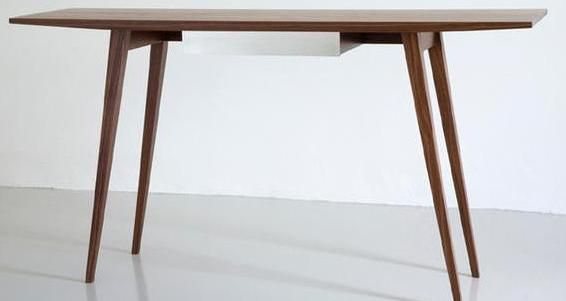 Bag yourself a bargain and a design classic at the same time with this Emily console table from Benchmark. Was £1450 Now £1160
Benchmark are one of my favourite design companies when it comes to classic yet innovative furniture.
It's no surprise that the godfather of design, Sir Terence Conran heads up this emporium of gorgeous home wares.
Beautifully crafted dining tables sit alongside elegant yet cutting edge and oh-so comfortable sofas that are being added to my wish list at a rate of knots. Top of my list at the moment however, is this stunning Emily console table.
Made from solid walnut, the drawer is covered in pewter making it an simply stunning choice.
Use it as a sleek addition to a hallway as intended, a simple yet show-stopping dressing table or in your dining room as extra storage space.
Best of all, this beautiful piece of furniture is now has a whopping £290 off in the summer sale, which means you really have no excuse not to invest, do you...
If ever there was a colour that could be characterised by ambivalence, it's red.
Colour triggers an emotional response and while some find red to be warm and seductive, others consider red to be too strident a colour and are repelled by its intensity. 'My mother warned me to avoid things coloured red', Swedish artist Claes Oldenburg recalled (as he studiously ignored her advice). Cultural interpretations of red are as polarised as emotional responses to it: red is the colour of revolution as well as royalty, of passion as well as danger, and of prosperity as well as debt. It's the very ambivalence of red that has designers returning to the colour again and again for inspiration.
In Pantone's spring 2010 colour report, the fashion director of Neiman Marcus, Ken Dowling, was in no mood to capitulate: 'RED is the message from the catwalks; bright lipstick to deep Bordeaux will fill…a colour saturated season.' In the world of interiors, Ligne Roset is celebrating its 150th anniversary this year with a trio of limited edition products, including a reissue of the 1971 Pumpkin chair by Pierre Paulin, upholstered for 2010 in a segmented spectrum of reds. And if another bold statement was needed, it's the latest temporary Pavilion to be commissioned for the Serpentine Gallery's annual series. Opening in Hyde Park on July 10th and designed by French architect Jean Nouvel, the entire structure is rendered in the vivid red of vine-ripe tomatoes, London buses, and traditional telephone boxes.
On trend for 2010, red has been applied in interior decoration for centuries. Louis XIV covered Versailles in the ruby colour, dressing 435 royal beds in red damask. Dining room walls in palaces and stately homes were decorated in rich burgundy reds as a signifier of status and a complement to gilt framed paintings, a centuries old fashion that reappeared in Victorian town houses of the 1800s. Influencing architectural modernists, and gathering around Dutch artist Piet Mondrian, designers of the early 20th century De Stijl movement used pillar-box red with black, white and primary colours to suggest the energy and vitality of modern life, and the promise of a utopian future. 1950s suburban semis were adorned with peachy and pinkish red tones, while the influence of Pop Art in the 60s and 70s saw a move back to bright reds, as well hot pinks and oranges.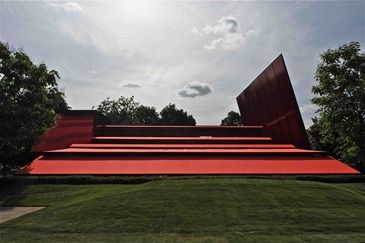 While true reds are not for everyone, the red colour palette is as various as its historical applications in interior decoration: from bright tomato to dark blood red, and rich cherry to deep plum tones; from peachy reds to terracotta and rust tones; and from scarlet and crimson to soft berry blushes. Reds with orange or pink undertones are the hottest hues, while reds with blue undertones, such as burgundy or maroon, create a sultry and seductive feel. If you're looking for depth and warmth, pair red with one of the colours next to it on the colour wheel, such as shades of purple, orange or brown. If red is to be your accent colour, pair it with a neutral such as grey or tan. And if you're going for high impact, pair your chosen shade of red with its opposite on the colour wheel: a shade of green. Bright colours go well with others of the same intensity and saturation, and if you're combining different shades of red in the same room, remember that crisp clean shades rarely work together with those of a dirtier dusky hue. While light and dark or warm and cool shades will work together, the clean/dirty combination can be jarring.
For an atmospheric dining room, try a deep red on the walls with accents in gold and grey green. In the living room, a bright red sofa with hot pink and orange cushions will create a retro feel, while combining ruby red with other jewel colours, such as purple or deep blue creates a sumptuous look. In the kitchen, red accessories create a sense of activity, lifting the spirits and leading the eye. Create a really fresh look by teaming red with turquoise, or pair reds with greys for a sophisticated and indisputably modern feel. For a romantic and restful bedroom, raspberry, moss green and dark brown are a great combination.
Take the risk out of red with fabric swatches, wallpaper samples, and tester pots; experiment with different shades and colourways to create your perfect palette.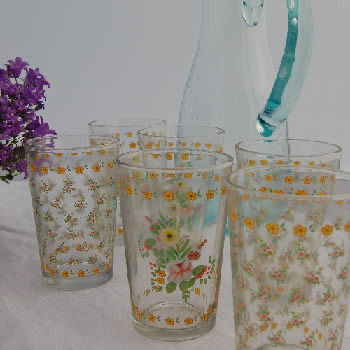 Inject some vintage style into your dining room with these flower glasses from Hunter Gatherer. £10.50 for six
My job of course is wonderful. I get to spend my time scouting interiors websites for pretty things to share with you.
A new one I came across whilst "hard at work" nudge, nudge, wink, wink, was Hunter Gatherer. Selling an amazing array of very considered interiors products such as pretty wrapping accessories and the cutest kitchen accessories around, it's definitely one me and my laptop will be returning to.
My pick of the mix is these flower glasses, I love the delicate, vintage-inspired floral design which makes them perfect for summer parties.
And at a bargain-tastic £10.50 for six (yes, I did check) they're considerably nicer and better value than ones you would get from a well-known Swedish homes superstore.
See this product at Hunter Gatherer...
(We don't list this product yet but sign up to our newsletter and we'll let you know if/when we do)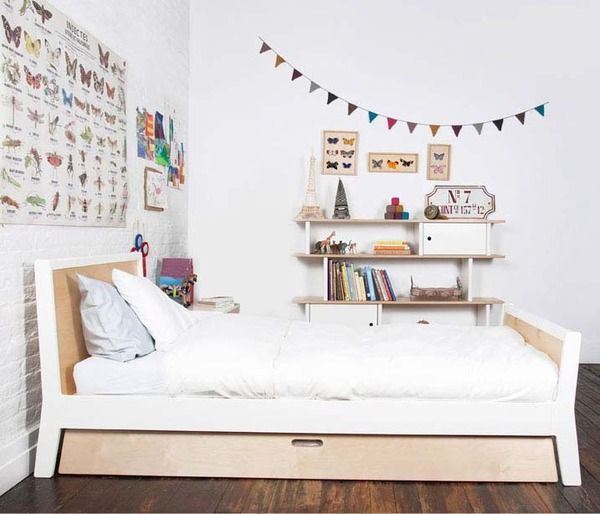 We've been wending our merry way across the web and here's what we've found.
The first of our bloggers this week is Melisa at The Lil Bee. She works in fashion but harbours an obsession with interior design so there's a good mix of posts on clothes and homes. I loved this post on her mum's collecting habits. Melisa's enviably handy as well so there're lots of ideas on craft projects for your home as well as your wardrobe. And if you've got children she's full of ideas about kid-friendly decorating and amazingly cute clothes.
Next up, Cote de Texas, brought to you by an American interior decorator with a passion for all things French. Posts on here are long, but always interesting, and there are plenty of beautiful pictures too. If you love French style this is definitely a blog worth checking out and the writer knows her stuff. She's also well-connected in the world of interior decorating, meaning there are lots of eye-opening interviews and opinions on all things design related.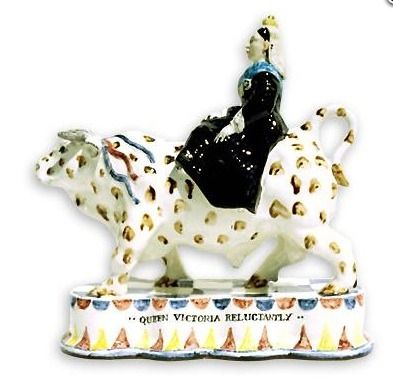 Finally, it's the redoubtable Mrs Blandings, aka Patricia Shackelford. This is another great insiders guide to the world of interiors. And Mrs Blandings is consistently well informed whether she's talking about artists or designers, architecture or interiors. She's got an eye for style and a passion for antiques, which makes this blog a delightful read that's chock full of inspiration for your home and interesting insights into the world of design.
Once again, get in touch and we'll feature your blog next time.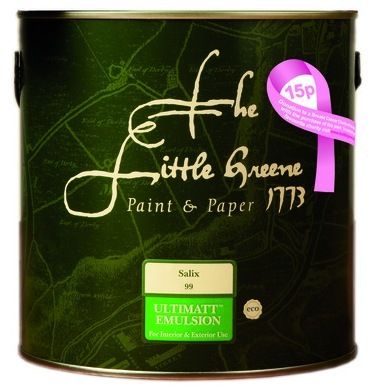 Donations to be made from every can of paint sold during October 2010
The Little Green Paint Company, renowned for its sophisticated wallpapers and inspirational paint colours, has a long-standing commitment to supporting Breast Cancer charities. This year is no exception, and Little Greene will be making a special donation from every can of paint sold during Breast Cancer Awareness Month, October 2010. Charity begins at home, after all.
Extensive research goes into each highly pigmented paint colour in Little Greene's exclusive English Heritage, Catwalk and Original collections, for spectacular coverage and depth of colour. There are few things more satisfying than a freshly painted room, and by choosing a Little Greene paint you'll be making a difference that extends well beyond four walls.
Paint cans specially labelled with the Breast Cancer Awareness pink ribbon will be sold via the internet and UK stockists for the month of October, with Little Greene committing to donate 15p from the sale of every can of paint. And what's more, as customers we'll have a say in how the money generated will be spent. An online vote will determine how the money raised is shared out across a selection of breast cancer charities partnering Little Greene's campaign. Have your say via Little Greene's website from 1st October to the end of November.
By visiting www.thelittlegreene/charity, you'll also be able to follow the progress of major breast cancer charities that have joined up with Little Greene to raise awareness and provide much needed resources for breast cancer research and support networks.
As interiors obsessives, we're all aware of how much our mood and sense of wellbeing is influenced by our environment, and many of these charities are working to improve those of patients and their families.
David Mottershead, Little Greene's MD said "We are delighted to support such an important issue, one that is close to our hearts at Little Greene; this is part of a long-term commitment to help breast cancer sufferers and the associated research to beat this disease. I am confident the programme will be a success."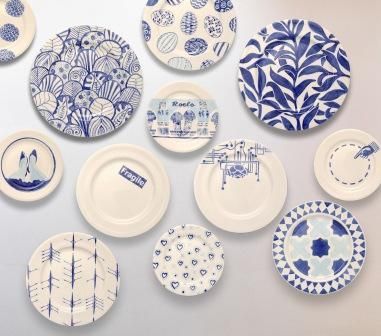 Add some pattern and colour to your table with these blue and white plates from Roelofs & Rubens. From £12
By now you probably know that when it comes to items such as towels, tiles and plates, I think white is best.
Call me strange, go on I know you want to, but of all these items I have a particular aversion to eating off anything but a white plate.
However, this is all about to change as I have just discovered Roelofs & Rubens, a delightful little company based on the Hampshire/Berkshire border making highly decorative tiles and more importantly plates. All of the designs are made in blue and white and the choice of patterns is immense.
I have picked a few of my favourites, but if these don't tickle your fancy, the good news is there are over 10 to choose from, each of which is available as dinner plates, side plates, cake plates, soup plates, mugs and cereal bowls.
Mix and match for an eclectic table setting or pick one design and stick to it. If you're like me though, you'll agree these plates are far too pretty to eat off and instead will make the perfect wall decor.
See this product at Roelofs & Rubens...
(We don't sell this product yet but sign up to our newsletter and we'll let you know if/when we do)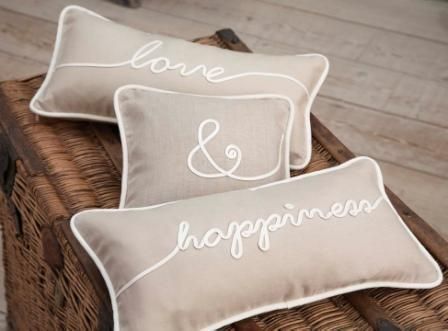 Make your house a home with these Love & Happiness cushions from Retreat Home. £79.95
Let's be honest, typography on cushions is nothing new. Whether they're proclaiming love for a particular city or making bold statements, they've been around a while. Not that I'm knocking them mind, I love them, which is why I wanted to show you this new find from Retreat Home.
These Love & Happiness cushions comes as a set which includes the Love cushion, Happiness cushion and & cushion. Made from linen and beautifully embroidered, they really brought a smile to my face amidst all this doom and gloom.
Try using them to jazz up a plain sofa if you're vocal about your feelings or layer them on a bed if you're more private.
See this product at Retreat Home...
(We don't sell this product yet but sign up to our newsletter and we'll let you know if/when we do)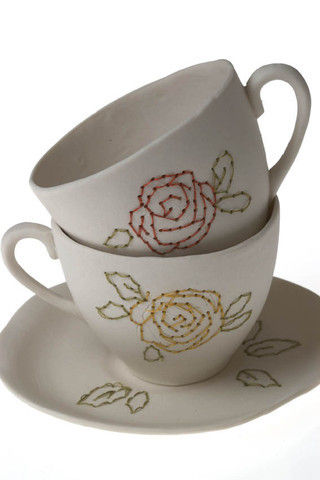 Celebrate the best of British design with stylish and sustainable furnishings.
There are plenty of reasons why you should be proud to be British, one of these being our enthusiastic and imaginative contribution to the art and design industry. An important aspect which the following designers have in common is that they design and manufacture their products in the UK. They draw their inspiration from natural and everyday surroundings, and they aim to help the local community and the environment too.
Design Company: MissPrint London (missprint.co.uk)
MissPrint design a collection of wallpapers, wall vinyl, vintage furniture and lampshades. All of their fabrics are silk-screen printed by hand which means they are handled with great care and with precision in the detailing to give a beautiful finish. Also, all MissPrint products are designed in a small East London studio by mother and daughter, Yvonne and Rebecca Drury. Their Dandelion Mobile wallpaper has proved to be very popular, and its success has led to MissPrint adding two new colour ways to the collection. Its illustration style is influenced by 1950's design which gives it character with a modern twist.
MissPrint's studio overlooks a park which helps them understand and get their inspiration from nature and their urban environment. With nature being close to their hearts, all of their products are produced in an environmentally friendly way, including their wallpaper range which is PEFC certified and printed with organic inks. Yvonne claims that they manufacture their designs in the UK "because it is beneficial to our communities, it stimulates trade and helps local employment. It also supports other small UK business." So, from design through to production a lot of thought goes into the way their designs make it into your home.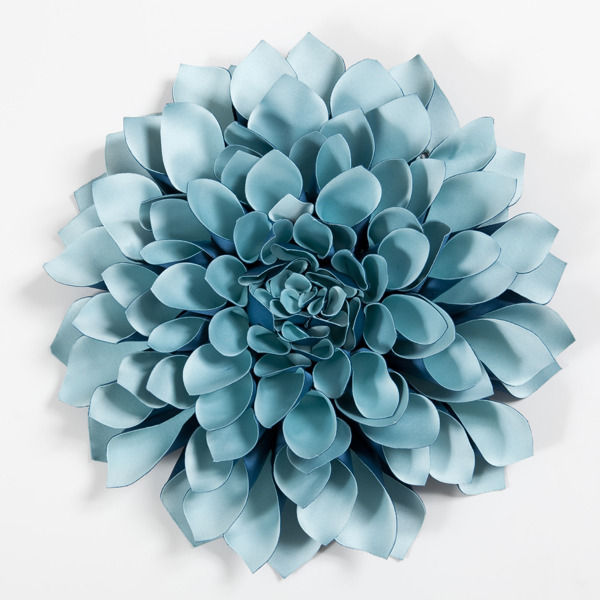 Designer: Claire Coles Design (clairecolesdesign.co.uk)
Claire Coles designs a range of wallpapers that are rich in texture and are very intricate and artistic. In 2005 she launched a range of embroidered ceramics, including mugs, tea cups and vases, and also framed artworks. Claire is based at her Bloomsbury studio at Cockpit Arts in London, where all wallpapers are made to order and designed to fit individual personal requirements.
Coles' hero product is undoubtedly her beautiful wallpaper that uses traditional imagery such as florals and birds which give it a vintage, English garden appeal. Her wallpaper display for Liberty of London was one of her first commissions. Her designs include fragments of hand-sourced vintage wallpapers with silks and leather that give them a luxurious and distinctive style. However, I imagine her tea cups are a popular choice for the perfect, quaint addition to any garden tea party. What could be better than a traditional British afternoon cuppa?
Claire manufactures her designs in the UK and all of her wallpapers are designed and handmade in house; they are made to order and they are also promoted through design/craft fairs and galleries. She has previously exhibited at 100% Design in London which encourages the use of sustainable materials.
Designer: Lorna Syson Textiles (lornasyson.co.uk)
In 2009, Lorna set up her own label Lorna Syson Textiles with help from the Princes Trust, and she is now based in Coventry. She designs and creates hand-made textiles, including cushions and wall flowers that are predominantly floral inspired. Her most popular designs are the oversized wall flowers, particularly the stunning double sided dahlia pieces because each petal is sewn on individually ensuring that every flower is unique. These are three dimensional wall sculptures that are organic and decorative art pieces.
Lorna manufactures in the UK because she feels "it is important to utilize and support UK skills, and it also reduces the carbon footprint dramatically for the products." She is also excited about a new collection that she is working on which she ensures "will be completely eco-friendly, so as well as the products having a very low carbon footprint they will be 100% Eco-friendly and sustainable." Lorna believes that sourcing from UK companies and manufacturing her products in this country will help to support the British economy. Her large Leaf cushion is made with wool from a UK company, which means that her products are designed, manufactured and sold in the UK, right down to the finer details such as laser cutting, cushion inner and labels.
Design Company: MARK Product (markproduct.com)
MARK Product is a furniture and lifestyle brand from Cornwall that combines style with comfort and sustainability. During the Clerkenwell Design Week, the award winning Net Chair designed by Sam Johnson and the Wave table by Kay and Stemmer were both used. The Net Chair was inspired by fishing nets left to dry in the sun. John Miller from MARK product says that Tomoko Azumi's Spin side tables are "so handy and portable, and have a special kind of "personality" and that they are "a very "MARK" product, exemplifying our two guiding principles of sustainability and practicality". They are available in European Oak and Black American Walnut woods, and with Blue, White and Pebble grey tops/shelves.
The company champions local craftsmanship and presents the very best designs and values from contemporary Cornwall. Outside of London, Cornwall has the highest number of artists and designers. 80% of the company's products are manufactured in Cornwall and the remaining 20% in the UK as part of their policy of using local resources which "reduces manufacturing miles, sustains and develops local craft skills, and benefits the customer though a more responsive service."
These designers prove that style and sustainability can be combined to create some of the most dynamic designs of our time. They are in keeping with the change our lifestyles towards an eco-friendly environment both inside and out.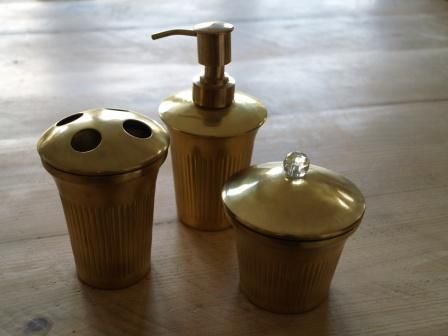 Give your bathroom the Midas touch with these gold bathroom accessories from Be Golden. From 11.50
While I like the majority of my accessories plain and simple, even I can't resist a bit of bling now and again.
Which is why I was rather pleased to stumble across Be Golden. As the name suggests, this treasure trove of a site is the home to all things that have been given the Midas touch. From cushions and cake stands to Seletti's kitsch gnome, everything has been covered in a sprinkling of the most precious metal in the world, of course not the real stuff but you get my drift.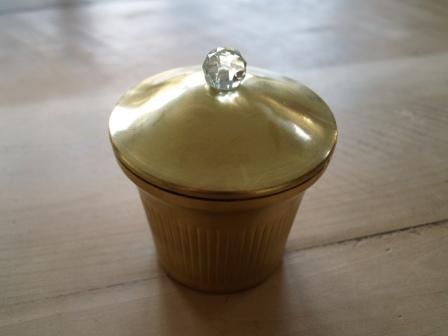 What really caught my eye were these vintage-style bathroom accessories. Made from brushed steel, the collection consists of toothbrush holder, cotton wall dish and soap dispenser. Perfect for adding a hint of glamour to your bathroom, the collection will work well whatever your style.
See this product at Be Golden...
(We don't sell this product yet but sign up to our newsletter and we'll let you know if/when we do)