It's our Interior Design Magazine!
The hottest interior design ideas, fab finds for the home and the latest in interiors trends. We're always looking for new finds, designers to feature or anything else lovely for the home, so if you've seen something gorgeous and would like it featured in our interior design magazine, please get in touch!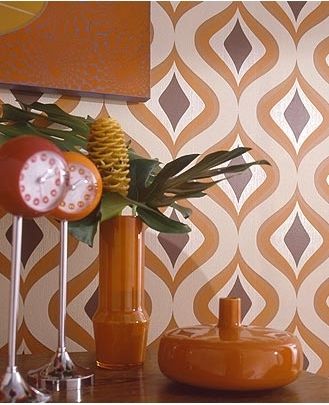 Create your own retro living room with our suggestions ranging from bold wallpaper to quirky furniture pieces and accessories.
If you often find yourself reminiscing and wishing that you could travel back to the 1950's or 60's, then a retro interior may be exactly what you're looking for. Interior design during this period was very kitsch, and in interior design today, this style is reproduced but with a unique and quirky twist. Why not take inspiration and go all-out with the great range of retro products, available on Furnish and from other suppliers, to bring a retro feel to your own living room.
You don't need travel back in time in order to give your living room a groovy, retro makeover. With a bit of imagination and the great freedom of choice there is with a vast array of products to help bring a burst of bold colour and dizzy patterns to your home. Bring an outdated but fresh and modern look to your lounge with Trippy wallpaper from Graham & Brown. The psychedelic pattern is symbolic of the post-war 50's and 60's when there was a transition in design to brighter and bolder colours. Or decorate your walls with Illuminate wallpaper, made by Harlequin at wallpaper direct which features a selection of stylised lampshades including the 50's iconic Artichoke light.
Retro art was a huge inspiration to what soon became known as pop art; one of the most popular art movements that revolutionalised design in the twentieth century. The quirky Fat owl cushion from Hunkydory Home is an example of how iconic designs from Andy Warhol can inspire you to experiment with pattern and colour in your lounge. This handmade funky owl print in blue and mustard, and combined with apples and pears, is a perfect accessory to add some fun to your new retro décor. Unikko fabric from Marimekko uses a bold floral pattern in bright and vibrant colours which would work well as cushion covers or for an even bolder statement use it to cover your sofa. There is also more in the selection of fabrics and textiles from Marimekko that would suit this look.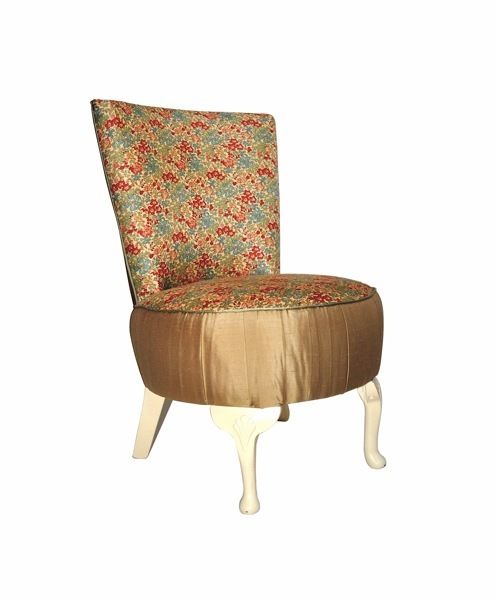 Most retro furniture that you get today from markets are not authentic pieces from the past, however there are still some real vintage, classic pieces out there waiting to be found. The Old Cinema [http://www.theoldcinema.co.uk/] offers a collection of period antiques from around the world, and their 1970's Retro G-Plan Sideboard, made from teak, is a must for anyone who loves one off pieces. This type of furniture doesn't come cheap, but you get what you pay for and I certainly wouldn't mind spending my precious pounds on the Libby II chair from thebaobabtree.co.uk. Abstract design, polished chrome and rounded corners all define retro furniture, so if you'd prefer to go retro with more of a modern twist, the Round art deco side table from Graham and Green could be for you. It is connected by four curvy, stylised mirror stems which modernise your room whilst also serving as a timeless glass furnishing, neutral enough for you to experiment with bolder colour elsewhere.
For a retro look with clean, finished modern lines for your living area then laminate surfaces and vinyl are great and practical materials to achieve just this. Why not try Amtico Linear Graphite effect vinyl tiles from flooringsupplies.co.uk, their warm palette and detailed stripes create a funky yet sleek retro feel making them the perfect choice for your living room. Add texture and dimension to your room with the Dahlia rug from BODIE and FOU. The design uses traditionally retro geometric patterns but gives it a modern revamp with vibrant colour and expression.
In my opinion, a retro living room would not be absolute without one of these; the 1950's Silver Dreyfuss telephone by Wild and Wolf from Heal's which encompasses this iconic decade. It comes with an authentic heavyweight handset, and so as not to disappoint, it even has an original bell ring. If you like to be reminded of times gone by take a look at the Newgate Postmaster Architecture wall clock from Heal's. This pop art inspired piece celebrates everyday objects and turns them into iconic symbols. It uses retro style numbers that aren't fixed so you can choose any combination you would like, making it both a playful and kooky accessory for your home. These characteristics are typical of the retro style yet they emphasise how advanced modern technology has become. Products such as these illustrate how contemporary, retro design can be just as much about nostalgia and abstraction as they are about modernising your home in an inventive way. The Orla Kiely multi-stem rug from Heal's is perfect for decorating your living room floor with a simple yet effective retro design. It has such a subtle yet intrepid colour palette which, with its mixed pattern design, creates a classic appearance for your living space. It is also made from luxurious soft New Zealand wool that feels incredibly comforting underfoot.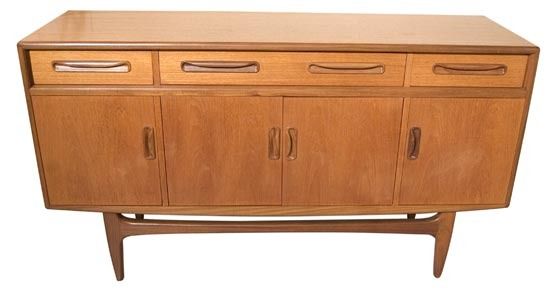 Light up your retro inspired lounge with Hunkydory Home's Vintage flowers drum pendant lampshade. You can't afford to be shy with pattern when it comes to being retro, and with this original 1970's floral fabric in shades of vibrant yellow, orange and brown, your room will be transformed from dull and boring into something from 'That '70's Show'. If however, you'd prefer a more subtle approach, then you are bound to love the polished chrome used to produce the Floss chandelier 2097 from Utility, which is a common feature of retro designs. Its futuristic name is a reflection of its modern, sleek finish yet it also has a timeless appearance and its bold statement size gives it a real sense of belonging to a devoted 50's retro living room.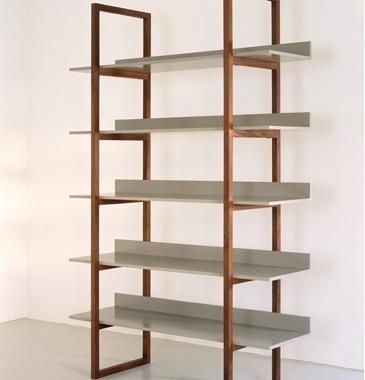 Display your sense of style with this spectacular shelving system from Benchmark, £1072
With its elegant open frame and light reflective lacquered shelves, the Singer from Benchmark offers a stylish alternative to bulky bookshelves. The sleek frames are beautifully crafted in rich cherry or walnut, with a choice of grey or white lacquered or contrasting oak shelves.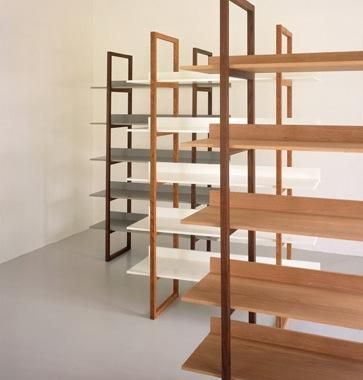 This is a great example of how good design, and simplicity, can enhance the way we live. Lightness and grace is combined with strength and rigidity. Placed against the wall it's slim and unobtrusively stylish; freestanding, it can be used as a room divider in a large open-plan space. It won't fight with your books or ornaments for attention, but will set them off with a simple backdrop. Perfect.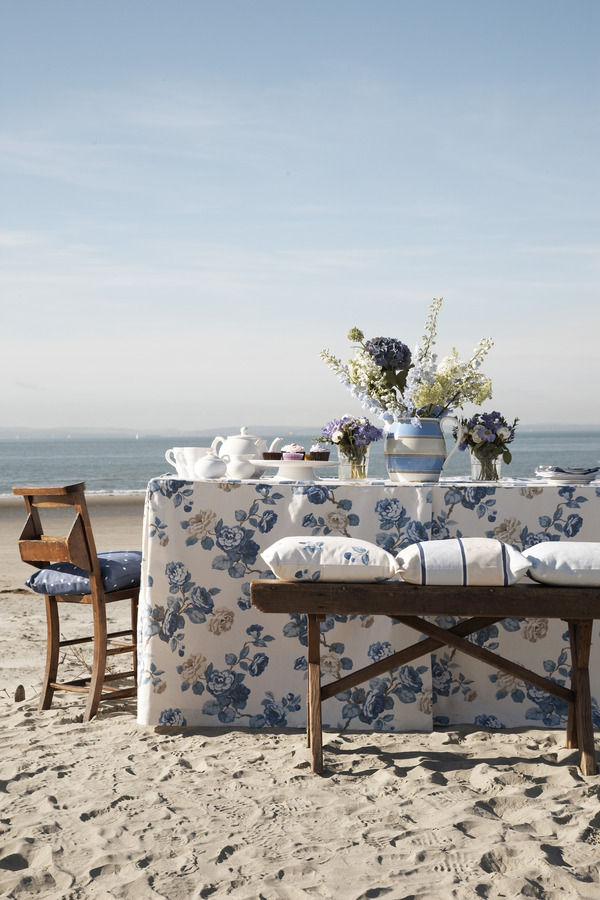 With sailor stripes and maritime motifs still riding high on the fashion waves, interior designers have dropped anchor and climbed aboard.
With sailor stripes and maritime motifs still riding high on the fashion waves, interior designers have dropped anchor and climbed aboard. Buoyed up by catwalk fashion, the world of interiors is awash with seafaring style this spring. Interior design is no galley slave, but when a fashion trend is this strong, for this long, it's bound to influence the way we decorate as well as the way we dress.
Indigo blue is the mainstay of the nautical trend in interiors, with ticking stripes and maritime details paired with anything from washed-out florals to high-impact pattern. Go for a classic naval look with indigo, white, and gold, or channel the laidback calm of the seaside with muted stripes and vintage-inspired florals. From ocean-going glamour to pared down chic there's a nautical niche to suit your style. And with everything from furniture and fabrics, to tableware and accessories following the trend, it's easy to dress your home in the maritime mode.
For a laidback look, the first port of call has to be Ian Mankin. Renowned for relaxed stripes in cotton, linen and now oilcloth, Mankin fabrics are accompanied by a fabulous range of soft furnishings and kitchen accessories. The Union Jack cushions are sure to ward off pirates on the high seas. For bed linen, try the Newquay Collection at Jigsaw, available in a subtle dusty pink or smoke and white stripe. Elanbach [http://www.elanbach.com] is fantastic for wallpapers and upholsteries expressly designed to be mixed and matched. Try the Vintage Floral, Seaside, and Spa collections for shipshape stripes and cottage-garden blooms.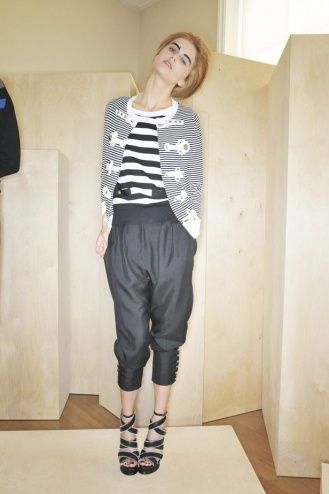 If you're more ocean-liner than sailing regatta, dive into Le Grand Hotel collection at Ralph Lauren Home. With classical furniture, fabrics and accessories in a refined maritime palette of navy, white, cream and gold, Le Grand Hotel is seafaring at its most sophisticated. If the Cannes Gueridon Table doesn't inspire a fluttering heart and a 'Hello sailor', I'm sunk. But if you're looking for something a little more rustic, try La Plage, Le Grand Hotel's bohemian sister. In a palette of inky indigos and faded blues, vintage reds and chalky neutrals, this collection is barefoot in the sand rather than cocktails with the captain.
OKA is channelling the nautical trend through a global lens, with stripes sharing a platform with Persian, Indian and Oriental-inspired prints. Complete with carrying handles, OKA's Chinese Wooden Trunks are finished in a range of maritime colours and lined with Chinese patterned paper. Perfect for the intrepid traveller. But don't set off just yet because they're available to view on Furnish. Pair with the paisley Chain Stitch rug in blue and cream, continuing the ocean-going theme and maritime palette with Ambala and Cimkent cushion covers.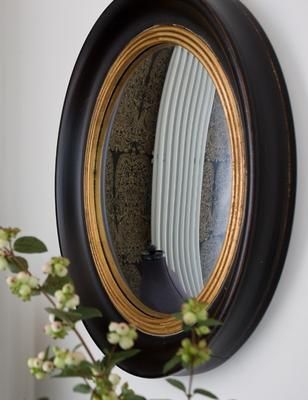 There are plenty of nautical-inspired pieces elsewhere on Furnish, whichever style floats your boat. Eat at the captain's table with Sophie Conran's tactile Portmerion dinnerware, or rule the waves with Royal Stafford's Cool Britannia range, both at Heal's. Add a splash of bold colour with the Neo Occasional Chair at Lockwood Design, upholstered in a fabulous fisherman's yellow. And relax in ocean-going style with the Baroque Wing Chair in black mahogany and cream velvet, from Sweet Pea and Willow, or the Strasbourg Chair at Brissi, upholstered in storm grey.
The nautical trend has a definite feeling of nostalgia to it, but if modern's more your style, check out Thomas Pedersen's stunning Wooden Stingray chair at the Lollipop Shoppe. OKA's tripod Shipper Floor Lamp and Garden Trading's pendant Fishing Light have authentic nautical detailing and are perfect for stormy seas. Or summon the romance of Venus with the Shell Candle wall sconces at Rockett St George. Finally, make sure you're fit to go ashore with Graham & Green's fantastic black and gilt Porthole wall mirrors. 'Land Ahoy!'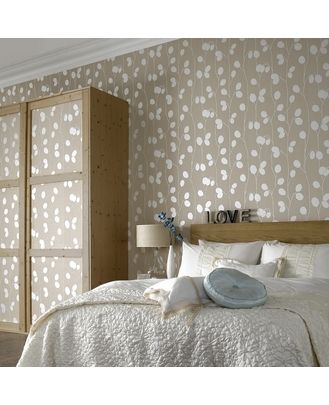 A romantic bedroom should evoke intimacy, passion, and most importantly charm. So, design your dream romantic boudoir with our 'How to' guide.
Fairy-tales and dreams can come true with a few striking furniture pieces, the right lighting and a little imagination. You don't need to spend a fortune, and your bedroom doesn't need to be lost in rose petals for this to work. In fact a romantic bedroom can be achieved simply by adding subtle accessories and personal touches which will create a sense of comfort and indulgence.
Your wallpaper can determine the overall romantic mood of your room, and using a feature wall can accentuate a theme or colour that will inspire a passionate feel. Eve and Honesty wallpaper from the collection at Graham and Brown use soft pastel colours and feminine floral patterns to create a sensual atmosphere. Or if you want to be more daring with colour, the Timorous Beasties Thistle wallpaper has a provocative texture, and its powerful fuchsia colour will ignite a sense of passion and beauty into your bedroom.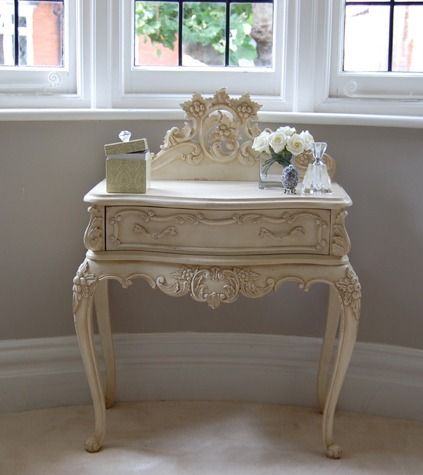 Furniture is essential for making sure you have somewhere to keep your personal belongings, and you can find many pieces that will make the perfect statement in a romantic bedroom. I love the collection of furniture from Sweet Pea and Willow, for example the Classical White Marianne Rattan bed is a beautifully carved and intricately detailed bed made from antique white rattan. Using white in a bedroom suggests innocence and purity and gives you the opportunity to use bolder colour elsewhere in your room. For a bed that exudes luxury, try the Pearl velvet bed which is made from gorgeous velvet upholstery. If you're looking for an idyllic bedside table then Cream French Carved Jonelle bedside table is a fabulous choice. Inspired by Eighteenth century French art and rococo style, this bedside table in antique cream will give your boudoir a romantic fairytale ambiance.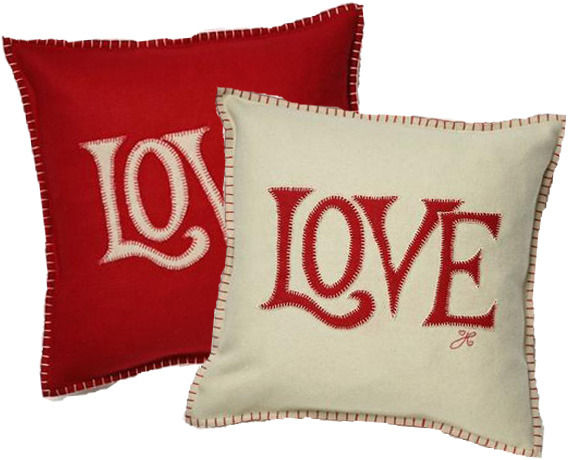 Love is all about appreciating the little things in life, so fill your bedroom with lots of your favourite gifts and memories. Accessories can bring the overall theme or mood of a room together, for example share your love and comfort with Jan Constantine's collection of cushions from Occa Home, including the Wool Love cushions available in red and cream. Remember the times you have shared with your loved one with the Silver heart crown photo frame from Graham and Green. You can also display flowers in this elegant, LSA Circa vase from Red Candy. Traditionally the colour of love, red symbolises desire and passion, so use this colour in your bedroom for romantic impact and a warm feel.
Romantic lighting will help set the right mood, whether it is sensual, or cosy and relaxed, there are plenty of ways to give your bedroom an enchanting look. The pink acrylic Shocking chandelier from The French Bedroom Company will bring fun and colour to your room even without the light on. For low key lighting try the Love heart tea lights from Oliver Bonas; these can be placed around your room for a romantic night in. The intricately perforated silver metal of the Zenza lamp from Plumo has large crystal facetted clear stones that are strikingly beautiful, and will give a soft star light effect.
Don't be afraid to go with your heart in making decisions on the design of your bedroom, after all you want it to be the most private and personal place in your home.
Light up your life with these jewel-like pressed glass lamps by Tom Dixon from Utility, £195.
These lustrous sea-green glass pendant lights by Tom Dixon are divine. Elegant with an industrial edge, they strike the perfect balance of beauty and utility. Part of the Cast Glass collection, the green colour is available in two shapes - the spinning 'Top' and the drop 'Bead'.
Cast by hand, each lamp reflects the inclusions and imperfections of the glass manufacturing process, making each one unique. And they look just as attractive turned off, making a stunning decorative feature in any room. Supplied with a long cable they'd look fabulous hung in a row over a dining table.

I've been looking for a light for my living room for ages and these have gone straight to the top of my wish list. And if I ever manage to save up, it'll be money well spent because these beautiful handmade lamps sure to be design classics of the future.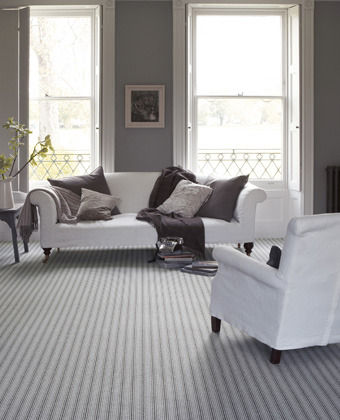 Make the right choices with our buyers guide to flooring
As soon as you open a door and walk into a room, the floor is one of the first things you notice. Whichever flooring you choose, it'll change the atmosphere of your space, whether it's a bold statement in rubber or an understated carpet in natural seagrass. And because you'll be walking on it everyday, it's worth going for the best quality you can afford, whichever type you choose. Covering the most popular flooring types, this guide aims to help you make the right choices for your room as well as your personal style.
1. Wool
Wool carpet is especially good for bedrooms and living rooms, creating a feeling of homeliness and warmth. Stair runners are a great way to lead the eye and make a feature of your hallway, while carpeting only the upper floor creates a natural break from the hustle and bustle of your main living space and a more relaxed atmosphere upstairs. It may seem an unexciting choice, but there are some fantastic styles and colours on the market. Try Brintons Fine Carpet and Crucial Trading for excellent quality wool carpets, in a huge range of colours, patterns and weaves.
Pros: natural heat and noise insulation; soft underfoot; comforting and homely
Cons: spills and stains; collects dust and pet fur; requires regular vacuuming
2. Natural Plant Fibres
Carpets made from coir, sisal and seagrass are great for busy areas such as hallways and stairs, being tougher and more hardwearing than traditional tufted wool carpets. The exception is jute, which is softer, making it a good choice for bedrooms. Plant fibre carpets in their natural colours are subtle and understated, making it easy to furnish your room around them. The great thing about this type of flooring is the variation in texture and pattern produced by the different weaves. Crucial Trading has a fantastic selection of plant fibre carpets, including a herringbone weave in neutral seagrass with a green, blue or red weft, and a number of dyed sisal carpets, along with the usual natural colour palette.
Pros: hardwearing; understated; texturally interesting
Cons: limited colour range; less soft than wool pile; sensitive to moisture, making them unsuitable for use in bathrooms and kitchens
3. Rubber
Rubber flooring is so versatile it can be used almost anywhere in the home. Hardwearing and easily cleaned, it's particularly good for busy areas such as hallways, and rooms where spillages are likely, such as kid's bedrooms, studios, utility rooms, bathrooms and kitchens. A contemporary and stylish choice, rubber flooring goes really well with modern furnishings.
The Rubber Flooring Company has a fabulous range of vibrant, fade-resistant, colour options, available in smooth and soft sheets and tiles, round stud tiles with extra cushioning, and a fantastic new grid tile by Hemmingway Design. The vulcanised rubber is extremely durable, with a high level of impact absorbency. Another option is a resin floor with a cushioning rubber underlay. Puur's [www.puur.uk.com] poured resin floors achieve a perfectly flat and slip-resistant surface, finished either matt or polished to a high lustre. For a natural alternative, try Marmoleum, which is made from linseed oil, wood flour, rosin, jute and limestone. Urbane Living has a great selection including brightly coloured chequerboard tiles.
Pros: huge range of colours; easily cleaned; extremely durable
Cons: ultra-modern - may not suit period homes
4. Luxury Vinyl
Vinyl is extremely practical, and can be great for kid's rooms, bathrooms and kitchens. It has a bad reputation but if you go for a good quality supplier, such as Amtico or Karndean you can get great results. If, like me, you've got a problem with vinyl that mimics other materials, just stick to plain block colours. Amtico's Abstract range is great and there are some really authentic plain tiles in the Stone range. Otherwise, there are plenty of effects that can be achieved in vinyl, from wood and ceramics to mosaic, marble and glass. These products combine the look of natural materials with the practicality and performance of vinyl.
Pros: durable; easy to clean; huge range of colours and styles
Cons: won't add value to your home; doesn't last like real wood or stone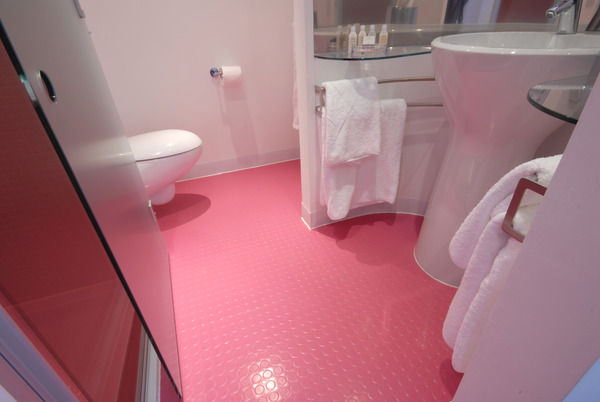 5. Solid Wood
A solid wood floor is not only beautiful; it's hardwearing and will add value to your home. It'll improve with age and can be revived with re-sanding and refinishing to fit in with a new decorative scheme. Whether hard or softwood, parquet or plank, a solid wooden floor is the same material all the way through. It ages and evolves as you live with it and lasts for decades.
Solid wood flooring is available in a range of timbers offering a spectrum of natural colours, knots and grains. The most interesting timbers are Oak, Chestnut, Maple, Teak, Walnut and Merbau. A sensuous real wood floor brings natural warmth to a room. However, each timber has its own specific pros and cons. For example, Chestnut isn't suitable for rooms entered directly from the outside, but is perfect for upstairs. Broadleaf Timber has a useful technical guide to choosing the right timber for your room.
Pros: long-lasting; improves with age; can be re-sanded and refinished
Cons: expensive; requires ongoing maintenance; light, temperature and moisture sensitive
6. Engineered Wood
Engineered wood flooring is a sandwich of plywood with a top layer of finish wood. The plywood is made up of several layers of Birch, laid at right angles with the grain running in opposite directions, giving dimensional strength to the sandwich. This also means that engineered wood stands up well in areas of moisture such as kitchens, bathrooms and basements. It won't expand and contract like solid wood. Plywood makes up 80-90% of the board with a thinner layer of finish wood that you walk on. Engineered boards are available in the full range of solid wood timbers. The Natural Wood Floor Company has a great selection.
Pros: eco-friendly; won't expand and contract; can be used in moisture prone areas
Cons: can be sanded only once or twice; prone to dents and scratches; light sensitive
7. Reclaimed Wood
Reclaimed wood flooring has the distinctive patina of age, adding depth and character to a room. It's also an environmentally friendly option. The same care should be taken as with solid wood, to ensure the timber is right for the room. Reclaimed wood is available in any number of styles, including parquet woodblocks. Often old growth timber, reclaimed wood has the advantage of being harder and more stable than younger wood. Urbane Living, Lassco and Retrouvius all have rotating stocks of reclaimed wood flooring.
Pros: characterful; eco-friendly; more stable than younger wood
Cons: often supplied unfinished; choice dependent on stock; supplied 'as seen' and not tailored to the size of your room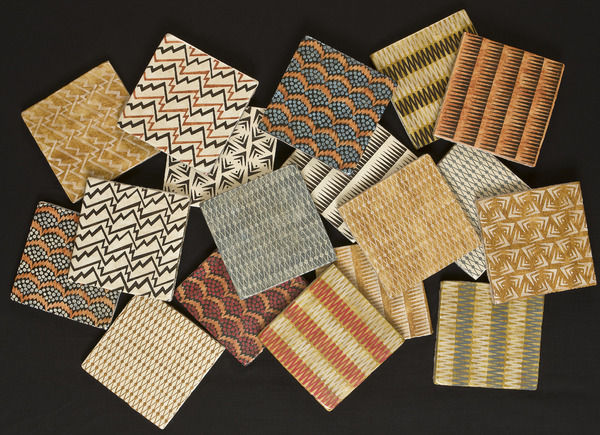 8. Stone
Stone is a hardwearing and practical flooring choice, particularly suited to hallways, bathrooms and kitchens, but equally attractive in living and dining rooms. Natural stone offers a broad spectrum of colours and surface details: from white to black, through beiges and greys, and from reasonably plain to extensively varied in tone and texture. Natural stones are given a range of finishes: a riven or antique finish will give a more rustic appearance while a polished or honed finish gives a classic yet modern feel to a room.
There's little difference in durability between stones; the look you want from the stone is essentially more important than the type. Tile sizes range from the smallest mosaic to very large slabs. All natural stones are porous to varying degrees and must be sealed during the installation process to prevent staining and moisture absorption. Mandarin Stone has a fabulous range of natural stones, from limestone and marble, to granite, sandstone, travertine and slate.
Pros: beautiful natural material; will last decades; stain resistant when sealed
Cons: expensive, expert installation required; hard and cold underfoot; natural variation and 'imperfections' in the stones may not suit some tastes
9. Terracotta Tiles
From warm ochres, to rich reds and oranges, the inviting earthy tones of terracotta tiles make them ideal for hallways and kitchens as well as living and dining rooms. Low-maintenance and resilient, terracotta is another flooring type that improves and evolves with age. To ensure a long-lasting floor, the tiles must be sealed properly to prevent staining and moisture absorption. Fired Earth will professionally install a great range of terracotta tiles, including reclaimed, antiqued and handmade varieties. The square and rectangular tiles in the Romana range are used to create a geometric floor pattern.
Pros: hardwearing; rich earthy tones; warmer underfoot than ceramic tiles or stone
Cons: colour variation and rustic feel not to all tastes; hard underfoot; requires professional installation and sealing
10. Ceramic Tiles
Available in a huge variety of colours, patterns, textures and styles, ceramic floor tiles are a really versatile choice, suitable for any room. Ceramic tiles can be used to create breathtakingly beautiful floors and the design possibilities are almost limitless. Tough and easily cleaned, a ceramic floor is a great option for hallways, bathrooms and kitchens. Try Iris Ceramica for a fabulous selection of innovative textural tile designs. De Ferranti has a fantastic choice of patterned ceramic tiles, including a striking range by Neisha Crosland. De Ferranti's ceramic tiles are handmade and hand-painted, many of them taking inspiration from historical sources.
Pros: huge variety in pattern, colour and texture; easy to clean; durable
Cons: cold and hard underfoot; requires professional installation; more expensive than terracotta
Make sure the birds in your garden can stay cool when the mercury rises with this bird table from Mc McGregors. £32
It might amaze you because I live in London but my back garden is a positive hive of activity when it comes to birds.
Don't ask me what any of them are because I don't know but they sure give the dawn chorus a go.
Which got me thinking that my feathered friends deserve a treat this summer, especially seeing those in the know have told us it's going to be scorchio.
Cue my search for a bird bath that was a) pretty and b) not going to take up all the room in my not-so-huge back garden.
Luckily, I found this one from Mr McGregors, a delightful gardening website named after Peter Rabbit's nemesis. Made from cast iron, this bird bath is decorated with birds which will hopefully encourage your visitors to have a much needed summer dip.
See this product at Mr McGregors...
(We don't list this product yet but sign up to our newsletter and we'll let you know if/when we do)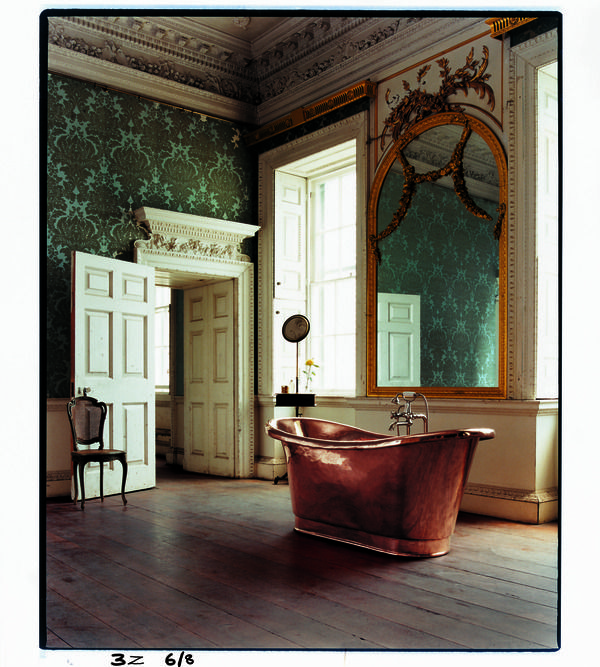 A Spa-inspired bathroom is the perfect retreat after a busy day, a restorative haven of tranquillity and calm. Shut the door, sink into a luxurious roll top bath and feel the stresses of the day drift away.
A Spa-inspired bathroom is the perfect retreat after a busy day, a restorative haven of tranquillity and calm. Shut the door, sink into a luxurious roll top bath and feel the stresses of the day drift away. Stand under an invigorating shower and emerge refreshed, with soft towels warming on a heated rail. A daily source of pleasure creating a sense of wellbeing, a luxurious bathroom is a worthwhile indulgence.
Bathroom Furniture
Nothing says luxury more than a glorious freestanding bathtub. A grand centrepiece for the bathroom, a freestanding tub offers total relaxation and indulgence. The Water Monopoly, Chadder & Co. and Drummonds all have fabulous ranges, including double-ended slipper baths, copper, stone, and traditional cast iron roll tops. If space is an issue, take a look at The Albion Bath Company's diminutive 'Tubby Tub', a generously deep, capacious roll top bath only 4ft in length. Bathrooms International has an extensive range of space saving inset baths as well as invigorating whirlpool systems.
When it comes to blissful showers, Hansgrohe has mastered the art. Experience the restorative power of the Raindance overhead showers, with air infusers for a voluminous spray of water, and spray modes ranging from massage jets to the gentle patter of soft rain. And at nearly a metre square, with three different spray zones, the Shower Heaven ceiling plate indulges the senses with a totally luxurious drenching. For something a little more traditional try the fabulous freestanding Spittle shower at Drummonds or the Needleshower at Water Monopoly.
For beautiful basins and vanity units Chadder & Co., Drummonds and Water Monopoly specialise in elegant classic designs. A vanity unit with a double sink will give your bathroom an opulent feel. The Deco double basin at Water Monopoly and the Double Marble vanity suite at Drummonds are both stunning. If you're going for a contemporary look, West One Bathrooms and Bathrooms International have a great choice of styles and materials, including stone, glass and metal.
Storage is important if you want your bathroom to be a tranquil and relaxing space. Fired Earth, CP Hart and West One Bathrooms all have great bathroom storage ranges. Bard & Brazier specialise in towel rails of excellent quality in modern and traditional designs. A heated towel rail is a luxurious treat, perfect after a long soak in the bath.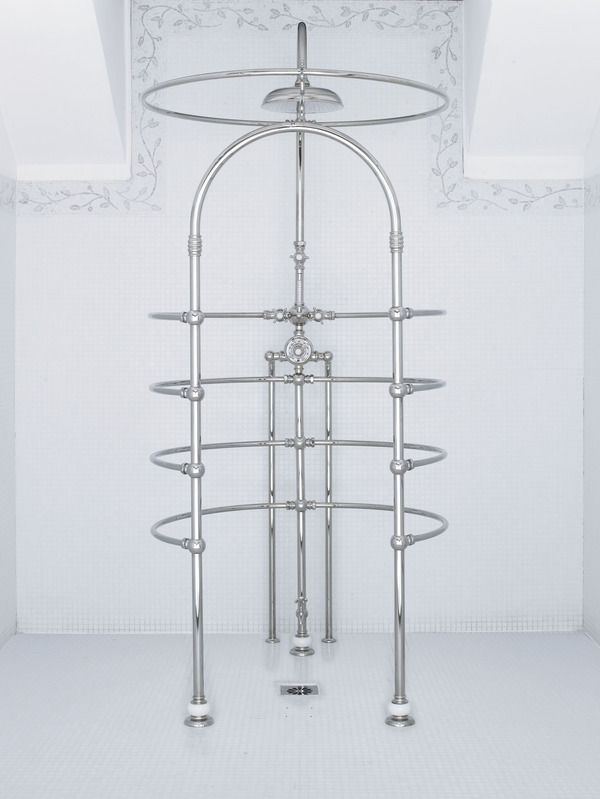 Decoration
As well as creating a peaceful environment, neutral colours and soft shades will make the most of the available light from smaller bathroom windows. White tiles with black accents look particularly striking and marry well with traditional baths and basins. If you don't want to tile the whole room, tiling halfway up the walls, creating a tiled splashback for the sink, and tiling up to the ceiling around the bath if you have an overhead shower, will protect the walls in areas most likely to get wet.
For ceilings and un-tiled areas choose paint designated for use in bathrooms, such as Farrow & Ball's Modern Emulsion or Dulux Bathroom+. Wallpaper with a washable or vinyl finish is also suitable for use in bathrooms. Zoffany has a good range of vinyl wallpapers, which are more resistant to moisture. Putting wallpaper behind a glass or Perspex screen will provide extra protection.
Engineered wood, rubber, or tiles are all great options for flooring. Rubber floor tiles and sheets come in a huge range of colours and are suited to contemporary decorative schemes. Engineered wood floorboards won't expand and contract like solid wood and look fabulous with freestanding baths. Tiles offer the widest choice in terms of material, colour and pattern. Fired Earth, De Ferranti and Villa Lagoon all have fantastic ranges.
Lighting is key to creating a beautifully relaxing space. If you go for overhead lighting, choose an enclosed glass shade rather than spotlights, and use a dimmer switch to set the mood. Wall sconces are often more atmospheric. Drummonds has a great selection of elegant bathroom wall lights, with a really decadent feel.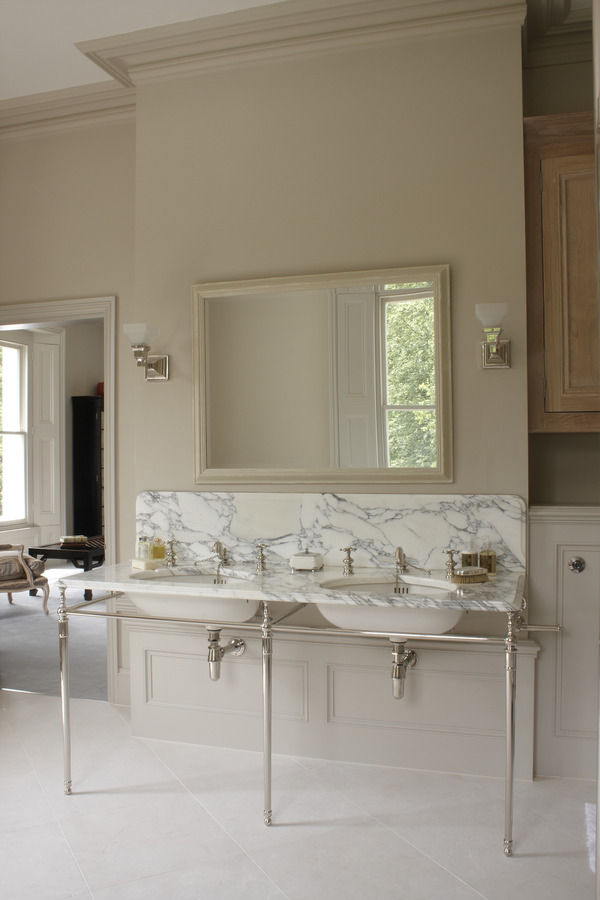 Accessories
Create the perfect ambience for a tranquil retreat with candles, mirrors and softer than soft towels. Drummonds has a range of luxuriously thick super-soft towels in subtle colours. Water Monopoly has a particularly good range of bathroom accessories including soap dishes, sponge baskets and wall sconces to hold bottles. Rocket St George has a fabulous Shell Candle wall sconce in brass that would look beautiful with a copper bath. Decorative mirrors will reflect the flickering candlelight, creating a lovely relaxing atmosphere. And leafy plants will finish off the bathroom with a natural feeling of tranquillity.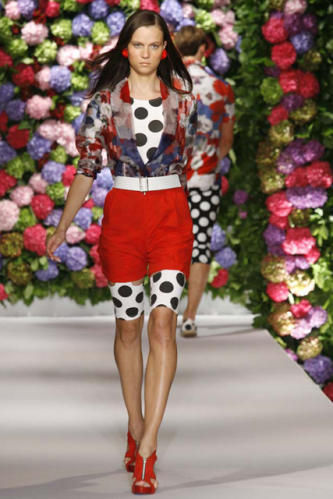 Go dotty with design and use polka dots to add a touch of fun to your interior.
When it comes to looking our best, we want to be spot on with the latest fashion trends. That's right; polka dots took the spotlight on the catwalks, bringing with them a retro and playful feel. As ever, interior design isn't far behind, and it has been influenced greatly by this classic, bold print.
In a fresh new approach, designers have rejuvenated the conventional dots by combining them with floral prints. Floral cushions from Cabbages and Roses in monochrome offer the perfect accompaniment to the Blue and Brown dot cushion from Hunkydory Home. They will create a flamboyant contrast, and prove that dots work well on fabrics to bring texture and a vibrant, summery feel to a room.
Another great example of how polka dots and floral designs can work well together is with the Poppy Liberty Fabric Cushion Liberty from Liberty and the Deckchair Spot cushion from Hunkydory Home. With their pretty pink colours, they stand apart as two dramatically vibrant cushions; these would work perfectly in a kitchen, living room or dining area to give a feminine and homely touch.
If you prefer the traditional polka dot style, why not opt for black and white polka dots for a classic Minnie-mouse inspired look. The Marimekko mug from Lollipop Shoppe is part of a new line of Marimekko tableware and pays homage to the polka dot style in its own unique way. Using these would be a great way to invite attention to your table. Also, monochrome dots give you the opportunity to use colour in other aspects of your room.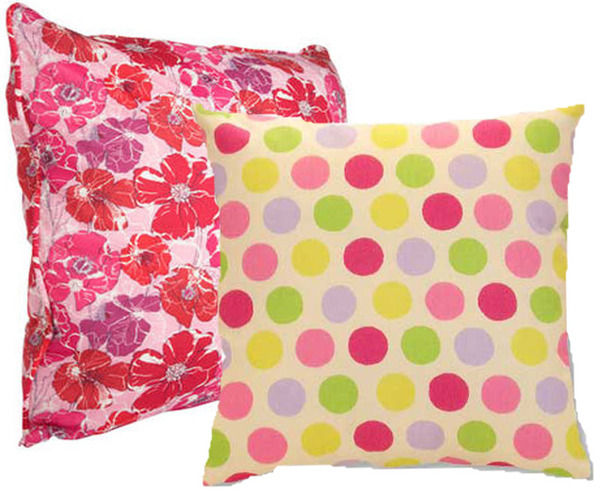 Oliver Bonas has a quaint collection of gifts for the home that are available to view on Furnish. The porcelain china pale blue Tea bag tidy is an example of how pastel colours work well with polka dots. Using calm, subtle shades gives a contrast to the bold dots and creates a modern feel to your interior. The Retro milk pan in pink and white (also available in red and white) is an exciting and playful accessory for your kitchen.
We know that the best things in life are better enjoyed in moderation, and this is certainly the case with polka dots. However, Walldots wallpaper from Sheerhome takes its inspiration from polka dot design by repeating a bubble-like pattern on your walls. It provides an interesting backdrop to any room and is a slightly more detailed take on a traditional polka dot design.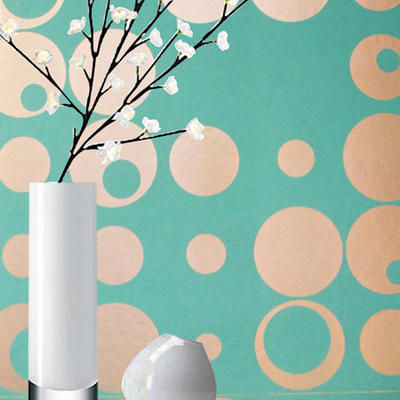 The Turquoise and silver Retro circles wallpaper from Oliver Bonas are stylishly vibrant. This wallpaper will provide a refreshing balance to an interior that has harsh modern lines with its aesthetically pleasing motif.
Red and white polka dots are definitely a must for this trend; this combination gives a feminine and flirty feel. Try this out in your home with the sand-filled Heart doorstop from Lover's Lounge which has a cute carry handle, and serves as a handy yet chic accessory for your home.
Also, your household chores will never be boring again if you wear the Polka dot apron in red from Hunkydory Home; who knew aprons could be so flirtatious and fun?
If you want to bring a splash of colour to a room then Dot stools from Lollipop Shoppe are just the thing for you. Their charm and contemporary style allows you to introduce the polka dot style into your interior in a functional and tantalising new way. Also, have some fun with this wall clock from Sonodesign, which is suitably named The clock I can't see. As the name suggests, you may have to look closely to see the numbers, but there's no doubt it will have you feeling fantastically dotty in no time at all. Whatever your taste, Furnish have found designs that are top of the spots, so you can choose anything from tableware, cushions, accessories, and wallpaper.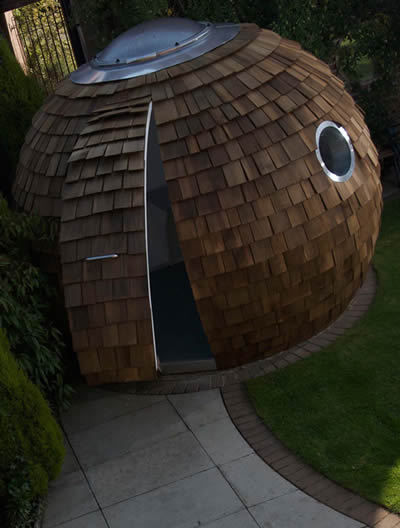 We interview Chris Sneesby, designer of the futuristic Archipod.
The first impression you get from the Archipod is that it could be something out of the future, with its modern and distinctive look.From the outside it looks like it could naturally be a part of your garden like a shed or a tree house, and its spherical shape makes it an interesting and flattering addition to your garden. It has a unique appeal that draws you inside, where I was pleasantly surprised, having been in a prototype of the Archipod myself, to find that it feels extremely spacious. The Pod has a generous amount of light that enters through the roof dome making it feel bigger and more comfortable.
I met Chris at this year's 'Grand Designs' live exhibition and I was immediately intrigued to find out more about the Archipod. I interviewed him to find out where he gets his inspiration from, and what new and exciting ideas he has for the future of the Archipod.
How has your background and experience helped you create Archipod?
I have worked previously for Yorkon, part of the Portakabin Group, for over 13 years, which gave me a lot of experience in the way buildings can be built offsite in controlled conditions and installed.
Who is your main target buyer for the Archipod, and what type of market research did you do prior to building your design?
My main target was the increasing number of people that want to work from home, but are looking for a high quality working environment rather that a glorified shed. I figured the only effective way of doing market research was to build a prototype, get it on a website and see what interest it generated. The power of the internet is phenomenal – within three weeks of the website being launched, it was on the front page of the Danish Financial Times Website – I had people calling me from Copenhagen to see if I would export them.
What makes Archipod unique from anything else?
I think mainly the look of it – a sphere is probably the most difficult shape to make from flat materials, which dissuades people from having a go at it. I also approach it from the angle of making it as good a quality and interesting as possible, rather than compromising the design by making it easier or cheaper to build.
How have you ensured that the pod is environmentally friendly?
I have used fairly traditional and environmentally friendly materials such as timber and plaster rather than plastics or GRP to make the structure. I also made it as efficient to heat as possible by putting plenty of insulation in.
What benefits do you believe that the pod offers to people who will use it as an office/work environment?
It is a warm, quiet and well lit space to work in. Most importantly, there are no distractions such as you get working in the house. People often suggest bigger portholes so that they can see into the garden - I tell them that if they want to look at the garden, then they should focus on their work, and look at the garden when they finish earlier and can relax with a glass of wine. Another advantage is that if you are running a business from it, the cost can be offset as part of the business – it is much more difficult to do this if you build an extension on the house to use as an office.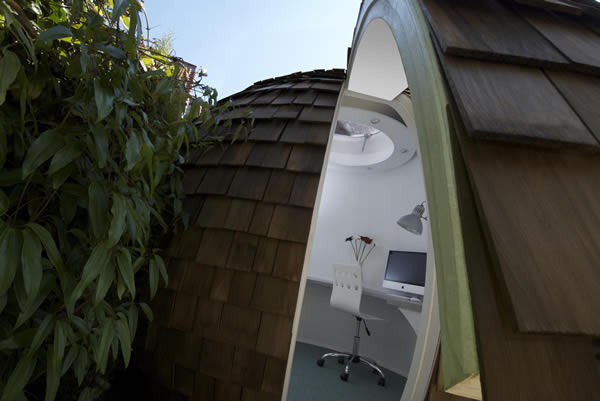 How well is the pod insulated and how sound-proof is it?
The insulation exceeds that required by Building Regulations – There are two lots of insulation, one of which is loose rockwool in the wall panel, which also acts as a good absorber of sound coming from outside.
How much does the Archipod cost? Does the buyer need to have planning permission?
Prices start at around £12,000 plus VAT. Planning Permission should not be required as it would normally come under Permitted Development, but the customer should always check this with their Local Authority first.
What ideas do you have for the future of Archipod? Do you want to expand and use different materials?
There are lots of ideas for the future – probably too many to mention. We are looking at a bigger pod, and the possibility of joining them together. We are also looking at different claddings such as copper sheeting and painted render.
The Pod is designed primarily to be used as a garden office, but its adaptability opens up opportunities for you to use it as anything from a studio, hobby room, or even a playroom. With such an innovative design, I think that the Archipod will pave the way for future living that will rely on money and energy saving sources.
For more specific information and frequently asked questions about the Archipod, take a look at www.archipod.co.uk or email info@archipod.co.uk.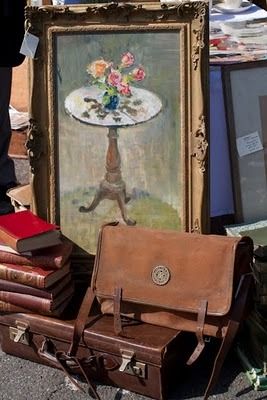 We've been scouring the blogosphere again this week, and we've got another three great interiors writers to introduce to you.
First up this week is found, now home, written by American Leigh who's just crossed the pond with her family to live here in London. She's got a great eye for vintage finds and the blog is chock full of fabulous photographs of flea markets, interiors inspiration and progress updates on her own home projects. All this is written about with an infectious enthusiasm: you can't help but get wrapped up in it.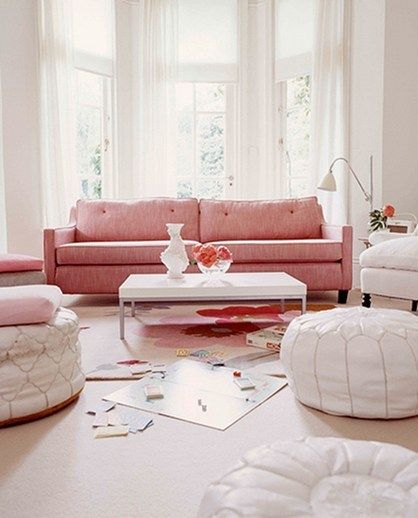 Another blog after my own heart, Tales of a Junkaholic follows the super crafty Artemis, and her envy-making industriousness around the home – just look at her new sewing shed. Squirreling about at boot fairs, sharing her vintage finds, and amazing upholstery projects, there's plenty of inspiration here to get crafty yourself. With her London home overrun with vintage junk, Artemis has been thinning out the shelves by selling some of it through her online shop, The Bucket Tree. And as if that wasn't enough, she's also the owner of Rust Jewellery.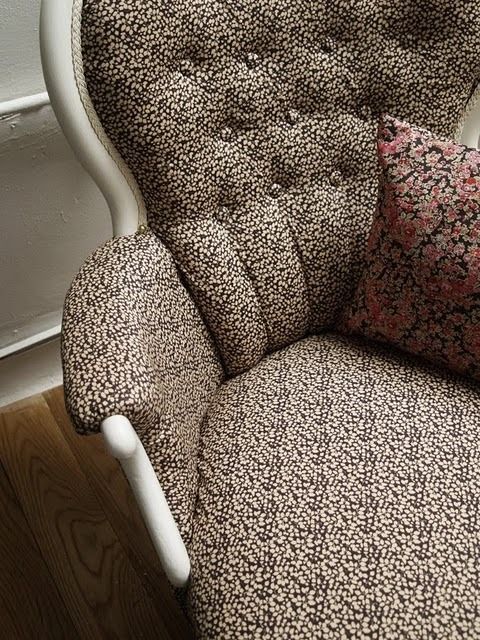 The final golden nugget this week is design is mine: isn't it lovely? To which the reply is invariably: 'Why yes.' This is Summer's beautiful blog, brought to you from Portland, Oregon. There's a regular photographic thread on interiors inspiration, each post on a different theme, such as vintage masculine, think pink, European vacation and retro/modern. Covering art, craft and interiors, this is a real treat of a blog with fabulous photography and musings on all things design.
And, as always, get in touch if you write a blog yourself and we'll feature it next time…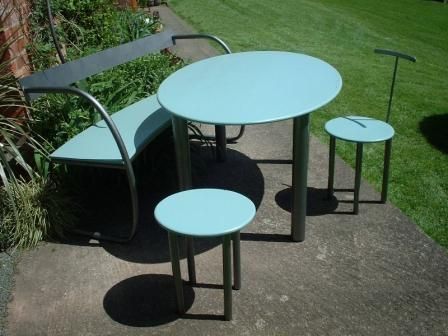 Dine in style with this iron set from Iron Vein. From £545
If you're like me, then the mere mention of iron furniture probably makes you think of ridiculously ornate and not very comfortable pieces.
Well, think again, because that's not the case with the collection on offer from Iron Vein. Garden sculptures sit alongside practical yet stylish garden furniture all of which are bound to turn your neighbours green with envy.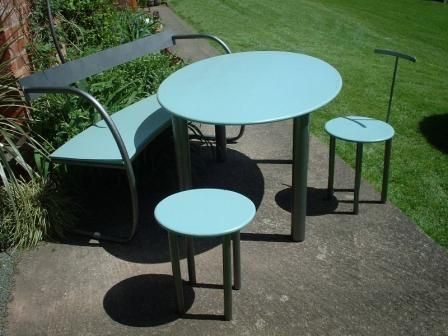 I particularly like this Chelsea dining set which is available with a combination of seating options including a bench, chairs and stools.
And if you don't see what you like, Iron Vein also offer a bespoke service so you can get exactly what you want for your garden.
See this product at Iron Vein...
(We don't list this product yet but sign up to our newsletter and we'll let you know if/when we do)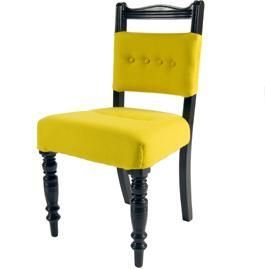 Brighten up your life with this Neo Occasional Chair in zingy yellow from Lockwood Design, £250
A beautiful little chair with a big personality, this dashing fellow has a striking black gloss finish and fabulous canary yellow upholstery. The button back is adorable. Stunning in a bedroom, bathroom or even a hallway, the Neo Occasional Chair has a wonderful vitality that'll set off your room in style. Elegant, classic and quirky all at once, it's a timeless piece that'll never go out if fashion.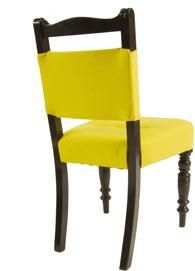 And Lockwood Design only make one offs, so you know you'll never see another. Fantastic value for a unique piece of handmade furniture, it's lucky for you that I can't afford it because it would have been long gone. So grab it while you can.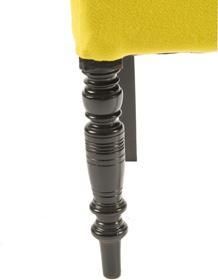 But if you miss out on this beauty, you can find more gems by Lockwood Design on Furnish.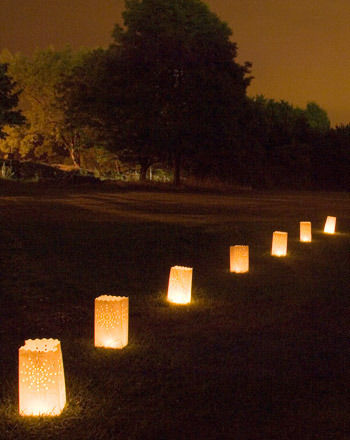 Add some romance to your garden with these pretty paper lanterns from The Green Apple. From £16
For me, there's nothing nicer than candlelight in a garden on a balmy summer's evening. Sure, there's an amazing choice of solar and electrical lights for your garden available but candlelight is just so much more romantic.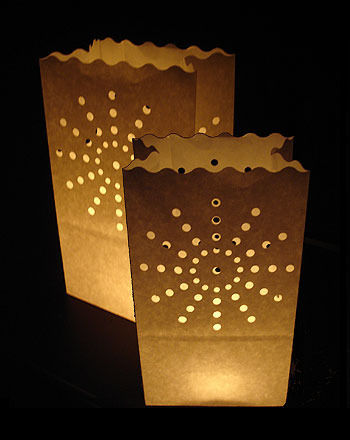 Which is why I adore these paper lanterns from The Green Apple. Made from biodegradable paper, the lanterns are available with or without pretty cut out designs; personally I would opt for the patterned version and use them to create shadows on walls and fences.
Easy to use, you simply pop in some sand to weigh them down and add a tea light. Try adding them to paths or garden beds to create a warm glow long into the night.
See this product at The Green Apple...
(We don't list this product yet but sign up to our newsletter and we'll let you know if/when we do)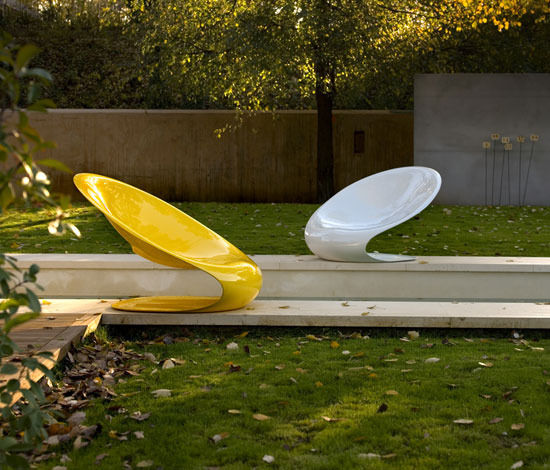 We're all hoping for a sizzling barbeque season, but if the sun fails to peep through the clouds, a colourful garden is inviting even on a drab day.
We're all hoping for a sizzling barbeque season, but if the sun fails to peep through the clouds, a colourful garden is inviting even on a drab day. And there's no need for green fingers: introducing colour with furniture, paint and accessories will bring your outdoor space to life.
Colourful Furniture
Use bright furniture for flashes of colour, leading the eye around the garden. Different furniture types help to zone your outside space: a languorous hammock strung between trees, a colourful bench in a quiet corner, or a bistro-style table and chairs perched on a patio.
Exterior | Interior offers by far the best choice of high-style garden furniture, including modular seating systems with colourful cushions, sculptural lounge chairs in weatherproof polymers, and beanbag-style chaises for lazy afternoons. The Ami collection is fabulously tactile with bold weaves and upholsteries in innovative materials, designed expressly for exterior use.
The Worm that Turned stocks a great selection of Fermob's metal garden furniture, a timeless choice from France, available in 24 attractive shades. Comprising chairs, tables, swing seats and benches, each collection has its own style identity and each piece its own purpose. Mix and match the colours or use different styles in different areas of the garden. In powder-coated steel with UV and rust protection, Fermob furniture is built to last.
If you're looking for a statement piece, the Wave hammock by Royal Botania at Encompass is spectacular. With a built-in sun canopy, it rotates 360° appearing to float from one fixed point. Designed for year-round exterior use, its polished steel frame and turquoise awning make a stunning architectural feature.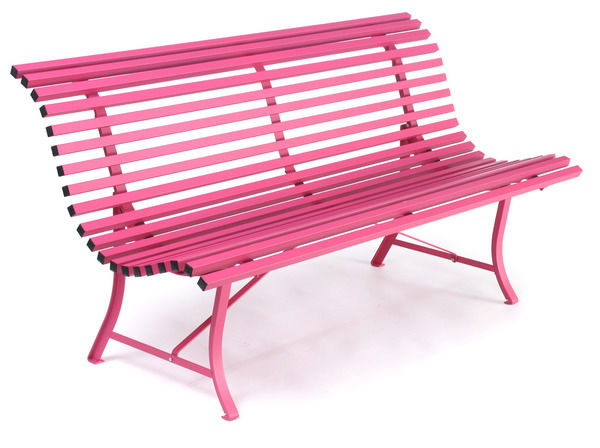 Colourful Fences and Walls
Painting a tired fence or wall is a simple way to add impact to your garden with colour. Cuprinol's [http://www.cuprinol.co.uk] Garden Shades and Heritage Shades are suitable for all garden wood, including furniture as well as fences, arbours and decking. Formulated to complement the natural colours in the garden, the range includes vivid brights (Forget Me Not), moody hues (Lavender) and subtle tones (Willow) for the perfect backdrop.
For garden walls, Sto offers a premier range of extremely hardwearing paints, colourfast in all weather conditions. Preventing water from gripping to the surface, StoLotusan Color is self-cleaning; the dirt simply washes off in the rain, keeping the surface looking good for longer. With up to 800 shades to choose from, find the perfect colour match with your planting scheme or create a stand out feature wall with year-round impact.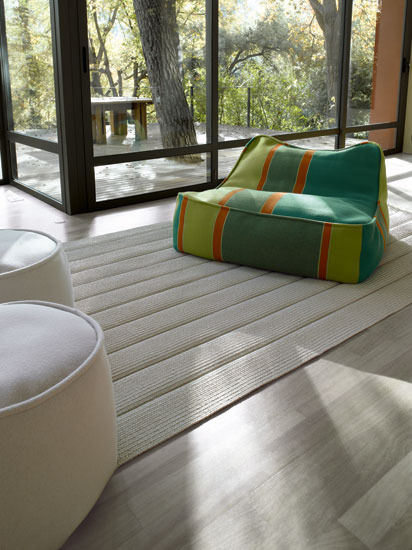 Colourful Accessories
Vibrant tableware, parasols and planters bring personality to the garden, adding accents of colour or unifying a theme. Shade sails have a real romance about them, creating enticing spaces. In Garden stocks shade sails in a variety of sizes, shapes and colourways, ideal over dining areas. A colourful oilcloth will instantly lift your outdoor table. Just Wipe has a huge selection while Cath Kidston is great for distinctive prints. And don't forget the birds. Give them a home to be proud of with a colourful and quirky Astoria nesting box.
Hanging lanterns, garden flares and tea-light holders bring drama and colour into the evening. Available at Skandium, Alvar Aalto's Votive tea-light holders in the iconic Aalto shape come in 10 colours, fantastic dotted along a wall. Exterior | Interior offers a great range of colourful planters, including the Vases collection with internal LED lighting. A beautiful chrome fire-pit from Encompass will reflect the colours, and reward your efforts.
So all you need to do now is sit back and relax, crack open a beer and keep your fingers crossed for some all-important sun.
Fresh from exhibiting her work at this year's Grand Designs Live Exhibition, I interviewed aspiring designer Sharyn Dunn to find out more about her 3-D designs.
If three-dimensional designs attract your attention, and you are interested in designs that will bring a dynamic visual experience to your interior then you will love Sharyn Dunn's work. I first saw Sharyn's work at this year's Grand Designs live exhibition and I was immediately intrigued to find out more. Sharyn is a new designer with a passion for 3-D design. So far, she has created a selection of wall sculptures, chandeliers, and free standing pieces. Her designs are created from a synthetic form of parchment which is chlorine free and also recyclable. With such interesting and unique work, I interviewed Sharyn to find out where she gets her inspiration from, and what direction she hopes to take her designs in in the future.
When and how did you first start experimenting and creating designs with paper/parchment?
I first started experimenting with shapes, repetition and folding during the first year of my degree and found I couldn't design anything flat, it had to be 3D.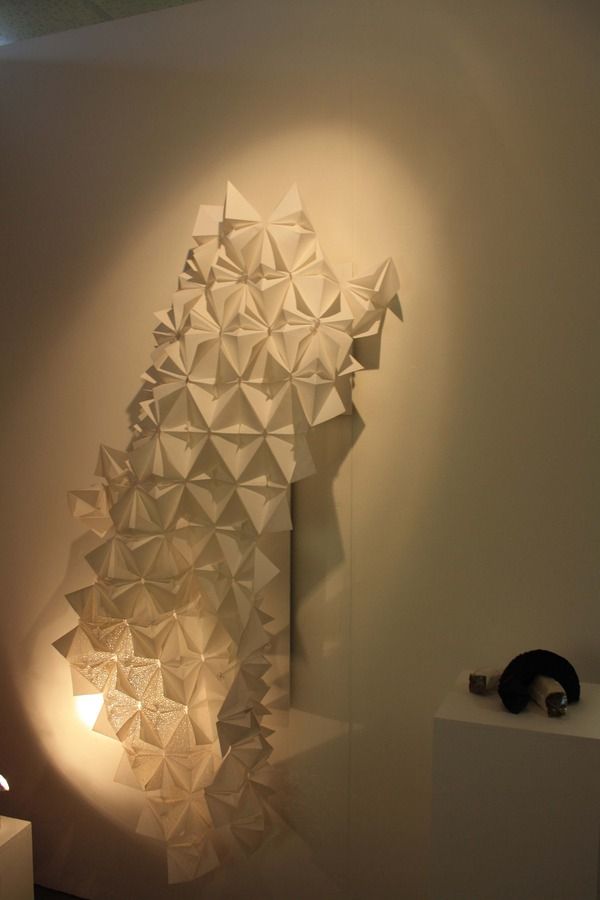 Have you been inspired by any other designers/designs?
My inspirations come from a combination of the natural organic shapes we find in nature such as shown in the works of Ernst Haeckel natural forms, his illustrations of the natural world I find fascinating, with their repetitions and some geometric forms. The modern day designers and architects such as Zaha Hadid, Frank Gehry, Tord Boontje and Shiguro Ban have also formed part of my research.
How environmentally friendly are your designs?
All of my paper works are currently made from wood-free pulp papers which are ph neutral and chlorine free and are a modern day form of parchment.
What is the first design you made and how have you progressed from that?
I discovered the shape I currently use by chance as part of an exercise in taking a shape e.g. a star and then by folding, twisting, rotating, stacking, bending etc, any way I could to move it from a flat piece of paper. The first thing I made was an etched metal and paper book, which I chose to display using lighting to accentuate the folds and detail. This led me on to folding a little more and altering the shape slightly, resulting in a range of flat pack lighting.
From there I moved onto my larger paper sculptural pieces I currently make. By introducing various 'piercing' and 'embossing' into the designs, this allows the light to shine through adding more interest to the geometric shapes.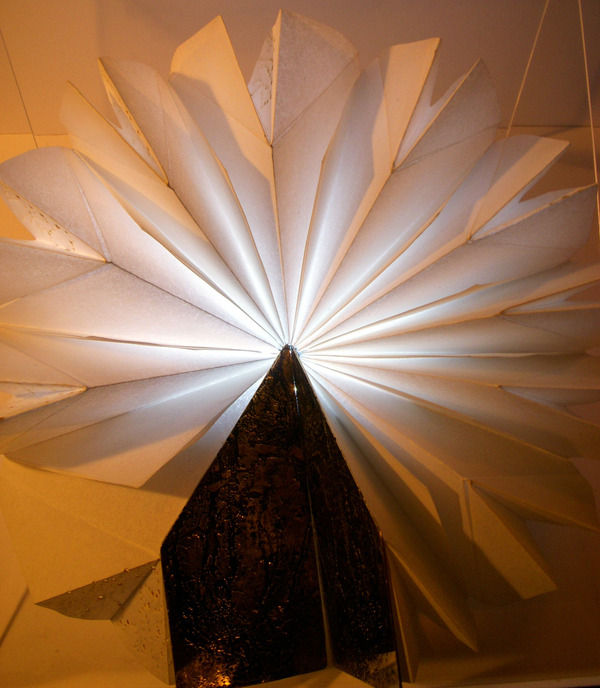 Where can your designs be used in the home?
My current work ranges from a chandelier to various sized wall pieces and free standing sculptures. I take commissions for any required size or area in the home and they can also be used in a commercial environment.
What type of visual experience do you hope to achieve with your designs?
When the viewer moves around the work the visual experience is one of dynamic shapes and angles, highlighted by tailored lighting, which encourages you to look further. Coupled with the quality of light used, and the effect it gives, I hope the viewer is generally intrigued by what they see, is it paper? fabric? holes? shadows? Just inviting them to look a little more.
What direction do you hope to take your designs in, in the future? Do you want to experiment with other materials?
What do I hope for the future? I'm hoping my designs will get larger, they need more space! I can attach and wrap them to or around virtually anything such as around a doorway, over a table or down a table leg for example. I currently use a heavy parchment, but I'm moving into other materials now with a paper-like appearance and also stainless steel is on the horizon.
For more information about the designs you can email Sharyn at sd-psdblue@hotmail.co.uk.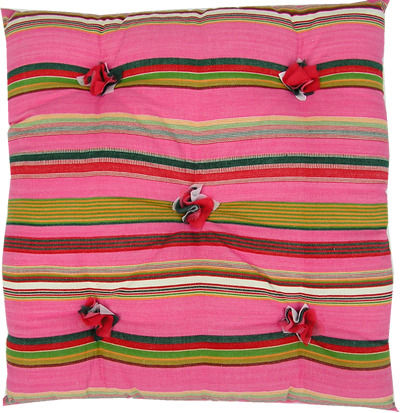 Give your garden a splash of colour with this funky parasol from Deckchair Stripes. £22.50
For me, summer is all about bright colours and vibrancy, like you've finally shrugged off winter and are ready to embrace long, warm days.
Which is why I was so pleased to come across Deckchair Stripes as their whole collection seems to epitomise summer living and being outside.
From pretty jute rugs to colourful table linen, everything, as the company name would suggest, has been given the stripe treatment.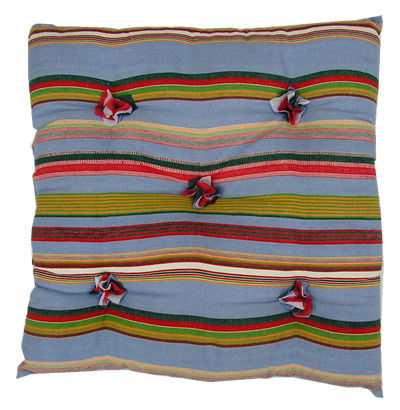 I particularly love the collection of seat pads and cushions which are perfect for adding a pop of colour to your garden.
So forget uncomfortable garden chairs and invest in a few of these instead – I know I will be.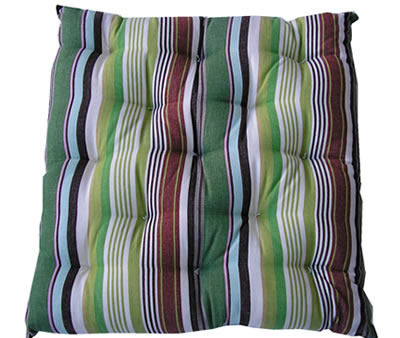 See this product at Deckchair Stripes...
(We don't sell this product yet but sign up to our newsletter and we'll let you know if/when we do)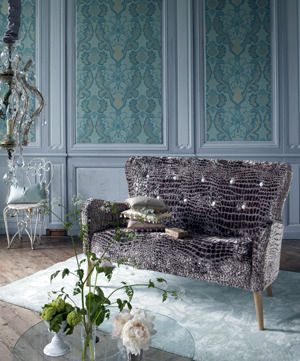 Lift your scheme as well as your spirits by experimenting with colour in the home. An injection of colour can transform a room's atmosphere as well as your mood.
Lift your scheme as well as your spirits by experimenting with colour in the home. An injection of colour can transform a room's atmosphere as well as your mood. Take advantage of colour cards, tester pots, fabric and wallpaper swatches, to create your perfect palette. Take your time but go with your instincts: if you fall in love with a colourful cushion or carpet, use it as inspiration for the rest of your scheme. Create a haven of subtle hues or make a statement with bold brights.
Living with Bold Colour
Consider how far you want to go to make bold colour work for you. Using it in small doses - on one wall, a statement sofa or for selected accessories - is a great way to create zingy accents, attracting the eye and lifting your scheme. If you choose to go for full colour on all four walls, make sure to use tester pots in the corners of your room to judge how the colour will look in light and shade. Choosing sofas and armchairs in subtler tones, with bold cushions or accessories in the wall colour, will draw your scheme together.
For a really dramatic and moody look, dark colours for both walls and furnishings can be fabulous. To avoid a severe finish, go for sumptuous fabrics such as silks and velvets. Combining bold and supposedly clashing colours can really work. Forget the old wives tales and create a striking look by combining colour opposites. Sto and Dulux have great tools for choosing colours with confidence. Designers Guild is fantastic for inspiration on contrasting fabric colours and wallcoverings. Sofas and armchairs in different block colours, or bold walls contrasted with accessories in a different accent colour, make for a stylish and contemporary look.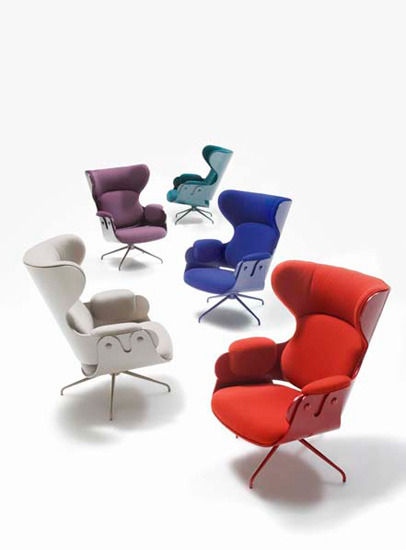 Living with Pastels
Pastel colours are no longer the saccharine shades of childhood. They've moved out of the nursery and away from the girly pinks and baby blues of past. Dove greys, chalky greens, duck egg blues and dusky pinks are the subtler, muted hues of now. Farrow and Ball and Fired Earth offer a great choice of sophisticated pastel paint colours. Try Rose Mallow at Fired Earth or Pale Powder at Farrow and Ball.
To make sure your room doesn't look washed out, go for good-quality highly pigmented paint with a chalky texture. The Little Greene Paint Company's Acrylic Matt Emulsion is perfect. For wood and metalwork choose a complementary off-white colour to bring out the walls, or go two shades lighter or darker to create depth. Paint colours at Farrow and Ball and Little Greene are linked to recommendations for complementary neutrals.
To choose the right shade for your room, always use tester pots, again in the corners so as to judge the colour in light and shade. Paint colours can look hugely different on the wall to how they look on a colour card (or on your computer screen). It's also a good idea to see how the colour changes from day to evening.
Combine the new pastels to create a beautifully relaxed space. Colour cards and fabric samples will help you to draw together a complementary palette.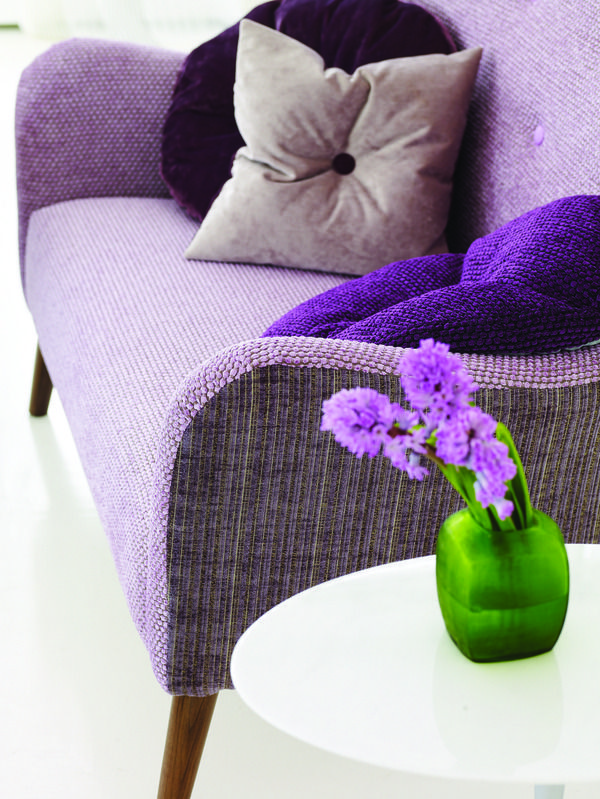 Tones
On the natural spectrum of the colour wheel, tones work outwards from the centre, light to dark. Using different tones from the same colour segment or colour card will give depth to a room. Adjacent colours on the wheel are complementary, creating a subtle scheme, while those opposite one another make a dramatic contrast.
If you're going for one colour across a whole room, varying the tones will add interest, preventing it from looking flat or becoming overwhelming. For example, taking a dark sofa as your base, layer cushions and throws in varying tones of the same colour, using a lighter shade for the walls and the rich shade of the sofa for other accessories.
If you take the time to choose, there's no need to feel daunted. Have fun putting together your palette and live life in colour.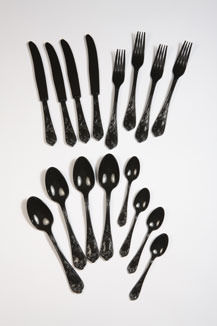 Make sure your picnic is the chicest around with this funky cutlery set from Urban Outfitters. £25 for a 16-piece set.
Think of plastic cutlery and you're probably imagining a dodgy, white, flimsy set picked up in a hurry from your local supermarket.
Well, think again, because stylish plastic cutlery is available courtesy of Urban Outfitters and their super cool Extravaganza set.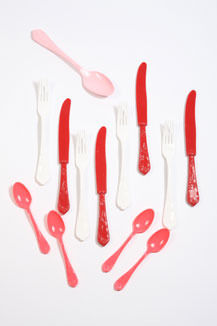 Available in hot pink or sultry black, this 16-piece set has been designed to look like a collection of vintage-style silver cutlery.
Perfect for al fresco dining or an impromptu picnic, this gorgeous cutlery is sure to become a firm favourite this summer.
See this product at Urban Outfitters...
(We don't list this product yet but sign up to our newsletter and we'll let you know if/when we do)
Wallpaper is having a revival, not least in the huge diversity of prints and patterns coming to the market, but also in the range of applications to which wallpaper is now put in interior design.
With so many styles available and in such a versatile material, it would be shame to stop with the walls. So here are our tips on working those prints and getting the most from your wallpaper.
1. Alcoves
Wallpapering in alcoves is a great way to create a feature wall in your room, adding interest and depth to your decorative scheme. If you've got two alcoves either side of a fireplace, papering both and adding a console table in each with a lamp to highlight the wallpaper is a great look. Placing a chair in the alcove, upholstered in a complementary fabric, is another way to enhance the wallpaper and develop your scheme. If you have shelves in your alcove papering the back wall or even the back of the bookcase creates a great backdrop for books and accessories.
2. Lining wardrobe doors
Lift your spirits in the morning and give your clothes a treat by lining the inside of your wardrobe with beautiful printed wallpaper. You can really go all out, choosing a bold pattern or bright colours, without worrying about the wallpaper matching the rest of your room. And there's something enchanting about a hidden surprise, even if your wardrobe is crammed with boring work clothes. If the doors have beading on the outside, papering within these panels will create a feature of your wardrobe.
3. Covering lampshades
Papering a tired lampshade is a simple way to introduce pattern and colour to your scheme. Mix your wallpaper paste with a dollop of PVA glue to make sure it won't peel off with the heat of the bulb. Play with different combinations of complementary or contrasting papers for the inside and outside of your lampshade. Choosing a paper in the same pattern but a different colourway to go on the inside of the shade is a great look, particularly if you're papering a pendant shade. If you're papering walls in your room, a lampshade in the same paper will help to draw together your design.
4. MDF Panels
Wallpapered panels look great either mounted on the wall itself or leaning against it. A collection of panels in varying sizes and prints against a wall makes a lively feature. Ply or MDF can also be used to create a simple room divider with hinged panels. Use a different pattern or colourway on the front and back to add interest, or make like a Victorian lady and create a decoupage with samples. Cut out motifs from a range of samples to create a collage or use sample squares for a patchwork effect. Seal your design with a layer of PVA or varnish. Screens are great to hide messy office areas or to zone your bedroom. Facing the panels with corkboard before papering creates a lovely backdrop for pinning photographs.
5. Stretching over canvases
This is a fun way to create artwork for your room and there's nothing more satisfying than using a staple-gun. Again PVA will ensure it sticks well. Take care folding at the corners to get a tidy finish, using a staple-gun at the back. If you're papering a feature wall, placing canvases on the opposite wall gives the room a pleasing symmetry. If, like me, you're cripplingly indecisive, canvases allow you to go for more than one colourway. Place canvases in a second colourway over your papered wall to animate the look.
6. Framing
Another way to create artwork, framing wallpaper is great if you live in a rented house or you're on a tight budget. Framing allows you to take the wallpaper with you, and using large samples saves you buying a whole roll. Again you can play around with patterns and colourways, with three or four variations framed in a row. If you're papering a feature wall, pick out your favourite motifs to enhance through framing, drawing together your scheme and making the most of the wallpaper.
7. Combining different wallpapers
The key to using different papers on the walls of one room is to create some kind of dialogue between the two. Go for either the same pattern in a different colourway or a different pattern picking out some or all of the colours of the first wallpaper. A plain, slightly textured wallpaper in one of the colours of the first also works very well to unify your scheme. A simple way to combine wallpapers is to use a different print in any alcoves in the room. This works to enhance the formal qualities of the space and makes a natural break between the two papers.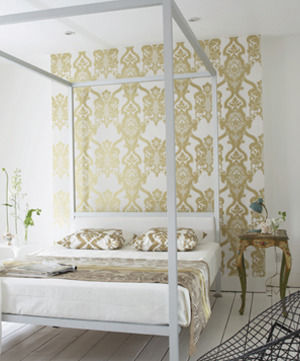 8. Combining wallpaper and paint
When choosing a paint colour, always get tester pots and place your wallpaper sample against the painted area to judge the effect. Picking out one of the colours in your wallpaper to use on painted areas works well. Use the background colour for a subtle look or one of the colours from the motif for a more striking effect. For an even more dramatic look, choose a contrasting paint colour that speaks to the wallpaper in a different way. Think about the balance you want to create between the wallpaper and paint, choosing a lighter paint colour if you want to give the wallpaper greater prominence.
9. Wallpaper murals
You can get really fantastic results with wallpaper murals. A single image across a whole wall makes a fabulous feature with instant impact. Transform your space with architectural photographs, antique maps, botanical drawings, and even fine art reproductions. Surface View [http://www.surfaceview.co.uk] has a great selection of ready to roll murals, including written text and anatomical drawings, available in permanent and peel-off varieties. With a huge image library Digetex [http://www.digetex.com] create and install bespoke murals, researching your chosen theme if you can't find what you want.
10. Headboards
Papering a tired wooden headboard or creating your own with MDF can transform your bedroom into a sumptuous boudoir. Choose a high paper grade with a flock surface or a textured weave to give a quality feel. For a really opulent look, follow the width or your bed and paper the wall behind it. Wallpapering kid's headboards, and getting them to help, is a great way to introduce colour and pattern to the room and create a sense of fun at bedtime.