It's our Interior Design Magazine!
The hottest interior design ideas, fab finds for the home and the latest in interiors trends. We're always looking for new finds, designers to feature or anything else lovely for the home, so if you've seen something gorgeous and would like it featured in our interior design magazine, please get in touch!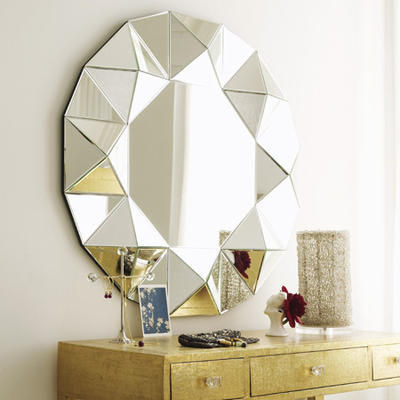 Reflect on the beauty of this faceted mirror from Graham & Green, £398
A mirror just like this one was featured in the June edition of The World of Interiors magazine, hanging in the restored 17th century farmhouse of artist Sam Miller. Miller handmade his using antique glass and you can get one made to order (visit underwoodmiller.com) for the princely sum of £7,500. Having totally fallen in love with Miller's mirror, but without such deep pockets, I couldn't believe my eyes when I saw Graham & Green's version.
Creating interesting disjointed reflections, the faceted pyramid border makes the most of available light. And its geometric, architectural qualities make a stylish statement that would fit equally well with modern and period furnishings. Ok you don't get the beautiful antiqued finish, but being such good quality it'll probably last until you do. And at £398, you're saving over £7,000. Well, that's what I'll be telling myself.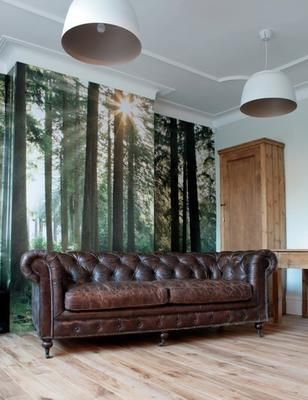 Create a harmonious home with naturals.
With growing enthusiasm, since Modernist tropes of 'bringing the outside in' and 'truth to materials' formed a watershed in thinking about humane design, architects and interior decorators have introduced natural materials to bring warmth, harmony and sensuality into the home. Couple that with current environmental concerns and you have the makings of a major trend.
Central to the vogue for naturals in interior design is a desire to celebrate and elevate the inherent qualities of organic materials. But that doesn't mean you have to sacrifice on style. The natural trend is as much about an appreciation of craftsmanship and the beauty of good design, as it is with getting back in touch with nature. It's through the intervention of design that the inherent beauty of organic materials is expressed and enhanced: a faceted glass bowl that refracts natural light, a sisal carpet with a textured weave, or a wooden table polished to bring out the grain.
The key to creating a harmonious environment is engaging the senses; the effects of natural light, the aroma, texture and aesthetics of natural materials all come into play. And while part of this engagement might be to embrace the rawness of organic materials, it's also about enhancing the sensual appeal of those materials through design. The principle of simplicity unites these two approaches, and underpins the greatest attractions of natural materials: quality, practicality and longevity. Enhanced by the patina of age, natural materials not only wear well, but they have timeless human appeal. So although we're talking about a hot trend for 2010, it's sustainable in the long term.
Natural light is your essential tool when creating an organic interior scheme. Window dressings should enable light to filter through, such as linen curtains, bamboo matchstick roller blinds, or wooden slatted Venetian blinds. Accessories should work to enhance and manipulate available light; mirrors and glass will refract light and bounce it around, while anything highly textured dramatises the contrasts of light and shade. The form, tone and texture of natural wall-coverings, flooring, furniture and fabrics, should all play a part in enhancing feelings of light and space. But none of this means that you can't introduce colour into your scheme. Just take a look outside. Nor does it mean that you can't combine naturals with contemporary design and innovative materials. After all, Modernism was as much about the machine made - chrome, steel and concrete - as about the benefits of light and airy homes or the promotion of inherent beauty over applied decoration.

Looking around Furnish, there are plenty of different ways to interpret the naturals trend and suit your individual style. The Teak Chinese Stool and Modular bookcase from Puji recall the lightness and openness of Chinese architecture, whereby paper screens and open-framed wood allowed sunlight to filter through the home. OKA, Lombok and Orchid are also renowned for classic, Asian-inspired, natural furnishings.
Reissued by Vitra, Charles and Ray Eames' solid Walnut Stools are beautifully turned and polished to bring out the rich grain. Another hero of 20th century design, Eero Saarinen's Tulip dining table features an opulent marble top and aluminium base, while the similarly shaped Maiden table from Benchmark is turned from a single piece of solid oak. Drying out as it ages, the Maiden table develops splits and fissures, giving it a unique character. If you're after that beaten-up, weathered look, Rose & Grey has a number of vintage leather sofas and vintage chairs. And the Arthur Chair at Graham & Green features a weathered oak frame with natural linen upholstery.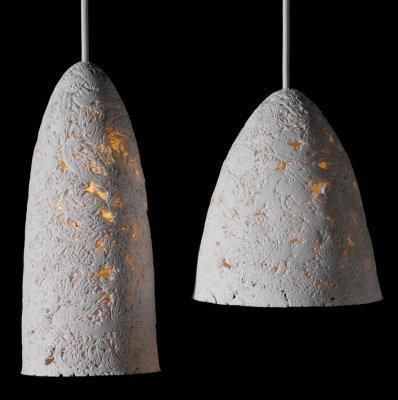 At the Lollipop Shoppe, Tom Rossau's sculptural wood-veneer pendant shades and floor lamps come in a range of curvaceous organic forms and diffuse light beautifully. Orchid's elegant Ripple glass lamp base has a hint of sea-blue and comes with a Hessian textured shade. And for dramatic atmosphere, try the cocoon-shaped Filigrain Sky Drop pendant by Zenza, in lustrous silver-plated brass. Engage the senses further with a striking hide rug from London Cows or Puji's super-shaggy Everest rug, in hand-knotted wool.
There's a naturals style to suit your natural style. So go with your instincts to create a harmonious home.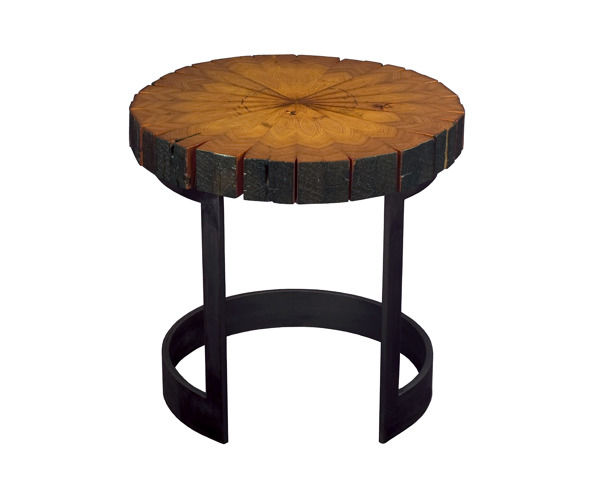 You don't have to like green to be green, so use our tips to create an eco-friendly and stylish home.
Many people have the wrong attitude towards 'going green' because they believe it means changing everything about their lifestyle. It isn't something we think about every day, but the way we decorate and our choice of furniture has an inadvertent impact on our environment. However, small changes such as thinking about how we can reduce our carbon footprint with the furnishings and other household products that we buy can all help towards creating a healthier and happier environment. In fact it has become increasingly easy to find suppliers of eco-designs and sustainable products, ultimately benefiting you and the environment with products that have a longer lifespan and that promote recycling.
Wallpaper
Eco-friendly wallpaper features water based inks; these inks are printed on chlorine-free paper and do not contain harmful VOC's (Volatile Organic Compounds) or solvents. You will find a great selection at ecocentric.co.uk, which offers eco-friendly products made from sustainable, recycled or reused materials of a high quality. For a natural shimmering look in your dining or living area, try the Saplings hand printed wallpaper which is hand screen printed on PEFC paper to promote sustainable management of forests. This type of wallpaper will benefit your home because it contains no toxins, creating a healthy and pleasant environment to live in. To decorate your children's bedroom walls use eco wall prints like this Little Acorns Height chart, which is printed onto 100% recycled card.
Paint
Allow your walls to breathe and absorb variations in humidity promoting a more comfortable and healthy living environment for you. Try the EarthBorn clay paints collection also from ecocentric.co.uk; these come in white or a selection of different colours and shades, and they are perfect for making special effects. EarthBorn paints openly list all their ingredients on their website to give you confidence in what you are buying. At valtti.co.uk there's a wide range of paint that's tested independently at the Finnish indoor air quality institute to ensure there aren't any solvents or other harmful chemicals found in conventional paints. Taika pearl paint can be used on interior walls or furniture for a fancy effect. Using eco-friendly paints in your home will ultimately reduce the risk and damage to your health and the environment.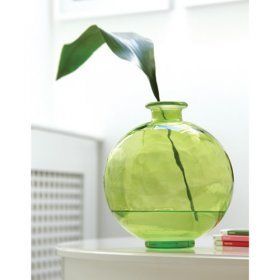 Flooring
We all like to enjoy comfort underfoot, and this doesn't have to be sacrificed for natural flooring. There are plenty of eco-friendly types of flooring to fit your needs, including bamboo, cork, recycled metal and glass tiles, linoleum, stone and sustainable and reclaimed wood.
Choose from a collection of natural fibre flooring which is sourced from around the world at alternativeflooring.com. This is available in a variety of interesting weaves that will create a natural textured feel to any interior. Bamboo is one of the world's most renewable energy resources which make it superb for hard wood flooring. Urbane Living's bamboo flooring is extremely durable and strong as well as stylish, and would look great it any modern interior.
Textiles
To go green with textiles, some of your options include organic cotton, wool and hemp, which can be found on Pickering International or from Hemp Fabric who both specialise in textiles made from sustainable and organic fibres. The benefits of using these organic fabrics in your home are that they can be luxurious and comfortable with long lasting softness. Luma offer luxurious and stylish organic cotton products from bed linen to cushions. I love the Sasha silk bedspread which is hand quilted by the fair trade craft group in pure silk and filled with kapok. The Tesserae tablecloth from The Tea Towel Company is made from 100% organic cotton, with an intricate design inspired by mosaics made from pottery or glass. This is perfect for bringing a fresh look to any kitchen or dining table.
Accessories
The beautifully handmade Mokimoe cushions from ecocentric.co.uk are available in pink, yellow and blue. They're hand printed with eco-friendly inks, made in the UK using organic cotton and hemp for the covers, and filled with organic wool balls. They would really bring a flourishing touch to any living area or bedroom. For a perfect collection of eco-friendly decorative accessories that you can sprinkle around your home try the Natural Collection. Bring the lovely smell of fresh flowers into your home with the Recycled glass green ball vase, or create a relaxing ambience in a room with a set of four, tall Fair Trade glass candle holders which look elegant when placed either together or dotted around a room. The set of three colourful Organic bamboo baskets are made from 100% organic bamboo, and can be used for various uses around your home to hold accessories, jewellery and even fruit.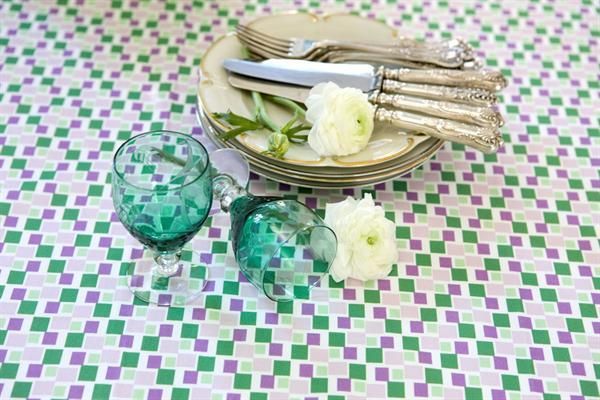 Furniture
Manufacturing and shipping furniture uses a lot of non-renewable resources and a lot of energy. You can reap the benefits from natural and handmade furniture for many years to come so it is definitely worthwhile paying a little extra. Lombok use reclaimed timber for their furniture wherever possible and use wood from approved plantations. The Keraton dark teak bedside table is handmade from reclaimed and sustainably sourced Indonesian teak; it has an alluring appearance that will make it a strong statement piece for your bedroom. The egw occasional table from SMC Furnishings is a unique modern piece which is simple but attractive because it displays the handcrafted natural beauty of the wood. Most furniture pieces from this company use wood that is reclaimed from building timbers or locally sourced trees. It isn't hard to find sustainable furniture in modern and stylish designs, and you may even find a bargain furniture piece in vintage or antique shops, or at a flea market.
With so many gorgeous eco-friendly products on offer to help you furnish your home, how can you resist indulging in the comfort of naturally soft furnishings or beautifully designed accessories? Go green and bring a hint of nature into your home.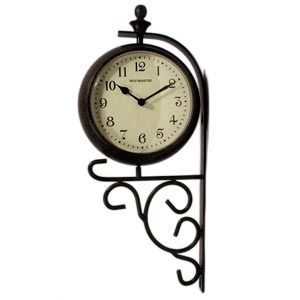 Add this classic timepiece from The Worm That Turned to your garden for an injection of style. £34.95
While you clearly don't want to be watching the clock as you relax in your garden at the weekend, I couldn't resist showing you this delightful clock/thermometer combo from The Worm That Turned.
Made from aged metal, this product is designed to be wall-mounted and can swivel to display either the clock or thermometer.
It makes the perfect garden accessory and will add a touch of rustic charm wherever you choose to use it.
See this product at The Worm That Turned...
(We don't sell this product yet but sign up to our newsletter and we'll let you know when/if we do)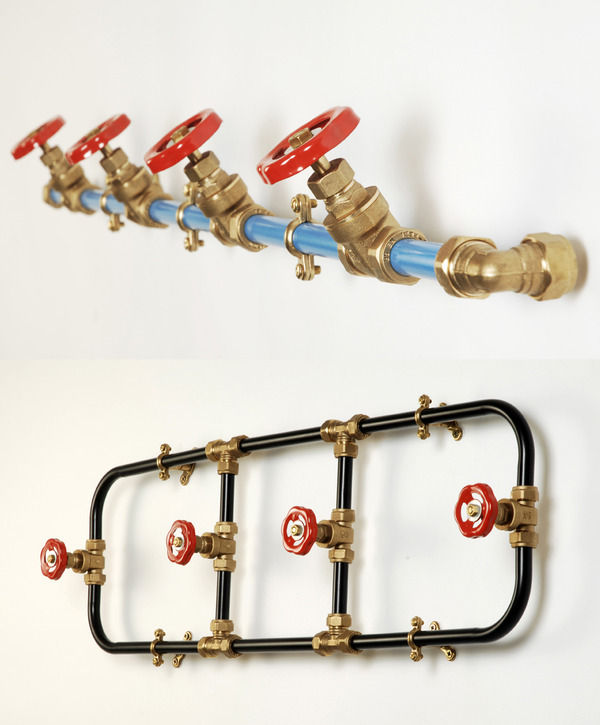 Nick Fraser's been taking the world of interiors by storm with his playful and subversive rethinking of everyday objects.
Since graduating from the University of Plymouth in 2005 with a degree in 3D Design, Nick Fraser's been taking the world of interiors by storm with his playful and subversive rethinking of everyday objects. After an enthusiastic reception exhibiting with Hidden Art at the 2006 Milan Furniture Fair, Nick began manufacturing his designs from a small studio in Dalston. Made in the UK and finished by hand (his own), Nick Fraser products are now sold across Europe. You can find them at Paul Smith and the Barbican in London, Fleux in Paris and Moderna Musset in Stockholm. I seem to be banging on about Paul Smith a lot lately, but I must admit I was pleased that Nick's designs have caught Sir's glad eye as much as my own. Impeccable taste. Anyway, here's what Nick had to say about his own design inspirations when we caught up with him at Grand Designs Live last month.
Which designers do you admire and which have been inspirations to your work?
Current designers I admire include the Hella Jongerius Lab, Committee and 5.5 Designers.
I always find this question difficult because I seem to remember products more than people…however terrible that sounds! A lot of my work is based on looking at various everyday objects and highlighting their visual or functional qualities through re-appropriation…I suppose this is where my inspiration comes from.
What's your own style when it comes to interior design?
I like a room or space to be very simple and neutral in its foundations such as the furniture, layout and wall colours. It's then objects that you put around the space, which will make it more unique and personalised.
I love the sculptural, architectural qualities of your work and especially the sort of Meccano/kit construction aesthetic of your industrial Pipework Series. How did the series develop?
When I was studying Art A level, I made a very large sculpture using plumbing materials. Referencing the illustrator Heath Robinson's drawings of eccentric machinery that mock Modernism, the sculpture was designed to look hyper-functional but actually did nothing at all. My teacher at the time encouraged me to plumb it into a house as an installation but of course being 18, it never happened.
So once I had graduated from a design degree, I re-visited the idea but made it functional and ultimately more commercial. I started with the Hall Stand, which was an elaborate piece that I exhibited in Milan in 2007. It was received very well and since then I have created many variations, and these have become a large part of my business.
What struck me most at Grand Designs was your fork light. I really liked the faceted, geometric qualities of the bird, which I felt prevented the design from becoming twee. Could you say a little about the ideas behind the fork light and how it developed?
As you have probably noticed, I really enjoy the visual qualities of functional every day objects. This extends to the outdoors and I had my eye on the pitchfork for a while. Once I established the simple tripod structure to create a stable lamp base, it was a case of brainstorming what would make a relevant shade.
The bird seemed the obvious choice, depicting the quintessential English garden image, but as you have mentioned, it was important to maintain a contemporary result and avoid twee(ness). The creation of the bird required a lot of paper cutting and folding!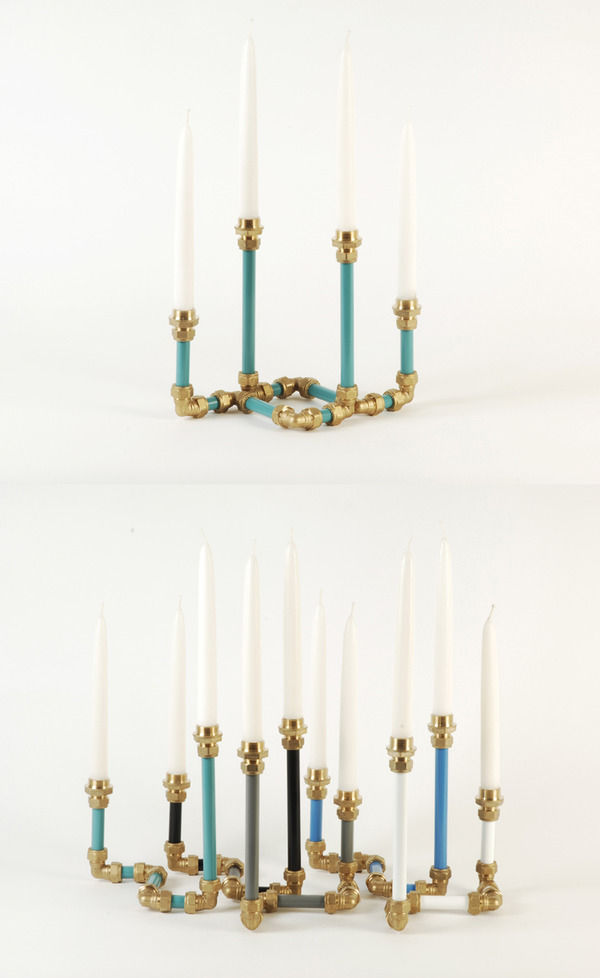 In a lot of your products you seem to be turning things inside out – for example, exposing industrial pipes, bringing the outside inside with your bird branch mug 'tree' and fork standard lamp. Would you say this is the common thread running through your work: a playful subversive approach to everyday objects?
Absolutely. It's really important to me that people see my products and smile because they can understand the story behind them. By manipulating recognisable objects and placing them in a new context, it allows the viewer to enjoy them in a new light, visually and functionally.
Although humour and familiarity are important aspects in my work, it's still necessary to create products that people can live with and use for a long time. I hope that I achieve this and can continue to do so as I don't really want another job!
Find out more at www.nickfraser.co.uk...
Be inspired by stylish surfaces and elegant exterior appearances for your home with our buyers guide to surfaces.
Surfaces make a huge impression on a room, and their texture and appearance can determine the style and practicality of your interior. So, whether you are going for grandeur in your hallway or a clean and sophisticated kitchen, there are plenty of ways to decorate your home with the right surface to suit your needs. This guide will consider the pros and cons and what qualities different types of surfaces have to offer in terms of practical and aesthetic features, as well as texture and tangibility.
Corian
DuPont Corian is sold worldwide and there are lots of options available with this type of surface. Have a look at www.corian.co.uk for many designs in a vast range of colours including this year's new eight metallic shades. It's a non-porous surface making it ideal for worktops, splash backs, and integral sinks in a kitchen; try this versatile surface in your bathroom for vanity tops or shower trays. Bear in mind that darker, heavier pigmented shades will show scratches and general wear and tear more easily than lighter, textured colours.
Pros: easy to clean; nonporous; resists the growth of mould, mildew and bacteria.
Cons: Not as durable as stone e.g granite.
Stone
Stone surfaces are a popular choice because of their aesthetic qualities. Traditional fireplaces are often made from stone as it adds to the grandeur and charm of the feature. Hand crafted stone has an attractive look and feel, and you can find a vast selection of natural stone fireplaces, including marble and limestone, from Heritage Stoneworks. The Single sink unit with Flemish stone from Brissi is a superb storage and decorative piece for displaying your bathroom linen and beauty products. The dark stone top and the white porcelain sink are beautifully contrasted to create a dramatic and classic look. For a good selection of natural stone tiles try Mandarin Stone who supply limestone, marble, slate and terracotta tiles.
Pros: Beautiful surface; practical and durable.
Cons: Expensive; cold underfoot.
Slate
Slate is an extremely versatile stone that gives a rustic and natural appearance to any room; it has a dramatic texture but a less formal look than marble or limestone. Slate is an excellent choice for kitchen or dining room floors because it is anti-stain and slip resistant. Ceramica & Stone have a great selection of colourful slate flooring that would work well in any modern or country house kitchen. Stone Works Ltd supply metallic, honed and riven slate; the Riven slate oyster offers depth and colourful tones ranging from yellows to greens. For a different look, try the Brazilian black slate wall cladding from Brazili Stone for a striking contemporary effect.
Pros: Good abrasion resistance and high durability; comes in a variety of natural stone colours.
Cons: Some types have to be sealed to prevent staining; needs professional installation.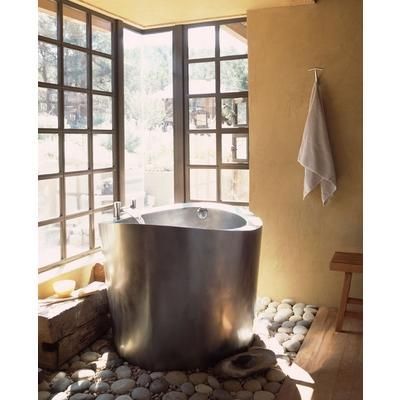 Polished concrete
Polished concrete floors have a beautiful bespoke finish because the polishing process exposes the unique grain patterns beneath the surface. Poured concrete can give you a seamless and glossy surface. The Stone Carpet Company supplies flooring that will enhance your interior and add to the grandeur and value of your home. Choose polished concrete flooring if you have a grand entrance hall or kitchen area for a polished and elegant look. Concrete countertops are also a good option for your kitchen; try White+Reid for a wide selection of shapes and sizes of worktops tailored to your room.
Pros: Energy efficient; durable; aesthetically pleasing.
Cons: Costly; can get stained, chipped or scratched.
Wood
Wood flooring is one of the most common surfaces in contemporary interiors due to its practical qualities and low maintenance. Justwoodflooring.com and urbaneliving offer naturally beautiful hardwood flooring.
Wooden work surfaces will give a warm appearance and bring a natural look to your décor. At justwoodworktops.com you can find natural wood breakfast bar tops and hardwood chopping boards in all different types of wood such as beech, oak, and walnut. The Oak Beam Table from Indigo Furniture is solidly built with a chunky and rustic appearance, and it will provide you with a surface and furniture piece that will retain its natural look for many years.
Wall panels work particularly well to bring dimension to your walls, and they look striking against a bold backdrop. The Ana carved wood wall panel in dark teak from Lombok has a beautiful geometric design. Decorative wall panels are available in a range of finishes, designs and wood grains; the Hand carved wood wall panels from Kan Thai Decor create a stunning look.
Pros: Natural beauty and character; practical, durable and stylish in a modern or traditional home.
Cons: Natural wood takes a lot of care to maintain its look.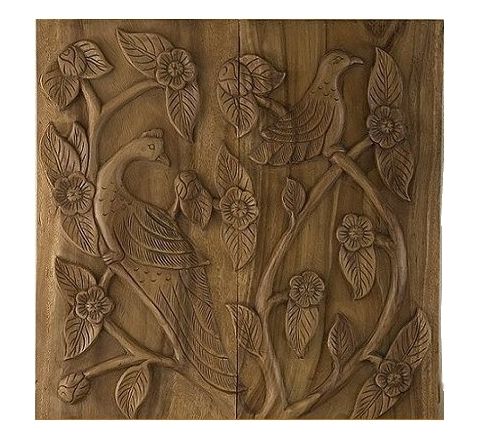 Ceramic tiles
The Ceramic Tile Company supply practical yet stylish ceramic bathroom, kitchen and floor tiles. Ceramic tiles are a popular choice for bathrooms as they will keep your walls and floors free from moisture damage. Mosaic patterns work well for detail on a bathroom or kitchen wall; in your bathroom you will need unglazed tiles for slip-resistance, and if you want your tiles to be stain-proof choose glazed tiles. Ceramic mosaic tiles from mosaictileshop.co.uk are versatile; their glazes come in a range of colours to suit your interior, and you can add pattern or floor accents by using custom tiles. The Ceramic tiles from Armstrong would suit a country house inspired kitchen, and bring a warm and welcoming feel.
Pros: Heat and stain resistant, easy to clean.
Cons: Chips easily; all tiles have grout lines so they require regular cleaning.
Stainless steel
The physical appearance of stainless steel brings a sleek and finished look which would suit any modern home. Stainless Steel wall tiles are ideal for kitchen splashbacks, and their smooth finish makes them a perfect choice for matching them with other kitchen appliances. The tiles are available in a variety of different patterns and they come in a satin or matt finish. Bring a modern and unique statement to your bathroom with the Circular Stainless Steel Japanese bath from HomePortfolio.
Pros: Hygienic; very easy to clean; high resistance to corrosion.
Cons: Cold to touch; will scratch and show fingerprints easier than other types of tiles.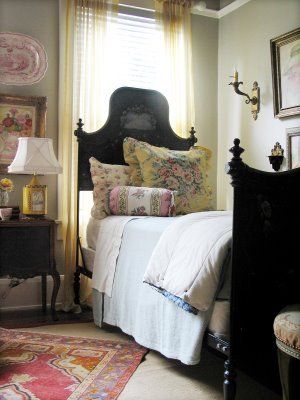 It's that time again, and we've found three more thought-provoking blogs, dazzling with interiors inspiration.

First up this week is Florida-based design blog, Topsy Turvy. The Home Tours section is a dream if you're a bit of a nosy parker, full of fabulous photographs of the insides of stylish abodes. And, never mind the weather, the Shop Tours alone will make you want to live in Florida. Interviews with industry big wigs are consistently engaging, offering an insider's perspective on the world of design. With envy-inducing photography, an eclectic approach and a great sense of humour, Topsy Turvy has lightness of touch that makes it both fun and inspiring.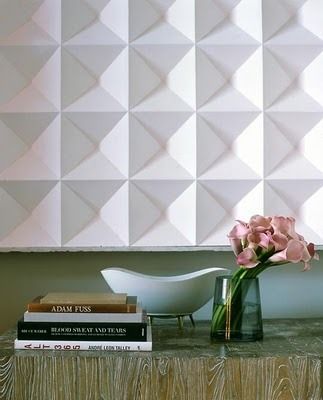 Just down the road in California, doyenne of design, Diane Dorrans Saeks, holds court as The Style Saloniste. Having authored twenty books on style and design, Saek's foray into blogging doesn't disappoint. Intelligent and enchanting in equal measure, her elegant and evocative writing style combined with breathtaking photography, makes for a thoroughly enjoyable read. Informed on all aspects of design and architecture The Style Saloniste is a beautiful guide. This post on a new resort in Arizona had me totally floored. And there's a wonderful piece on the fabulously flamboyant Dodie Rosekrans, San Francisco museum and arts patron.
And last but certainly not least is NYC interior decorator Jenny Komenda's Little Green Notebook. Full of design ideas, covetable objects and thrift store finds this is a fantastic online scrapbook, all beautifully put together. I can't get over this amazing chair Jenny found at auction. And the blog's now been sponsored by Plexi-Craft, makers of high-design Lucite furniture. What's so inspiring is the spontaneous nature of it all and the fact that blogging about a hobby has led Jenny to set up her own design company, Pearl Street Interiors. So, there's another reason to get in touch if you write a blog of your own. Let us know and we'll feature it next time…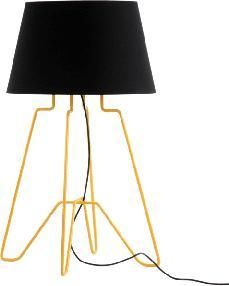 Make a supersized statement with this playful lamp from BODIE and FOU, £180
Despite its name, the Dwarf Wired Lamp by British design company Something from Nothing, is actually oversized at 80cm tall. Playing with scale, Something from Nothing have created a fun contemporary piece, which picks up the trend for oversized proportions without slavishly following fashion. I love the uncomplicated wire base, stylish in its pared down simplicity. Perfect next to the sofa for low-level lighting, the Dwarf makes a striking oversized statement as a table lamp.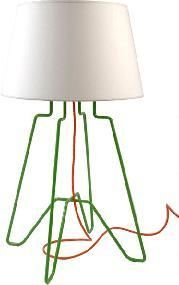 It comes in green wiring with a white shade and red cord; yellow wiring with a black shade and black cord; and white wiring with a white shade and yellow cord. So, as usual, the only problem is deciding on your favourite. I think I'm with the black and yellow.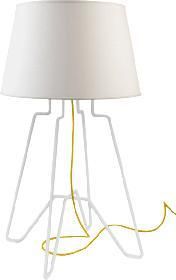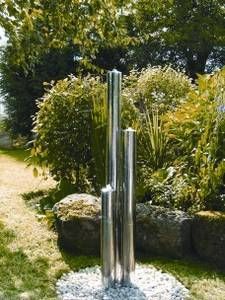 Go contemporary in the garden with this Triple Tube Stainless Steel water feature from In Garden. £215
Think water features and like me, you probably think of some hideous contraption that hails from a dodgy TV garden makeover show.
Or worst still, one of the lion's heads that spurt out water (dunno about you but I've never seen a lion spurting water...)
Determined little thing that I am, I set out to find a stylish one that wouldn't make my eyes hurt.
On my journey, there were plenty that did, so to save you from a similar fate, I've cut to the chase and chosen the Triple Tube Stainless Steel water feature from In Garden as a fab find.
Made from, yes you've guessed it, stainless steel; the structure consists of three tubes of varying heights. I like it because while totally unobtrusive, it adds a certain air of contemporary design to any garden.
So, there you have it, a stylish water feature – who would have thought...
See this product at In Garden...
(We don't sell this product yet but sign up to our newsletter and we'll let you know when/if we do)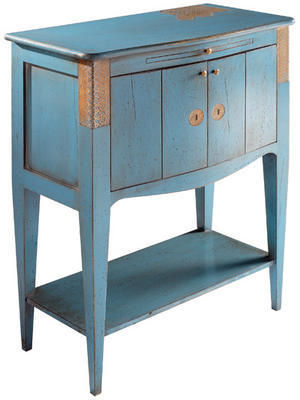 A colour suggestive of the sea and the sky, luminous turquoise is lighting up the world of interiors
A colour suggestive of the sea and the sky, luminous turquoise is lighting up the world of interior design. Pantone, the authority on colour standardisation for the design industry, has declared turquoise (15-5519 TCX to be exact) its colour of the year for 2010:
'Combining the serene qualities of blue and the invigorating aspects of green, Turquoise evokes thoughts of soothing, tropical waters and a languorous, effective escape from the everyday troubles of the world, while at the same time restoring our sense of wellbeing.'
Although I can't help thinking Pantone's choice is as much to do with the financial climate as the tropical climate, turquoise has long held a special position in many cultures as a colour of healing and protection, associated with faith and truth, and inspired by water and sky; a colour with restorative powers, representing both security and escape. Created as a gift for his newborn nephew, named Vincent, and painted in the last year of his life, Van Gogh's Almond Blossom, with its vivid yet calming turquoise background, epitomises the therapeutic associations of turquoise with renewal and hope.
It's these colour associations along with the versatile combination of both warm and cool undertones that make turquoise such a fabulous colour in the home. It can be used to create zingy accents in a colour scheme of neutrals and browns; it complements reds and pinks; livens up greens and dark blues; makes a striking statement paired with yellows, and a luxurious atmosphere with gold. Both soothing and invigorating, turquoise is a beautiful choice for spa-inspired bathrooms and inviting bedrooms. It makes a stylish accent colour in the kitchen used for appliances or worktops, and will stimulate the senses for an uplifting living room.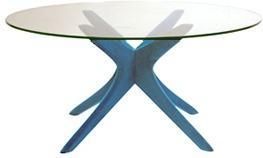 A quick spin round Furnish reveals the extraordinary versatility of turquoise in terms of colour combinations, styling and room function. Starting in the heart of the home, Alessi's Bird Kettle and Parrot corkscrew, and The Contemporary Home's Carved Jug, Wine Glasses and Tumblers, will brighten up your kitchen, whatever your favourite tipple. And if you're after a perfect colour match, Pantone's Mugs and Espresso Cups are available in subtle Duck Egg and vivid Turquoise. The Orvetto Egg Recycling Bin from BODIE and FOU, in a striking yellow, brown, and blue colourway will make this (rubbish) task a pleasure. And to finish off the kitchen, a Kartell Fly pendant light in Petrol Blue would look fabulous over a breakfast bar or dinner table.
In the living room, add a splash of colour with Heal's Tuareg Rug and Tullgarn Drum lampshade in turquoise and gold. The spectacular Fin Chair at BODIE and FOU, upholstered in turquoise velvet, is luxuriously large and with it's dramatic feathered back, makes a stunning high-style statement. The iconic Eames RAR rocking armchair, DSW side chair and DAW armchair are all available in a beautiful Ocean Blue. And Johnny Egg's Daphne Coffee Table and Lamp Table in Teal Blue from Heal's have fabulously fun flocked legs and contemporary glass tops. But it's in soft furnishings that the variety of colour combinations to be had with turquoise become apparent. Margo Selby's Algarve and Bailey cushions in sumptuous silk feature turquoise teamed with oranges, browns and yellows, and with blues, greens and silvery greys.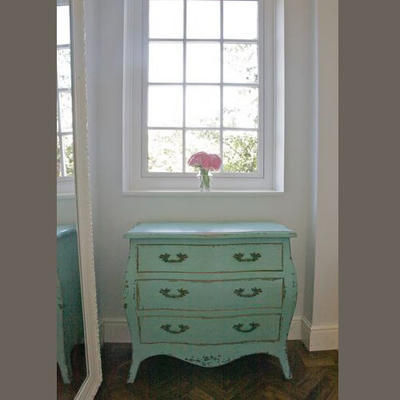 For bedrooms and bathrooms, the Sea Shore Chest in aqua blue from the French Bedroom Company has capacious drawers to store towels or clothes. And the delicate Minima Jar with matching tumblers from 95% Danish is perfect for the bedside table. The Doux Billets De Clement cabinet from Sweetpea & Willow provides elegant storage for toiletries and trinkets, while the Aqua Marine furniture range includes console tables, chests and chairs. Accessorise with a contemporary turquoise City Vase or a traditional Crackle Bowl from Oliver Bonas.
This really is the tip of the iceberg when it comes to turquoise furnishings. There's an ocean of choice to dip into, full of turquoise treasures to enliven your home and sooth your spirits.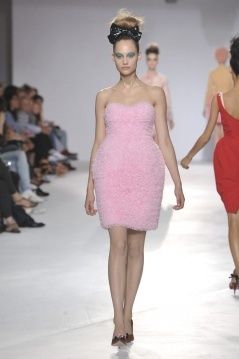 Soft pastel hues are on trend this summer to bring a pretty palette of colour to your home.
Sorbet shades will melt your heart this season with delectable pastel hues returning to the catwalks. With fashion influences filtering into interior design you have the opportunity to bring a soft and serene look into your home, with everything from fabrics and furniture, to wallpaper and lighting. Pastel shades are timeless because they are diverse and can be easily combined with bold patterns, colours or textures to bring an updated look to your home.
Duck egg blue in particular has become one of the most popular pastel tones used in interior design because of the innocent and delicate mood it creates. Bloom wallpaper from Graham and Brown combines pretty pink flowers with duck egg for a look which is inspired by beautiful vintage illustrations, absolutely perfect for a romantic bedroom. Pastel colours are an excellent choice for small bedrooms or bathrooms, or even narrow hallways, because their pale palette creates the illusion of space and will make a room feel airy and light. The tsuga wallcoverings collection from Designers Guild offers a wide choice of pastel colours such as patina blossom and patina aqua. These will create a tranquil atmosphere in any living or dining area. Alternatively, use paint in pastel shades to blend a theme together; you will find a variety of options from soft coral to spring blush at dulux.co.uk.
Avoid making your interior look too outdated by using a mismatch of pastel hues with floral patterns to bring a fresh and modern twist. Fabric is great for this effect; try the English rose oil tablecloth from The Contemporary Home to liven up your kitchen or dining room. The Everyday blue linen duvet cover from Feather and Black made from Egyptian cotton will give a fresh and clean look to any bedroom. Pastels work well in bedrooms to create a relaxing and calming mood, and this is why they are popular choice for decorating children's rooms in too. The Rosalina cushion from Laura Ashley also comes in a beautiful duck egg blue and the rose petal effect enhances this natural look and feel. The Victoria pastel cushion covers from Kaleidoscope are a perfect illustration of how mellow yellow can brighten up any white-washed room. Also, for those lovely summer evenings, try pastel coloured curtains let the sun shine into your room to give glowing warmth.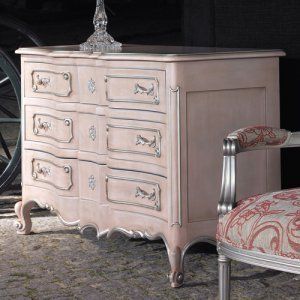 You can bring a nostalgic feel reminiscent of the Rococo period by combining powdered lilac and rose hues. The Champétre Chest 3 drawer from Flemington Design brings a 'pretty in pink' sense of feminine glamour to your bedroom with its powder pink lustre finish. Pastel colours bring a spacious feel to any room when used on walls and floors, but if you want to use pastels elsewhere try the Silk lampshades from Graham and Green. These will bring a sensual soft pastel glow to any bedroom or living area, and they come in three silky shades to compliment any decor. The white cherry blossom design enhances their natural finish and gives a modern touch to the style of your home. I love the Candy Flower rug from the Rug Company because its feminine florals and the beauty of its gorgeous pastel shades are perfect to bring summery warmth to your living area.
So sit back and relax; pour yourself a refreshing drink or devour a home-made ice cream in one of these popsicle pink Ice cream sundae bowls from Oliver Bonas. Amongst furnishings and accessories of the most calming and serene shades you will be all set for summer.
Dine like Miss Havisham with these floral cobweb plates by John Derian at Liberty, £65.
Dine like Miss Havisham with these floral cobweb plates by John Derian at Liberty, £65.
John Derian's eccentric floral plates are breathtakingly beautiful and sure to become collectors' items. Derian is an avid collector himself, using antique prints of flowers, fruit and animals, to create decoupage collages, which are reprinted on plates and layered under glass.
Nineteenth-century botanical drawings were used to create these delightfully Dickensian Geranium and Lily plates. A spider sitting on the rim of each plate has spun her silvery web around the faded flowers at the centre.
Being a complete klutz when it comes to crockery (and red wine), I think I'd have to display these on a wall away from danger. But they're far too beautiful to be mired in egg and chips anyway.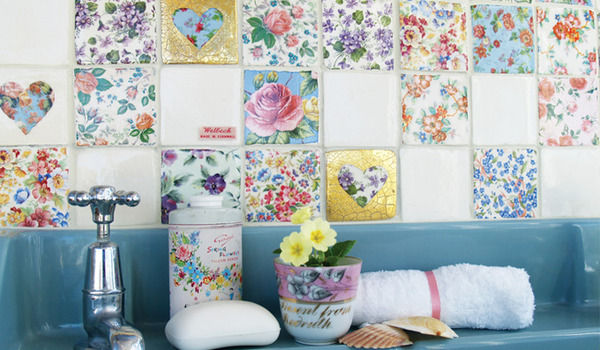 Interior decor is flourishing with florals this spring, with vintage-inspired patterns in full bloom.
Vintage-inspired florals have been blossoming over the catwalks and clothes shops for a while now, and it's no surprise that the seeds have been sown in the world of interiors too. Interior decor is flourishing with florals this spring, with vintage-inspired patterns in full bloom.
In interior design, as in dress, different floral prints are layered together, or teamed with anything from paisley swirls, to spots, stripes and geometric patterns. There's plenty of scope to garland your home in the floral fashion. Embrace the nostalgic mood with muted colours and cottage-garden blooms, or give faded florals a contemporary twist by adding graphic pattern and vibrant hues.
Cath Kidston's been sowing the seeds of this trend since the early '90s, with furnishing fabrics and a whole array of home accessories in distinctive floral prints. Cabbages & Roses has quite literally made its name in this patch, with everything from bed linen to kitchenware in glorious garden blooms. And having been founded by Laura Ashley's husband, it's only natural that Elanbach should have a full crop of flowers this season. Try the Seaside and Vintage Floral collections for fabrics and wallpapers.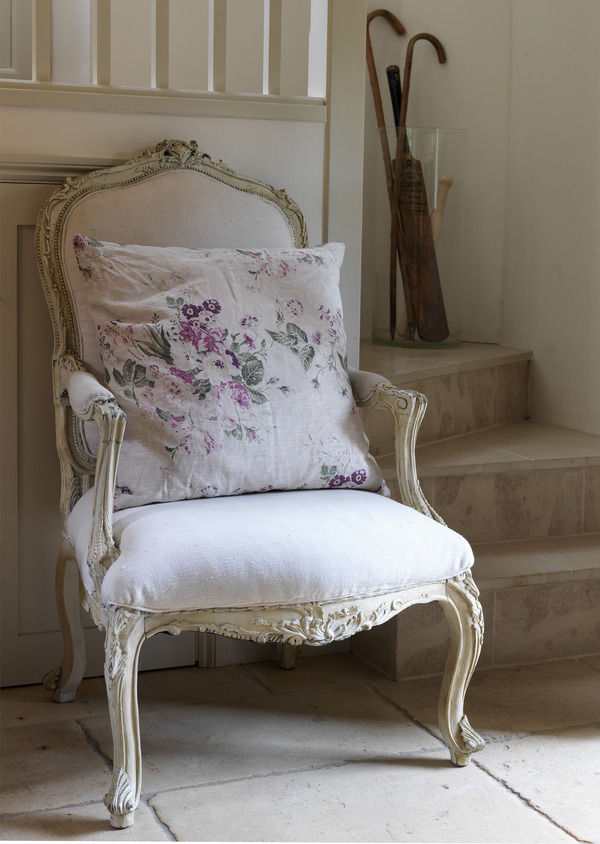 Another perennial source for prints, Liberty has a new range of cushions made up in its famous floral fabrics. And if you're going for a combination of vintage florals and contemporary geometric patterns, check out the Pavilion and Darly collections at Designers Guild. But pick of the bunch has to be Welbeck Tiles' fabulous Vintage Collection. Freshen up your bathroom or kitchen with the vintage Roses or floral Patchwork tiles. Tiles within each range are designed to mixed and matched, to create an eclectic and individual vintage look. I'm going to be picking my favourites to use as coasters.
Vintage florals are thriving on Furnish, with an abundance of designers cultivating the trend. The Contemporary Home has come over all nostalgic with a floral enamelware jug, pressed glass cake stands, and serving dishes featuring wild strawberries and roses. Available at Liberty, John Derian's Geranium and Lily plates are divine, the faded floral centrepieces encircled by a silvered spider's web, with the spider herself perched on the rim.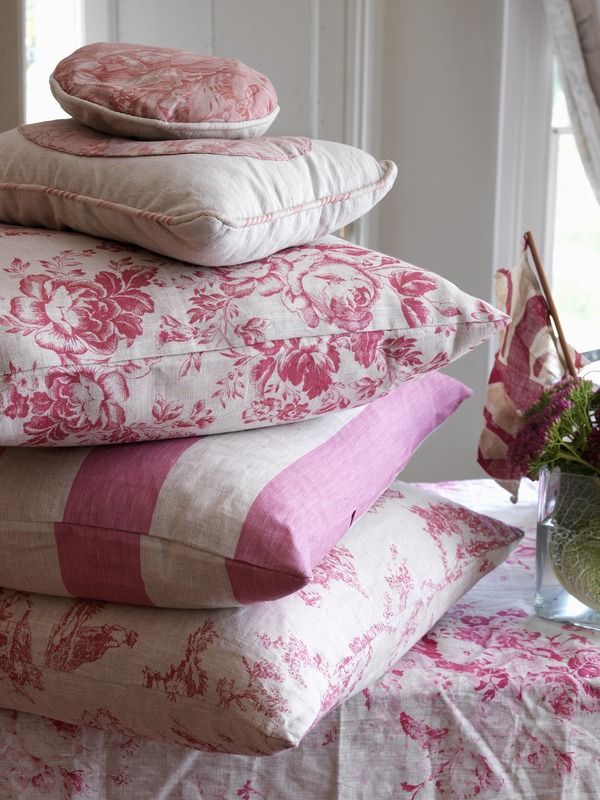 Also at Liberty, Burleigh's blue and white earthenware celebrates English country-house style. But if you don't feel that grown up yet, check out the playful Vintage Tea Party crockery at The Orchard. And you can forget breakages with Ella Doran's melamine Vintage Plates tray. Retire to your boudoir with Graham & Green's fabulous brown and blush pink Fifties Floral Print cushions, in sumptuous velvet. But if you thought the vintage floral trend was all about chintzy fabrics and girly colours, think again, with Selina Rose's Bloom rug at BODIE and FOU. Striking cut outs of roses and foliage garland the edges of the black felt rug.
Spruce up your home and bring it into bloom with vintage florals. There's room play around with patterns and colourways to get a look that suits your style.
From the catwalk to your home, try decorating in block colour to bring a fresh and vibrant look.
With block colour making a statement on the catwalk this season, designers have taken inspiration and brought a mix of bold and daring colours to the forefront of interior style. Not only can you now dress and feel confident, but you can bring a strong, sophisticated look to your home without the fuss of busy patterns or prints.
When it comes to blocking, normal colour rules don't apply so there's no need to be cautious with clashing colours. This season the colours on trend include oranges, red and hot pinks, bringing a lively and warm feel to your home.
Add confident colour blocks to inspire different moods or themes in the room you are decorating. The bright, tangerine orange Moroccan leather pouffe is one of a range of vibrant colours available from Rockett St George, and its leather exterior will add texture and comfort to your living area. The bold orange and red coloured Bute Tiree wool fabric offset the curvaceous shape of the 2010 Flow Sofa by Kay and Stemmer from Heal's, making it feel like a warm and welcoming place to snuggle up on. Modular furniture like the Patchwork sofa collection by Pascal Mourgue for Ligne Roset helps build up layers of colour in your living room with its aubergine and raspberry tones.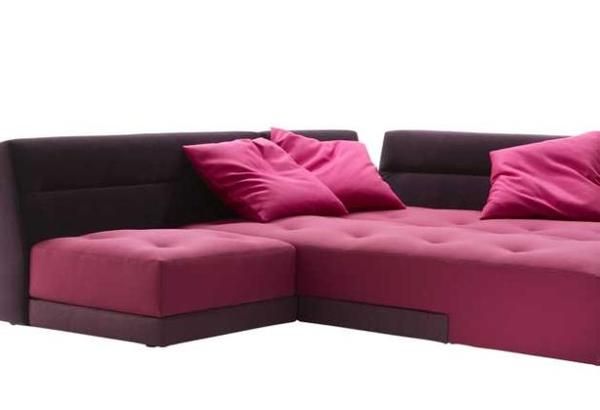 There are a variety of ways in which you can use colour blocking on your walls, for example choose from stripes, squares, rectangles, or circles to highlight a feature wall or to simply dress an empty wall. Graham and Brown's rich plain Evita wallpaper will liven up and dramatise a bedroom, and can be effectively contrasted with the fabric on your cushions and blinds, or rugs and throws. Experiment with pinks and purples against a vibrant lime green like this Vermont Roman blind from Tuiss for an exotic warmth of colour. Break up colour blocks with cream, black or grey, for example use a couple of Black Montague Silk Cushions from Heal's to give a mysterious look and contrast to your colour scheme.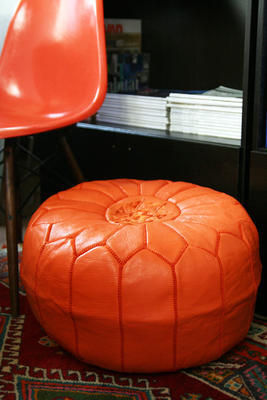 Rothko famously experimented with block colour on canvas to give the viewer an intense experience of colour and emotion. For a colour blocking effect that can be easily removed use wall art, canvases or prints like this orange and yellow Rothko print from art.co.uk. Also, the calming and serene tones in this Striped blanket from Designers Guild, can be matched with the Cietti aqua cushion to bring unity and a contemporary feel.
Whether you want to update your style or introduce a new theme use colour with style and confidence to get the best from your interior.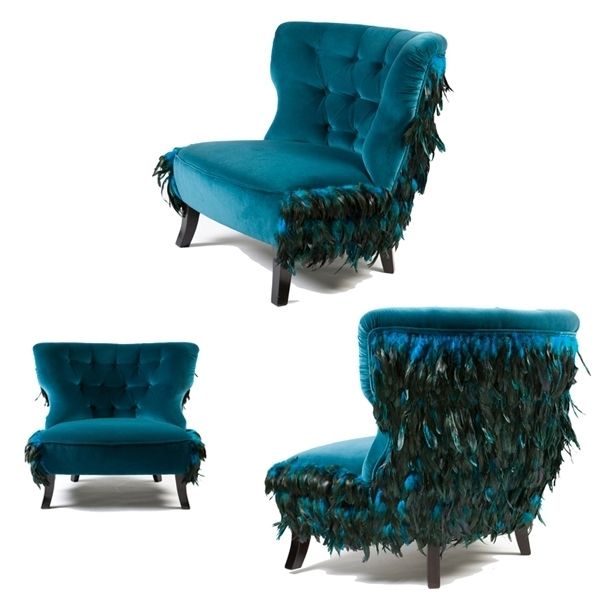 Make a spectacular statement with this fabulous Fin Chair from BODIE and FOU, £2809.78
I've totally fallen for this Fin Chair by Daria Piasecka and Nora Voon at BODIE and FOU. I'm actually quite disturbed by the level of covetousness it's provoking. It looks like something that Dali might have made for Edward James' Surrealist home, Monkton House, in the 1930s. And yet at the same time, the Fin Chair is bang up to date. With it's oversized proportions, turquoise velvet upholstery and raven-black and green feathered back, you've got three trends in one, adding up to a spectacular, high-style statement. And that's not even including the fabulous button back.
Striking and seductive, it'd look amazing in a living room or as a focal point in an open plan space, but even better in a bedroom. With its curvaceous form, splayed legs and luxurious proportions it invites you to curl up in it and escape the everyday.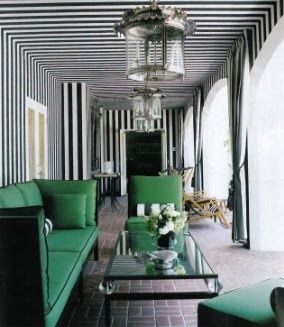 Roll up, roll up, and scroll down, for our weekly roundup of inspirational interiors blogs…
We've travelled all the way to Brisbane, Australia, this week to bring you Oliveaux, a beautiful blog by interior designer Amanda. It's a really warm and inviting read, illustrated with enchanting photographs of all manner of beautiful things. Amanda shares her passion for lovely stuffs and shapes, bringing you flea market finds, interiors inspiration and decorating ideas. I loved this post on her trip to Paris.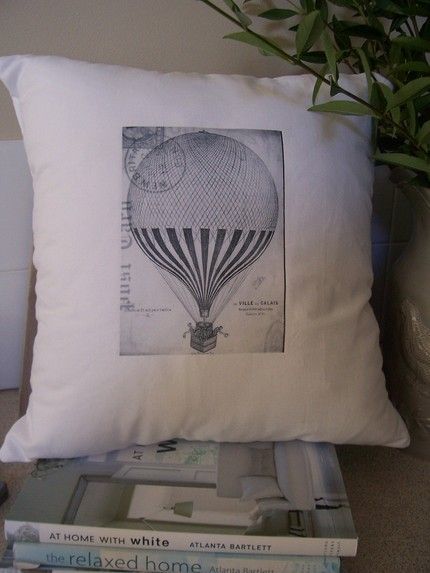 Next up we're staying in Australia, Tasmania this time, to take a peak at Marley & Lockyer, the journal of designer and stylist, Ness Lockyer. She's planning to move house so the blog's full of property porn at the moment, perfect for voyeurs. Handmade Marley & Lockyer furnishings are also available to buy [http://www.etsy.com/shop/marleyandlockyer] online. Relaxed and nostalgic, in natural linens and a neutral colour palette, the products are as dreamy as the journal. I'm in love with the hot air balloon cushion cover (pictured).
Moving from whites and neutrals in Aus to full-blown colour in Canada, next up is Miriam Killam's Colour Me Happy. A designer and colour expert, Miriam's blog is a joyful explosion of colour inspiration for your home. It's utterly uplifting, written with passion and choc-full of the latest trends and advice on using colour confidently. With every kind of colour conundrum covered, it's a sourcebook for interior decoration. And she's even got tips for would-be bloggers, so take a look and get in touch if you want us to feature your own blog next time.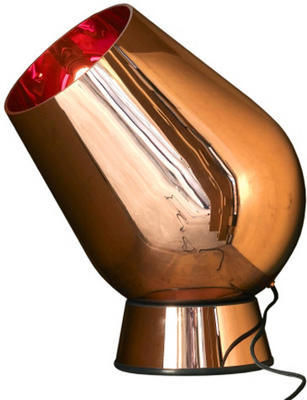 Send out a search party for this fabulously fat spotlight by Tom Dixon from Utility, £250
Bulbous and beautiful, this Fat Spot floor lamp by Tom Dixon is spectacularly stylish. In lustrous copper, the lamp emits either a gentle glow or a broad directional beam. Swivelling on its base, the fat bottom is 30cm in diameter, tapering upwards to 17cm. With a personality all of its own, this corpulent fellow makes a confident, high-style statement.
Perfect for a home office or living room, the reflective copper surface has an odd way of fitting in with almost any decorative scheme. The sculptural form and luminous surface give the Fat Spot a glamorously elegant feel. Gleaming and glinting in the corner of a room, it subtly seduces the senses.

Comfort comes in all shapes and sizes so read our buyers guide to find the right sofa for you.
Your sofa will be one of the biggest investments you make for your home, but there's no need to worry because there's a wide variety of versatile designs to accommodate your needs. You don't have to sacrifice style to find something that's both comfortable and cosy. Whatever design you choose it can enhance your space whether it's a versatile modular sofa or a simple yet idyllic loveseat. This guide aims to help you make the right choices for your room as well as for your own personal comfort.
Large sofas
If you have a spacious living space then you have the perfect opportunity to indulge in a large sofa. Measuring your space is a good idea before you buy, and make sure that your sofa isn't going to dwarf your other furnishings. Large sofas are great as corner units, for example The Flexform from the Long Island Corner Sofa Group. This has removable upholstery in either fabric or leather, which makes it easier to clean and more durable. The Ligne Roset Togo is an iconic design made from foam to provide a classic, cosy look and feel.
Pros: Good for families and they work well as a feature piece in a larger living area.
Cons: Difficult to move around and can take up a lot of space.
Small sofas
Small sofas will accommodate 2 people; and if you want to give your room a more spacious feel then consider a sofa that has narrower arms. The Heal's House sofa range includes sofas with a slim arm profile and natural oak feet to give an understated elegance. For the cosiest of seats try a loveseat or 'snuggler' which is slightly smaller than a two seater sofa. For a wide selection try loveseats.co.uk, or the Loveseat or Showtime Poltrona Sofa from Leigh Harmer. This design of sofa is perfect for awkward corners and has an aesthetically pleasing shape.
Pros: They can make you room feel more spacious and they are ideal for a couple wanting to snuggle up in front of the TV.
Cons: Less seating space if you have guests; not ideal for lying down on.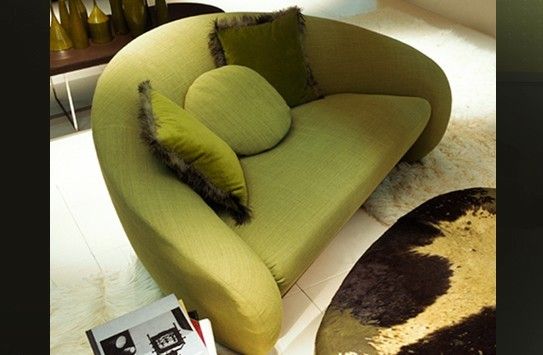 Sofa beds
Sofa beds are great for lounges, spare rooms or bedrooms, and they're superb space savers. For a fabulous variety, Go Modern supply sofa beds suitable for children's bedrooms, like the playful Fata sofa bed, or sophisticated styles like the Fusion Glam sofa bed for a glamorous living room. These foam beds are suitable for occasional use, and prove that style and comfort don't need to be sacrificed for convenience and practicality. The Milano bedding collection from Bonbon Trading is great for sofas that are simply transformed into beds without any fuss.
Pros: Ideal for convenience; comfortable for either sitting or sleeping. They are functional and great space-savers.
Cons: Depending on how much you spend, they can be quite heavy and some with hard metal bases can be uncomfortable.
Fabric sofas
Choose fabric that will suit your lifestyle; textured fabric can give a warmer feel and can be more practical because it will show less wear than smooth fabric in the long term. Popular textured fabrics include chenille, velvet, micro-fibre and boucle. The Manhattan sofa from Black Orchid Interiors is upholstered in sumptuous black velvet and features contrasting black faux suede seat cushions. Choose the colour of your sofa carefully; neutral or pastel shades are a good choice. If you go for pattern, make sure you'll love it in the long term, because styles of pattern can go out of date quickly. With a plainer sofa you can easily update the look and use bolder colour with decorative cushions and throws.
Pros: There are a wide range of colours available, and they have washable covers which makes them are a great choice for a family with young children and pets.
Cons: Stains will show up on plain fabrics.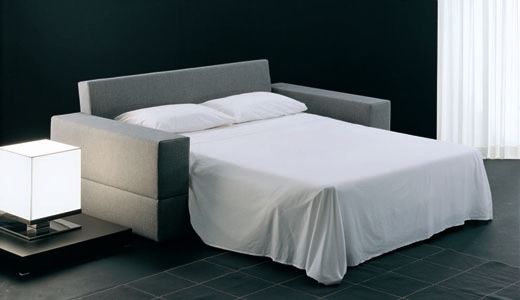 Leather sofas
Leather sofas are available in traditional or contemporary designs, and they have become an increasingly popular choice because they age well and they are easier to clean than fabric. If you have light coloured walls then darker leather, like the Lola three seat sofa from sofa.com, will make a statement, as brighter walls can often overpower furniture. Denelli Living also offers a collection of contemporary leather sofas in different styles and colours. Brown or light coloured leather will suit most rooms, and you can introduce colour with a scattering of cushions.
Pros: It is easy to clean, and although it can be expensive it is very durable. Leather is soft and it will keep you warm in the winter and cool in summer.
Cons: It needs to be treated, and they aren't ideal for families with children or pets.
Modular sofas
This type of furniture is fashionable and impressive in large rooms. You can effectively choose your sofa to be tailor-made for your own living area, but you do need a big space to accommodate them. For a grand selection of modular furniture, Utility supply sophisticated styles that can be combined in different ways to furnish your room. Our practical advice would be to try before you buy because although modern low back styles look nice they may not provide you with the best back support. The B&B Italia Andy Sofa is designed to meet a host of comfort and posture requirements with a range of features that allow you to turn this sofa into an adaptable chaise longue or even a bed. Ligne Roset's collection of upholstery includes modular designs from established and emerging designers, giving you a stylish and modern look combined with the luxurious comfort of a large sofa.
Pros: Flexible and multi-functional because it can be used in large or smaller configurations.
Cons: You need a large space to fit it in and they can cost a lot.
With such a wide range on the market, you are literally spoilt for choice when it comes to finding the perfect sofa for your home. From modular sofas to loveseats, leather to fabric there really are so many options to suit your style, and ultimately to enhance your way of living in the most comforting way possible.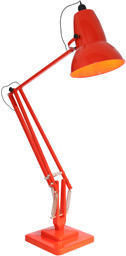 We all know about oversized handbags that make you look thinner, oversized sunglasses that make you look like a pinhead, and oversized pepper grinders that make you look like a show-off; but what about oversized interior design?
The trend for large-scale furniture and accessories is huge for 2010. From headboards to mirrors, and lamps to chairs, interior designers are thinking big and playing with proportion. Home furnishings are entering the surreal, with designers taking an Alice in Wonderland approach to scale.
Anglepoise created an enormous floor-standing version of its iconic desk lamp for the Roald Dahl Museum and Story Centre (remember the Big Friendly Giant?). A second one sold at a charity auction to film director and all-round oddball, Tim Burton, and the Giant Anglepoise has now been put into full-scale production. Serralunga has commissioned some of the world's leading designers to create a range of outsized vases and pots, for interior and exterior use. Standing at two metres tall, the supersized Holly All Vase by Philippe Starck is a sculptural statement as well as seat.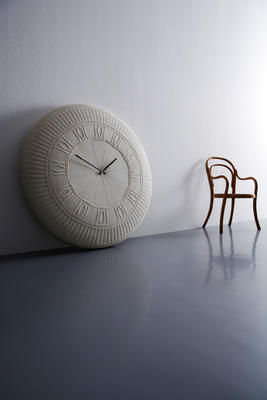 The enchanting appeal of these oversize objects, of escaping the real for the realms of fantasy, is as much to do with the world of hotels as the landscape of fairy-tales. Indulgent oversized furnishings are an established feature of luxurious hotel rooms, spaces synonymous with escapism. But supersized style is coming home, and there are big benefits to going upscale.
With the popularity of open-plan living, an outsized statement piece is a great way to add visual impact if your space lacks a natural focal point. Equally, an oversized mirror in a small room will instantly add depth and maximise on light, creating the illusion of extra space. An expansive armchair creates a welcoming retreat, and an extra-large lamp adds a sense of drama to a room. But the best thing about going large is the playful absurdity of bizarre proportions, introducing a quirky sense of fun to your interior scheme. With big pieces that'll draw the eye it's important to go for a good quality finish. And be selective; avoid a themed 'house of fun' look by choosing accent pieces and a complementary colour scheme.
Brands and boutiques on Furnish are playing with proportion in big way. Follow the White Rabbit into Wonderland with Heal's giant fob watch alarm clock by Newgate Empire. You'll never be late again. Or net two trends at once with an enormous knitted Wall Clock by Diamantini & Domeniconi Gomitolo at Rockett St George. Designed as a room within a room, escape from the everyday into Vitra's Alcove Sofa by Ronan and Erwan Bouroullec at Utility. Get into a spin on the Waltzer Loveseat at Heal's or sink into the Nest Loveseat at the Lollipop Shoppe.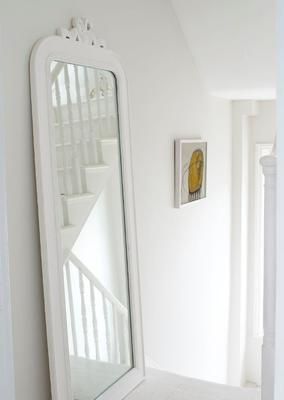 Taking their cue from Anglepoise, you can find outsize floor-standing desk lamps at Graham & Green (the brilliantly named Hercules), Rockett St George and Oliver Bonas. Or go for another supersized classic with the Mega Tolomeo floor lamp at Utility. For overhead lighting check out the industrial Titan pendant from Original BTC and Sofie Refer's Mega Bulb at 95% Danish. Step into a fairy-tale with Brissi's Princesse Mirror or the supersize Soho. Not strictly oversize, a life size Horse Floor Lamp by Moooi from Utility is bound to make a big impression.
Scale up your style and make a supersize statement.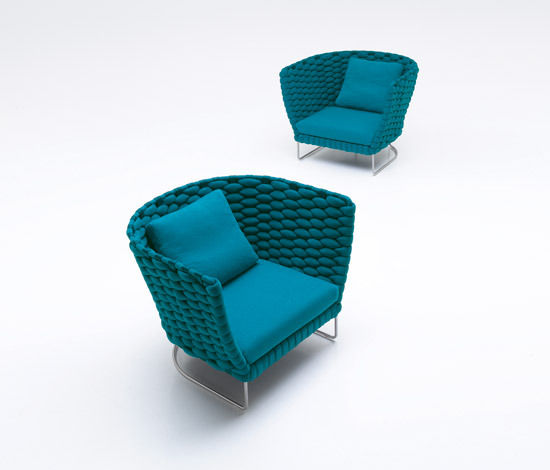 Spruce up your outdoor space with our buyers guide to garden furniture
We've had our first taste of summer and with the Chelsea Flower Show opening its doors last week, our minds have turned to gardens. Clueless about plants and flowers, we've stuck to what we know best and put together a buyers guide to garden furniture to help you make the most of your outdoor space. Spruce up your garden and enjoy the sun in comfort and style.
Wooden Furniture
Wooden furniture is a popular choice, being sympathetic to the surroundings of the garden. A beautiful natural, tactile and warm material, there's something really inviting about wooden furniture. But going for wood doesn't mean you can't get a contemporary high-style look. Encompass has some fabulously sleek wooden furniture, including chairs, tables and benches. Habitat is particularly good on wood this season with some fantastic chairs, tables and loungers. Softwood furniture requires regular sealing or repainting to protect it from the elements and wicker works best in covered areas. Hardwood is more durable but will still require maintenance and should be covered with tarp in the winter months.
Pros: Natural material in keeping with the garden environment; huge variety of styles and timbers
Cons: requires regular resealing, especially softwood; can be bulky and difficult to store
Metal Furniture
Metal furniture is available in traditional or modern styles and makes a lovely contrast with the natural surroundings of your garden. Ensure that whatever you buy has a rust resistant coating. Aluminium is a popular choice because it doesn't rust. Wrought iron has a beautiful traditional look but can be very heavy and difficult to store. The Worm that Turned stocks a great selection of Fermob's metal garden furniture, available in 24 colours from subtle greens to vibrant pinks. Comprising chairs, tables, swing seats and benches, each collection has its own style identity and each piece its own purpose. Mix and match the colours or use different styles in different areas of the garden. In powder-coated steel with UV and rust protection, Fermob furniture is built to last.
Pros: great range of styles and finishes; stain resistant and easily cleaned
Cons: often not as comfortable as wood; prone to scratches and therefore rust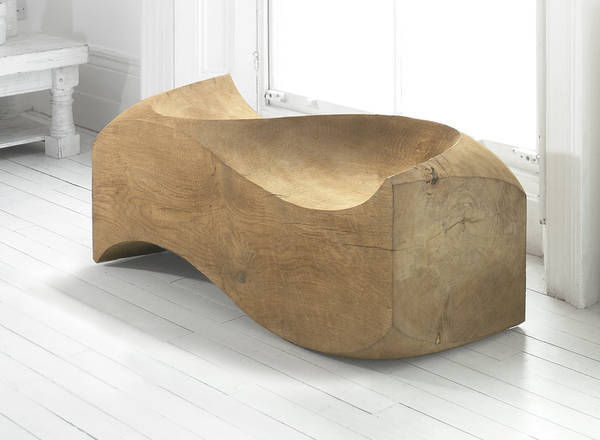 Folding furniture
Folding furniture is particularly good in small gardens and can be stored easily in bad weather. Deckchairs have a lovely nostalgic look to them and there are plenty of folding tables and chairs on the market in both metal and wood. The great thing about folding furniture is its versatility and portability. Heal's folding Flip chairs and loungers are great. Lightweight and comfortable, they've got carrying handles so you can move them around the garden to catch the sun.
Pros: portable and easily stored; great choice of styles and materials
Cons: folding tables tend to be smaller than solid varieties; generally speaking, foldable furniture is not as strong as solid furniture
Synthetic Wicker
Synthetic resin wicker furniture combines the traditional charm of wicker with the durability and weather resistance of modern materials. Unlike wood wicker, the resin variety is designed to withstand the elements and will last for years with almost no upkeep. It's available in all sorts of colours and, because the colour is bonded into the material itself rather than painted on, it won't fade or peel. Exterior | Interior and In Garden have fabulous ranges of synthetic wicker lounge sets and daybeds with comfortable cushions. Synthetic wicker is available in traditional styles as well as the more contemporary modular lounge sets and sofas. Wicker furniture offers the luxury of real comfort outdoors.
Pros: durable and weather resistant; very comfortable
Cons: can be bulky and difficult to store; don't leave the cushions out in the rain!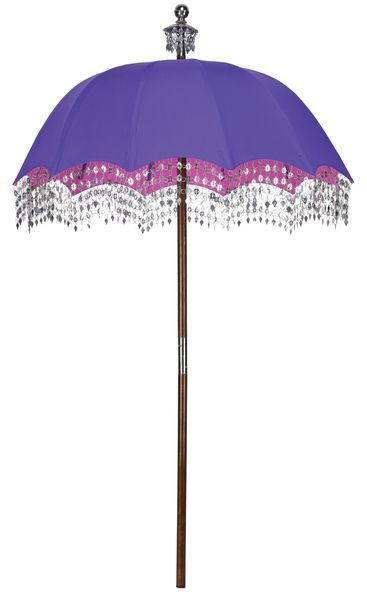 Colourful Furniture
Even if you're not in the least green fingered, colourful furniture will brighten up your garden and create an inviting outdoor space. Plastic, power-coated metal, and synthetic wicker chairs and tables are available in a great selection of colours. The sculptural plastic Disk chair at Exterior | Interior is fabulous. And there are plenty of colourful hammocks and weatherproof beanbags on the market. Cuprinol's Garden Shades and Heritage Shades paints are suitable for all garden wood, including furniture. Or simply add some colourful cushions and seat pads.
Pros: brightens up the garden; available in all sorts of materials and styles
Cons: ensure to go for something fade resistant; wood will need regular repainting
Accessories
Parasols, shade sails and garden lighting will add the finishing touches to your outdoor space. Trolleys and side tables are also great for barbeque parties. Encompass is really good on occasional furniture as has a fabulous range of barbeques and fires. Try Heal's for hanging lanterns and garden flares. In Garden has a great range of parasols and shade sails, including decorative Indian parasols in jewel-like colours with aluminium cutwork fringing. Mirrors are also a lovely feature outside and have a secret garden feel. Try Graham & Green's Arched Window mirror or the Rustic Louvre mirror, complete with shutters, at The Worm that Turned.
Let's hope we're in for a sizzling barbeque season and the sun is here to stay.