It's our Interior Design Magazine!
The hottest interior design ideas, fab finds for the home and the latest in interiors trends. We're always looking for new finds, designers to feature or anything else lovely for the home, so if you've seen something gorgeous and would like it featured in our interior design magazine, please get in touch!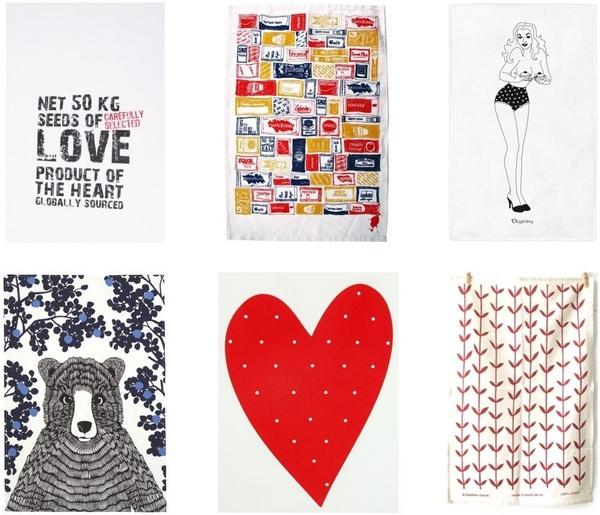 Make washing up more fun with our selection of super cool tea towels.
No one likes doing the washing up – that's a fact of life – but you can make it a little more interesting with the addition of a funky tea towel or two.
We've picked our favourites here at Furnish which are guaranteed to add a splash of colour to brighten up any kitchen.
For those who want a touch of retro kitsch, this set of two Fifties Housewife Tea Towels by The French Bedroom Company is just the ticket, and this friendly Tea Towel by Artstar is sure to raise a smile.
Meanwhile, no kitchen would be complete without a graphic print tea towel which is why we love this Orla Tea Towel by Design My World.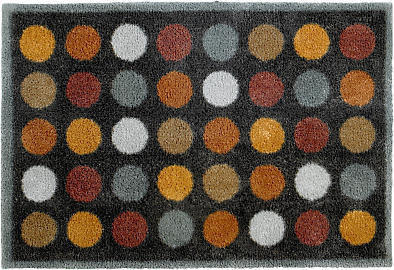 Give your hallway a hit of colour with this Turtle Mat Retro Spot Doormat, £47.95.
They say first impressions count which is why it's essential your hallway looks its best.
We have a great selection of hall accessories to choose from here at Furnish from storage–savvy console tables and coat racks to elegant lighting and mirrors.
But what every hallway needs is a fantastic door mat. We have all sorts from floral to quirky designs, guaranteed to give your home a welcoming feel.
My favourite is this Turtle Mat Retro Spot Doormat by John Lewis which is sure to bring a smile to all your visitor' faces with its spotty welcome.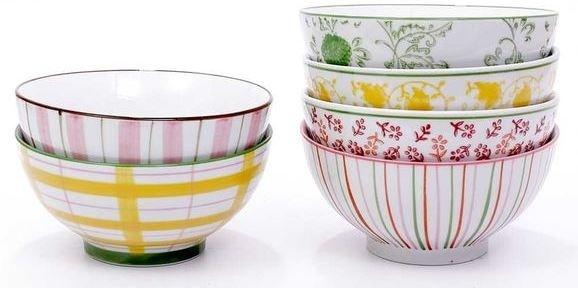 Add some pattern and colour with this Set of 6 Capri Pastel Bowls, £58.
I love little bowls and have a cupboard stashed full of them. So much so that, when I recently showed my other half some new ones to add the collection, he sighed so loudly I'm sure the neighbours heard.
Regardless of that, I've decided to go ahead and buy these gorgeous Capri Pastel Bowls by JasmineWay.
Coming as a set of six differently patterned bowls, these are on-trend and are sure to add a splash of colour wherever you use them.
Perfect for everything from cereal to soup, these bowls will work especially well for ice-cream in the summer.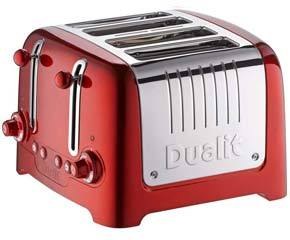 Toast in style with this 4 Slot Dualit Lite Red Toaster, £74.
I don't know about you but I can't resist a slice of toast. Whether it's for breakfast with lots of honey, as an afternoon snack with cheese, or a vital couple of slices after a few too many, it's the one thing I can't give up.
If you're a toast fiend like me, then chances are you'll want a super stylish toaster.
We have loads of fab and funky toasters here at Furnish but my favourite is this 4 Slot Dualit Lite Red Toaster by Red Candy.
Deliciously retro, this super efficient toaster has loads of fabulous gizmos including a bagel option and defrost function, and has a smart red trim.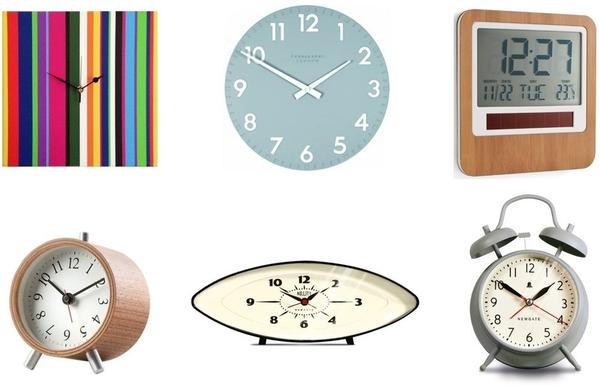 Celebrate the advent of spring with one of our fantastic clocks.
March has arrived which can only mean one thing - spring is on the way!
After one of the gloomiest and wettest winters ever, here at Furnish HQ, we can't wait for brighter mornings and longer days. And as the clocks go forward on the 30th March, what could be a better way to celebrate than with a fabulous new timepiece?
We have a huge range of clocks from sleek and simple mantel clocks to intricate wall clocks meaning there's something for everyone.
This Candy Striped Clock by Burford Trading will add a splash of colour and pattern wherever you hang it while the Newgate Bullitt Mantel Alarm Clock by The Orchard introduces a wonderfully retro feel to your bedroom.
And if you're looking for something a little more modern, this Lexon Safe Bamboo Digital Wall Clock by Gifts with Style provides a versatile option, as it can be used either as a table clock or hung on the wall.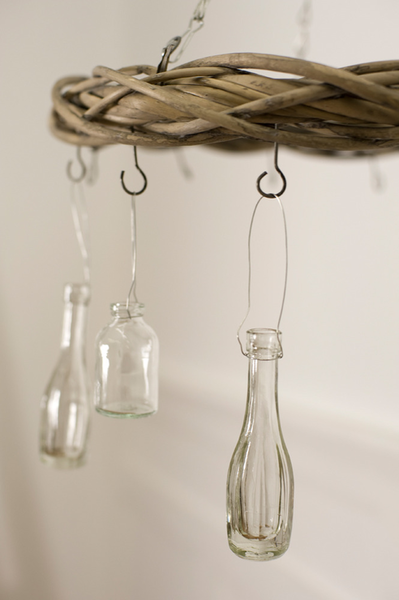 Get ready for spring with this Glass Teardrop Posy Vase, only £2.
While it might not seem like it at the moment, before we know it, spring will be on its way. One of my favourite seasons, I can never wait to get some seasonal blooms displayed in my home.
At the moment, daffodils are in abundance but I love hyacinths and irises and I'm always on the hunt for new ways to display them.
We have some gorgeous vases here at Furnish but I really love this Glass Teardrop Posy Vase by The Orchard.
Simple in design, yet ever-so chic, these little glass vases are perfect for creating tiny floral masterpieces. Complete with a simple metal loop, the vases can be hung in groups from mantelpieces or bed posts, or used as free-standing miniature vases to create a stylish dining table.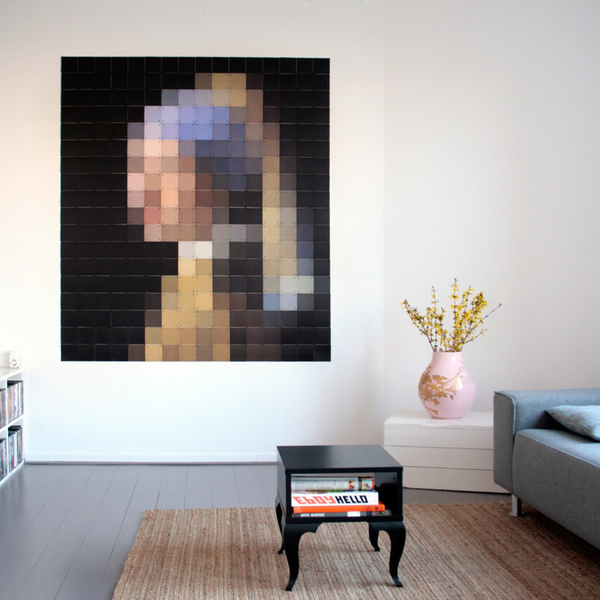 Give an iconic print a fresh look with this Girl with a Pearl Earring Wall Panel, from £116.
We love the odd quirky product here at Furnish and we've certainly got a fantastic range to choose from. Whether it's dog-themed lamps or kitsch tableware, there's something for everyone.
My new favourite pick is this Girl with a Pearl Earring Wall Panel by Lifestylebazaar which takes the classic Vermeer painting and turns it on its head thanks to its dramatic pixelation.
Made up of coloured squares which easily slot together to create a dramatic piece of wall art, it is great for adding real impact to a plain wall.
This piece of art is guaranteed to become a real talking point wherever you use it.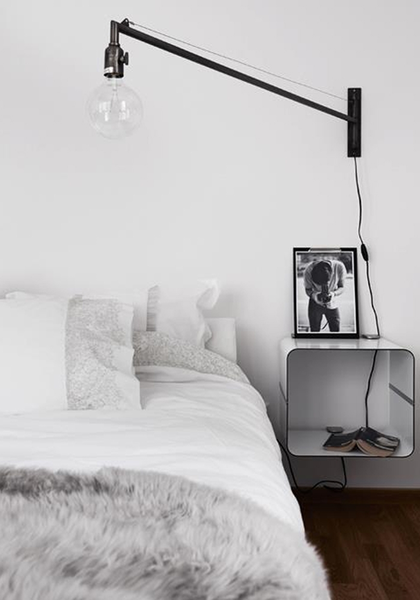 Add some industrial style with this Swingarm Wall Light, £200.
I'm a big fan of reading in bed – it helps me unwind and switch off from the stresses of the day. I'm not so keen, however, on knocking my bedside table lamp over, which I must do at least three times a week.
So, I've decided enough is enough, and I'm going to invest in a wall light instead. My favourite is this Swingarm Wall Light by BODIE and FOU.
Deliciously simple, yet extremely stylish, this lamp is ideal for adding some industrial-style chic to any room in the home, and makes the perfect reading or task lamp as you can direct the light exactly where you want it.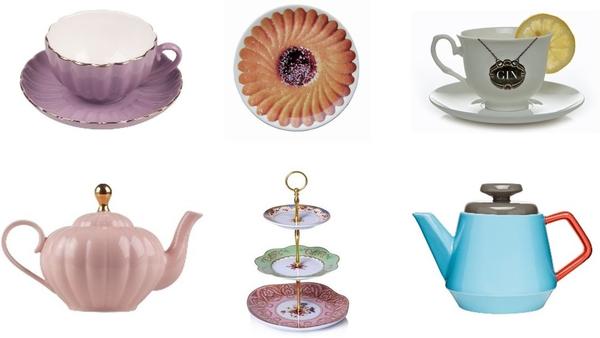 Brighten up your day with our pick of the best afternoon tea essentials around.
Nothing says true decadence like breaking for afternoon tea.
And we're talking proper afternoon tea here; not a quick cuppa and a soggy biscuit, but gorgeous cakes served on real china and sandwiches so dainty you will always need more than two.
Traditionalists will love the 3 Tier Cake Stand in Vintage Regency Style by Fields of Blue which works perfectly with the Belle Teapot and Teacup and Saucer to create the prettiest of tea sets.
Meanwhile fans of a more contemporary style will love this Biscuit Plate and G 'n' Tea Teacup and Saucer by Lifestylebazaar which, when teamed with this eye-catching Pop Tea/Coffee Pot by Design My World, make for a fun afternoon tea.
What's your favourite? Classic or contemporary?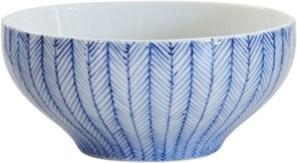 Add some pattern to your dining with this Herringbone Bowl, from £5.50.
I've always been utterly fascinated by the herringbone pattern which I'm pretty sure stems from sitting for hours in boring assemblies at primary school wondering how they got the parquet flooring to look so perfect. I should have known back then that I'd end up writing about interiors when I grew up.
This gorgeous Herringbone Bowl by ALSO Home offers a great way to add some pattern and colour to your kitchen and dining table.
Painted in a vivid blue, these are available in two sizes and are ideal for cereal, soup, salad and pasta.
And if herringbone isn't your thing, then there are spots and both wide and fine stripes available too.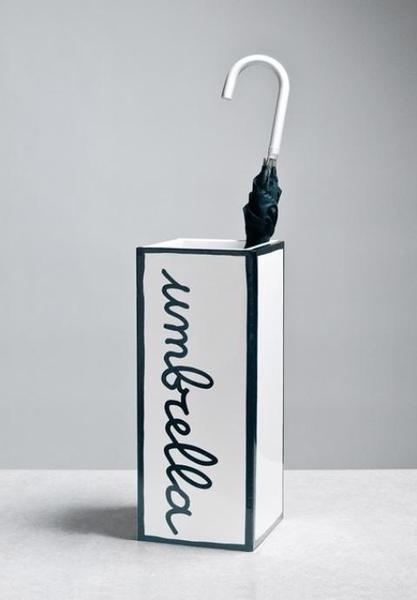 Keep your umbrellas neatly stored with this Black and White Umbrella Stand, £55.
Parts of the UK have recently experienced some of the wettest and windiest weather since records began. Not sure we needed the bods at the Met Office to tell us that – you just need to count all the discarded, broken and twisted umbrellas out there.
However, if you've been more successful than most and your umbrella has made it to February, then you're going to need somewhere stylish to store it.
This Black and White Umbrella Stand by Out There Interiors offers a modern take on the traditional umbrella stand.
In white with nice, thick black lettering, it will make the perfect addition to any hallway and keep your soggy umbrellas in check.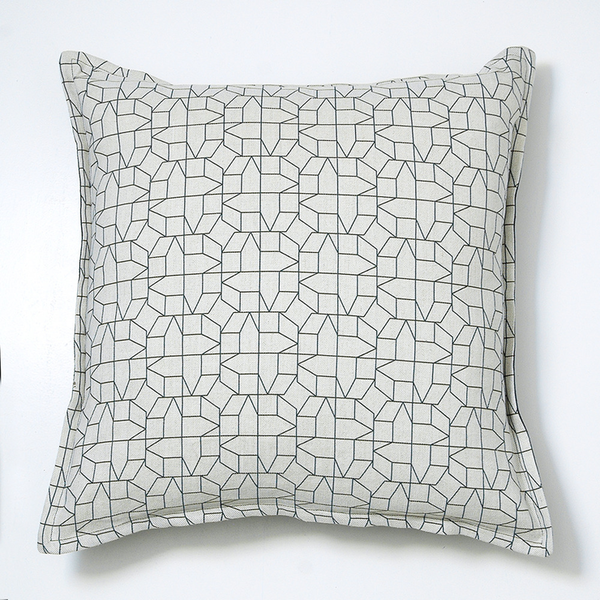 Add some subtle geometric style with this Black Outline Casas Cushion, £75.
Geometric patterns are everywhere this spring from bed linen to cushions, wall paper to tableware.
While some geometric pieces can be a little over the top (although I adore all the boldly coloured triangles, squares and diamonds), there are plenty of other ways to tap into this trend.
We love this Black Outline Casas Cushion by chocolate creative which has a subtle geometric pattern that is both stylish and understated.
Perfect for pepping up a tired sofa or armchair, this cushion will also work well teamed with crisp white bed linen in a contemporary bedroom.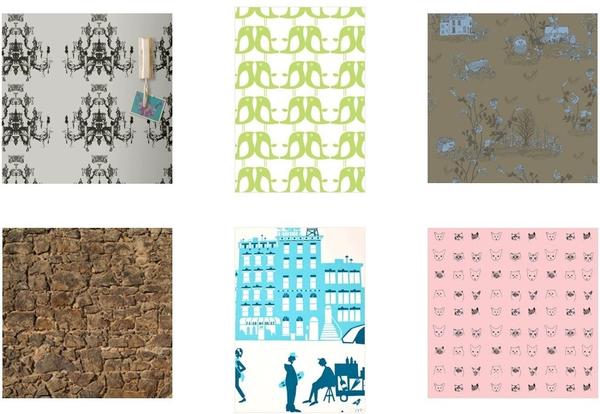 Give your walls a treat with our fantastic range of wallpapers.
Wallpaper has seen something of a resurgence over the past decade or so, and here at Furnish we're huge fans of using wallpaper to add colour and pattern to our walls.
We've put together our top picks, and whatever your style, there's something here for everyone.
To brighten up a little one's room this Penguin Wallpaper by BODIE and FOU certainly gets our vote, while feline fans will adore this Cats Wallpaper by Lifestylebazaar (available in green, blue or pink).
For something a little more grown up, this Chandelier Wallpaper by Duffy London is sure to add some grandeur to your walls, while the Stonewall Wallpaper Mural by Red Candy will transform them completely.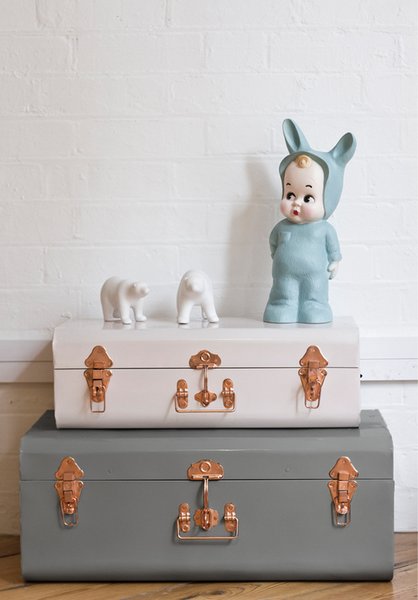 Get your storage sorted with one of these Metal Storage Trunks, from £99.
Despite having lots of storage space, I also seem to have lots of clutter.
I confess to being a hoarder and have only recently been able to part with copies of the magazine I worked on almost 10 years ago. So a massive clear out is on the cards.
As such I've been on the hunt for some stylish storage solutions to make sure I can find everything when I need to.
We have a huge choice available here at Furnish from baskets and boxes to blanket and storage chests.
These Metal Storage Trunks by Bodie and Fou are just the ticket and, as they're so stylish, you won't mind them being on show.
Available in two sizes/colours, they're perfect for every room in the home whether stashing out of season bed linen in the bedroom or ensuring that children's rooms are kept neat and tidy.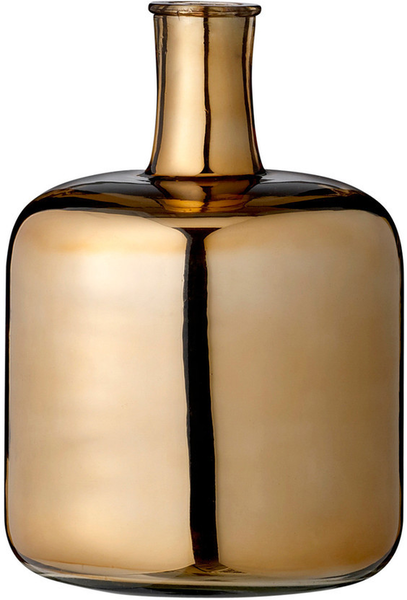 Tap into one of the hottest trends around with this Copper Bottle Vase, £55.
Metallics are still big news in interiors this season and are perfect for adding some glamour to your home whatever your style.
We have a fantastic range of metallic goodies available at Furnish from mirrors and furniture to cushions and accessories.
If you like your metallics understated and sophisticated, this Copper Bottle Vase by Artstar is the perfect piece for you. Not only is copper bang on-trend, but this vase will look great whether you fill it with a selection of spring blooms or leave it empty.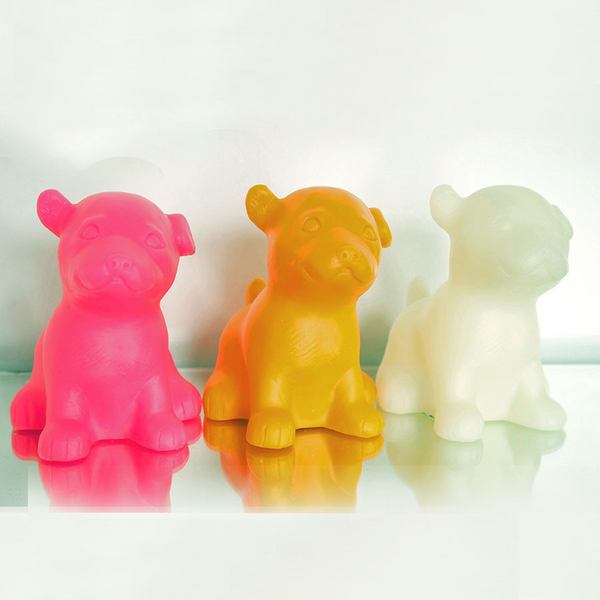 Add some canine fun to a little one's room with this Pup the Table Lamp, £59.95.
Decorating little ones' rooms can sometimes be tricky, especially if you want the decor to grow up with them.
The trick is to keep the overall scheme neutral and add personality by using accessories such as bed linen, lighting and artwork.
We couldn't resist sharing one of our new favourite finds with you which is this Pup the Table Lamp by Lifestylebazaar.
Made from thermoplastic, these cute little chaps are available in three colours – white, orange and pink – and will make the perfect addition to any kiddie's bedside table.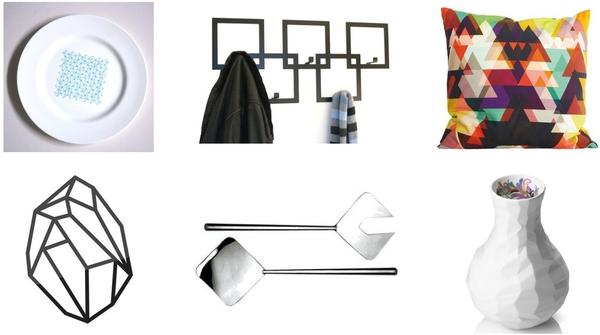 Pick up on the hottest trend around with some of our favourite geometric interiors finds this spring.
Geometric print and form is everywhere this spring and is a great antidote to the nautical and floral trends we've seen of late.
We have some gorgeous geometric products here at Furnish which are great for adding some new style to every room in the home.
Have a plain chair or sofa that's looking a bit tired? This Geometric Cushion by Artstar will pep it up instantly and add colour and pattern to your living space.
This Geometric Wall Structure by BODIE and FOU is a great alternative to traditional prints and posters, breathing life into your walls, while this Menu Raw Diamonds Vase by Gifts with Style is just perfect for displaying the first of your spring blooms.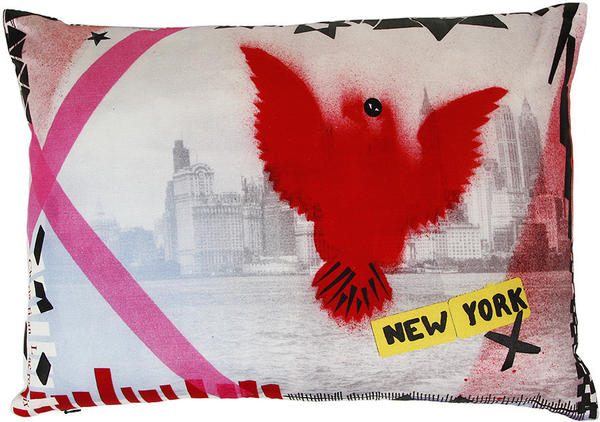 Add a touch of city style with this Christian Lacroix New York Cushion, £90.
I'm off to New York in less than six weeks and I can barely hide my excitement. In fact, I'm constantly annoying my nearest and dearest with updates on just how long there is to go before I step onto Manhattan Island.
Having done all the touristy things on my last visit, I've promised myself time to scour all the fabulous interiors shops so I come back with some goodies for my home.
One store I'm definitely popping by is Christian Lacroix, so it's rather fitting that I've come across this Christian Lacroix New York Eagle Cushion by Amara Living.
This gorgeous silk cushion features a graffiti eagle with an intricately patterned reverse, and is the perfect way to add some colour and pattern to a sofa or armchair.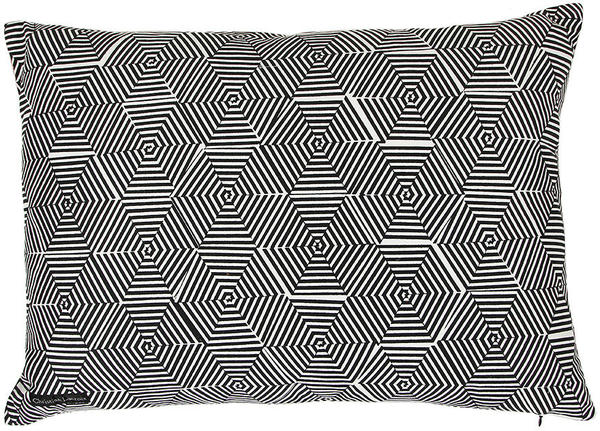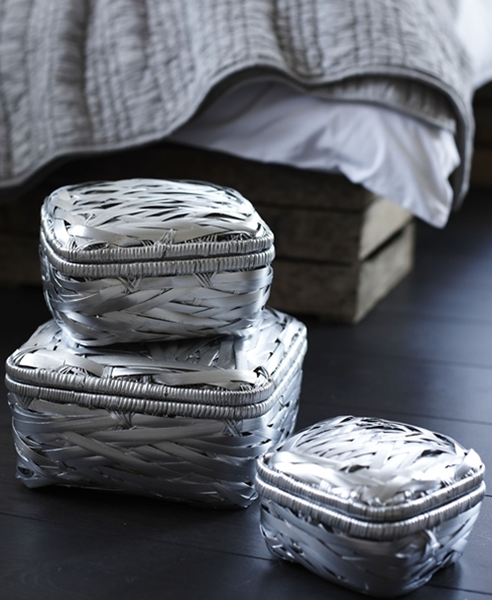 Add some shimmer to your storage with this Set of 3 Silver Baskets, £40.04.
I'm always looking for new storage ideas for my jewellery and those smaller bits and bobs that I don't want on show, so I was delighted to come across this gorgeous Set of 3 Silver Baskets by ALSO Home.
Handmade in Vietnam, these three boxes are crafted from bamboo, come in varying sizes and have been given a touch of glamour thanks to their silver finish.
Ideal for the bedroom, these elegant boxes would look fabulous on a dressing table yet would also look great in the living room.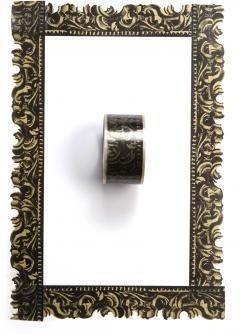 Get crafty with this Droog Do Frame Tape, £12.95.
Since learning how to sew properly, I've gone craft crazy. The only problem is I need to have a rest from cushion making otherwise no-one will be able to sit on my sofa without throwing them on the floor.
So, given my cushion hiatus, I've been looking for something else to occupy my time, and I'm thrilled to have come across this Droog Do Frame Tape by Dutch by Design.
Designed to resemble a Baroque-style frame, this clever decorative tape takes the hassle out of having to get your posters and pictures framed.
You simply add the tape to the edges of your favourite pieces of artwork and voila – beautifully framed pictures.