It's our Interior Design Magazine!
The hottest interior design ideas, fab finds for the home and the latest in interiors trends. We're always looking for new finds, designers to feature or anything else lovely for the home, so if you've seen something gorgeous and would like it featured in our interior design magazine, please get in touch!

Add some Hollywood glamour with this Chrome Tripod Spotlight Lamp from The Orchard, £357.
The industrial look is still very much in vogue, and we have a great range of pieces here at Furnish from storage essentials to stunning furniture and lighting.
One of my favourite pieces is this elegant Chrome Tripod Spotlight Lamp from The Orchard.
Reminiscent of lights used on film sets, this lamp is just the ticket for adding some Hollywood glamour to your home.
Try using it in the bedroom for a decadent touch or to create a stylish reading corner in your living room.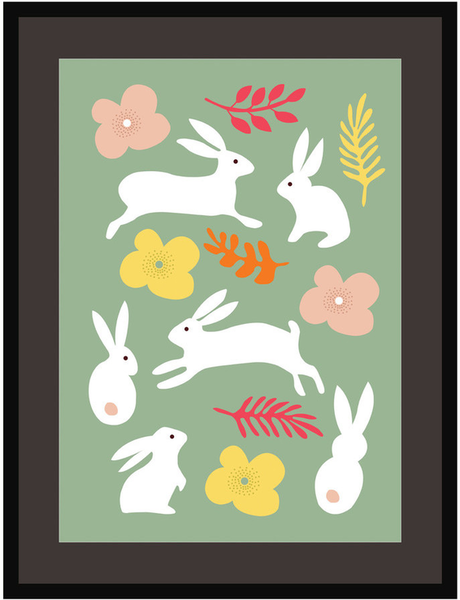 Brighten up a little one's room with this Bunnies Print from Art Star, £90.
If you favour a subtle, non-Disney approach to decorating your little one's room, we have a fantastic range of products here at Furnish.
From the prettiest of bed linen and cute, stylish accessories to storage solutions for everything from books to clothes, there's all you need to create a great looking room.
And to add interest to a plain wall, we have a wide selection of prints and wall stickers.
My absolute favourite is this super sweet Bunnies Print from Art Star which features a collection of bouncing rabbits and pretty flowers making it the perfect update for spring.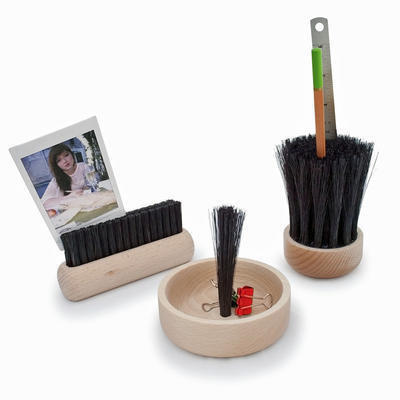 Keep your desk neat and tidy with this Tidy Brush Set from Lifestylebazaar, £45.
I don't know about you but my desk is an utter mess and, as one of my New Year's resolutions is to start being a little more organised, I've decided to start preparing now.
We have a great selection of desk and office accessories available here at Furnish, from stylish in-trays to perfect pots to keep your pens neatly stashed.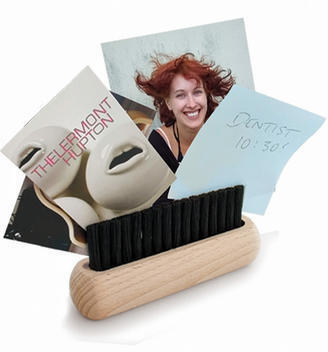 My current favourite is this super cool Tidy Brush Set from Lifestylebazaar.
Consisting of three pieces – a pen pot, card holder and small tray for bits and bobs – each piece is made from solid beech and natural bristles, and have been designed to keep everything from pens and pencils to drawing pins and paper clips neat and tidy.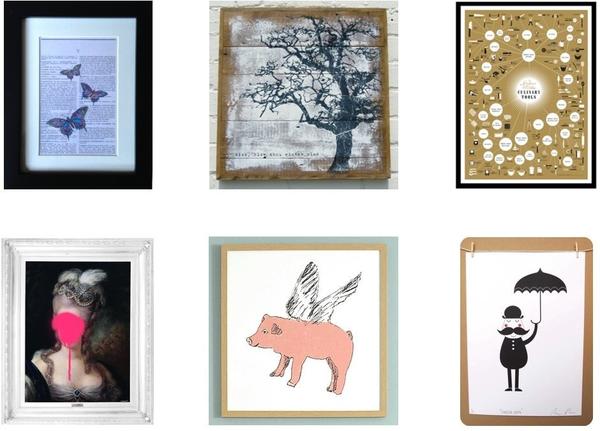 Treat yourself to the perfect print with our fantastic selection of wall art.
Everyone likes to have some artwork in their lives and, here at Furnish, we have some fantastic prints and pictures to decorate your home.
If you like your art a little bit edgy, you'll love this eclectic Defaced Duchess print from The French Bedroom Company while this beautifully sketched Flying Pig Print from Lifestylebazaar will look great in a kid's room.
Meanwhile, if you're more into nature and literature, then you can kill two birds with one stone with this pretty Vintage Style Book Watercolour Butterfly Print from Burford Trading.
(Each of these would also make a perfect gift and many items can still be delivered before Christmas. Check the individual product listings for more information.)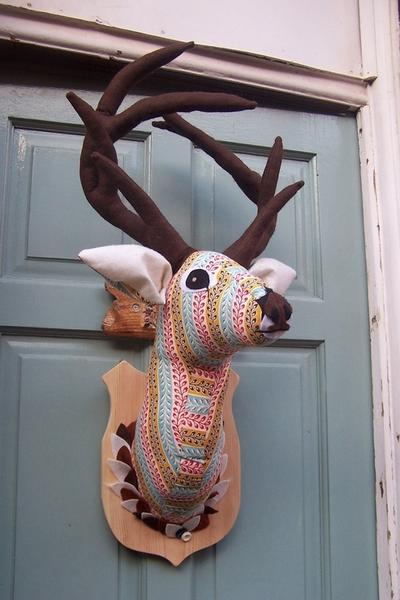 Add some fun, retro styling with this Trophy Deer Stag Head from Design 55, £100.
The stag trend refuses to die. Who knows why? Perhaps it's because these majestic animals look fabulous wherever and however you use them in the home.
We have a fantastic selection of stag-related products here at Furnish from coat hooks to bookends, but one of our favourite pieces is this Trophy Deer Stag Head from Design 55.
The gorgeous retro look of the fabric helps to give it a feminine touch, and it is sure to add interest to any wall. Each item is slightly different as a range of vintage fabrics is used.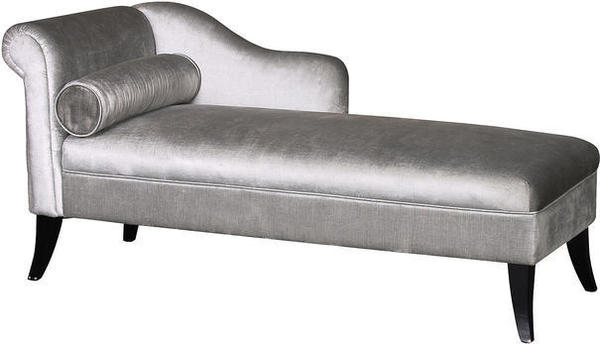 Relax in style with the Deauville Velvet Silver Chaise Longue from Lover's Lounge, £536.
I don't know about you, but I'm so looking forward to relaxing over the festive period. It's been a hectic year and time has flown by, so I'm definitely ready for some serious R & R.
If you're feeling the same but worried about your family hogging the sofa, then a chaise longue may be the perfect solution.
We love this Deauville Velvet Silver Chaise Longue from Lover's Lounge which is ideal for adding a touch of decadence to any room, and is ideal for relaxing on.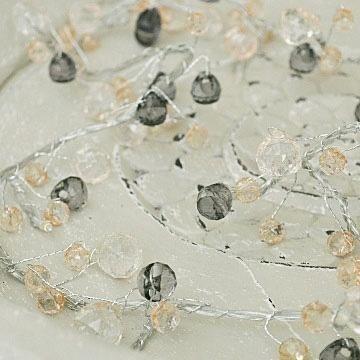 Add some subtle sparkle with these Coco Blush Crystal Fairy Lights from Primrose & Plum, £38.
I'm not a massive fan of fairy lights. Mine always get tangled, and one of the bulbs inevitably doesn't work. However, these Coco Blush Crystal Fairy Lights from Primrose & Plum may just change my mind.
Combining elegant crystals with LED lamps, these super pretty lights are great for adding some sophisticated sparkle this Christmas and beyond.
A shorter battery version (£16) is also available, perfect for draping on a dining table or to instantly add some glamour to a mantelpiece or fireplace.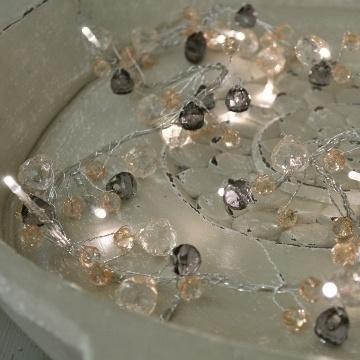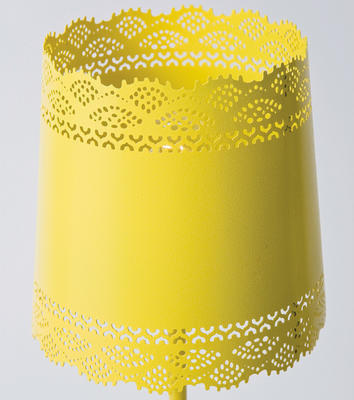 Inject a splash of colour with this Little Lacey Yellow Lamp from The French Bedroom Company, £99.
With the days getting increasingly shorter, leaving for and coming home from work in the dark isn't much fun. So I've been thinking about ways to add a splash of colour to my home to brighten things up a bit.
While I'm strictly a neutrals kinda gal, and I'm not about to go crazy and paint a whole wall neon pink, I don't a mind a bright accessory or two.
I absolutely love this Little Lacey Yellow Table Lamp from The French Bedroom Company. Great for a retro-style room, this table lamp version is the perfect partner for a reading chair and will look great teamed with designs covered in teal, lime or pink fabrics.
A matching floor lamp is also available.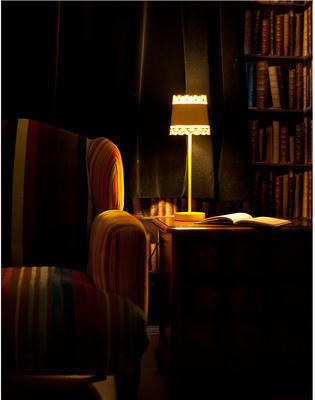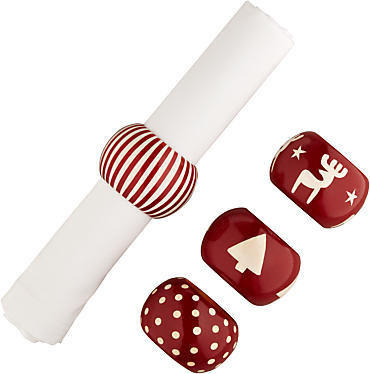 Give your Christmas table a Nordic touch with these Wooden Christmas Napkin Rings from John Lewis, £10.
Christmas is nearly here and, while I've been rather bad at buying presents, I've definitely got my ideas for decorating the house sorted and can't wait to get my tree up and looking amazing.
For me one of the most important parts of decorating the home for Christmas is getting the table ready for the main event. And, this year, I'm going for a Nordic look so the table is going to be all red and white with lots of wood.
These House Wooden Christmas Napkin Rings from John Lewis are just the ticket and will add the perfect finishing touch to the Christmas table.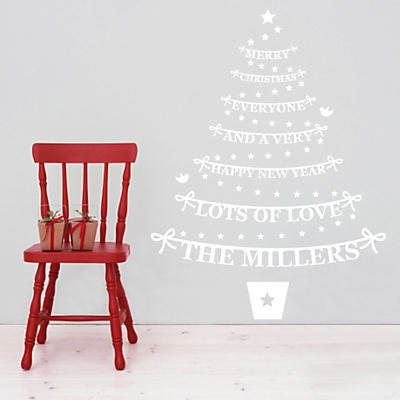 Add some festive charm with this Personalised Family Christmas Tree Wall Sticker from John Lewis, from £45.
With the festive season fast approaching (where did the second half of this year go), I've been on the hunt for quirky ways to add some Christmas charm to the home.
Not everyone has room or time to decorate a Christmas tree, so I decided to look into some alternatives and was delighted to come across this clever Megan Claire Personalised Family Christmas Tree Wall Sticker from John Lewis.
Elegant and understated, the sticker is available in five colours and offers the perfect alternative to a traditional Christmas tree and will add some instant festive flair.
Medium: £45
Large: £55
John Lewis quotes the last order date as: 16th December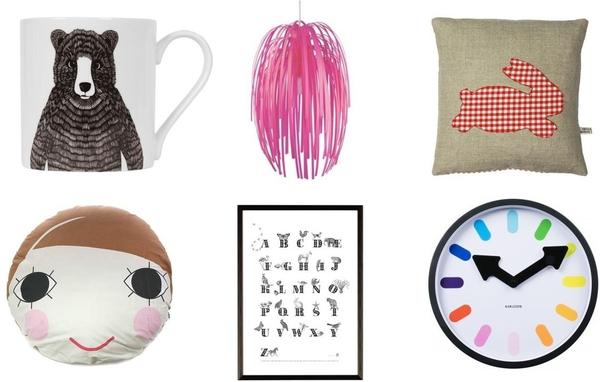 Give your little ones something special this Christmas with these gorgeous, fun accessories.
Much as kids love toys at Christmas, it is also a great opportunity to give them something special to brighten up their bedrooms. We have some gorgeous bits and pieces for children's rooms here at Furnish, sure to put a smile on their faces.
This funky Karlsson Pictogram Rainbow Wall Clock from Dutch by Design will add fun and colour, while this giant Children's Cushion Big Lulu from JasmineWay will go down a treat in any girl's room.
Up-and-coming interior designers will surely adore this super stylish Handmade Rabbit Cushion from Chocolate Creative to add some country-style chic to their bedroom, while budding art lovers will be thrilled with this stylish and educational Animal ABC Print from Folly.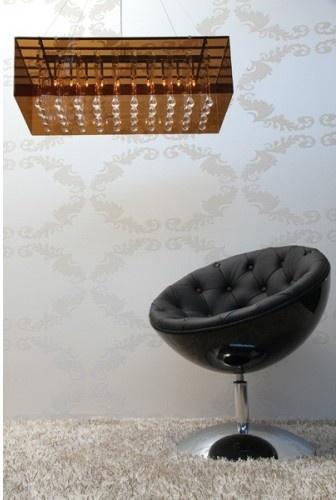 Add some drama with this Claire XL Pendant Light from Neofurn, £144.
Chandeliers aren't for everyone, especially if you favour a more contemporary interior, but that doesn't mean you can't make a real statement with your lighting.
We have some gorgeous contemporary lighting here at Furnish but this show-stopping Claire XL Pendant Light from Neofurn really caught my eye.
Ideal for creating a focal point, this splendid pendant light features a multitude of crystal droplets encased in a bronze-coloured acrylic shell.
Perfect for creating an impressive hallway, this light will also look fabulous hanging above a super contemporary dining room table.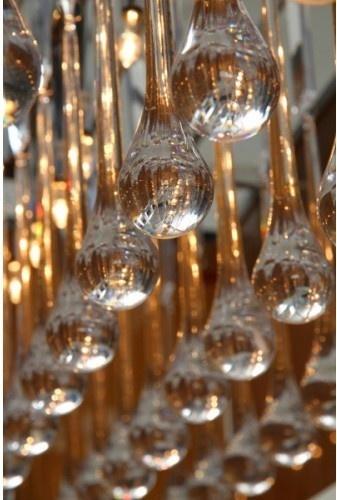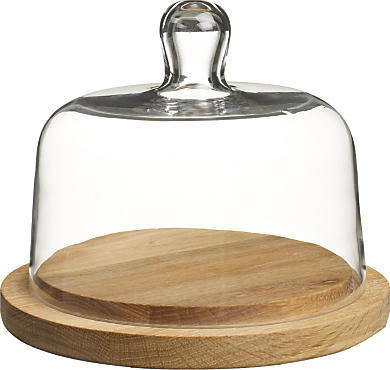 Eat your way through a mountain of cheese with this Sagaform Cheese Dome and Board from John Lewis, £35.
Not being a massive fan of turkey, I never really look forward to consuming the big bird at Christmas, but what I do look forward to is gorging myself silly on cheese.
From Gorgonzola to Brie, for me the festive period definitely isn't complete without having some delicious cheeses on hand to see you through from Christmas Eve to New Years Day. (And everyone knows cheese is the perfect hangover cure right?)
And what better way to display them than with this simple yet ever so stylish Sagaform Cheese Dome and Board from John Lewis.
Offering the perfect way to serve cheese at your dining table, the handy cover will ensure everything stays fresh and delicious.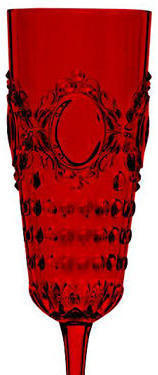 Toast the new year with these Baroque & Rock Champagne Flutes from Red Candy, £9.
I don't know about you, but I seem to have spent a lot of time recently wondering just where 2013 has gone. Now we're almost at the final furlong, my thoughts have turned to how I'm going to be celebrating the arrival of 2014.
Loving my house as much as I do, I've decided not to venture into London's West End and instead have a little soiree at home with some close friends.
Of course we'll be toasting 2014 in style but, as my friends can get a little raucous, I'm not keen on risking my favourite champagne flutes.
However, as fizz just doesn't taste the same in those funny little plastic glasses, I'm investing in these Baroque & Rock Champagne Flutes from Red Candy.
Sturdy yet elegant, these acrylic embossed glasses are great for any occasion where you want to keep your precious glasses safe and sound.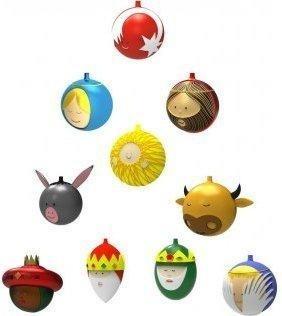 Add a touch of kitsch to your tree with this Alessi Set of 10 Christmas Baubles from Design 55, £140.
I have to admit to being a total snob about Christmas decorations. I have no outside lights, definitely no tinsel and absolutely on no account whatsoever any fake snow adorning window corners.
However, even I can't resist a bit of kitsch, and I totally adore this Alessi Set of 10 Christmas Baubles from Design 55.
Each one features a character from the nativity to give your tree a touch of history but in the cutest way possible.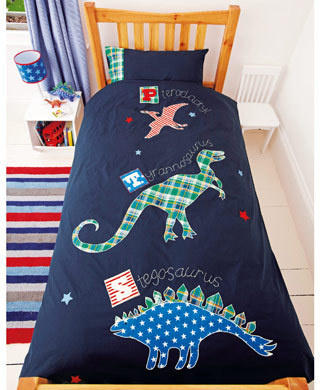 Bring the Jurassic back to life with this Dinosaur Duvet Cover Set from GLTC, from £40.
I have yet to meet a boy or girl who isn't fascinated with dinosaurs so, if you're looking to update your little one's bedding this Christmas, I may have found just the thing.
This gorgeous Dinosaur Duvet Cover Set from Great Little Trading Company comes in a lovely dark blue, and features a tartan pterodactyl, stegosaurus and (not too scary) T Rex.
Just the thing for any budding palaeontologist.
To fit toddler bed - £40
To fit single bed - £55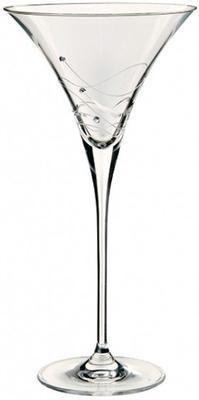 Say cheers in style with this set of two Diamante Martini Cocktail Glasses from Design 55, £39.99.
Party season is upon us and if you plan to hold a soiree or two over the Christmas period, an audit of your glassware is essential.
From wine glasses to elegant champagne flutes, we've got everything you need to get the party started.
And if you're thinking of hosting a sophisticated cocktail party, then a set of decent martini or cocktail glasses is essential.
I love this Set of two Diamante Martini Cocktail Glasses by Dartington Crystal from Design 55 which are embellished with crystals made from Swarovski elements. Now all you have to decide is if you want your martini shaken or stirred…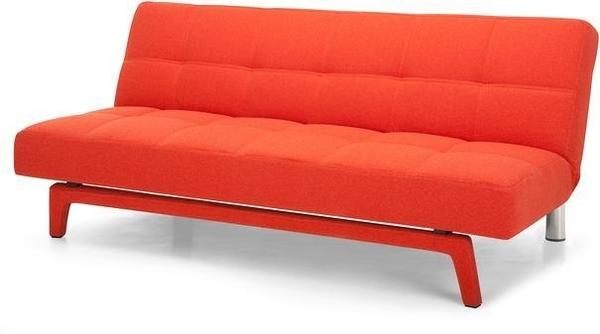 Get ready for guests with this Yoko Sofa Bed in Saffron Orange from made.com, £199.
Christmas doesn't just bring gifts, mince pies and a sprinkling of snow, it also brings guests. Some of them might be expected but you can guarantee there will be some unexpected ones too.
Keeping a stash of towels and extra bed linen is one way to stay prepared, but what do you do if you haven't got a spare room?
A sofabed is a great solution and we have some fabulous designs here at Furnish.
Our pick of the bunch is this Yoko Sofa Bed from made.com.
Easy to change from sofa to bed, this simple, sleek design will suit any interior, and this saffron orange version is great for adding a pop of colour.
Also available in grey, black, brown and cream.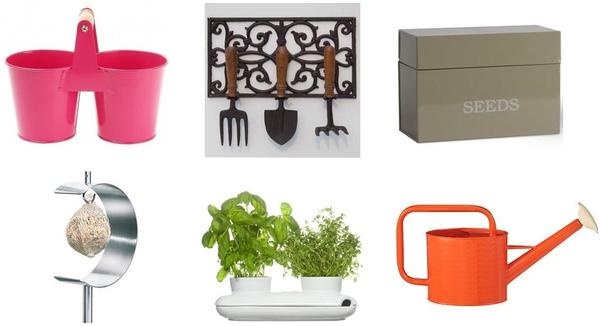 Find gorgeous gifts for your green-fingered friends with our Christmas Gift Guide for Gardeners.
If you're looking for the perfect gift for a wannabe Alan Titchmarsh or Rachel de Thame, we have some great gardening gifts for your green-fingered friends.
From watering cans to bird feeders to garden tools, we have everything to make sure your loved ones' gardens bloom this coming year.
To help them adhere to the inevitable hose pipe ban in a few months' time, this Orla Kiely Watering Can from Design 55 is just the ticket, while twitchers will be delighted with this Blomus Nido Bird Feeder by Red Candy.
And to keep seeds neat and tidy, look no further than this simple yet stylish Garden Trading Large Seed Box in Gooseberry from Amara Living.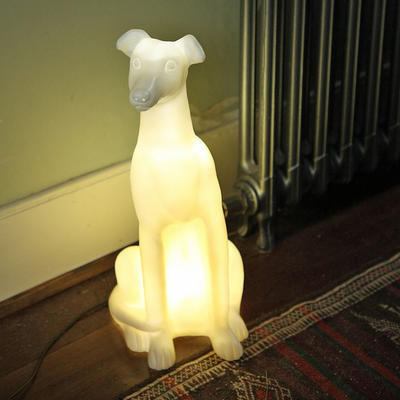 Add some canine charm to your home with this super kitsch Archie Dog Floor Lamp from Lifestyle Bazaar, £75.
I make no secret of being slightly obsessed with dogs and that I'm rather partial to a dog accessory or two in the home.
We have lots of dog-inspired pieces here on Furnish from cushions to doorstops but I've fallen totally head over heels in love with this Archie Dog Floor Lamp from Lifestyle Bazaar.
Modelled on a real life whippet, this unusual and definitely kitsch floor lamp is the perfect way to add a touch of tongue-in-cheek humour.
Try using this gorgeous lamp in a hallway to give your guests a warm welcome or in your living room as an interesting focal point.
Also ideal as a Christmas pressie for any dog lovers in your life.