It's our Interior Design Magazine!
The hottest interior design ideas, fab finds for the home and the latest in interiors trends. We're always looking for new finds, designers to feature or anything else lovely for the home, so if you've seen something gorgeous and would like it featured in our interior design magazine, please get in touch!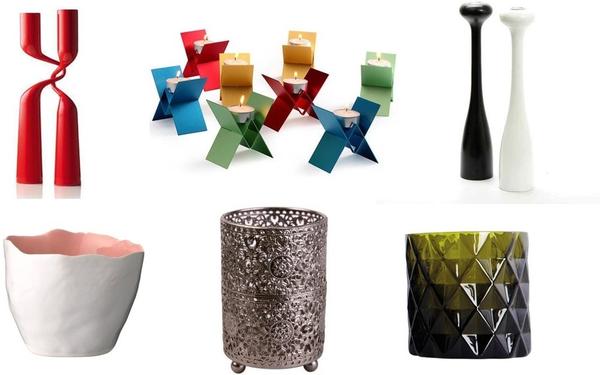 Cosy up during the dark evenings with our fantastic selection of candle holders.
While spring will soon be here and the dark nights are starting to get shorter, we still have a few weeks to get through (but seriously – enough of this rain).
Modern lighting can be harsh, but candlelight gives any room a softening glow from the living room to a candlelit bath.
We have some gorgeous candle holders here at Furnish from simple tea light holders to elegant candelabras.
If you want to inject some colour into your scheme, these Butterfly tea light holders by Lifestylebazaar are perfect, while the Green Chunky Tea Light Holder by Artstar is just right for adding a touch of glamour to a mantelpiece.
And if you're looking to create a stunning centrepiece, then this Menu Double Candle Holder by Red Candy is ideal for creating an elegant dining table, and is also available in black, white and stainless steel.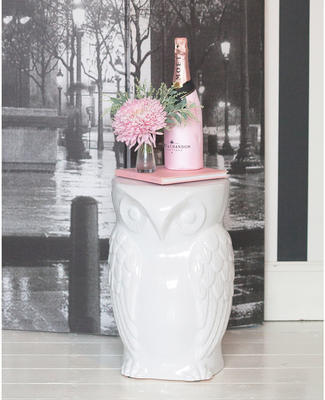 Give your home a quirky touch with this Wise Owl Side Table, £95.
While we're deadly serious about our interiors here at Furnish, even we like the odd bit of fun, a little bit of quirkiness, which is why I've fallen for this Wise Owl Side Table by The French Bedroom Company.
Crafted from white glazed ceramic, this super cool side table resembles a giant owl ornament, which is ideal if you like playing with scale when it comes to furnishing your home.
This little chap makes the ideal bedside table with plenty of room to keep all your bedtime necessities close at hand, and would also make a welcome addition in a kitsch-influenced living space.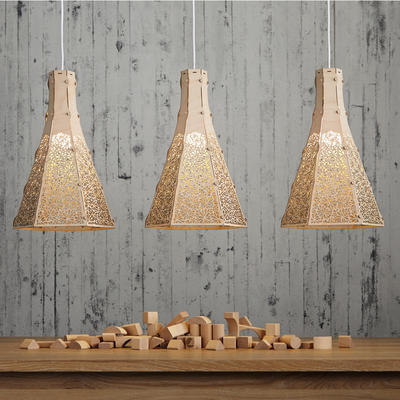 Refresh your scheme with this Bloom Lampshade, £132.
Updating your lighting is a great way to refresh your space with minimum fuss and at minimum cost.
We have some fab ceiling lights and lampshades here at Furnish to suit your scheme, whether your style is classic or contemporary.
One shade that's caught my eye is this Bloom Lampshade by Lifestylebazaar. Crafted from laser-cut birch plywood (sourced from managed forests), these intricate lampshades are sure to create a subtle statement wherever you use them.
Try in the bedroom to offer a subtle feminine touch or hang a cluster over a dining room table for maximum impact.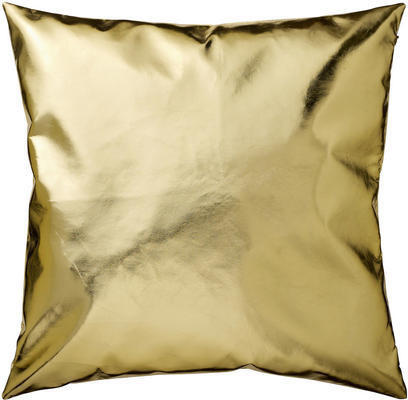 Embrace the metallic trend with this Gold Cushion, £55.
Metallics were big on the catwalks of New York, Milan, Paris and London, so it makes sense that this is one of the hottest trends in interiors at the moment.
From copper lighting to silver embossed candle holders, everything has been given a glamorous touch.
If you're looking for an easy way to tap into this trend, then look no further than this simple yet ever-so gorgeous Gold Cushion by Artstar.
Ideal for pepping up a tired sofa or armchair, this cushion will also look equally as good teamed with crisp, white bed linen.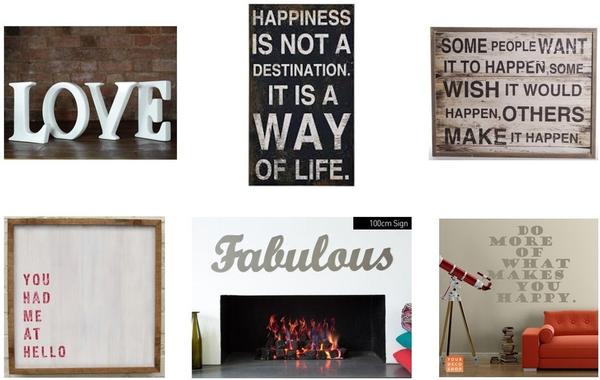 Treat your walls to a makeover with our wordy wall art.
If your walls are a little lacking in interest, then a wall sign or some written artwork is the perfect way to spruce them up and give them a new look.
They are perfect if you want a change but are not ready to commit to wallpaper or a new paint colour.
Romantics will love these LOVE Ceramic Letters by The Orchard which make the perfect wedding or anniversary present, while the Fabulous Sign by Signs For Homes is great for adding a touch of diva to any room.
And, if your spirits are in need of a little lift, then this Happiness is a Way of Life - Shabby Chic Sign by Fields of Blue should do the job.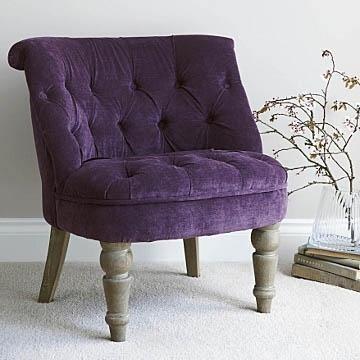 Enjoy comfort and colour in your bedroom with this Velvet Boudoir Chair, £350.
I have always thought that having an armchair in your bedroom is the height of luxury.
It means you must have a decent sized space in order to accommodate one, and it rather suggests you have time to lounge around in your bedroom. Unfortunately I have neither!
But if I did, the chair for me would definitely be the Velvet Boudoir Chair by Primrose & Plum.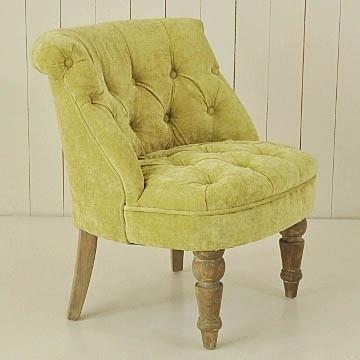 I love the elegant shape and velvet upholstery (available in rich purple or bright green) and, as regular readers will know, I can't resist a button back when it comes to chairs.
Of course, this would also work brilliantly in a living room, hallway or landing.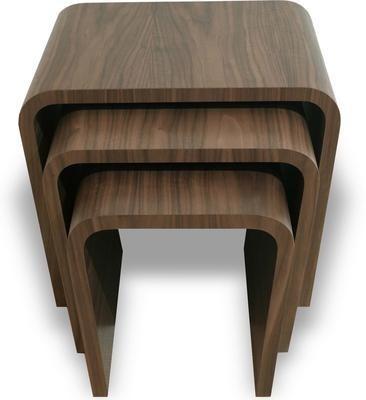 Add sleek, contemporary lines to your living room with this Kara Nest of Tables, £930.
Now that I'm a grown up (!) people tend to buy me things for the home at Christmas. One of my favourite Christmas presents this year was a beautiful Vintage G Plan nest of tables from my parents, which has made me realise just how useful and versatile nests of tables are.
We have all sorts and styles of nesting and side tables here at Furnish but one that's really caught my eye is this rather wonderful Kara Nest of Tables by Tom Schneider.
Simple yet beautifully curvaceous, they have been lovingly crafted and are available in six wood options from pale maple to dark and dramatic wenge.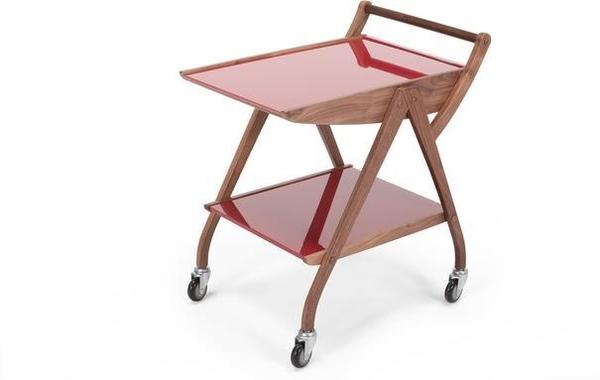 Enjoy some retro style with this Fonteyn Drinks Trolley, from £239.
Regular readers will know I'm a big fan of occasional furniture and, at the moment, I have my eyes on this rather fabulous Fonteyn Drinks Trolley by made.com.
Deliciously retro, this Steuart Padwick piece has got Mad Men style written all over it.
Sadly, I don't host enough cocktail parties to warrant a drinks trolley but this would also be a fab alternative as a kitchen trolley. Available in walnut with red, or oak with blue accents, this simple yet luxurious trolley has handy wheels which make it both beautiful and practical.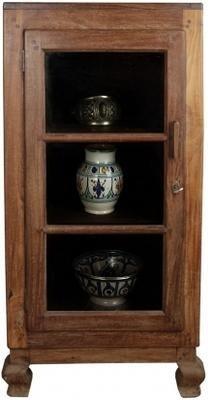 Ends midnight 31st January.
Rocomara is currently offering Furnish customers up to 15% off on its range of designer luxury homewares FOR TODAY ONLY. This is in addition to the 15% discount available on Rocomara items on your first Furnish order.
Rocomara's items are full of Moroccan influences with many products featuring beautiful mother of pearl. They offer a wide range of leather pouffes in both bright and muted colours, gorgeous furniture including console and coffee tables, stunning chests of drawers, and cabinets such as the Antique glass cabinet shown.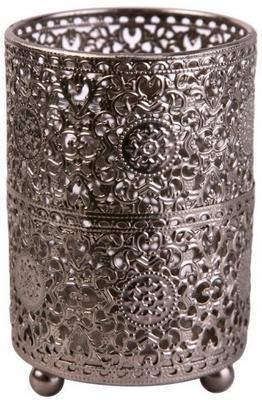 Ends midnight Friday 31st Jan.
My Maison is currently offering Furnish customers up to 60% off on its range of designer luxury homewares until 31st January 2014. This is in addition to the 15% discount available on selected items from My Maison on your first Furnish order.
My Maison designs contemporary home furnishings and accessories, featuring materials such as wood, leather and bamboo. Items include a wide range of vases, bowls and candle holders, such as this striking La Femme Tea Light Holder, as well as many unusual ornaments and pieces of wall art.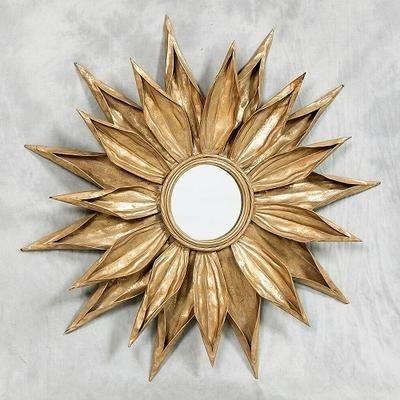 Pep up a plain wall with this Gold Sunflower Mirror, £69.95.
What with the dark nights carrying on for a while longer, I've been on the hunt for a new mirror for my hallway to inject a feeling of light and space.
We have loads of gorgeous mirrors here at Furnish from modern to more traditional designs that are perfect for every room in the home, but my favourite piece is this Gold Sunflower Mirror by Daisy West.
Designed to look like the head of a giant sunflower, this mirror has been given a dull gilt finish which will add a touch of drama to any plain wall.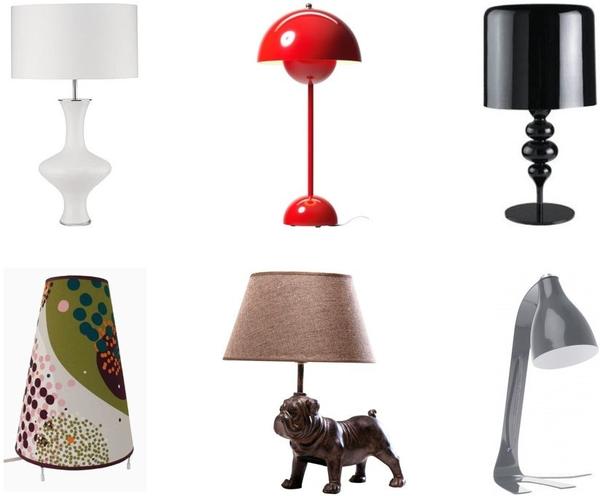 Brighten up gloomy evenings with our eclectic pick of table lamps.
We're longing for spring to arrive here at Furnish, but while the dark, long evenings are still with us, we thought it was a good idea to have a round up of some of our favourite table lamps.
Great for every room in the house, from the bedroom to the study, we have a fabulous selection for every taste.
For those who like their lighting with beautiful curves, you will struggle to beat the Medusa Black Aluminum Desk/Table Lamp by Furniture for Home, while for a desk or a side table the Leitmotiv Barefoot Table Lamp by Dutch by Design is a great choice.
And if you want to add real impact to your hallway or living room, then you need look no further than this cute, kitsch Petit Bouledogue Table Lamp by The French Bedroom Company.
Add beautiful, bright colour to your dining table with a Guzzini Aqua Large Rectangle Placemat, £17.
Placemats are one of life's necessities – well they are if you don't want burnt dining tables – but that doesn't mean they have to be dull and boring.
We have a huge range of placemats to choose from here at Furnish whether you're looking for day-to-day use or for more special occasions.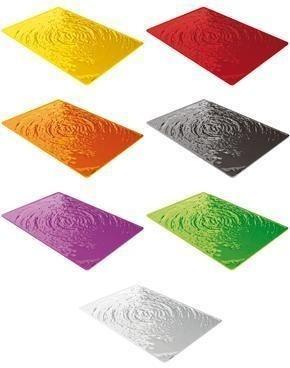 My favourites, by far, are these Guzzini Aqua Large Rectangle Rigid Placemats by Design 55. Available in a gorgeous array of bright shades, they are great for adding colour and texture to your dining table.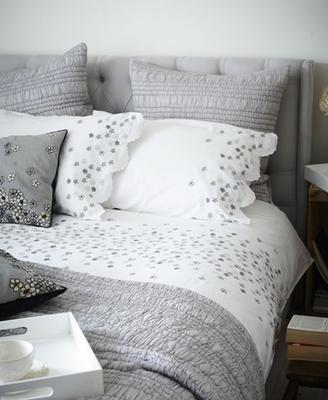 Create a stylish boudoir with this pretty Hanoi Daisy Embroidered Cotton Bed Linen, from £30.80.
I've been promising myself I'll treat myself to some new bed linen for what seems like an absolute age. But as soon as I clapped my eyes on this Hanoi Daisy Embroidered Cotton Bed Linen by ALSO Home I knew I'd found exactly what I'd been looking for.
Made from luxurious 200 thread count cotton, this sumptuous bed linen has been finished with a smattering of pretty embroidered daisies which give this design a sophisticated feminine look.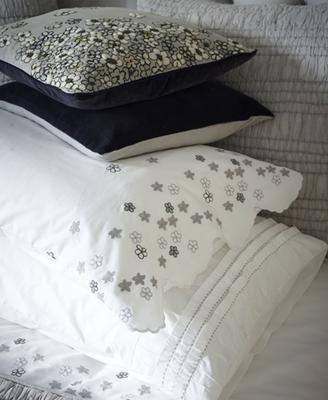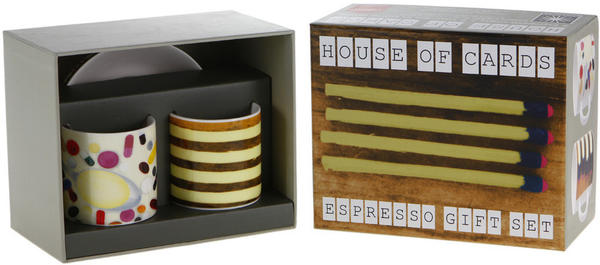 Enjoy your morning coffee with this Eames Matches and Pills Espresso Gift Set, £29.
Although the sun is starting to rise just that little bit earlier each morning, I still find it hard to get going each day without my morning espresso.
But with this gorgeous Eames Matches and Pills Espresso Gift Set by Amara Living, it's not just the caffeine that will put a spring in my step.
Comprising two stylish bone china espresso cups and saucers, it features the playful Eames Matches and Pills photographic designs, and comes in a lovely presentation box.
Perfect for any time of day.
(Also available in Eames' Buttons and Tape Measure design.)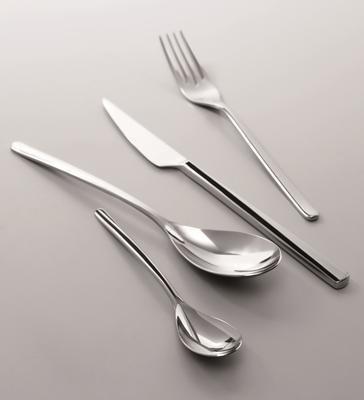 Create a stylish dining table with this Bugatti Sintesi Cutlery Set from Gifts with Style, £90.
Replacing your cutlery is a quick, easy and inexpensive way of revamping your dining table, and we have some great options here at Furnish for every style of dining room.
If you're looking for a really sleek look which is sure to impress your guests, then this Bugatti Sintesi Cutlery Set from Gifts with Style is just the ticket.
Designed by Italian design house Casa Bugatti, this elegant cutlery set will work well in both contemporary and classic schemes thanks to its timeless good looks.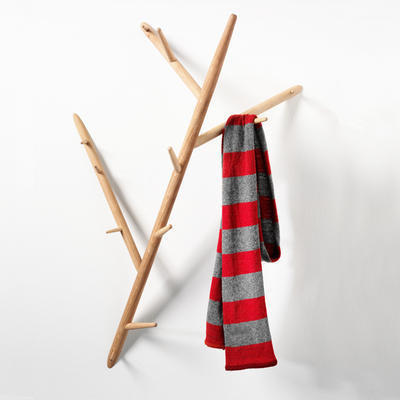 Keep your hallway tidy with this Branch Hat and Coat Hook from Lifestylebazaar, £129.
I love living in a 70s townhouse, but the one thing that's missing is an actual hallway which makes storing coats a bit of a problem. While I'd love a freestanding coat rack or stand, sadly there simply isn't room, but I'm thrilled with this stylish alternative from Lifestylebazaar.
Available in black, white and natural oak, this hat and coat hook has been designed to look like a tree branch with handy "twigs" on which to hang your belongings.
And as it's wall-mountable it's perfect for those who are short on space, and is great for adding interest to a plain wall.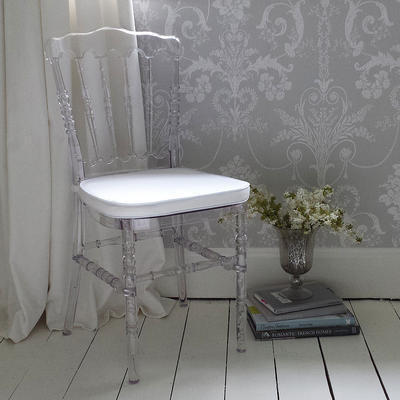 Rethink a classic design with this Clear Acrylic Napoleon Chair from The French Bedroom Company, £125.
Regular readers will know about my love of chairs, so I was absolutely thrilled to come across this Clear Acrylic Napoleon Chair from The French Bedroom Company.
Giving a fresh take on a classic design, this striking piece combines all the beauty of a traditional chair with a contemporary twist thanks to the use of clear acrylic.
Coming with a simple, crisp white seat cushion, this chair will look fabulous teamed with a distressed wooden dining table to create a simple yet stylish dining room, and will look equally good in a contemporary bedroom.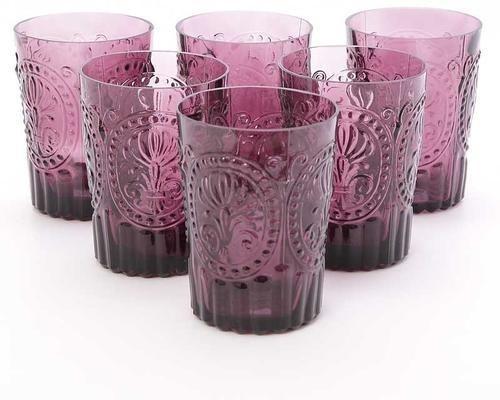 Brighten up your dining table with these Portuguese Handmade Purple Water Glasses from JasmineWay, £50.40.
One of my New Year's resolutions is to drink more water – something I'm pretty rubbish at doing.
So I've decided to invest in some pretty new water glasses to motivate me and ensure I'm getting my daily dose of H20.
We have some beautiful glass tumblers here at Furnish, but it's these Portuguese Handmade Purple Water Glasses from JasmineWay that have really caught my eye.
They've been pressed by hand using a traditional mould, and their vibrant colour means they'll make drinking water far more glamorous.
Perfect for everyday use, they're also pretty enough to adorn your dining table at supper parties.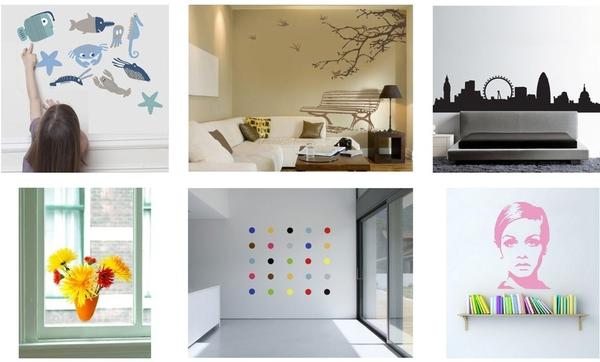 Spruce up your home with our fabulous choice of wall and window stickers.
If you don't want to commit to wallpaper or paint, wall stickers offer a fantastic way to update your walls with minimum fuss.
We have some beauties here at Furnish from classic to contemporary, which are guaranteed to suit every room in the home, as well as every style and taste.
For art lovers, the Damien Hirst-esque Art Deco Spots Wall Sticker Set from Red Candy will instantly add some gallery chic to your home while the Ocean Life Wall Sticker in Blue from JasmineWay will delight budding oceanographers.
If you're one of those who dream of viewing the iconic London skyline everyday but can't afford the city centre pad, then this London Skyline Wall Sticker from Gifts with Style makes a reasonable substitute.
Meanwhile, for something a bit different, how about this gorgeous Flat Flower Chrysantium Window Sticker from Dutch by Design, perfect for adding colour and fun to your window.