Arne Jacobsen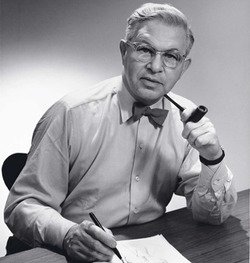 Arne Jacobsen was born in Copenhagen in 1902. He opened his own practice in 1930, which he ran until his death in 1971. Arne Jacobsen designed, directed and controlled the smallest aspects of an interior to the detailed designs of buildings and gardens.
In his youth, Arne was influenced by the Bauhaus and functionalist movements, to which he added his unique Scandinavian interpretation. The products to emerge from that period mainly comprise small series of furniture, produced by skilled craftsmen.
Being Jewish, he was forced to flee to Sweden during the war. On his return, he worked with enthusiasm and vigour in a new style - Modernism. It is from this period that we recognise his well-known mass-produced pieces of furniture. Buildings designed by him, although beautifully simple and sculptural, were elegant backdrops for his chairs and lamps.
There are no matching products.