Bjorn Dahlstrolm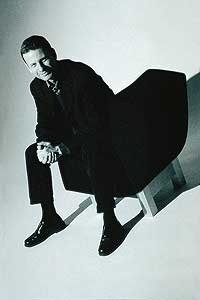 Bjorn Dahlstrolm worked with graphic and product design in the industrial and furniture sector. He began in the mid 1970s with animation and graphics for film and TV- productions. From 1978, he was employed as an art director and graphic designer in an advertising agency working mainly with printed design.
Bjorn started his own company 1982, concentrating on graphic design for clients like Ericsson, Scania, Atlas Copco etc. Today 60 percent of of the work consists of industrial design. Among the clients are Primus (torch and soldering equipment), Atlas Copco (products for the building industry), Aqua Play (toys and systems for waterplay), Playsam (wooden toys), Gewa (electronic handicap aid), Skeppshult (bicycles), Hackman (cookware) etc.
Björn Dahlström has during the 90s successfully started several furniture projects, main client in this sector is Cbi interior (member of the Swecode-group).
Björn Dahlström has also produced exhibition design for several of the above clients. Since last year, he has also been teaching at Beckmans School of Design.
There are no matching products.