Terence Conran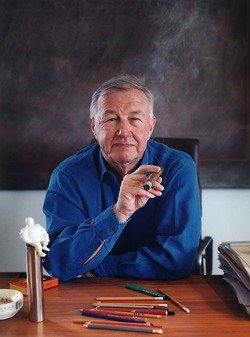 Terence Conran is one of the world's best-known designers, restaurateurs and retailers. Born in 1931, he founded the Habitat chain of stores that brought good, modern design within reach of the general population. Through the merger of Habitat with Mothercare and the subsequent additions of Richard Shops, Heal's, British Home Stores and Blazer, Terence created the retail group Storehouse, from which he retired in 1990. Habitat is now owned by the holding company that also owns Ikea.
In the 1990s, Terence built another group of companies involved in design, retailing, restaurants and hotels. Conran Holdings, of which Terence is Chairman, started its life in 1990 managed out of an apartment at Butlers Wharf owning one restaurant, one shop and a design studio. It has grown into a business today which owns restaurants and shops in cities throughout the world.
Restaurants
Founded in 1991, as Conran Restaurants, D&D London is one of Britain's most dynamic and successful restaurant groups. There are currently over 20 restaurants established in London, in Paris and in New York. All the group's restaurants are designed by Conran & Partners and many of them reflect Conran's reputation for creating contemporary interiors in historically important buildings.
Conran Shops
The Conran Shop now has eight stores located in London, Paris, New York, Tokyo, Nagoya and Fukuoka selling a carefully chosen selection of contemporary, well-designed furniture and home furnishings, much of it exclusive.
Conran & Partners
Conran & Partners is the Conran Group's architectural and design practice which also provides graphic and product design services. The practice has a worldwide client base and an established reputation for diverse, intelligent modern design solutions. In addition to designing the interiors for all the Shops and restaurants within the Conran Group, the practice has also worked for a wide range of external clients including City Lofts, Forth Ports/Bank of Scotland (owners of Ocean Terminal in Edinburgh), The Park Hotels in India, das Trieste Hotel in Vienna, Nigella Lawson's Living Kitchen, Bliss and the Museum of London. Much of the practice's work is in Japan and Conran & Partners recently completed anumber of projects for MORI Building Company including the residential and commercial Roppongi Hills complex in Tokyo and Niki Club in Nasu, a hotel 40 miles from Tokyo. Architects from Conran & Partners are currently working on Tokyo's single largest urban regeneration project to develop a 20-hectare site alongside the Tamagawa river.
Conran Collections
Terence Conran's lifelong philosophy has been to bring good quality, contemporary homewares to a wider audience. The Conran Collections are a range of premium Conran branded products, which we have produced with carefully chosen partners. Each product is designed by Conran with meticulous attention to detail because we believe that thoughtful and innovative design adds quality to people's lives. We always maintain close control over the brand identity, designing the packaging and in store display concepts for each of the ranges.
The Collection includes Bed by Conran, a relaxed and contemporary collection of bedroom and bathroom products developed with bed linen brand leader Dorma Group Ltd; Bath by Conran, an elegant, easy care bath linen inspired by classic tailoring, natural textures and striking colours; Light by Conran, a simple and timeless family of bedside, table and floor lights and Content by Conran, a range of contemporary furniture offering thoughtfully designed furniture at affordable prices.
Great Eastern Hotel
The year 2000 saw the opening, in partnership with Wyndham International, of London's Great Eastern Hotel which became one of London's most successful hotels. It is situated in the heart of The City of London and was described by the media as a "modern classic". The Great Eastern is in a striking Grade 2 listed building and is a combination of Victorian elegance, luxury and charm mixed with contemporary facilities, design and first rate service. The Great Eastern was sold to Hyatt Hotels in 2006.
Terence is currently the Provost of the Royal College of Art in London and was awarded The Prince Philip Designer of the Year award in 2004 for his services to design.