Andrew Tanner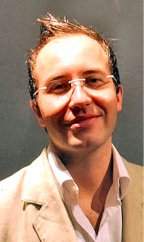 Andrew Tanner became British Young Designer of the Year in 2005. His collections are recognised internationally and include the 'Crate' fruit holder, 'Tag' interlocking bowls and the award winning 'Flock' bone china tableware collection.
Andrew Tanner graduated in 1997 where he studied Design and Craft at the University of Brighton. The following year Tanner was one of the founding partners of design house HUB which reflected the movement of the British Designer-Maker emerging at that time.
Tanner work soon became some of the most recognisable products emerging from the craft and design scene. Continuing from the success of HUB, Andrew Tanner Design was launched in 2002 to create a new partnership between traditional manufacturers and contemporary design.
Andrew Tanner has created bespoke collections for retail outlets and has successfully combined British Design and British Manufacture within his award winning ceramic and glass product ranges.
There are no matching products.