John Reeves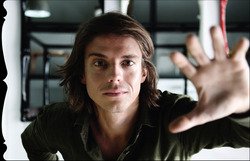 In 2004, John Reeves was picked as a finalist for Heal's Discovers. Heal's are a prestigious and a nurturing company and have taken several pieces from the Louis Collection into their well known furniture stores in the UK. The Louis Console table which lead to this recognition also brought John Reeves into contact with Julian Chichester Designs, a UK based furniture company, manufacturing in South East Asia.
John was subsequently offered a job as product developer and design consultant for Julian Chichester Designs, while also being able to work part time on his own designs. Living, working and manufacturing in Vietnam and its almost mediaeval assortment of accessible crafts and manufacturing techniques has brought Reeves into contact with a wealth of different manufacturing and design possibilities. It has been possible to experiment and work in several different mediums, such as wood, ceramics, lacquers and zinc. Through his work as head QC (quality controller) at Julian Chichester, John learned how to control large-scale production, and the many lessons which working in the Far East has to teach.
A crowning point in the Louis story was when the Louis Console Table won the Elle Decoration Future Classic Award in September 2006.
There are no matching products.