The Form Emporium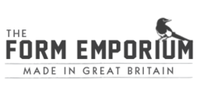 The Form Emporium are purveyors of original design who promote and showcase inspirational pieces designed and made in Great Britain. When you purchase from The Form Emporium, you are directly supporting the British design and manufacturing industry.
Products are hand-picked and are made by both established and up and coming designer-makers and manufacturers. We visit all the design and graduate shows to source the best that the UK has to offer. We then provide a starting point for new designers - an original place for them to sell their wares and support their growth. The founder of The Form Emporium is a designer-maker, and so our ethos is based on experience - we offer advice where needed, have contacts who can help take a prototype to market and our commission rates are low.
An extra special touch is that most of the pieces we sell are made to order and/or bespoke - beautiful, hand crafted products that are made just for you.