French Bulldog Cushion from The French Bedroom Company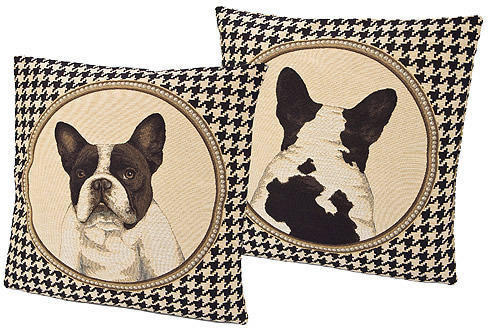 Add some canine chic to your scheme with this French Bulldog Cushion from The French Bedroom Company. £70
I am the first to admit that my dog obssesion is getting out of hand. I mean, if I see a dog when I am out and about, I can't resist giving it a smile, a pat and cooing at it like it's a new born baby.
In fact, I'm more interested in dogs than new born babies.
If I happen to go past Battersea Dogs Home at exercise time, I come over all giddy and during a bus journey the other day shared with a Burmese Mountain puppy I was beside myself with excitement.
Sadly, getting a dog is off the cards (landlord is mean, I am away too much, the other half works long hours – the list goes on) but that doesn't mean I can't look!
As such, I'm also obsessed with dog-inspired interiors which is why I love this French Bulldog Cushion from The French Bedroom Company.
The front shows the gorgeous portrait of a French Bulldog while the back shows the rear view. I love that they've chosen to use a houndstooth check and the background too.
Perfect for livening up a plain sofa, it makes the perfect gift for a dog lover like me!