Colour Watch: Hot Pink and Teal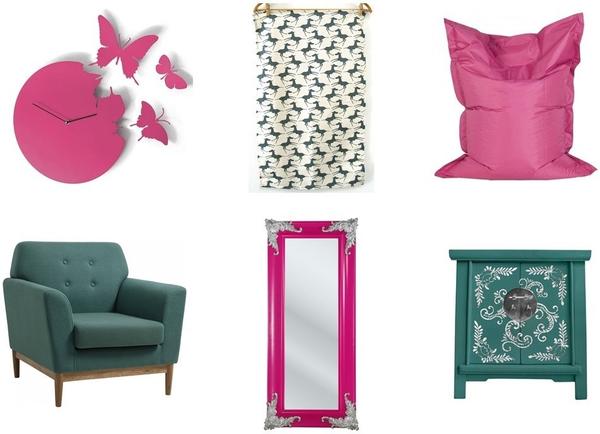 Be bold and brave with the daring combination of teal and hot pink.
Not for the faint hearted, this week's colour combination takes its inspiration from bold and beautiful Designers Guild fabrics which started firmly putting colour-phobes in their place many moons ago.
A daring pairing, these striking colours just seem to work together, particularly when teamed with a neutral backdrop. Here at Furnish, we have lots of gorgeous items in these colours from furniture to accessories to really make your scheme pop with colour.
For the brave, a piece of teal furniture will instantly lift your room and we have some great pieces available. This Bedside Teal and Silver Cabinet by Shimu offers just enough Eastern style without being too over the top, while the Vintage Teal Armchair by Alexander and Pearl is a must for retro lovers.
When it comes to this colour combination, it's important to go for the boldest shade of pink you can bear – that way it really pops against the teal. For a bold bedroom, try adding this Passion Pink Full Length Mirror by The French Bedroom Company or breathe life into a tired, plain wall with this Butterfly Clock in Fuchsia by Red Candy.