Editors Choice: Our favourite console tables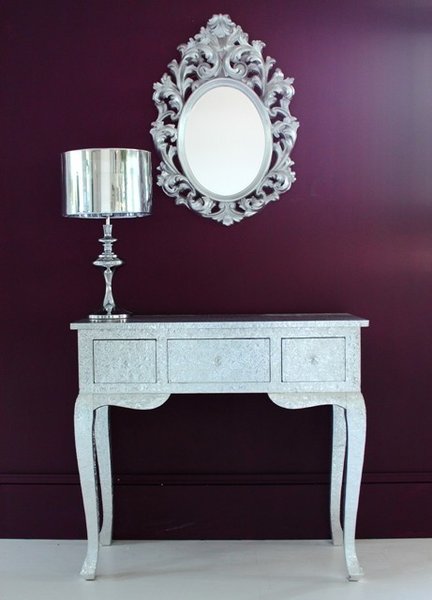 Check out our top three favourite console tables.
Console tables are an essential piece of hallway kit. Whether your space is big or small, narrow or wide, a console table not only adds interest to your hallway, but is practical too. From somewhere to keep your post and keys safe to stashing away items you'd rather have out of sight, no hallway should be without one.
We've picked our favourite three and put them under the spotlight to help you decide what's best for your space.
Our top console table for... adding glamour
When it comes to interiors, glamour is back with a vengeance and, while we're not suggesting you go all Liberace in the home, a touch of glamour here and there will instantly lift your space.
The Embossed Silver Metal Console Table by Out There Interiors (see above) is the epitome of glamour and will create a real statement in any hallway.
Finished in embossed silver metal, this beautiful table has gently curved legs and elegant clear glass handles on the drawers.
But it's not just stylish, it's practical too - with a wide tabletop, there's plenty of room to display all your hallway essentials such as a phone and table lamp. Then there's the three handy, spacious drawers, which are perfect for keeping everything from phone books and keys to gloves, hats and scarves neatly stored.
Our top tip for using this console table in your hallway is to keep the rest of your decoration simple yet elegant, so combine with subtle patterned wallpaper, sophisticated neutral paint colours and unfussy flooring to let it really stand out and be the focal point of the room.
Our top console table for… adding industrial chic
Inspired by loft living and disused factories, the industrial trend continues to be a strong one when it comes to decorating the home, and this Loft Console Table by Alexander & Pearl is a perfect example which would look great in a retro or contemporary hallway.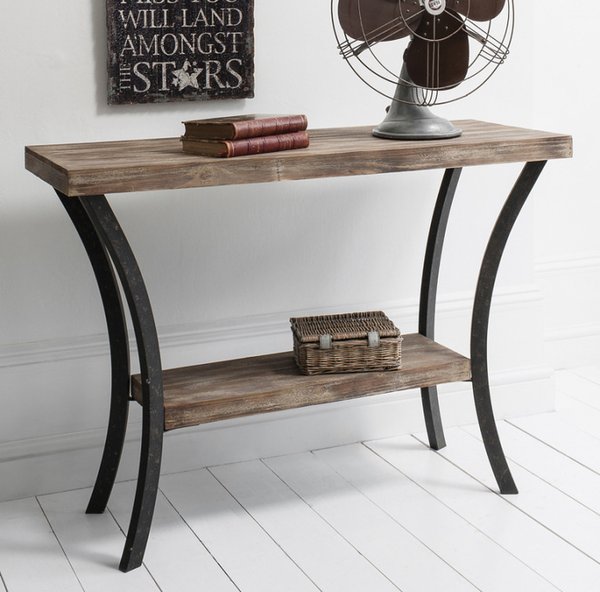 Crafted with a conscience, this table is made from reclaimed timber, and its simple design is completed by gently curved, metal legs.
Featuring two sturdy shelves, the top one is generous in size meaning there's ample room to keep even the messiest of hallways neat and tidy. The top shelf provides space for post, address books and other hallway paraphernalia while the bottom shelf could even be used for storing the odd pair of shoes.
While this console table has no drawers to keep your bits and bobs hidden away, there's plenty of room under the bottom shelf place to some sturdy, metal storage boxes which will give you even more space to store your clutter.
Our top tip for this table is to choose your accessories carefully and opt for a factory-style table light and retro phone to keep the industrial look going.
Our top console table for… a minimalist look
If you like things sleek, simple and ultra modern, the Modern Glass Top Console Table by Coco Male is the perfect choice for your home.
Simple, understated, and very elegant, the brushed steel frame is accompanied by a super sleek glass black top, and is ideal for small spaces as it doesn't take up too much room.
While there are no drawers to speak of, the tabletop has plenty of space for all your hallway needs, but we suggest keeping clutter to a minimum.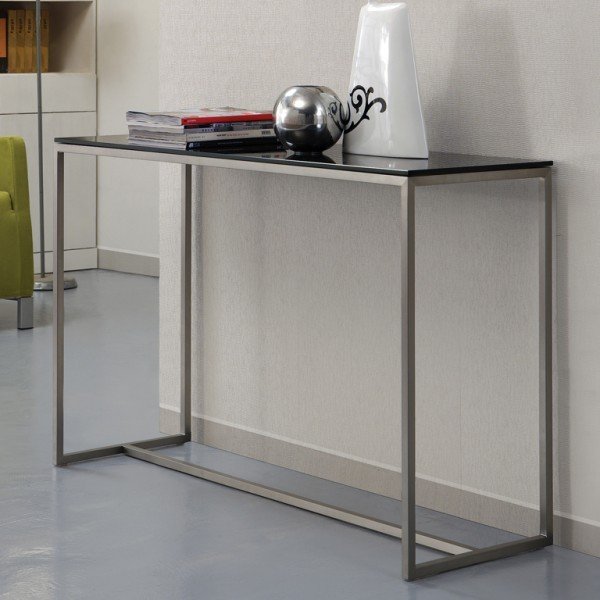 If you do want extra storage in the hallway, a simple, modern coat stand or rack would complement this table perfectly and make sure your space remains clutter free.
Our top design tip for this table is to keep things plain and simple by keeping your paint or wallpaper choices neutral and adding a splash of colour with a modern, sculptural vase.