Editors Choice: Our favourite bedsteads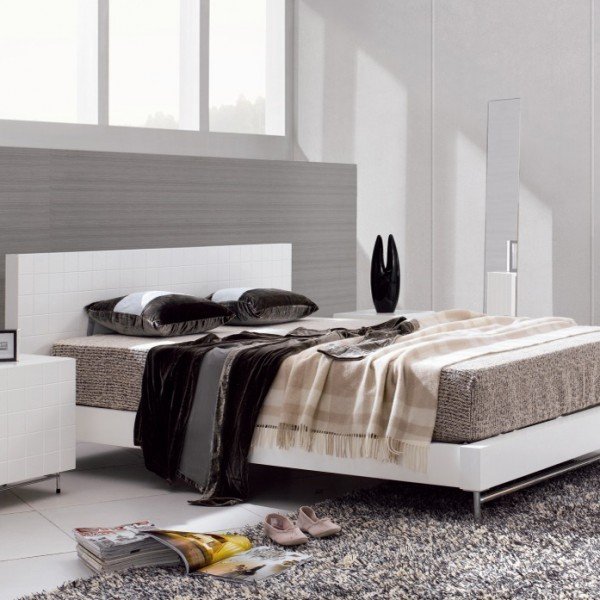 Searching for the perfect bedstead? Here's our top three, and what makes them stand out from the crowd.
We've scoured our gorgeous range of bedsteads and put them under intense scrutiny. Here's our top three, and what makes them special.
Everyone loves sinking into a comfy bed at the end of a hard day, but having a comfortable mattress doesn't mean you have to compromise on style, as our selection of stylish bedsteads prove. So it's time to ditch the divan and use your bed to create a statement in the bedroom with our pick of the best bedsteads around.
Best for…contemporary cool
This simple yet ever so stylish Barcelona White Bed by Coco Male (see above) screams hotel chic.
With sleek lines and a high gloss white finish, this super cool bedstead offers a minimalist way to create a striking style statement in the bedroom.
Generous in size, the bedstead comes complete with sprung slats, which ensure your mattress is kept in place securely and gives you a great nights sleep, while the headboard features an understated grid design which adds subtle texture and pattern.
And if white's not your colour, you'll be thrilled to hear the Barcelona is also available in walnut, and the range includes a matching bedside table, mirror, wardrobe and console/dressing table so you can create a cohesive look throughout your scheme.
Top tip is to keep your decorating clean and simple to complement the sleekness of this bed and add in pops of colour by using attractive cushions on the bed and statement artwork on the walls.
Best for…classic style
Cane bedsteads have been popular for centuries but can be a little fussy in their design.
This Classic Weathered Cane Bed by Primrose & Plum is far from fancy and is ideal if you want to add a classic look to your bedroom but like to keep things simple.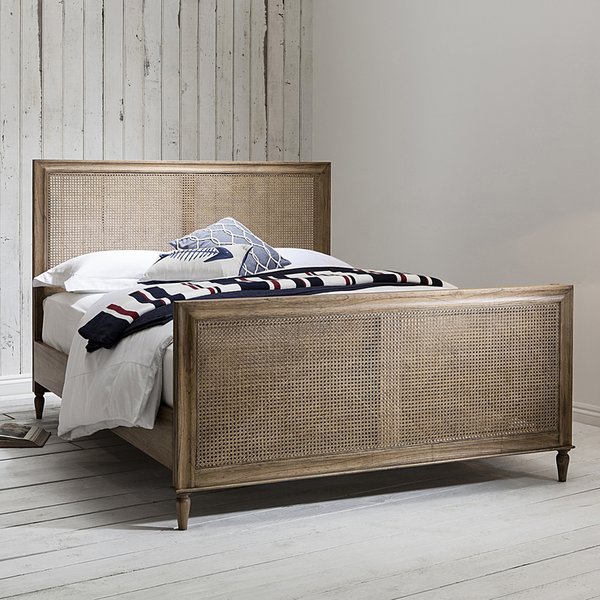 Perfect for a modern country bedroom, the bed is made from solid ash and features a simple yet elegant handwoven cane head- and foot-board, which have been gently weathered to give a sophisticated, shabby chic look. Available as a king size, this large bed is perfect for creating an elegant style statement and will add a stylish focal point to any bedroom.
A great styling tip with this bed is to use delicately patterned wallpaper in subtle colours such as a faded floral or simple stripe design, with elegant white bed linen and textured cushions and throws.
Best for…French chic
If you love French-style furniture and regularly channel Marie Antoinette when decorating your home, then this Provencal Velvet Upholstered Bed by The French Bedroom Company is just the thing for you.
Perfect for adding a vintage touch to the bedroom, this elegant bedstead is finished in a simple ivory paint and features intricate carved wood detailing on the head- and foot-board. The real piece de resistance however, is the decadent headboard.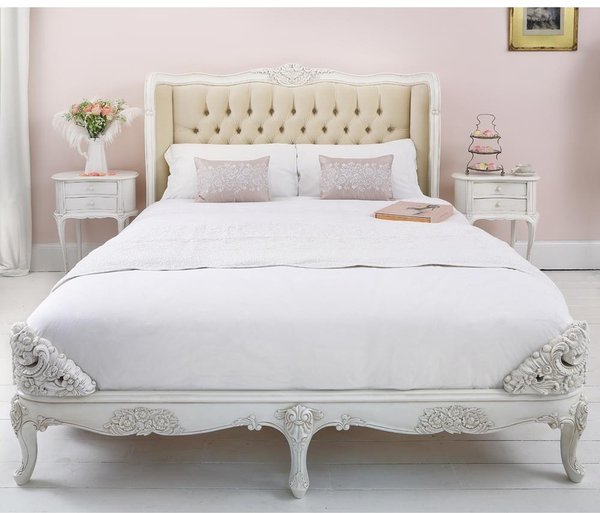 Gently curved, the high headboard has been covered in sumptuous neutral velvet which has been gently buttoned and adds the final grand touch to this glamorous bed. And if you love the classic French look, you'll be pleased to hear this bed is also available with a matching choice of bedside tables, dressing table, chairs and storage options.
To make the most of this luxurious bedstead team it with a sophisticated pastel colour palette such as dusky pinks and elegant greys, keep bedlinen simple by choosing a subtly textured white design, and choose a mohair or silk throw to add an additional touch of glamour.
Shop the look...