Editors Choice: Our favourite wardrobes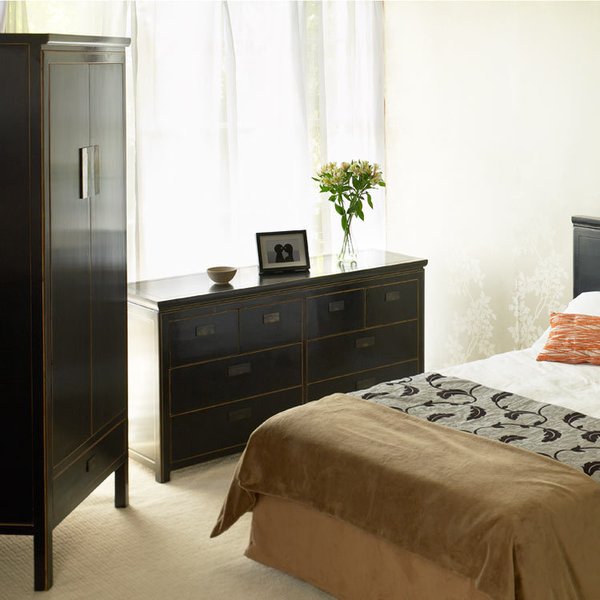 Keep your glad rags organised beautifully with our pick of the best wardrobes around.
Wardrobes are essential bedroom kit, that's if you don't like your clothes covering the floor, chair, bed, etc, and being the stylish lot we know you to be, we're guessing you don't.
Before you get stuck into choosing one on its style credentials, consider what your practical needs are first. For example, if you haven't got room for a separate chest of drawers, then a design that incorporates drawers is a must. Or do you own lots of long dresses which you need to keep pristine? Then one with a high hanging rail will stop them from draping on the floor.
We've chosen our favourite three and given you the lowdown on each of them, so all you have to do now is pick the one that's right for you.
The Slimline One
Being short on space doesn't mean having to compromise on style, and this Hanoi Slim Black Lacquer Oriental Wardrobe (see above) ticks the boxes both for looks and for practicality. Its slimline profile means you can squeeze it into even the tightest of spaces without having it dominate your bedroom.
Made from solid wood, it's been finished with an understated black lacquer complemented with subtle brass handles, which makes it a fantastic option for a sophisticated oriental style boudoir.
Inside there's a generous hanging rail for clothes as well as two shelves, one which can be removed to give you more height for shoes and boots should you need it.
Also available in a white lacquer finish, this sleek and stylish wardrobe is part of a wider bedroom collection which includes a chest of drawers, console/dressing table and mirror.
The Guest Bedroom One
Guest bedrooms often lack one crucial piece of bedroom furniture - a wardrobe! How many times have you stayed with a friend or family member and found yourself desperately searching for somewhere to hang your clothes, or felt guilty that your own visitors have had to live out of their suitcase?
This Industrial Open Wardrobe by Out There Interiors is the perfect model for a guest bedroom. Narrow in dimension, it will easily slot into even the tightest of alcoves and the smallest of spare bedrooms.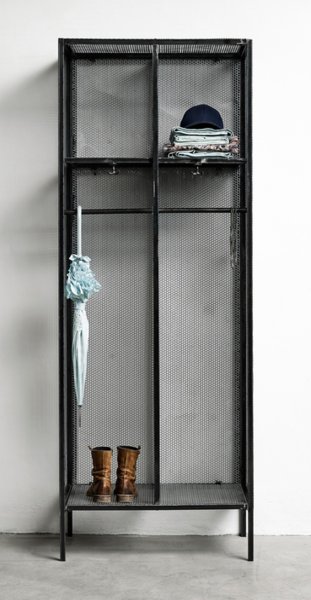 Ideal for those who want to inject a bit of industrial style into their scheme, this open-fronted wardrobe is reminiscent of changing room lockers – but in a good way.
There's plenty of room for guests to hang their clothes on the rail, and two shelves - one perfect for jumpers and tops, and the other for shoes - which means it really is the only piece of furniture you need in your spare room.
The Versatile One
As wardrobes go, this one is a bit of a beast, and is the next best thing if you don't have space for a walk-in wardrobe.
Made from solid wood, this timeless piece is probably best suited to a classic scheme but could work well in a more contemporary bedroom when teamed with vibrant punches of colour.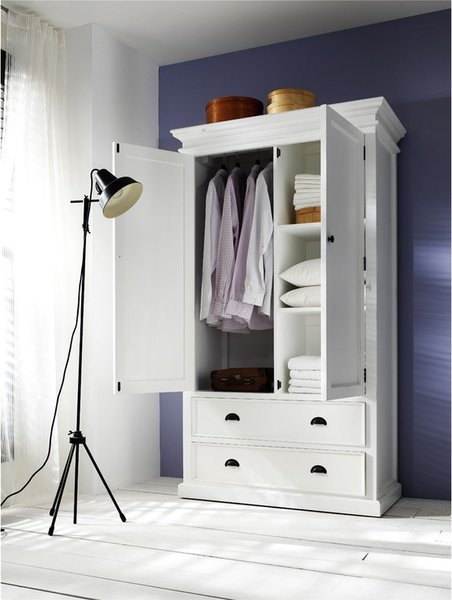 Style aside, this wardrobe will be an utter godsend if you have lots of clothes to store.
With an generous interior, there's plenty of space for even the bulkiest of winter coats and jumpers so you needn't worry about having to find somewhere else for out of season clothes.
Split into hanging rail space and shelves means there's tons of room for hung or folded items, while the two bottom drawers can be used to stash tops and underwear.