This week's pick of the interiors blogs - 20 March 2010
It's our new pick of the interiors blogs, where we showcase some of the hottest blogs around.
You probably know by now that we're obsessed with all things interiors. We live, sleep and dream our homes and adore furniture, cushions, art and gadgets. In fact we're never happier then when we're browsing magazines, brochures and blogs. Which is why we thought we should share our finds with you. Kicking off a new series, we introduce, drum roll please... ...our fave interiors blogs!
This is where, each week, we showcase some of the hottest blogs around and we were delighted to find there are, like us, lots of interiors enthusiasts out there. So, expect to see some blogs you may not know about, including picks from outside the UK.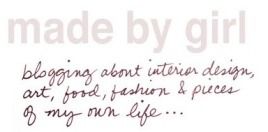 The Beat That My Heart Skipped is a truly beautifully designed blog. Interior stylist and writer Rohini Wahi shares her thoughts on the world of interiors, from highlighting some of the coolest and most stylish products around to fascinating sections such as My Inside Life and A Day With. This blog is a must-read for anyone who likes their home to be stylish.
There's nothing dull about the Bright Bazaar blog and the beautiful, colourful photography reminds us of much sunnier days than the ones we've been experiencing of late. Author Will shows off some of the hottest interiors finds around, as well as carefully taking us on a tour of homes that have got us salivating.
For our next fave blog, we move Stateside and dive into the world of MadeByGirl. A beautifully designed and written blog, MadeByGirl gives us an insight into the world of Jennifer Ramos as she writes about interiors, food and fashion. Jennifer's talents don't end there though – she also has an Etsy store selling super cute prints.