Blooming Bench from Benchmark
Add a quirky twist to your garden with the Blooming Bench from Benchmark. £377
People often look amazed when I tell them I live in London AND have a garden. I can't blame them, it's one of those statements that are often met with oohs and ahhs by fellow metropolis-dwellers.
And while it isn't exactly Kew, it is wonderful to have some outdoor space to relax in and call my own.
Due to the impending heat wave (yeah right!) I've been thinking a lot of summer parties, family barbecues and cosy al fresco suppers for two, but what I would really like is a piece of statement furniture to give my garden an edge.
Sadly, it's too small an amazing daybed or stunning swing but I'll certainly be making room for this Blooming Bench from Benchmark.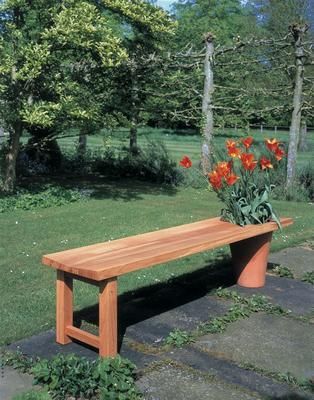 Designed by Benchmark's in-house team, this bench cleverly incorporates a large terracotta pot into its design. Absolutely perfect for those who don't have space for both, the bench is made from Oak and the pot from terracotta.
It is without a doubt the most original bench I have seen for some time and I can't wait to get in my garden.