10 Ways with…Wallpaper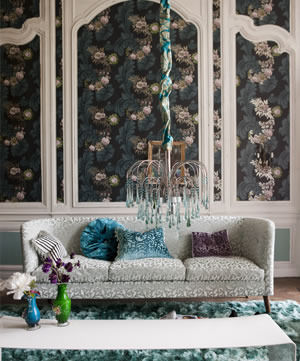 Wallpaper is having a revival, with a huge diversity of patterns coming to the market, and in the range of applications they're now put in interior design.
With so many styles available and in such a versatile material, it would be shame to stop with the walls. So here are our tips on working those prints and getting the most from your wallpaper.
1. Alcoves
Wallpapering in alcoves is a great way to create a feature wall in your room, adding interest and depth to your decorative scheme. If you've got two alcoves either side of a fireplace, papering both and adding a console table in each with a lamp to highlight the wallpaper is a great look. Placing a chair in the alcove, upholstered in a complementary fabric, is another way to enhance the wallpaper and develop your scheme. If you have shelves in your alcove papering the back wall or even the back of the bookcase creates a great backdrop for books and accessories.
2. Lining wardrobe doors
Lift your spirits in the morning and give your clothes a treat by lining the inside of your wardrobe with beautiful printed wallpaper. You can really go all out, choosing a bold pattern or bright colours, without worrying about the wallpaper matching the rest of your room. And there's something enchanting about a hidden surprise, even if your wardrobe is crammed with boring work clothes. If the doors have beading on the outside, papering within these panels will create a feature of your wardrobe.
3. Covering lampshades
Papering a tired lampshade is a simple way to introduce pattern and colour to your scheme. Mix your wallpaper paste with a dollop of PVA glue to make sure it won't peel off with the heat of the bulb. Play with different combinations of complementary or contrasting papers for the inside and outside of your lampshade. Choosing a paper in the same pattern but a different colourway to go on the inside of the shade is a great look, particularly if you're papering a pendant shade. If you're papering walls in your room, a lampshade in the same paper will help to draw together your design.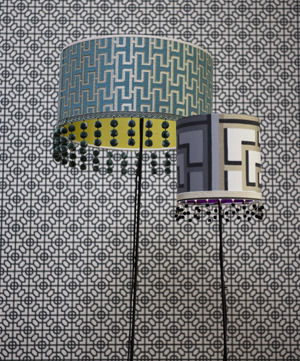 4. MDF Panels
Wallpapered panels look great either mounted on the wall itself or leaning against it. A collection of panels in varying sizes and prints against a wall makes a lively feature. Ply or MDF can also be used to create a simple room divider with hinged panels. Use a different pattern or colourway on the front and back to add interest, or make like a Victorian lady and create a decoupage with samples. Cut out motifs from a range of samples to create a collage or use sample squares for a patchwork effect. Seal your design with a layer of PVA or varnish. Screens are great to hide messy office areas or to zone your bedroom. Facing the panels with corkboard before papering creates a lovely backdrop for pinning photographs.
5. Stretching over canvases
This is a fun way to create artwork for your room and there's nothing more satisfying than using a staple-gun. Again PVA will ensure it sticks well. Take care folding at the corners to get a tidy finish, using a staple-gun at the back. If you're papering a feature wall, placing canvases on the opposite wall gives the room a pleasing symmetry. If, like me, you're cripplingly indecisive, canvases allow you to go for more than one colourway. Place canvases in a second colourway over your papered wall to animate the look.
6. Framing
Another way to create artwork, framing wallpaper is great if you live in a rented house or you're on a tight budget. Framing allows you to take the wallpaper with you, and using large samples saves you buying a whole roll. Again you can play around with patterns and colourways, with three or four variations framed in a row. If you're papering a feature wall, pick out your favourite motifs to enhance through framing, drawing together your scheme and making the most of the wallpaper.
7. Combining different wallpapers
The key to using different papers on the walls of one room is to create some kind of dialogue between the two. Go for either the same pattern in a different colourway or a different pattern picking out some or all of the colours of the first wallpaper. A plain, slightly textured wallpaper in one of the colours of the first also works very well to unify your scheme. A simple way to combine wallpapers is to use a different print in any alcoves in the room. This works to enhance the formal qualities of the space and makes a natural break between the two papers.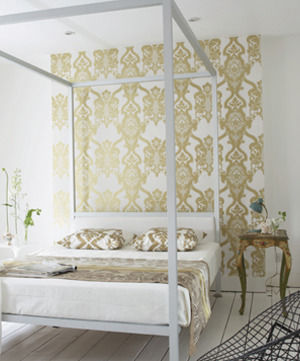 8. Combining wallpaper and paint
When choosing a paint colour, always get tester pots and place your wallpaper sample against the painted area to judge the effect. Picking out one of the colours in your wallpaper to use on painted areas works well. Use the background colour for a subtle look or one of the colours from the motif for a more striking effect. For an even more dramatic look, choose a contrasting paint colour that speaks to the wallpaper in a different way. Think about the balance you want to create between the wallpaper and paint, choosing a lighter paint colour if you want to give the wallpaper greater prominence.
9. Wallpaper murals
You can get really fantastic results with wallpaper murals. A single image across a whole wall makes a fabulous feature with instant impact. Transform your space with architectural photographs, antique maps, botanical drawings, and even fine art reproductions. Surface View [http://www.surfaceview.co.uk] has a great selection of ready to roll murals, including written text and anatomical drawings, available in permanent and peel-off varieties. With a huge image library Digetex [http://www.digetex.com] create and install bespoke murals, researching your chosen theme if you can't find what you want.
10. Headboards
Papering a tired wooden headboard or creating your own with MDF can transform your bedroom into a sumptuous boudoir. Choose a high paper grade with a flock surface or a textured weave to give a quality feel. For a really opulent look, follow the width or your bed and paper the wall behind it. Wallpapering kid's headboards, and getting them to help, is a great way to introduce colour and pattern to the room and create a sense of fun at bedtime.