Buyers guide to... Storage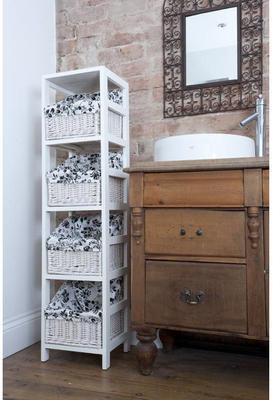 Don't ignore that stack of magazines on your floor; de-clutter your home and your mind with some simple storage solutions from Furnish.
Use this opportunity to have a bit of a spring clean, and look at the potential your room has for storage space to fit a new elegant wardrobe, or a unique coffee table. Remember that storage isn't simply for hiding those cluttered objects that lie around your house, it can also serve as a much more stylish and functional feature of your home.
Clothing storage
We are all guilty of getting our knickers in a twist when we can't find something we want to wear. So, whether you have something stylish but small, or a walk-in wardrobe (we can all dream, right?), where we store our clothes should be a reflection of our lifestyle. Lombok's stylish Keraton wardrobe has an alluring colonial look which brings a unique statement piece to your bedroom. Not only does it contain a full-width hanging rail, it also has two large drawers at the base of the wardrobe. Alternatively, for a charming furniture piece that would add a perfect feminine touch to your room, the Amelie two drawer chest from Brissi offers practical drawer space for folded garments. For long-term storage, the Kigoma trunk from Holding Company is a suitable place for keeping garments that you are putting away for the next winter.
Sideboards
Simple and effective, the sideboard is conventionally used in the dining room; however it also works well in hallways, living rooms, or bedrooms. Go for the vintage inspired look with the Miss Print sideboard; its chic finish will add a touch of intrigue. Choose the Shanxi sideboard from Puji in white to compliment a modern decor with its smooth linen white lacquer finish with wooden edging detail. It has distinctive brass handles giving it a hint of eastern exoticism, and with two cupboards and spacious draws it offers the potential for maximum storage space. The Tactile sideboard from Utility has a seamless finish, and purposely has no handles which would only add confusion to its understated appearance. This masculine look would work well in a bachelor's pad as it provides a no-nonsense way for the male species to create a sleek look for their decor without damaging any manly pride.
Kitchen dressers/larders
For the perfect place for you to store your finest tableware, Lombok's Traditional glass dresser in dark teak gives that idyllic country house feel. Install it in your kitchen or dining room and there's no need to hideaway your favourite tableware. With a display with two glass shelves for your cookery books, and drawers for table linen, this dresser not only gives a sense of pride to any kitchen, it also offers a functional and timeless charm to your home. Zenith basket trolleys from Heal's are made from sturdy chrome wire, and they are ideal for keeping fresh fruit and vegetables as well as kitchen utensils in order.
Multifunctional furniture
Making the most of your storage is essential. Many furniture pieces available on Furnish are multifunctional and offer you space-saving opportunities to use throughout your home. Take a look at the Multi-Purpose Play table with Trundle Drawers from Great Little Trading Company. This cleverly compact play table is exciting to look at, not only does it provide your child with great fun and entertainment that will keep them occupied for hours. It also offers convenient storage space for toys and game that might otherwise clutter the floor or simply get lost in the chaos. Also, the Military coffee table from Occa Home is attractive stained oak wood coffee table but is also provides an easy-to-reach resting place magazines, books or vases. Its discreet drawers make it simple for you to store other knick knacks like placemats or notebooks.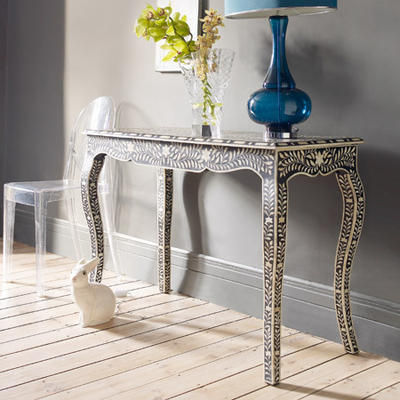 Console tables
Bring versatility to your home with a console table; coming in all shapes and sizes, they offer stylish storage and add interest. Unwelcome mess within your home can be solved with the Lloyd high-console from The White Company. This incredibly neat looking set of drawers would fit extremely well within a hallway, bathroom or a bedroom, and with its strong woven baskets it is ideal for storing all kinds of belongings from magazines to umbrellas, shoes or photos, or even the phone directory. If you like detail and character is your furniture then the very stylish Black & Bone Inlay Console Table from Graham & Green would be an asset to your home. This table is beautifully hand crafted and a unique one of a kind piece that is only worthy of your most personal and cared for belongings.
Wall hung storage
If you are short of floor space don't despair because your walls can offer an extra storage space for you to play with. The Seletti Framed CD Notorious Shelf Gold from Heal's is a great example of how storage can be useful in an attractive way. This clever series of shelves looks like a work of art with its stunning gold frame and ultra-modern box shelves. It provides a perfect balance of practicality and style. Add intrigue and a conversation starter to your room with the unique Sticklebook invisible bookshelf from Utility, which works using a combed strip that grips the covers and pages. Its deceptive powers make your mind believe the illusion that your books are floating in thin air- guaranteed to give the wow factor.
Shoe racks
Shoes are a girl's best friend (well, after diamonds that is) and if you love your shoes then you shouldn't be without Utility's Floor standing shoe rack. It is the perfect design for keeping shoes tucked away neatly in cupboards without them getting crushed. However, it does only hold up to seven pairs so you may want to consider the Expandable shoe racks from Holding Company. Take advantage of the two expandable and stackable shoe racks made from classic chrome for a practical and easily accessible home for your shoes- you never know, there may be room to fit a few new pairs in too.
Kids storage
Any parent will empathise with how easily a child's bedroom can suddenly look like a hurricane has just hit it. Children's furniture by Great Little Trading Company is designed specifically for the helping parent and their children to live a mess free but fun life. The Horizontal six drawer unit provides accessible storage for toys and books that get frequently used, and they also encourage your child to tidy up after themselves. Ideal for use either in a playroom or bedroom, the Dolls house bookcase has three shelves and six compartments making it easier to store books, games or toys. Also, under the bed is a great place to store frequently unused items out of sight without taking up any extra floor space.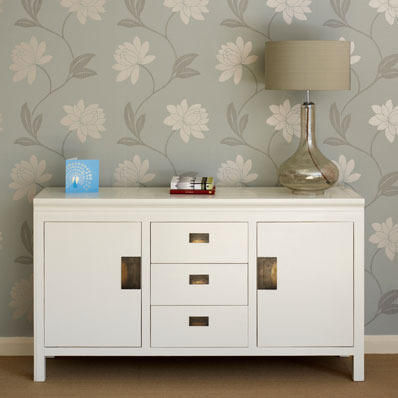 Kitchen utensil storage
Make preparing and cooking in your kitchen more enjoyable with suggestions of storage for your kitchen utensils from Furnish. Heal's has a collection of items to help organise you utensils, and the modern style of the Simplehuman utensil holder with a removable spoon rest will give any kitchen a futuristic feel. However, if you would rather give your kitchen a retro feel than be rocketed into the future, then you should choose the Typhoon vintage kitchen utensil holder available in black, white and red. Typhoon has taken inspiration from kitchens from the early 1930's to 50's, and you can find their enamelled range of kitchenware on Furnish.
Bathroom storage
Let's face it; we all spend a little longer pampering ourselves in the bathroom than we like to admit. With the right storage, life will be made easier in the mornings when the fight for the bathroom can get nasty! For an ideal way to save space and time, you can keep 'his and hers' toiletries separate with try the Four drawer Rattan basket rack from The Orchard. The Contemporary Home has come up with a practical solution to the problem of where to keep your toothbrush with the Suction toothbrush holder. This no fuss holder sticks to your bathroom tiles, with no drilling required, and the least mess made. Or in case of an emergency, no bathroom would be complete without a First aid box from wheredidyoubuythat.com. This cabinet is wall mountable or it can be used free-standing, but either way it's just what the doctor ordered.