Trend watch: Metallics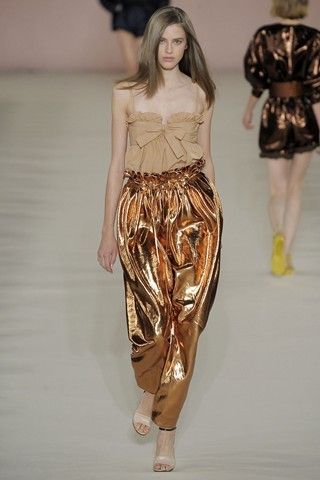 Give your interior a sharp and dramatic look with metallics.
When metallics hit the catwalk they brought bright, bold, inspiring colours to the forefront of fashion. A common misconception about trends is that they are only acceptable and in-fashion for short periods of time, but the great quality that metallics have is that they filter into different aspects of decor to give a timeless and opulent feel to your home.
Metallics can be applied to your interior in so many ways because they ooze modernity and have a classic appearance, making them effortlessly pleasing to the eye. Use black and gold to create a dramatic statement, or use silver with pastel colours to give a more serene and natural feel to your room. Either way, go ahead and add shimmering detail and grandeur that fashion designers use so well in their clothes to dress your home.
If the rush of rich golds, silvers and bronzes on the catwalk has done anything to inspire interior design, it has certainly encouraged us to liven up neutral colour schemes with a splash of sparkle and glamour. For an accent wall in a bedroom, the fantastic Wilderness white gold wallpaper from 95% Danish will bring both texture and interest. For bed linen, try the Mink satin bedspread from The Contemporary Home to add an understated elegance and luxurious feel to your bedroom.
Take a peek at Chloe's Spring/Summer 09 catwalk collection featuring lamé harem pants; the 'heavy metal' trend showcased a natural and radiant look. This use of stunning metallic shades can be dressed up or down in order to give a room a bold daytime look or a shimmering night time vibe. The Bean bag in gold leather from Heal's has a luxurious gold finish making it perfect for a comfortable evening in, and the Small sequin cushion in silver from Rockett St George, are both perfect for achieving this thriving and versatile trend.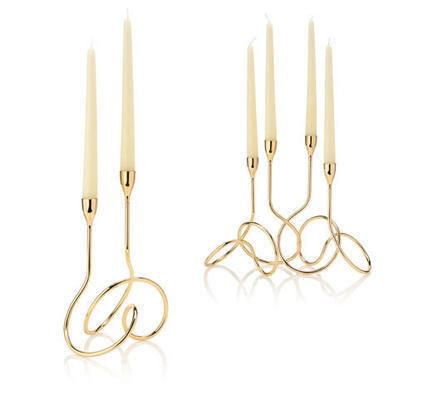 Why not use metallic shades to give your home a look that retains an authentic style but brings a modern, glamorous look to your interior. The Orchard's Gold Gilt Collection is inspired by classical French themes, and the Gold gilt two drawer bedside cabinet is finished in genuine gold leaf. If you fancy giving your guests an afternoon tea to remember, then look no further than the Silver tea caddy and the Silver tea strainer from Brissi. This is a nostalgic piece that is fit for the Queen and should make us feel proud to be British.
Metallic colours exude a finished look and are just the thing to bring a shiny, polished look to your home. Black and Blum's Gold loop candelabra will provide your dining table with a stylish and stunning statement piece that will not fail to impress. Or, if you want to liven up your hallway or add a feminine touch to your living room, then choose the Flower loop for a minimal yet chic and individual piece that is inspired by the Fibonacci curve to create a balanced and aesthetically pleasing design.
These are just some examples of how you can introduce the metallic trend into your home. Don't get too carried away by mixing too many metallic pieces in one room; use them to add visual impact and a touch of elegance as a statement piece for your room. Choose a furniture piece like the Brass stools from Lombok, made from solid brass and finished in antique silver, or use detailed fabric with metallic gold beading found in Sweet Pea and Willow's Paris gold and lilac tie backs to give a contemporary and stylish touch that no home should be without.