Buyers guide to... Flooring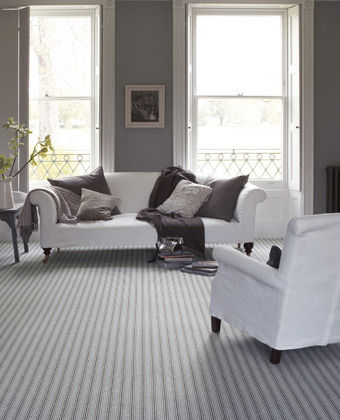 Make the right choices with our buyers guide to flooring
As soon as you open a door and walk into a room, the floor is one of the first things you notice. Whichever flooring you choose, it'll change the atmosphere of your space, whether it's a bold statement in rubber or an understated carpet in natural seagrass. And because you'll be walking on it everyday, it's worth going for the best quality you can afford, whichever type you choose. Covering the most popular flooring types, this guide aims to help you make the right choices for your room as well as your personal style.
1. Wool
Wool carpet is especially good for bedrooms and living rooms, creating a feeling of homeliness and warmth. Stair runners are a great way to lead the eye and make a feature of your hallway, while carpeting only the upper floor creates a natural break from the hustle and bustle of your main living space and a more relaxed atmosphere upstairs. It may seem an unexciting choice, but there are some fantastic styles and colours on the market. Try Brintons Fine Carpet and Crucial Trading for excellent quality wool carpets, in a huge range of colours, patterns and weaves.
Pros: natural heat and noise insulation; soft underfoot; comforting and homely
Cons: spills and stains; collects dust and pet fur; requires regular vacuuming
2. Natural Plant Fibres
Carpets made from coir, sisal and seagrass are great for busy areas such as hallways and stairs, being tougher and more hardwearing than traditional tufted wool carpets. The exception is jute, which is softer, making it a good choice for bedrooms. Plant fibre carpets in their natural colours are subtle and understated, making it easy to furnish your room around them. The great thing about this type of flooring is the variation in texture and pattern produced by the different weaves. Crucial Trading has a fantastic selection of plant fibre carpets, including a herringbone weave in neutral seagrass with a green, blue or red weft, and a number of dyed sisal carpets, along with the usual natural colour palette.
Pros: hardwearing; understated; texturally interesting
Cons: limited colour range; less soft than wool pile; sensitive to moisture, making them unsuitable for use in bathrooms and kitchens
3. Rubber
Rubber flooring is so versatile it can be used almost anywhere in the home. Hardwearing and easily cleaned, it's particularly good for busy areas such as hallways, and rooms where spillages are likely, such as kid's bedrooms, studios, utility rooms, bathrooms and kitchens. A contemporary and stylish choice, rubber flooring goes really well with modern furnishings.
The Rubber Flooring Company has a fabulous range of vibrant, fade-resistant, colour options, available in smooth and soft sheets and tiles, round stud tiles with extra cushioning, and a fantastic new grid tile by Hemmingway Design. The vulcanised rubber is extremely durable, with a high level of impact absorbency. Another option is a resin floor with a cushioning rubber underlay. Puur's [www.puur.uk.com] poured resin floors achieve a perfectly flat and slip-resistant surface, finished either matt or polished to a high lustre. For a natural alternative, try Marmoleum, which is made from linseed oil, wood flour, rosin, jute and limestone. Urbane Living has a great selection including brightly coloured chequerboard tiles.
Pros: huge range of colours; easily cleaned; extremely durable
Cons: ultra-modern - may not suit period homes
4. Luxury Vinyl
Vinyl is extremely practical, and can be great for kid's rooms, bathrooms and kitchens. It has a bad reputation but if you go for a good quality supplier, such as Amtico or Karndean you can get great results. If, like me, you've got a problem with vinyl that mimics other materials, just stick to plain block colours. Amtico's Abstract range is great and there are some really authentic plain tiles in the Stone range. Otherwise, there are plenty of effects that can be achieved in vinyl, from wood and ceramics to mosaic, marble and glass. These products combine the look of natural materials with the practicality and performance of vinyl.
Pros: durable; easy to clean; huge range of colours and styles
Cons: won't add value to your home; doesn't last like real wood or stone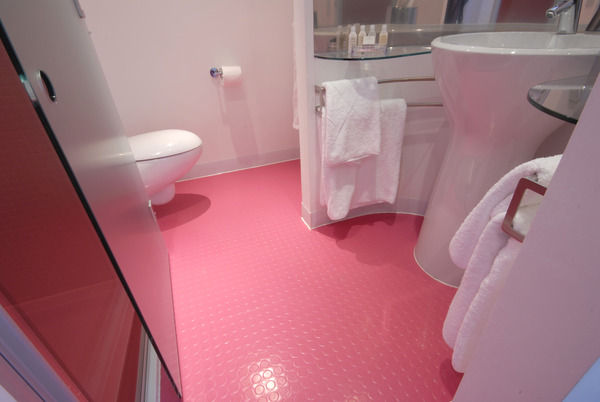 5. Solid Wood
A solid wood floor is not only beautiful; it's hardwearing and will add value to your home. It'll improve with age and can be revived with re-sanding and refinishing to fit in with a new decorative scheme. Whether hard or softwood, parquet or plank, a solid wooden floor is the same material all the way through. It ages and evolves as you live with it and lasts for decades.
Solid wood flooring is available in a range of timbers offering a spectrum of natural colours, knots and grains. The most interesting timbers are Oak, Chestnut, Maple, Teak, Walnut and Merbau. A sensuous real wood floor brings natural warmth to a room. However, each timber has its own specific pros and cons. For example, Chestnut isn't suitable for rooms entered directly from the outside, but is perfect for upstairs. Broadleaf Timber has a useful technical guide to choosing the right timber for your room.
Pros: long-lasting; improves with age; can be re-sanded and refinished
Cons: expensive; requires ongoing maintenance; light, temperature and moisture sensitive
6. Engineered Wood
Engineered wood flooring is a sandwich of plywood with a top layer of finish wood. The plywood is made up of several layers of Birch, laid at right angles with the grain running in opposite directions, giving dimensional strength to the sandwich. This also means that engineered wood stands up well in areas of moisture such as kitchens, bathrooms and basements. It won't expand and contract like solid wood. Plywood makes up 80-90% of the board with a thinner layer of finish wood that you walk on. Engineered boards are available in the full range of solid wood timbers. The Natural Wood Floor Company has a great selection.
Pros: eco-friendly; won't expand and contract; can be used in moisture prone areas
Cons: can be sanded only once or twice; prone to dents and scratches; light sensitive
7. Reclaimed Wood
Reclaimed wood flooring has the distinctive patina of age, adding depth and character to a room. It's also an environmentally friendly option. The same care should be taken as with solid wood, to ensure the timber is right for the room. Reclaimed wood is available in any number of styles, including parquet woodblocks. Often old growth timber, reclaimed wood has the advantage of being harder and more stable than younger wood. Urbane Living, Lassco and Retrouvius all have rotating stocks of reclaimed wood flooring.
Pros: characterful; eco-friendly; more stable than younger wood
Cons: often supplied unfinished; choice dependent on stock; supplied 'as seen' and not tailored to the size of your room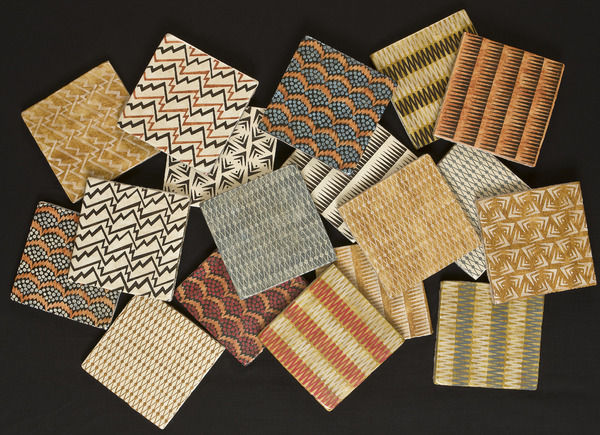 8. Stone
Stone is a hardwearing and practical flooring choice, particularly suited to hallways, bathrooms and kitchens, but equally attractive in living and dining rooms. Natural stone offers a broad spectrum of colours and surface details: from white to black, through beiges and greys, and from reasonably plain to extensively varied in tone and texture. Natural stones are given a range of finishes: a riven or antique finish will give a more rustic appearance while a polished or honed finish gives a classic yet modern feel to a room.
There's little difference in durability between stones; the look you want from the stone is essentially more important than the type. Tile sizes range from the smallest mosaic to very large slabs. All natural stones are porous to varying degrees and must be sealed during the installation process to prevent staining and moisture absorption. Mandarin Stone has a fabulous range of natural stones, from limestone and marble, to granite, sandstone, travertine and slate.
Pros: beautiful natural material; will last decades; stain resistant when sealed
Cons: expensive, expert installation required; hard and cold underfoot; natural variation and 'imperfections' in the stones may not suit some tastes
9. Terracotta Tiles
From warm ochres, to rich reds and oranges, the inviting earthy tones of terracotta tiles make them ideal for hallways and kitchens as well as living and dining rooms. Low-maintenance and resilient, terracotta is another flooring type that improves and evolves with age. To ensure a long-lasting floor, the tiles must be sealed properly to prevent staining and moisture absorption. Fired Earth will professionally install a great range of terracotta tiles, including reclaimed, antiqued and handmade varieties. The square and rectangular tiles in the Romana range are used to create a geometric floor pattern.
Pros: hardwearing; rich earthy tones; warmer underfoot than ceramic tiles or stone
Cons: colour variation and rustic feel not to all tastes; hard underfoot; requires professional installation and sealing
10. Ceramic Tiles
Available in a huge variety of colours, patterns, textures and styles, ceramic floor tiles are a really versatile choice, suitable for any room. Ceramic tiles can be used to create breathtakingly beautiful floors and the design possibilities are almost limitless. Tough and easily cleaned, a ceramic floor is a great option for hallways, bathrooms and kitchens. Try Iris Ceramica for a fabulous selection of innovative textural tile designs. De Ferranti has a fantastic choice of patterned ceramic tiles, including a striking range by Neisha Crosland. De Ferranti's ceramic tiles are handmade and hand-painted, many of them taking inspiration from historical sources.
Pros: huge variety in pattern, colour and texture; easy to clean; durable
Cons: cold and hard underfoot; requires professional installation; more expensive than terracotta